A Greek salad, known as a horiatiki salad or village salad in Greece, is the best salad in the world! It's colorful and healthy, and super easy to make with just ripe tomatoes, crisp cucumber and green peppers, Kalamata olives, red onion, dried oregano, lots of extra virgin olive oil and a big slice of creamy feta cheese on top.
But the big question is what to eat with this delicious crowd pleaser? Well, amazingly a traditional Greek salad goes with almost everything! Grilled or roasted meat and fish, Greek style 'mezze' (appetizers), classic Greek dishes, as well as every day mains such as burgers, pizza and pasta. It's the perfect side dish, but it also makes a great light meal by itself with bread!
The best Greek salad recipe
First things first, I have a great recipe for an authentic Greek salad, in case you'd like to try it. I make my 'horiatiki salads' the easy way, like the Greeks do – by just roughly chopping all the veggies and tossing them together, then adding plenty of oregano and olive oil before adding a whole big slice of feta on the top.
Although it's so ridiculously easy to make, it's also kind of a show-stopper! Above all, there is no lettuce!
Read more about my perfect Greek village salad. But this isn't the only option when it comes to Greek salads! Try this Greek lettuce salad as well!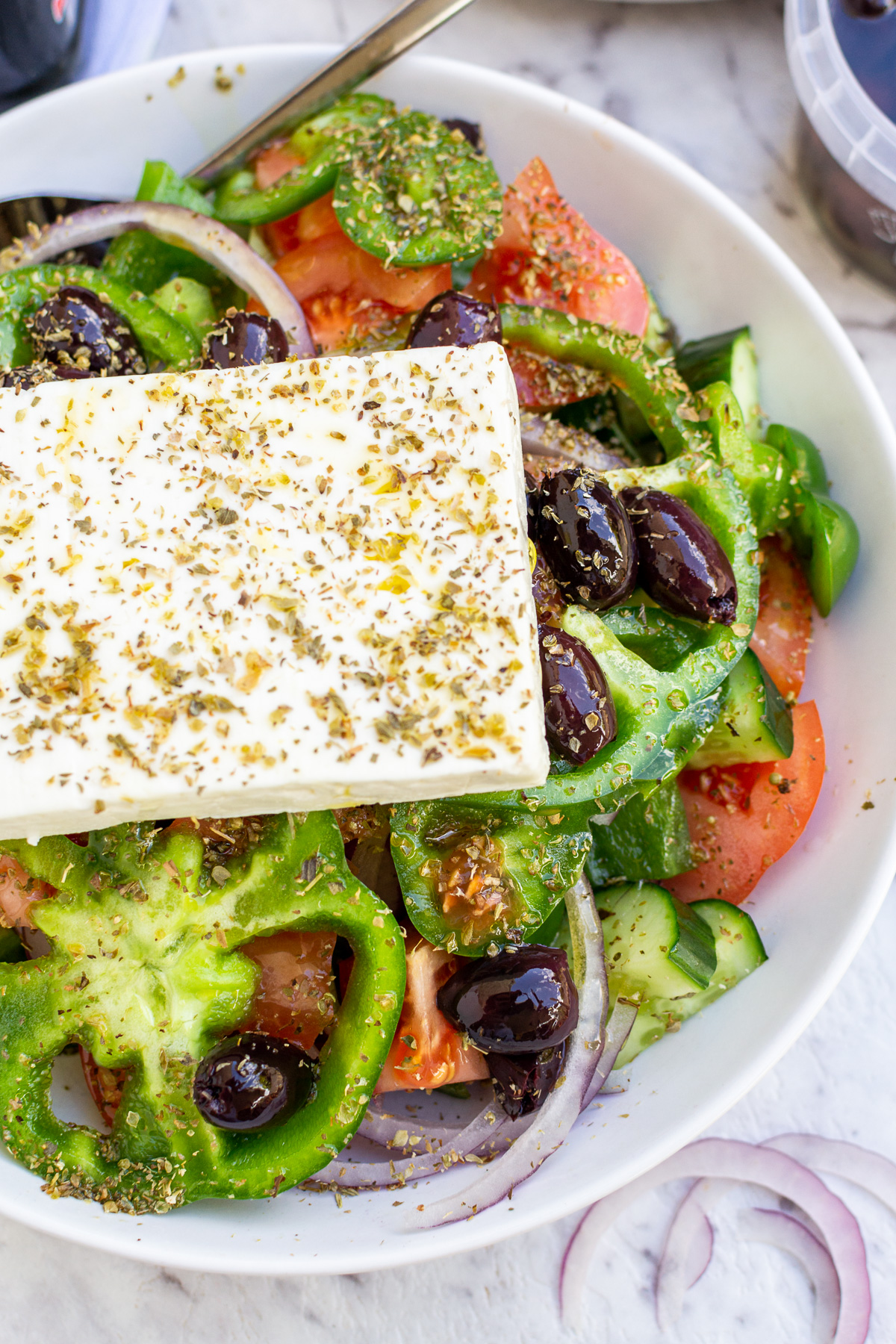 If you're wondering what to make to go with your next Greek salad, read on for 50 of my best easy recipe ideas!
Bread
One of my favorite ways to eat a Greek salad is actually on its own for lunch!
Together with your favorite fresh bread, it's actually both a delicious and balanced light meal. It's easy to make it ahead, too. You can even pack a Greek salad to take to work or school.
The Greeks like to buy fresh bread (called 'horiatiko psomi' or village bread) every day from their local bakery. This is perfect dipped into the delicious Greek salad juices, but really many different kinds of bread are great with this wonderful salad.
In case you'd like to try making your own, here's a recipe for homemade Greek country bread from Dimitra's Dishes.
More bread recipes to go with Greek salad
Top tip: Why not stir some cooked pasta, orzo, rice, farro, couscous or other grain through your Greek salad for a more substantial meal-in-itself? Don't forget to use a (much) bigger dish!
Classic Greek dishes
A Greek salad goes with almost any classic Greek dish. But here are a few of my favorite that I literally wouldn't DREAM of serving without a horiatiki salata on the side!
Meat and fish
Fish
Literally ANY kind of simple baked, fried or grilled fish goes with a Greek salad! Just drizzle some salmon with olive oil and perhaps a little lemon and bake for around 10 to 15 minutes until just cooked.
Alternatively, here are a couple of my favorite easy fish recipes.
Meat
Try meatballs, sausages, burgers, BBQ'd meats, kebabs, juicy lamb chops… these all pair beautifully well with a horiatiki salad!
Or browse the ideas below to try something new (but mostly chicken!).
Main dishes (that aren't Greek!)
If you're reading this to find out which main dishes go well with a Greek salad, the possibilities are literally endless. Burgers, meatballs, pizza, pasta, quiches, omelettes, and sandwiches all come to mind.
There's something for every type, including some great vegetarian options.
Here are some of my favorite ideas.
Burgers, sandwiches & wraps
Got lots of eggs?
A Greek salad goes well with almost any egg-based dish. Take your pick from the delicious options below.
Pasta
Mezze dishes and party food
One of the most popular ways to eat a Greek salad in Greece is as part of a 'mezze' (shared appetizers). Whenever you go to a restaurant or party, it's very rare to NOT see this classic salad on the table!
Try pairing YOUR Greek salad with 1 or 2 (or more!) of the appetizer style dishes below for a casual, delicious and authentic taste of the sunny Mediterranean. If you're looking for vegetarian options, there are plenty here too.
Top tip: These dishes are also great for parties, BBQs and easy entertaining of all kinds!
Recipes with filo pastry
Wow, Helen, you have a lot of recipes using filo pastry! I sure do, and guess what? They're all perfect for parties and go wonderfully well with a Greek salad (and perhaps a bowl of quick homemade tzatziki on the side!).
Chips & dips
Chips, Mediterranean style dips and a Greek salad. Mmm. A match made in heaven.
Vegetarian mains
What are the best vegetarian main dishes to go with a Greek salad?
When you really want to keep the whole meal vegetarian, I'd recommend pairing your salad with a vegetarian pie, pasta dish or omelette. Here are a few ideas you might like. A bowl of tsatziki on the side would round the meal out nicely (just saying).
FAQ
Looking for more Greek style sides? Take a look at this collection of 21 easy Greek side dishes for loads of delicious inspiration!
IF YOU MAKE ANY OF THESE RECIPES, LET ME KNOW HOW YOU GET ON BY LEAVING A COMMENT AND RATING BELOW… AND DON'T FORGET TO SIGN UP TO RECEIVE ALL MY NEW RECIPES BY EMAIL!