Interesting fact coming up … I just looked up 'pappardelle' – like a wider version of tagliatelle – and apparently it comes from the Italian verb 'pappare', which means 'to gobble up'!
What a perfect excuse to make this dish and … well, gobble it right up, obviously!
Now, I'm not ashamed to admit that I have a very big soft spot for all things Jamie Oliver. I guess I grew up watching him bring cooking down to street level, as it were, on his early TV shows in the UK. I loved watching him throw together (literally!) humble British classics such as toad-in-the-hole (sausages baked into a pancake-like batter … sounds weird but trust me, it's amazing when done well) because he made it seem like anyone could make them. I remember he once even brought his mum onto the show to show viewers how to make her apple pie, or something along those lines.
Anyway, after all these years I'm still a big fan of Jamie's simple, tasty, heavily-Mediterranean-influenced style of cooking … which is why I was very excited to visit his newish restaurant here in Perth Australia for Mr. Scrummy's birthday a few weeks ago. And we weren't disappointed. The service was friendly, efficient and down-to-earth, as you'd expect, we 'oohed and aahed' our way through the most delicious gnocchi, a pasta dish that I actually can't remember (but I remember it was goooood) and … a delicious sausage-based ragu-type pappardelle dish made with fennel and topped with what we decided must be fine, crispy breadcrumbs.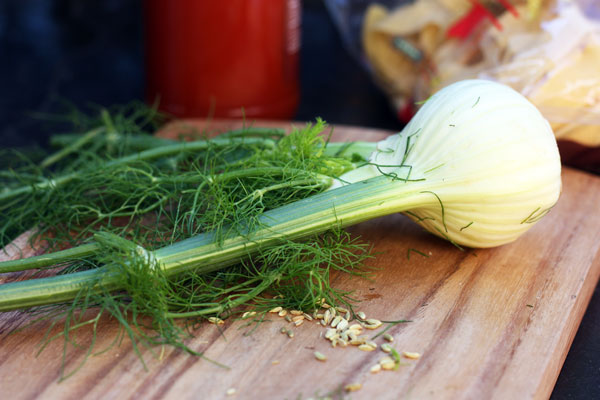 Despite how it might be appearing to you right now, I'm not being paid by Mr. Oliver to give one of his newest restaurants a plug. I wish!!! Somehow I don't think he'd be interested in advertising on a blog with only one reader as yet … hi Mum!! 😉 … although I certainly would fairly confidently recommend any of his restaurants if  you enjoy good, honest, humble, home-cooking-style food instead of the fancy schmancy pretending-to-be-something-it's-not food that you can all too often get served in restaurants … oops, better not get side-tracked and go off on that kind of rant!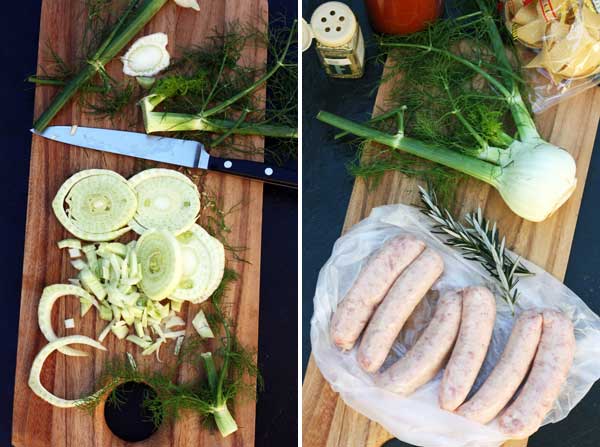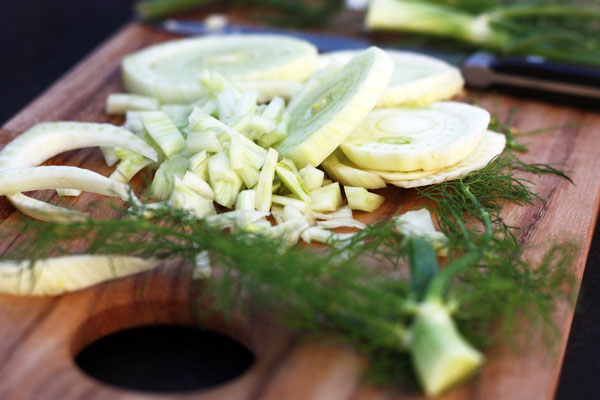 Anyway, back to that to-die-for sausage pappardelle. It was so mighty tasty that I decided to try to reproduce a version of it at home … and yes, the very next day! I quickly found out that there are many online versions of a similar recipe combining pork and fennel in a ragu-style sauce, but I sort of based mine on this recipe, by Jamie Oliver of course.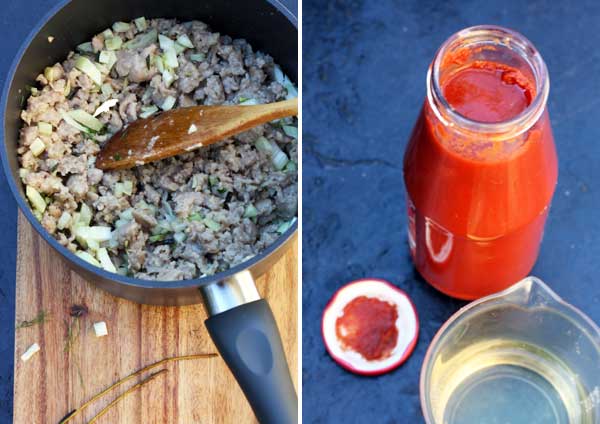 I have to say that the finished result was pretty close to what I was hoping for. So, the keys to success for this recipe, in my very humble opinion, are:
1 using the best pork sausages you can find;
2 adding a full bulb of chopped fennel for a lovely subtle but very complimentary kick;
3 adding about a wineglass-full of red or white wine;
3 chopping in a good amount of fresh rosemary;
3 sprinkling over some freshly-crisped-up fine breadcrumbs just before serving.
Whether or not you're as big a fan as I am of Jamie's (or if you even know who he is?) I would highly recommend having a go at this, especially if you're needing to breathe life into that tired midweek meal rotation. It's a one-pot meal – apart from the pasta of course – that has only a few ingredients and takes hardly any time at all to prepare … but believe me, it's so, so tasty!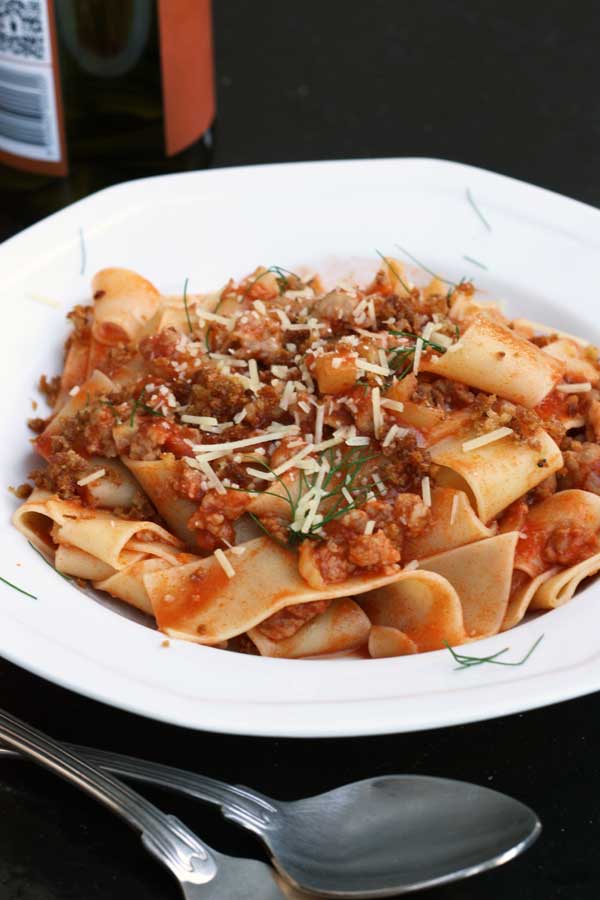 I hope you do have a go at making this and if you do … don't forget to gobble it all up!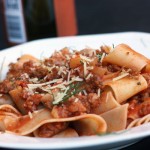 Sausage & fennel pappardelle
An exceptionally tasty sausage and fennel ragu and pasta meal that uses only a few simple ingredients and is really easy to throw together.
Cook Time
1
hour
10
minutes
Total Time
1
hour
25
minutes
Ingredients
3

tablespoons

olive oil

a whole bulb of fennel

14

ounces

best quality pork sausages

I used six fat Italian sausages

3/4

teaspoon

fennel seeds

the leaves from about 2 sprigs of fresh rosemary

1

cup

white or red wine

a large wine glass or a third of a bottle

3 1/2

cups

passata

pureed tomatoes

breadcrumbs

pulse a slice of bread - any type - in the food processor for a few seconds

parmesan cheese to serve

salt and freshly-ground black pepper

pappardelle pasta

2-2.5 oz per person
Instructions
Trim the long part of the fennel off the bulb and put aside. Chop the bulb into fine pieces, like you would an onion.

Heat about a tablespoon of olive oil in a large frying pan/skillet. Make a cut down the side of each sausage with a sharp knife and squeeze the meat out of the skin and into the hot pan.

Cook the sausage meat for about ten minutes or so, breaking up the meat as much as you can as you go.

Add the chopped fennel, the fennel seeds and the rosemary and let cook for about five minutes longer.

Pour in the wine, passata and about 200ml (one cup) water (I filled up the empty passata bottle, gave it a shake and poured in about one quarter of the liquid), then leave to cook gently for about an hour, checking regularly and adding a little more water if necessary. Half an hour would be fine if you don't have an hour or are too hungry to wait!

About ten minutes before the end of this cooking time, cook the pasta in boiling water according to the packet instructions, although I usually find it's ready a little before (I like my pasta 'al dente' or with a little bite!)

While the pasta is cooking, heat up about two tablespoons of olive oil in a small frying pan/skillet, then fry the breadcrumbs until they are crispy (this should only take a few minutes).

Drain the pasta, reserving a little of the cooking water. Add salt and plenty of freshly-ground pepper to the ragu sauce to taste, then mix it through the pasta, adding the reserved pasta cooking water to 'loosen' it up a little.

Divide between your plates, then sprinkle with the crispy breadcrumbs, a little grated parmesan and, if you like, a few of the green fronds from the fennel 'leaves' to make it look pretty. Serve with extra crumbs and parmesan on the side.
Recipe Notes
Thanks to Jamie Oliver's restaurant, Perth, for the inspiration for this recipe!
Remember to use the best quality sausages you can find.
I don't think it matters too much whether you use red or white wine - just use whichever you prefer or have.
Make sure the breadcrumbs are nice and crispy and you put plenty on top of each dish ... it really makes the dish, in my opinion!
Nutrition Facts
Sausage & fennel pappardelle
Amount Per Serving
Calories 528
Calories from Fat 333
% Daily Value*
Total Fat 37g 57%
Cholesterol 71mg 24%
Sodium 695mg 29%
Potassium 1248mg 36%
Total Carbohydrates 21g 7%
Protein 18g 36%
* Percent Daily Values are based on a 2000 calorie diet.