Fan of quick and easy pasta dinners? This sausage bolognese is ridiculously tasty! The best part? You need just 6 main ingredients, including fennel – the 'magic' ingredient! Stove top or pressure cooker, it's your choice – and it's a perfect freezer meal!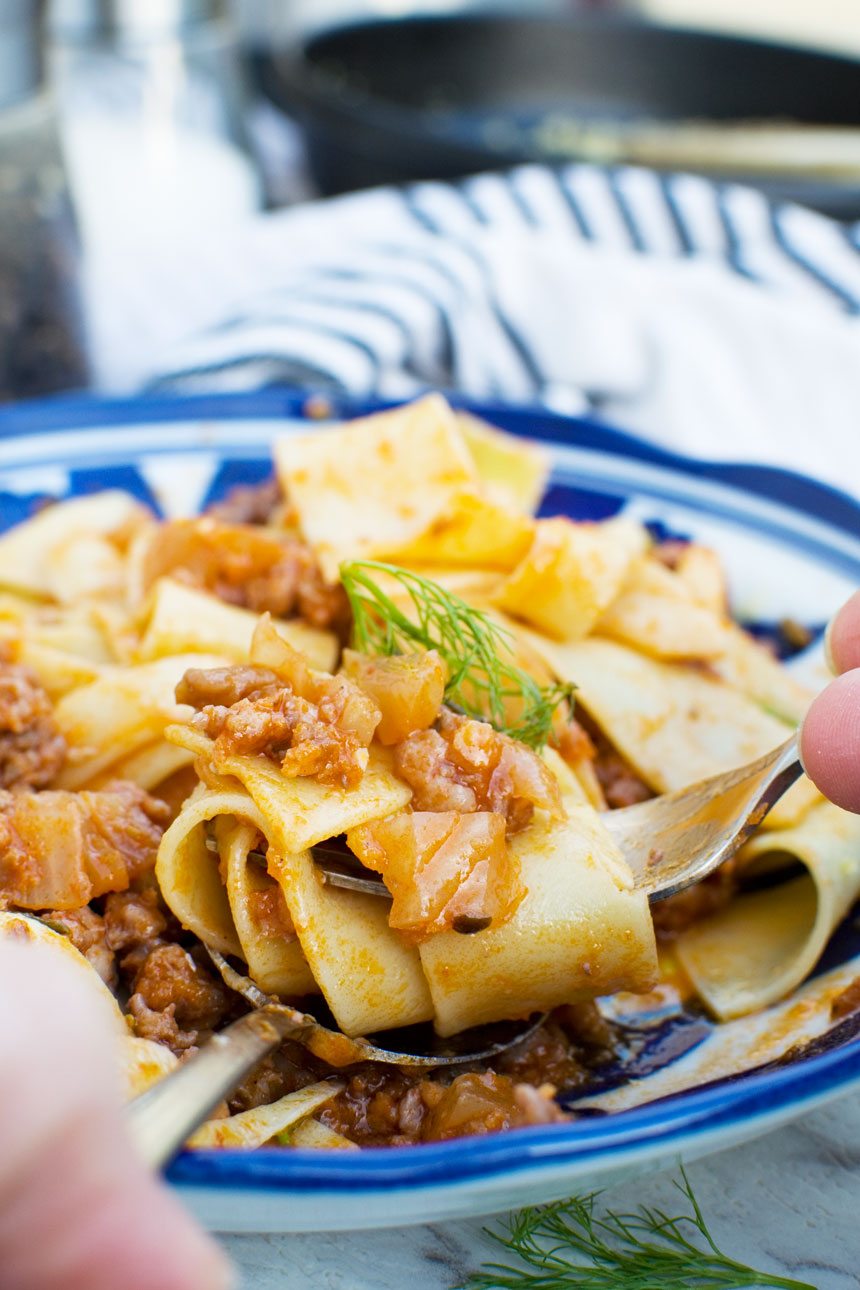 What's so great about it?
Sausages always make a tasty meal, don't you think? Because they have a lot of flavour in them already (as long as you buy good quality ones), you don't necessarily need to add many more ingredients. I sometimes just roast them with some veggies and add some gnocchi on top like in this 30-minute baked gnocchi with sausage, peppers and tomatoes recipe. Or for something a bit different, I love this one pan sausage, sweet potato and orange tray bake.
This 6-ingredient sausage bolognese with fennel was one of the first recipes I posted. I rambled a bit (OK, a lot), the photos were of questionable quality, and I mentioned Jamie Oliver a few too many times!
Can you believe it's still one of our favourite go-to midweek meals? And here's why:
Cook it either on the stove top or in your pressure cooker. If you're team pressure cooker, I have this Breville multi cooker. The ragu sauce is very easy to make on the stove top, but it takes about half the time to cook if you use an electric pressure cooker (an Instant Pot or something similar!).
It's VERY tasty, especially if you buy excellent quality sausages with lots of flavour already in them. I usually go for 'best quality' Italian sausages. Above all, don't buy budget sausages!
You only need SIX main ingredients to make the sausage bolognese sauce.
It's a one pot meal (plus a saucepan for the pasta)! Bonus: the pot is easy to clean whether you make it on the stove or in your pressure cooker.
It contains a whole bulb of fennel (hidden veggies!). Have you ever cooked with fennel before? It's delicious! Sometimes I serve something like broccoli on the side, but if I don't have anything in the fridge, at least I know there's a vegetable in the bolognese.
If you add the crispy crumbs and parmesan – which I highly recommend – this meal reaches next level deliciousness. Try it and see.
This makes a great simple Sunday evening dinner! If you need more ideas, check out this list of 100 lazy weekend dinner ideas.
About the ingredients
Did I mention this is a 6-ingredient recipe? I'm actually cheating a bit by calling it a 6-ingredient recipe, because I also usually add fennel seeds and a crispy breadcrumb topping. But as those 2 ingredients are optional, I decided it was an acceptable cheat!
Here are the 6 ingredients you need:
a whole bulb of fennel: Don't be scared, it's easy to prepare! Just top and tail, and chop roughly like you might an onion. Save the green fronds on the stem for the garnish.
good quality sausages: Yes, good! No 'value sausages' please.
fresh rosemary: Just a bit, but it goes with sausage so well! Substitute thyme or oregano or a mixture if you like.
passata (US = tomato sauce): I usually go for organic passata since it's so widely available now. It's just pureed strained (uncooked) tomatoes, so no nasties in it.
red wine: Adds richness. Any you like, but if you choose one with a nice flavour you'll taste it in the sauce.
pappardelle pasta: This is 'thick ribbon pasta', like extra thick tagliatelle. It's perfect for a heavy sauce like this. But of course you can use any pasta you like.
You can also sprinkle the top of your sausage bolognese with some crispy panko breadcrumbs and parmesan – for a delicious contrast of textures.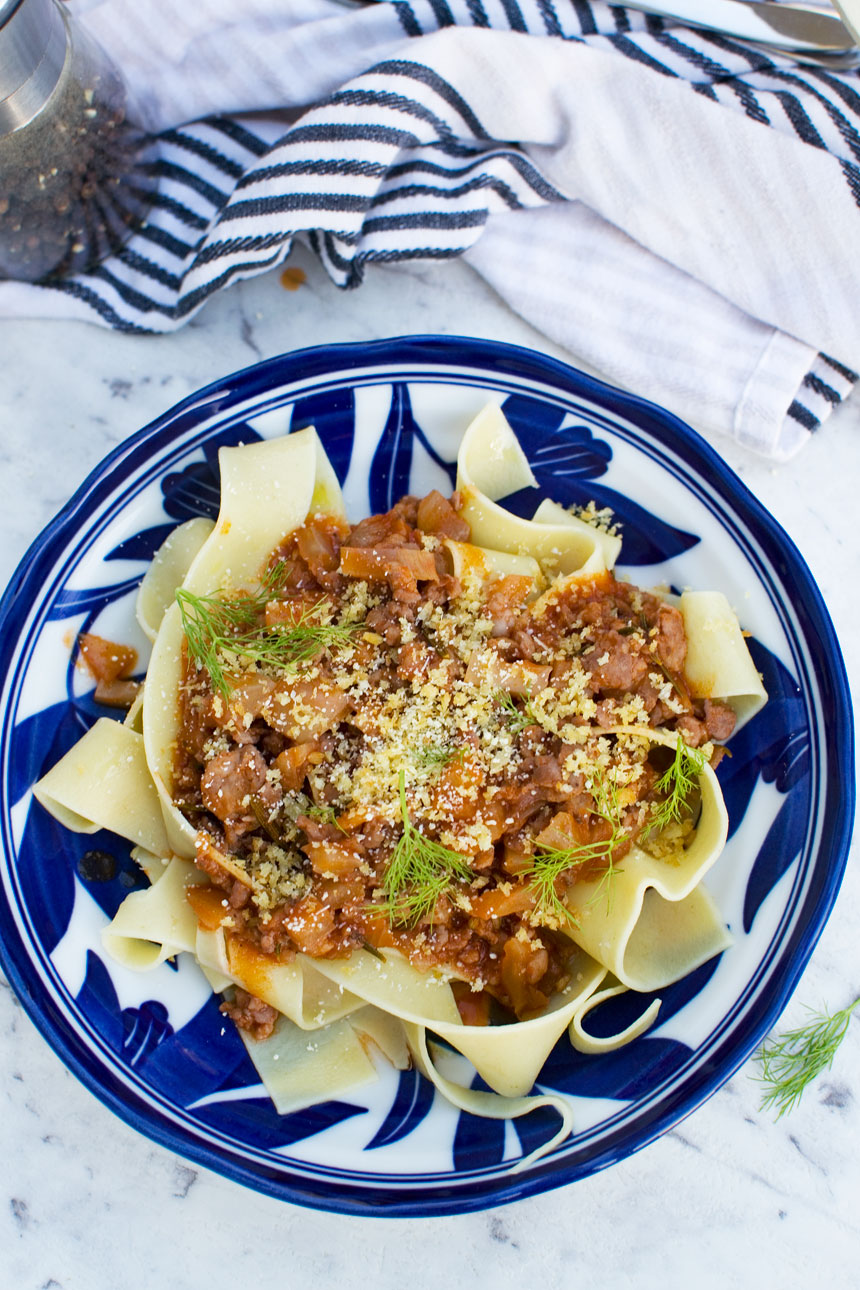 How to make it step-by-step
Step 1: Chop the fennel bulb exactly as you would an onion. You can discard the long bits, but make sure you save some of the green fronds for sprinkling over the finished dish (photos 1-2).
Step 2: Squeeze the sausages out of their casings and into a heavy based pan/pressure cooker bowl with a little pre-heated oil. Let them cook for a few minutes, then squish them with a potato masher – much easier than breaking the meat up with a wooden spoon! (photos 3-5)
Step 3: Add a couple of small sprigs of fresh rosemary and (optional) some fennel seeds (photo 6).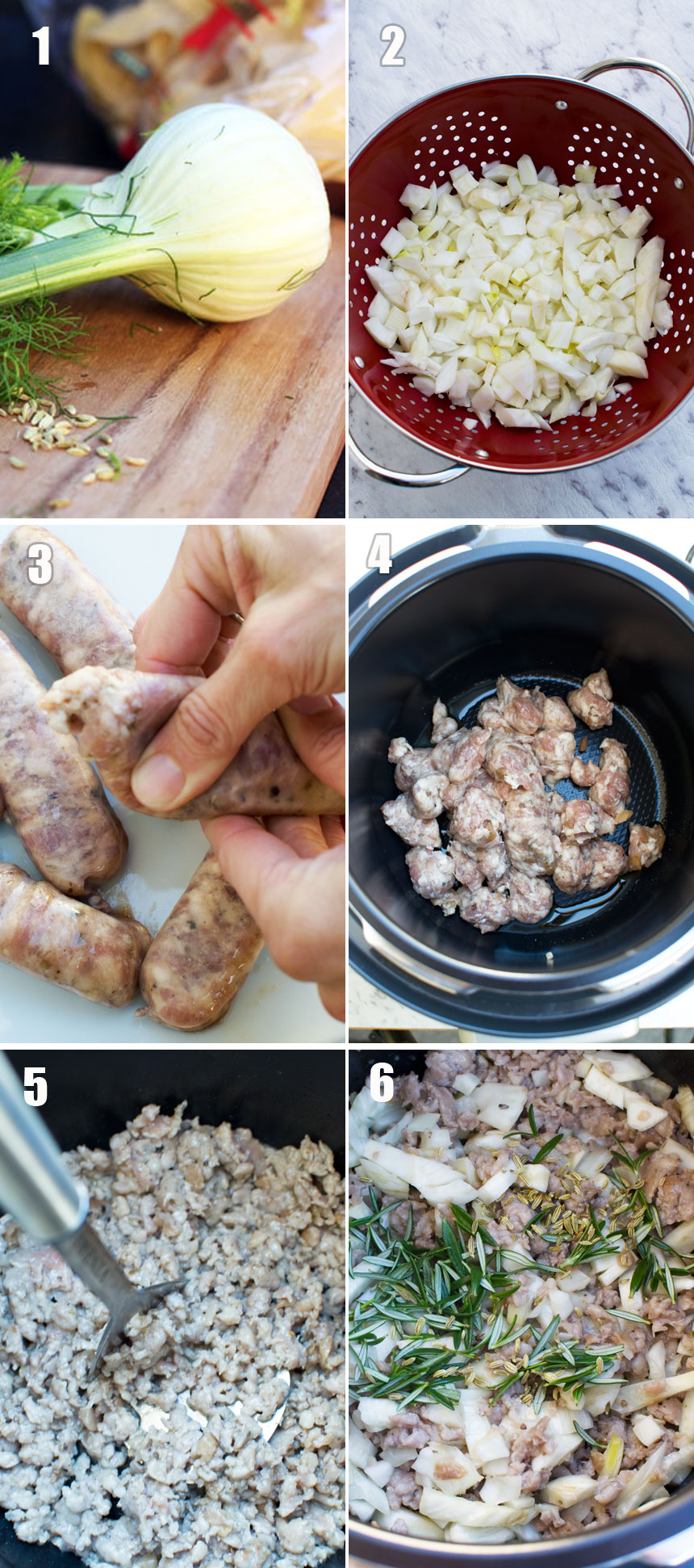 Step 4: Add red wine mixed with passata / tomato sauce (US) and water, then either let bubble away on the stove top for about an hour (although you could get away with a bit less time than this!) or pressure cook for just 20 minutes. I use the 'bolognese' setting on my wonderful electric pressure cooker and it comes out perfectly! (photos 7-9) Full instructions in the recipe below!
Step 5: While your pasta – preferably pappardelle – is cooking, quickly crisp up some panko breadcrumbs in a little olive oil (photo 11).
Step 6: Serve the sauce over bowls of hot pasta. Bear in mind you generally need far less pasta per person than you think! These days I usually use just one 'nest' of pappardelle each (photo 12).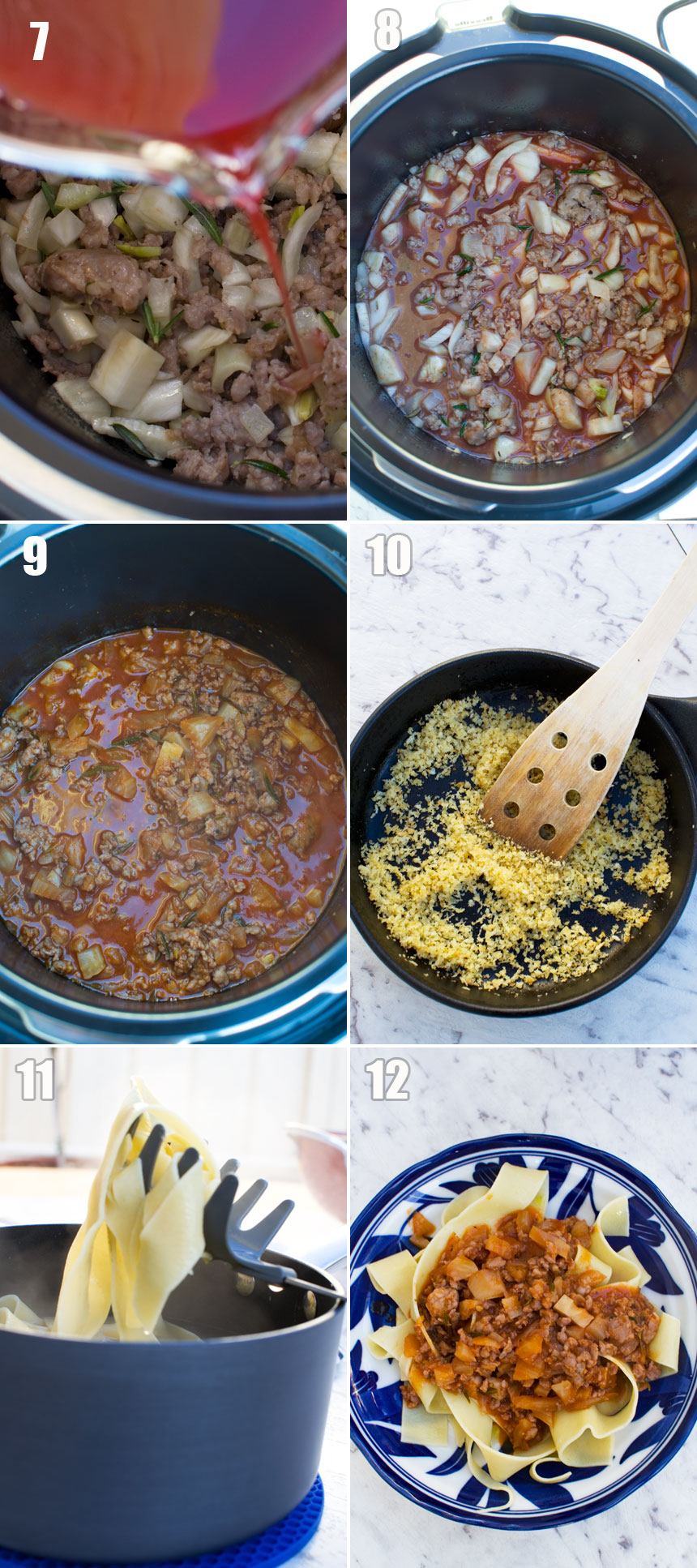 Final step: Sprinkle some of the crispy panko crumbs and some grated parmesan over each bowl of pasta and sauce.
Don't forget to scatter a few of the reserved fennel fronds over too – just to make it look pretty!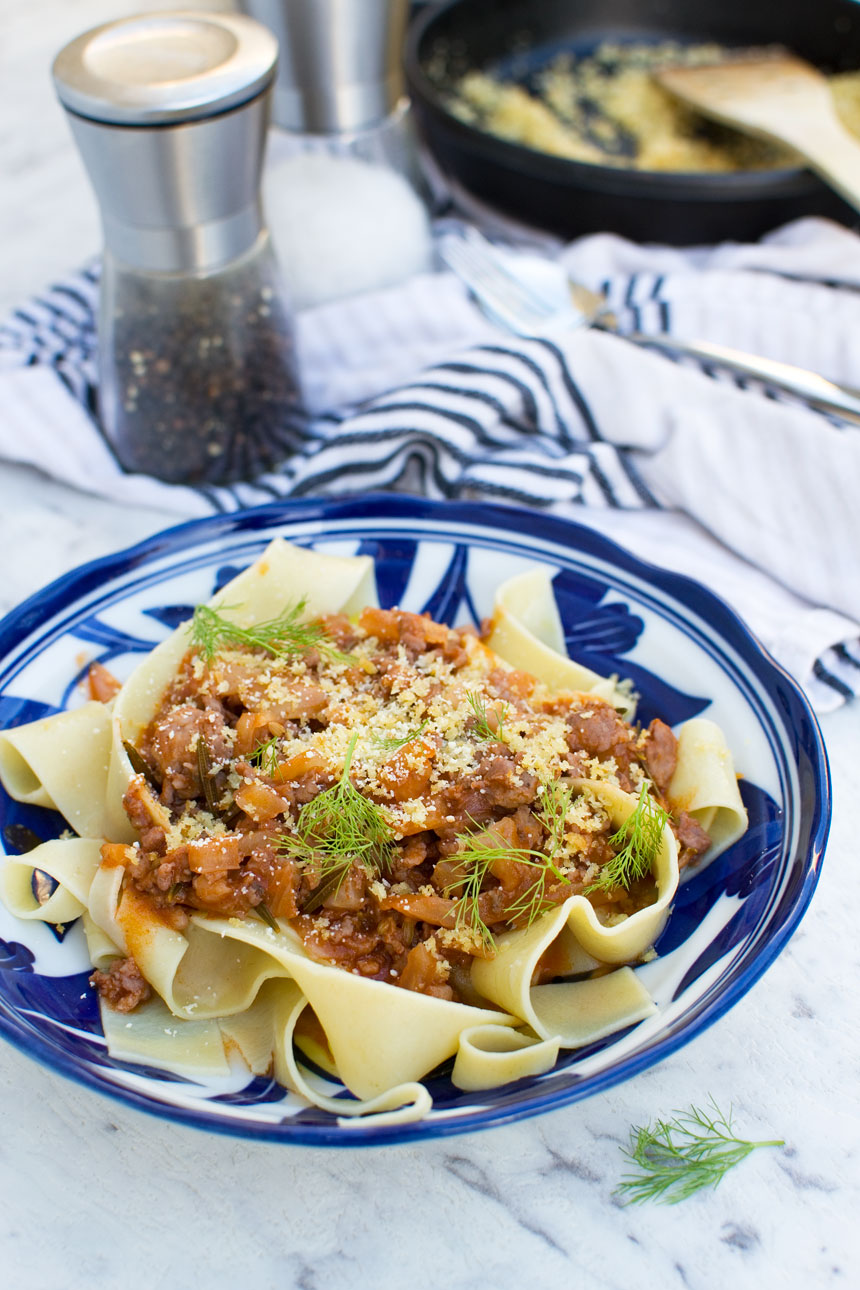 Top tips: 1. Make sure you use the best sausages you can find. No 'value' sausages, please! I usually go for Italian style pork sausages but any work. 2. Don't skip the crispy breadcrumbs on the top. They make the dish!
How to serve it and variations
Serve with these 2-minute olive oil toasts. A bit indulgent, but just delicious!
As well as serving this as a sausage pappardelle bolognese, you could also use it:
as a baked potato filling
with rice or nachos on the side and Mexican toppings such as avocado, this 10-minute tomato salsa, cheese.
as a lasagne sauce (why not?)
stirred through cooked pasta or raw gnocchi to make a pasta bake. Sprinkle with panko breadcrumbs and cheese and bake for 20 to 30 minutes at 180C/355F until golden and bubbling. Need freezer meals? This is perfect!
More things to know (recipe FAQ)
What's a good substitute for passata?
No passata in the pantry? If you puree canned tomatoes in your food processor, you've made some passata for yourself! A good quality pasta sauce works too. Just don't use tomato paste (UK tomato puree) which is very concentrated tomatoes and so not the same thing at all.
What can I use instead of fennel?
Can't find a fresh fennel bulb? If so, you could use chopped celery instead (about a pound or 450 grams). If you have them, add a few dried fennel seeds as well which will add the same subtle liquorice flavor as the fresh fennel bulb.
Can I freeze sausage bolognese sauce?
Yes, absolutely. It's best to freeze the sauce by itself, not mixed into pasta. Simply let cool then freeze in airtight containers for up to 3 months.
More easy pasta dinners
Or see all my easy pasta recipes.
IF YOU MAKE THIS RECIPE, LET ME KNOW HOW YOU GET ON BY LEAVING A COMMENT AND RATING BELOW… AND DON'T FORGET TO SIGN UP TO RECEIVE ALL MY NEW RECIPES BY EMAIL!
FOLLOW ME ON FACEBOOK, INSTAGRAM, PINTEREST AND YOUTUBE.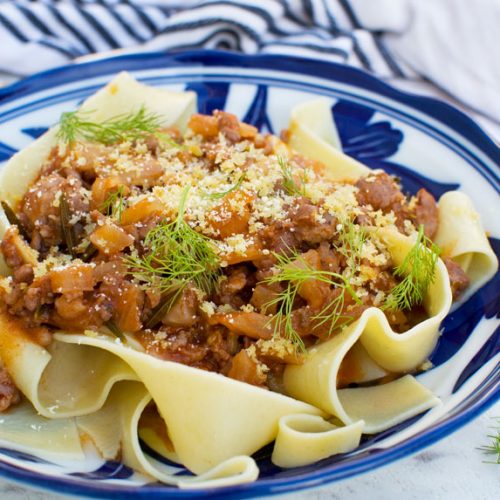 6-ingredient Sausage Bolognese With Fennel (Stove Top & Pressure Cooker)
This is a ridiculously tasty sausage bolognese recipe that I usually serve with pappardelle pasta. Perfect for when you're in the mood for a bit of comfort food but don't want to spend hours at the stove. Speaking of which… you need very little hands-on time for this recipe, and the best part? It's made with just 6 main ingredients!
Ingredients (UK/Australia? Click below for grams/ml)
2

tablespoons

olive oil

divided

1

bulb

fennel

chopped like an onion

14

ounces

pork sausages

(I use six good quality Italian sausages)

¾

teaspoon

fennel seeds

2

sprigs

rosemary

1

cup

red wine

(pressure cooker: ½ cup)

3½

cups

passata

(US = tomato sauce) (pressure cooker: 1 cup)

1

cup

water

(pressure cooker: ½ cup)
to serve
3

tbsp

panko breadcrumbs

(roughly)

grated parmesan cheese

salt and freshly-ground black pepper

8

ounces

pappardelle pasta

(about 1 'nest' per person – trust me, this is enough!)

toasted Italian bread with olive oil & salt

optional (but sooo delicious!)
Instructions
Trim the long part of the fennel off the bulb and put aside. Chop the very end off the bulb, then cut into fine pieces, like an onion.

Heat about a tablespoon of olive oil in a saucepan/cast iron pan, or the bowl of an electric pressure cooker. Squeeze the meat out of the skin and into the hot pan/bowl.

Cook the sausage for a few minutes until white, then mash it with a potato masher until it looks like ground meat.

Add the chopped fennel, the fennel seeds (if using) and the rosemary and let cook for about five minutes longer.

Pour in the wine, passata/tomato sauce and water (note different amounts if using pressure cooker). Leave to cook gently for about an hour (stove top). If using a pressure cooker, choose the 'bolognese' setting, or manually set it for 20 minutes followed by 'auto quick' pressure release. Reduce the liquid for a few minutes using the 'reduce' or 'saute' setting. Add salt & pepper to taste.

About ten minutes before the end of the cooking time, cook the pasta according to the packet instructions.

While the pasta is cooking, heat up about a tablespoon of olive oil in a small frying pan/skillet. Fry the panko crumbs for a few minutes, stirring regularly, until they are crispy.

Divide the pasta between your plates, then ladle the bolognese sauce on top. Sprinkle with the crumbs, grated parmesan, and some green fronds from the fennel.
Notes
Thanks to Jamie Oliver's restaurant, Perth, for the inspiration for this recipe!
Stove top or pressure cooker? Both ways of cooking will yield excellent results, but obviously the pressure cooker method will be a bit quicker (about 35 minutes vs. 1 hour actual cooking time).
I use the 'bolognese' setting on my pressure cooker. It's 20 minutes of actual cooking time, but there's also pre-heating and de-pressurizing time to add to that (so all in all you're looking at about 35 minutes in the pressure cooker).
If your electric pressure cooker doesn't have a bolognese setting, manually set it to 20 minutes, and 'auto quick' pressure release.
Sometimes I reduce my bolognese sauce a little after it's cooked (for 2 to 3 minutes) on the 'reduce' setting. The saute setting will work for this too.
Sausages: Use the best quality sausages you can find.
Wine: I don't think it matters too much whether you use red or white wine – just use whichever you prefer or have.
Breadcrumbs: Make sure the breadcrumbs are nice and crispy and you put plenty on top of each dish … it really makes the dish, in my opinion!
How to serve: Serve with toasted Italian-style bread drizzled with olive oil and sprinkled with salt. A bit indulgent, but just delicious!
Freezing: This bolognese sauce freezes really well. Simply let cool and freeze in sealed glass containers.
This recipe is very easily doubled or even tripled if you want to stock up your freezer!
Nutrition
Calories:
757
kcal
Carbohydrates:
73
g
Protein:
28
g
Fat:
35
g
Saturated Fat:
10
g
Cholesterol:
71
mg
Sodium:
787
mg
Potassium:
1666
mg
Fiber:
8
g
Sugar:
13
g
Vitamin A:
1270
IU
Vitamin C:
30.9
mg
Calcium:
112
mg
Iron:
6.9
mg