Welcome to the lightest, crispiest zucchini fries made with an addictive tempura batter. Make them as a quick and easy appetizer to share, or an interesting side dish. You'll make them again and again!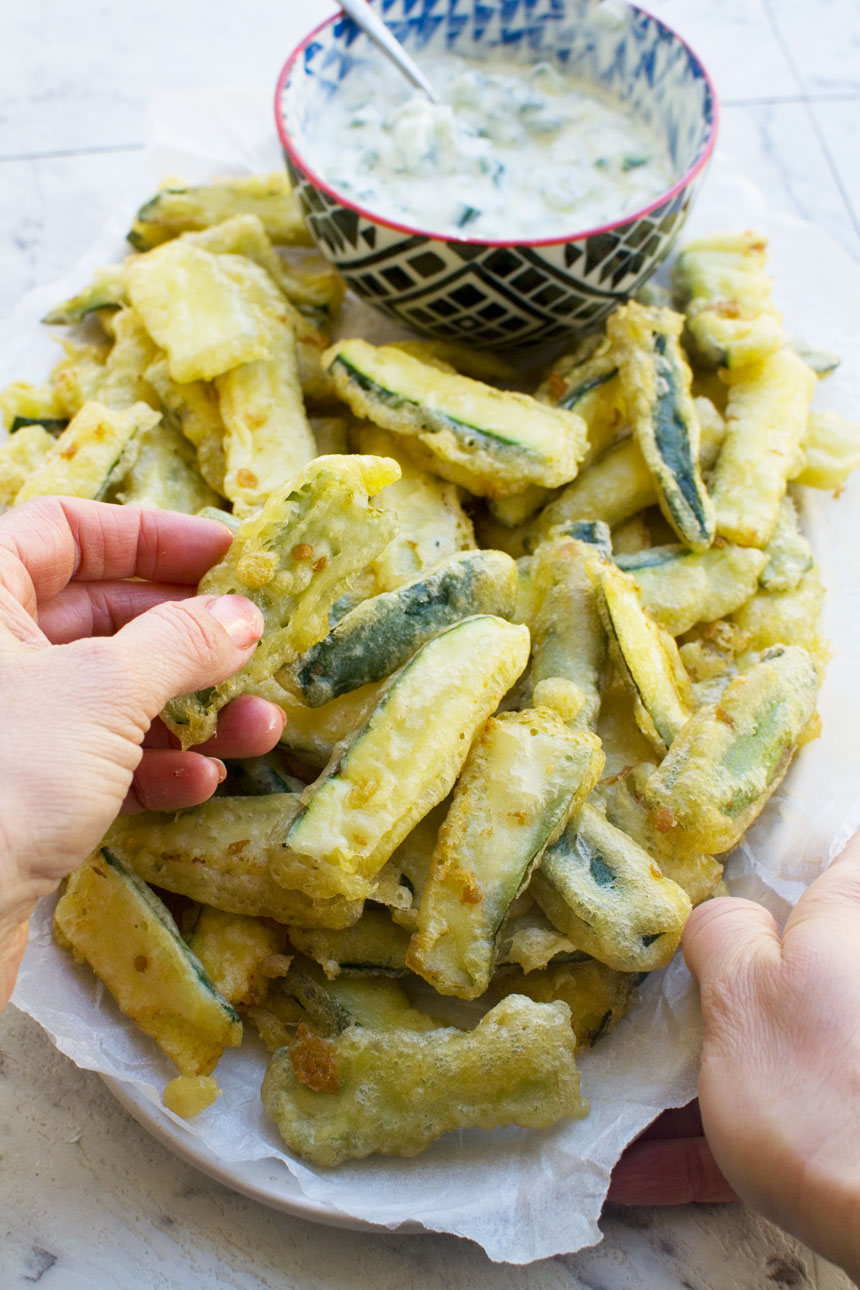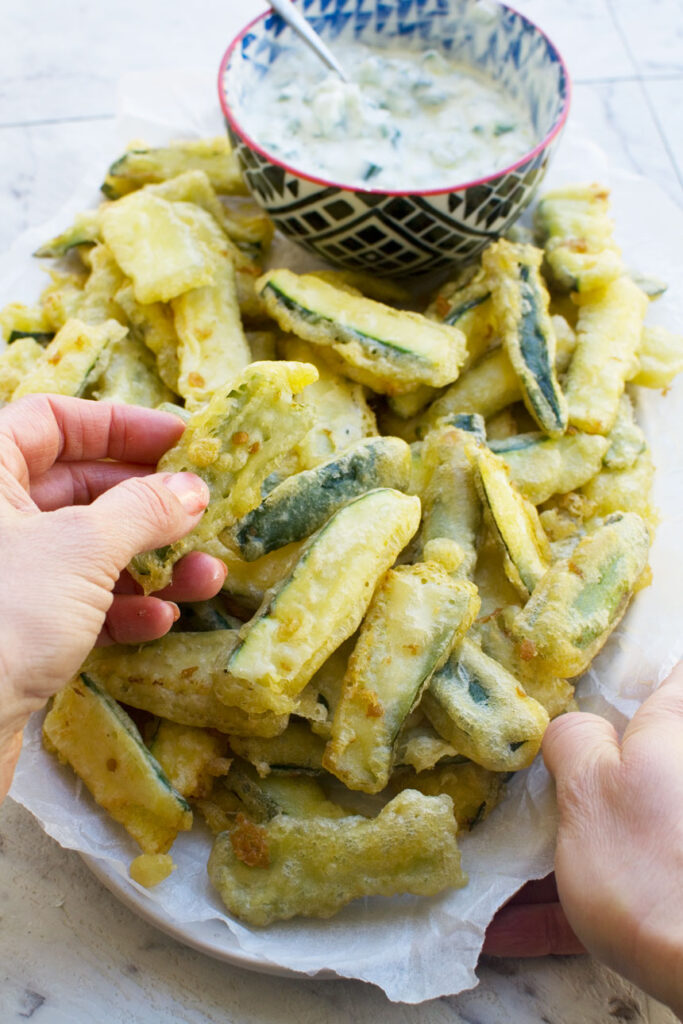 Another delicious Greek recipe
Have you tried any of my Greek recipes yet? It's hard to choose a favourite, but may I suggest a Greek salad with almost anything, an easy moussaka, or a one pan Greek chicken and potatoes dinner?
I'm all about ANY kind of quick, easy and yummy foods here on Scrummy Lane, but Greek cuisine in particular makes me jump up and down with excitement.
Why these are the best zucchini fries
There are hundreds of zucchini or courgette fries recipes out there, but here's what I really like about this one:
You don't need a deep fat fryer, or even to use a lot of oil. Just an inch of oil in a medium to large pan is enough.
The easy tempura batter takes minutes to make – it's just flour, soda water, baking powder, and a bit of salt. Nope, no eggs.
Not only is it easy to make, the tempura batter is light, puffy, crispy and delicious.
The fries only take a few minutes to cook in the hot oil. This means you don't have to use a big pan with a lot of oil in it. Just make the fries in a few easy batches.
What ingredients do you need?
This is a quick and easy recipe with just zucchini/courgette and 5 very basic ingredients to make the tempura batter.
Why do I use soda water to make my batter? Don't ask me the science behind it, but it helps to keep the batter light. Also, as there are no eggs in the batter either, using water instead of milk makes it vegan.
Tzatziki for dipping is optional but highly recommended!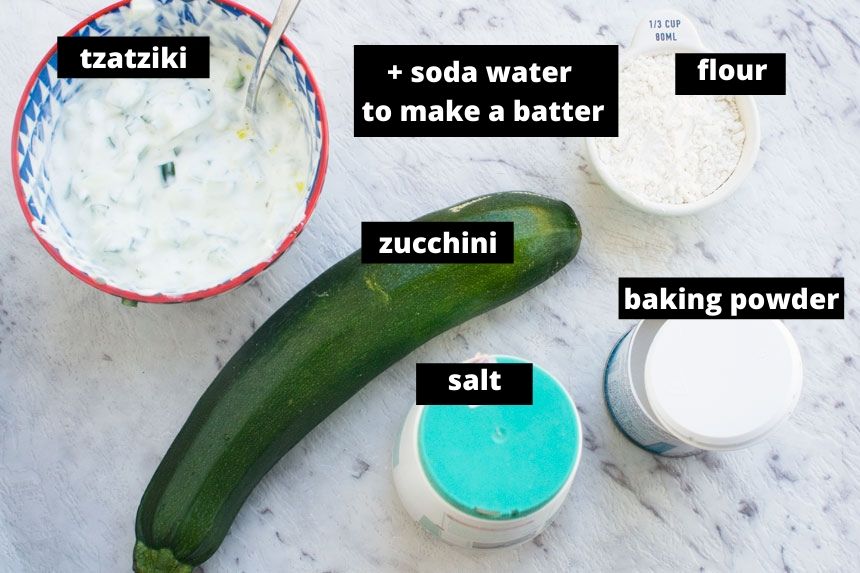 How to make them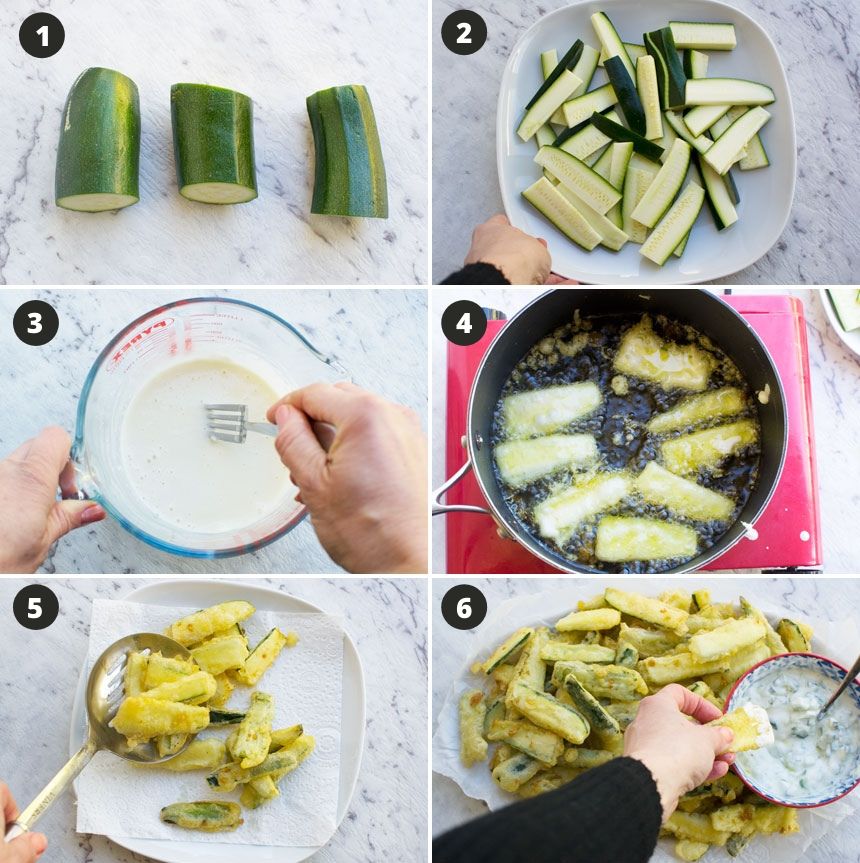 How to cut the zucchini/courgette into fry shapes:
Cut the zucchini into 3 or 4 pieces depending on how big it is.
Then cut each piece in half lengthwise so you have 2 semi-circles of zucchini.
Finally, slice lengthwise again into fry shapes.
Watch the video to 'see' how to do it!
You can make chunky fries, medium fries or skinny fries. The recipe will still work.
Or if you prefer you can simply slice the zucchini into rounds. Like a cucumber. I've eaten fried courgette like this in Greece many times!
How to make the tempura batter
This is so easy. All you do is grab a small bowl or jug.
Mix together the dry ingredients, then slowly whisk in the chilled soda water.
How to cook your fries
Wait until your oil is very hot. This will make sure your fries don't go soggy – they'll be nice and crispy. Test by dipping the end of a piece of zucchini in – if it sizzles the oil's ready.
Drop small handfuls of the chopped zucchini into the batter. Fish them out with a fork or even your fingers.
Gently drop them into the hot oil. Let cook for a couple of minutes. The batter will puff up a little and go lightly golden. Flip over with a fork for a minute or so if the top still looks raw. You might not need to do this!
Repeat in batches until you've fried all the zucchini. Don't worry, it doesn't take too long!
Fish out with a slotted spoon and drain on kitchen paper. Then enjoy immediately while they're still lovely and crispy. Don't burn your tongue!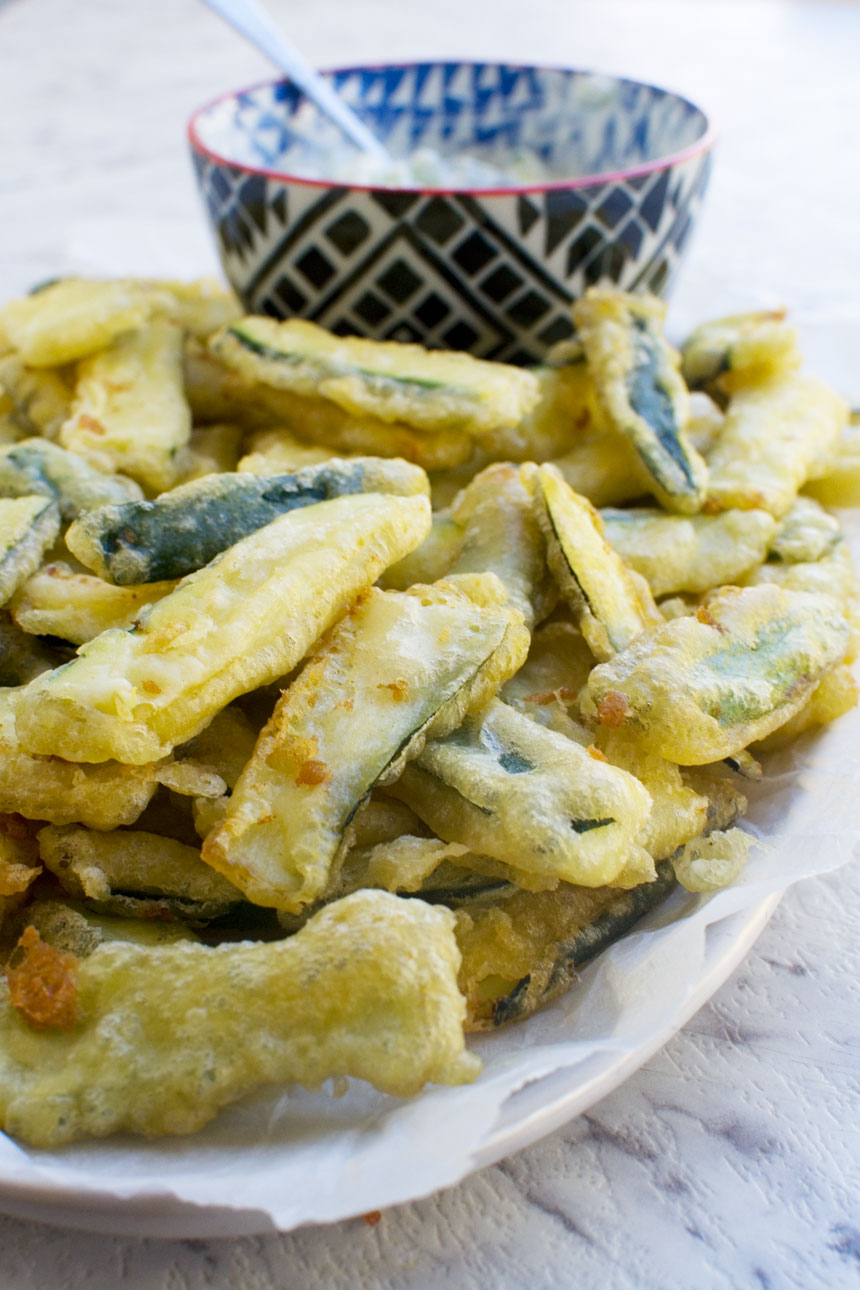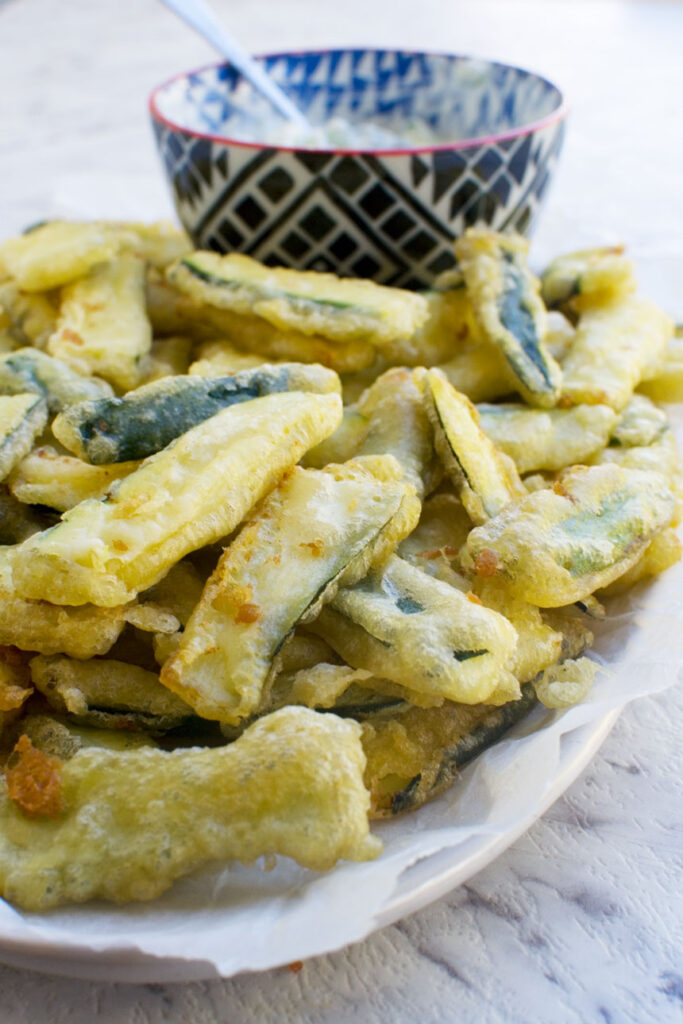 Erm… are they good for you?
Well, they aren't 'bad' for you. Zucchini/Courgette is a healthy vegetable, after all. These fries are low in carbs and high in fiber and antioxidants, but just as delicious and satisfying as french fries.
They also happen to be vegan zucchini fries, if that's important to you.
I shallow fry these in olive oil. I've tried baked versions of zucchini fries but for me, fried is the most delicious way to go!
How to serve zucchini fries
Zucchini/Courgette fries are more versatile than you might think.
Along with my legendary halloumi fries, these are one of my favourite Greek style 'crispy things'.
Eat them chunky or eat them skinny. It's your choice, but may I suggest serving a generous pile of them with a bowl of tzatziki sauce?
They're perfect for sharing so they make a great appetizer. Alternatively, serve them as a side dish with a meat, fish or vegetarian main.
Zucchini fries go particularly well with: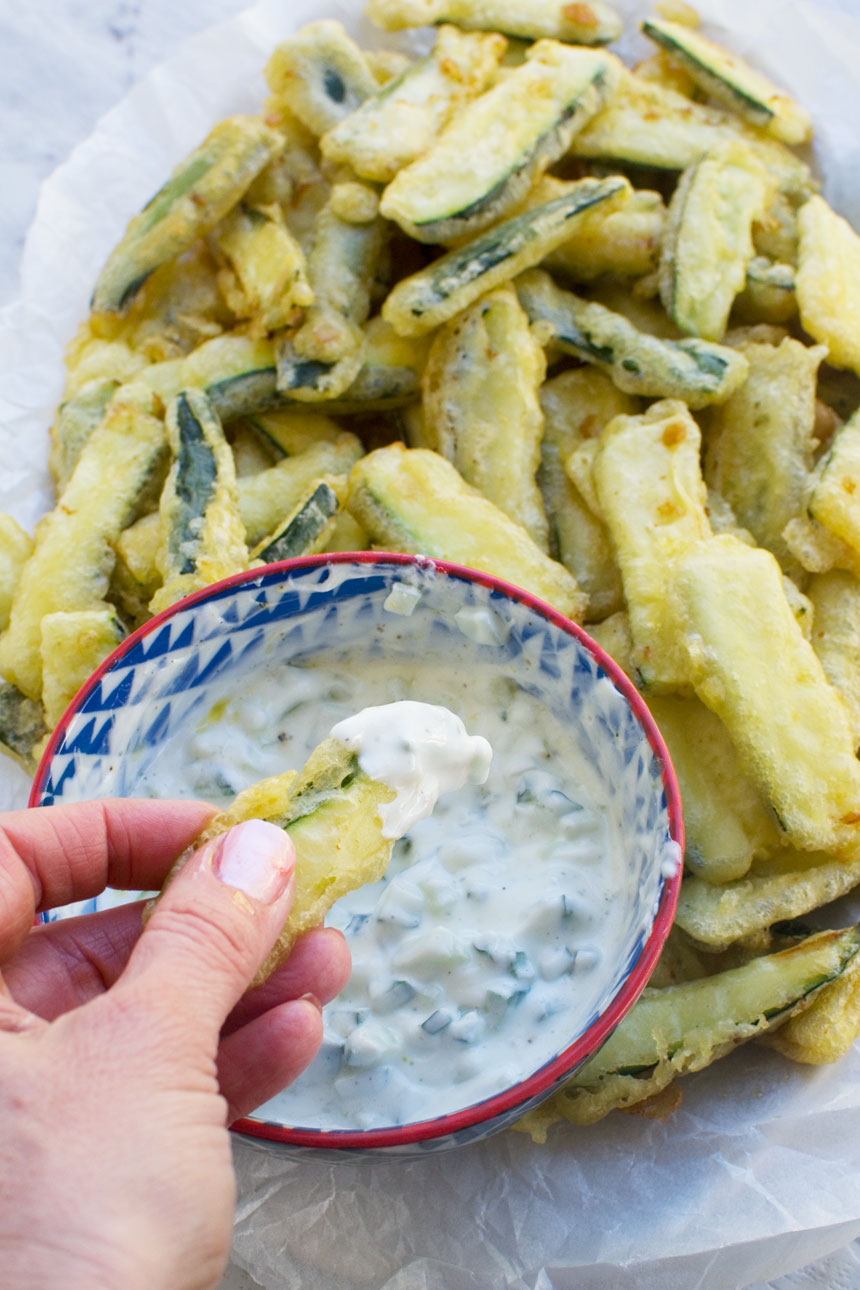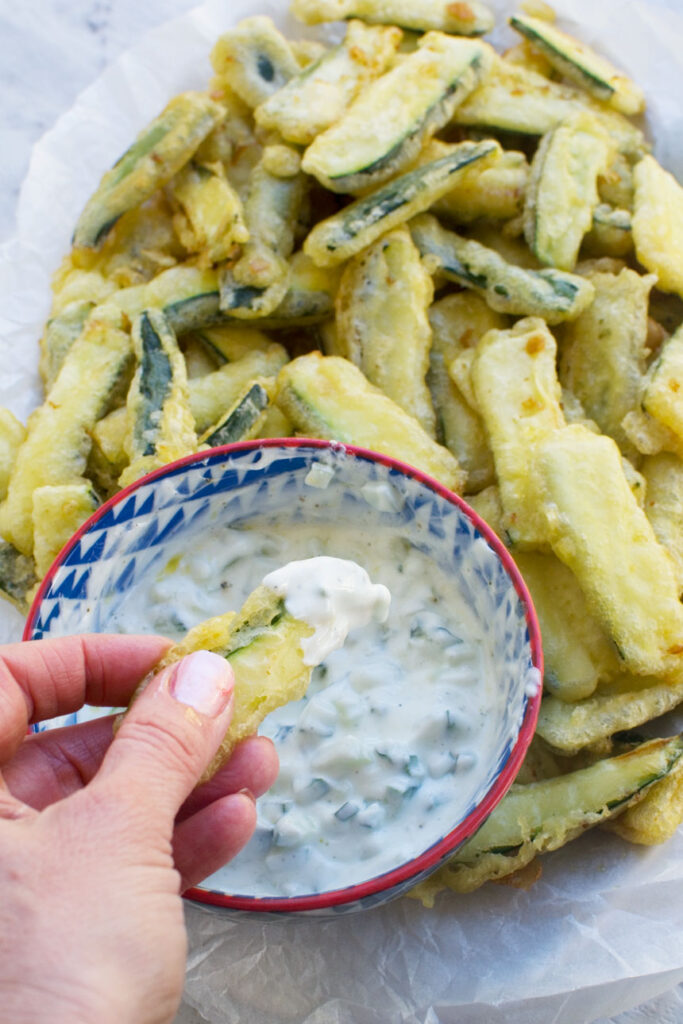 Got more zucchini to use up? You HAVE to try this amazing zucchini slice. It isn't a quiche, it isn't a pancake, and it isn't corn bread. It's more like something in between, and it's absolutely delicious!
More amazing Mediterranean recipes that you must try!
Or browse all my Mediterranean recipes here
IF YOU MAKE THIS RECIPE, LET ME KNOW HOW YOU GET ON BY LEAVING A COMMENT AND RATING BELOW… AND DON'T FORGET TO SIGN UP TO RECEIVE ALL MY NEW RECIPES BY EMAIL!
FOLLOW ME ON FACEBOOK, INSTAGRAM, PINTEREST AND YOUTUBE.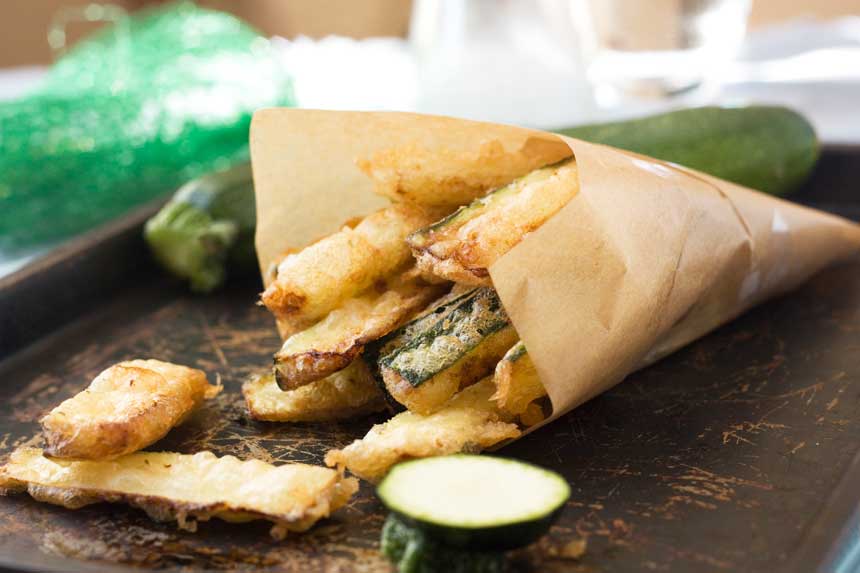 The best easy zucchini fries with tempura batter
Delicious and super easy zucchini fries in the lightest, crispiest tempura batter. They go wonderfully well as a side with any kind of meat, fish or vegetarian main. They also make a crowd pleasing appetizer to share. Don't forget a big dish of traditional Greek tzatziki sauce for dipping!
Equipment (affiliate links)
Ingredients (UK/Australia? Click below for grams/ml)
2

medium zucchini

(courgettes)

1

cup

oil

(approximately – enough to fill a medium pan with about ½ inch oil) I like to use light olive oil, but any kind of oil is fine.
for the tempura batter
1

cup

plain flour

¾

teaspoon

salt

1½

teaspoons

baking powder

1

cup

soda water

chilled (or use sparkling mineral water)
for the tzatziki sauce
1

cup

Greek yoghurt

(not regular yoghurt – it's too thin)

½

clove

garlic

minced/crushed

1

cucumber

(medium) diced finely, or grated

1

teaspoon

dill

chopped finely (optional)

2

squeezes

lemon juice

black pepper & a drizzle of olive oil
Instructions
Wash your zucchini/courgette and chop off the very ends. Then cut into three or four big pieces, depending on the size. Cut each piece in half so you have 2 semi-circles. Then lay flat (green side up) and slice into fry shapes.

Combine the flour, salt and baking powder in a jug or small bowl. Then slowly add the chilled water and mix until you have a smooth batter.

Heat up the oil until it sizzles when you dip the end of a piece of zucchini in it.

Dip the zucchini into the batter a small handful at a time. Fish out with a fork and place carefully into the hot oil.

Let cook for 2 or 3 minutes, turning once if necessary.

When the fries are puffed up and golden, remove with a slotted spoon. Drain on kitchen paper. Repeat until all the zucchini is fried.

Serve while still hot and crispy with tzatziki sauce on the side (optional – see recipe below).
for the tzatziki sauce
Put the yogurt into a small bowl or dish and add the garlic, cucumber, dill and lemon juice. Mix it all together well.

Grind some black pepper onto the top and drizzle over a little olive oil.
Notes
How to slice the zucchini
I've described how to do this in the body of the post above. You can also watch the how-to video to 'see' how I do it.
You can cut the fries either thick, medium or skinny. You can also fry 'rounds' of zucchini instead of fries. Simply slice the courgette/zucchini like you would a cucumber, then proceed with the recipe as normal.
Flip the zucchini fries in the oil or not?
It depends! I sometimes find that I need to flip the fries over for a few seconds to cook the top. Sometimes though you don't need to do this – it depends how vigorously the oil is bubbling, and how deep the oil is in the pan. Just keep a close eye on them and make a decision as they are cooking.
Nutritional info
I've roughly estimated that you'll need around 1 cup or 250ml oil to cook all the zucchini fries. You won't be 'eating' all of this oil, so bear in mind that the calorie count of 1 portion of these fries will probably be less than stated above!
This post has been updated!
Just a note to let you know that this post has been updated from its original version. While the fries were still delicious, I felt that the batter in the old version of the recipe was a bit too thin which meant that it didn't stick very well to the fries 🙂
Nutrition
Calories:
680
kcal
Carbohydrates:
32
g
Protein:
11
g
Fat:
58
g
Saturated Fat:
5
g
Cholesterol:
3
mg
Sodium:
483
mg
Potassium:
543
mg
Fiber:
2
g
Sugar:
6
g
Vitamin A:
283
IU
Vitamin C:
20
mg
Calcium:
165
mg
Iron:
2
mg