Last Updated on
Zucchini fries…. mmm! One of my favourite Greek foods. In fact, just one of my favourite foods. They're so quick and easy to make, and go really well with a huge variety of meals.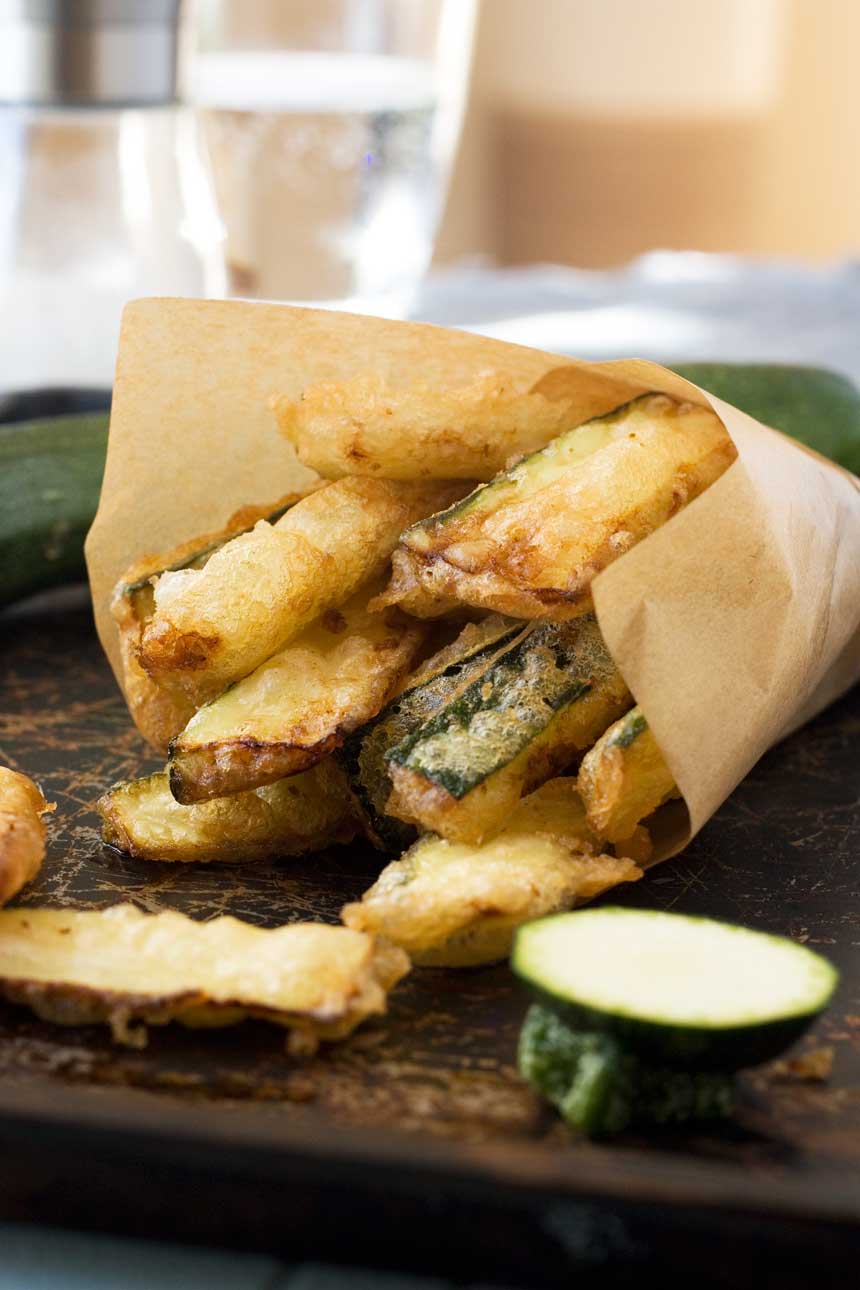 Zucchini fries is one of those recipes that I've been meaning to post for EVER. Mr. Scrummy constantly reminds me of the times we used to pop down to one of our (many) favourite tavernas when we were in Greece and order Greek salad, meatballs, tzatziki, and a huuuuge plate of crispy, stringy zucchini fries…
Then we'd scoff that obscenely large amount of delicious veggies all to ourselves. With not a smidge of guilt or regret. Somehow, the fact that the zucchini was fried didn't seem to matter when we were eating it as part of the most gorgeously fresh and locally sourced Mediterranean meal.
I really don't know why I don't make these more often. They're ridiculously easy to make, insanely delicious, and so so so good served on the side of a wide variety of meals.
I made these a few weeks ago together with this Greek lemon and oregano chicken and crispy potatoes (one of our favourite staple meals!). Another time I made them with meatballs. Pretty much every time, I add a big fresh Greek salad and tzatziki – these are essential additions in my humble opinion!
This time, I chose to slice my zucchini into thin(ish) but wide fry shapes, like so: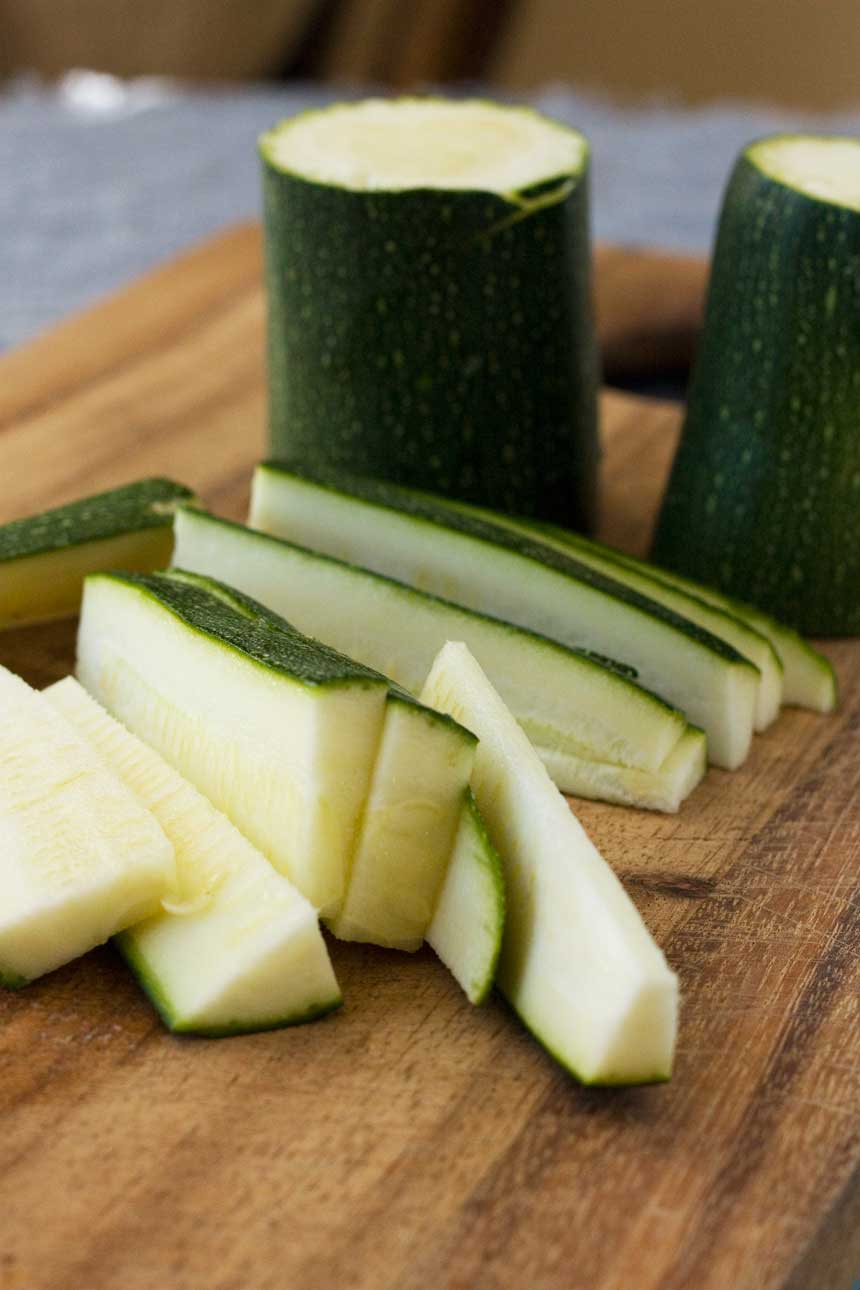 You don't have to slice them like this, however. A few weeks ago, I made fairly thin rounds, sliced like I'd normally slice a cucumber. Another time I might make them more like skinny fries. It's totally up to you.
There are a few reasons I find these so quick and easy (not to mention delicious) to make:
You don't need a deep fat fryer, or even to use a lot of oil. Just an inch of oil in a medium saucepan is quite enough.
The easy tempura batter takes mere minutes to make – it's just flour, soda or fizzy water, and a pinch of salt.
The zucchini fries only take a couple of minutes to cook in the hot oil. This means it isn't a big deal to make the fries in batches, meaning you don't have to use a big pan with a lot of oil in it (as per first point above!).
The batter is light, puffy, and crispy… mmm!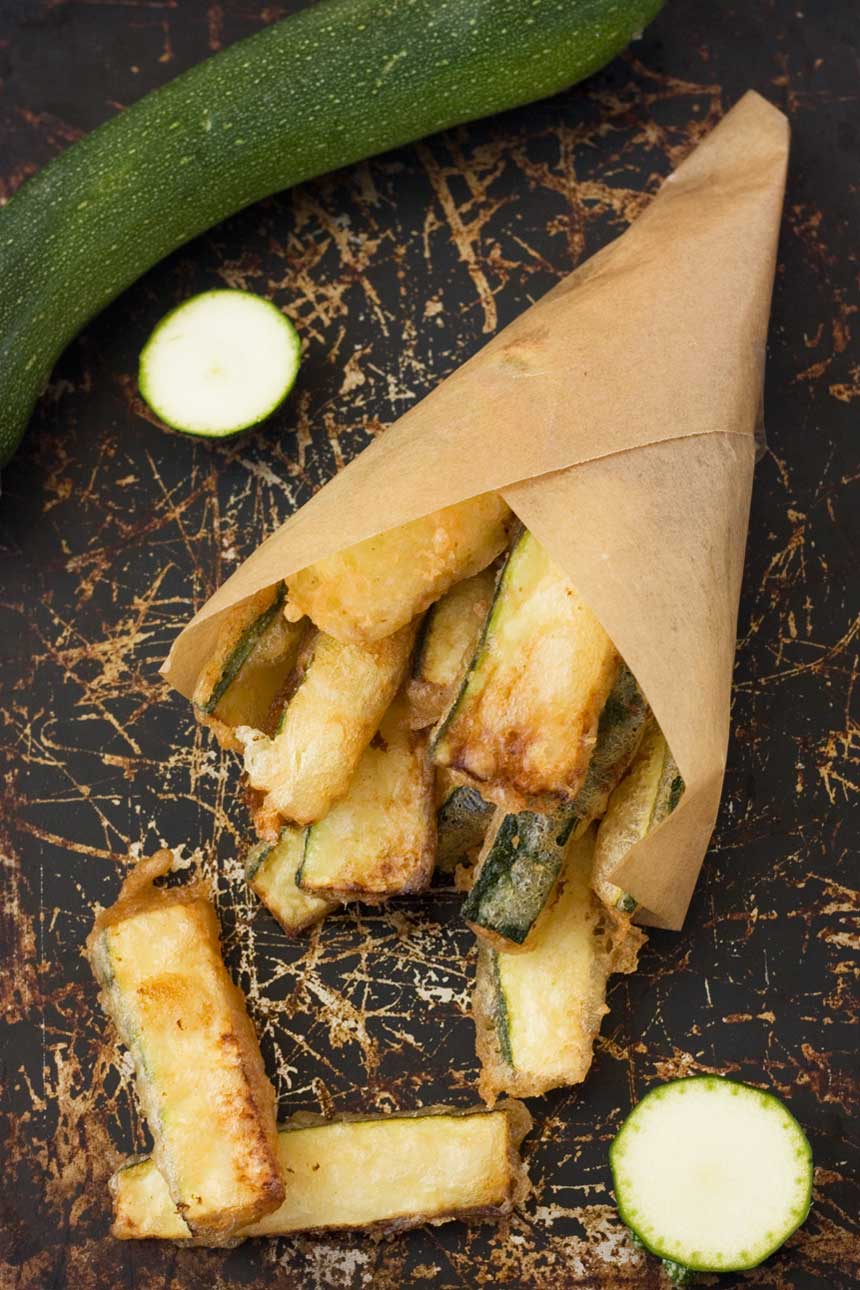 And the best news yet… you're eating a win-win vegetable. Aparently, zucchini is low in calories, and high in antioxidants. So any extra calories you're ingesting from the oil, you make up for because you're eating zucchini – well, that's the way I choose to look at it, anyhow 😉
More amazing Mediterranean recipes that you must try!
Or browse all my Mediterranean recipes here
IF YOU MAKE THIS RECIPE, LET ME KNOW HOW YOU GET ON BY LEAVING A COMMENT AND RATING BELOW… AND DON'T FORGET TO SIGN UP TO RECEIVE ALL MY NEW RECIPES BY EMAIL!
FOLLOW ME ON FACEBOOK, INSTAGRAM, PINTEREST AND YOUTUBE.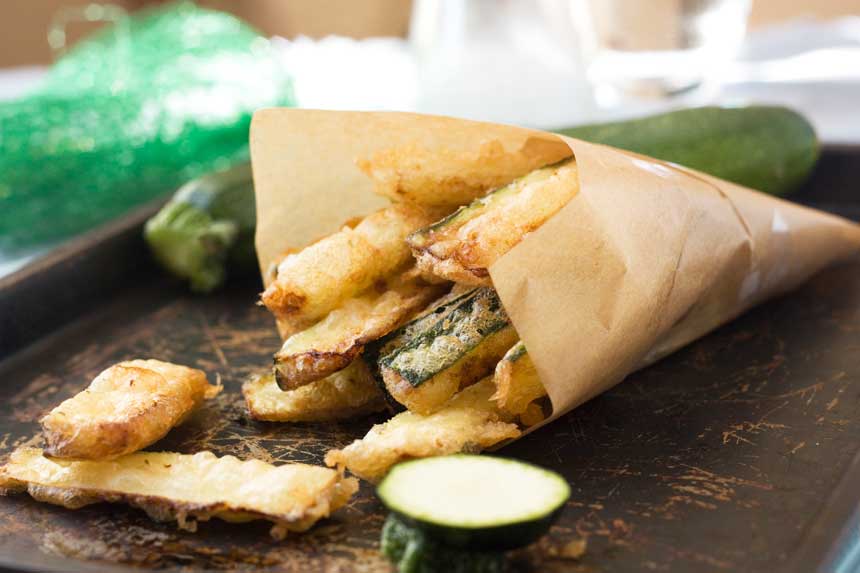 Zucchini fries
Delicious (not to mention very easy to make) zucchini fries in the lightest, crispiest tempura batter…. go wonderfully well as a side with any meat or fish meal (and a side of crispy roasted potatoes don't hurt, either!).
Ingredients
2

medium zucchini

courgettes

enough cooking oil to fill a medium saucepan with about 1 inch oil

I used rapeseed oil, but cheaper olive oil would be great too
for the tempura batter
1/3

cup

plain flour

1/2

teaspoon

salt

6.5

ounces

sparkling / soda water

chilled
Instructions
Wash, top and tail your zucchini, then cut into three or four big pieces, according to the size. Cut each piece in half (so you have 2 semi-circles), then lay flat (green side up) and slice into fry shapes (see picture above)*.

Now make the batter. Combine the flour and salt in a jug or small(ish) bowl, then slowly add the chilled water and mix until you have a thin batter (don't over-mix**).

Heat up the oil until it sizzles when you add a zucchini end. Dip the fries in the batter a few at a time, let any excess batter drip off, then place into the hot oil carefully.

Let cook for a couple of minutes, turning once after about a minute***, then remove with a slotted spoon onto kitchen paper to drain.

Repeat until all the zucchini is fried, then serve immediately.
Notes
A note on the nutritional info
I didn't include the oil in the nutritional info. Sorry about that if it's important to you to know exactly how many calories the recipe has. I just felt that it was too difficult to try to calculate how many calories the oil adds, so didn't try. 
*This is only a suggestion. Slice your zucchini any way you like!
**Not over-mixing keeps your batter light.
***You may not need to do this – just use your judgement at the time!
Nutrition
Calories:
54
kcal
Carbohydrates:
10
g
Protein:
2
g
Sodium:
308
mg
Potassium:
266
mg
Fiber:
1
g
Sugar:
2
g
Vitamin A:
195
IU
Vitamin C:
17.6
mg
Calcium:
16
mg
Iron:
0.8
mg