If you're looking for a take-along party appetizer recipe that's easy, impressive, and makes A LOT, these crispy mushroom filo triangles are it.  Scroll down for the handy how-to video!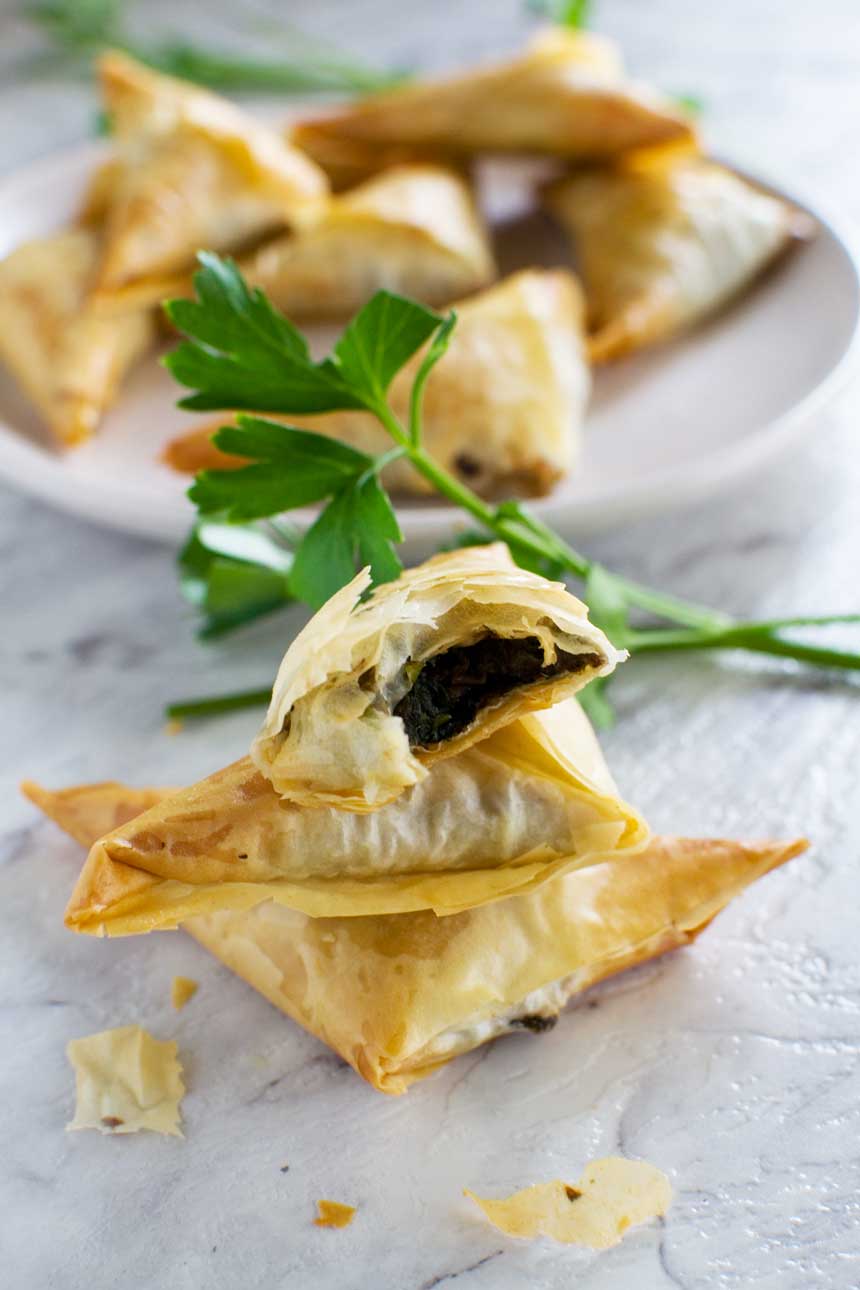 How was Christmas? Ours Down Under was good strange. After years and years and years of cold Christmases, it's hard to get into the groove when suddenly Christmas is hot.
Where was my Christmas shopping on crisp dark evenings? Where were my mince pies? Where was the mulled wine? WHERE WAS MY TURKEY DINNER?
But who's going to complain for too long when the sun's shining brightly and you're picnicking by the river with other yummy foods?
I still missed my turkey-with-all-the-trimmings dinner, but our dinner was still good. Really good actually, and I still got to eat far too many chocolates afterwards. Some holiday traditions don't change wherever you're living.
And also… Benjamin had a wonderful time crawling around and making mischief and Mr. Scrummy and I had our first night out in nearly a year. By 'night out' I mean we got home at 8.30pm (woo hoo) instead of our usual 5pm. Hey, stop sniggering!
These crispy mushroom filo triangles went really well with our meat-and-lots-of-lovely-salads picnic, but they'd be great at any kind of party.
Fresh out of the oven (or even a few hours later) they make perfect hand around party appetizers.
They're super easy to make, like everything else around here. You just need a food processor to pulse your mushrooms into small bits, 10 minutes to cook them down and a little while longer to throw in a few more filling ingredients and assemble your filo triangles.
Because I used garlic and herb cream cheese for an easy extra punch of flavour, the filling in my crispy mushroom filo pies only contains 6 ingredients plus salt and pepper.
If I'm honest it might take you a bit of time to assemble the parcels the first time, but the second time you'll make them with your eyes closed!
I enjoyed making this mushroom filling and keeping my pies vegetarian. But once you've mastered the art of making filo pastry triangles (see video below!), you could fill them with so many different things.
Spinach and feta, butternut squash and bacon, leek and potato, cheddar and onion… you're only limited by your imagination. Simply add an egg or some cream cheese to your chosen fillings and I can't imagine your little triangles being anything but delicious!
The other great thing is that this recipe makes 35 to 40 little triangles, and so they're perfect for making ahead and freezing in batches. I still have a couple of little baggies of these stashed away in my freezer, waiting for the next time friends pop by (oh friends, where art thou?).
I'll simply cook them straight from frozen and add on 5 minutes or so to the regular cooking time.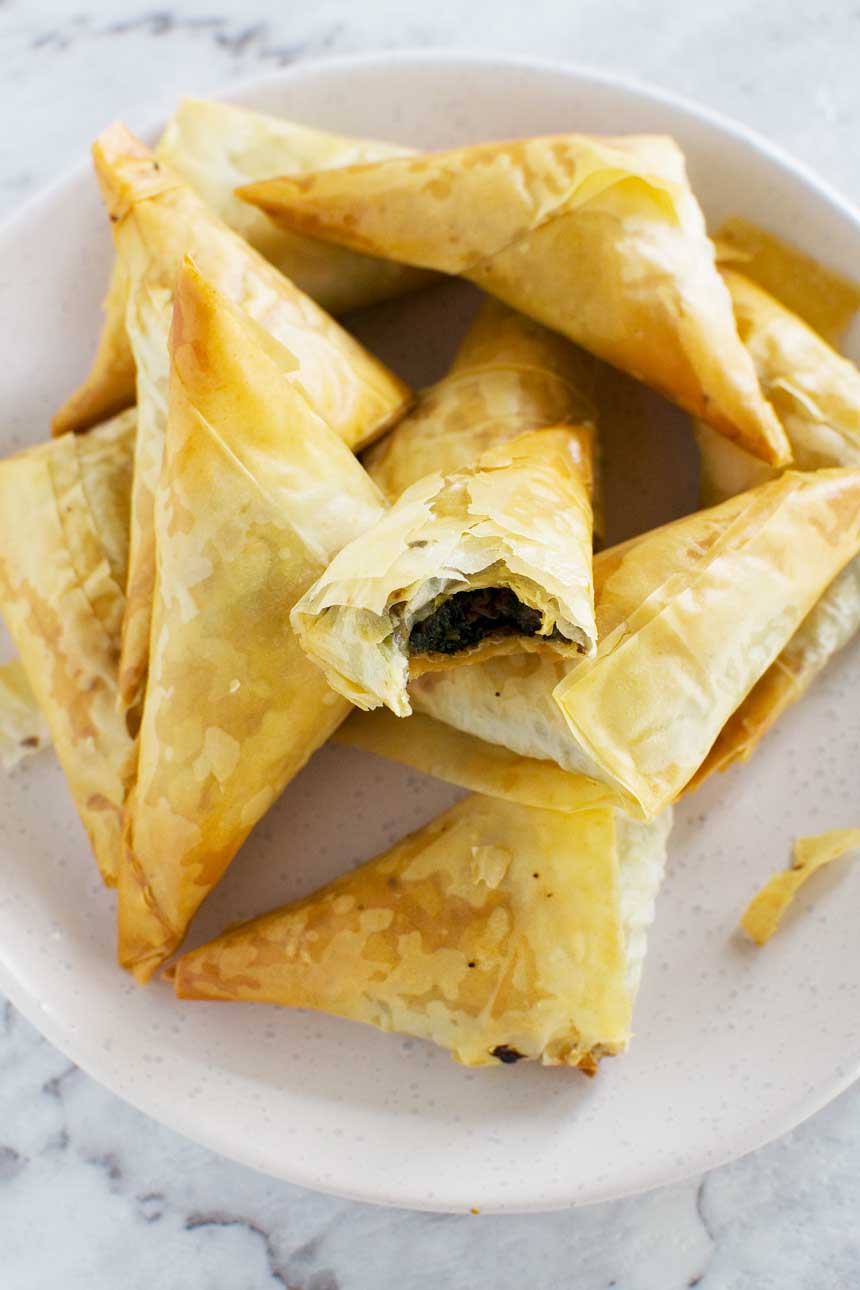 Just a little note if you're taking them along to a party: if possible make them just before you're about to leave for the party, then carry them in a big uncovered container. This is the best way to keep them nice and crispy.
Don't cover them while they're still warm or you'll end up with a bunch of soggy pastry!
It's been a bit of a slower year this year on the blog (how long can I use my infant son Benjamin as an excuse for everything?) but we've ambled along and I'm so grateful to you all for following along all the same.
MAY ALL YOUR DREAMS FOR THE NEW YEAR COME TRUE!
Looking forward to lots of new recipes in 2018.
THANK YOU!!! XOXOXO
I hope this little video how-to encourages you to give these delicious crispy mushroom filo triangles a go! 
This is on my kitchen appliance wish list (maybe for next Christmas?). It should make short work of my mushroom pulsing! – affiliate link: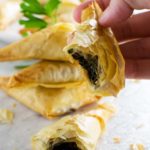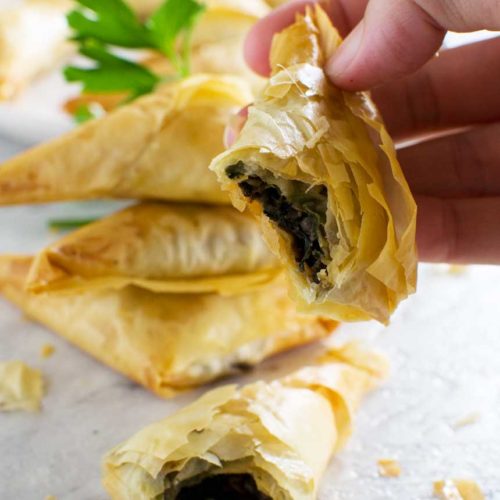 Crispy mushroom filo triangles
Looking for an easy party appetizer that's sure to be a crowd pleaser? These crispy mushroom filo triangles only contain 7 main ingredients, but are absolutely delicious. Also perfect for making ahead and freezng. Just cook from frozen and add 5 minutes to the cooking time.
Servings
35
to 40 triangles
Ingredients
14

ounces

mushrooms

chopped very finely (pulse in a food processor)

1

tablespoon

olive oil

for cooking (plus a few more tablespoons for brushing)

4

spring onions

sliced finely

0.5

bunches

parsley

finely chopped

7

ounces

spinach

wilted in a dry pan, water squeezed out & chopped finely

1.5

teaspoons

Italian herbs

5

ounces

cream cheese

(I used garlic and herb flavoured)

8

sheets

filo pastry

(I used a 13 ounce / 375 gram pack)

salt and pepper

to taste
Instructions
Pan fry the chopped mushrooms in the olive oil until cooked down and water evaporated (about 10 minutes).

Tip the mushrooms into a bowl, then add the onions, parsley, spinach, herbs and cream cheese. Finally, add plenty of salt and pepper, then combine well.

Lay a sheet of filo pastry out on a wooden board or work surface and brush all over with olive oil. Lay another sheet of pastry on top.

Cut into 5 strips across the width. Place about a teaspoon of mushroom mixture at one end of a strip and fold over to make a triangle (see video). Keep folding the triangle over onto itself until the strip of pastry has all been used up.

Repeat with the other four pastry strips, then repeat until all the mushroom mixture has been used up.

Place on baking sheets, brush all over with olive oil, then bake at 355F / 180C for 20 to 25 minutes until browned and crisp.
Recipe Notes
Serve these immediately or within a few hours for maximum crisp. These don't keep well (they start to lose their crisp after a few hours) but they freeze exceptionally well. Simply freeze unbaked for at least ½ an hour on baking sheets, then transfer to ziplock bags for another time. I like to write the baking instructions on the front of the bag to make things super easy! Add 5 to 7 minutes to the baking time when cooking from frozen. So cook for 25 to 30 minutes from frozen.
When you're making your little filo triangles, make sure you cover the filo dough you aren't using with a damp tea towel while you work. Otherwise it can dry out pretty quickly.
Please watch the video to see exactly how to fold your little filo triangles. It's very easy, and anyway it doesn't have to be perfect!
Please note that there may be a few more calories in each triangle than shown in the nutritional info below as the olive oil brushed onto the pastry isn't included!
Nutrition Facts
Crispy mushroom filo triangles
Amount Per Serving
Calories 34
Calories from Fat 18
% Daily Value*
Total Fat 2g 3%
Cholesterol 4mg 1%
Sodium 39mg 2%
Potassium 81mg 2%
Total Carbohydrates 3g 1%
Protein 1g 2%
* Percent Daily Values are based on a 2000 calorie diet.