Ever tried Greek-Mex? Didn't think so! Well, if you've ever tried Greek spanakopita, or feta cheese and spinach pie, you'll absolutely love these Greek quesadillas with tsatziki!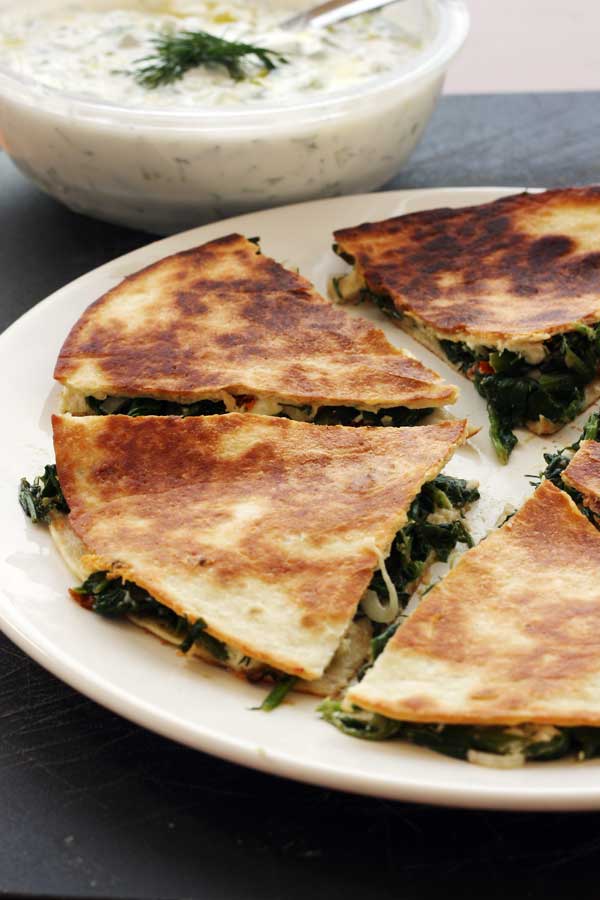 A few years down the line after leaving Greece, where I lived for many years, there are still so many things I miss about this beautiful country.
This view from my balcony, for one thing:
So despite not being sorry to escape certain elements of being there, I've really missed my balcony with the lovely view and stunning sunsets, sunshiny weather nearly every day, and colourful Greek salads with beautiful red and juicy tomatoes; the ones that leave a gorgeous pool of juice in the bottom of the bowl to mingle with the olive oil and be mopped up with crusty, freshly-baked bread.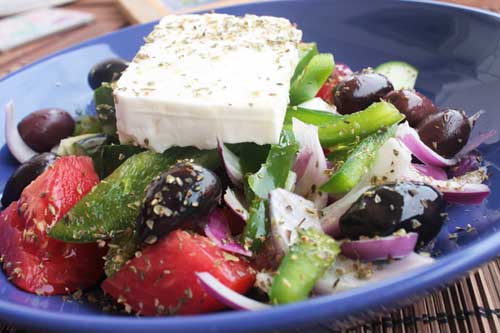 I'm sorry. I know you now want to jump up immediately, dash down to the shops in search of some juicy tomatoes and make yourself one of these pretty unbeatable perfect Greek salads. And perhaps even move to Greece.
Well, go on then, but before you do, just humour me by staying around for a tiny while longer to hear all about these Greek quesadillas.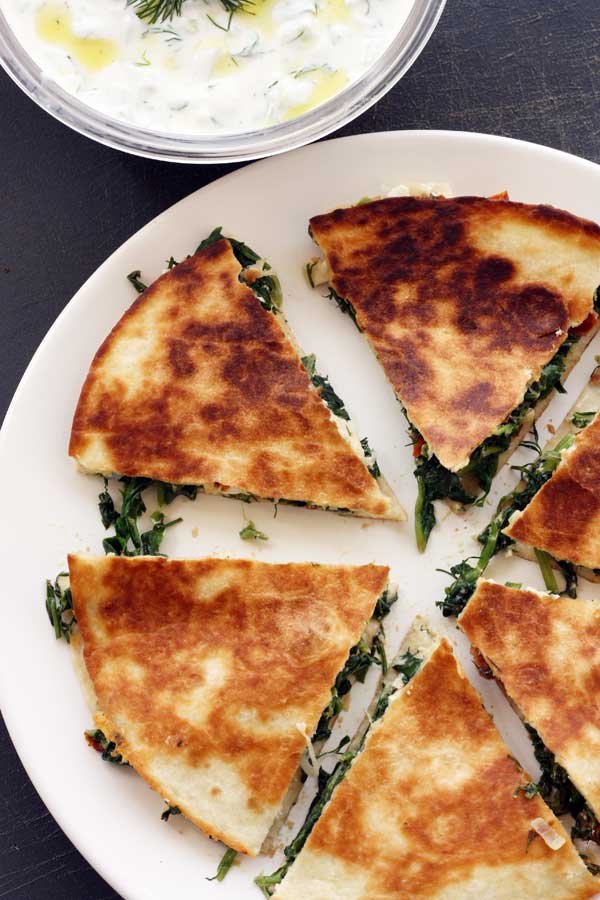 Now quesadillas you probably all know and love, but have you ever tried a Greek 'spanakopita' or spinach pie, often made with filo pastry? A freshly baked one from a local bakery in Greece is hard to beat as a late breakfast or mid-morning snack, or snack any time. The only 'problem' is that they do tend to be fairly oily so you don't want to be eating them all the time.
So enter these little Greek quesadillas which cut out the oil but still deliver those perfectly paired classic Greek flavours of spinach, feta and dill … right into your mouth! I added a few chopped sun-dried tomatoes to mine for a little extra tang.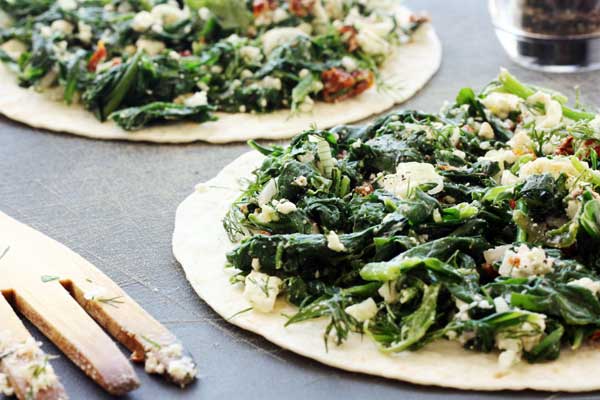 Instead of serving with a salsa, I decided to whip up a quick and easy traditional tsatziki sauce of yoghurt, garlic, cucumber, lemon juice and dill, with a drizzle of olive oil added at the end.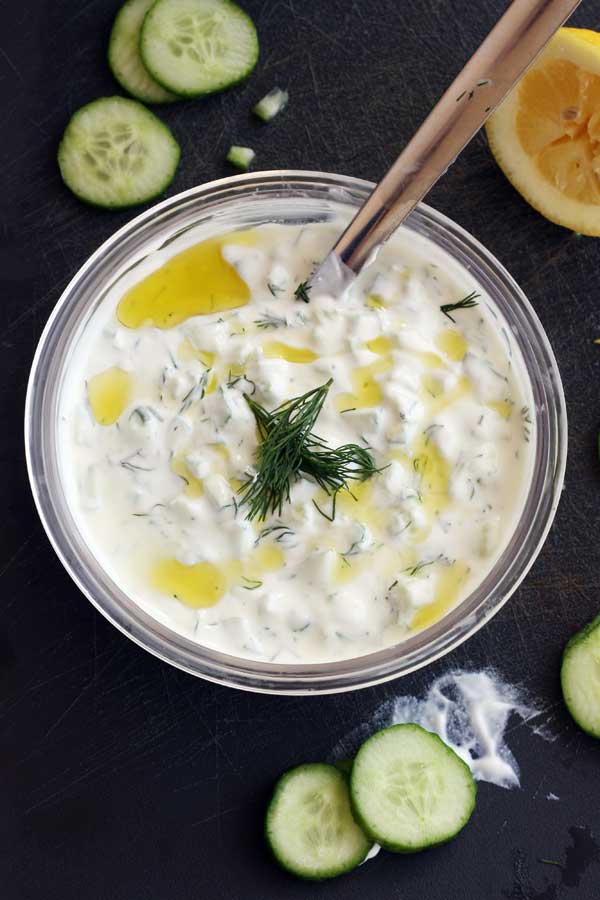 This is simply lunch (or dinner) perfection.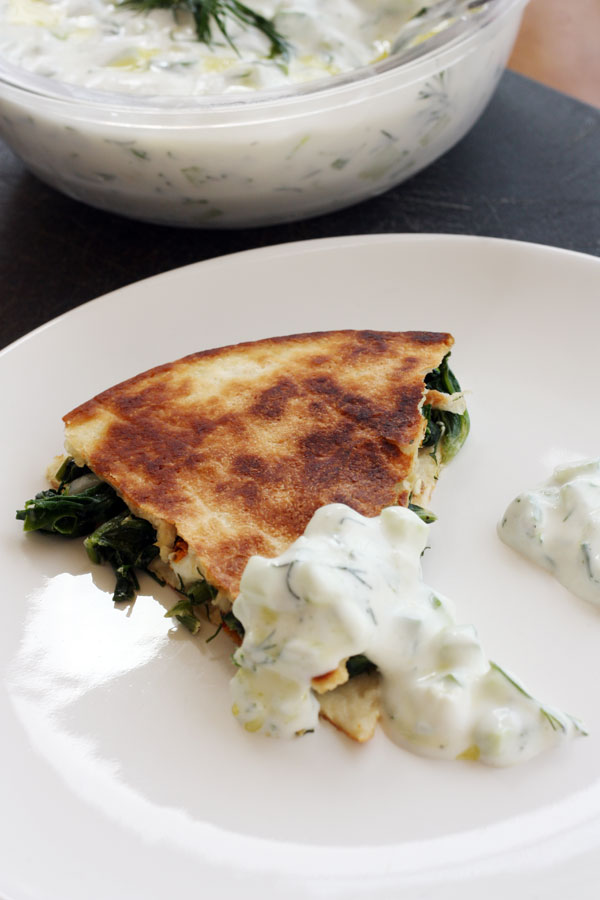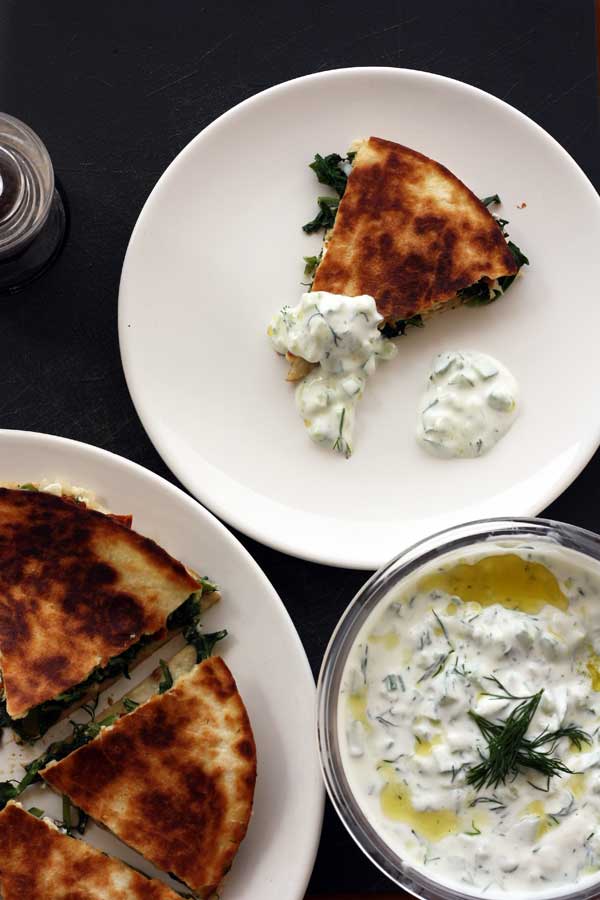 Now that we live in Australia I do miss being able to pop down to a taverna in my neighbourhood for a traditional Greek meal. But I don't miss Greek food itself because I still often make it for dinner!
If you've been following along with the blog for long, you'll know that I often publish Greek recipes here. They may not be the best versions of Greek food you'll ever have (because that would most likely be in Greece!), but they're really simple versions, very very tasty.
If you've never really tried much Greek food before, I'd recommend starting with these recipes: Greek spinach and feta filo pie, easy moussaka (I just made this again yesterday and it's as delicious as ever), Greek lemon and oregano chicken with crispy potatoes.
What about you? What would you miss the most life-style-wise about the place where you live? And are you going to make these Greek quesadillas?
If you do, please let me know what you think!
More delicious spinach and feta recipes
Having a party? Don't miss these Greek filo parcels. They're always so popular!
This Greek mac and cheese bake takes just 30 minutes to make and has a lighter evaporated milk 'cheat's sauce'. No flour and roux sauce needed!
IF YOU MAKE THIS RECIPE, LET ME KNOW HOW YOU GET ON BY LEAVING A COMMENT AND RATING BELOW… AND DON'T FORGET TO SIGN UP TO RECEIVE ALL MY NEW RECIPES BY EMAIL!
FOLLOW ME ON FACEBOOK, INSTAGRAM, PINTEREST AND YOUTUBE.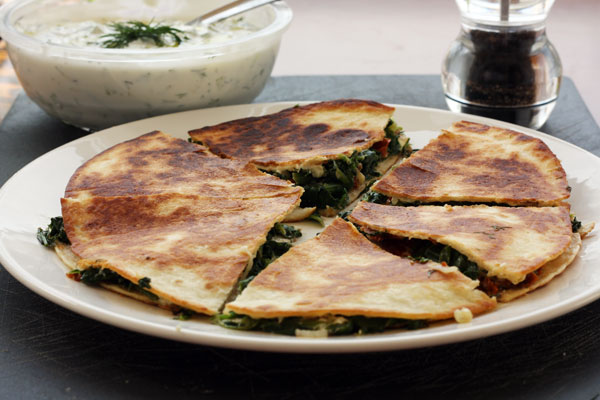 Greek quesadillas with tsatziki
Have you ever tried Greek 'spanakopita' or spinach and feta cheese pie? If you have, you'll know how delicious it is. Try this lighter Greek-Mex version, served with a traditional side of fresh and tangy tsatziki sauce.
Ingredients (UK/Australia? Click below for grams/ml)
For the quesadillas
7

ounces

spinach

(fresh)

2

scallions

/ spring onions, chopped finely

1

tablespoon

dill

(fresh) chopped

2.5

ounces

feta cheese

3

sun-dried tomatoes

chopped (optional)

4

flour tortillas

(I used 20cm-diameter ones)

salt and pepper

for seasoning

olive oil

for cooking
For the tsatziki sauce
1

cup

Greek yoghurt

(don't use ordinary yogurt – it's too thin)

0.5

cloves

garlic

chopped finely or minced

1

cucumber

(medium) diced finely

1

teaspoon

chopped dill

2

squeezes

lemon juice

black pepper and a drizzle of olive oil
Instructions
Wash the spinach, then wilt it down in a pan (or even in the microwave) for a few minutes. Afterwards, squeeze out as much of the water as you can by pressing it down into a colander or even squeezing it with your hands. Put it into a large bowl.

Add the chopped scallions/spring onions, dill and sun-dried tomatoes (if using) to the bowl. Then crumble in the feta. Give it all a good mix together and put aside while you make the tsatziki.

For the tsatziki, put the yogurt into another smaller bowl or dish and add the garlic, cucumber, dill and lemon juice. Mix it all together well.

Grind some black pepper onto the top and drizzle over a little olive oil.

Now heat up a skillet/frying pan. Spread half of your spinach mixture over two of the tortillas and top with the other two. Press down a little then place one of the rounds into the pan with a drizzle of oil. When it's nice and browned and crispy, carefully turn it over and let the other side cook for a minute or two. Repeat with the second round.

Slice each round into six quesadillas and serve with the tsatziki sauce immediately.
Notes
Inspired by a recipe for spinach and feta quesadillas with tomato salsa from UK Olive magazine (March 2014 edition).
If you prefer you can place half the amount of filling onto just one half of a tortilla in the pan, then fold it over onto itself. This prevents the filling from dropping out all over the pan!
If you were going to be really 'proper' about the tsatziki, after deseeding the cucumber you would sprinkle a little salt over it to draw out any excess water, leave it for a while, then dry it with paper towels. I didn't actually do either of these things, but if you do you'll end up with a thicker and I suppose more authentic tsatziki. 🙂 Any leftover tsatziki will keep in the fridge covered for a few days. Eat it with salads, as a dip or drizzled over grilled meat or roasted vegetables. This is actually a very versatile dip/sauce indeed!
Nutrition
Calories:
413
kcal
Carbohydrates:
46
g
Protein:
25
g
Fat:
14
g
Saturated Fat:
7
g
Cholesterol:
38
mg
Sodium:
944
mg
Potassium:
1007
mg
Fiber:
5
g
Sugar:
12
g
Vitamin A:
9775
IU
Vitamin C:
36.1
mg
Calcium:
498
mg
Iron:
5.7
mg