Ever tried Greek-Mex? Didn't think so! Well, if you've ever tried Greek spanakopita, or feta cheese and spinach pie, you'll absolutely love these!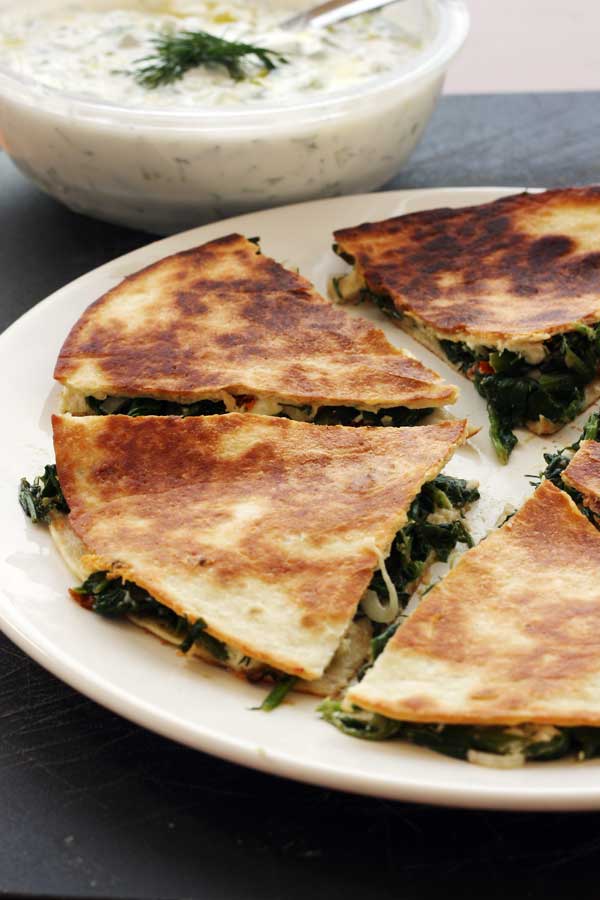 One of the things I have enjoyed the most about living in Greece is sitting on my balcony.
Granted, it's a lovely large-ish balcony with a nice wooden table and chairs, a few plastic plants that I picked up from a certain Swedish furniture store and various lanterns and candle-holders. It also has a thriving oregano plant and a not-so-thriving basil plant that gets me into trouble with Mr. Scrummy when I rip off one of the four big leaves that it only seems to have at any one time for my latest pizza creation.
These things are all very lovely indeed (especially those plastic plants, as you can well imagine), but maybe I can explain what it really is that I love about this balcony of mine. You see, I'm sitting here this very moment at 7am (crazy 7am blogger that I am), cup of tea in hand, and it's perfectly quiet apart from the sing-song of the birds. There's the promise of a beautiful day as the sky is blue and it's already warm. Later on, I'll probably come here again with lunch for Mr. Scrummy and I. This time, there will be a little more noise on the street, but our sunglasses will be on as we soak up those wonderful Mediterranean rays. Still later, we'll step out onto said balcony once more to watch the sun go down over the city and the mountains in fiery shades of orange, pink and purple.
Now before you start thinking I have a smug blogger perfect lifestyle, then let me just enlighten you about the fact that the balcony is quite possibly the only place at the moment where I can be without getting lost in a sea of packing boxes. Yup, we are moving. We are moving from Greece back to the UK, in fact, in a short couple of weeks. And I'd better not get started on all the Greek bureaucracy I'm having to wade through in order to do that (tempting though it is).
So despite not being sorry to escape certain elements of being here, I will miss Greece on the whole. It'll be goodbye balcony with the lovely view and stunning sunsets, goodbye sunshiny-weather-nearly-every-day, and goodbye Greek salads with the beautifully red and juicy tomatoes; the ones that leave a gorgeous pool of juice in the bottom of the bowl to mingle with the olive oil
and be mopped up with crusty, freshly-baked bread.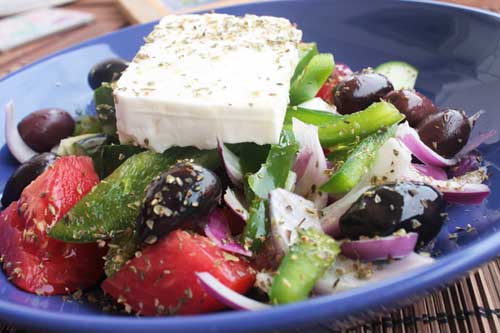 I'm sorry. I know you now want to jump up immediately, dash down to the shops in search of some juicy tomatoes and make yourself one of these pretty unbeatable, in my humble opinion, salads. And perhaps even move to Greece.
Well, go on then, but before you do, just humour me by staying around for a tiny while longer to hear all about these Greek quesadillas. Basically, a very un-Greek Greek little snack that I decided to make for one of those between-packing-and-running-around-doing-jobs balcony lunches that I've got used to over the past week or so since I finished work.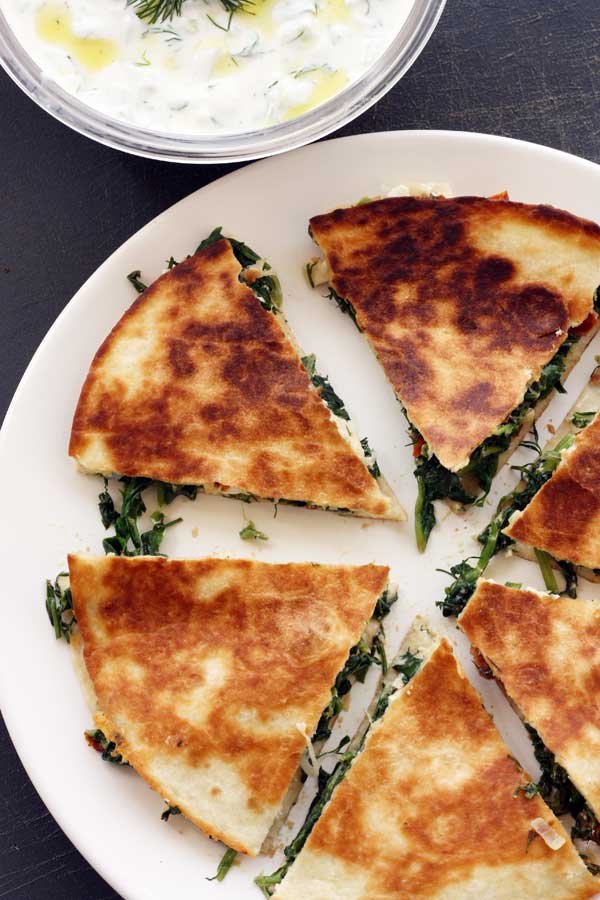 Now quesadillas you probably all know and love, but have you ever tried a Greek 'spanakopita' or spinach pie, often made with filo pastry? A freshly baked one from a local bakery around these parts is hard to beat as a late breakfast or mid-morning snack, or snack anytime to be honest. The only 'problem' (depending on how you look at it) is that they do tend to be fairly oily so you don't want to be eating them all that often.
So enter these little Greek quesadillas which cut out the oil but still deliver those perfectly-paired classic Greek flavours of spinach, feta and dill … right into your mouth! I added a few chopped sun-dried tomatoes to mine for a little extra tang. And of course they are super easy to make …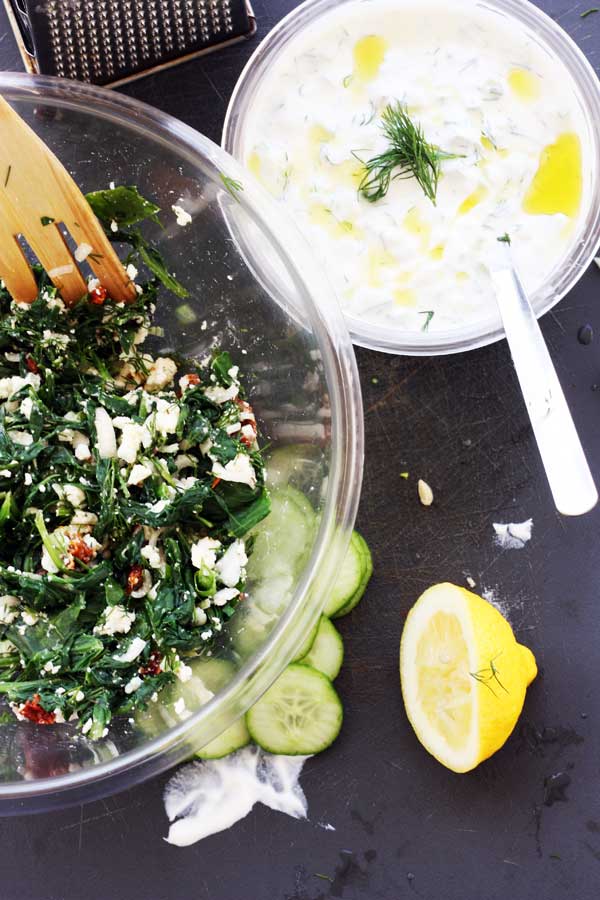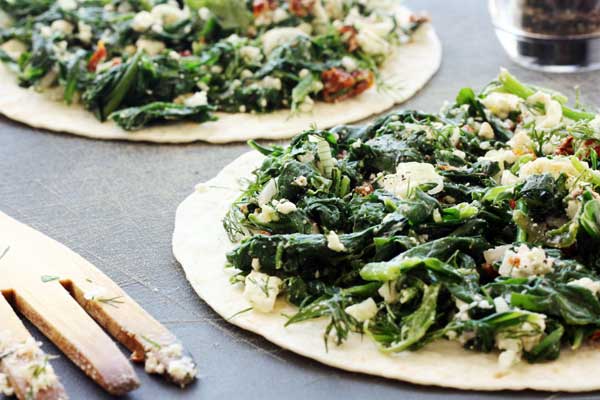 Instead of serving with a salsa, I decided to whip up a quick and easy traditional tsatziki sauce of yoghurt, garlic, cucumber, lemon juice and dill, with a drizzle of olive oil
added at the end.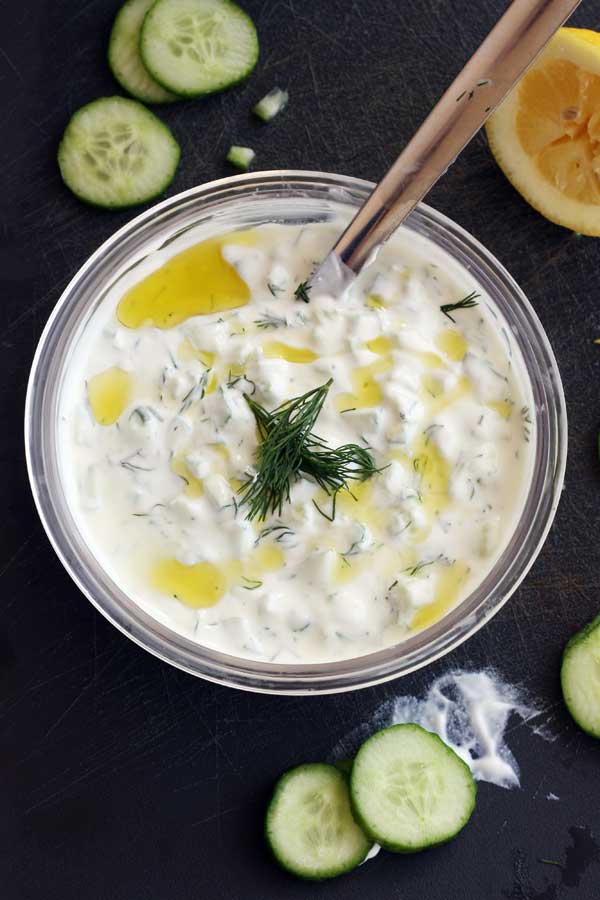 This was simply lunch perfection.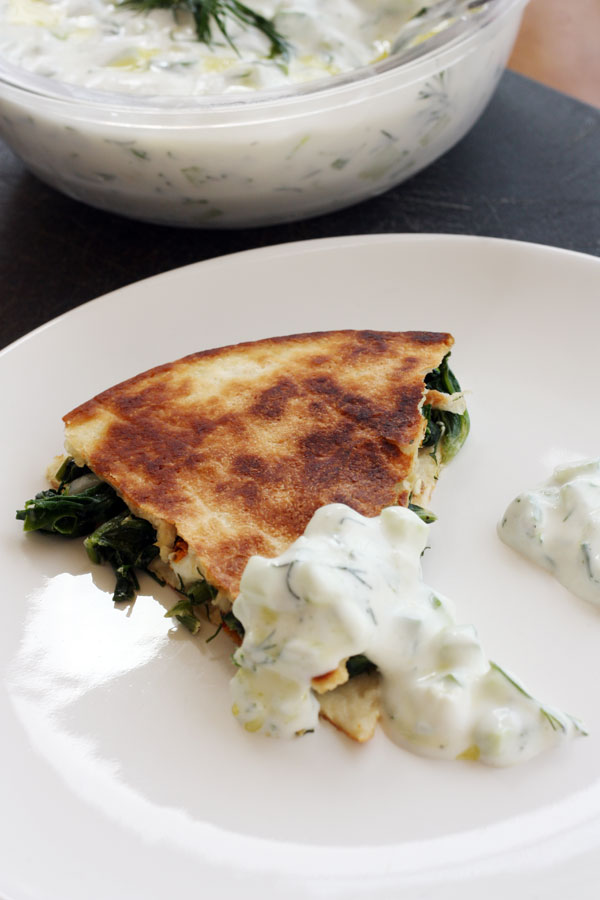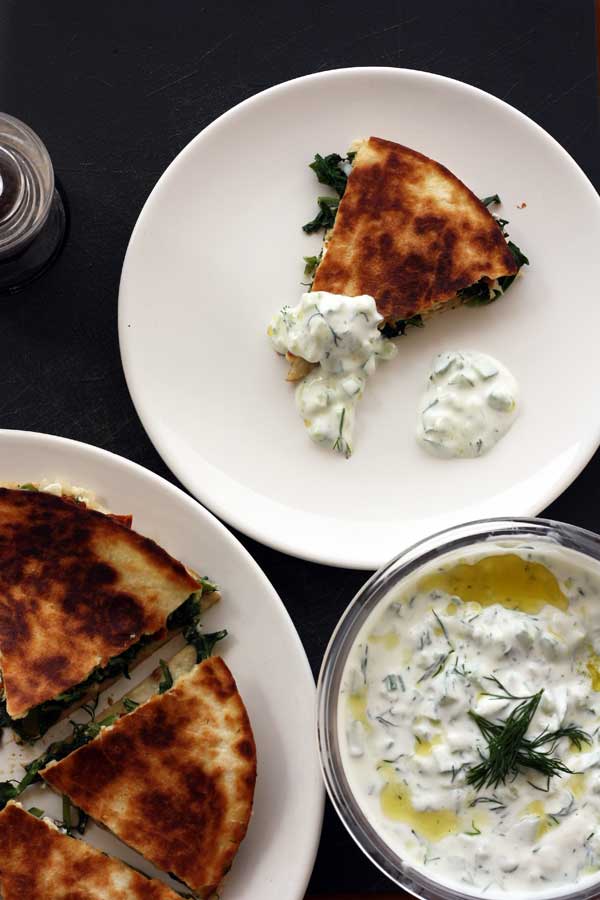 So now you know how much I'm going to miss my balcony. But I'm sure there will be many of these types of small things that bring pleasure to a typical day waiting for us over in the UK as well. Things which are different but for which I'll be no less grateful.  Like old pubs and roaring fires in the winter. Maybe a tiny garden for the summer. We'll see.
What about you? What would you miss the most life-style-wise about the place where you live? And have you ever tried any Greek food? What did you think?
Greek quesadillas with tsatziki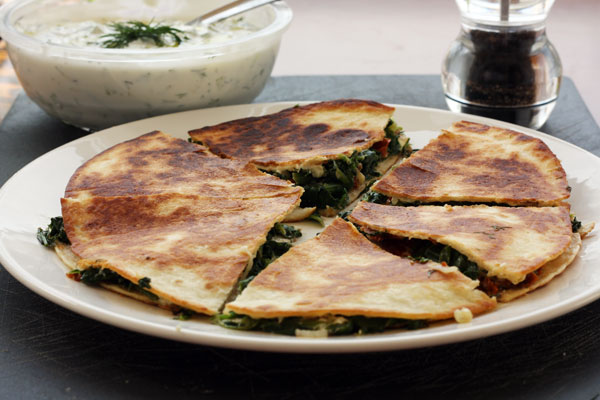 Have you ever tried Greek 'spanakopita' or spinach and feta cheese pie? If you have, you'll know how delicious it is. Try this lighter Greek-Mex version, served with a traditional side of fresh and tangy tsatziki sauce.
Ingredients
For the quesadillas
7 ounces/200 grams fresh spinach
2 scallions/spring onions, chopped finely
1 tablespoon chopped dill
2.5 ounces/70 grams feta cheese
3 or 4 chopped sun-dried tomatoes (optional)
4 flour tortillas (I used 20cm-diameter ones)
salt and pepper for seasoning and a little olive oil for cooking
For the tsatziki sauce
1 cup/285 grams Greek yoghurt (don't use ordinary yoghurt – it's too thin)
½ a small clove of garlic, chopped finely or minced
1 medium cucumber, diced finely
1 teaspoon chopped dill
a couple of squeezes lemon juice
black pepper and a drizzle of olive oil
Instructions
Wash the spinach, then wilt it down in a pan (or even in the microwave) for a few minutes. Afterwards, squeeze out as much of the water as you can by pressing it down into a colander or even squeezing it with your hands. Put it into a large bowl.
Add the chopped scallions/spring onions, dill and sun-dried tomatoes (if using) to the bowl. Then crumble in the feta. Give it all a good mix together and put aside while you make the tsatziki.
For the tsatziki, put the yoghurt into another smaller bowl or dish and add the garlic, cucumber, dill and lemon juice. Mix it all together well.
Grind some black pepper onto the top and drizzle over a little olive oil. Done!
Now heat up a skillet/frying pan. Spread half of your spinach mixture over two of the tortillas and top with the other two. Press down a little then place one of the rounds into the pan. (the pan can be dry or you can add a drizzle of olive oil to help the tortillas to crisp up. I added a tiny bit of oil. But be careful the tortillas don't burn!) When it's nice and browned and crispy, carefully turn it over and let the other side cook for a minute or two. Repeat with the second round.
Slice each round into six quesadillas and serve with the tsatziki sauce immediately.
Notes
Inspired by a recipe for spinach and feta quesadillas with tomato salsa from UK Olive magazine (March 2014 edition).

If you were going to be really 'proper' about the tsatziki, after deseeding the cucumber you would sprinkle a little salt over it to draw out any excess water, leave it for a while, then dry it with paper towels. I didn't actually do either of these things, but if you do you'll end up with a thicker and I suppose more authentic tsatziki. 🙂

Any leftover tsatziki will keep in the fridge covered for a few days. Eat it with salads, as a dip or drizzled over grilled meat or roasted vegetables. This is actually a very versatile dip/sauce indeed!

I hope you enjoyed this post! You can subscribe to receive posts directly to your inbox by entering your email address in the box below or at the top of the sidebar on the right.
You can also find more from Scrummy Lane on Facebook, Pinterest and Twitter  and follow me on Bloglovin! Thanks so much for reading!
*This post contains affiliate links which means that if you click on a link and make a purchase I get a small percentage of the amount you spend. At no extra cost to you of course! Thank you!*