Last Updated on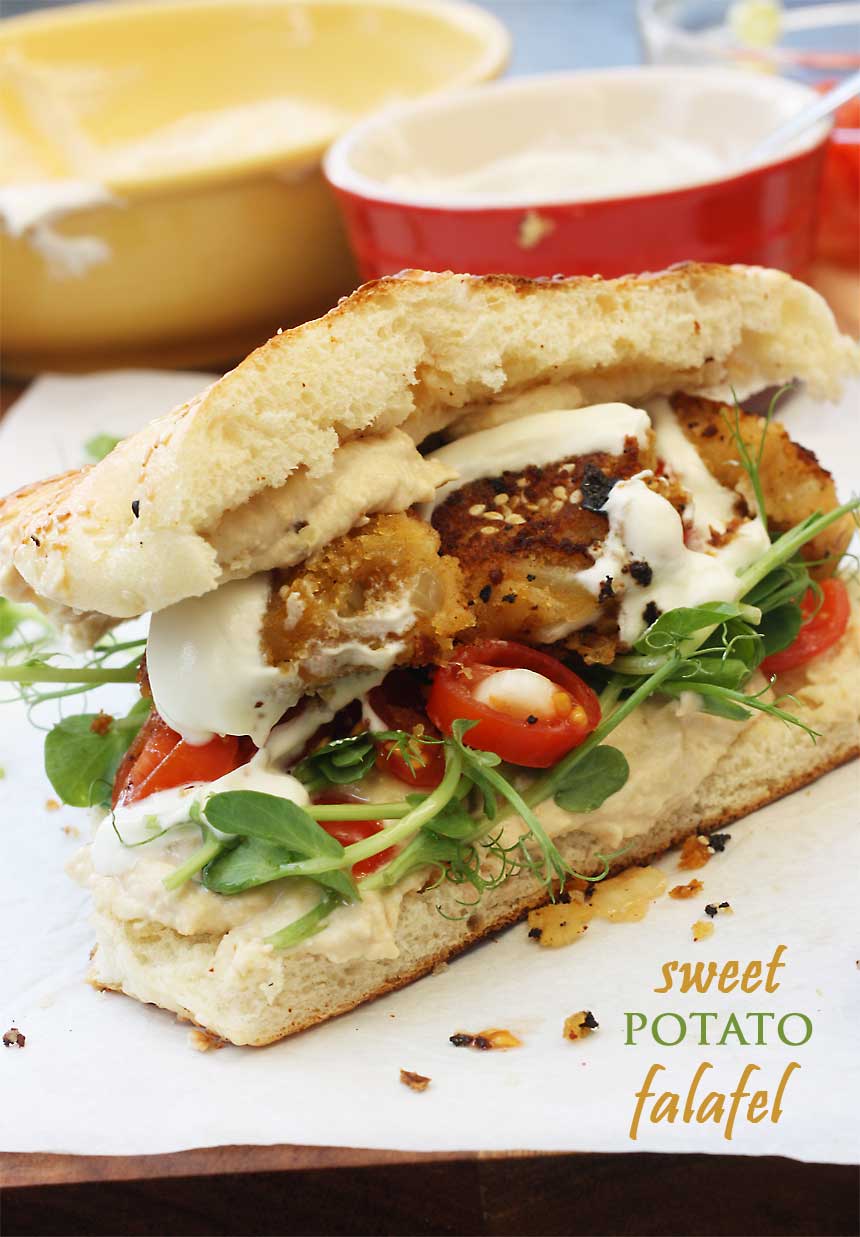 Like most people in their early 20s back in the late 90s (Oh no, I'm giving away my age now!) I lapped up episode after episode of Friends. I'm sure I must have watched most episodes at least twice but I never got tired of that line in the theme tune that went like this:
'…when it hasn't been your day, your week, your month, or even your year …' (come on now, you have to sing that part, you know)
Well, by the end of last weekend this line was really ringing true. Nothing so awful really happened, but it just hadn't really been my weekend. It was a total 'non-starter' for want of a better description. Mr. Scrummy and I set out earlyish on Saturday morning for our usual 10k walk/jog (usually loads of fun, as described in this post) with big black clouds shrouding the skies above, for instance, and sure enough ended up soaking wet, shivering with cold and turning back only 20 minutes or so in. We decided to go and grab breakfast in our favourite little Italian café instead (also described here, in case you're interested), but ended up abandoning that plan too after we got there, for some reason just not really feeling like going in.
And so the weekend went on. I mooched around at home for the rest of Saturday, wanting to go and do something and not wanting to at the same time. Feeling tired and wanting a nap on the one hand, knowing that I had loads of jobs to do on the other but not really feeling like doing either. Things were looking up in the evening after we decided to go out to eat at a bustling Vietnamese restaurant. The food and service were great, but then over coffee and dessert Mr. Scrummy and I ended up having a … ahem … 'tiny squabble', shall we say.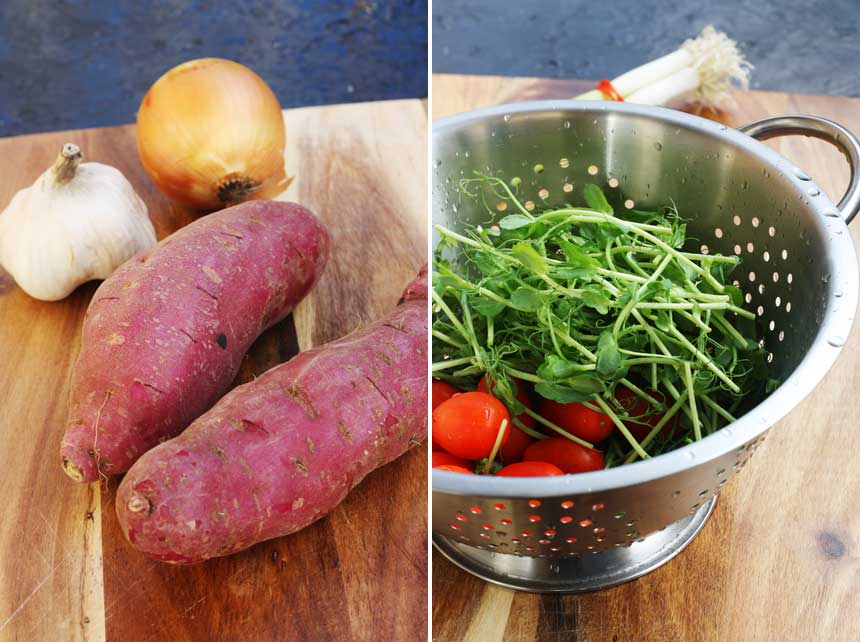 Sunday morning brought yet more frustration. I popped down to the supermarket between rain showers, discovered when I got there that it didn't open for another hour and then promptly got caught in a heavy shower on the way back home. Then we had our 'Groundhog Day' experience as we attempted to go for our run around the river again. You guessed it, we ended up back at home less than 20 minutes later. Grrr grrr grrr. We were not happy chappies.
And then, suddenly, just after midday on Sunday, the clouds broke and some rays of sunshine broke through, both literally and figuratively. On a whim, we decided to visit a sort of indoor farmers' market I'd been wanting to go to for a while, just to get out and do something. Well, I immediately cheered up. We found purple sweet potatoes, cheap bags of green peppers, a wonderfully fresh-looking pack of snow pea sprouts, which I'd never tried before, Turkish bread and all sorts of other fresh and colourful goodies.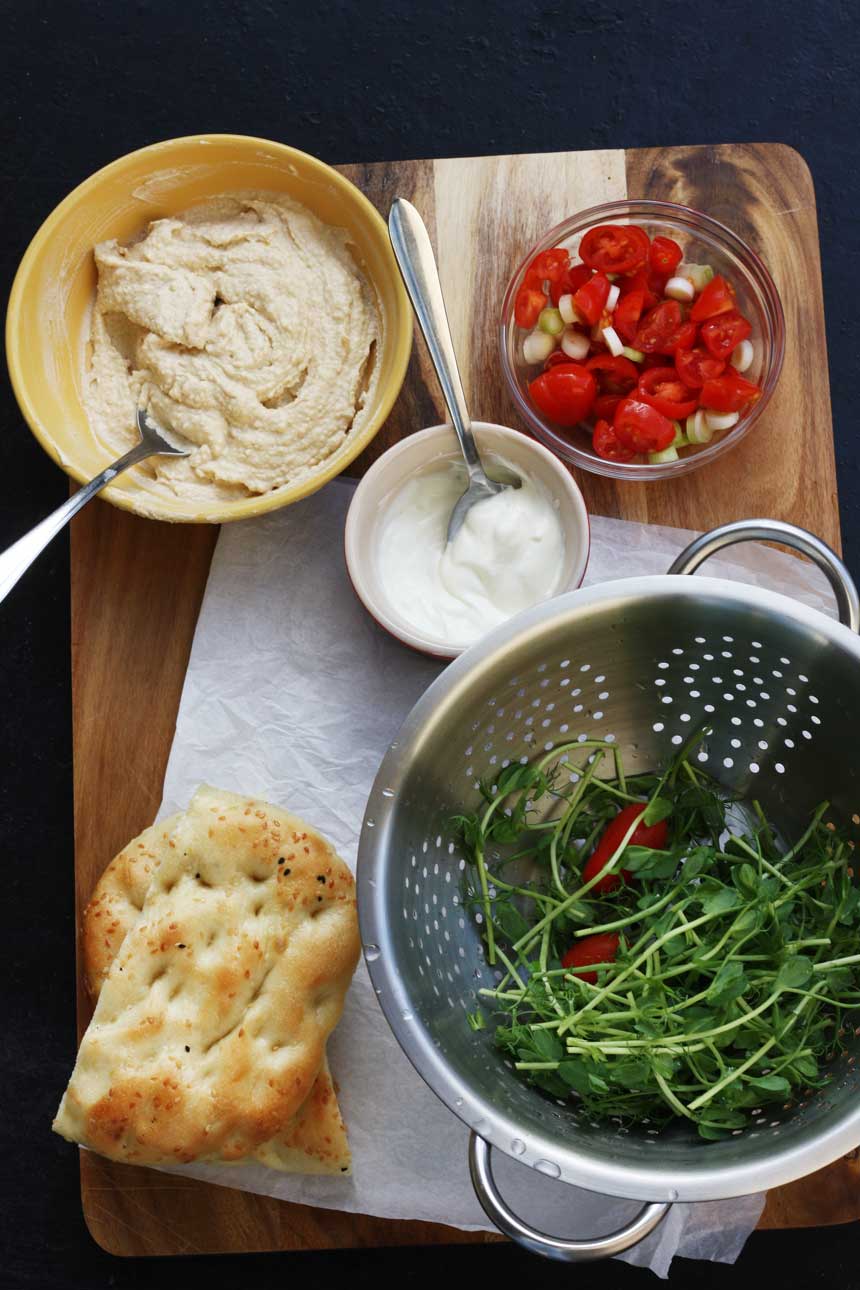 So the highlight of my weekend ended up being making and eating these sweet potato falafel. Purple sweet potato falafel made from the lovely big pack of veggies I found at the market if we're going to be totally accurate here. As usual with my recipes, they were super easy to make. I simply cooked my sweet potatoes for about ten minutes in the microwave (you could roast them if you preferred but they'd just take a little longer that way), then roughly mashed them with a can of cooked chickpeas, a little finely chopped onion and crushed garlic and cumin, coriander, paprika and cayenne pepper. Finally, I added a little lemon juice, salt, baking powder and plain flour and after chilling the mixture for a while moulded it into little nugget-shaped falafel.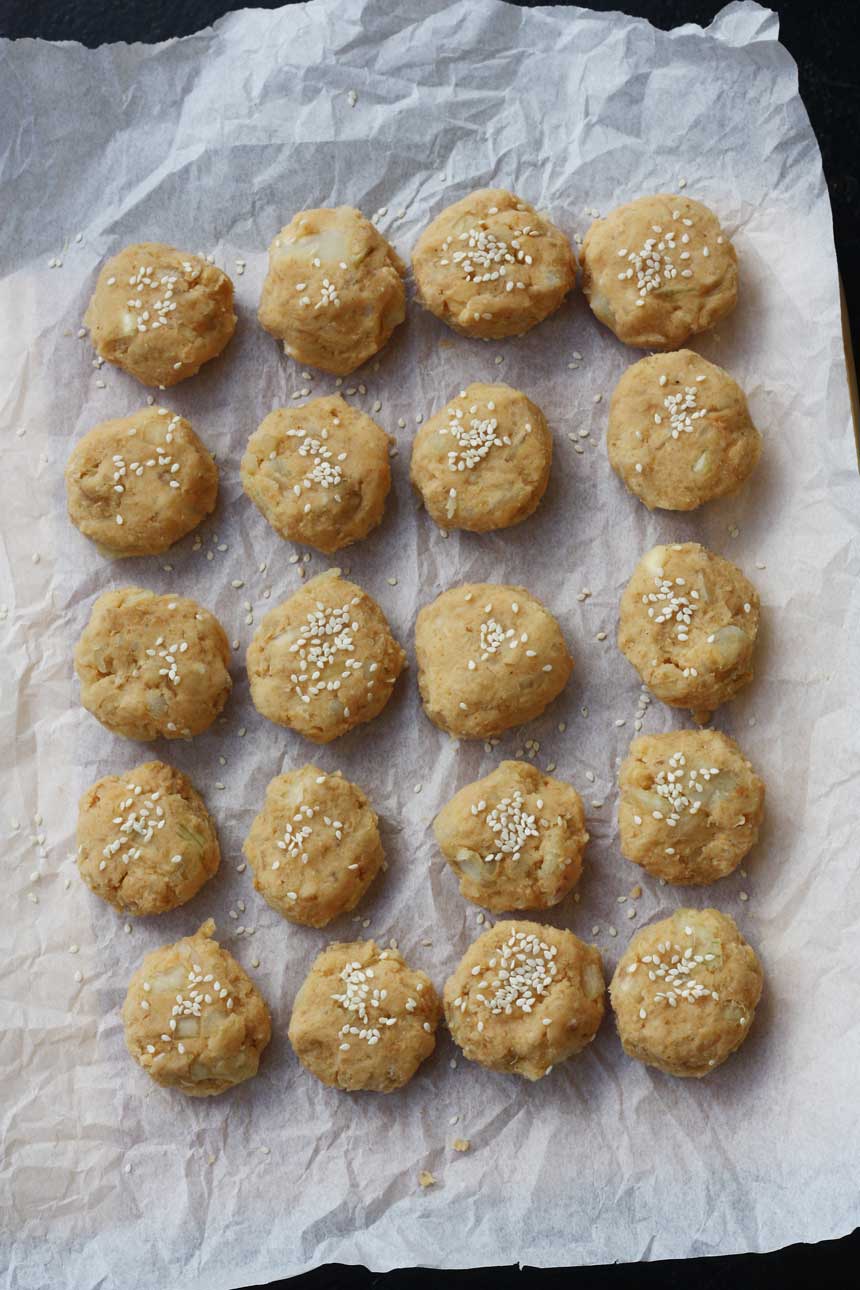 I ended up making these three times over 3 days – that is how much 'dough' you end up with with just one large sweet potato and 1 can of chickpeas … and that is how much we enjoyed scoffing them as well! The first time I made the falafel on the larger side and served them stuffed into Turkish bread with my lovely snow pea sprouts, tomatoes, homemade hummus, and Greek yoghurt. Mmmmmmm … but even more 'mmmmmm' were the slightly smaller version I made the day after and served on top of the pea shoots and with all the little accompaniments and condiments on the side, like so:
These falafel are delicious either large or small, but my personal preference was definitely to take little balls of the dough about as large as a walnut and flatten them slightly into a pattie, then to shallow fry them for about 5 minutes on each side until nice and golden and crispy. Absolutely delicious!
Just as a little side-note, if you haven't made any hummus for a while (or ever) then please, please do! I had honestly forgotten how easy it is to make and how utterly delicious it is. I used Yotam Ottolenghi's simple recipe from his and Sami Tamimi's fantastic book Jerusalem
, which I raved about in this post and finally got my hands on, and it came out just perfectly.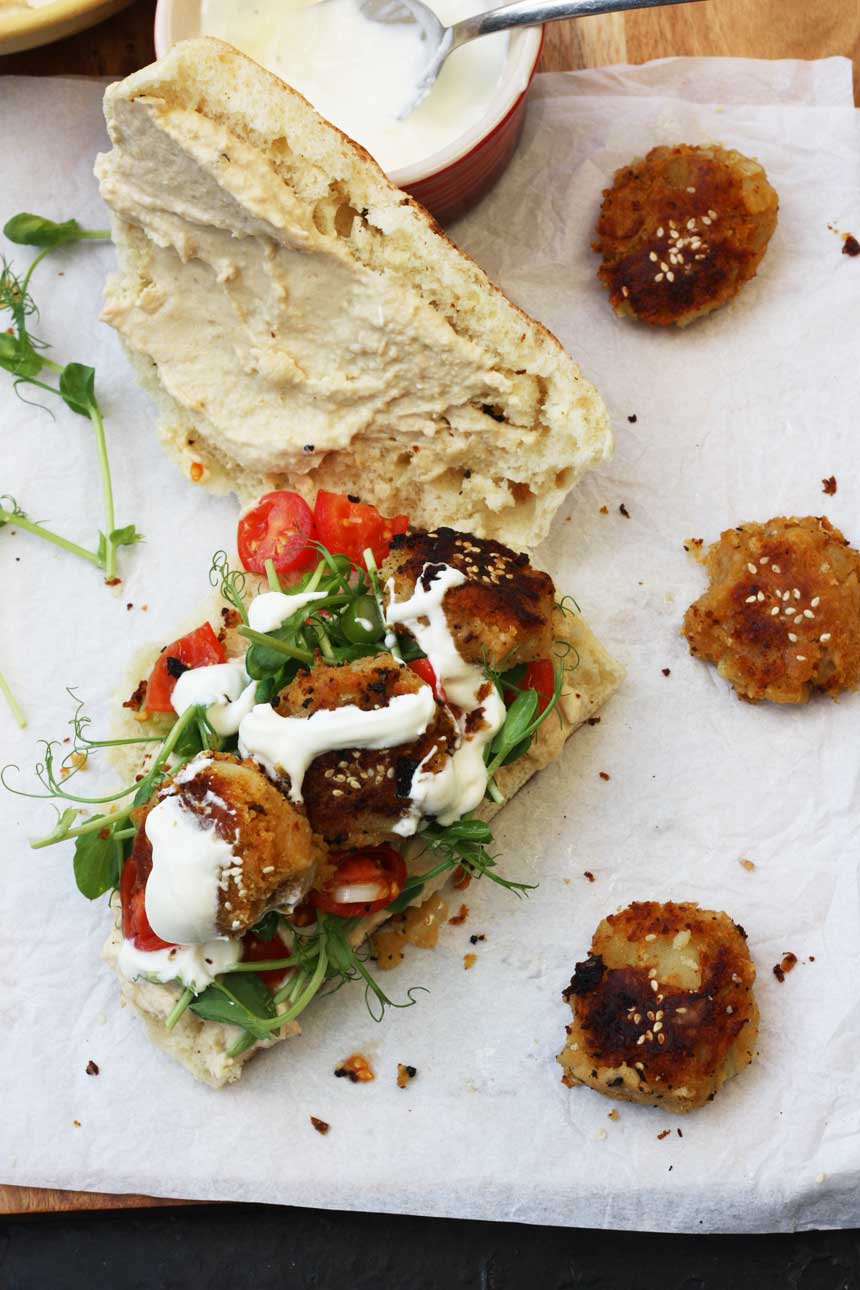 All that is left to say is that I really hope you haven't got the Friends theme tune stuck in your head now after reading this post. I also wish you a fantastic upcoming weekend that has no non-starter or groundhog or otherwise frustrating moments at all!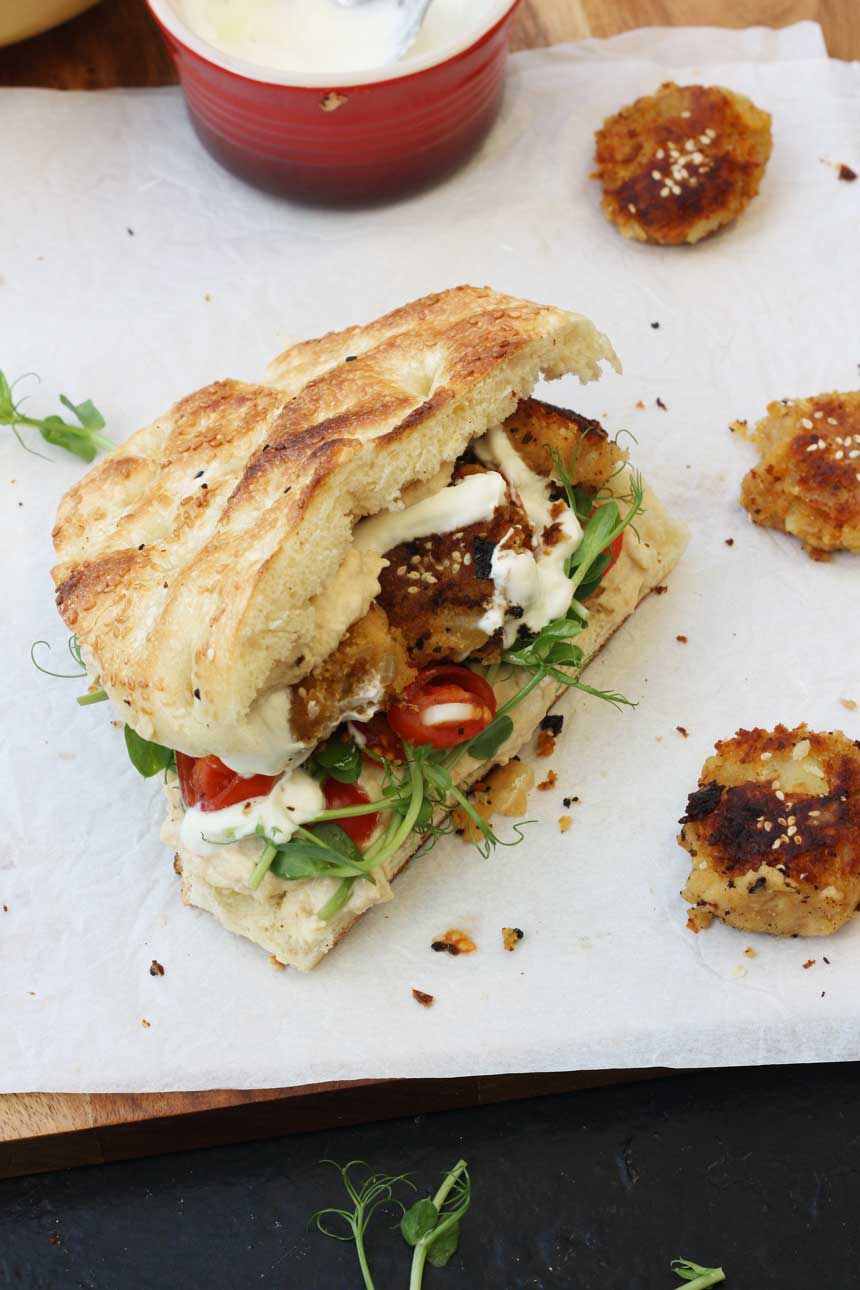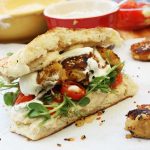 Print
Sweet potato falafel
Golden, crispy little falafel made of sweet potatoes, chickpeas and spices. Beautiful stuffed into fresh bread with hummus, Greek yoghurt and snow pea shoots, or just layered across a little fresh salad.
Ingredients (UK/Australia? Click button below for grams & ml)
For the falafel
1

medium to large

ish sweet potato (or 2 small ones!)

1

can of cooked chickpeas

9 ounces/250 grams net weight

1/2

a medium onion

finely chopped

1

garlic clove

crushed

1/4

teaspoon

cayenne pepper

1

teaspoon

ground cumin

1

teaspoon

ground coriander

1

teaspoon

paprika

1/2

teaspoon

baking powder

1/2

teaspoon

salt

1 1/2

tablespoons

plain flour

1/2

of a lemon worth of juice

sesame seeds for scattering over
optional 'accompaniments'
chopped tomatoes & spring onions/scallions

pitta bread or another type of fresh bread, hummus (see below for a quick recipe), Greek yoghurt, snow pea sprouts
Instructions
Peel the sweet potatoes and cook in a microwave for about 10 minutes or until soft. (you can roast them if you prefer for about 45 minutes or so or until soft)

In the meantime, pulse the chickpeas a few times in a food processor until still a little bit chunky.

Mash the pulsed chickpeas and sweet potato together with all of the other ingredients apart from the sesame seeds. Cover the mixture and chill in the fridge for at least half an hour.

Take spoonfuls of mixture about the size of a walnut and form into balls. Flatten the balls into a patty and press a few sesame seeds into them on both sides.

Heat up a layer of oil in a skillet/frying pan until quite hot, then fill the pan with patties. Let them cook for about 5 minutes on each side or until golden and crispy.

Remove from the pan and serve immediately with fresh bread and accompaniments of your choice.
Notes
I would highly recommend making a batch of your own hummus for this recipe (you could make it the day before to 'spread out' the work a little). Just blitz another can of chickpeas with a clove of crushed garlic, the juice of about ½ a lemon, about 100 grams tahini & about 30ml iced water. (recipe based on Yotam Ottolenghi and Sami Tamimi's recipe in their book Jerusalem
)
I also got a few tips for the falafel from the basic falafel recipe in the above-mentioned book! (well worth well worth getting your hands on
!)
Nutrition
Calories:
6
kcal
|
Carbohydrates:
1
g
|
Sodium:
41
mg
|
Potassium:
26
mg
|
Vitamin A:
655
IU
|
Vitamin C:
0.5
mg
|
Calcium:
5
mg
|
Iron:
0.1
mg
Follow me on Pinterest!
Follow @scrummylane to pin more quick and easy recipes for later
I hope you enjoyed this post! You can subscribe to receive posts directly to your inbox by entering your email address in the box below or at the top of the sidebar on the right.
You can also find more from Scrummy Lane on Facebook, Pinterest, Twitter and Instagram and follow me on Bloglovin! Thanks so much for reading!
*This post contains affiliate links which means that if you click on a link and make a purchase I get a small percentage of the amount you spend. At no extra cost to you, of course! Thank you!*