These golden, crispy little vegan falafel made of sweet potatoes, chickpeas and spices are addictive. Stuff them into fresh bread with hummus, dressing and snow pea shoots, or just layer them on top of a fresh salad.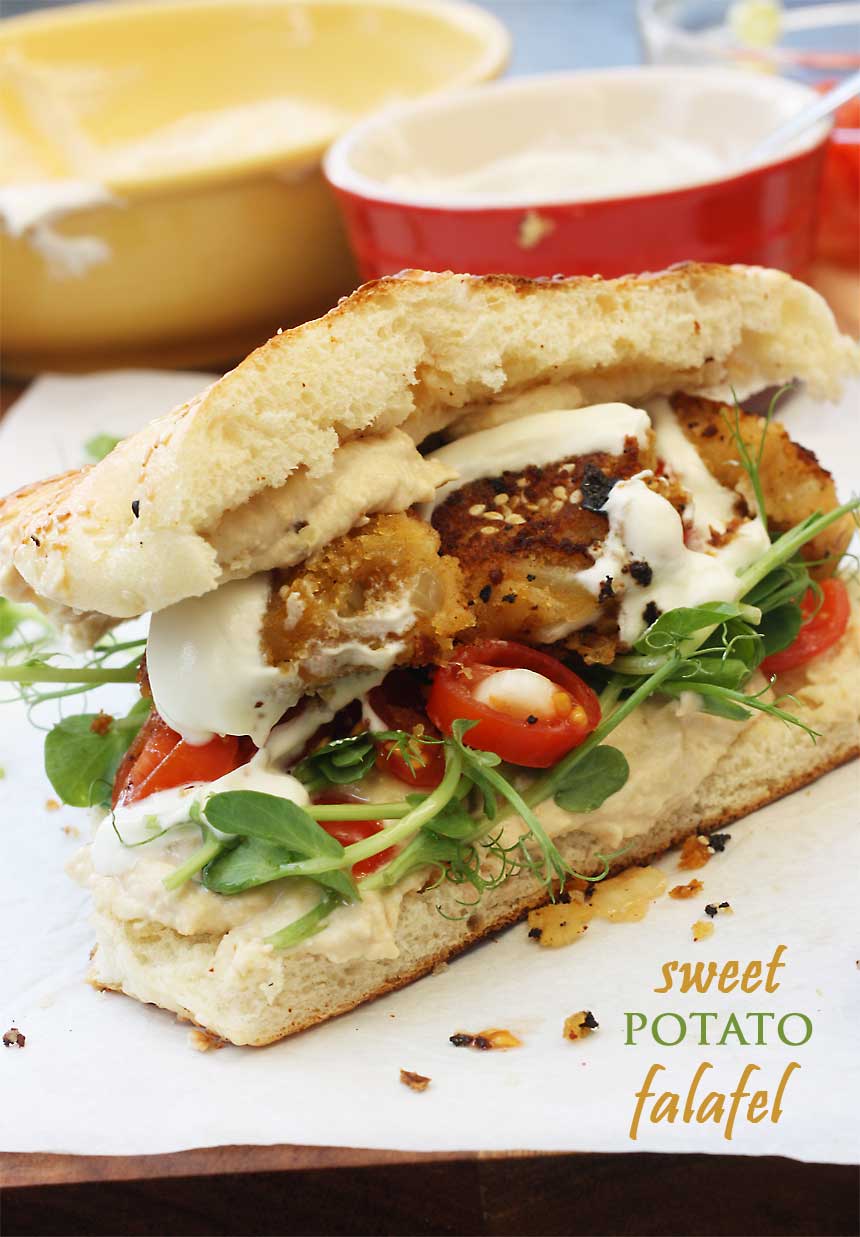 Fancy falafel!
Falafel is one of those foods that I could eat every day. And no I'm not a vegetarian or vegan.
It's something about the crispy outside and the nutty, satisfying centre. Falafel tastes like something naughty, but of course it's packed full of healthy chickpeas and other goodies.
But do you know you can make falafel with sweet potato? Well, you sure can, and it's absolutely delicious!
Ingredients in sweet potato falafel
This is all you need to make these delightful little sweet potato fritters:
a sweet potato, roasted or microwaved (!) until soft (I sometimes use regular, and other times purple sweet potato (your choice!)
a can of cooked chickpeas
a finely chopped onion
garlic and various yummy spices such (cayenne pepper, cumin, coriander, paprika)
flour, baking powder and salt
lemon juice
sesame seeds (optional!)
Just a few ingredients. And vegan!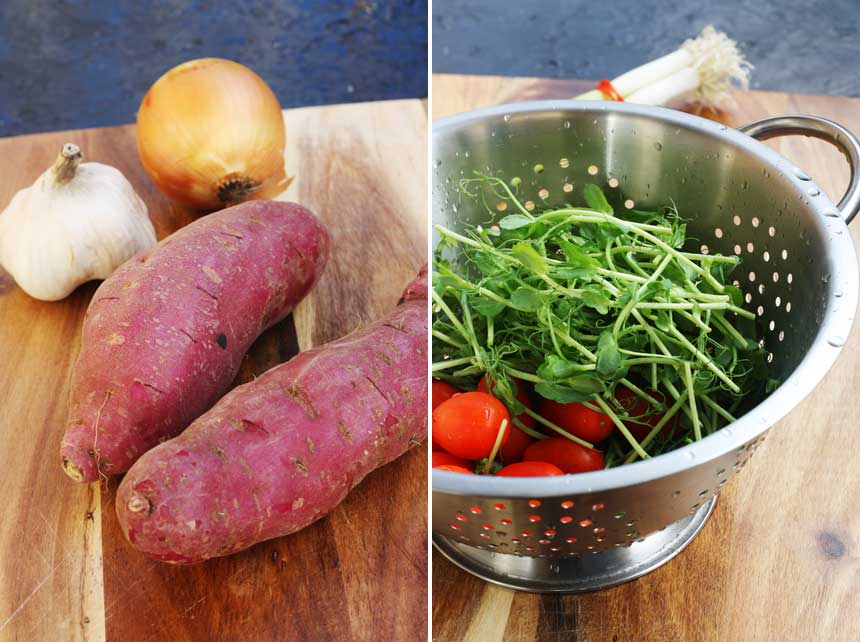 How to make vegan sweet potato falafel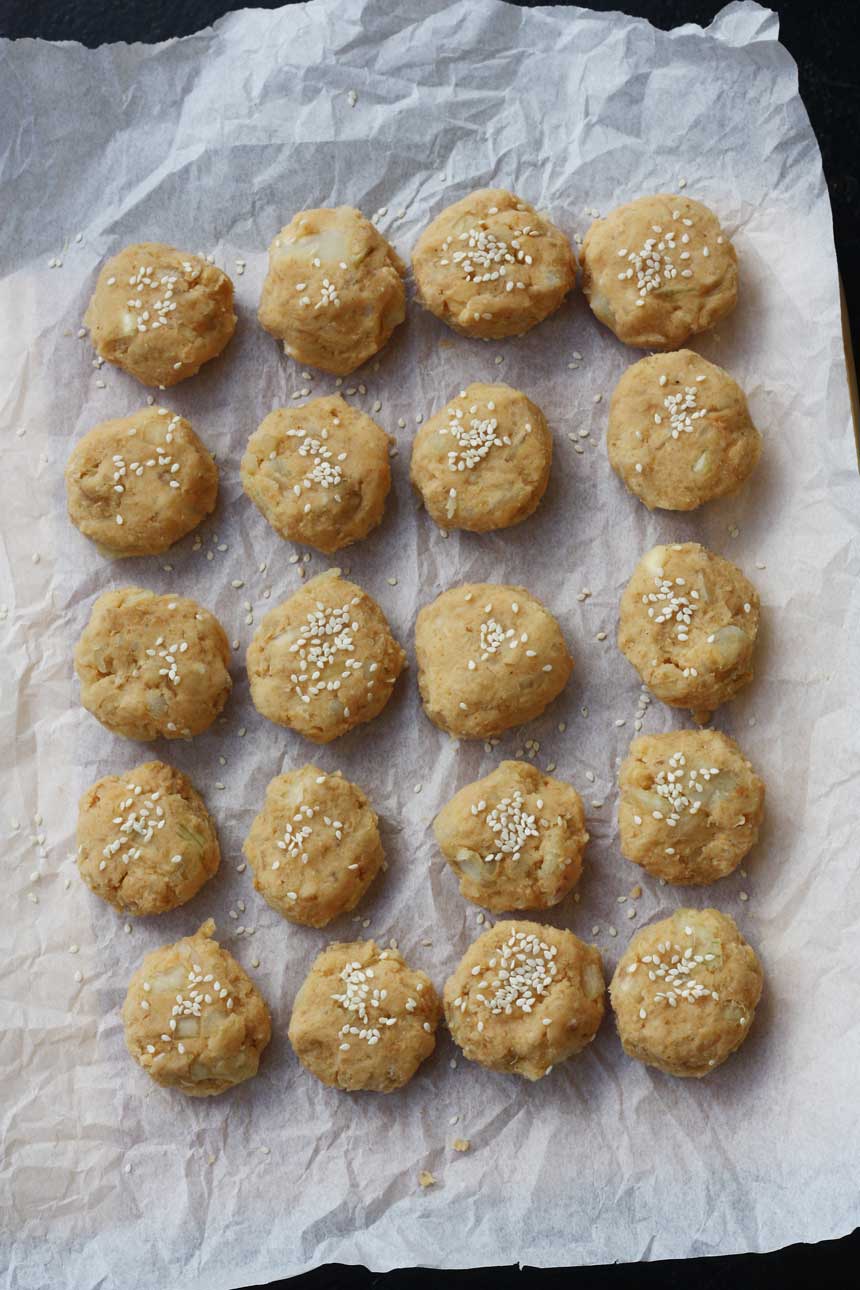 In 4 super easy steps!
Cook your sweet potato in the microwave! (so easy!) If you'd rather though, roast in the oven.
Roughly mash with all the other yummy ingredients.
Let the mixture chill out in the fridge for a while before molding it into little nugget-shaped falafel.
Shallow pan fry for about 5 minutes on each side.
Prefer to air fry?
Lately I air fry everything! Well, almost!
But seriously, these sweet potato falafel are perfect candidates for cooking in your air fryer. Air fry for 15 minutes. Spray the air fryer basket and falafel lightly with olive oil and cook for 15 minutes, turning half way.
Mmmm…. delicious, and even healthier!
That's it – really! Now how do you eat them?
How to serve sweet potato falafel
Apart from the fact that it's addictively delicious, the amazing thing about this recipe is that it makes around 30 falafel.
Which means there doesn't have to be JUST falafel wraps on the menu.
When I make this recipe, this is what I make.
Falafel wraps!
Yes, these easy sweet potato falafel are incredibly delicious stuffed into fresh crusty Mediterranean style bread with some kind of greens or other salad and hummus and/or sauce.
My favourite way to do this is to stuff Turkish bread or Italian ciabatta with:
a big handful of snow peas (Have you tried them? Delicious!)
chopped tomatoes and spring onions
hummus (my go-to recipe is this one – you have to try the 2-ingredient flatbread too!)
tahini dressing (oh my goodness, this 5-minute dressing is so awesome!). If you don't have any tahini, Greek yogurt works great as a makeshift dressing, too!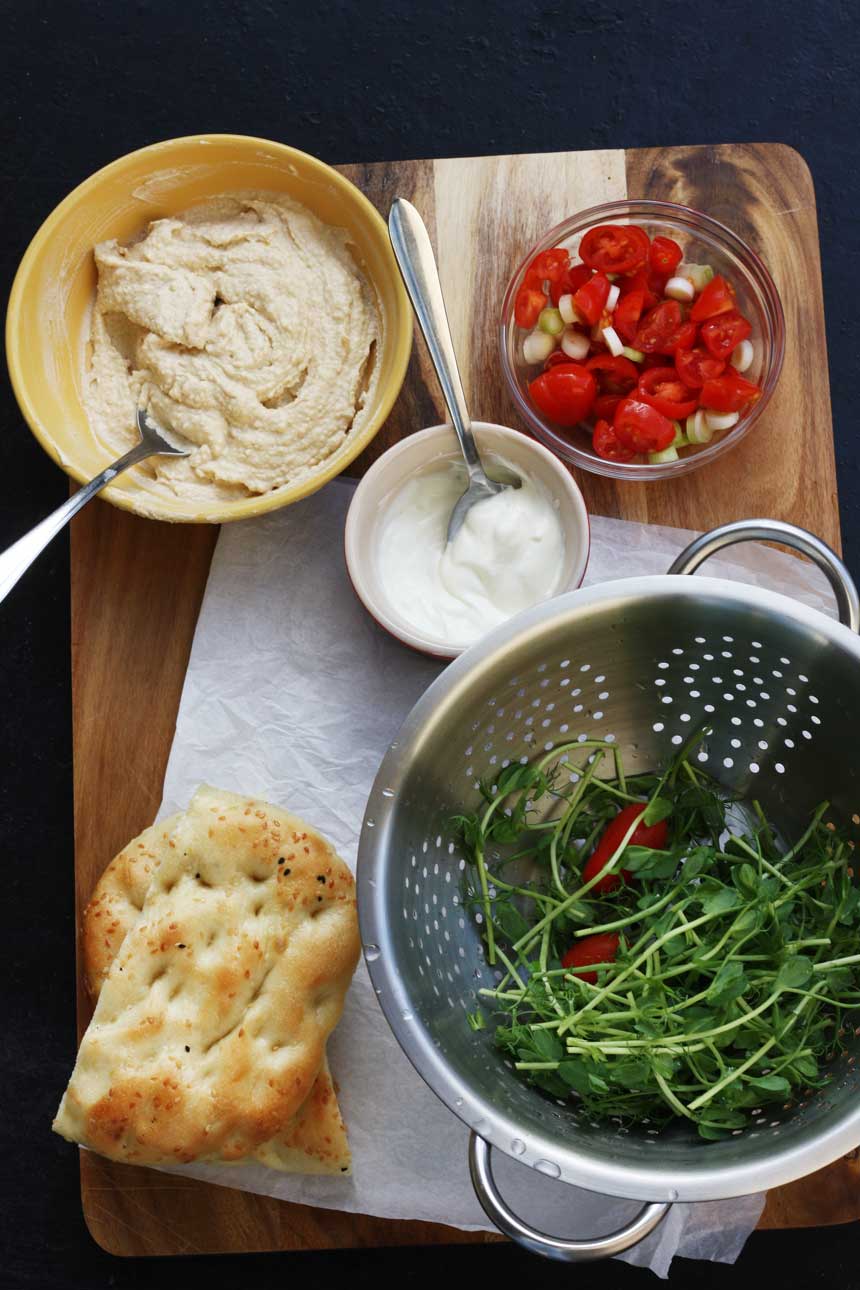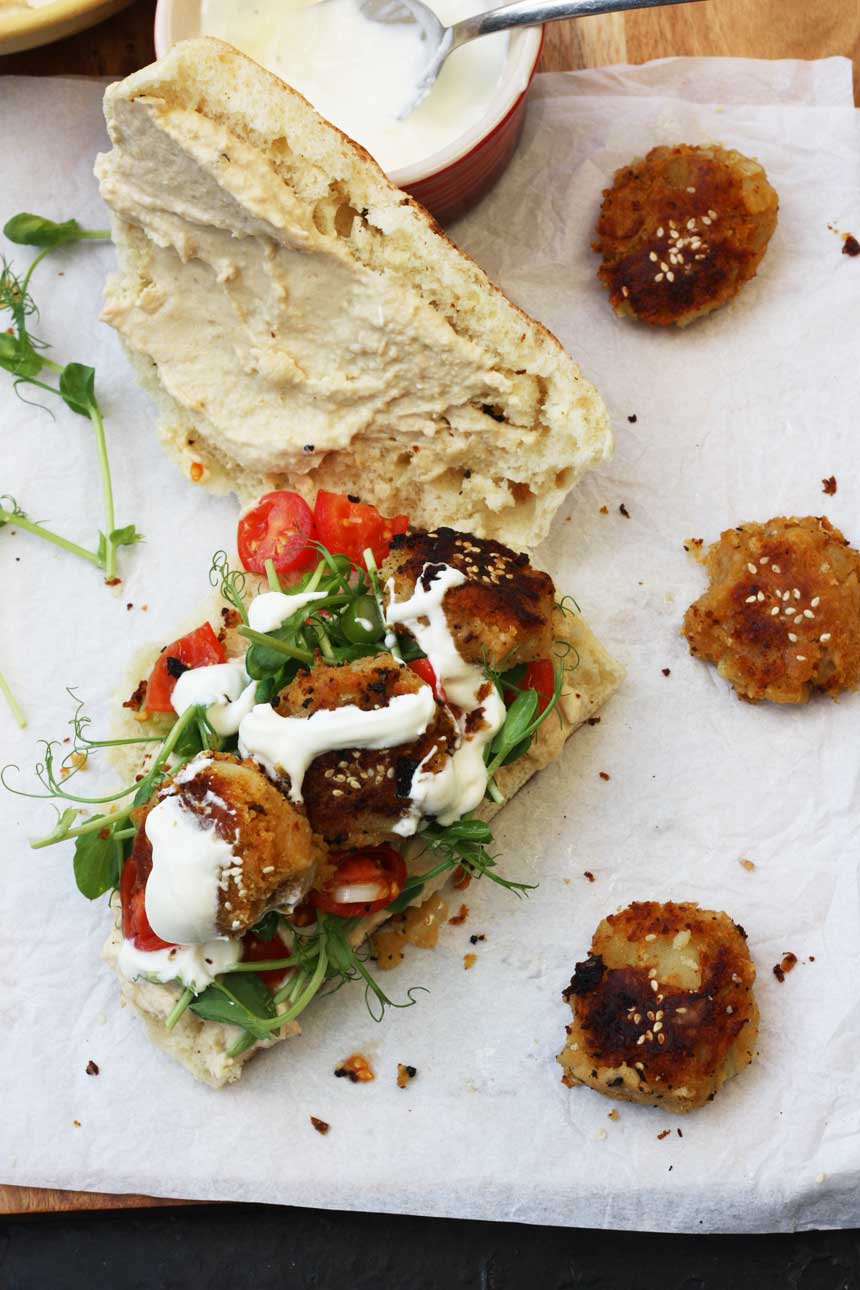 Falafel salad!
Another option is to serve the falafel on top of the pea shoots and with all the little accompaniments and condiments on the side, like so: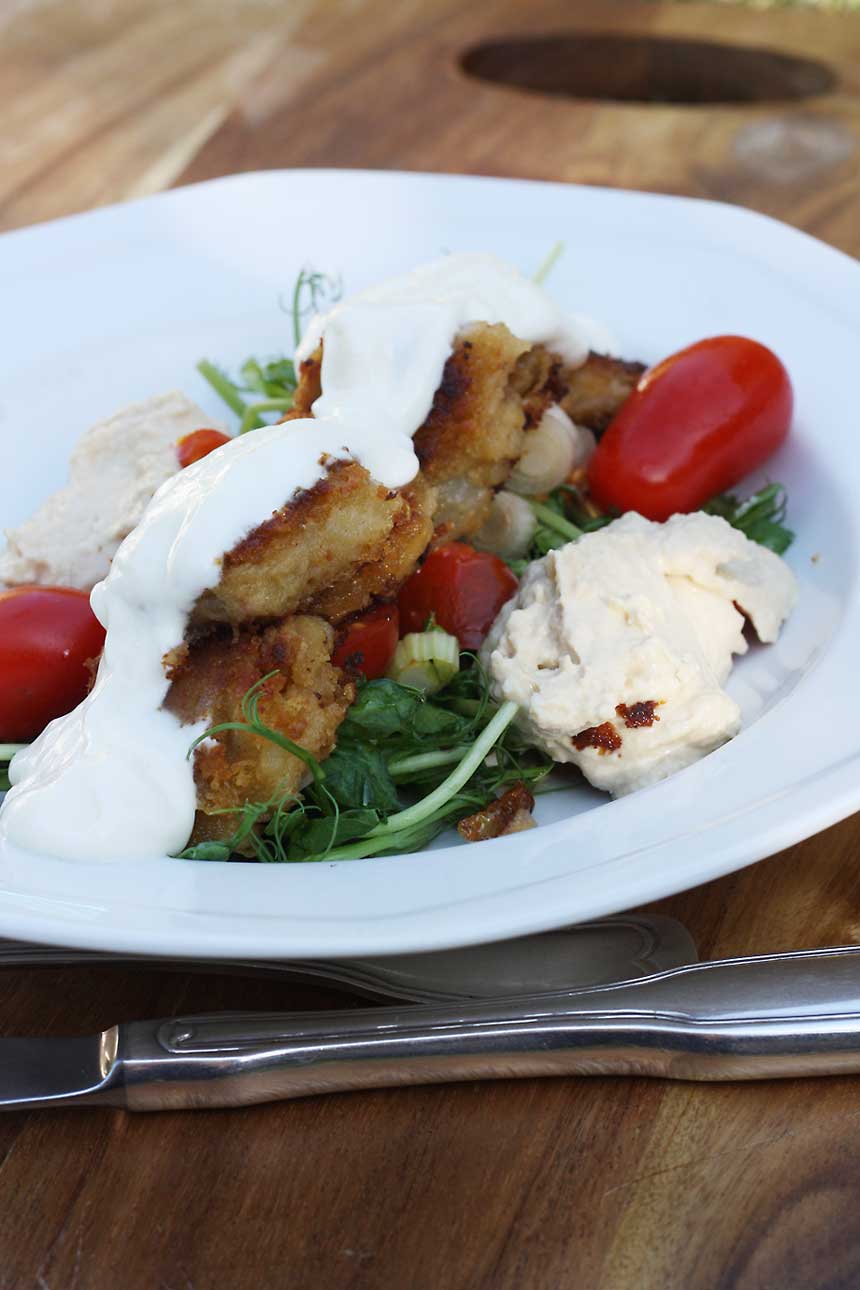 Pro tip: Try drizzling over this 5-minute tahini sauce. Incredible!
More amazing Mediterranean recipes that you must try!
Or browse all my Mediterranean recipes here
IF YOU MAKE THIS RECIPE, LET ME KNOW HOW YOU GET ON BY LEAVING A COMMENT AND RATING BELOW… AND DON'T FORGET TO SIGN UP TO RECEIVE ALL MY NEW RECIPES BY EMAIL!
FOLLOW ME ON FACEBOOK, INSTAGRAM, PINTEREST AND YOUTUBE.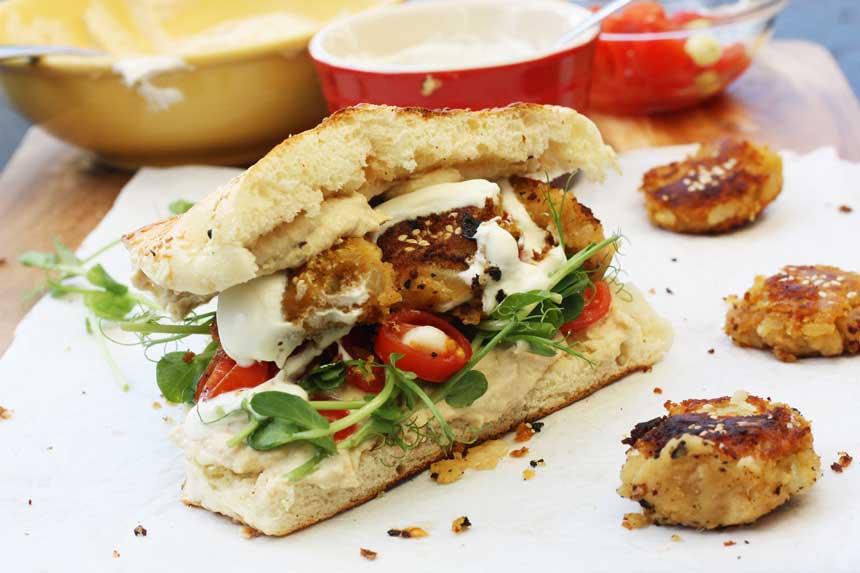 Sweet potato falafel (vegan, with air fryer version)
Golden, crispy little falafel made of sweet potatoes, chickpeas and spices. Beautiful stuffed into fresh bread with hummus, Greek yoghurt and snow pea shoots, or just layered across a little fresh salad.
Ingredients (UK/Australia? Click below for grams/ml)
For the falafel
1

medium to large

ish sweet potato (or 2 small ones!)

1

can of cooked chickpeas

9 ounces/250 grams net weight

1/2

a medium onion

finely chopped

1

garlic clove

crushed

1/4

teaspoon

cayenne pepper

1

teaspoon

ground cumin

1

teaspoon

ground coriander

1

teaspoon

paprika

1/2

teaspoon

baking powder

1/2

teaspoon

salt

1 1/2

tablespoons

plain flour

1/2

of a lemon worth of juice

sesame seeds for scattering over
optional 'accompaniments'
chopped tomatoes & spring onions/scallions

pitta bread or another type of fresh bread, hummus, Greek yoghurt or tahini dressing, snow pea sprouts
Instructions
Peel the sweet potatoes and cook in a microwave for about 10 minutes or until soft. (you can roast them if you prefer for about 45 minutes or so or until soft)

In the meantime, pulse the chickpeas a few times in a food processor until still a little bit chunky.

Mash the pulsed chickpeas and sweet potato together with all of the other ingredients apart from the sesame seeds. Cover the mixture and chill in the fridge for at least half an hour.

Take spoonfuls of mixture about the size of a walnut and form into balls. Flatten the balls into a patty and press a few sesame seeds into them on both sides.

Heat up a layer of oil in a skillet/frying pan until quite hot, then fill the pan with patties. Let them cook for about 5 minutes on each side or until golden and crispy.

Remove from the pan and serve immediately with fresh bread and accompaniments of your choice.
Notes
Air fryer instructions
Air fry for 15 minutes. Spray the air fryer basket and falafel lightly with olive oil and cook for 15 minutes, turning half way.
How to serve your sweet potato falafel
I would highly recommend making a batch of your own hummus for this recipe. My go-to recipe is this quick hummus and 2-ingredient flatbread.
This incredible 5-minute tahini dressing goes really well, too.
How long do they keep?
This recipe makes quite a large amount of falafel, so you can keep the dough in the fridge for a few days quite comfortably.
I prefer to keep the uncooked dough in the fridge and then quickly fry them up fresh before eating rather than frying them all first then keeping in the fridge. If you want to though you can pre-cook them all, then quickly reheat them in a hot pan when you want to eat them.
Can you freeze them?
Yes! Either freeze them uncooked, then let defrost and pan-fry as normal, or freeze cooked, then defrost and re-fry quickly in a hot oiled pan.
Nutrition
Calories:
6
kcal
Carbohydrates:
1
g
Sodium:
41
mg
Potassium:
26
mg
Vitamin A:
655
IU
Vitamin C:
0.5
mg
Calcium:
5
mg
Iron:
0.1
mg