Tsatziki (or tzatziki!) is one of Greece's best known dishes. A refreshing creamy sauce made with Greek yogurt, cucumber, and garlic, it takes just 10 minutes to make this super easy version at home. Serve it as a healthy dip with pita chips, as part of a mezze platter, or with a delicious Greek classic dish. Whether it's souvlaki, spanakopita, Greek lamb or something else on the menu, it just isn't the same without tsatziki sauce on the side!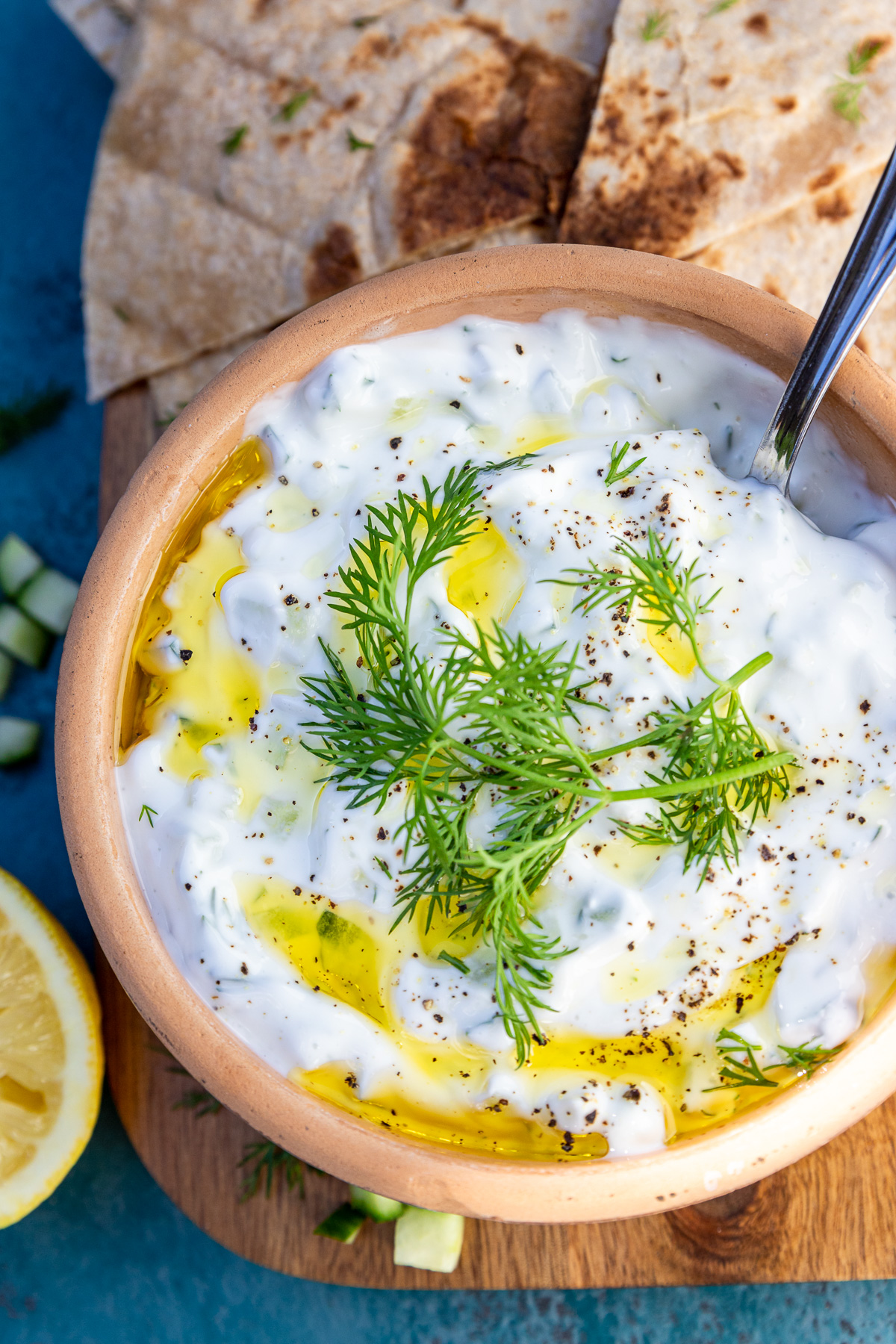 What's tsatziki?
Go to a Greek restaurant, either in Greece or anywhere else, and you'll see bowls of tsatziki – a delicious yogurt and cucumber sauce – on every table served with a mezze (share plates) or delicious Greek main dishes of every kind.
It's also an essential ingredient with Greek souvlaki (grilled meat on skewers) and gyro pitas (roast meat in wraps). It's unthinkable to eat these without it!
In Greek it's called τζατζίκι (pronounced ts-at-ZEE-kee – give it a try!). Sometimes you'll see it spelt 'tzatziki' with a z. I say what's an s or a z between Greek foodie friends?
You make Tsatziki/tzatziki sauce by mixing thick strained yogurt (Greek yogurt) with grated cucumber, crushed garlic, fresh dill, lemon juice and olive oil.
The best tsatziki recipe
This is one of those recipes that there are thousands of versions of. So what will you like about my tsatziki recipe?
✔ It's an authentic tzatziki recipe with all the right ingredients.
✔ But… I cut a couple of corners so it's super quick and easy to make.
✔ There's just the right balance of flavors. Most importantly, not too much (or too little) garlic, although you can adjust the amount to taste.
✔ I tell you how to add the right finishing touches. Do this and your humble bowl of Greek yogurt sauce becomes a show-stopping dish!
What's in it (ingredients)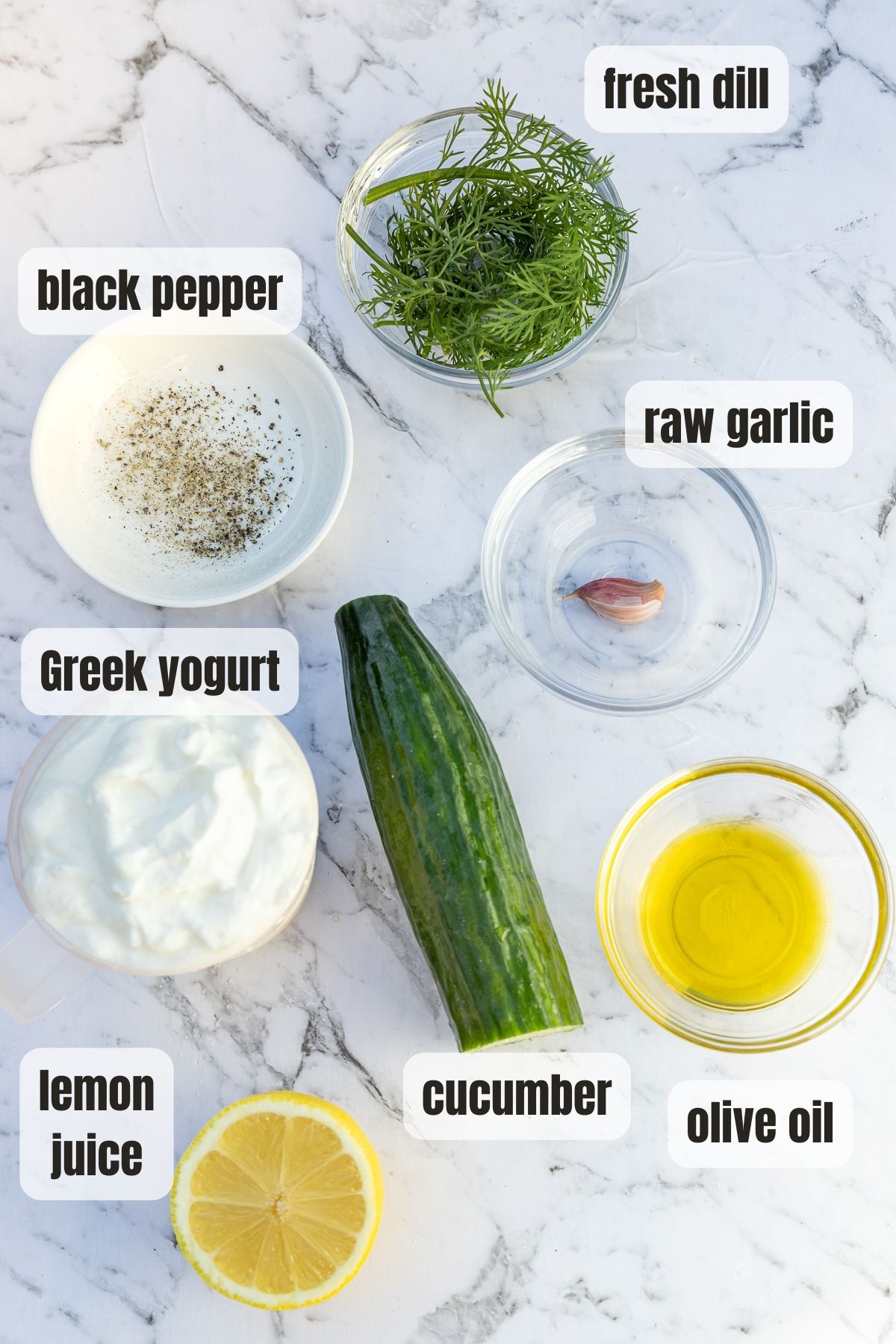 This is one of those 'magic' recipes with minimal ingredients for maximum flavor. Here's what you need to know:
Greek yogurt: This is of course the main ingredient (I use 1 cup). For my homemade tzatziki, I always choose a brand that contains just milk and live yogurt cultures. Many 'Greek yogurt' brands contain other ingredients such as cream. These will still work in this recipe, but the sauce may not taste as authentic.
It's OK to use skim or whole milk/full-fat Greek yogurt as you prefer (sometimes labelled 0.5% fat, 2%, 10% etc.). Just don't use ordinary plain yogurt – it's too thin.
Garlic: The garlic is another essential ingredient, and it's one there's a bit of disagreement about! Some like more, others like less. Personally, after experimenting over many years, my 'perfect' amount of garlic for each cup of yogurt is half a medium to large clove of garlic.
No fresh garlic? Substitute 1/4 teaspoon garlic powder or flakes.
Cucumber: Where I live, English cucumbers are the most common. They're long and thin with a dark green skin. These are great for tsatziki since they have a thin skin and few seeds. I never peel the skin off since I like the pop of color it adds to the sauce. If you're using a different kind of cucumber with a thicker, maybe more bitter skin, feel free to peel it if you prefer.
Dill: The flavor of fresh dill is quite strong, so for me around two tablespoons is enough. Other fresh herbs such as mint, oregano or even coriander can be acceptable substitutes. If you add mint you'll end up with a taste that's closer to an Indian raita (not a bad thing!).
In case you're interested in nerding out more on this, I wrote a whole post on substitutes for dill. I hope you take a look!
Lemon juice: You'll need just a few good squeezes. Serve any leftover lemon wedges alongside the meal.
Olive oil: You just need 1/2 to a full tablespoon to drizzle over the top. Use a good quality extra virgin olive oil if you can. It will add to the yummy taste, as well as making your bowl of tsatziki look really good.
Black pepper: I always grind some black pepper over the top of my finished bowl of sauce just before serving.
How to make it
The step-by-step guide below should help you make the recipe perfectly first time. Scroll down to the end for the full recipe including ingredient amounts.
There's a fast way, and a slightly longer way, to make homemade tzatziki. Guess which way I make mine? 😉
Step 1: Put a cup of Greek yogurt in a medium mixing bowl. You can use it as it is or make it a bit thicker (see below for tips!).
Step 2: Dice half a cucumber fairly finely and add it to the yogurt. Most tsatziki recipes suggest grating the cucumber, but I find this way quicker and easier.
Step 3: Also add the minced garlic, dill and lemon juice and stir together well.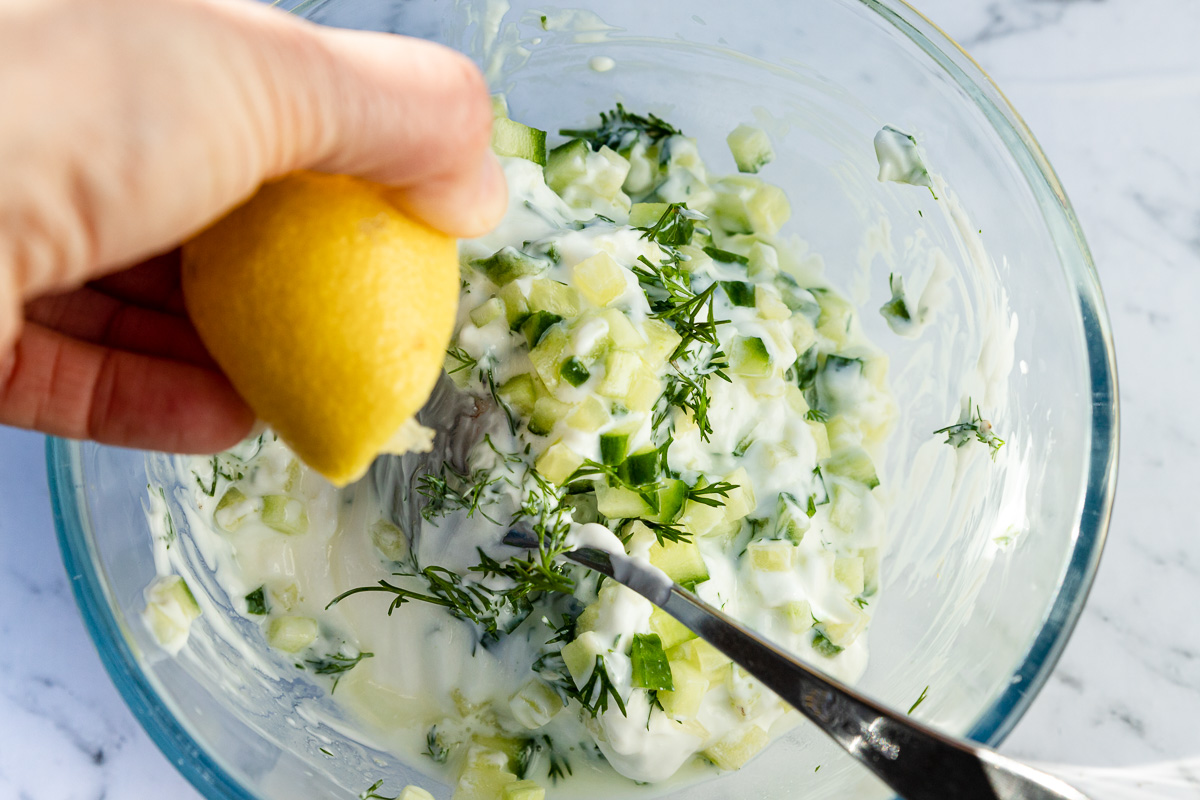 Step 4: Empty the tsatziki into a serving bowl. Garnish it with the drizzle of olive oil and black pepper. Sometimes I sprinkle over a little more dill, too.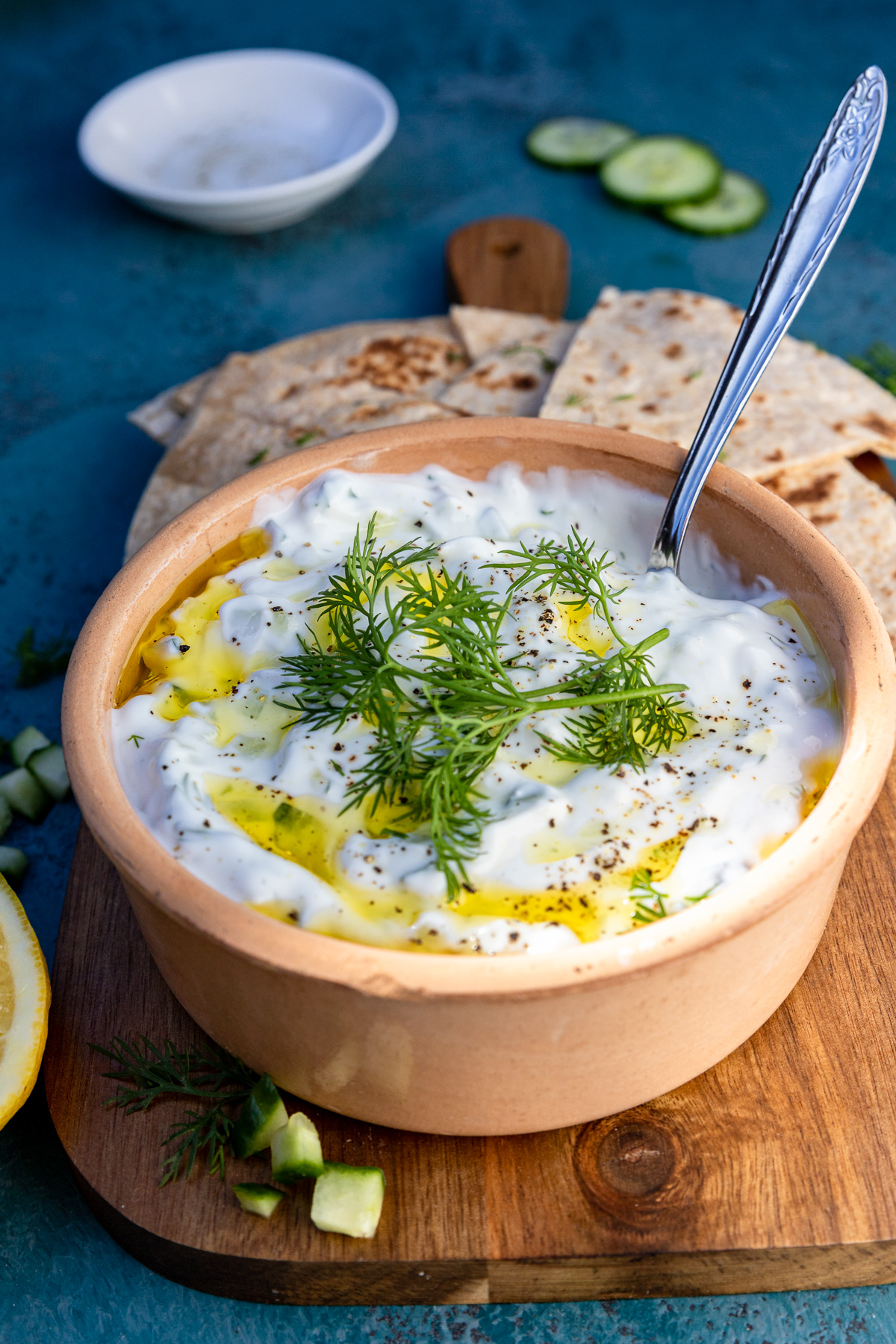 Helen's top tips
Usually, when I open a new container of Greek yogurt, it will have separated a little from the liquid. Use that thicker yogurt without the liquid for a more authentic thick tsatziki.
If you'd prefer an even thicker consistency, it's easy. While you prepare the other ingredients, drain the yogurt in a fine mesh sieve or colander lined with paper towels. Also, grate the cucumber instead of dicing. Let it sit on more paper towels, then squeeze any excess water out with your hands.
Feel free to experiment with the amount of garlic. Half a clove not enough for you? Add a little more! I suggest going easy at first, and adding more little by little (speaking from experience! Remember it's raw garlic, which tastes much stronger than cooked).
Try adding a small grated carrot! Meni Valle suggests this in her beautiful book Ikaria (highly recommended!).
How to serve it
It's hard to find a more versatile side dish. Here are some great ways to serve this delicious Greek sauce:
Tsatziki also makes a fantastic topping for a baked potato! You might like to sprinkle over some feta cheese, too.
Check out this list: What to Eat With Tzatziki for more creative ideas. Or check out my other Greek recipes and Mediterranean recipes for more serving ideas!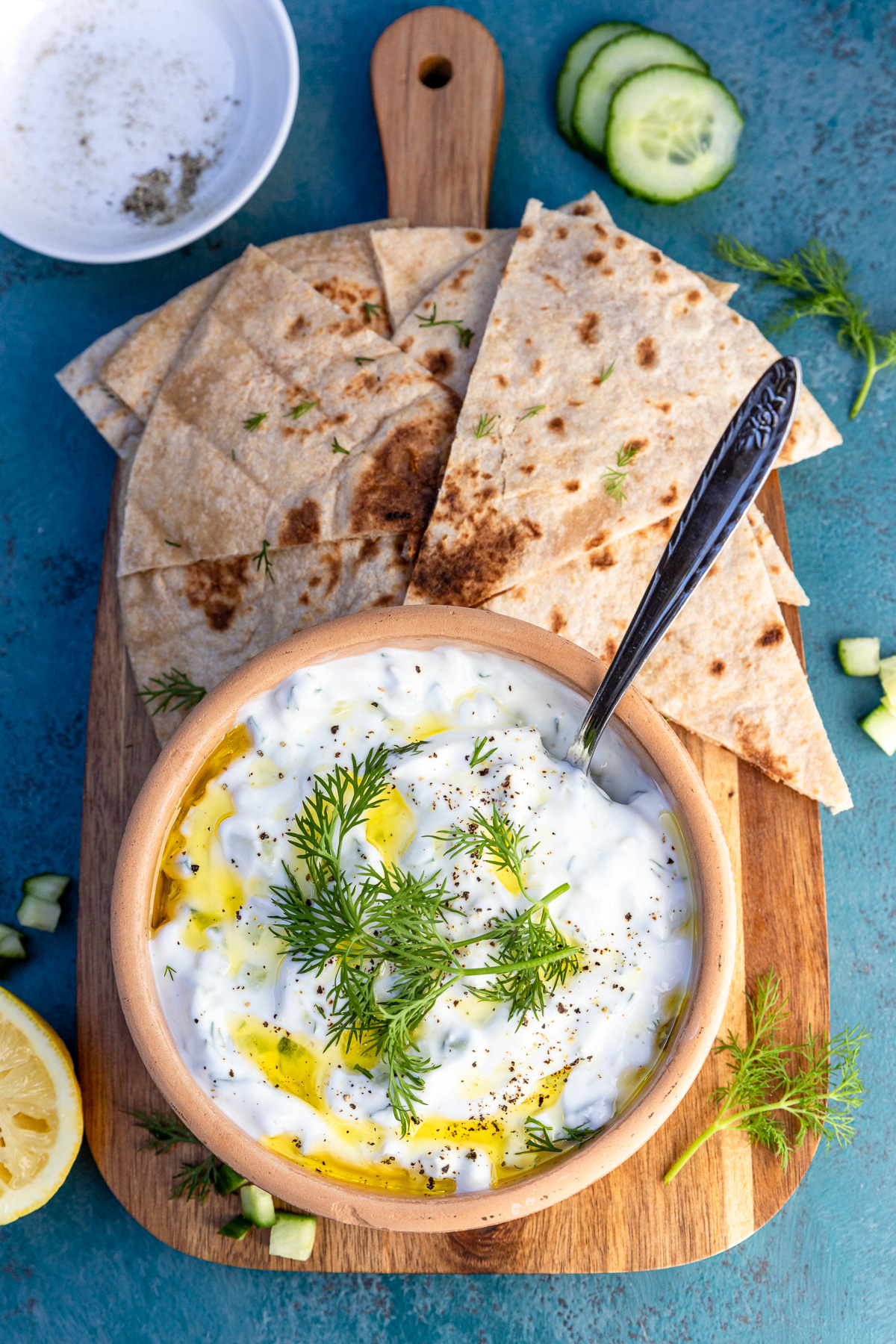 Recipe FAQ
Can you make tzatziki sauce without cucumber?
Yes, of course. Simply skip it, or, if you like, add some scallions/spring onions, chives, finely chopped green pepper or even grated carrot instead.

I'll let you into a secret. Sometimes I skip everything apart from the Greek yogurt. Yep, I serve just Greek yogurt as a sauce in place of tzatziki! Shhh.
How long does tzatziki (tsatziki) last in the fridge?
3 to 4 days. Make sure it's well covered or kept in an airtight container.
Can you make it ahead?
Yes! In fact tzatziki is one of those things that can taste better the following day. Make it up to two days ahead then cover the bowl and pop it in the fridge. Just before serving, mix well again to stir in any liquid that's separated. Then empty into a smaller serving bowl and add the olive oil and pepper.
Can you freeze it?
Technically, you can. However, I wouldn't advise it since frozen cucumber tends to turn mushy when thawed. The texture of yogurt can change too after being frozen. Tzatziki is such a delicious sauce that it would be a shame to serve it when it's not at its best!
This 10-minute tyrokafteri (spicy feta dip recipe) is another Greek style dip you'll love!
IF YOU MAKE THIS RECIPE, LET ME KNOW HOW YOU GET ON BY LEAVING A COMMENT AND RATING BELOW… AND DON'T FORGET TO SIGN UP TO RECEIVE ALL MY NEW RECIPES BY EMAIL!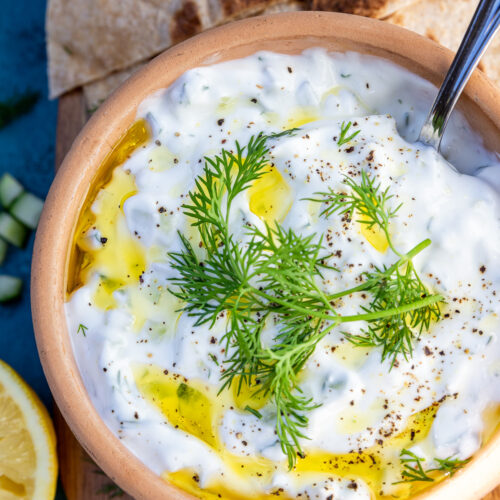 10 Minute Greek Tsatziki Sauce (Super Easy!)
Tsatziki (or tzatziki!) is a super versatile and easy sauce or dip that you'll find on every table in a Greek restaurant. It also happens to be super easy to make in around just 10 minutes. Simply mix Greek yogurt with cucumber, garlic, dill and lemon juice for a go-to healthy sauce that's equally as delicious on souvlaki, with grilled meats and potatoes or on its on as a dip.
Equipment (affiliate links)
Ingredients (UK/Australia? Click below for grams/ml)
1

cup

Greek yogurt

Look for an authentic brand made with just milk and live yogurt cultures (whole milk or skim both fine).

½

medium

cucumber

diced finely (or grated with excess moisture squeezed out)

½

clove

garlic

crushed (½ to 1½ cloves to taste & depending on the size of the clove)

2

tablespoons

dill

chopped finely

½

lemon

(around 3 big squeezes, juice only)
To garnish
½

tablespoon

olive oil

1

pinch

black pepper

a little extra fresh dill
Instructions
In a medium mixing bowl, mix together the Greek yogurt, diced cucumber, crushed garlic, dill and lemon juice until well combined.

1 cup Greek yogurt,

½ medium cucumber,

½ clove garlic,

2 tablespoons dill,

½ lemon

Empty into a serving dish and smooth the top a little.

½ tablespoon olive oil,

1 pinch black pepper,

a little extra fresh dill
Notes
For a thicker tsatziki: Traditionally, tsatziki/tzatziki is made with thick strained yogurt. If you like you can 'strain' the yogurt on paper towels in a sieve or colander while you prepare the other ingredients.
Also, grate the cucumber instead of dicing it. Then squeeze out as much excess water as possible before adding to the tsatziki.
If you can't find dill: You can substitute fresh mint, dried oregano or even fresh coriander.
Garlic: You might have to experiment a little to find the 'sweet spot' as far as the amount goes. Remember it's raw garlic so go easy at first and add more if you then want to. I tend to go for no more than half a large clove. If the clove is smaller I might add a full clove or even a bit more.
Ideas for serving tsatziki: Tsatziki is a wonderfully versatile dip/sauce that goes with any kind of meat in pita bread (souvlaki, gyro wraps, Middle Eastern kebabs etc.), meatballs, Greek chicken and potatoes, Greek lamb, burgers and more. You can also serve it on its own as a dip with warm pita bread or pita chips or similar.
Or serve it on a mezze plate with more Greek style appetizers.
Also check out this list of what to eat with tzatziki with over 50 creative ideas!
Storing: You can keep tzatziki well covered or in an airtight container in the fridge for 3 to 4 days. Stir again before serving. It isn't really suitable for freezing.
Nutrition
Calories:
54
kcal
Carbohydrates:
4
g
Protein:
5
g
Fat:
2
g
Saturated Fat:
0.3
g
Polyunsaturated Fat:
0.2
g
Monounsaturated Fat:
1
g
Trans Fat:
0.003
g
Cholesterol:
3
mg
Sodium:
19
mg
Potassium:
127
mg
Fiber:
1
g
Sugar:
2
g
Vitamin A:
39
IU
Vitamin C:
8
mg
Calcium:
64
mg
Iron:
0.2
mg