It doesn't get more delicious than this – a delicious toasted ciabatta sandwich with bacon and artichokes! I bet bacon and cheese always gets your attention but add artichokes into the mix and you'll be in bacon grilled cheese heaven!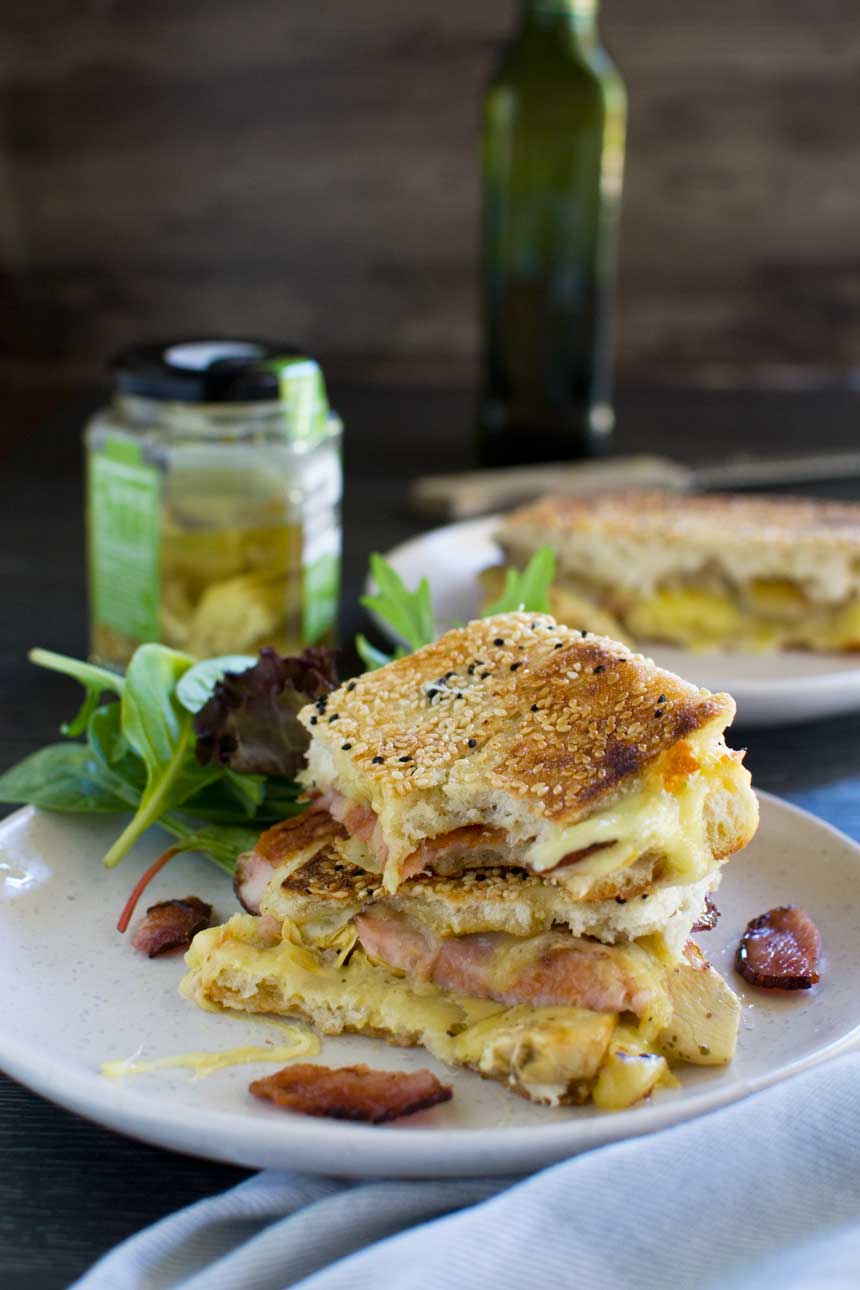 Why you're going to love it
This toasted ciabatta sandwich makes a fabulous weekend brunch. Or late night snack. Or lazy slob-out-on-the-couch-with-Netflix dinner.
Here's why this has the potential to be your new favourite cheese toastie!
Artichokes and bacon (oh and cheese) are a match made in heaven. Don't believe me? Try it!
It's so versatile. Make it for yourself on a weekday, or… as it's just that bit different, make it for guests for a casual lunch. Add fries (regular or sweet potato!) and make it a meal.
It's maximum flavours for minimum effort. Because bacon. But all you have to cook is the bacon as those gorgeous artichokes are coming right out of a jar!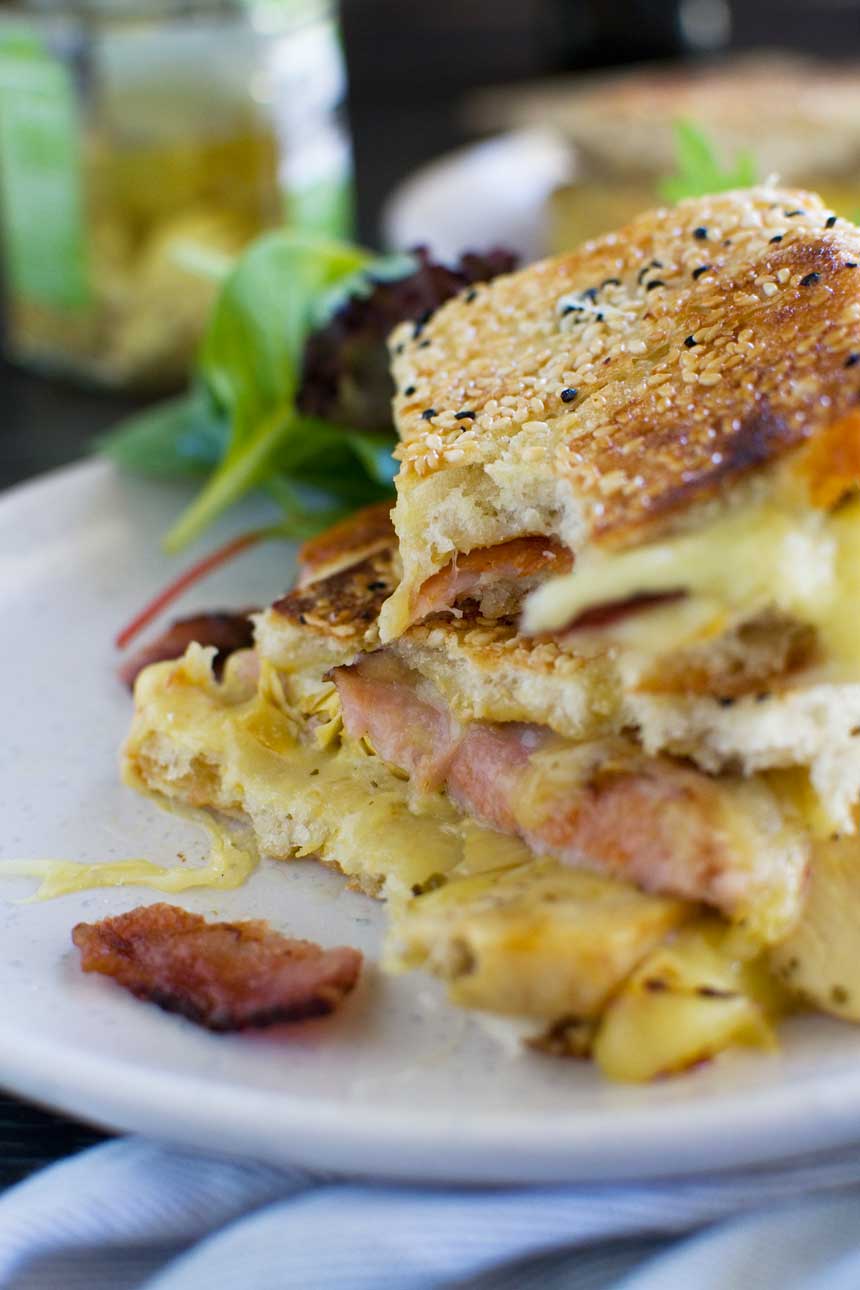 About the ingredients
One of the things I love about this is that there are just a few ingredients, but the sandwich is super tasty.
Bread: Any kind, really. My favourite is an Italian style flati(ish) bread such as focaccia (try this homemade version!), ciabatta or even Turkish bread.
Olive oil: Just a little for drizzling over the bread. I always try to use a good quality olive oil, but any will work.
Cheese: Any! I try to use a really tasty cheese like a strong cheddar, but just use what you have, or your favourite. Even goat's cheese would work.
Bacon: I like to use a thick, smoked English style bacon for maximum flavour and texture. But again, just use what you like.
Artichokes: The magic ingredient! The secret is that you don't need to do anything here other than fish the marinated artichokes in oil or brine out of a jar. Delicious!
Onion relish: This sixth ingredient is optional, but the sweet sticky onion relish goes SO well with this sandwich. Give it a try!
How to make it
In true Scrummy Lane style we don't go to much effort to make this grilled cheese. No cooking of the artichokes required. I simply buy a jar of marinated sliced artichokes (any supermarket has them).
So here's how I make my sandwich in 4 simple steps:
Whether you want to make your sandwich using a simple grill / skillet or a sandwich press, you can use it first to cook your bacon. This way you get the flavour of the bacon smooshing (is that a word?) into your bread as it cooks.
Either butter the outside of your bread or drizzle it with olive oil (I prefer the second option for a more authentic Mediterranean flavour).
Turn the bread over (buttered side down) and begin making your sandwich. If you like, begin with a thin layer of onion relish / jam / jelly or another 'extra' flavour. See below for more ideas! Then layer: cheese, artichokes, bacon, more cheese.
Top with the second slice of bread – buttered side up – and grill.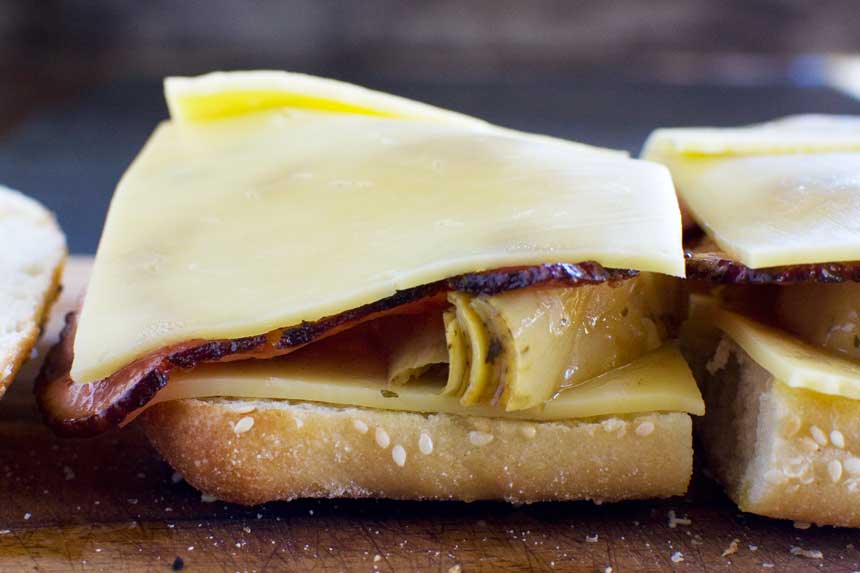 Yummy variations
There are several little changes you could make to this idea for a (possibly) even yummier artichoke and bacon grilled cheese.
Before adding the first cheese slice, spread the bread with a thin layer of:
onion jam / jelly / relish / chutney – I've tried this and it's so delicious. That tiny hint of sweetness just works with the other (more salty) flavours
any kind of eggplant spread or dip – it's the smokiness. Yum.
corn relish
a tiny sprinkle of blue cheese
jalapenos
I'm sure you can think of even more ideas to turn your artichoke and bacon grilled cheese from good to gourmet delicious!
This artichoke and bacon grilled cheese makes the most delicious weekend brunch imaginable. Artichokes and bacon should be best friends forever. You've got to try this sandwich – you'll never look back!
Helen's Sandwich FAQs
I don't have a sandwich press. Can I still make it?
Absolutely! Just use a frying pan. Press down on the sandwich as it cooks with a flat slotted spoon or even a plate.
What's the best kind of bread to use?
I like any kind of flat(ish) Italian style bread such as focaccia, ciabatta or Turkish bread.

Really though, any kind of bread works. Just pick your favourite!
How do I cook the bacon?
My favourite way to cook it is in the sandwich press or frying pan that you're going to cook the sandwich in. That way you'll get all the lovely flavour on the outside of the sandwich as you cook it.

Cook it either in a dry pan/press or with a tiny drizzle of olive oil. Cook for around 5 minutes on each side until the bacon is lightly crispy. You want the bacon to be completely cooked before you put it in the sandwich.
Can I cook my own artichokes?
You can, of course, but… I wouldn't bother. I really like the simplicity of just fishing the artichokes out of a jar. Plus they're usually marinated in oil which adds a bit of moisture and extra flavour to the sandwich.
More delicious sandwiches
I use a Breville Panini Press like this to make this artichoke and bacon and grilled cheese. I've used it SO much. It's perfect for weekend brunches or evening snacks (affiliate link).
IF YOU MAKE THIS RECIPE, LET ME KNOW HOW YOU GET ON BY LEAVING A COMMENT AND RATING BELOW… AND DON'T FORGET TO SIGN UP TO RECEIVE ALL MY NEW RECIPES BY EMAIL!
FOLLOW ME ON FACEBOOK, INSTAGRAM, PINTEREST AND YOUTUBE.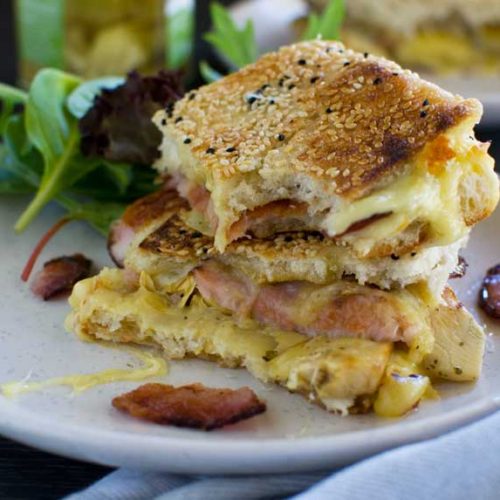 Toasted Ciabatta Sandwich With Bacon And Artichokes
This Toasted Ciabatta Sandwich With Bacon And Artichokes makes the most delicious weekend brunch imaginable. Artichokes and bacon should be best friends forever. You've got to try this sandwich – you'll never look back!
Ingredients (UK/Australia? Click below for grams/ml)
4

slices

bread

any kind

1

tablespoon

olive oil

or use butter instead

4

slices

cheese

any, but make sure it's tasty!

3.5

ounces

bacon

I used 4 slices

5

ounces

artichokes

chopped, in oil or brine (I used about half a 275 gram jar)

onion relish

optional
Instructions
Pre-heat a sandwich press or grill / frying pan.

Cook the bacon for 5 to 10 minutes or until starting to crisp (either on the sandwich press or grill / frying pan you're going to use to cook your sandwich).

Drizzle the olive oil over the bread and spread a little with a knife (alternatively, spread with butter).

Turn the slices of bread over so the olive oiled side is facing down, then spread with a little onion relish (if using, but highly recommended!).

Top with 1 slice of cheese, the bacon, artichokes, and finally another slice of cheese.

Top with the other 2 slices of bread (oiled side up) and cook until the cheese has melted and the top of the sandwich is nicely browned.
Notes
Amounts are only guestimates, of course. Throw as much of the yummy ingredients on your sandwich as possible!
Nutrition
Calories:
678
kcal
Carbohydrates:
36
g
Protein:
28
g
Fat:
47
g
Saturated Fat:
19
g
Cholesterol:
91
mg
Sodium:
1033
mg
Potassium:
517
mg
Fiber:
6
g
Sugar:
4
g
Vitamin A:
560
IU
Vitamin C:
8.3
mg
Calcium:
512
mg
Iron:
3.5
mg