Need easy party food or appetizer ideas? These classic 'tiropitakia' or mini Greek cheese pies might be just what you're looking for – a simple, very cheesy (of course) feta cheese filling wrapped in filo pastry and baked into irresistible crispy triangles. Made with just 6 main ingredients, they're total crowd pleasers!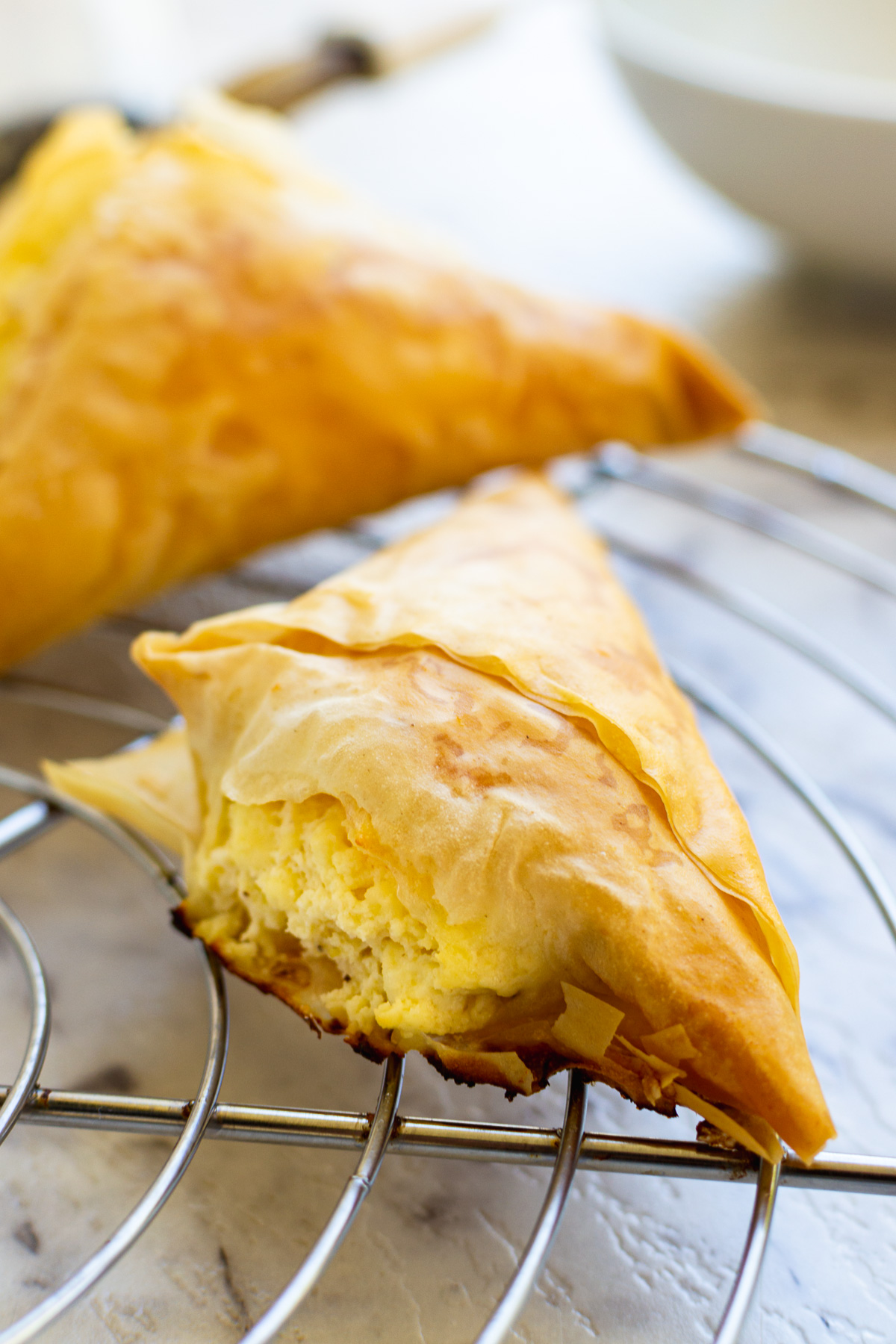 What are tiropitakia?
Tiropitakia (pronounced tir-op-it-AK-ia) literally means 'little cheese pies' in Greek.
Cheese pies (tiropita) are delicious cheese-filled pastries that are a popular 'street food' in Greece. You can grab one fresh from a bakery for breakfast or an any-time snack. But you'll also find them at parties and celebrations of every kind in Greece.
Cheese pies come in many different varieties – made with different pastries and different cheeses, and even baked into different shapes (all delicious!). For instance, tiropitas that are curled around into a snail shape are very common even outside of Greece – have you seen them?
Why you'll love them
Tiropitakia are something that everyone can have their own version of – including you! 😉
I think you'll really love this easy version. A simple feta cheese mixture is folded into small phyllo (often spelt filo) pastry triangles. The triangles are baked until the pastry is crisp and the cheesy filling is soft and oozy. But you can (and should!) tweak the recipe to make it your own.
I hope that these remind you of your holidays in Greece… or make you want to book a holiday to Greece. They're incredibly simple to make. Kids tend to like them, too.
Here's what else is so great about them.
Perfect finger food for parties, snacks, picnics and more.
Super easy to make with just 6 main ingredients.
Perfect for making ahead and freezing.
Such a versatile recipe! It's easy to tweak the cheese filling with different cheeses, flavors and herbs (read on for details) to make it exactly how you like it!
There won't be any of these left at the party!
About the ingredients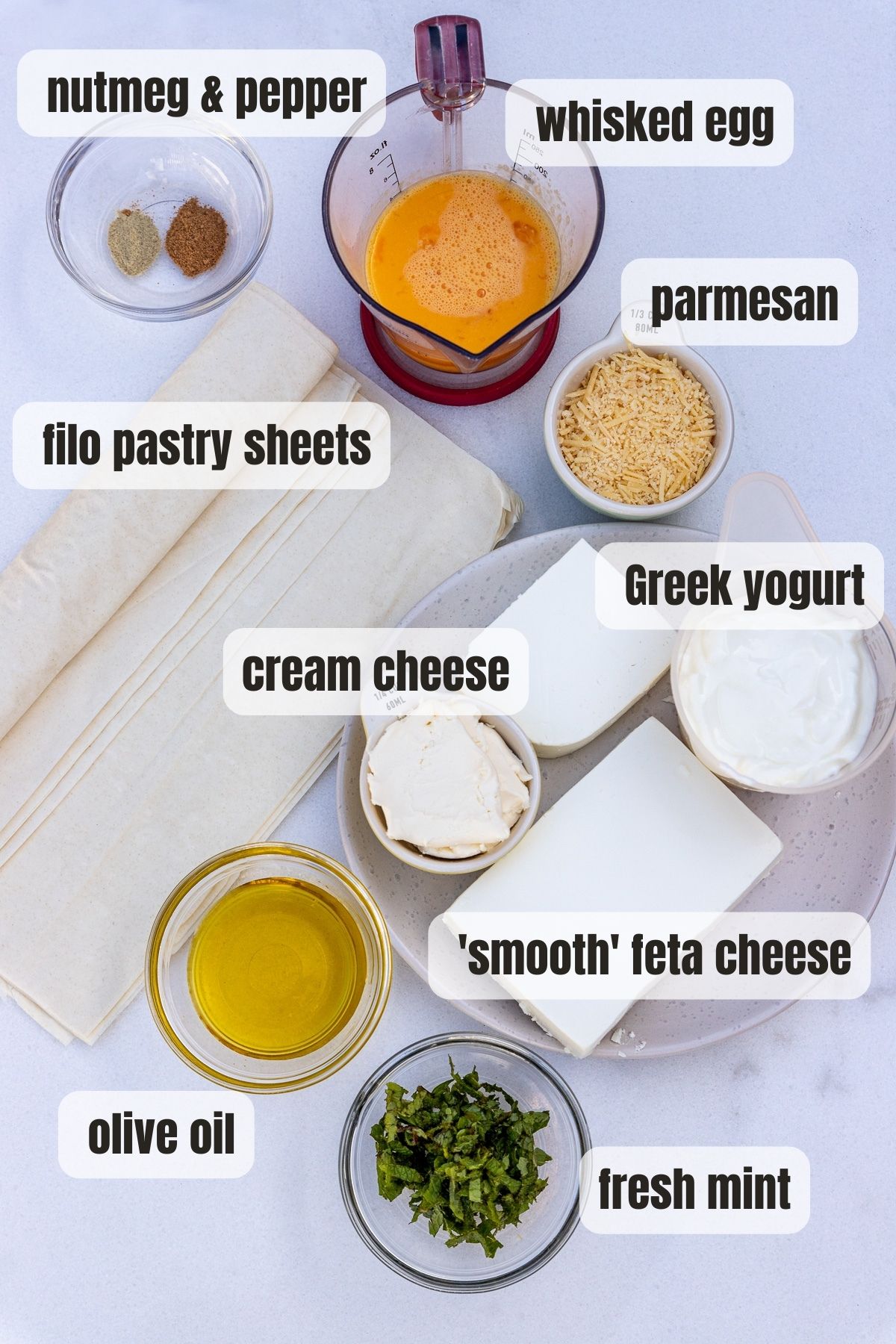 For the cheese pie filling, you'll need:
Feta cheese: You can use any kind. However, since the tangy feta cheese is the star of the show in this recipe, I prefer either an authentic Greek feta or a softer type like Danish, French, Persian or 'smooth' feta.
If you're in Greece, a soft Greek cheese called anthotiro is traditional in cheese pies. If you can find this (perhaps from a Mediterranean style deli?) please do try it in this recipe. But you can play around with types of cheeses! Any kind of tangy soft-ish cheese would work really well, including goat cheese, Mexican queso or even English Wensleydale.
Greek yogurt: This helps to keep the filling moist and soft. I like authentic Greek yogurt that's made with just milk and yogurt cultures. As an alternative, use sour cream, crème fraîche, cottage cheese or ricotta cheese.
Cream cheese: For extra creaminess. Use plain or flavored.
A whisked egg: Just the one since you want the egg to act as a binder, not to make the filling taste 'eggy'.
Seasoning: Ground black pepper and a hint of nutmeg, which goes really well with the cheese.
Parmesan: For extra strong cheesy flavor in your tiropitakias! If you like, you can substitute with a different type of cheese, such as a Swiss cheese or a strong cheddar.
You can also add a little chopped fresh mint or dill, or even dried oregano for extra flavor.
For the cheese pie crust:
Filo pastry: I use either fresh or frozen, but always store bought.
Filo pastry size: The filo pastry I use is about 16.5 inches long and 10.5 inches wide. I place it with the longest edge towards me and cut 5 strips out of it to make 5 miniature pies. It doesn't matter if your pastry sheets are a different size. Just make sure each strip is 3-4 inches wide.
Olive oil: For brushing over the unbaked filo pastry and assembled pies. You'll need around a tablespoon for each sheet of feta (5 pies). Feel free to use melted butter instead.
Optional: A few sesame seeds to sprinkle over before baking.
How to make tiropitakia
You might think it's fiddly and complicated to make these little Greek pies. But no, I promise it's super easy, and the presentation doesn't have to be perfect. I actually think they look more delicious when a bit of the filling oozes out during baking!
Step 1: Mash the feta with a fork.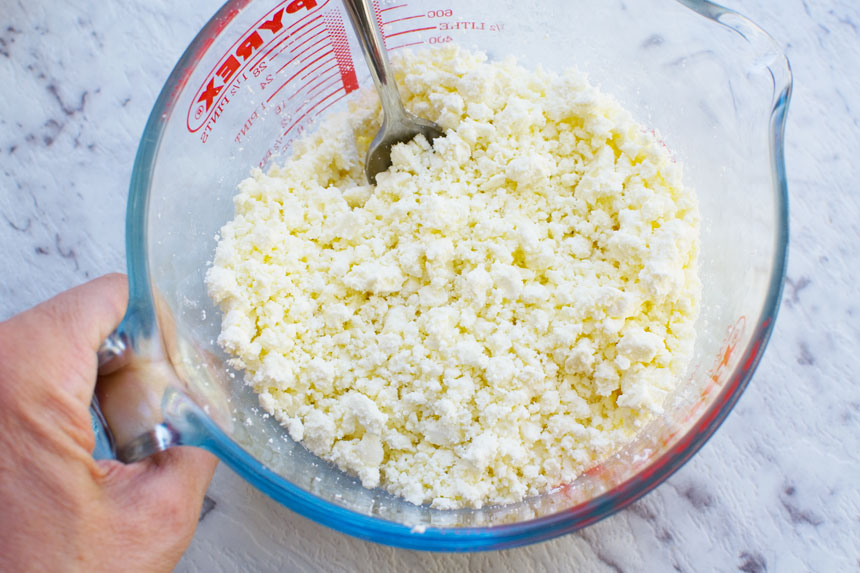 Step 2: Mix in all of the other filling ingredients. You'll see that this time I decided to add some chopped mint.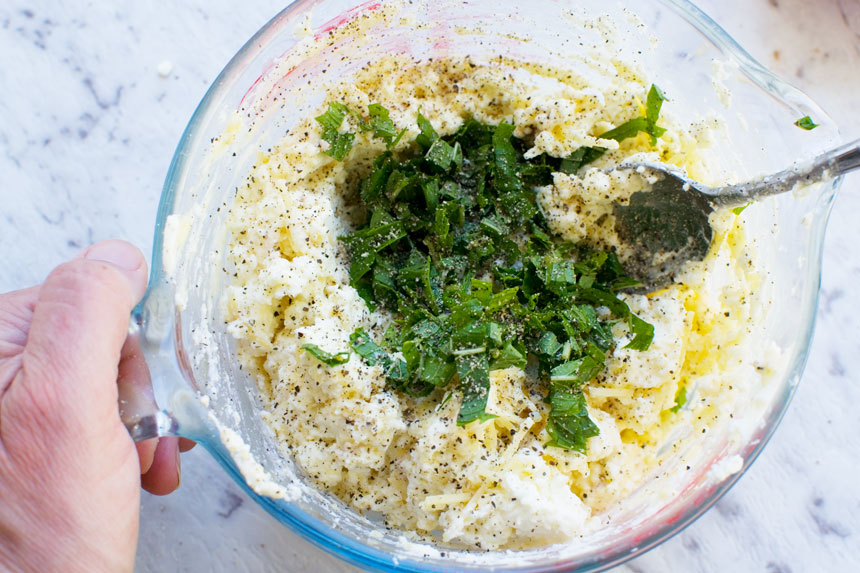 Step 3: Now prepare to construct your filo triangles! Start by laying out one sheet of filo dough. Brush on around a tablespoon of olive oil with a pastry brush.
Step 4: Lay another sheet of pastry over the top. It doesn't have to be perfectly neat. Cut into 3-4 inch (8-10cm) wide strips with a sharp knife.
Step 5: Put around a heaped tablespoon of cheese mixture in the centre of one end of the first pastry strip. Fold the corner over the mixture, and continue folding until you have a little pastry triangle!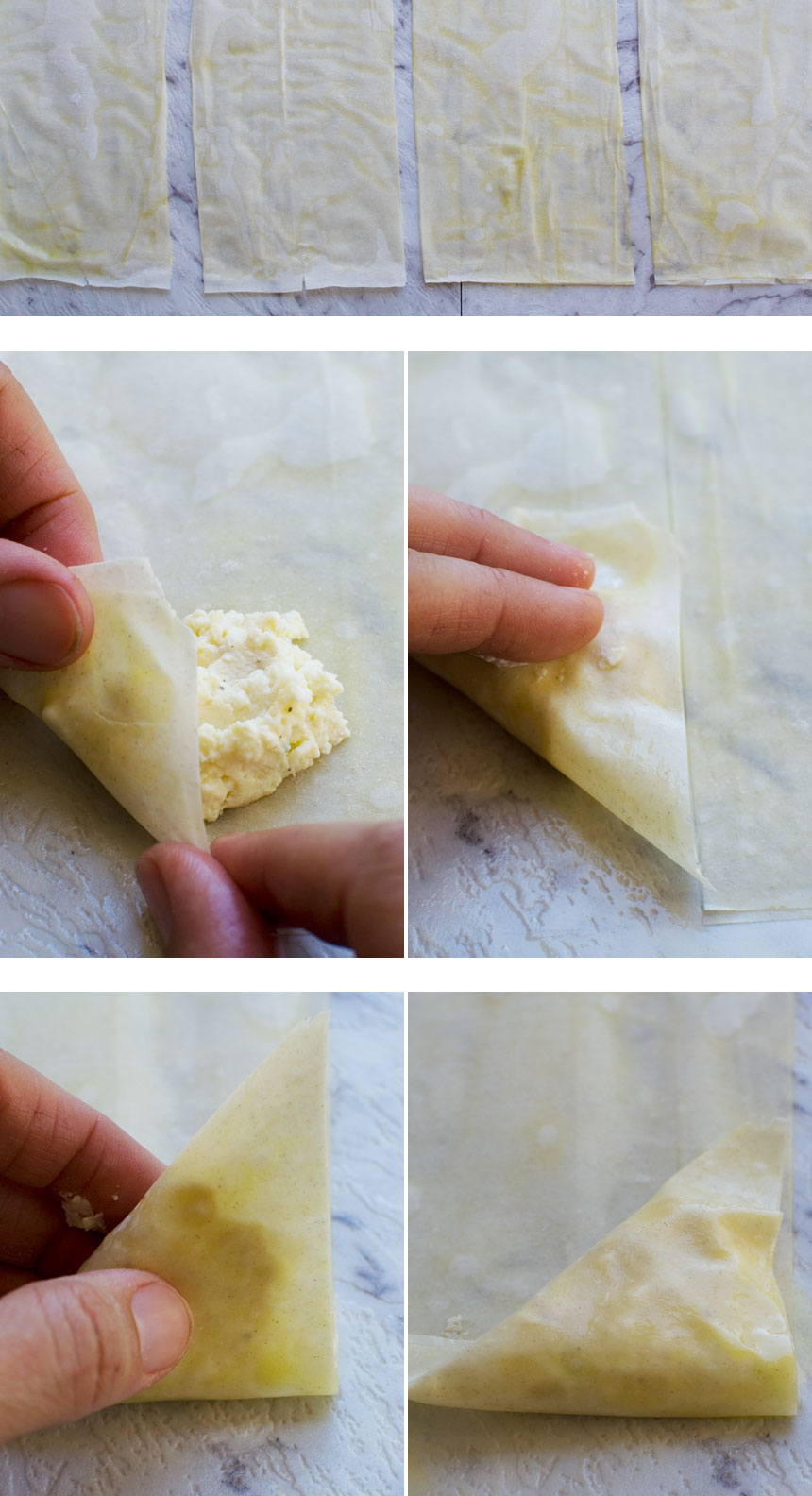 Step 6: Bake for 20 to 25 minutes or until golden brown and crispy.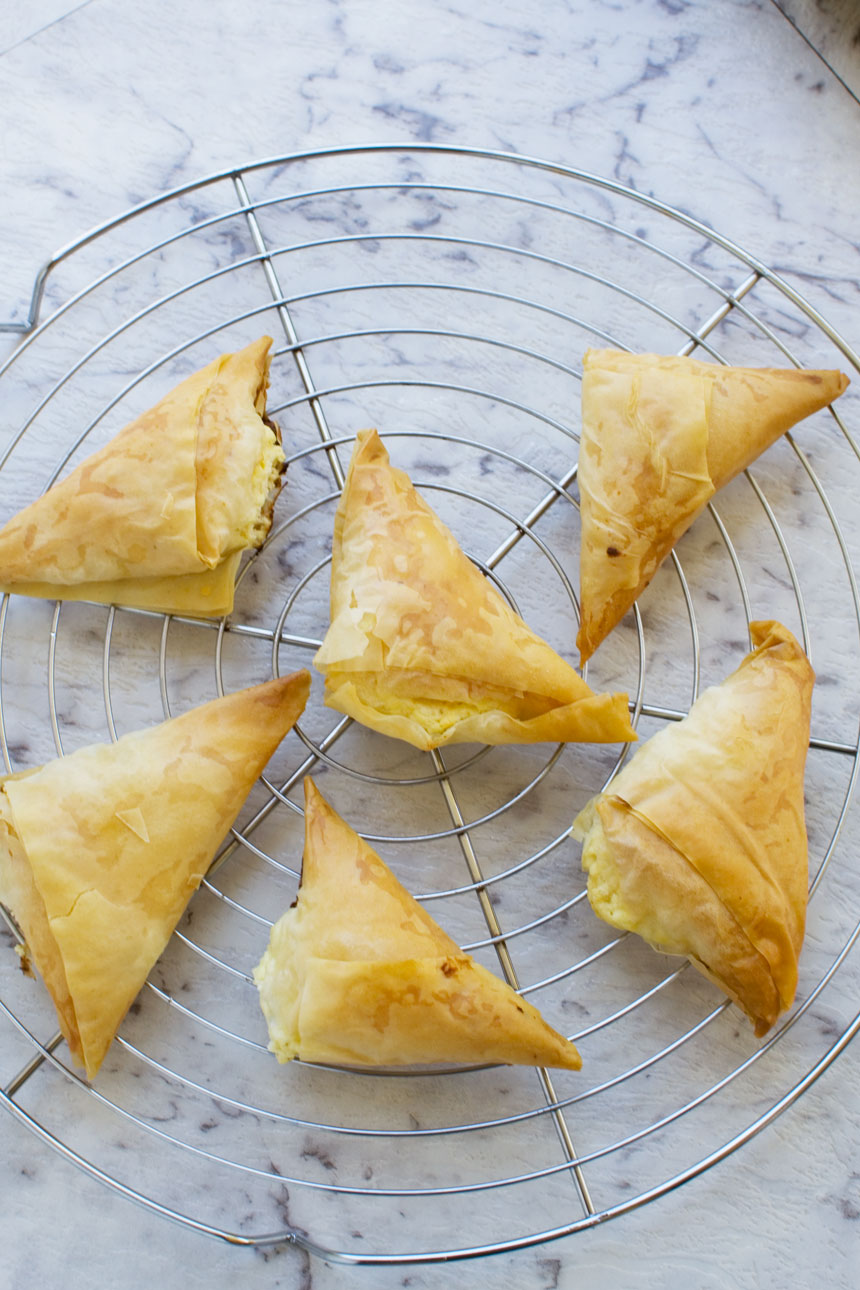 Helen's top tips
Drape a damp tea towel over the filo pastry sheets until you're ready to use them. This will stop them drying out.
Making a mess? No worries! Bits of cheese might fall out when you first start folding and the pastry might tear. But by the time you've folded the whole strip into a triangle, all the mixture will be magically inside!
When you place the folded triangles onto the baking tray, press down lightly so that the filling spreads out evenly inside the pie.
Don't worry if tiny bits of cheese mixture ooze out of some of the pastry triangles when they're cooking. I think it makes them look and taste even more delicious!
Variations
This recipe is pretty versatile! Sometimes I use ricotta cheese instead of Greek yogurt. Sometimes I add a little chopped fresh mint, dill, or dried oregano. Other times I add different cheeses such as gruyere or tasty cheddar into the mix for extra tang.
Here are some other ways you can make these bite-sized cheese pies your own:
Add a little wilted chopped (and squeezed!) spinach.
Add chopped sun dried tomatoes or chopped olives.
Grate a little lemon zest into the cheese mixture.
Use flavored cream cheese such as garlic and herb.
For a fun twist, add some mashed sweet potato or butternut squash.
Try them with shortcrust pastry (for 'tiropita kourou') or puff pastry instead of filo. You'll find cheese pies made with all kinds of pastry in Greece!
How to serve
Whether you're making your tiropitakia for a party, or just to have in the freezer for quick appetizers or snacks, they're best served straight out of the oven.
They're delicious handed around just as they are. But you could also serve them with a dip. Great options could be a simple marinara sauce like the one I make for this Greek baked eggplant recipe. Or how about a 10-minute homemade Greek tsatziki sauce?
Mini Greek cheese pies like these would also be fantastic served as part of a Greek meze platter, right? Serve with olives, pita chips or bread, Greek zucchini fries, and dips.
For more options, see this great list of Greek appetizer ideas.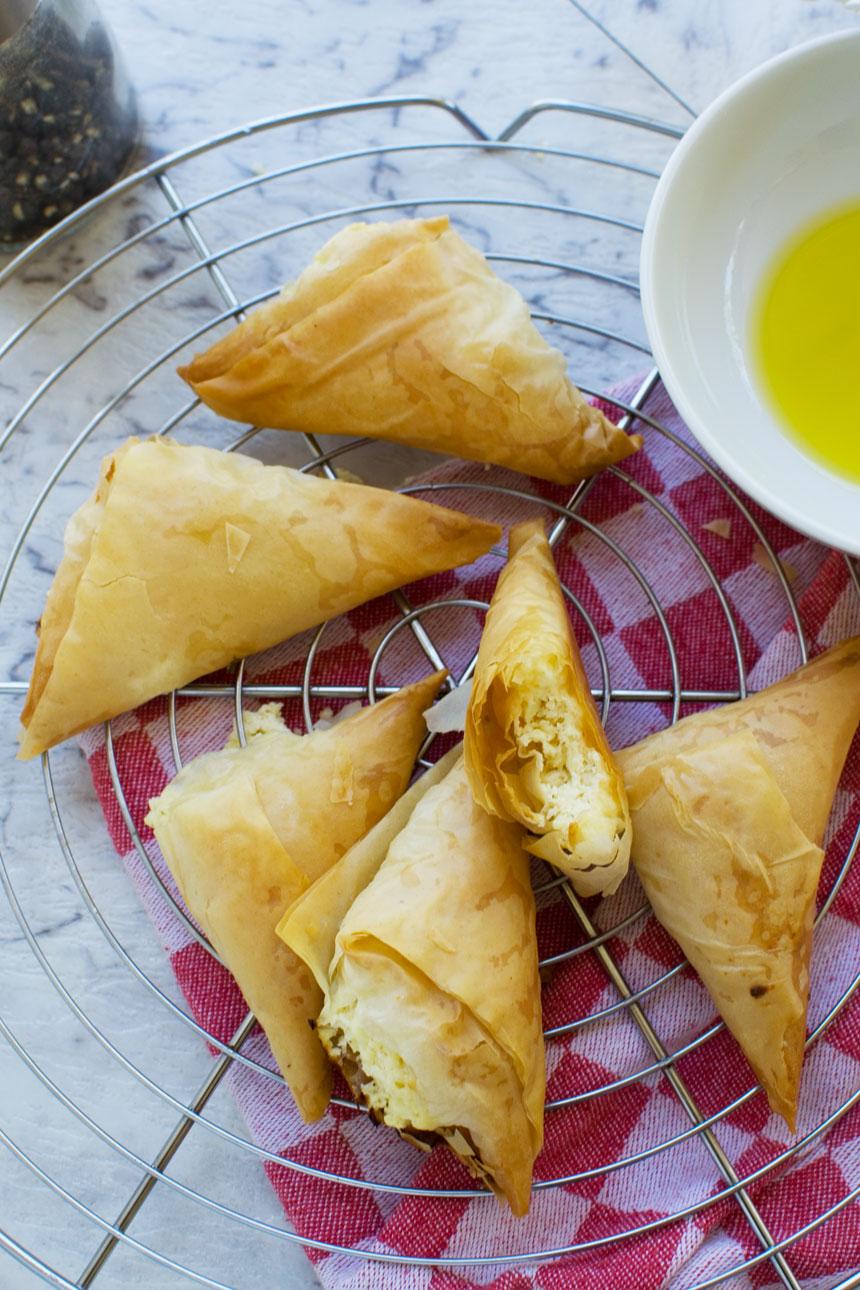 Recipe FAQ
Can you freeze tiropitakia?
Yes! Freeze the raw phyllo triangles in a single layer on baking sheets, then pop them into freezer bags. You can freeze them for up to 3 months. Just brush the tops with olive oil and cook straight from frozen, adding about 10 minutes on to the cooking time. They're done when the pastry is medium brown and crisp.
Can I reheat them?
You can keep any kind of Greek cheese pies covered in the fridge for 2 to 3 days. Reheat for around 10 minutes at 355F/180C until hot and crisp again. Alternatively, you can reheat them in an air fryer for about 5 minutes.
Can I use puff pastry or shortcrust pastry instead?
Yes, absolutely! Tiropitas are made with different kinds of pastry, not just filo. To make tiropitakia with shortcrust pastry (tiropitakia kourou) or puff pastry, you'll only need one pastry layer. Simply cut out squares of pastry and fold them over and press down the edges with a fork to enclose the filling.
What's the difference between a tiropita and a spanakopita?
Just in case you were wondering! They are both popular savory Greek pastries, but a tiropita is filled with a cheese mixture whereas a spanakopita includes spinach as well. Sometimes a spanakopita doesn't even contain any cheese.
Got leftover filo pastry? You'll love these crispy mushroom filo triangles, this spinach and feta filo pie (spanakopita), these Greek filo parcels with tzatziki and these amazing feta filo pies with honey. Why not keep a mixture of these in the freezer for 'party emergencies'?!
More easy party appetizers
Or see all my party food.
IF YOU MAKE THIS RECIPE, LET ME KNOW HOW YOU GET ON BY LEAVING A COMMENT AND RATING BELOW… AND DON'T FORGET TO SIGN UP TO RECEIVE ALL MY NEW RECIPES BY EMAIL!
FOLLOW ME ON FACEBOOK, INSTAGRAM, PINTEREST AND YOUTUBE.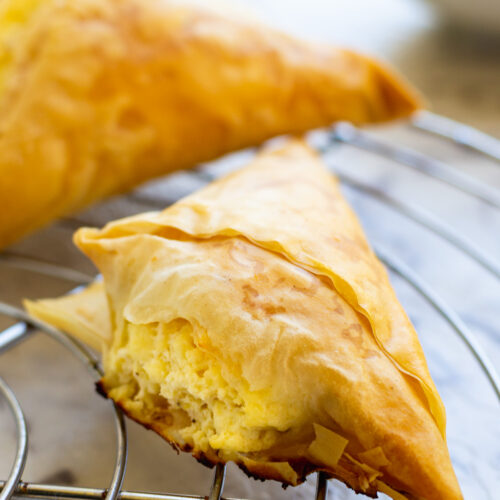 Tiropitakia (Mini Greek Feta Cheese Pies)
Need something really simple for a party? Try these easy, cheesy, crispy Greek mini feta cheese pies (AKA tiropitakia!) made with just filo pastry, feta cheese and a few other simple ingredients. Make them ahead, stash them in the freezer, and you're ready to go!
Ingredients (UK/Australia? Click below for grams/ml)
10.5

ounces

feta cheese

'Smooth' feta or Danish, French or Persian feta is a good option, but any feta works. Greek cheese 'anthotiro' is the perfect choice if you can find it.

½

cup

Greek yogurt

Substitute with ricotta cheese, more cream cheese, cottage cheese or even sour cream.

½

cup

cream cheese

⅓

cup

parmesan cheese

Grated, about a large handful. Substitute with any grated cheese (strong flavored is best).

1

egg

Lightly whisked

¼

teaspoon

nutmeg

¼

teaspoon

black pepper

2

tablespoons

fresh mint

chopped, or dill, or 2 teaspoons dried oregano (optional)

9

ounces

filo pastry

About 12 large sheets of filo pastry or ⅔ of a 13 ounce/375 gram box. Of course this will vary depending on the brand.

⅓

cup

olive oil

sesame seeds

Optional, for sprinkling over just before baking.
Instructions
Mash the feta in a medium bowl, then add the yogurt (or substitute), cream cheese, parmesan (or other cheese), egg, nutmeg, herbs (if using) and black pepper. Mix well.

10.5 ounces feta cheese,

½ cup Greek yogurt,

⅓ cup parmesan cheese,

1 egg,

¼ teaspoon nutmeg,

¼ teaspoon black pepper,

2 tablespoons fresh mint,

½ cup cream cheese

Preheat the oven to 355F/180C. Then lay a sheet of filo pastry on a clean work surface or large chopping board widthways with the longest edge towards you. Brush all over with olive oil (about a tablespoon for a large sheet of pastry).

9 ounces filo pastry,

⅓ cup olive oil

Lay another sheet of pastry on top, then cut the pastry sheets into equal 3-4 inch (8-10 cm) wide strips (see photos in post or video).

Put about a heaped tablespoon of mixture in the middle of one end of the first strip. Fold the pastry over it diagonally, then keep folding until you have a small pastry triangle and all the filling is enclosed. Place the triangle on a baking sheet.

Repeat with the remaining pastry strips and pastry sheets until you've used up all the filling. You should have 25 to 30 cheese triangles.

Brush the tops with a little extra olive oil. If you like, sprinkle over a few sesame seeds, or leave them plain. Bake for 20-25 minutes until the cheese pies are golden brown and crispy. Let cool a little, then if possible serve quickly while they are still warm and crisp.
Notes
What kind of feta to use: I usually try to use a soft feta cheese like Danish, French, Persian or 'smooth', but any kind is fine. If you can get Greek anthotiro, even better. If you like you can even experiment with a different type of cheese, like Mexican queso or goat cheese. Let me know how you get on if you do this!
Pastry: Drape a damp tea towel over the unused pastry while you're constructing your little hand pies – so it doesn't dry out!
Filling options: If you prefer or that's what you have, you can use ricotta, cottage cheese or sour cream instead of Greek yogurt.
Although none of these things are traditionally added to Greek cheese pies, there are no rules to say you can't add some of these things to your filling:
chopped sun dried tomatoes or olives
mashed sweet potato or butternut squash
wilted spinach, squeezed and chopped finely
different grated cheeses such as Swiss cheese or strong cheddar.
flavored cream cheese
a bit of lemon zest
a spoonful of pesto
Olive oil: You'll need around a tablespoon per large sheet of pastry (for me that's 5 pies), plus a little extra for brushing over the tops of the pies.
Assembling the pies: Sometimes my pastry tears in places and bits of cheese ooze out of the pies. That's totally OK! It's even OK if bits of cheese filling ooze out during cooking.
Making ahead: To make these cheese pies ahead for a party or event, simply freeze them raw on baking trays in a single layer. When they've frozen, transfer them to Ziploc bags and freeze for up to 3 months.
You can cook straight from frozen – just add a little onto the cooking time. You'll see when the pies are done. They'll be light golden and crispy.
Nutrition
Calories:
102
kcal
Carbohydrates:
6
g
Protein:
3
g
Fat:
7
g
Saturated Fat:
3
g
Polyunsaturated Fat:
1
g
Monounsaturated Fat:
3
g
Trans Fat:
0.001
g
Cholesterol:
20
mg
Sodium:
201
mg
Potassium:
29
mg
Fiber:
0.2
g
Sugar:
0.3
g
Vitamin A:
133
IU
Vitamin C:
0.1
mg
Calcium:
77
mg
Iron:
0.4
mg