Need party appetizers in a hurry? These mini Greek feta cheese triangles (aka tiropita) might be just what you're looking for. A simple, very cheesy (of course) feta cheese filling wrapped in crispy filo pastry. Made with just 5 main ingredients, they're total crowd pleasers!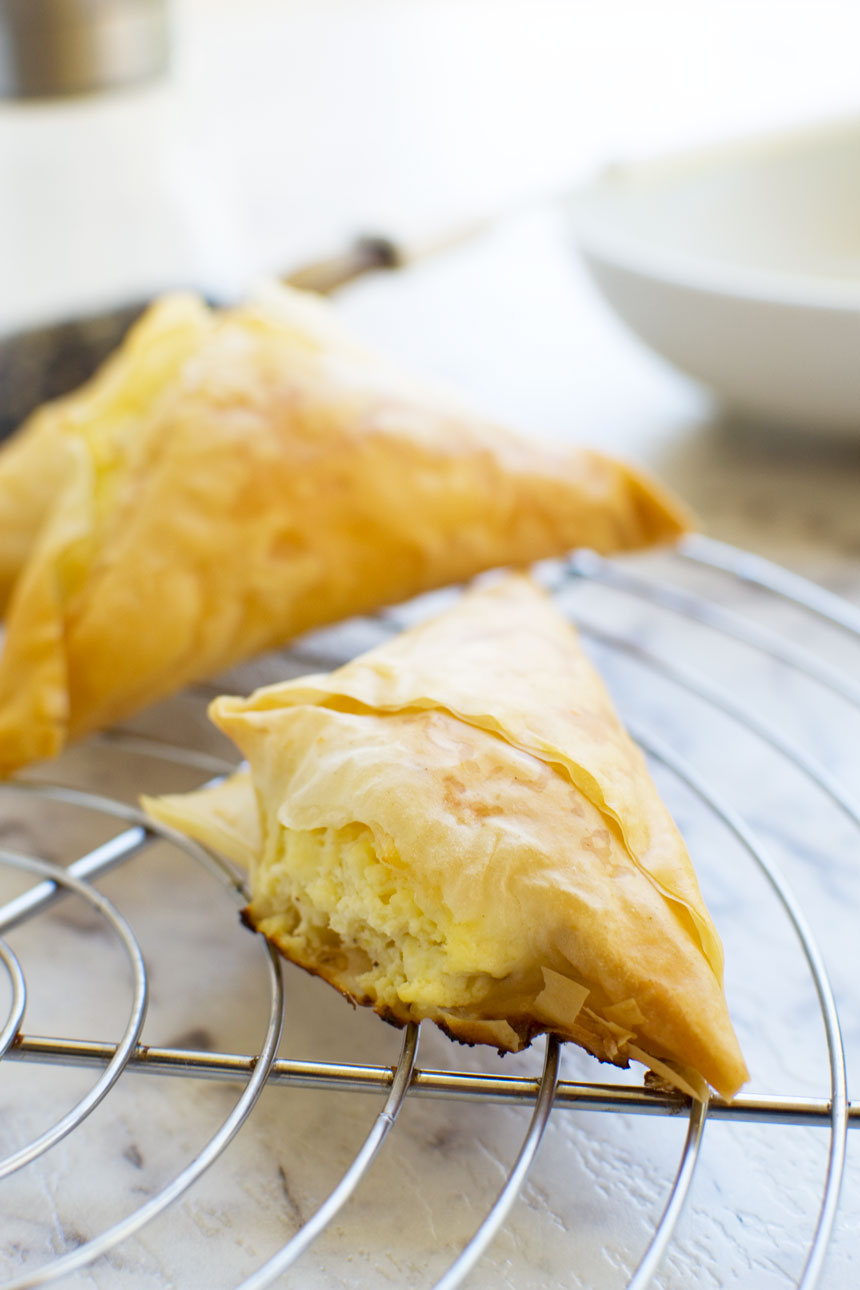 Ask me why I haven't posted a recipe for these mini feta cheese triangles before, and you'll get a big shoulder shrug.
Goodness knows why. I ate them for YEARS at parties (and all sorts of occasions) during my time in Greece.
A Greek party staple, you really can't go wrong with these gorgeous little tiropita – otherwise known as cheese pies!
If you want to get really technical about it – and learn a bit of Greek while you're at it (why not?) – they're called tiropitakia (tir-op-it-AK-ia), or mini cheese pies!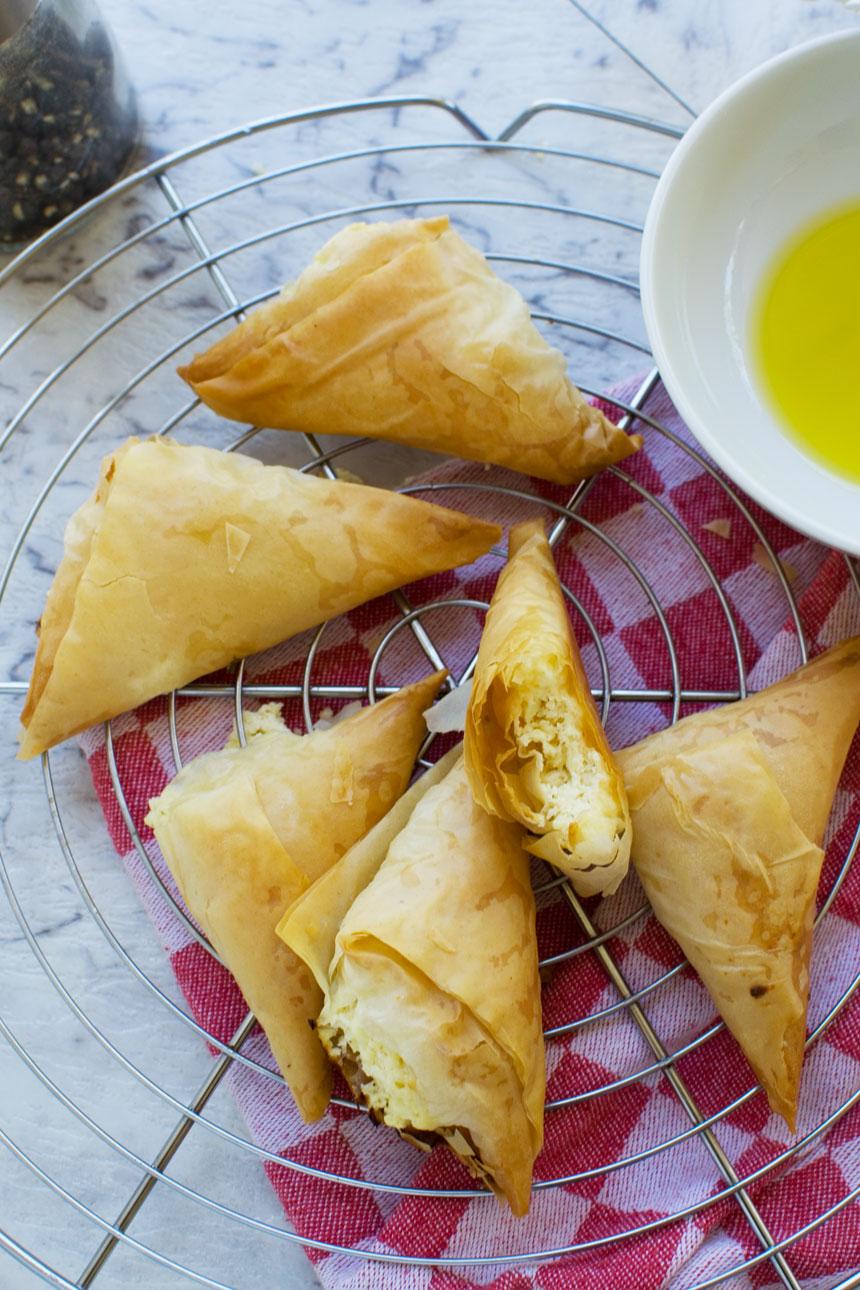 Many versions, all delicious
If you look up other Greek cheese pie recipes, you'll see that there are many many versions. And that's because it's one of those recipes that everyone makes just a little bit differently. Which is often true of traditional recipes that have been passed down through generations.
So I'm always a little nervous posting these types of recipes because there's no 'right' way to make them.
The truth is this recipe can be quite versatile. Sometimes I use ricotta cheese instead of Greek yogurt. Sometimes I add a little chopped fresh mint, dill, or dried oregano. Other times I add a bit of parmesan cheese into the mix for extra tang.
It's the versatility of this recipe that makes it so super easy. It really doesn't matter if the amounts of ingredients aren't exactly the same as mine. If you like, add:
a bit of wilted chopped (and squeezed!) spinach, or
some mashed sweet potato or butternut squash
chopped sun dried tomatoes or olives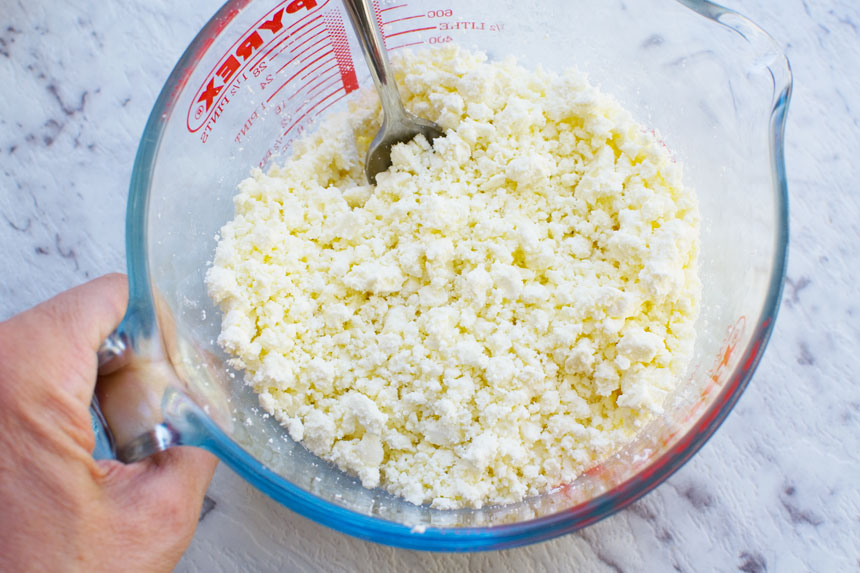 Start with mashed feta – the softer the better.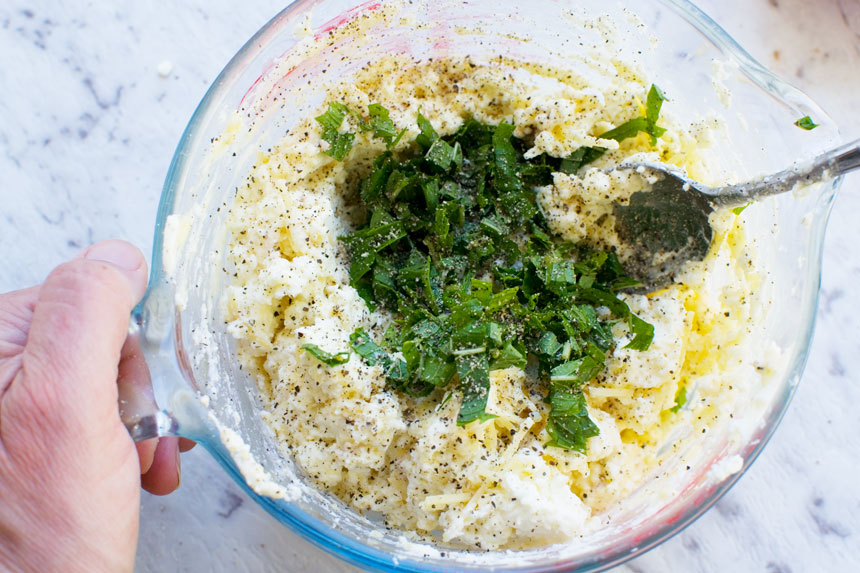 Add Greek yogurt or ricotta cheese, and parmesan & fresh or dried herbs if you like!
What kind of cheese to use
You can play around with types of cheeses, too. Any kind of tangy soft-ish cheese works really well.
A soft Greek cheese called anthotiro is traditional, but I like to use a soft, creamy type of feta cheese (the Danish feta you can buy in Australia is great). I can also imagine Mexican queso being a great option, or English Wensleydale if you're in the UK.
This is what I usually include in MY tiropita/cheese pie filling:
mashed feta cheese (of course)
Greek yogurt or soft ricotta cheese
a bit of grated parmesan cheese (only sometimes!)
whisked egg
ground pepper, nutmeg & (sometimes) a bit of chopped fresh mint or dill if I have it, or dried oregano (these additions are not at all traditional – just what I like to add for a bit of extra flavour)
AAand… that's it. That's really it.
As you can imagine, the filling is super easy to prepare. I nearly always have these ingredients on hand, so all I have to buy is the filo pastry.
As for constructing your little pies, you might think this would be fiddly and complicated… BUT NO!
How to make your filo pastry pies
Lay out 1 sheet of filo pastry
Slap on some olive oil with a pastry brush. Don't worry if little bits of the pastry tear.
Lay another sheet of pastry over the top.
Cut into 5 long equal(ish) strips with a sharp knife.
Put about a tablespoon of cheese mixture in the centre of one end of the first pastry strip.
Fold the corner over the mixture, and continue folding until you have a little pastry triangle.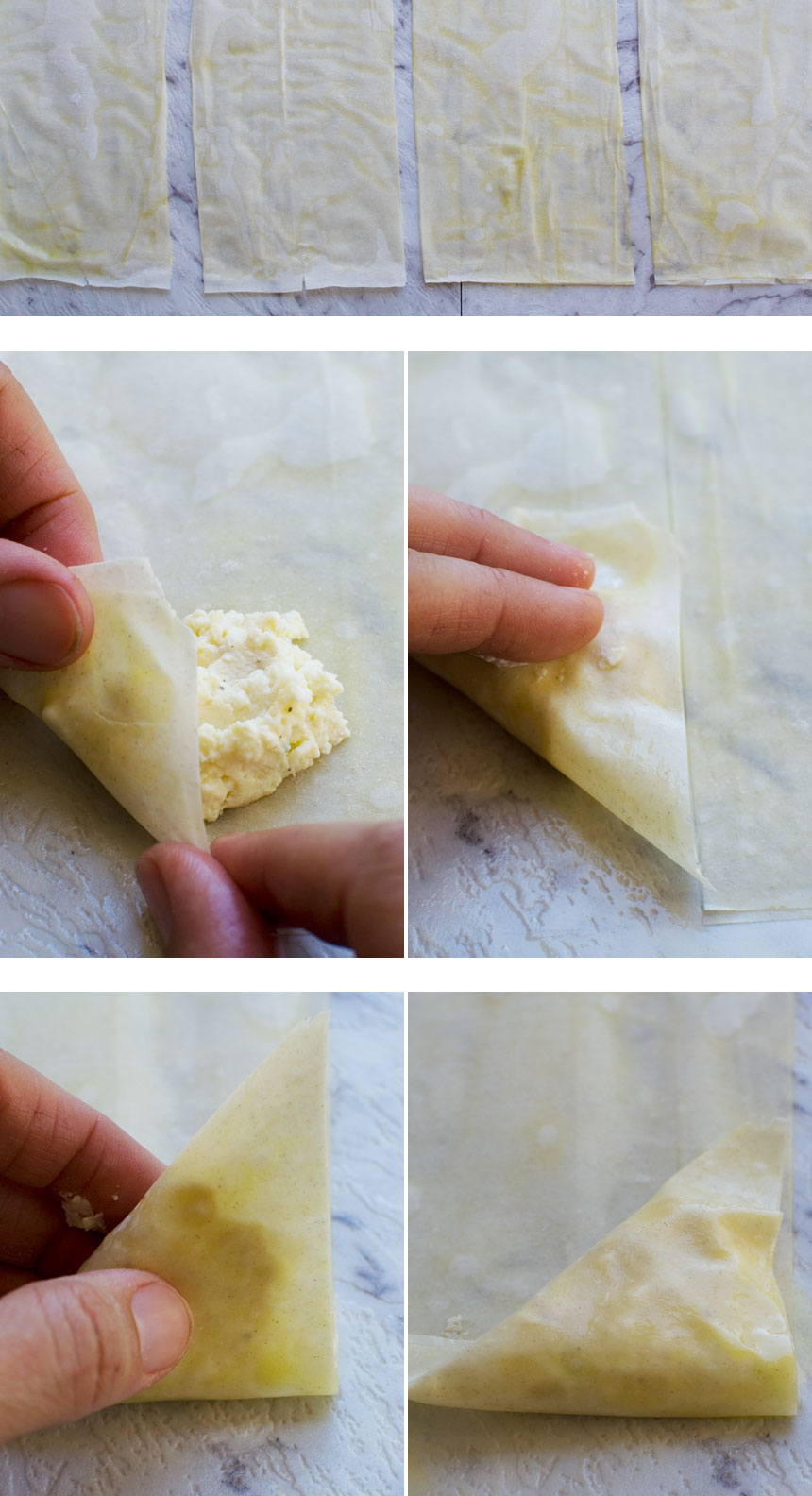 1. Oil a sheet of filo pastry and place another on top, then cut into 5 equal strips. 2. Place a tablespoon of mixture onto the end of a strip, then fold the corner over diagonally. 3. Keep folding until you have a little triangle and all the filling is enclosed.[/caption]
Making a mess? No worries!
It may seem a bit messy when you first start folding, with bits of cheese mixture falling out all over the place. But you'll find that by the time you've folded the whole strip into a triangle, all the mixture will be magically inside!
Don't worry if tiny bits of cheese mixture ooze out of some of the pastry triangles when they're cooking. To be honest that makes them look even more delicious!
Bake for 25 to 30 minutes or until golden and crispy, and…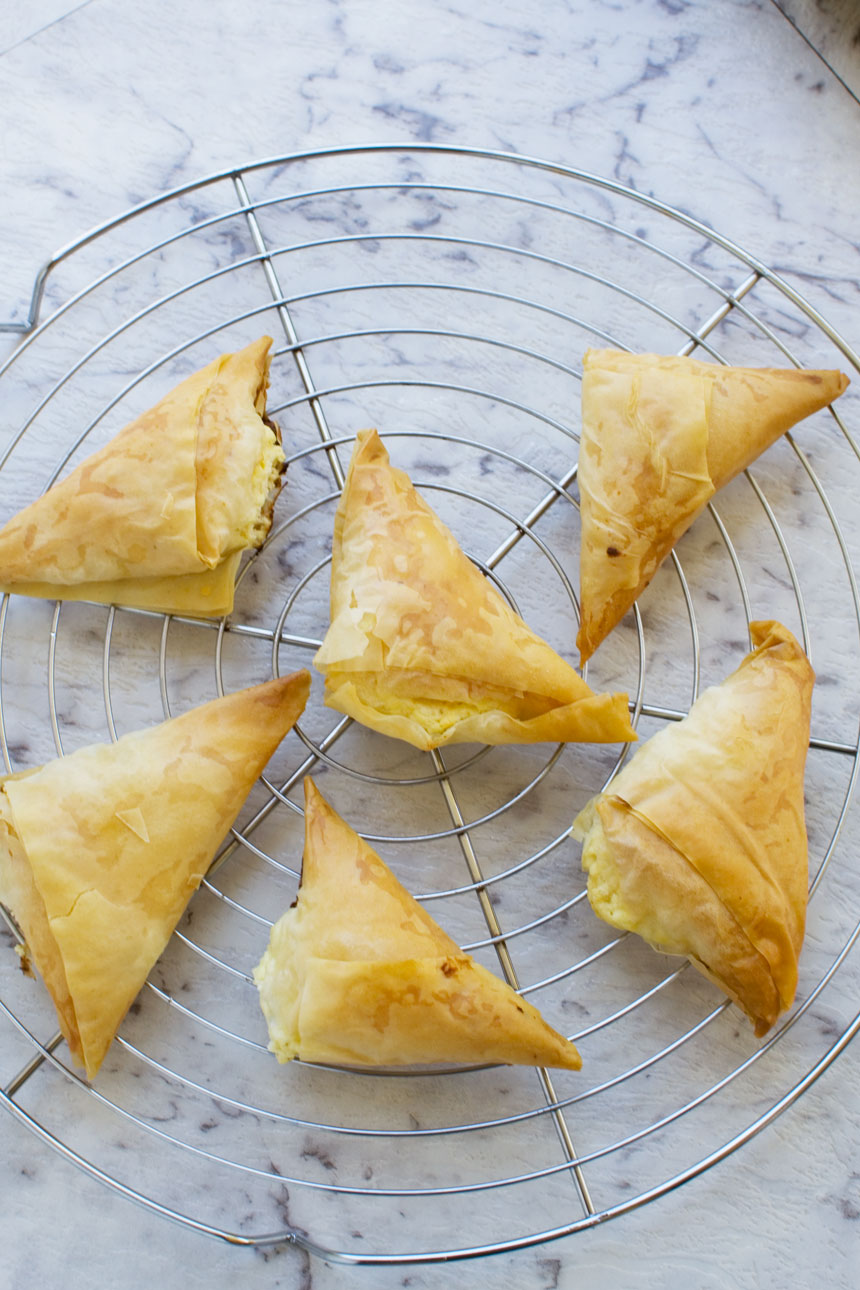 Can you freeze these filo pastry pies?
Oh yes, absolutely!
I usually freeze the raw triangles in a single layer on baking sheets, then pop them into freezer bags.
When you're ready to cook them, just cook straight from frozen. You'll probably have to add about 10 minutes on to the cooking time, but just keep an eye on them. They're done when the pastry is light brown and crispy looking. It's hard to go wrong!
It goes without saying that these mini Greek cheese pies are great for parties. I usually have a few stashed away in my freezer for party 'emergencies'.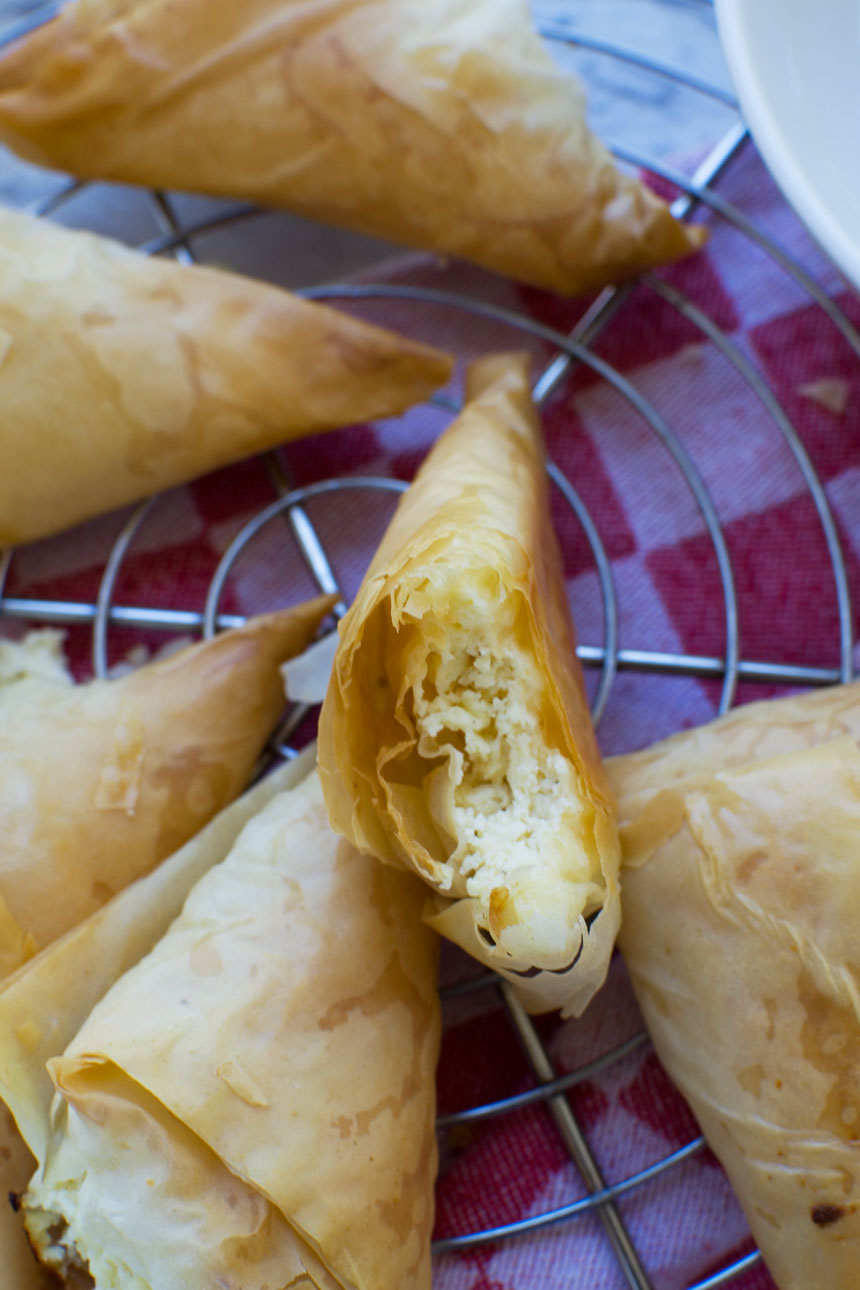 They're crispy. They're cheesy. They remind people of their holidays on Greek islands… or how much they want to go on a holiday to the Greek islands. They're incredibly simple to make. Kids tend to like them too.
How can you go wrong?
LIKE THIS RECIPE? YOU'LL LOVE THESE CRISPY MUSHROOM FILO TRIANGLES, TOO!
More easy party appetizers
IF YOU MAKE THIS RECIPE, LET ME KNOW HOW YOU GET ON BY LEAVING A COMMENT AND RATING BELOW… AND DON'T FORGET TO SIGN UP TO RECEIVE ALL MY NEW RECIPES BY EMAIL!
FOLLOW ME ON FACEBOOK, INSTAGRAM, PINTEREST AND YOUTUBE.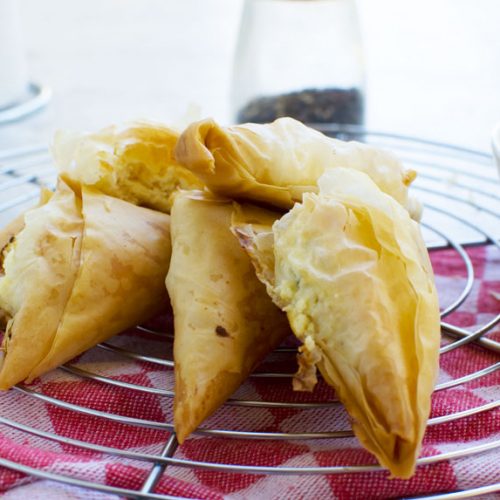 Tiropita (mini feta cheese triangles)
Need something really simple for a party? Try these simple, cheesy, crispy Greek mini feta cheese triangles (aka cheese pies!) Make them ahead, stash them in the freezer, and you're ready to go!
Ingredients (UK/Australia? Click below for grams/ml)
10.5

ounces

feta cheese

the softer the better, but any kind is OK – see note below

1

cup

Greek yogurt

or 10.5 ounces ricotta cheese – see note below

2

eggs

lightly whisked

¼

teaspoon

nutmeg

2

tablespoons

chopped fresh mint or dill

or 2 teaspoons dried oregano (optional)

black pepper

9

ounces

filo pastry

I used about 2/3 of a 13 ounce/375 gram box

olive oil for brushing
Instructions
Mash the feta in a medium bowl, then add the yogurt or ricotta, eggs, nutmeg, herbs (if using) and black pepper. Mix well.

Preheat the oven to 355F/180C.

Lay a sheet of filo pastry on a clean work surface or large chopping board. Brush all over with olive oil.

Lay another sheet of pastry on top, then cut the pastry sheets into 5 equal(ish) strips (see photos in post or video).

Put about a tablespoon of mixture in the middle of one end of the first strip. Fold the pastry over it diagonally, then keep folding until you have a small pastry triangle and all the filling is enclosed. Place the triangle on a baking sheet.

Repeat with the remaining pastry strips and pastry sheets until you have about 30 cheese triangles.

Bake for about 25 minutes until the cheese pies are light brown in colour and crispy. Let cool a little, then if possible serve fairly quickly while they are still warm and crispy.
Notes
A note on the feta cheese
I usually try to use a soft feta cheese like Danish feta (available here in Australia), but any kind is fine. If you like you can even experiment with a different type of cheese, like Mexican queso or Greek anthotiro. Let me know how you get on if you do this!
A note on the pastry
Drape a damp tea towel over the unused pastry while you're constructing your pies – so it doesn't dry out!
A note on what else to mix into your cheese mixture
I usually add either Greek yogurt or ricotta cheese to my mashed feta cheese. I prefer to use Greek yogurt because I think the pie filling ends up a bit softer/moister, but both options work well!
Although none of these things are traditionally added to Greek cheese pies, there are no rules to say you can't add some of these things to your pies:
chopped sun dried tomatoes
mashed sweet potato or butternut squash
wilted spinach, squeezed and chopped finely
grated parmesan cheese for extra tang (I do this sometimes – great if you think you'd prefer a really cheesy pie!)
A note on the olive oil
Olive oil seems to get everywhere when I'm making these, so I usually find I don't need to brush any more over the top of the pies before I put them in the oven.
A note on assembling the pies
It's a bit of a messy business to be honest, and sometimes my pastry tears in places and bits of cheese ooze out of the pies. That's totally OK! It's even OK if bits of cheese filling ooze out during cooking. It all adds to the truly delicious look!
A note on making the pies ahead
If you'd like to make these cheese pies ahead for a party or event, simply freeze them raw on baking trays in a single layer. When they've frozen, transfer them to Ziploc bags and freeze.
You can cook straight from frozen – just add a little onto the cooking time. You'll see when the pies are done. They'll be light golden and crispy.
Nutrition
Calories:
64
kcal
Carbohydrates:
5
g
Protein:
3
g
Fat:
3
g
Saturated Fat:
1
g
Cholesterol:
21
mg
Sodium:
169
mg
Potassium:
27
mg
Vitamin A:
60
IU
Calcium:
63
mg
Iron:
0.4
mg