Spanish omelette – known in Spain as tortilla de patatas – is a Spanish classic for good reason. Made lovingly with just 4 main ingredients (plus salt and pepper), it makes a perfect brunch, tapas or light dinner for guests, snack or party or picnic food. There's an art to making it – but it's easy to master if you follow my tips to success!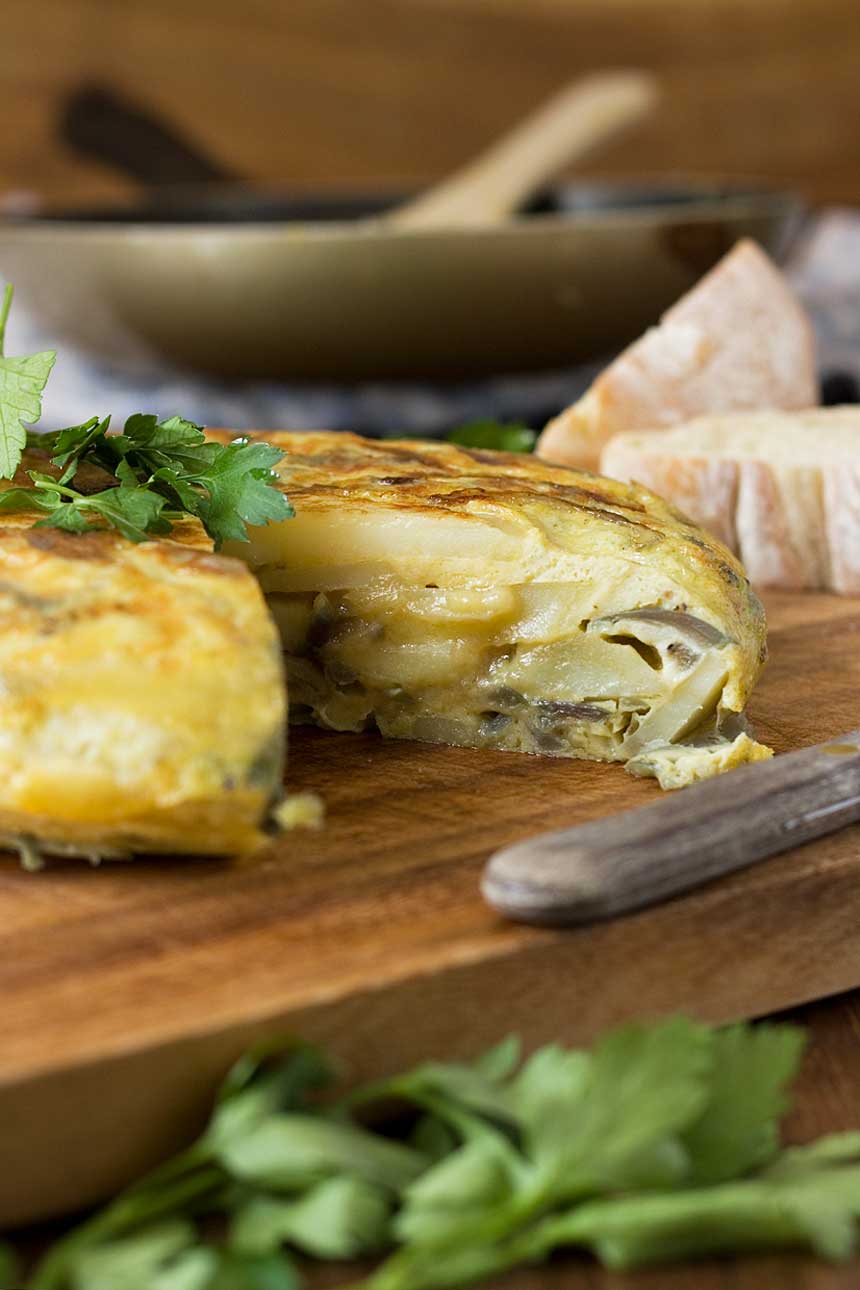 Why you'll love it
Along with this simple Spanish bruschetta (pan con tomate), this Spanish omelette or Spanish tortilla (or Spanish frittata, tortilla Espanola or tortilla de patatas!) is one of my favourite Mediterranean classics.
At its simplest level, it's just a humble potato omelette! It's a classic recipe – one of Spain's national dishes, in fact – but it's so easy, impressive and versatile.
Here's why it's so great.
It's REALLY EASY TO MAKE (when you know how) with only four basic pantry main ingredients. Its beauty is in its simplicity!
It's a LOT more delicious and impressive than the sum of its parts. So much so that I've made it for guests many times. It can be both simple comfort food and a meal fit for a king!
It's both light and healthy – perfect with nothing more than a salad or vegetables on the side and a couple of pieces of fresh bread.
It's perfect if you're trying the Mediterranean diet. Use really good quality extra virgin olive oil. Why not combine with more Spanish tapas style dishes for a delicious Mediterranean feast?
Spanish omelette ingredients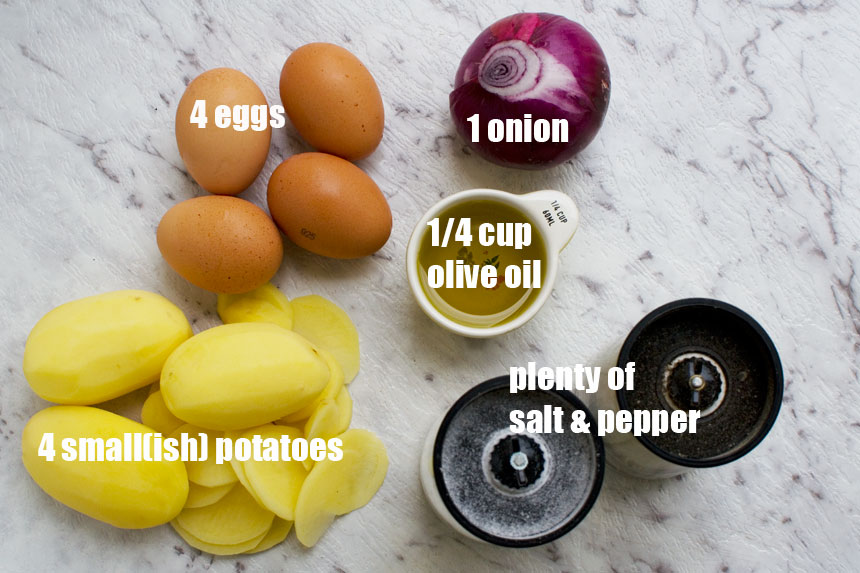 Prepare to be amazed. This Spanish tortilla is incredibly delicious, but this is all you need.
Around 4 small to medium POTATOES, peeled and sliced very thinly (about 2mm thick). Firm 'waxy' potatoes such as new potatoes are best. To be honest though I usually use whatever I happen to have.
1 medium ONION, also sliced thinly. For some Spaniards, the onions are a controversial ingredient (to include or not to include?). To me, they add so much flavor that I definitely wouldn't want to miss them out!
Loads of good quality OLIVE OIL (this is key to a REALLY GOOD omelette).
SALT AND PEPPER for careful seasoning
I don't know about you, but I nearly always have these ingredients at home.
What are the secrets to the best tortilla de patatas?
It doesn't surprise me at all that there are lots of different opinions on how to make it. This often happens with traditional foods. But that's usually a good thing. It means it's a dish worth mastering.
Some suggest cooking the onions and potatoes in a huge amount of olive oil (2/3 of a cup!), for instance. Others suggest only 2 tablespoons. Potato amounts also vary from about 200 to 600 grams.
So… how much oil, onion, potato and eggs DO I use?
I go with the same proportions used in Jane Baxter's recipe from the Guardian newspaper – 1/4 cup or 50ml of oil. This is enough to really taste the olive oil, but not too much so that you have to drain some oil off as some recipes suggest.
The onions are easy. I go with one medium to large onion.
I also use roughly 1 small to medium potato (that's around 100 grams) per egg. I use 4 eggs so of course that's 4 small to medium potatoes.
Pro tip: Use the best quality extra virgin olive oil you can find for this recipe. Think of it as using a fine wine instead of a cheap one. You can even get all fancy and try the recipe with different olive oils. Let me know if you can taste the difference!
Preparing the ingredients (hint: it's easy)
OIL: Pour into your medium frying pan and heat. When it's quite hot, add the onions and potato slices. Pop a lid on the pan and let them cook slowly to caramelised deliciousness!
ONION: Take off the skin, then cut in half. With each half cut side down, slice your onion into half moon shapes! But it really doesn't matter if you cut it another way. You can even slice your onion thinly in a food processor if you prefer.
POTATOES: Slice them into THIN (around 2mm) slices. I usually use my food processor. It takes a couple of seconds that way, and you also get slices of even thickness. I've sliced my potatoes by hand many times though, so don't worry if you don't have a food processor.
EGGS: Just whisk in a bowl or jug, add plenty of salt and pepper, and set aside until needed!
What size pan to use
Bear with me here. You're going to need TWO PANS to make your omelette. Don't panic, it's still a really easy recipe, but this is really important.
Use a medium frying pan (affiliate link) or skillet to pre-cook/caramelise your onions and potatoes.
Use a small omelette pan (affiliate link) or small cast iron frying pan for the part where you add the eggs and cook your finished omelette. This way you'll end up with a lovely thick omelette.
Cook it slowly
You should cook your beautiful Spanish tortilla slowly and with care.
You'll find that it will cook from the outside in, so the middle of the omelette will cook last.
In fact, your omelette should end up still a little moist in the middle – not uncooked, but barely set. Don't worry, though – if you cook your omelette on a really low heat, this will be easy to achieve.
How to make your potato omelette step by step
If you're the sort of person who prefers to 'see' how to make something, here you are: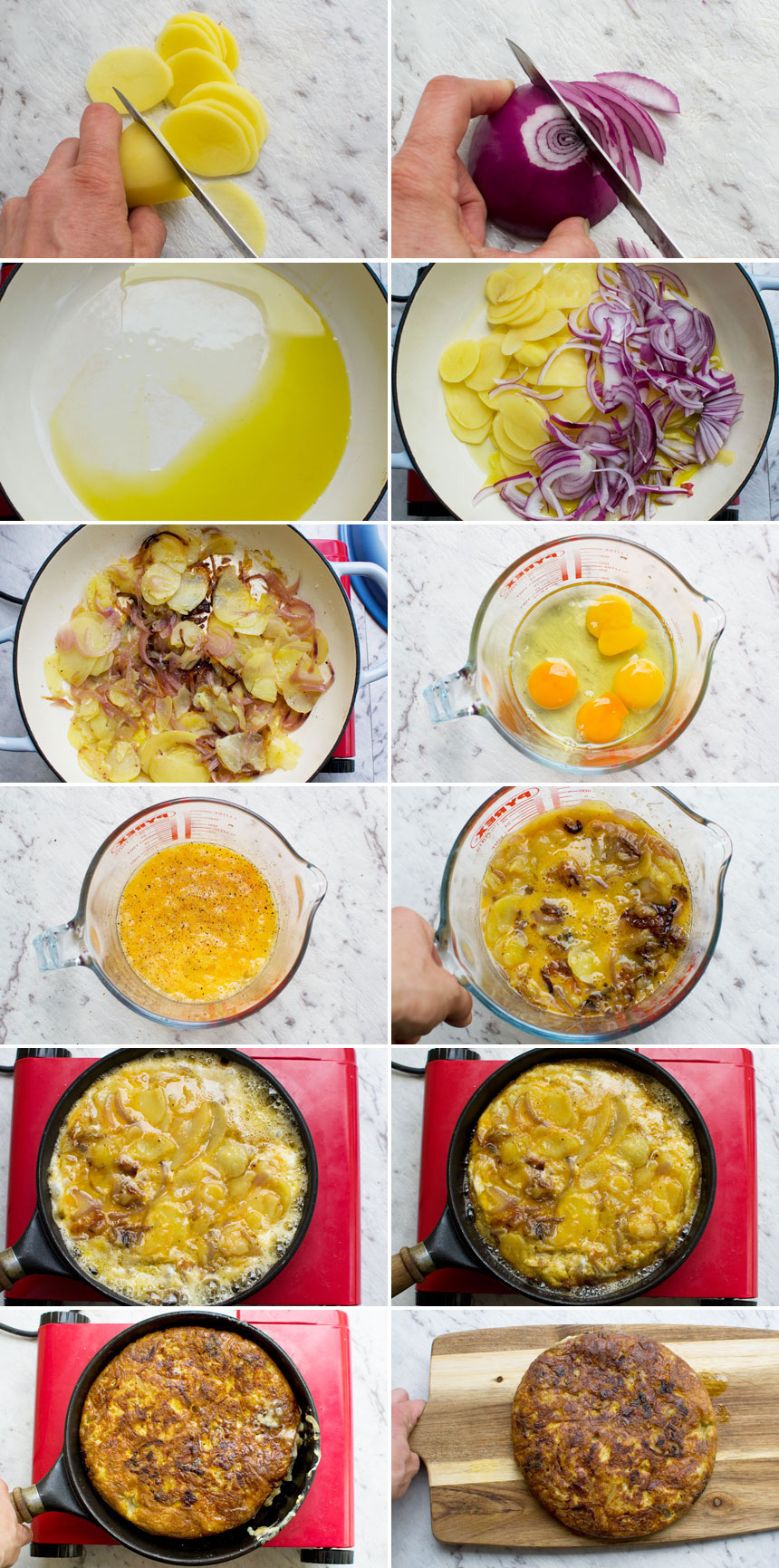 Scroll down to the printable recipe for the full ingredients list and method, but here's a quick summary:
Heat the oil in a medium frying pan.
Cook potato and onion slices slowly. Stir 2 or 3 times, but otherwise just let them cook on low for almost half an hour.
Carefully spoon the cooked potato and onion into the eggs. Let stand for a while to let beautifully simple flavors meld together.
Heat a little more oil in a smaller pan. Pour the mixture in. Turn the heat down to low. Let the tortilla cook until around two thirds cooked through.
Flip your omelette! Use a plate to help (see tips below and also see the video!).
Let cook for a little longer, then slice out onto a serving board.
How to flip a Spanish omelette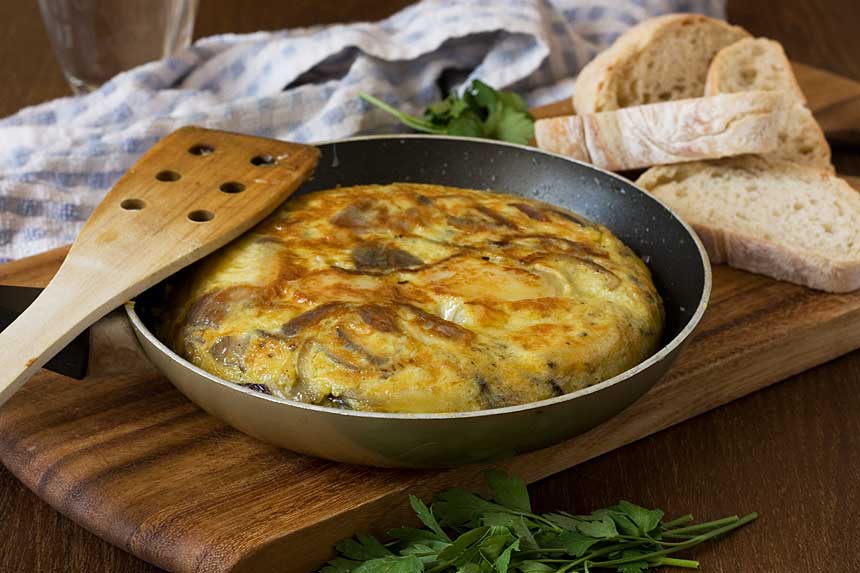 Don't be intimidated by the idea of having to flip the tortilla! it doesn't have to look perfect after you flip it and slide it back into the pan.
Simply slide the omelette onto a plate. You may need to coax it out a little with a spatula, but it should slide out pretty easily.
Immediatey turn the pan over and place it over the top of the plate. Then quickly flip the pan and the plate together.
If you're finding it hard to imagine, watching my how-to video will help!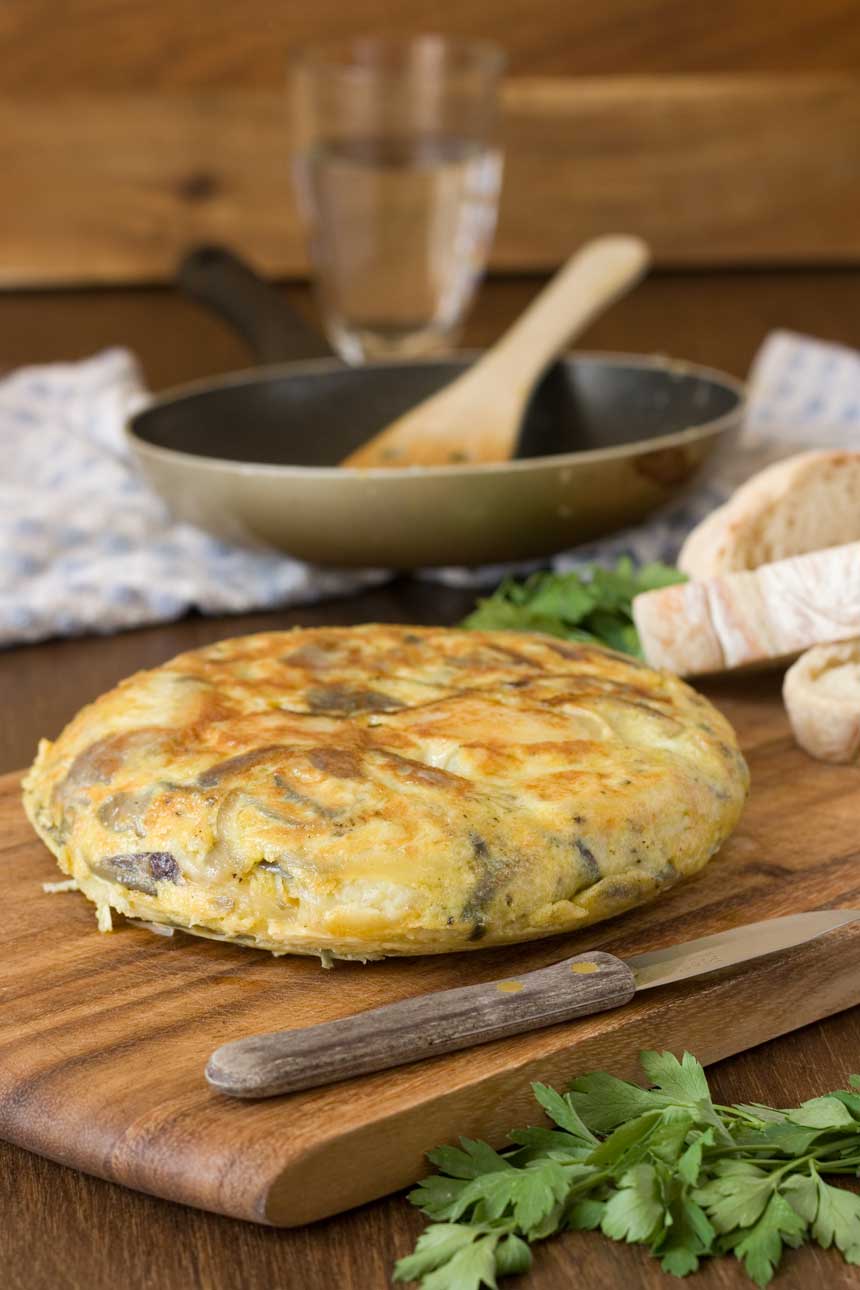 The most important things to remember
Slice onions and potatoes thinly / Good quality extra virgin olive oil / Soak cooked onions and potatoes in eggs / Season really well / Cook on low heat / Small pan to cook your omelette / 'Tease' omelette into shape with spatula / Cook on first side until 2/3 cooked / Flip confidently / Resist overcooking
This is one of those recipes that I put off trying for ages, because I was afraid of failure. Don't be like me! There's nothing to be afraid of, and the results are absolutely delicious.
Watch the how-to video, then just give it a try!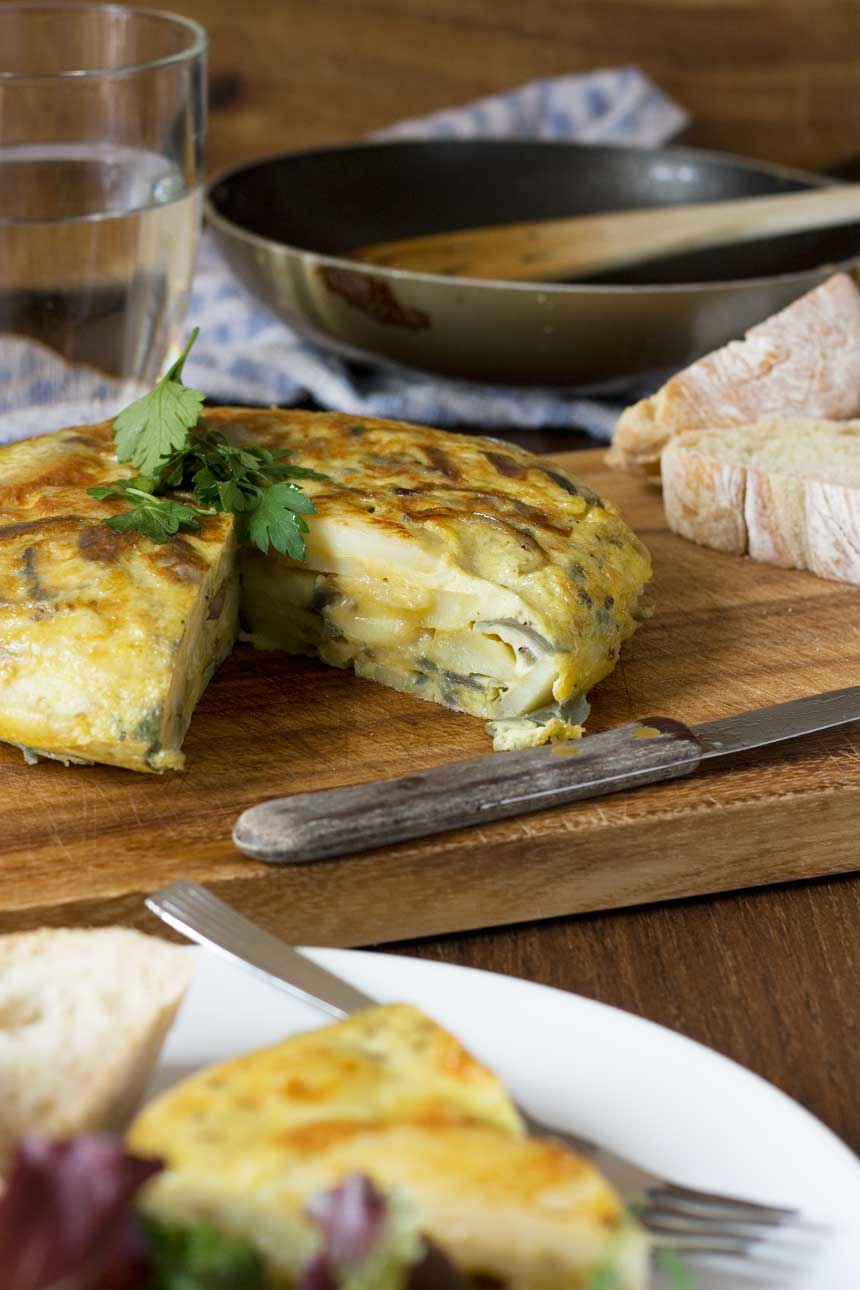 How do you serve a Spanish omelette?
The best way to serve it is to slice it like a cake. It's great on its own, but makes a fabulous light lunch served with fresh bread and a salad.
The best thing about this wonderful traditional Spanish recipe is that it's so VERSATILE! You can:
confidently serve it to guests. Make sure you tell them it's an authentic 'tortilla Espanola'. Serve with a few more tapas style dishes if you like! (see below for ideas!)
make it for yourselves for an easy and healthy midweek lunch or dinner. Or, yes, breakfast – why not?
serve it hot, warm or cold straight from the fridge. Which means it's perfect for packing up for school or work lunches, or for picnics and parties.
pile the leftovers into a fresh crusty baguette or roll to make a bocadillo de tortilla or omelette sandwich. Just trust me (not to mention millions of Spaniards!) on this one. It's SO good.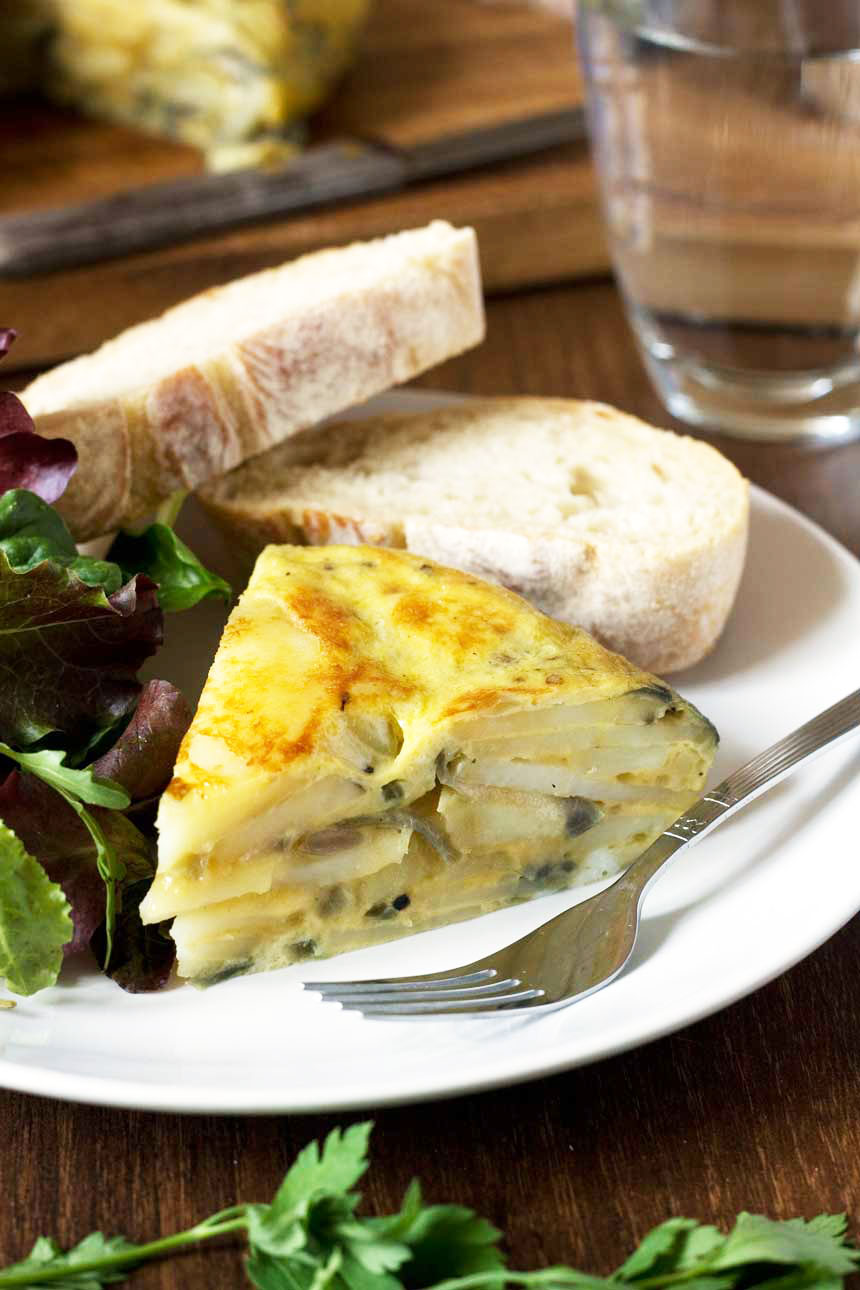 More things to know (recipe FAQ)
Is a Spanish potato omelette just the same thing as a frittata?
This is a great question. A Spanish omelette is sometimes even called a Spanish frittata. But no they really aren't the same thing. Sure, both contain eggs as a main ingredient. But a Spanish omelette also has to contain lots of potatoes, and usually onions, too. A frittata (Italian) can contain any kind of different vegetables, herbs or even leftover meat.

Also, it's true that they are both cooked slowly in a pan on the stove. But while a Spanish omelette is flipped, a frittata is usually finished off either in the oven or under a broiler/grill.
How do I know when my omelette is ready?
After you've flipped your tortilla, it'll need roughly 5 minutes longer (on a low heat) to cook through enough. The outside will be completely set, but the inside will still be a little moist. If you press down on the top, it might still feel slightly wobbly.

The first time, you might guess a little when it's done. With experience, however, you'll be able to get it 'just right'!
Can I reheat it?
Yes, you can! Although there's no need since a Spanish tortilla tastes good cold, too. Just microwave for a short amount of time (start with 45 seconds) on 80% power. Alternatively you can reheat it in a pan for short time on both sides until hot again. Just try not not to overheat since you don't want the texture to become rubbery.
Take a virtual trip to Spain
How about serving your Spanish omelette 'tapas style', as part of a Spanish themed dinner?
Serve this Spanish bruschetta (pan con tomate) as an appetizer, followed by your tortilla omelette with a salad. Finish with this amazing San Sebastian cheesecake, a baked crustless cheesecake that's so simple and impressive it will simply blow your guests' socks off.
Loving the Spanish food vibe here in general? The Chef & The Dish runs a beautiful online San Sebastian cooking class teaching you the art of San Sebastian's famous 'pinchos' or small bites to share with friends. Alternatively, you can browse their classes and choose the one you like the sound of best. Use code 5TheDish to save 5% off any Chef & The Dish class! What an amazing and memorable date night or special gift! (affiliate links)
Got eggs in the fridge? You've got a meal! Try this 'magic' crustless quiche as well. Serve with a baked potato and salad!
More Mediterranean 'Tapas style' recipes
Or browse all my Mediterranean recipes here
IF YOU MAKE THIS RECIPE, LET ME KNOW HOW YOU GET ON BY LEAVING A COMMENT AND RATING BELOW… AND DON'T FORGET TO SIGN UP TO RECEIVE ALL MY NEW RECIPES BY EMAIL!
FOLLOW ME ON FACEBOOK, INSTAGRAM, PINTEREST AND YOUTUBE.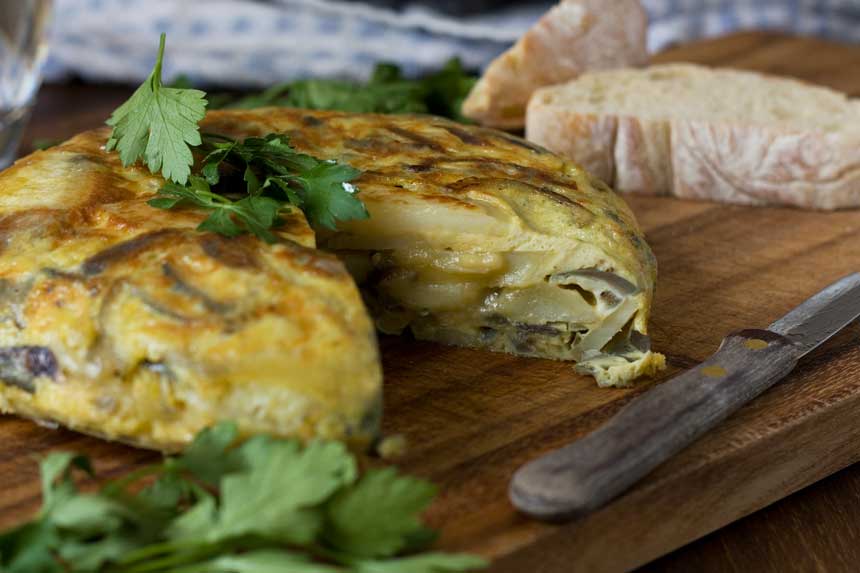 The best Spanish omelette recipe (just 5 ingredients)
A Spanish classic made with just potatoes, onions, eggs and olive oil. Cook it slowly and lovingly and it'll make a delicious light meal that's hard to beat. It's even posh enough to serve to guests!
Ingredients (UK/Australia? Click below for grams/ml)
¼

cup

olive oil

plus a little extra (up to 2 tablespoons)

4

small to medium potatoes

(400 grams or 14 ounces) peeled and thinly sliced (about 2mm thick)

1

large onion

chopped in half and sliced thinly (so you have half-moon shapes)

4

eggs

salt and pepper
To serve
salad, fresh bread, mayonnaise or chutney

(all optional)
Instructions
Heat up the olive oil in a medium to large frying pan / skillet on a medium-high heat.

Add the potatoes and onions and season well with salt and pepper. Stir fry for a minute or two. Then turn the heat right down, cover and let cook slowly for 20 to 25 minutes. Stir 2 to 3 times during cooking.

Meanwhile, whisk the eggs in a large jug or bowl. Grind in more salt and pepper.

Once the potatoes and onions are cooked, carefully lift them out of the pan with a slotted spoon (so that any excess oil gets left behind) and into the bowl/jug with the eggs. Let the mixture stand for about 10 minutes, to let the flavours meld together.

Pour 2 more tablespoons of olive oil into a smaller (20 cm) frying pan / skillet on a medium heat (use up any leftover oil in the larger pan first).

Tip the egg mixture into the pan. Let it sizzle for a minute, then turn the pan right down and let the omelette cook slowly (uncovered) for about 8 minutes or until it's about 2/3 set. As it cooks, run a spatula around the outside of the pan to pull the omelette in towards the centre and shape it (optional but nice).

Slide the omelette from the pan onto a plate, then immediately turn the pan over and hold it over the top of the omelette. Flip the plate and the pan over so that the omelette lands back in the pan, cooked side up.

Put the pan back on the low heat, and let it cook slowly for another 5 minutes, shaping it a bit more with the spatula.

Finally, slide the omelette onto a wooden board or serving plate, and cut into slices like a cake. Serve with salad, crusty bread and mayonnaise, if you like.
Notes
Where's the recipe from?
Recipe adapted from many classic recipes, but using this recipe by Jane Baxter as a quantity guide.
What should the finished omelette look like?
The outside should be fully cooked. It will be golden brown with crispy bits of almost caramelised potato and onion running through it.
The inside of the omelette should be moist and barely set – so don't be tempted to overcook it!
How to serve your omelette
The omelette is best served warm or at room temperature, but it even tastes good cold.
How to store it
Leftovers keep really well in the fridge for a few days. Try them for breakfast or brunch the next day, or pack them for work or school lunches – by themselves or stuffed inside a baguette!
You can serve the leftovers cold or warm them through gently in the microwave, oven or air fryer.
You'll find that the leftovers don't have that 'just set' quality in the middle any more, of course, but they'll be just as delicious!
Nutrition
Calories:
317
kcal
Carbohydrates:
29
g
Protein:
11
g
Fat:
18
g
Saturated Fat:
3
g
Cholesterol:
164
mg
Sodium:
85
mg
Potassium:
981
mg
Fiber:
6
g
Sugar:
1
g
Vitamin A:
238
IU
Vitamin C:
26
mg
Calcium:
95
mg
Iron:
8
mg