Last Updated on
Spanish omelette is a classic Spanish staple for good reason. Made lovingly with just a few ingredients, it makes a perfect light meal – and it's definitely posh enough to serve to guests.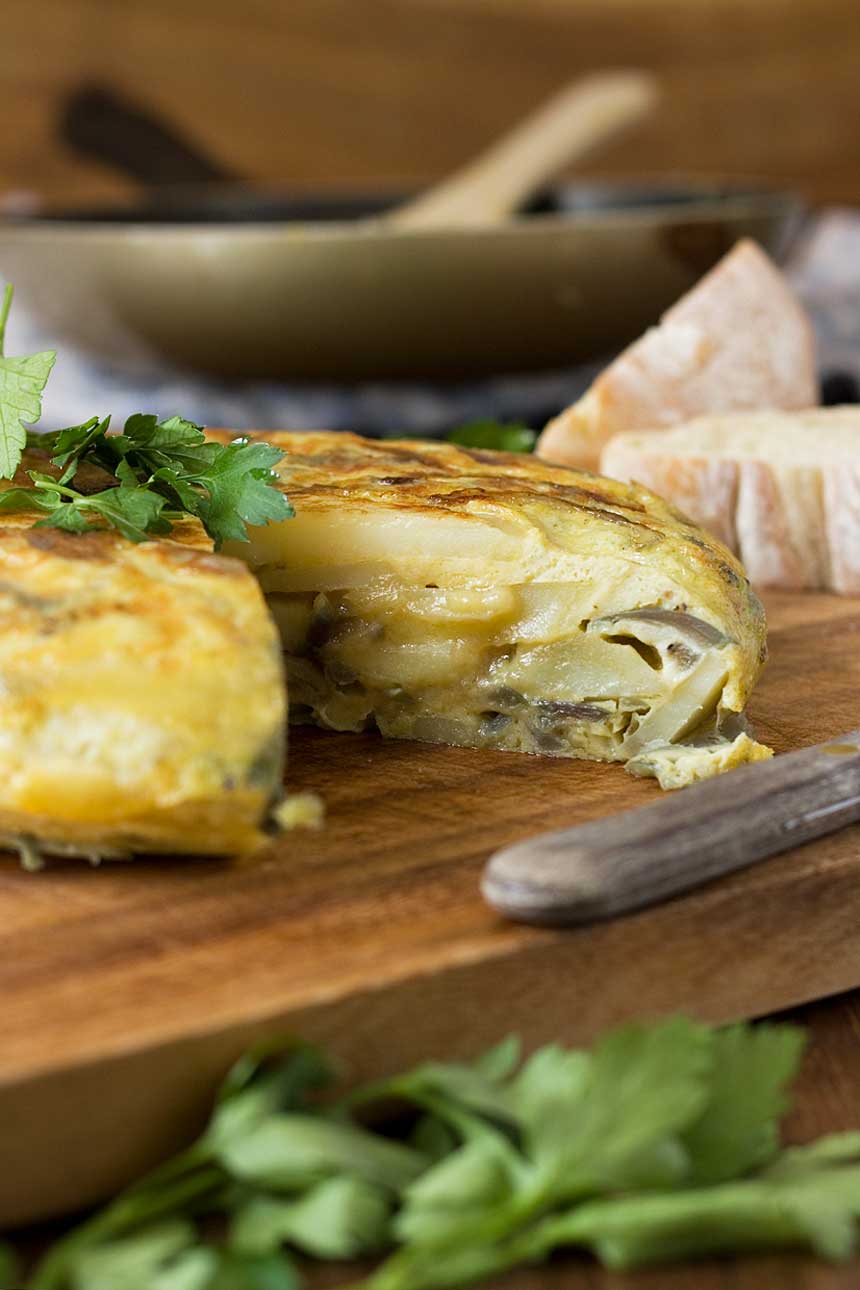 Although I've only just posted a Spanish recipe (this simple Spanish bruschetta), I just couldn't wait a moment longer to post another Spanish classic and favourite – a proper Spanish omelette!
Now when I say 'proper', I mean cooked slowly and lovingly using just 4 main ingredients – olive oil, eggs (of course), potatoes and onions.
I was surprised when visiting Spain recently to have two very different experiences with a Spanish omelette. The first one I ordered tasted just fine, but it only took one bite of the one I had the next day to realise that the first one wasn't good at all! Does that ever happen to you?
So what exactly does make a perfect (or as near as) Spanish omelette? Well, I did a bit of reading around the topic before deciding on exactly how I was going to make mine, and let me tell you everyone seems to have a different opinion on how much of each ingredient to use. Some suggest cooking the onions and potatoes in a huge amount of olive oil (like 150ml huge!), for instance, while others suggest only 2 tablespoons. Potato amounts also varied from about 200 to 600 grams.
What most seem to agree on, though, is that it should be cooked slowly and with care, and that the resulting omelette should be still quite moist in the middle – not uncooked, but barely set. Which was exactly why that second omelette I ordered in Spain was so much tastier.
I suspect that whichever recipe you use to make a Spanish omelette, if you follow these two rules (cook it slowly, and don't overcook!), you'll end up with something absolutely delicious.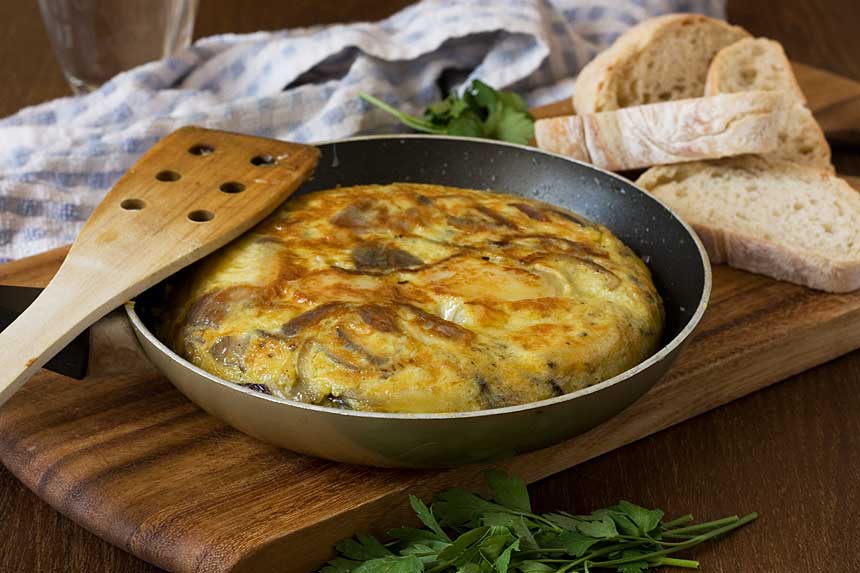 After quite a bit of umming and ahhing, then, I decided to go with the same proportions used in Jane Baxter's recipe published in the Guardian newspaper – 50ml of oil (enough to make sure the omelette had that lovely olive oily Mediterranean taste about it, but not too much so that I'd have to mess around draining it off as some other recipes suggest), and 100 grams of sliced potatoes per egg used. And most recipes I found went with one large onion, so there wasn't much to decide there.
This is another one of those recipes that I've wanted to have a go at for a while, but I've been a bit afraid of failure. For some reason I'd got it into my head that Spanish omelettes weren't the easiest of things to get right, but I really couldn't have been more wrong. Although you cook this slowly, it's still a pretty easy (not to mention quite impressive) meal.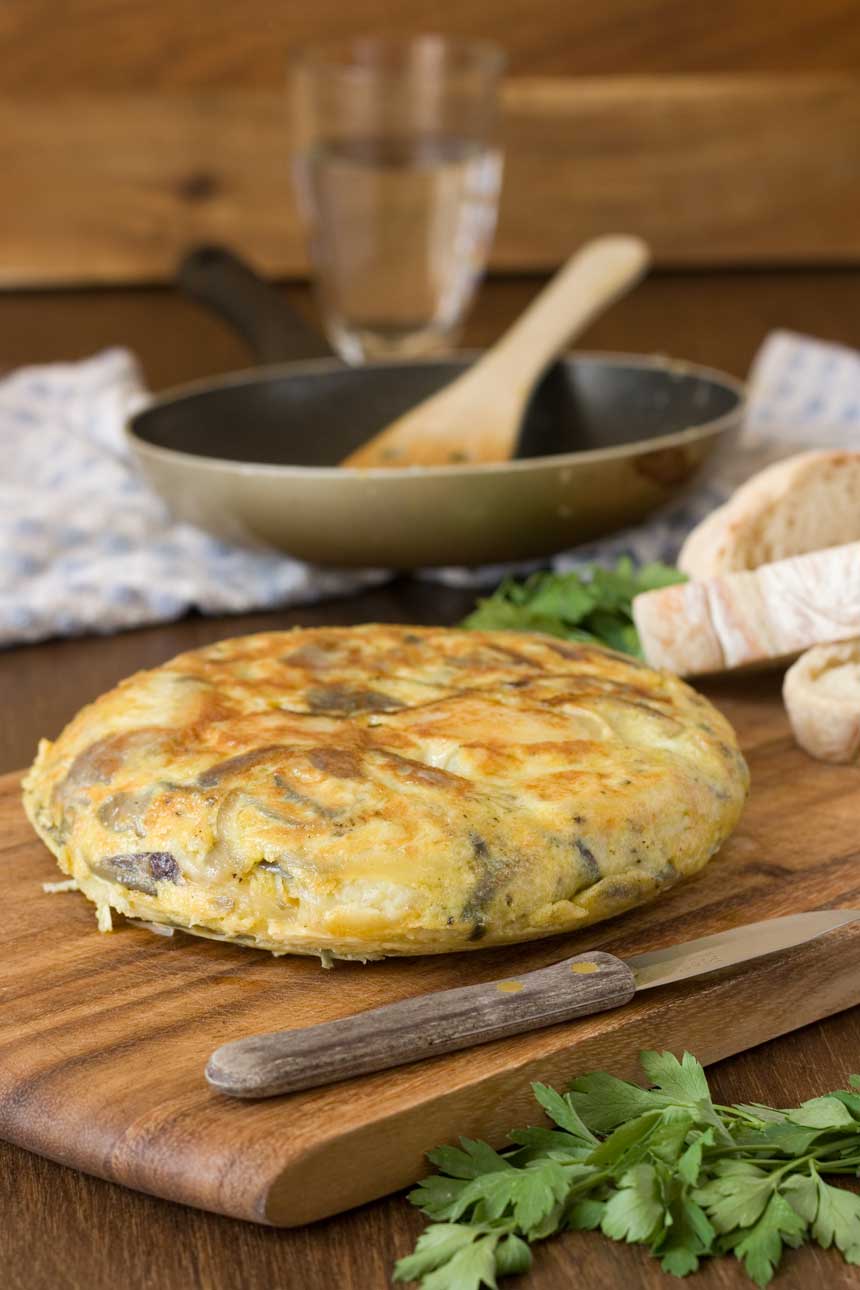 So here are the main keys to success I've discovered:
Slice the onions and potatoes really thinly (about 2mm thick I'd say) so that they cook easily. Cook them in a large pan to help them cook evenly, NOT the pan you're going to use to cook your omelette in (too small!).
Cook on a LOW heat to end up with that moist, barely-cooked centre – don't be tempted to turn up the flame!
Use a small frying pan (20cm in diameter is ideal), because you have to flip this baby – it'll be difficult to do that without breaking it if it's much bigger.
After your onions and potatoes have cooked, tip them into the whisked eggs for ten minutes to flavour them before you pour everything into the pan. Then cover it with the pan and flip both the plate and pan over so that the omelette lands back in the pan cooked side up (if that makes sense!).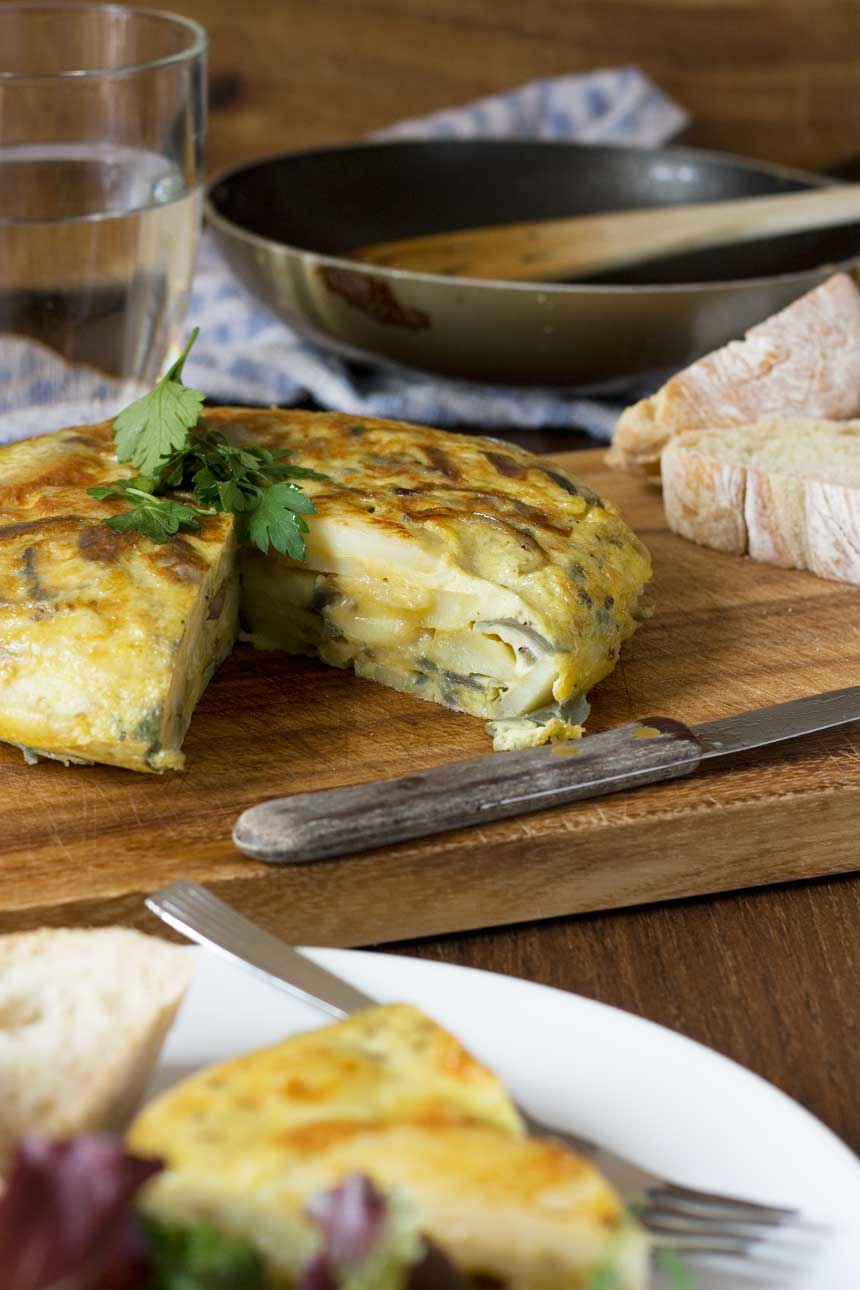 The best way to serve a Spanish omelette is to slice it like a cake. It's great on its own, but makes a fabulous light lunch served with fresh bread and a salad. The Spanish sometimes like to eat it stuffed into a baguette, too. If you think that sounds like a carb overload, well you'd be right, but it tastes really, really good!
In my humble opinion, one of the very best things about a Spanish omelette is that you can eat it at any time. Think of it as suitable for breakfast, brunch, lunch, afternoon snack, dinner, breakfast-for-dinner (brinner!), or any variation in between!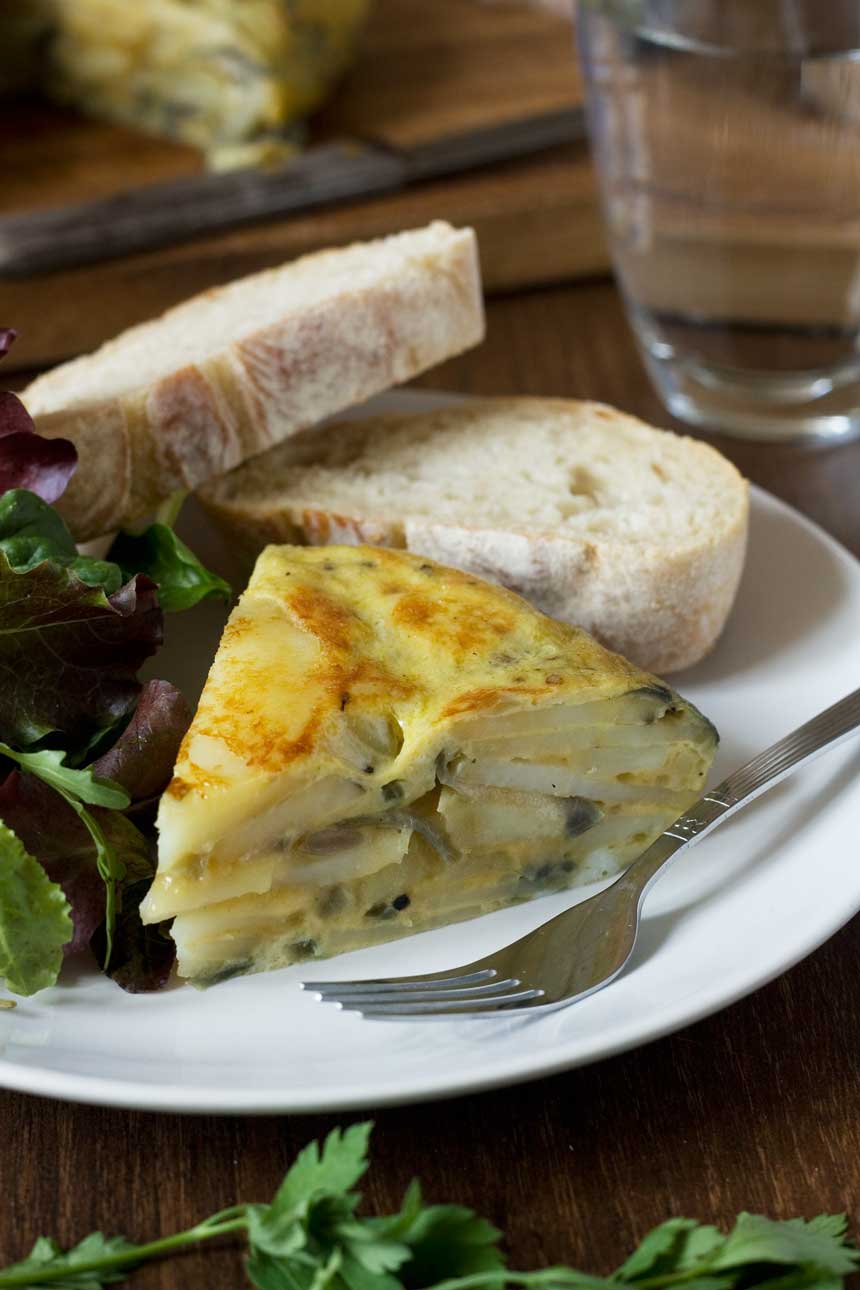 If that doesn't make a Spanish omelette the perfect light meal, what is? 🙂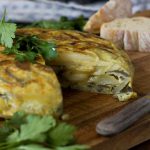 Print
Spanish omelette (tortilla de patatas)
A Spanish classic made with just potatoes, onions, eggs and olive oil. Cook it slowly and lovingly and it'll make a delicious light meal that's hard to beat. It's even posh enough to serve to guests!
Ingredients
1/4

cup

olive oil

14

ounces

small to medium potatoes

peeled and thinly sliced

1

large onion

chopped in half and sliced thinly (so you have half-moon shapes)

4

eggs

salt and pepper
To serve
Salad

fresh crusty bread and mayonnaise
Instructions
Heat up the olive oil in a large frying pan / skillet on a medium-high heat, then add the potatoes and onions and season. Stir fry for a minute or two, then turn the heat right down, cover and let cook slowly for 20 to 25 minutes (stirring two or three times).

Meanwhile, whisk the eggs in a large jug or bowl, and grind in more salt and pepper. Then, once the potatoes and onions are cooked, carefully lift them out of the pan with a slotted spoon (so that any excess oil gets left behind) and into the bowl/jug with the eggs. Let the mixture stand for about 10 minutes, to let the flavours meld together.

Heat about 2 more tablespoons of olive oil in a smaller (20 cm) frying pan / skillet on a medium heat (use up any leftover oil in the larger pan first), then tip the egg mixture into the pan. Let it sizzle for a minute or so, then turn the pan right down and let the omelette cook slowly (uncovered) for about 8 minutes or until it's about 2/3 set. As it cooks, run a spatula around the outside of the pan to pull the omelette in towards the centre a bit and shape it.

Slide the omelette from the pan onto a plate, then immediately turn the pan over and hold it over the top of the omelette. Flip the plate and the pan over so that the omelette lands back in the pan, cooked side up.

Put the pan back on the low heat, and let it cook slowly for another 5 minutes, shaping it a bit more with the spatula.

Finally, slide the omelette onto a wooden board or serving plate, and cut into slices like a cake. Serve with salad, crusty bread and mayonnaise, if you like.
Notes
Recipe adapted from many classic recipes, but using this recipe by Jane Baxter as a quantity guide.
The omelette is best served warm or at room temperature, but it even tastes good cold.
The inside of the omelette should be moist and barely set – so don't be tempted to overcook it!
Leftovers keep really well in the fridge. Try them for breakfast or brunch the next day.
Nutrition
Calories:
200
kcal
|
Carbohydrates:
12
g
|
Protein:
6
g
|
Fat:
14
g
|
Saturated Fat:
2
g
|
Cholesterol:
130
mg
|
Sodium:
59
mg
|
Potassium:
408
mg
|
Fiber:
2
g
|
Sugar:
1
g
|
Vitamin A:
190
IU
|
Vitamin C:
10.6
mg
|
Calcium:
49
mg
|
Iron:
3.3
mg
This post may contain affiliate links to products I use to make this recipe!

Made one of my recipes? Take a pic and tag @scrummylane on Instagram so I can see it!
You can also find more from Scrummy Lane on Facebook, Pinterest, Twitter and Instagram and follow me on Bloglovin! Thanks so much for reading!
*This post may contain affiliate links* 🙂