Last Updated on
Pastitsio is in most Greek households' every day meal rotation, but I find it can be a bit of a 'chore' to eat (and make!) Not this easy peasy version with a simple yoghurt-y topping, though!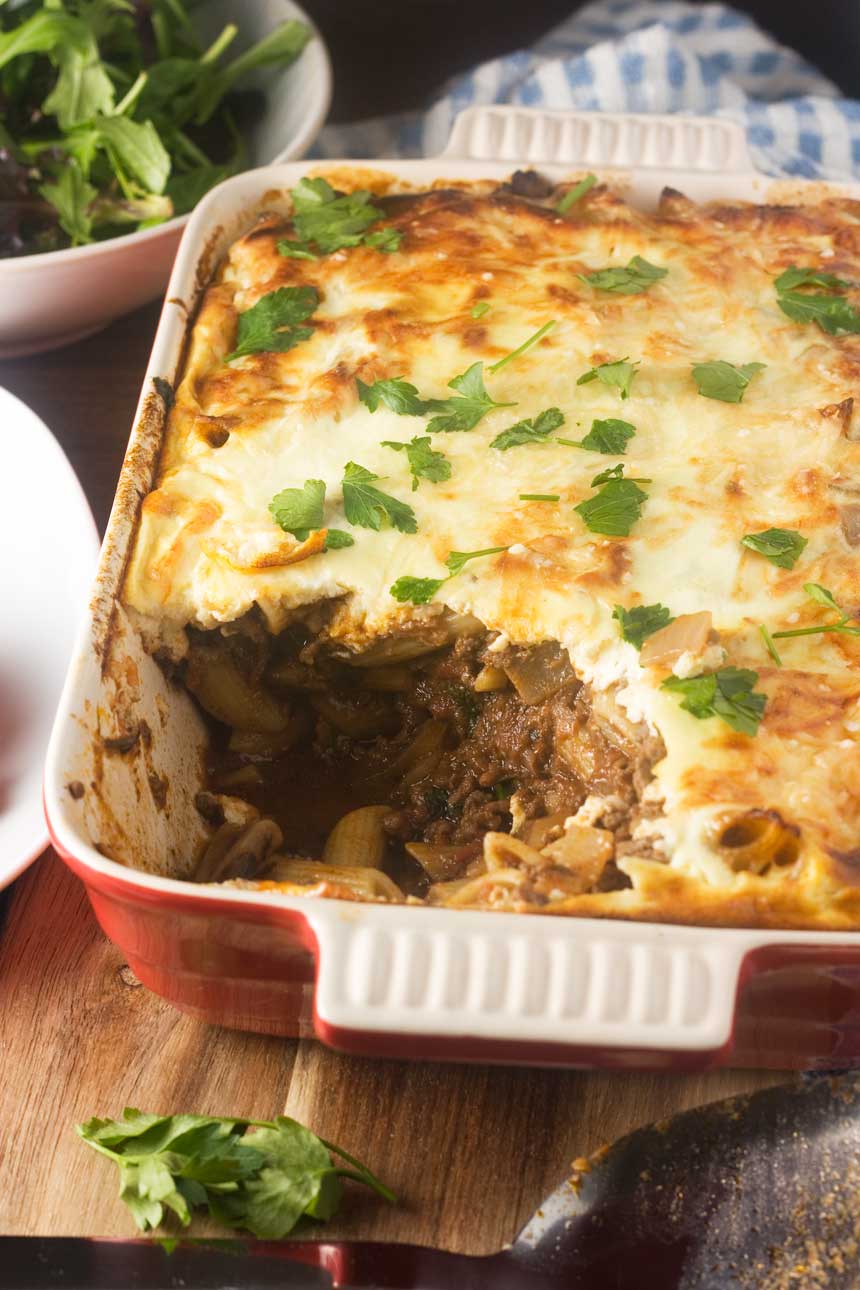 This is probably not the way I really want to start off this post to best sell this meal to you. But I'm going to anyway. 😉
Up until now, I've never really been a fan of pastitsio. If you're not even sure what pastitsio is, as I wasn't before I went to live in Greece (yes, another Greek meal, but no apologies, as usual!) it's basically a pasta bake made with beef or lamb mince and long tube-shaped pasta and topped with a thick soufflé-like béchamel sauce.
Sounds delicious, right? Well, it is, but only if made in a certain way, IMHO. Many of the versions I tried in Greece were good, but a bit too heavy on the carbs. There was a thick layer of pasta, topped with a thick layer of fairly dry meat, and then all that heaviness was topped with another heavy layer of béchamel. Hmmm … not quite my cup of tea.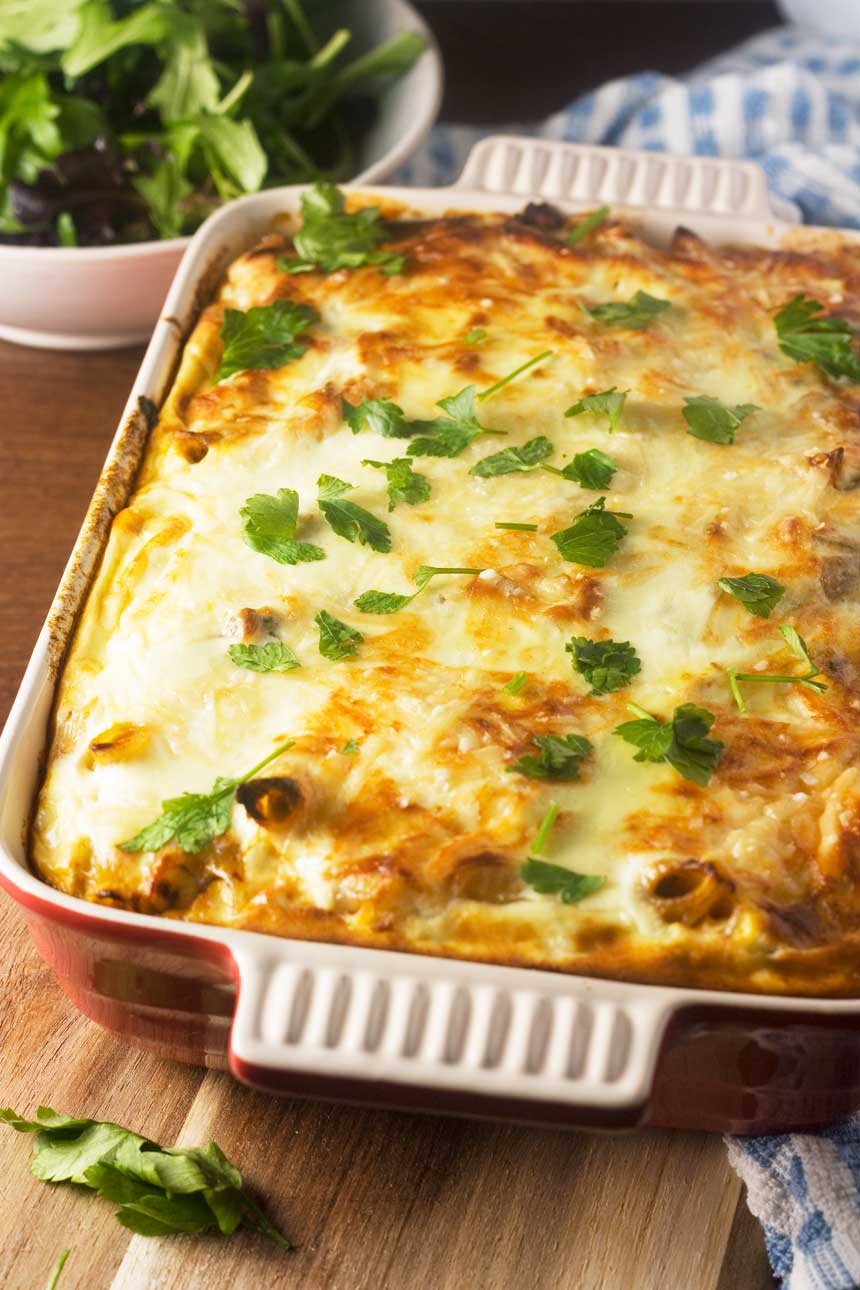 But this version I can live with. More than live with, in fact. The meat sauce is a tasty, juicy bolognese sauce with tomato puree, wine, beef stock, mushrooms (just because) and loads of tasty herbs and spices in. I used dried oregano and thyme and fresh parsley, just because that's what was hanging out in my cupboard, but rosemary or basil or just dried mixed herbs would work just as well. I also decided to throw in a teaspoon of cinnamon, because that's what the Greeks always add to their meat sauce (and, I must admit, I've acquired a taste for it!) along with a bit of mixed spice with nutmeg and clove, but, honestly, you could miss out the spices if you like. You could even use your own favourite spag bol sauce in this recipe if you prefer. In a pinch you could even use a jar of bought Bolognese sauce if you're short on time (you need about 4 cups).
Actually, next time I make this, I'll make double the amount of sauce, because it would be great to freeze some for a lasagna or moussaka, or even just for a classic spag bol. Well, why not? I've never met anyone who doesn't enjoy a simple spag bol once in a while!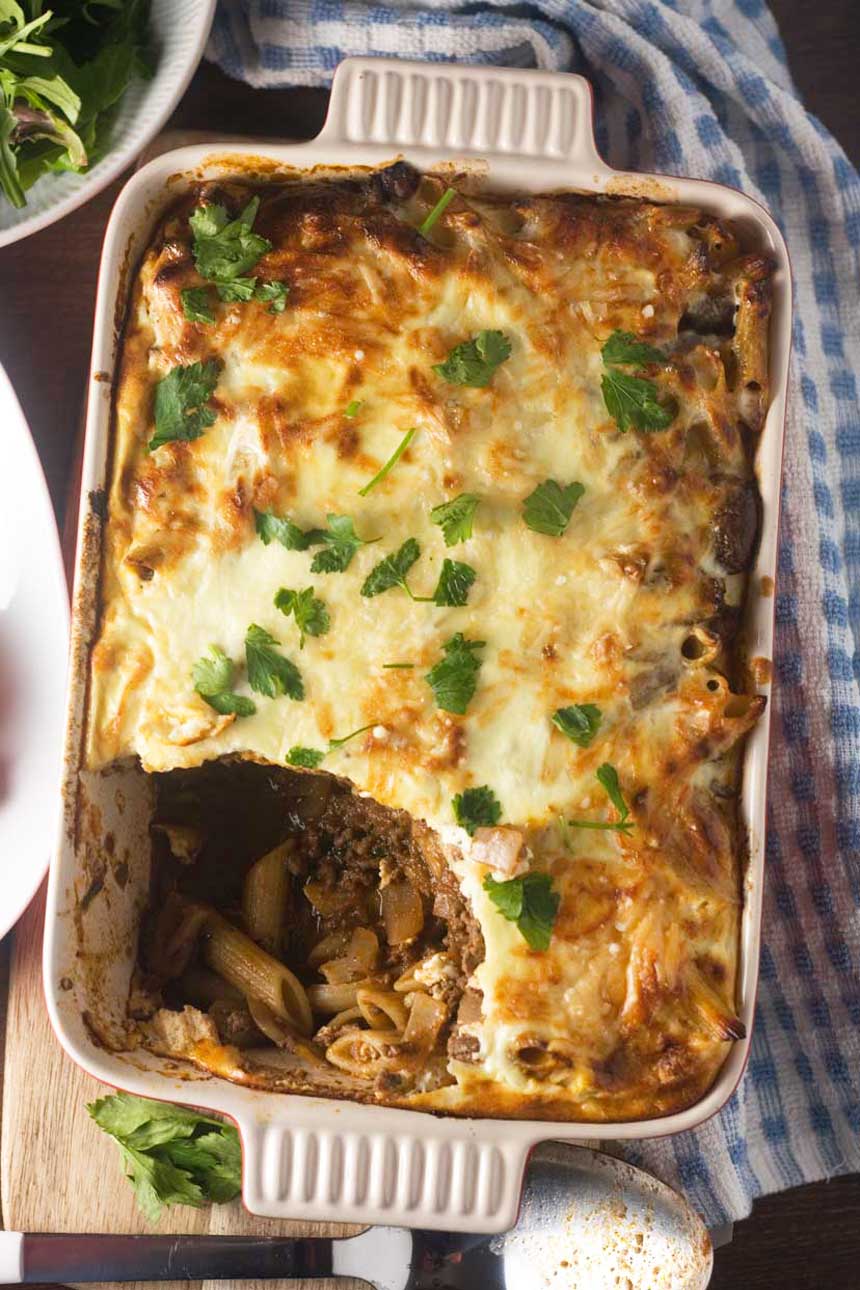 So all you do is simmer your sauce for about half an hour, boil up your pasta (I just used penne), mix the pasta into the sauce, then pour over an easier version of 'béchamel' made out of Greek yoghurt, eggs and parmesan cheese and bake. I also make this when I make a moussaka (like this easy skinny chicken moussaka) – it's so much quicker and easier than the classic roux-based version!
This was fabulous with a simple green salad. The best thing is that this recipe makes enough for six whole portions. Not tremendously huge portions, but they are certainly big enough for Mr. Scrummy and I. So we ate this for dinner last night, we had it again tonight and another 2 portions have just been bunged in the freezer for another meal one night next week! Winner, winner, chicken (or rather beef) dinner! 🙂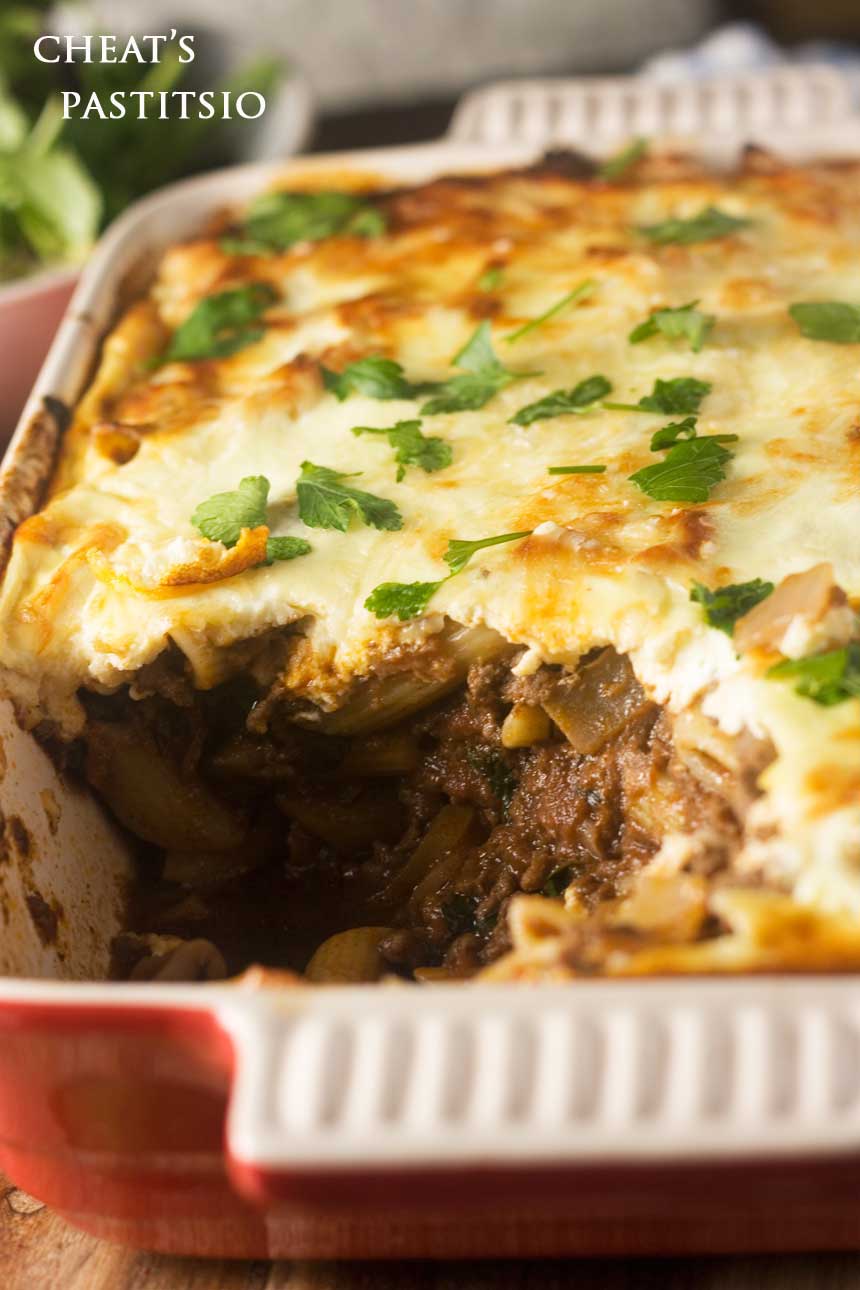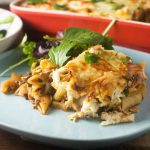 Print
Cheat's pastitsio (with a yoghurt topping)
Pastitsio is a delicious Greek every day meal staple, but it can sometimes be a bit heavy and too full of carbs - not to mention a bit of a pain to make. But this version is not only delicious, but sooo easy to make. Just whip up a simple and flavourful bolognese sauce, mix with penne pasta and top with a yoghurt, egg and parmesan topping. Yum!
Cook Time
1
hour
5
minutes
Total Time
1
hour
20
minutes
Ingredients (UK/Australia? Click button below for grams & ml)
For the easy bolognese sauce
1

onion

chopped

14

ounces

minced beef or lamb

2

garlic cloves

crushed

1/2

teaspoon

ground cinnamon

1/2

teaspoon

allspice

9

ounces

mushrooms

chopped

2

tablespoons

tomato puree

mixed with 150ml water and a beef stock cube

2/3

cup

red wine

14

ounce

can chopped tomatoes

2

teaspoons

dried herbs

I used oregano & thyme, but mixed herbs are great, too

a handful of fresh chopped parsley

salt & pepper
the rest of the ingredients
9

ounces

penne

ziti or macaroni

1

tablespoon

scant corn flour

1 1/3

cup

Greek yoghurt

2

eggs

1/4

cup

parmesan cheese

grated
Instructions
Preheat the oven to 175C/350F. Fry the onion in a large saucepan with a drizzle of oil until translucent. Add the mince and brown for a few minutes.

Add the garlic, cinnamon and allspice and stir and cook for a minute. Then add the mushrooms, tomato puree/water/stock, wine, chopped tomatoes and dried herbs.

Bring the mixture to the boil, then turn down the heat and simmer for about 30 to 35 minutes until you have a rich sauce.

Meanwhile, cook the pasta according to the instructions on the packet and drain. Also prepare the topping by whisking the eggs and about half the parmesan into the yoghurt and corn flour in a medium bowl.

When the sauce is done, tip the pasta into it and mix well. Stir through the parsley and season well. Tip the pasta and sauce into a medium baking dish.

Pour the yoghurt topping evenly over the top of the meat and pasta. Sprinkle with the remaining parmesan. Bake for about 30 minutes or until golden on the top.
Notes
Feel free to miss the spices out of the Bolognese sauce if you prefer, although I think it would be a shame!
Try adding chopped eggplant/aubergine to your sauce instead of mushrooms. Add it with your onion at the beginning, though.
This is great served with a simple green salad drizzled with a tiny bit of olive oil and balsamic vinegar.
Nutrition
Calories:
439
kcal
|
Carbohydrates:
40
g
|
Protein:
24
g
|
Fat:
17
g
|
Saturated Fat:
7
g
|
Cholesterol:
107
mg
|
Sodium:
298
mg
|
Potassium:
658
mg
|
Fiber:
3
g
|
Sugar:
4
g
|
Vitamin A:
310
IU
|
Vitamin C:
10.1
mg
|
Calcium:
186
mg
|
Iron:
5.3
mg
Follow me on Pinterest!
Follow @scrummylane to pin more quick and easy recipes for later

You can also find more from Scrummy Lane on Facebook, Pinterest, Twitter and Instagram and follow me on Bloglovin! Thanks so much for reading!
*This post may contain affiliate links which means that if you click on a link and make a purchase I get a small percentage of the amount you spend. At no extra cost to you, of course! Thank you!*