This super quick and easy green salad is made with just 6 ingredients – 3 in the salad and 3 in the simple vinaigrette. Made in just 10 minutes, a Greek lettuce salad or 'maroulosalata' might just be the simplest side dish you could ever make.
This goes with almost anything. You'll love how fresh and crunchy it is, and the splash of vibrant green color it adds to your plate!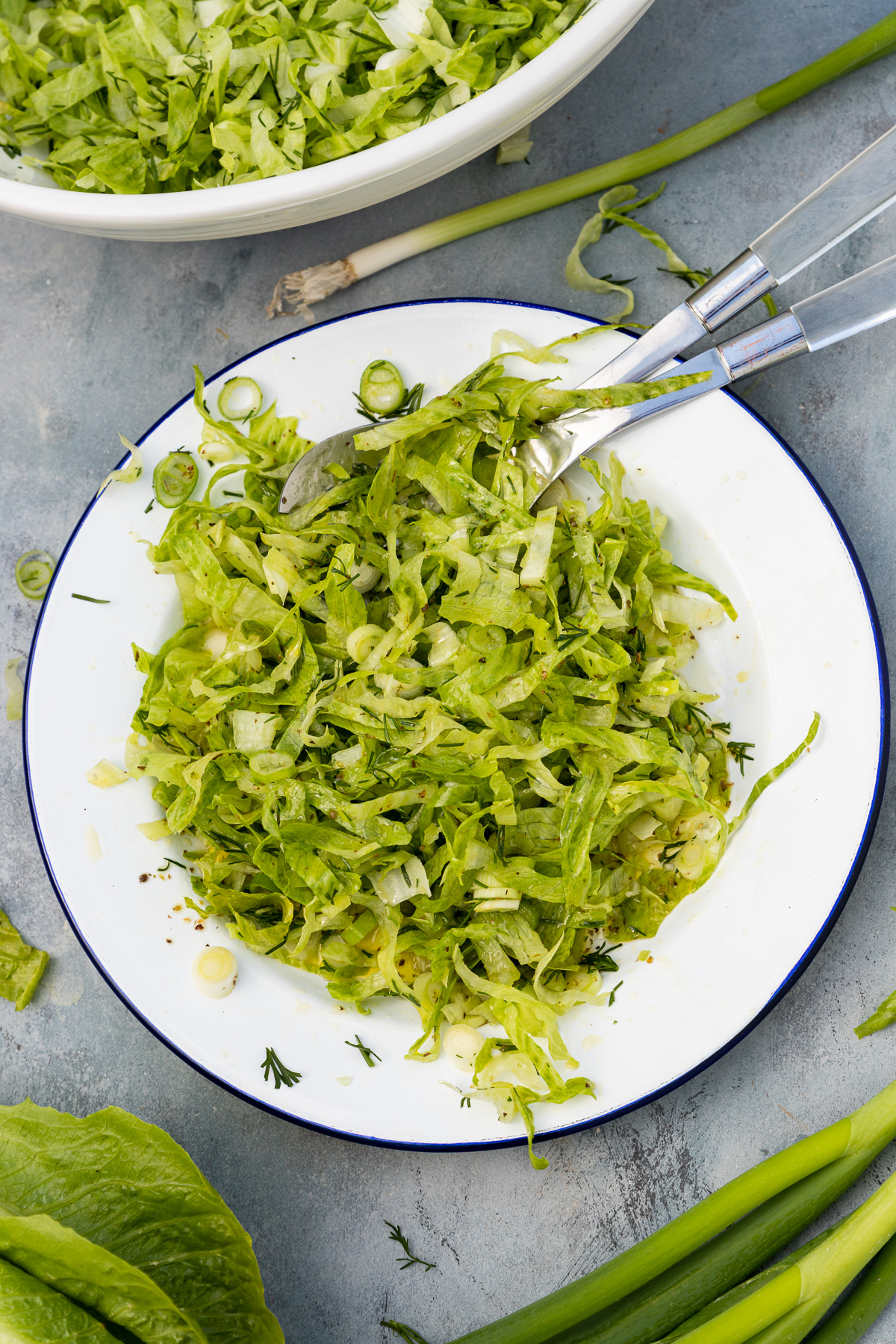 What's maroulosalata?
Maroulosalata means 'lettuce salad' in Greek! In case you're interested, it's written μαρουλοσαλάτα, and pronounced mar-ool-o-sal-AH-ta. Another name for this salad is 'psilokomeni' (psee-lo-kom-EN-i). This simply means 'thinly sliced', which of course refers to the main ingredient – the thinly shredded lettuce!
It's such an incredibly simple side salad. It's made of just fresh and crunchy shredded lettuce, lots of fresh dill with its mild aniseed flavor, and chopped tangy salad onions (which you may know as scallions or spring onions).
The Greek style dressing is made of just 3 more simple ingredients – extra virgin olive oil, vinegar (or lemon juice), and a little dried oregano.
Maybe you thought there was only the one classic option when it comes to Greek salads (this horiatiki salata or Greek village salad), but no, there are many more, including this deliciously fresh tossed green salad!
You'll often find a maroulosalata on the menu in the 'salads' section of a Greek menu. It might be as simple as this recipe, or there might be other flavors added such as feta, olives, or more fresh herbs.
Why you'll love it
✔ Takes no more than 10 minutes to make. Throw it together while the rest of your meal is cooking.
✔ Great flavor for such a simple salad. You'll love the refreshing crunch of the lettuce as well as the fresh, punchy and herby flavor.
✔ Goes with so many meals, from pasta, chicken or quiche to burgers and pizza. In fact, I can't think of many meals a Greek lettuce salad wouldn't go with! It adds color, crunch, flavor and nutrition – but without any fuss.
✔ Can be pretty classy, too! Although very simple, this is 'interesting' enough to serve to guests. Why not try it at your next BBQ or dinner party?
✔ Easy to prepare ahead. Keep the tossed salad and the dressing separately in the fridge until ready to serve.
Here's my traditional Greek salad (made without lettuce!) in case you're interested in checking that out too!
About the ingredients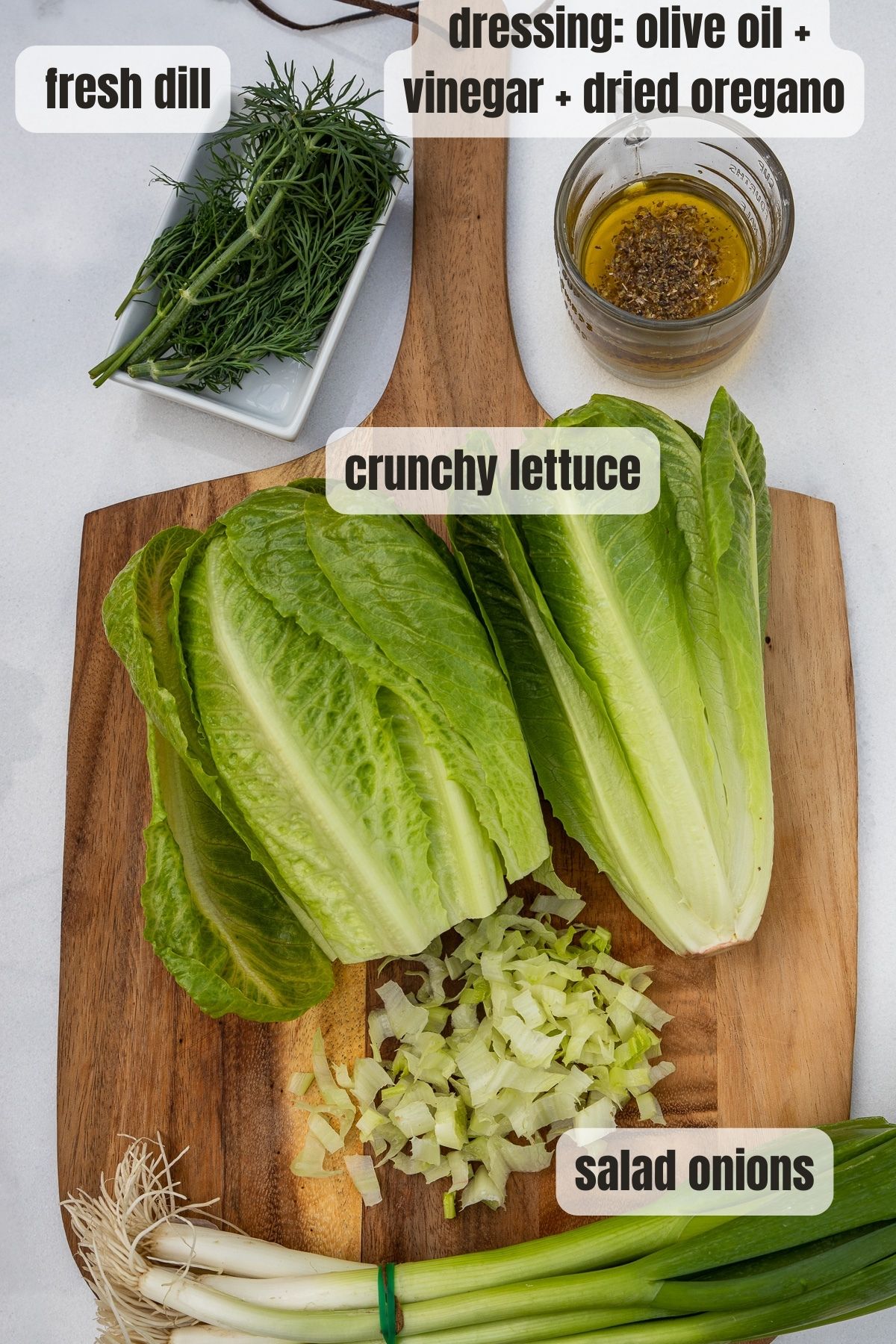 This is my favorite kind of recipe – so few ingredients and yet still so tasty. Here's what you need to know about the ingredients for a classic Greek lettuce salad:
Lettuce: The only 'rule' for a maroulosalata is to choose a nice crunchy type of lettuce. I usually go for Cos lettuce or baby Cos lettuce (sometimes called Romaine lettuce, little gem, or hearts of Romaine). Iceberg lettuce is also a good choice.
I like to slice the lettuce really thinly, so I don't buy pre-cut lettuce for this recipe.
Salad onions (scallions/spring onions/green onions): If you can't find these, or if you prefer, use a little mild red onion or even shallots instead.
Fresh dill: This is an essential flavor in a maroulosalata, so I would try not to skip it. If dill is unavailable, however, or you don't like it, consider using either a tablespoon of dried dill, or another fresh herb such as parsley or mint.
Check out this helpful post on the best substitutes for dill!
Extra virgin olive oil: I suggest using a good quality olive oil if you can since it's the key ingredient in the dressing.
Vinegar: Any white colored vinegar is fine, such as white wine vinegar, apple cider vinegar, or even just plain white vinegar. Red wine vinegar is OK, too, or if you prefer you can use fresh lemon juice instead.
Dried oregano: This Mediterranean herb features in so many Greek recipes, and this Greek lettuce salad is no exception. However, feel free to use mixed Italian herbs instead.
Yep, that's it. Just 6 basic ingredients. If you like you can add a few more. Read on for ideas!
Did you know? You can use this simple Greek dressing as a marinade, too. Why not make more than you need, then use the leftovers to marinate some chicken thighs, pork chops or steak to serve alongside your salad?
How to make it
Step 1: Shred the lettuce. Just cut off the end and remove any damaged or bruised outer leaves, then slice as thinly as you can with a sharp knife.
At this point, you'll want to throw the shredded lettuce into a large colander and wash it thoroughly. Let it drain for a while, or use a salad spinner.
Step 2: Slice the salad onions fairly thinly, then rinse those too (I like to wash them after chopping in case there is any dirt caught inside).

Step 3: Wash the dill and remove any tough stalks. Then scrunch it up and chop finely.
Step 4: Throw the shredded lettuce into a big serving bowl.

Step 5: Add the dill and onions to the shredded lettuce and toss well. Then whisk together the vinaigrette, pour it into the salad and toss well.
Your salad is ready!

Helen's top tips
To prepare this salad ahead, toss together the 3 green salad ingredients and the 3 dressing ingredients (separately). Then keep them covered in the fridge until ready to toss together and serve dinner.
Following on from the above, only toss the dressing through the amount of salad you think you'll eat immediately. Keep any extra salad and dressing in the fridge separately for later.
If you have any leftover lettuce, store it between layers of paper towels in an airtight container. It should keep fresh and crisp for quite a while – up to 2 weeks!
How to serve
A maroulosalata is one of my go-to salads. It goes perfectly with anything that you'd usually serve a simple green salad with – from classic Greek dishes such as easy moussaka, chicken kabobs in the oven and Greek lemon chicken and potatoes to grilled meat and fish, pasta, burgers, stuffed chicken breasts, quiche lorraine and more.
It's perfect when you want something very simple on the side, such as with this 15-minute panko chicken or these 5-minute-prep baked chicken breasts with feta and lemon.
Or how about stuffing some of this into tacos with a little white or crispy fish to make fish tacos? Yum!
It's also a perfect option for a potluck or BBQ – simple, easy to prepare ahead, and lovely fresh, zingy flavors to pair with meat or… anything!
Need more serving ideas? Here's what to serve with a Greek salad (50 ideas!). I wrote this with a classic Greek salad (no lettuce!) in mind, but most of these ideas will go well with a Greek lettuce salad, too!
Variations
The other great thing about this simple lettuce salad recipe is that you can consider it a base to add your personal touch to!
Here are some ingredients you can add to 'make it your own':
crumbled feta cheese, blue cheese or goat cheese
crisp cucumber or green pepper slices
more fresh herbs e.g. fresh mint, parsley or coriander
sundried tomatoes or marinated peppers or artichokes
boiled potatoes or pasta (for a very delicious lettuce-y take on a potato or pasta salad!)
crispy bacon, hard boiled eggs and parmesan (for a 'sort of' Caesar salad!)
Top tip: Turn your leftover Greek lettuce salad into an amazing lunch bowl by serving with a fried egg and 2-minute olive oil toast!
Recipe FAQ
How long will this salad keep?
Once you've added the vinegar dressing, this salad is best eaten immediately, or at least within an hour or two. It will still be fine the next day if you keep it covered in the fridge, but it may have wilted a little.
What is the best way to store it?
If you keep the greens and dressing covered in the fridge separately, the greens will stay crisp for 2-3 days (after this they may start to brown) and the dressing will keep for about a week. I often make double. I add the dressing to half, and keep the rest in the fridge undressed so that I can serve it with another meal.
More super simple side dishes
I love this salad for its simplicity! Here are a few more very simple side dishes. I make at least one of these weekly!
Or see all my easy side dish ideas.
IF YOU MAKE THIS RECIPE, LET ME KNOW HOW YOU GET ON BY LEAVING A COMMENT AND RATING BELOW… AND DON'T FORGET TO SIGN UP TO RECEIVE ALL MY NEW RECIPES BY EMAIL!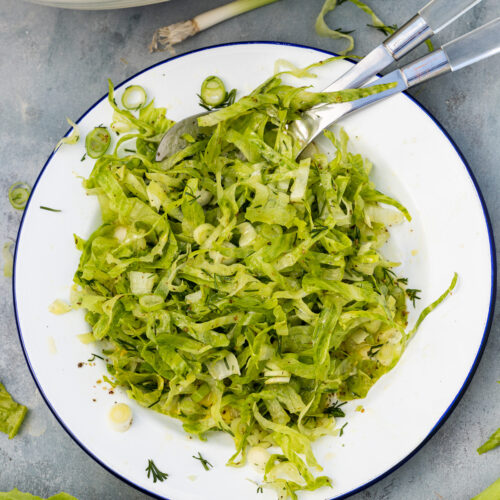 Simple Greek Lettuce Salad (Maroulosalata)
A Greek lettuce salad is the best tossed green salad ever! It's super simple, with only 6 ingredients (3 in the salad, 3 more in the dressing), but it tastes fresh, zingy and delicious. Goes with virtually anything, adding vibrance and crunch to your plate in a matter of minutes!
Equipment (affiliate links)
Ingredients (UK/Australia? Click below for grams/ml)
For the green salad
1

baby Cos lettuce

(4 cups or 8 ounces) shredded finely (or Romaine lettuce, lettuce hearts, ice-berg lettuce)

5

salad onions

(scallions, spring onions, green onions)

¼

cup

fresh dill

chopped finely
For the Greek vinaigrette
⅓

cup

olive oil

3

tablespoons

vinegar

white wine vinegar, white vinegar, apple cider vinegar or red wine vinegar (or use lemon juice)

1

teaspoon

dried oregano
Instructions
Remove any damaged or bruised outer lettuce leaves. Cut off the stalk end of the lettuce. Then slice very finely with a sharp knife all the way up from the stalk.

Wash the shredded lettuce really well in a large colander. Let drain while you prepare the other ingredients.

Thinly slice the salad onions (scallions/spring onions), then wash in a colander. Then wash the dill. Scrunch up and chop finely.

5 salad onions,

¼ cup fresh dill

Toss the shredded lettuce, salad onions and dill together in a large bowl.

Whisk together all of the dressing ingredients in a small jug or bowl. When ready to serve, toss well through the salad. Serve immediately while crisp.

⅓ cup olive oil,

3 tablespoons vinegar,

1 teaspoon dried oregano
Notes
How to shred lettuce: Chop off the stalk end and slice very finely from the stalk end. Wash well in a colander and let drain a little.
How to cut salad onions/scallions/spring onions: Chop off the stalk end, then slice fairly thinly all the way up. I usually keep the first part of the dark green part, and discard when it starts getting too tough. I usually wash the onions AFTER I've sliced them in case there is any dirt trapped inside.
How to cut dill: I usually wash it well, then scrunch it into a ball and chop very finely with a sharp knife.
Here's some info on the best dill substitutes in case you don't have any.
Storage instructions: Only add the dressing just before serving. If you don't think you'll eat it all, keep the extra lettuce/onions/dill and vinaigrette covered in the fridge separately. They will keep for a while like this (the salad 2-3 days, the dressing about a week).
After you've added the dressing, keep covered in the fridge. The salad will keep well for a day or two.
Nutrition
Calories:
164
kcal
Carbohydrates:
1
g
Protein:
0.1
g
Fat:
18
g
Saturated Fat:
2
g
Polyunsaturated Fat:
2
g
Monounsaturated Fat:
13
g
Sodium:
3
mg
Potassium:
28
mg
Fiber:
0.3
g
Sugar:
0.03
g
Vitamin A:
235
IU
Vitamin C:
3
mg
Calcium:
15
mg
Iron:
0.5
mg