These roasted cauliflower fritters are crispy, cheesy and addictive. Add an oozy egg on top or serve with a squeeze of lemon and a blob of Greek yoghurt. Delicious made either in a pan or an air fryer, and you need just 6 ingredients and 30 minutes to make them.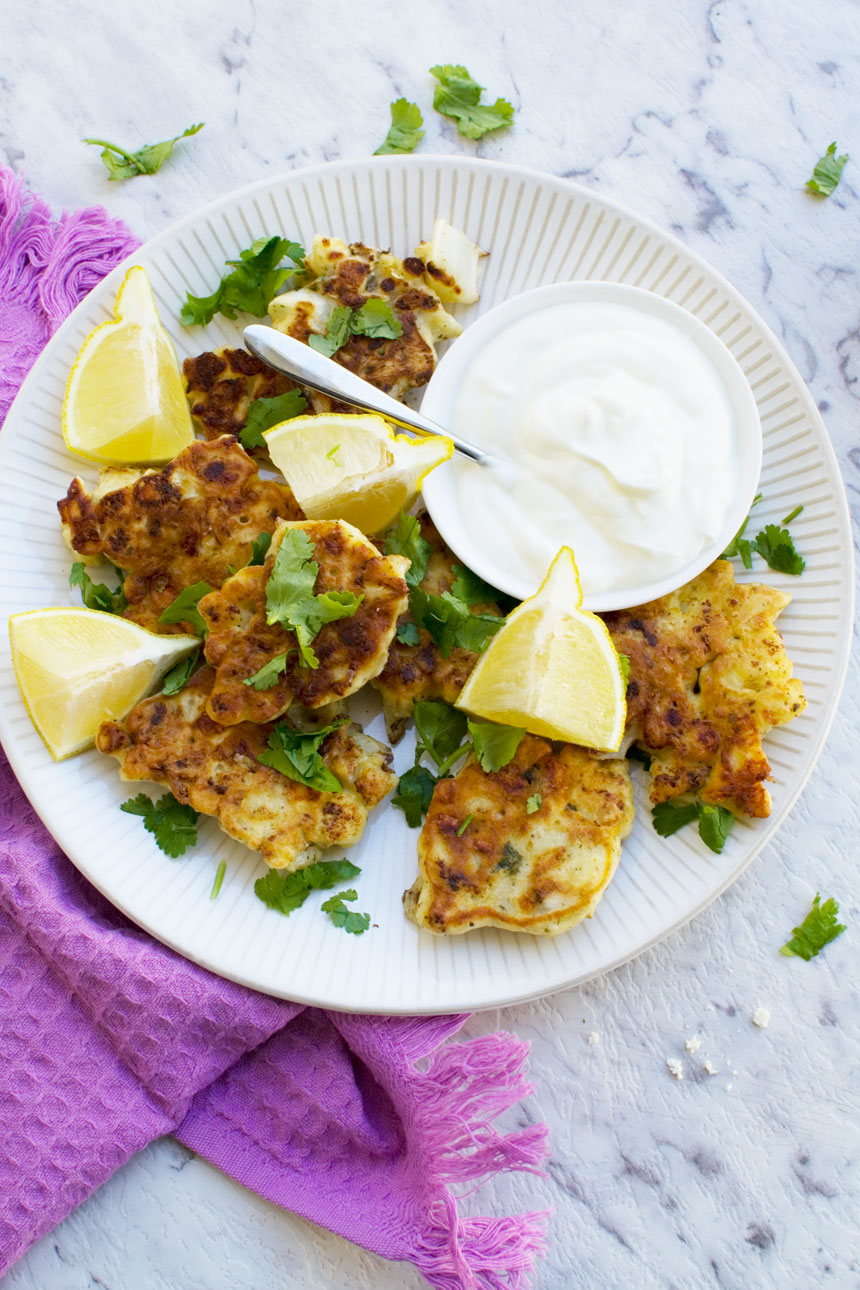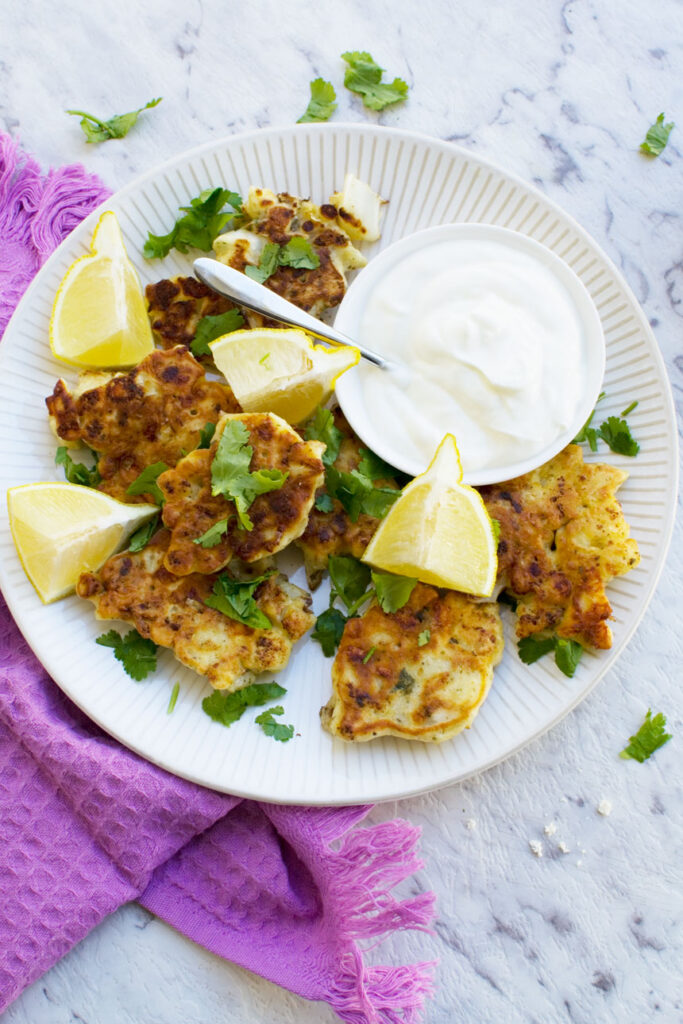 What is it with crispy foods? I think I could eat foods like these tempura zucchini fries, these halloumi burgers or these salmon fish cakes every single day!
Well, add crispy to the subtle nutty, caramelised flavour of roasted cauliflower and you're on to a true winner.
What makes these cauliflower fritters the best?
They're made with just 6 simple ingredients: flour, buttermilk, egg, cauliflower, mint and feta cheese.
Roasting the cauliflower gives them a delicious nutty, caramelised flavour.
Fresh mint and feta gives them a tasty Mediterranean style twist.
The lightly crisp exterior contrasts perfectly with the soft and oozy interior.
They're very versatile. With simple tweaks they can be breakfast, brunch, a light meal or even an appetizer or side dish any time of day.
They're quick, easy and delicious either shallow fried in a frying pan, or air fried in… an air fryer, of course!
Here are the 6 ingredients you need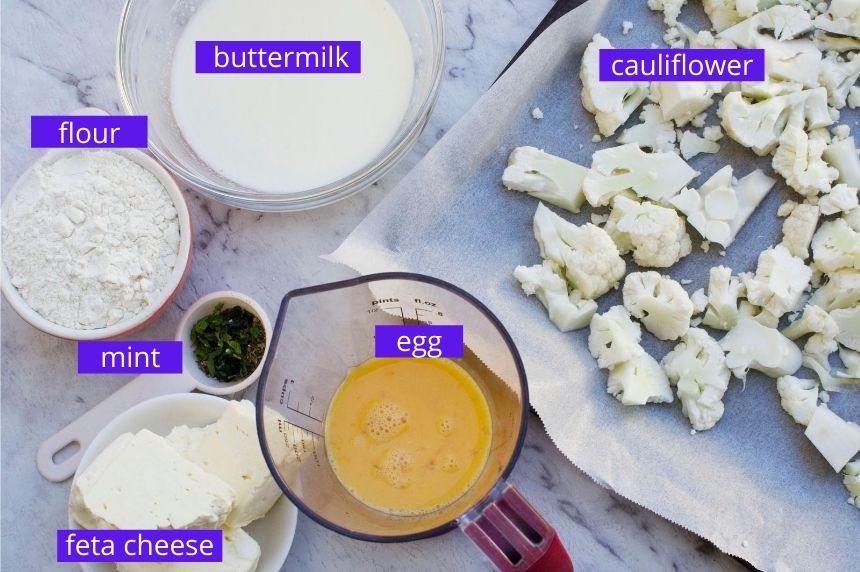 Pro tip: Make sure you chop the cauliflower into SMALL florets. This will keep the fritters 'neat' and help stop them breaking up in the pan. Roast the crumbs as well – they get lovely and crispy!
How to make the best cauliflower fritters
These are so quick and easy to make in just a few simple steps.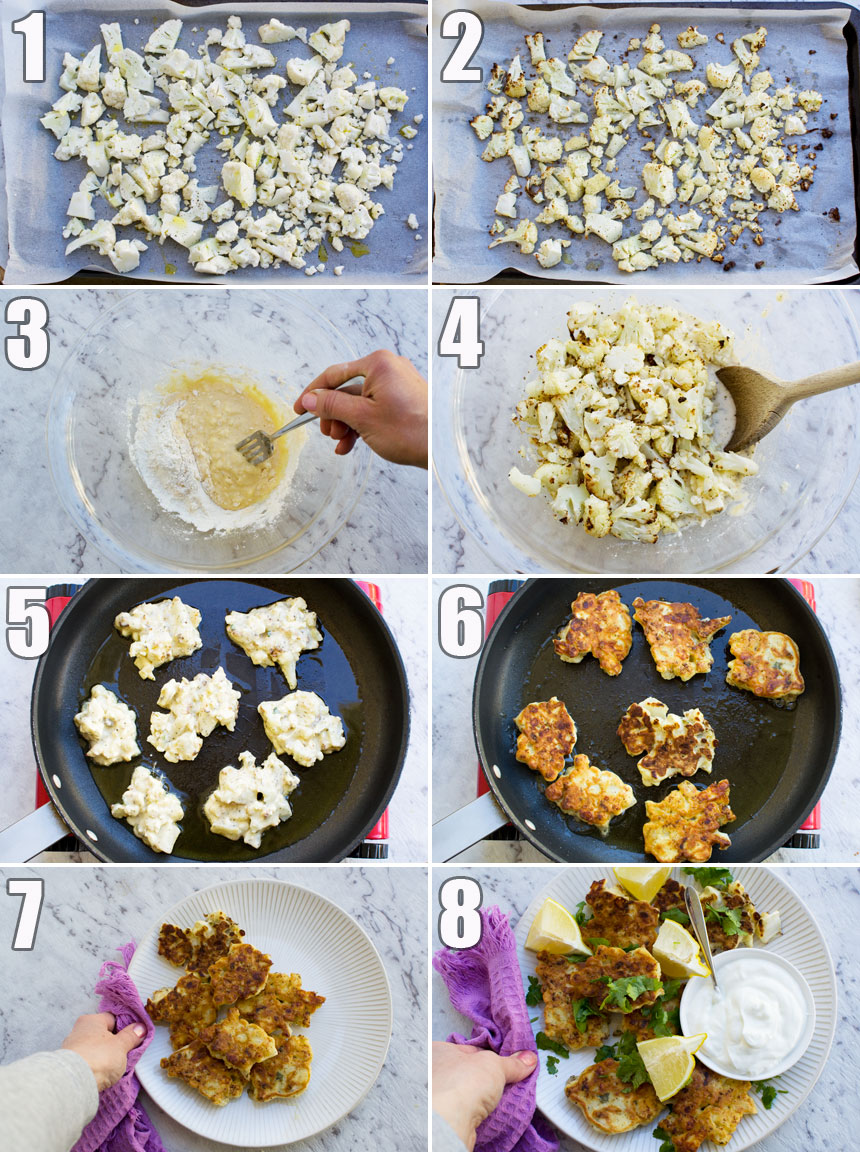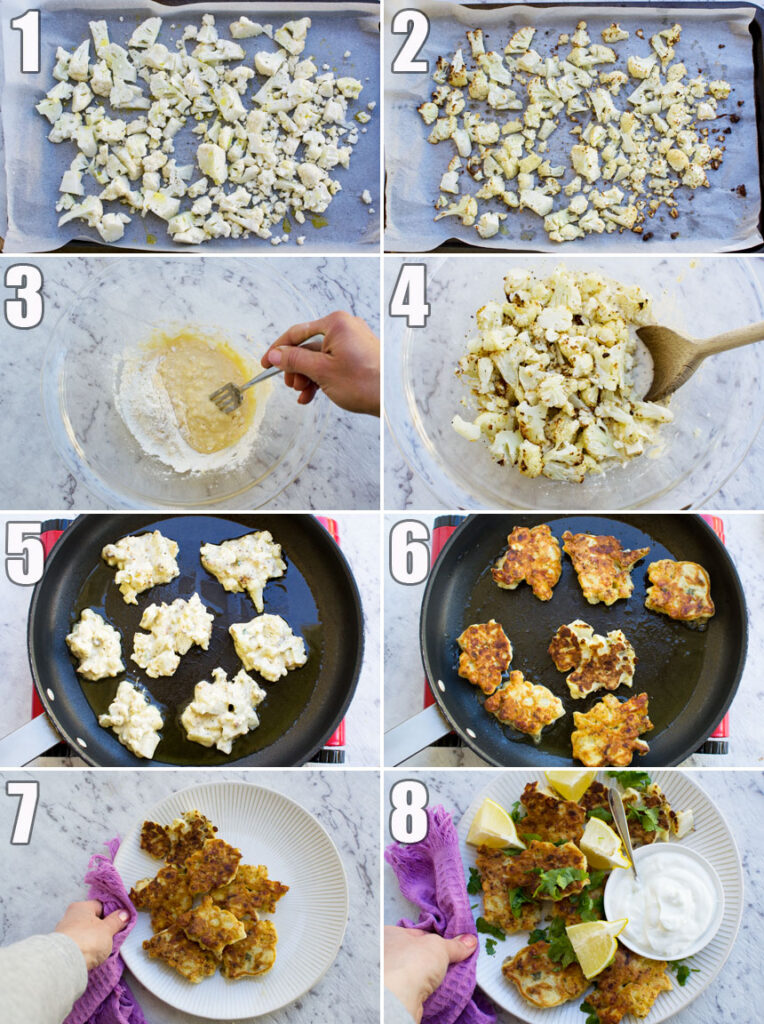 Step 1: Roast the cauliflower. This will take just under half an hour. You can prepare the batter in the meantime…
Step 2: Mix together all other ingredients in a big bowl. Add the cauliflower when it's cooked.
Step 3: Heat some olive oil in a big frying pan. Cook dessert spoonfuls of the mixture on each side until crispy.
Step 4: Serve immediately. Add an egg or serve with lemon wedges and Greek yoghurt for dipping.
How to serve them
There are two (equally as delicious) ways that I usually serve these:
As a lunch or appetizer with lemon wedges, Greek yoghurt and maybe a simple green salad on the side.
As a 'posh' breakfast or brunch with an egg on top. And maybe some sneaky tomato ketchup 😉
Ways to switch them up
These fritters would work just as well as broccoli fritters, although I'd steam or boil the broccoli rather than roasting it.
You can also replace the feta cheese with different types of cheese like cheddar or gruyère.
I've made them successfully with dried herbs instead of fresh mint – half a tablespoon(ish).
If you wanted to be really fancy, you could sneak some cooked bacon or ham into the batter. Mmm… my mouth is watering!
If you prefer you can serve them with sour cream or salsa instead of Greek yoghurt. Or any of the dip ideas listed below…
The best dips to serve with fritters
your favourite salsa, either supermarket bought or homemade. I like this quick and easy fresh tomato salsa.
sweet chili sauce
cheese sauce
pesto
buffalo sauce (a recipe from another great site)
Greek yoghurt, sour cream or even creamy ranch dressing (add a squeeze of lemon or lime or a spoonful of tahini to these if you like)
Can you make cauliflower fritters in an air fryer?
Yes, you can! I usually put some baking paper under them though. Otherwise they're a bit messy.
Just spray lightly with oil before air frying. 10 to 15 minutes is about right. Turn the fritters over half way through cooking.
I also use my air fryer for re-heating any leftover fritters that I've made either in a frying pan or in my air fryer.
These are delicious cooked both ways, but perhaps even crispier made in an air fryer!
What about the leftovers?
I find leftovers reheat really well either in a frying pan or air fryer. Just crisp up again by frying again for a couple of minutes on each side to heat through.
OR… preheat your air fryer to 180C/355F and air fry for about 4 minutes until hot and crispy again.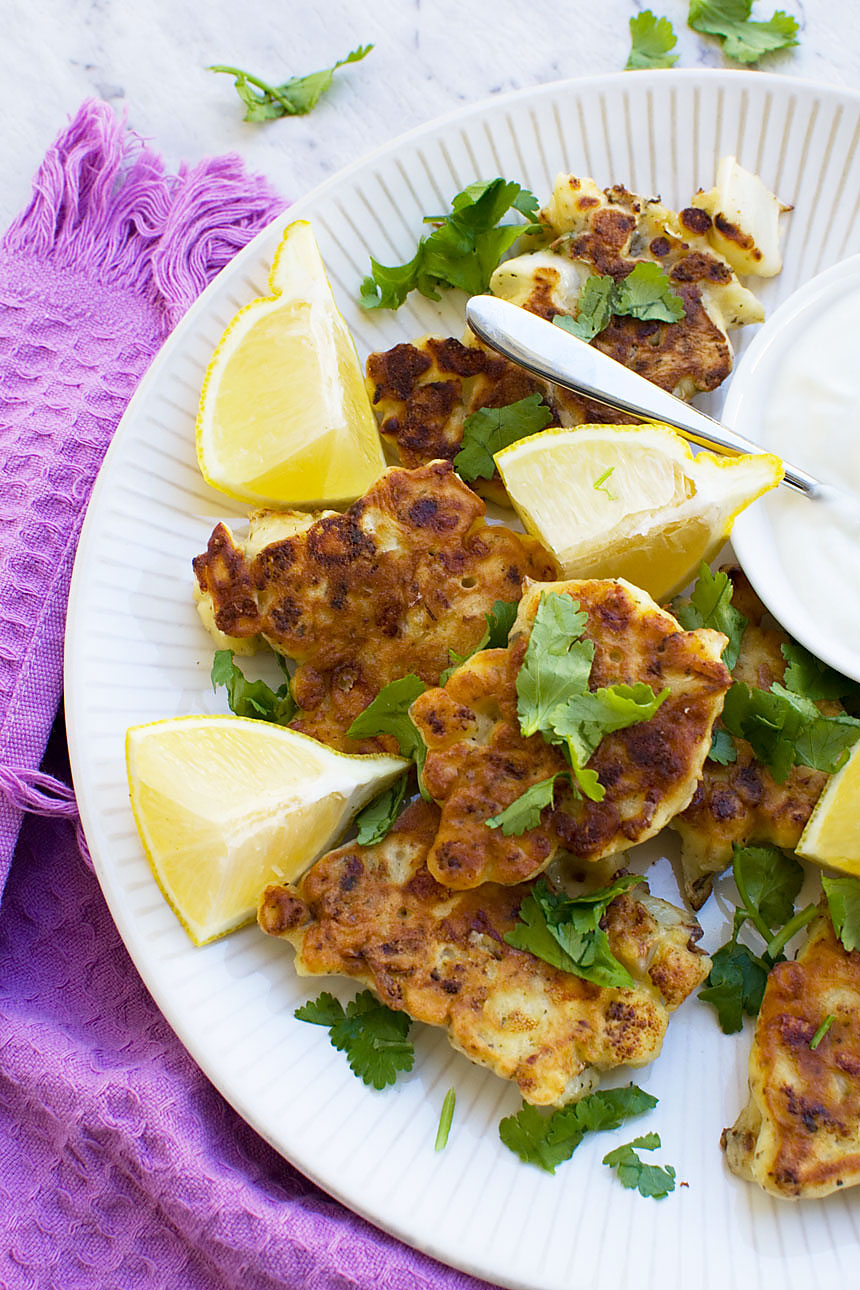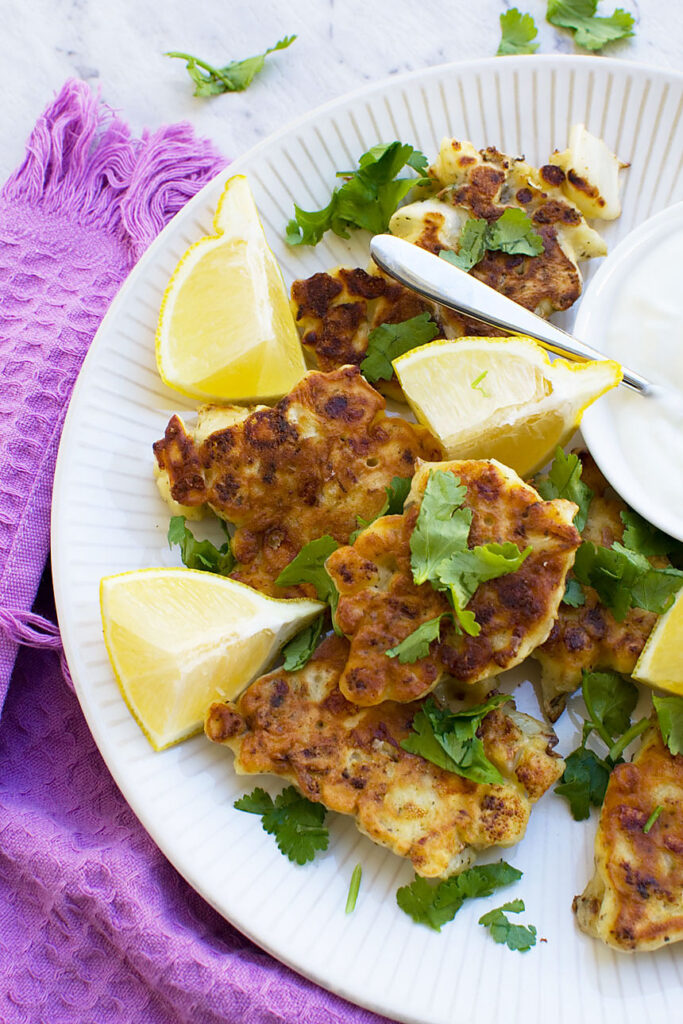 More easy and delicious brunch ideas
or take a peek at all my breakfast suggestions here.
IF YOU MAKE THIS RECIPE, LET ME KNOW HOW YOU GET ON BY LEAVING A COMMENT AND RATING BELOW… AND DON'T FORGET TO SIGN UP TO RECEIVE ALL MY NEW RECIPES BY EMAIL!
FOLLOW ME ON FACEBOOK, INSTAGRAM, PINTEREST AND YOUTUBE.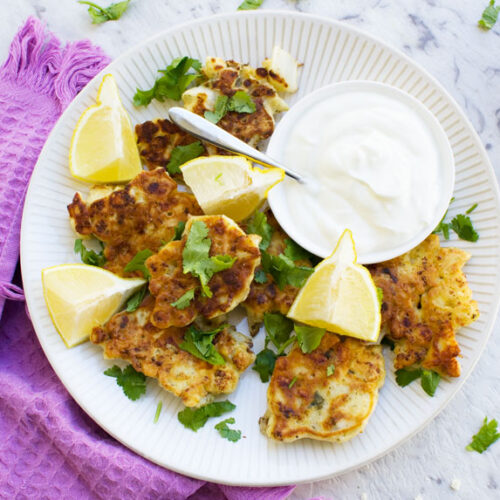 Cauliflower fritters with feta and mint (frying pan or air fryer)
Lightly crispy fritters packed with healthy roasted cauliflower and tangy feta cheese and mint. Top with an egg or eat them plain with a slice of lemon and a blob of Greek yoghurt or sour cream. Perfect for a weekend brunch or light lunch!
Equipment (affiliate links)
Ingredients (UK/Australia? Click below for grams/ml)
½

cup

self-raising flour

½

cup

buttermilk

(I made my own by adding ½ a tablespoon lemon juice to ordinary milk and leaving it to stand for 5 minutes. Vinegar works as well.)

1

egg

1½

tablespoons

of chopped fresh mint

(or use ½ tablespoon dried mint – or other herb(s) of your choice)

¼

large

cauliflower

(about 9 ounces/250 grams) chopped into small pieces

3½

ounces

feta cheese

crumbled

3

tablespoons

olive oil

for cooking

eggs/Greek yoghurt/tomato ketchup/lemon wedges/green salad leaves

to serve (all optional)
Instructions
Pre-heat the oven to 390F/200C. Line a large baking tray with baking paper. Spread the cauliflower pieces out on it. Drizzle them with about 1½ tablespoons olive oil and grind over plenty of salt and pepper.

Roast for about 25 minutes until starting to go golden and caramelised.

Meanwhile, whisk the egg into the flour. Slowly add the buttermilk until you have a fairly thick batter.

Stir the mint, feta, and finally the cooked cauliflower into the batter. Mix well.

Heat the rest of the olive oil (about 1½ tablespoons) in a large frying pan. Drop dessert spoonfuls of the mixture into the pan and flatten slightly. Cook for a few minutes on each side until golden brown and crispy. Alternatively spray lightly with oil and cook for 10 to 15 minutes on each side in your air fryer at 200C/355F. (on a piece of baking paper to avoid mess!).

Serve immediately with a poached egg on top and tomato ketchup or with Greek yoghurt/tzatziki and lemon wedges. Some fresh green salad leaves go well either way!
Notes
How to make self-raising flour
If you don't have any self-raising flour you can make your own very easily. Simply mix 1/2 cup plain flour with a teaspoon baking powder.
How to cook these in an air fryer
I sometimes cook my cauliflower fritters in my air fryer and they turn out very well. I simply drop spoonfuls of the batter onto a sheet of baking paper in my air fryer and spray lightly with oil. I set the temperature to 200C/355F and cook for 10 to 15 minutes, turning half way through.
How to serve your fritters
My favourite way to serve these is with Greek yoghurt as a dip and lemon wedges on the side. I sometimes sprinkle over a little chopped fresh parsley or more fresh mint too.
Another great to way to serve them however is with a poached egg on the top. This makes a perfect weekend brunch!
Nutrition
Calories:
263
kcal
Carbohydrates:
17
g
Protein:
9
g
Fat:
18
g
Saturated Fat:
6
g
Cholesterol:
66
mg
Sodium:
341
mg
Potassium:
254
mg
Fiber:
2
g
Sugar:
4
g
Vitamin A:
293
IU
Vitamin C:
26
mg
Calcium:
179
mg
Iron:
1
mg