Last Updated on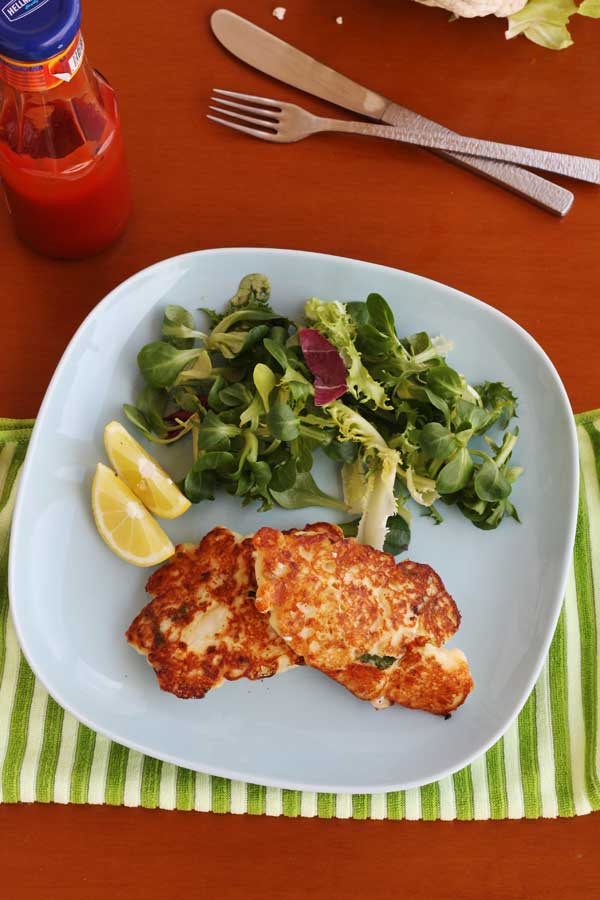 What is it that's so appealing about crispy foods?
You know how it is. Our eyes light up at the sight of the browned, cheesy top on the macaroni cheese, the lovely light, crispy batter on our fried chicken, a bowl of crunchy homemade granola, the thin glassy layer of sugar on top of a crème caramel, or a rogue extra crispy fry hiding among all the others on our plate. We munch and crunch our way through the whole bag of tortilla chips we got to go with our dip and Friday night movie, licking our fingers to make sure we don't leave a single crumb. And we fight over the crispiest roasted veggies that got stuck to the bottom of the pan.
Oh, that's not you? Well, I don't mean to be rude, but … shut up, I don't believe you!
You see, 'crispy' is apparently the adjective that sells more food than any other. And, again apparently (because I just did a nifty little bit of research), there are a few possible theories to explain this. One: something to do with primates and insects (which, don't worry, we definitely won't go into!) Two: the fact that crispy things make a noise that resounds right through our heads, thereby sort of heightening the sensory experience of eating, if you like. Hmm, maybe I can buy that one. And three: onomatopoeia!! Remember that from your English class days? You know, water plops into pond, splish splash downhill* and all that. In other words, 'crispy' just sounds cool when we say it and so we associate it with something good!
Go on, test that one out. I know you want to. Say 'crispy' … CRISPY … CRIS-PY … CREEEESPEEEEE. Are you feeling the deliciousness?
Ahem. I know what you're thinking. Now you shut up, Helen, and get to the point.
OK then, so let's talk cauliflower & feta fritters for a while. The reason I wanted to make these fritters for you (besides the fact that I love cauliflower and I love feta!) was that my eyes always light up and my mouth starts watering whenever anything is called a 'fritter'. Because they've got that crispy satisfaction thing going on. Which I think we've just established usually means a winner of a food item!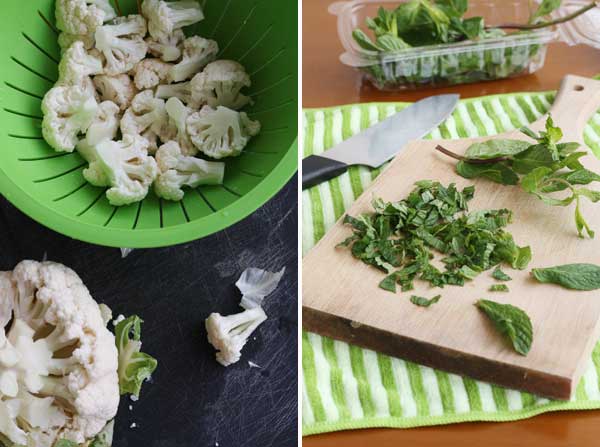 And the bonus is that these are pretty straight-forward to make. You simply cook your cauliflower by blanching it for a couple of minutes, then you pan fry it on all sides (or if you prefer you can simply roast it with a little olive oil for about 25 minutes). You then whisk together some flour, buttermilk, egg and fresh mint before stirring in your feta cheese and cooked cauliflower florets. Drop spoonfuls of mixture into a hot pan and cook until the fritters are well browned and have a lovely light crisp to them. I say 'lovely light crisp' because these aren't crispy crispy, like crisps (sorry, can't bring myself to say chips – true Brit here). But delicious, nonetheless. Or I hope you think so, anyway!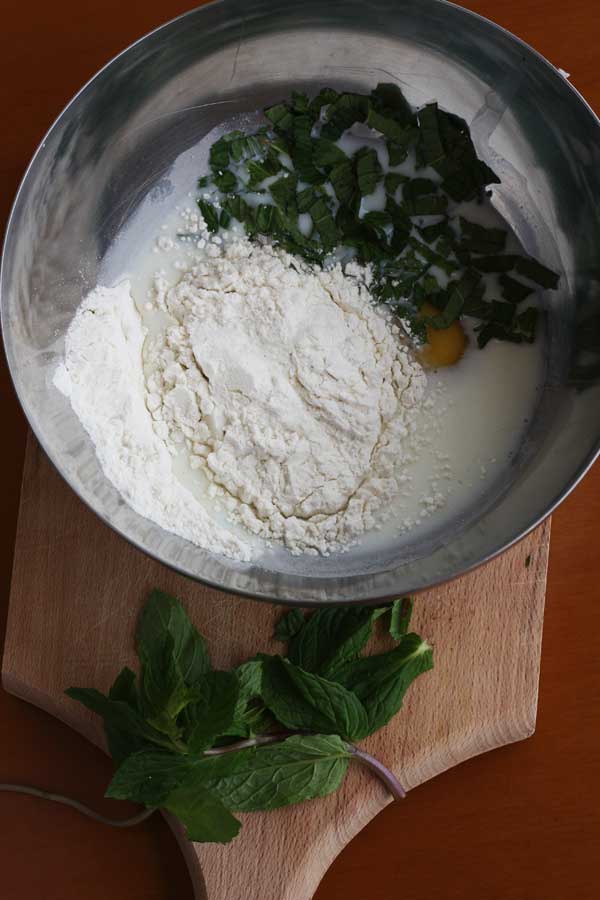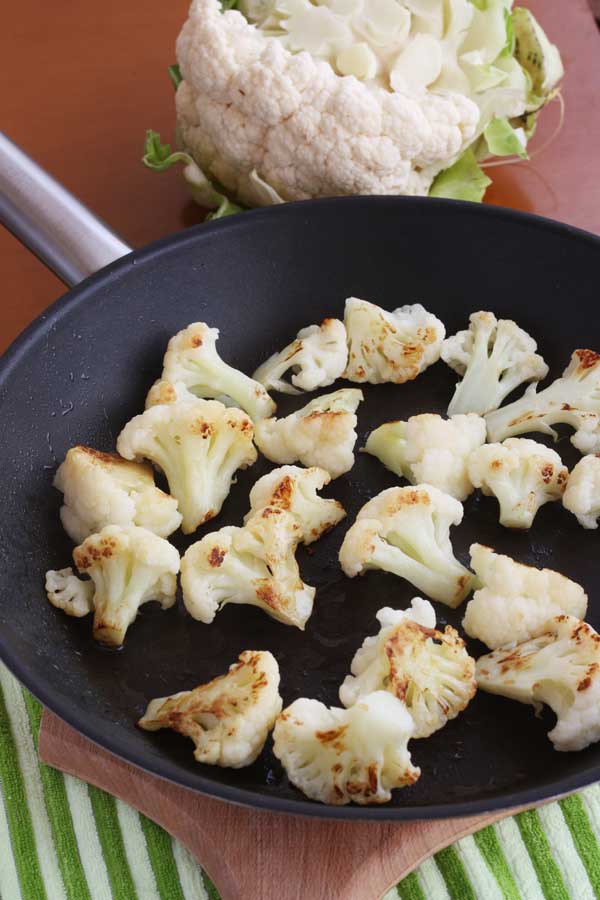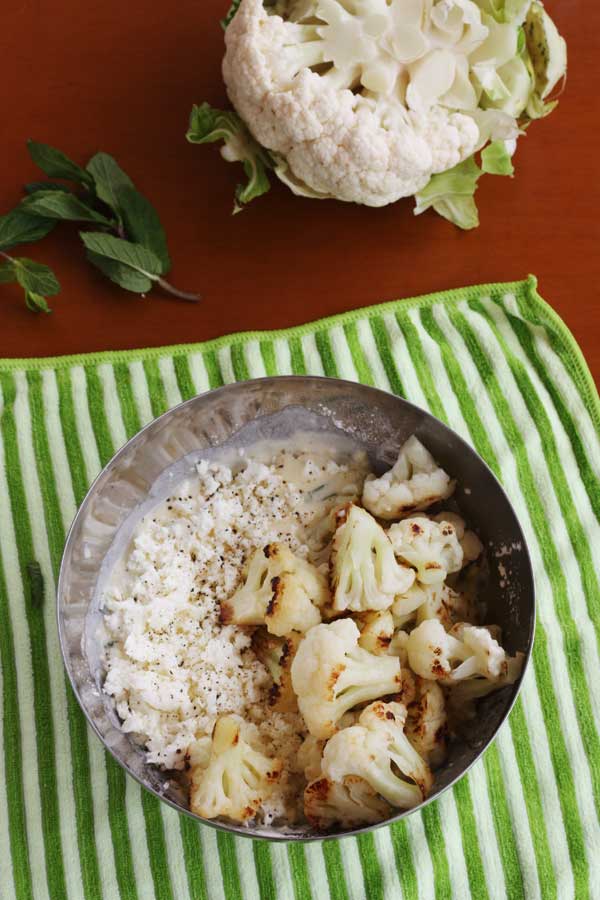 Just make sure that you don't do what I did at first and make your florets too large. Not only were the large-floreted fritters super ugly (sorry, large-floreted fritters, but it's true), but it was impossible to keep them in one piece in the pan, especially when turning them over. Besides, they looked nothing like fritters – just big lumps of gloop! If you keep your florets really small, on the other hand, they lie flat which makes for much easier pressing down into the pan for a bit of a better crisp! They are still just a teeny bit fragile, though, so you'll have to be careful when turning them over.
So, I finally perfected my plate of fritters and Mr. Scrummy and I ate them for Sunday brunch, if I remember rightly. As you can see from this next photo, I put a poached egg on the top of mine, but Mr. Scrummy preferred to eat his as they were. It's totally up to you, of course. I think the egg goes really well with the fritters, but the feta and mint certainly make them tasty enough to eat exactly as they are.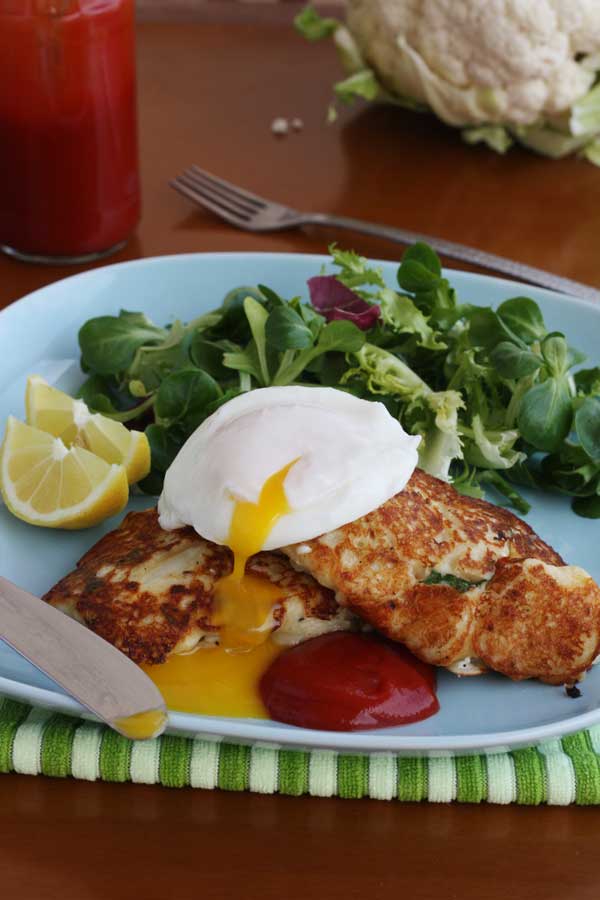 Or perhaps with a big squirt of tomato ketchup on the side. Oh-oh. Reminds me of that Jim Gaffigan sketch again. Hilarious. Here it is if you missed it in my last post!
Just before I go …  I'd love to know what you think. Does the mere thought of a crispy food make your mouth start watering? And if so, what crispy foods in particular get your juices going?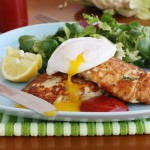 Print
Cauliflower & feta fritters
Lightly crispy fritters packed with healthy cauliflower and tangy feta cheese. Top with an egg or eat them plain with a slice of lemon or two. Perfect for a weekend brunch or light lunch!
Ingredients (UK/Australia? Click button below for grams & ml)
1/2

cup

self-raising flour

(I used gluten-free and it worked fine.)

1/2

cup

buttermilk

(I made my own by adding ½ a tablespoon lemon juice to ordinary milk and leaving it to stand for 5 minutes. Vinegar works as well.)

1

egg

1 1/2

tablespoons

of chopped fresh mint

9

ounces

cauliflower

chopped into small florets

7

ounces

feta

crumbled

a little oil

for cooking

eggs/tomato ketchup/lemon wedges/green salad leaves

to serve (all optional)
Instructions
Blanch the cauliflower florets by boiling for about 4 minutes. Drain and let them steam for a short while, then heat up a couple of tablespoons of oil in a pan and fry for a few minutes on each side. (Alternatively, roast the florets in a little olive oil in a moderate oven for about 25 minutes. No need to blanch first.)

Combine the flour, buttermilk, egg and mint in a large bowl and mix well. Add the feta and cooked cauliflower and stir well.

Heat a little vegetable oil in a skillet/frying pan and drop spoonfuls of the mixture into the pan and flatten slightly. Cook for a few minutes on each side until golden brown and a little crispy.

Serve immediately with a poached egg on top and tomato ketchup or with lemon wedges. Some fresh green salad leaves go well either way!
Notes
Very slightly adapted from a recipe from the Coles supermarket magazine, Australia.
* 'water plops into pond, splish splash downhill' from a poem by Lee Emmett of Australia, as found here
Nutrition
Calories:
238
kcal
|
Carbohydrates:
18
g
|
Protein:
12
g
|
Fat:
13
g
|
Saturated Fat:
8
g
|
Cholesterol:
88
mg
|
Sodium:
620
mg
|
Potassium:
303
mg
|
Fiber:
1
g
|
Sugar:
4
g
|
Vitamin A:
400
IU
|
Vitamin C:
31.4
mg
|
Calcium:
304
mg
|
Iron:
1
mg
Follow me on Pinterest!
Follow @scrummylane to pin more quick and easy recipes for later
I hope you enjoyed this post! You can subscribe to receive posts directly to your inbox by entering your email address in the box below or at the top of the sidebar on the right.
You can also find more from Scrummy Lane on Facebook and Pinterest and follow me on Bloglovin! Thanks so much for reading!