Last Updated on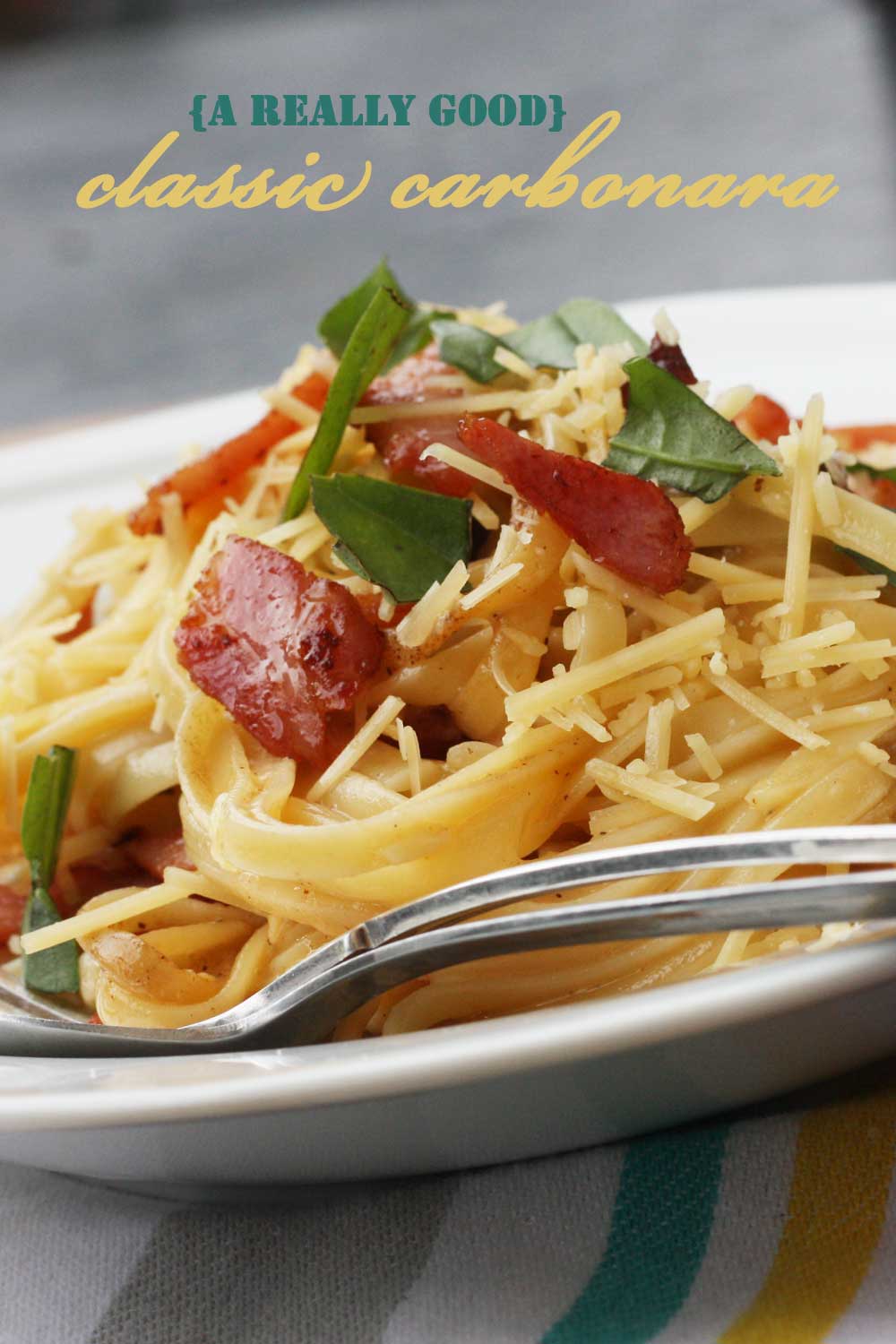 A little while ago, on a quick weekend away here in western Australia, Mr. Scrummy and I found ourselves eating in an Italian restaurant just down the road from the B&B where we were staying. We hadn't done any research on good eateries in the area and were feeling pretty tired, so simply walked the few hundred metres to this local place that we had noticed earlier and thought might be worth a try. I remember skimming the menu and really not knowing which pasta dish to choose because they all sounded so delicious. I finally plumped for a particularly tasty-sounding dish. I forget what exactly was in it, but what I do remember is that the final part of the description was '… with a splash of cream'. It certainly didn't sound overly rich, but in fact what arrived at our table was honestly more like a bowl of cream with 'a splash' of all of the other ingredients in! Needless to say, after a few mouthfuls I was pretty much done.
Before I go any further, I now hereby give you permission to pelt figurative tomatoes at me and call me a big fat food snob. In my defence, though, I have made this 'mistake' myself in the past. In fact, many times, I'm sure. I've suddenly realised that the way I've been making something is a. unnecessarily complicated or b. not doing the dish justice or c. just plain wrong. I'm looking at you hummus with glugs and glugs of olive oil added because I thought that's how you thinned it out, and … now here's what I'm leading onto … I'm also looking at you gluggy, sickly pasta carbonara that ends up either resembling pasta with scrambled eggs or a kind of 'cream soup' like in the aforementioned Italian restaurant episode.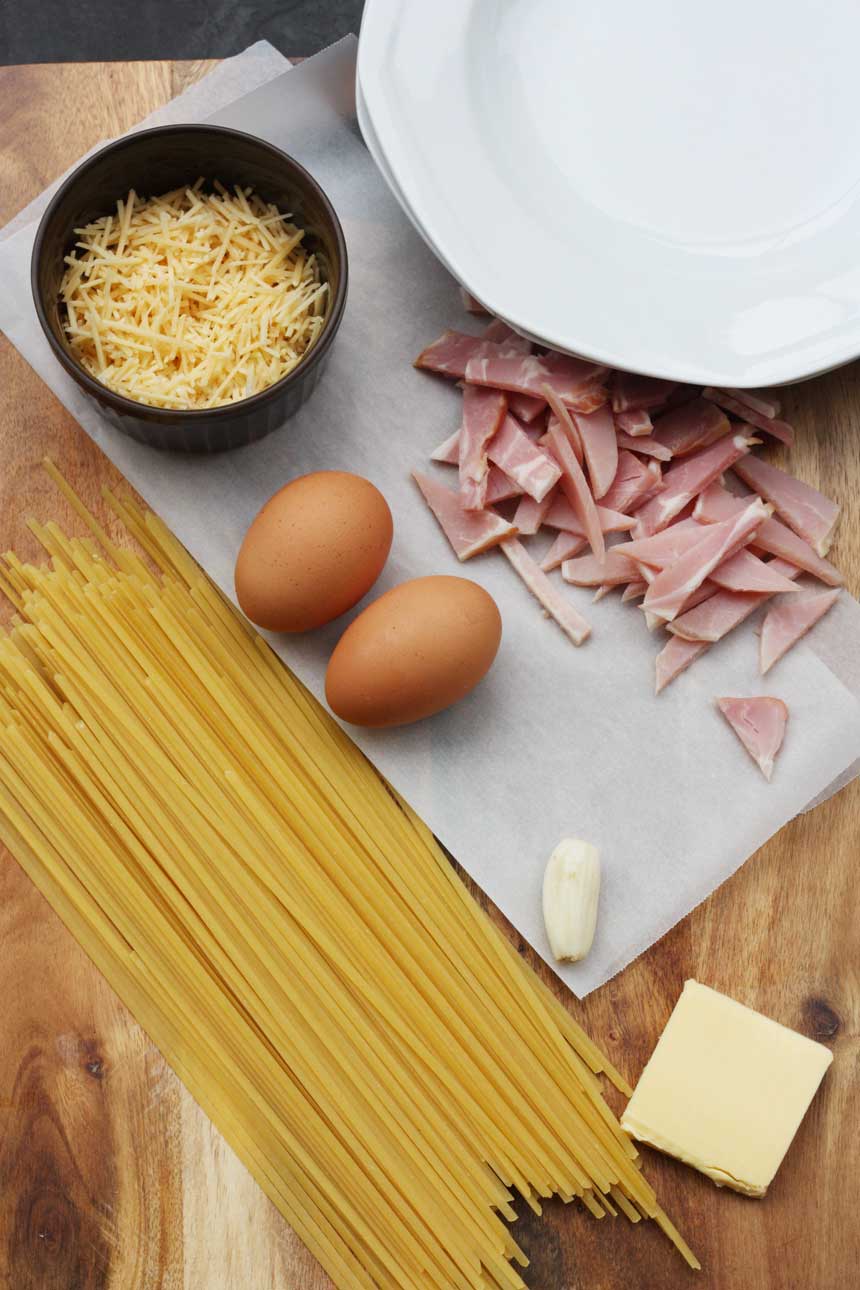 So … pasta carbonara. Food snobbery it may well be, and I'm certainly no perfect pasta dish expert, but I've recently figured out a few things out about how a good classic pasta carbonara should be. With a little help from the great Heston Blumenthal, I must add, who recently gave a demonstration of this on Australian TV.
So with a few of my own tips and a few of Heston's up my sleeve, I decided to have a go at making a perfect, or at least pretty darn good pasta carbonara … and there wasn't a drop of cream in sight!
So, here are said 'tips':
Cook your bacon in butter while your pasta is cooking and add the garlic clove to the pan at the same time so that it infuses into the meat and oil. After the bacon is cooked and just before you add the pasta, take half of the bacon out of the pan with a slotted spoon. This is so that you can scatter it in and on top of your final dish to make sure virtually every bite ends up with a bit of bacon in it! The garlic just gets discarded but I smooshed a sneaky bit into my pan first. 😉
Make sure your eggs and about half of your parmesan are whisked up and ready in a bowl for the moment when your pasta is ready because speed will be crucial at this point!
When your pasta is ready, instead of draining it lift it out of the pot and into the bacon pan (hello, flavour!) with tongs so that a little of the cooking water goes with it – this will help you get a silky finish on your final dish. Don't throw away the water at this point either in case you want to add a little more at the end.
When you add your pasta to your bacon, first of all MAKE SURE YOU'VE TAKEN THE PAN OFF THE HEAT! Then, when you add your eggs lift the pasta a few times with the tongs to distribute the eggs evenly through it and 'cook' them without turning them into scrambled eggs! Add a little more pasta water if you think the dish needs it.
Really quickly serve up your pasta into warmed bowls and, now here's the best little trick … layer up your 'components' like so: put a little bit of pasta and eggs in the bottom of the dish, sprinkle some bacon and parmesan on top, then top this with a little more pasta and a final layer of bacon and parmesan. You can sprinkle a little freshly ground salt and pepper and fresh basil or parsley over the top as well if you like.
Lastly (now this one's very important) – SERVE IMMEDIATELY! You want to enjoy your pasta while it's hot, smooth, silky and at its best.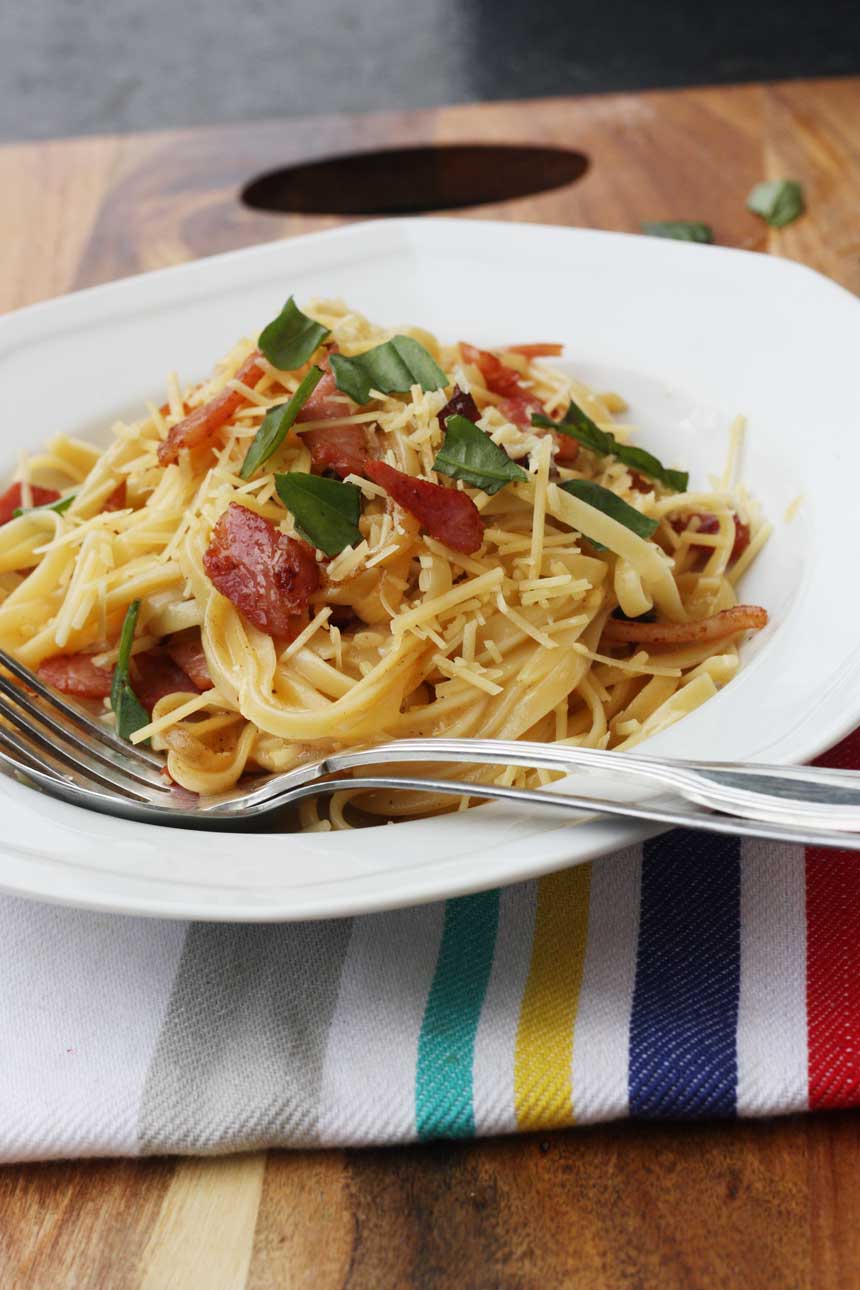 As a little 'aside', I just made the 'mistake' (?) of looking up the name of the pasta that I used in my carbonara, and couldn't believe my eyes. I skimmed down the list trying to recognise what had been on the packet and the list just kept going on and on … and on some more! According to the list I looked at, there are 400 unique types of pasta including many that I've never heard of like 'campanelle' (little bells) and radiatore, apparently shaped like radiators!
Anyway, the pasta I used was linguine, or slightly thicker and flatter spaghetti. The usual rule is: thick sauce – thick pasta, thin sauce – thin pasta but it seems to me that a carbonara made in this classic 'just eggs' way is both light enough and rich enough to be made with a variety of types and shapes of pasta … if that makes sense.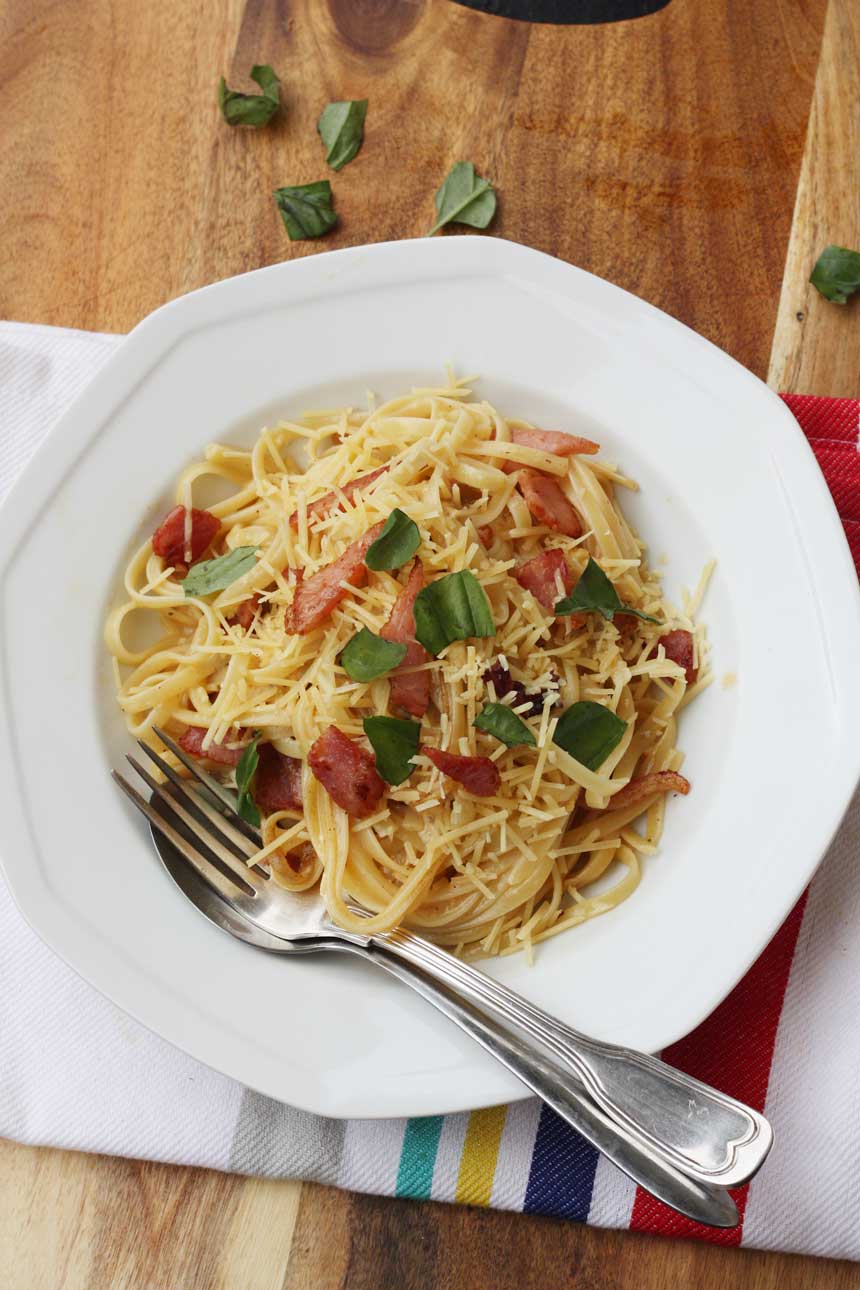 So … I really hope that you have a go at a 'proper' carbonara some time soon and enjoy it … please let me know if you do!
Are there any dishes that you suddenly realised you'd been making totally 'wrong' and have you mended your ways now? 😉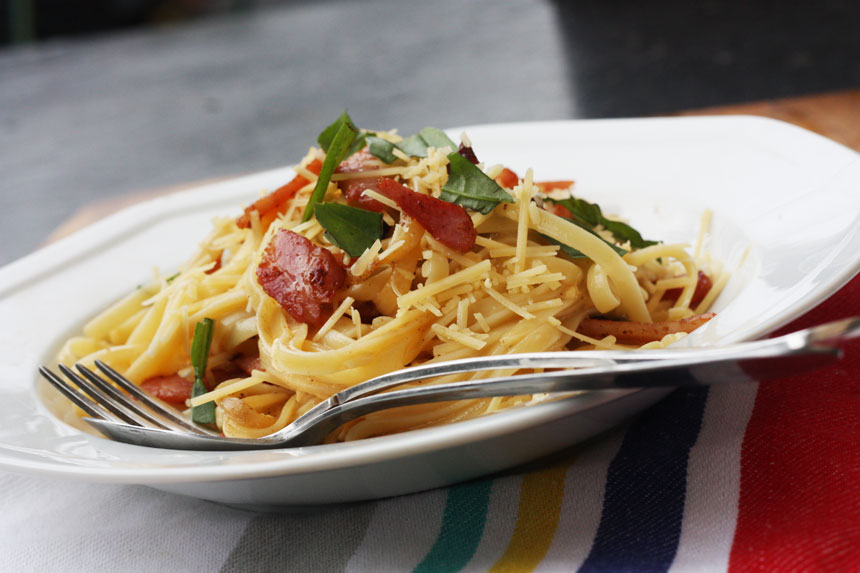 A really good classic pasta carbonara
No cream, no heavy sauce, just a really good eggs-only based classic pasta carbonara ... both light and decadent at the same time.
Ingredients
3.5

ounces

bacon or pancetta

chopped

2

tablespoons

butter

1

garlic clove

peeled but left whole

2

eggs

whisked

1/3

cup

grated or shaved parmesan cheese

6

ounces

linguine or spaghetti

or any pasta of your choice, frankly

salt and freshly ground black pepper

a little chopped fresh basil or parsley

optional
Instructions
Put a large pot of water on to boil and cook the pasta according to the cooking instructions.

Meanwhile, heat up a large pan/skillet and add the butter. When it's melted and hot, add the bacon and garlic clove to the pan and let it cook, stirring often, for about five minutes until golden and crisp. Then discard the garlic clove (it will now have flavoured your dish!)

When the pasta is ready, take about half of the bacon out of the skillet with a slotted spoon and put it aside. Then take the skillet off the heat and use some tongs or similar to lift the pasta straight out of the pot and into the bacon frying pan/skillet. As quickly as you can, pour the eggs and parmesan mixture into the pan/skillet and briefly toss everything together so that the eggs just cook (without scrambling!) Add a little more cooking water if necessary.

Immediately serve out a little of the pasta onto each dish, then top with a sprinkling of reserved bacon and parmesan. Top this layer with more pasta and the remaining bacon and parmesan. Finally, grind over salt and pepper and scatter with basil or parsley if you like.
Nutrition
Calories:
753
kcal
Carbohydrates:
65
g
Protein:
29
g
Fat:
40
g
Saturated Fat:
18
g
Cholesterol:
237
mg
Sodium:
763
mg
Potassium:
348
mg
Fiber:
2
g
Sugar:
2
g
Vitamin A:
720
IU
Vitamin C:
0.5
mg
Calcium:
240
mg
Iron:
2.2
mg
I hope you enjoyed this post! You can subscribe to receive posts directly to your inbox by entering your email address in the box below or at the top of the sidebar on the right.
You can also find more from Scrummy Lane on Facebook, Pinterest, Twitter and Instagram and follow me on Bloglovin! Thanks so much for reading!
*This post may contain affiliate links which means that if you click on a link and make a purchase I get a small percentage of the amount you spend. At no extra cost to you, of course! Thank you!*