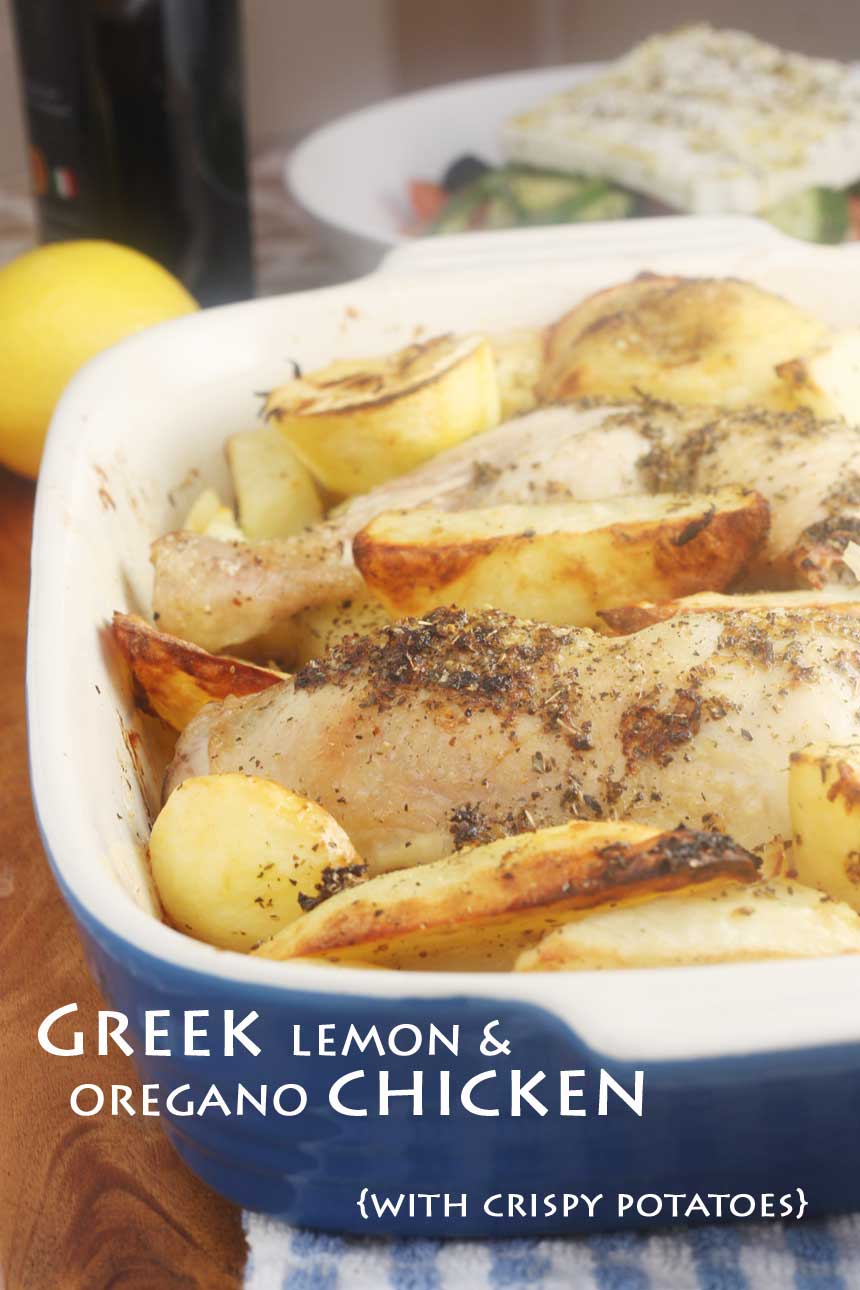 For those of you who haven't immediately scrolled to the bottom of this post to enter the so-amazing-I-can't-contain-my-excitement giveaway (well done you because I would have!) I've got a little extra treat for you today.
Remember those six light & easy dinners in my last post? Well, this Greek lemon & oregano chicken with crispy potatoes is going to make the light & easy dinner tally seven. And boy, is this a good one! It's so little effort to put together that you'll be left wondering whether you've perhaps left out a step. And the taste … well. If you've ever been to Greece you're likely to have had some version of this over there or at least seen other people eating it as it really is one of the most basic Greek classic home-cooked meals. As you take your first bite you'll be transported right over to the shores of the Mediterranean to a cute little taverna with little blue wooden chairs and the sound of waves lapping against the shore.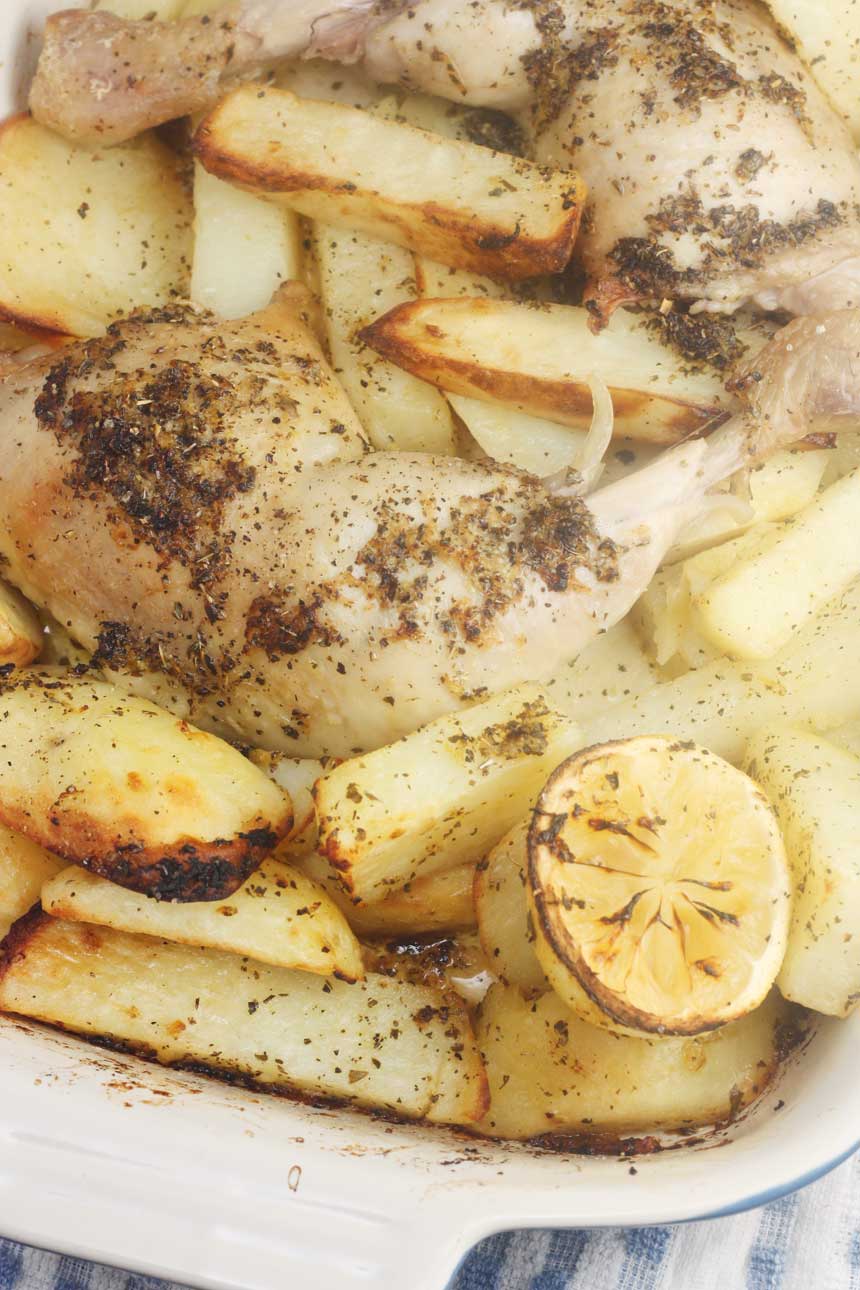 OK, so I'm exaggerating a bit, but I must say that Mr. Scrummy and I were transported right back to our days in Athens when eating this lovely light and easy chicken dinner (I spent a very long time living in Greece which is why I tend to post Greek recipes here now and again – sorry if this is the fiftieth time you've read this here, but you know, just catering for new-comers and all …)
Preparing this dish really entails no more than heating up the oven to about 200C, popping some potato wedges into the oven with a little olive oil for about 20 minutes to start off the cooking process, then nestling some of those big chicken leg and thighs in between them before drizzling the whole lot with a mixture of olive oil, lemon juice and zest and dried oregano. Finally, grind over plenty of sea salt and black pepper, then chuck the whole lot back into the oven, go off and do your laundry, drink a glass of wine, watch TV, natter to a friend on the phone or whatever for 35 or 40 minutes and then come back and you've got yourself a beautiful dish of zingy, perfectly-cooked lemon chicken … and don't forget those crispy potatoes. The juices from the chicken run into the potatoes and make them perfectly tasty and tender … and yet with plenty of yummy crispy bits as well. Don't forget to scrape out all the juices and sticky bits from the bottom of the pan too as you serve this!
There's really no wonder this meal is so popular in Greece. I can hardly imagine anyone not liking it and it wouldn't be too much of an exaggeration to say I could eat it every day of the week without getting bored. Or at least a few days a week.
The very best way to serve this is with a nice big traditional Greek salad. Don't leave out this part. Trust me on this one. It's a tried and tested by myself and Mr. Scrummy about a hundred times (at least) and by at least 11 million Greeks about a thousand times each (at least) pairing. It works. And more on this in my next post because I get very upset about people not making Greek salads properly and would like to set you straight on that one … 😉
Scroll down to the end of the post for the recipe for the Greek lemon chicken, but maybe wait a bit because now …
It's time to move onto today's super exciting giveaway! Yippee! Not only do you get the chance to win a whole $700 (US) in Paypal cash or Amazon vouchers all for yourself (your choice) but you also get to subscribe to free recipes from seven high quality food blogs with just one click. A subscription to the blogs gets you an entry into the competition and then there's a bonus entry to be snapped up for each of the blogs you decide to follow on Pinterest or Twitter. If you're an existing subscriber to Scrummy Lane, you can still enter!
I really hope you take a moment to check out some (or preferably all!) of my blogger friends' blogs. Here are the links so that you can do that: Nagi's Recipe Tin Eats / Meggan's Culinary Hill / Janette's Culinary Ginger / Kathleen's Hapa nom-nom / Mira's Cooking LSL / Maggie's Omnivore's Cookbook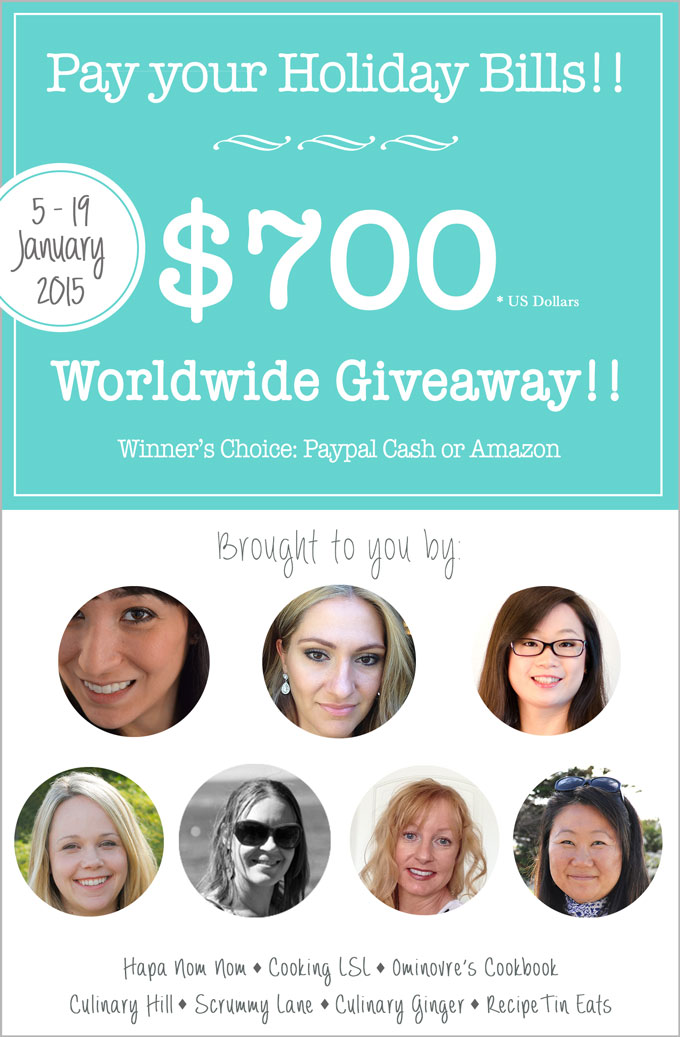 I'm excited about this giveaway generally, but especially because it's worldwide! So many blog giveaways are restricted to the US, so as I'm not from there myself, this is definitely my kind of giveaway! Last but not least, the giveaway runs from today until 19th January, so you and your friends and family have got two whole weeks to enter.
Good luck and see you later in the week for that Greek salad post!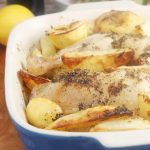 Greek lemon & oregano chicken with crispy potatoes
The easiest and yet surely one of the tastiest one-pot chicken dishes you could ever make. Millions of Greeks can't be wrong! Just bake chicken and potato wedges together drizzled with an olive oil, lemon and oregano marinade. Perfect served with a traditional Greek salad.
Total Time
1
hour
12
minutes
Ingredients
28

ounces

medium-sized potatoes

peeled & sliced into wedges

1/4

cup

olive oil

plus a little extra

2

large bone-in skin-on chicken legs

(the ones with both the leg & thigh)

1

lemon

zest & juice

1

teaspoon

dried oregano

salt & black pepper
Instructions
Pre-heat the oven to 390F/200C (perhaps a little lower in a fan assisted oven).

Put the raw potato wedges into a large baking dish or roasting pan (in one layer if you can – or not piled on top of each other too much). Drizzle with a little olive oil, toss with your hands and bake for about 20 minutes.

Remove the potatoes from the oven and nestle the chicken in amongst them in the dish (be careful not to burn yourself on the dish like I did!) Poke the squeezed lemon halves in there as well - why not!

Whisk together the olive oil, lemon juice & zest & oregano and drizzle all over the chicken and potatoes. Grind over plenty of salt and black pepper, then put the dish back in the oven and bake for 35 to 40 minutes or until the chicken juices run clear when you poke the meat with a knife.

Serve with a big traditional Greek salad (see next post!)
Recipe Notes
This can very easily be doubled or tripled for a larger number of people – just use a HUGE dish (or you could use 2 smaller ones of course).

I made this with big chicken legs, but you could easily use a whole chopped up chicken if you preferred, or even a whole chicken not chopped up – if you do this, just place the potatoes around the chicken and add them to the roasting pan at the beginning instead of pre-cooking them as in the recipe above.

Serve with a Greek salad of tomatoes, cucumber, onions, green peppers, black olives and a big slab of feta cheese. Sprinkle the salad with oregano and plenty of olive oil just before serving.
Nutrition Facts
Greek lemon & oregano chicken with crispy potatoes
Amount Per Serving
Calories 762
Calories from Fat 432
% Daily Value*
Total Fat 48g 74%
Cholesterol 119mg 40%
Sodium 149mg 6%
Potassium 1975mg 56%
Total Carbohydrates 55g 18%
Protein 31g 62%
* Percent Daily Values are based on a 2000 calorie diet.
I hope you enjoyed this post! You can subscribe to receive posts directly to your inbox by entering your email address into the box at the top of the sidebar on the right.
You can also find more from Scrummy Lane on Facebook, Pinterest, Twitter and Instagram and follow me on Bloglovin! Thanks so much for reading!
*This post may contain affiliate links which means that if you click on a link and make a purchase I get a small percentage of the amount you spend. At no extra cost to you, of course! Thank you!*