You know what you're making for dinner tonight, but what shall you serve with it? We've been serving these olive oil and salt toasts for literally years. Make them once and they'll become your go-to easy side dish too!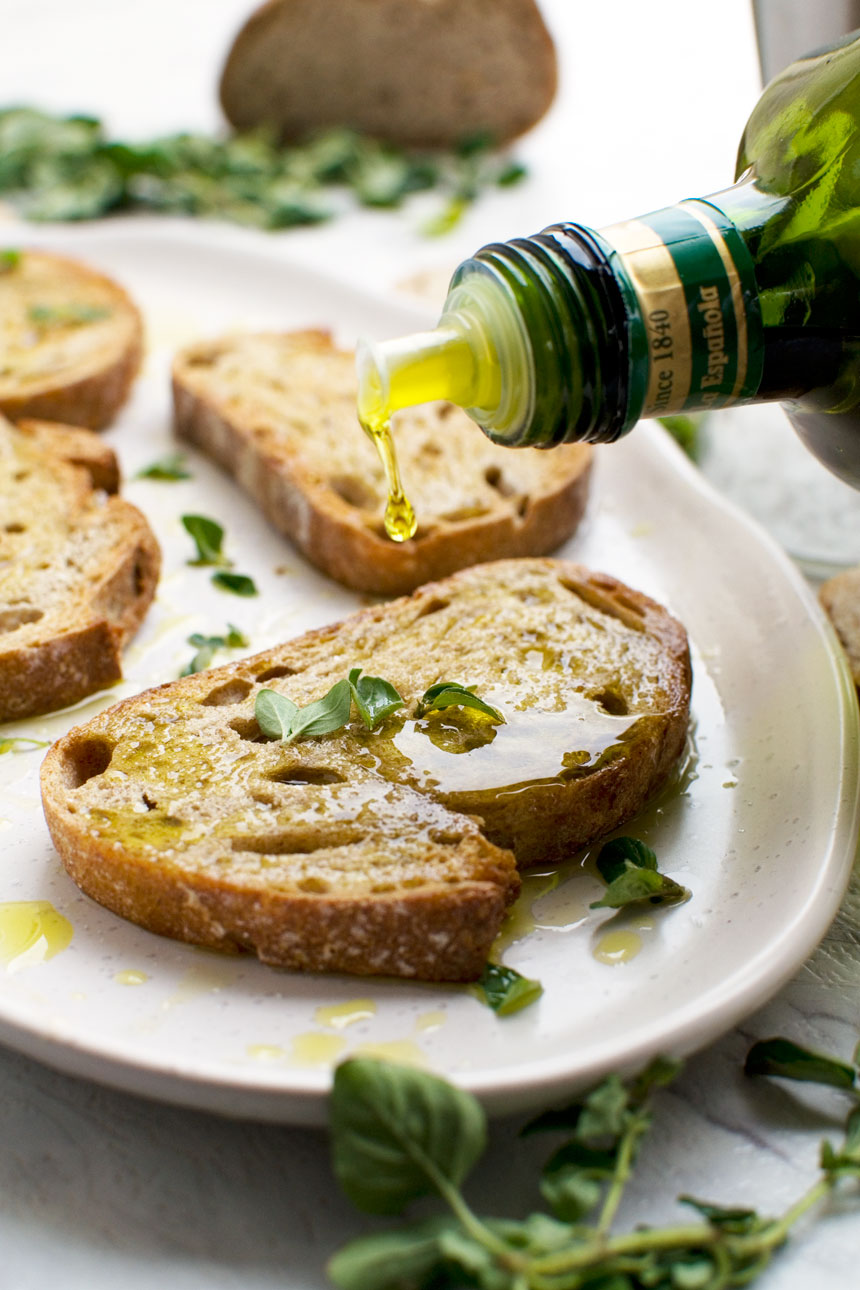 The easiest side dish
When you need dinner to be quick and easy (like… most nights?) the last thing you want is to be messing around with side dishes.
I know what you're thinking. How is this even a recipe? Why are you telling me this?
Well, I suppose it isn't a recipe really. It's an idea. But it's a really good idea, in my humble opinion, and a side dish that Mr. Scrummy have been making for YEARS.
I think we originally got the idea when I was living in Greece. While the idea isn't a traditionally Greek one (to my knowledge!), several restaurants served it to us on the side.
We've been hooked ever since! Why?
It's the EASIEST side dish you can imagine. It literally takes 2 minutes to throw together.
It's a VERY tried and tested idea. We eat it with midweek meals at least once or twice a week. We also comfortably serve it to guests. They often remark on what a good idea it is!
It doesn't require any special ingredients. As long as you always have bread in the freezer and good quality olive oil in the pantry (I assume you always have salt!).
If you're a fan of the Mediterranean diet, this is a perfect way to get more olive oil into your diet.
What ingredients do you need, and how do you make them?
You need just 3 ingredients:
Good quality sliced bread
Good quality extra virgin olive oil (non negotiable!)
Freshly ground salt (any kind you like, really, but on the chunkier side is good)
I always have some suitable bread in the freezer – already sliced. That way I can grab as many slices of bread as I need and toast them straight from frozen.
Step 1: Just before you're going to serve your meal, pop some bread in the toaster.
I like my bread to be on the well done side so that it's nice and crispy. Mr. Scrummy prefers it lightly toasted.
Step 2: When it's toasted to perfection, simply drizzle over some olive oil and scatter over some salt. Add optional fresh herbs.
Step 3: Serve while still warm.
How much olive oil and salt? Well, really that's up to you. It's good to have your olive oil in some kind of drizzle bottle so that it doesn't slosh all over your toast. Something like this.
What bread to use
I've used MANY different kinds of bread to make these toasts. It really depends on your preferences, or what you happen to have.
Most often, I use a light rye sourdough from our local supermarket's fresh bakery.
Or a wholemeal or multi-grain bread from the farmer's market.
When I lived in Greece however I often used Greek style pitta bread. I sliced it into 4 triangular pieces and toasted it lightly.
I've even used sliced Turkish bread, which is popular here in Australia, or ciabatta bread (both sliced vertically like you would a normal loaf of bread – you get tiny slices but that's OK).
If you're feeling a bit fancier, one of my favourite options is this homemade no-knead focaccia bread. It's a perfect project for a day when you're stuck in the house, and much much easier than you might think!
On the other hand, if all you have is normal white or brown sliced bread, then feel free to use that too. Just slice each slice of toast into 2 triangles.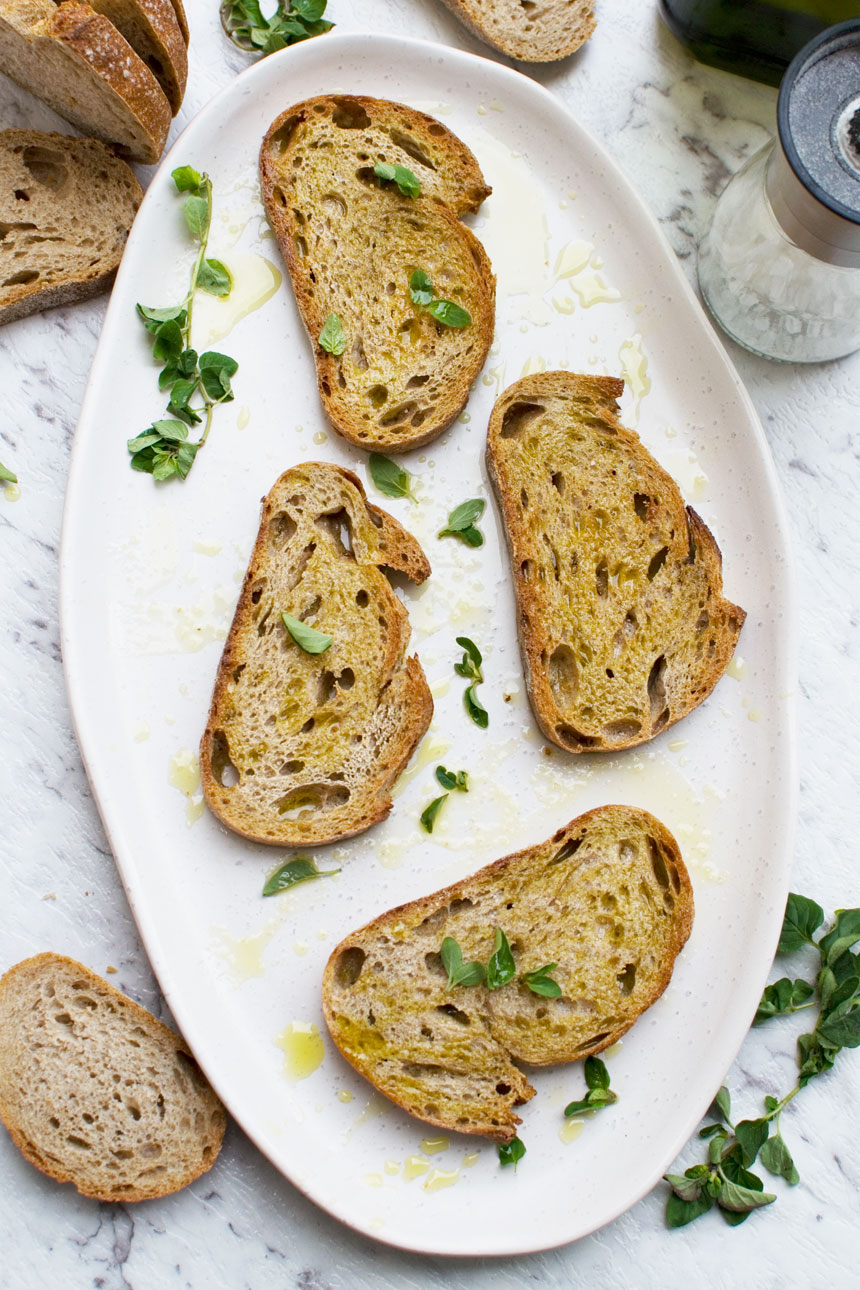 I like this idea. But how can I jazz it up a bit?
These days I mostly just use whatever nice bread I have to hand, some good quality oil and some freshly ground sea salt.
But over the years I've made this 2 minute side dish in many different ways:
I've added a sprinkle of fresh herbs such as fresh oregano, parsley, basil or thyme.
I've used Greek style pitta bread instead. Simply cut the pitta bread in quarters and toast, drizzle and sprinkle as normal. If you like you can add a sprinkle of paprika and/or lemon juice too.
I've sliced a clove of garlic in two and rubbed the bread with the cut side of the garlic before toasting it. The easiest garlic bread imaginable!
And what kind of meals can I serve olive oil toast with?
Love this idea? You'll probably like this Spanish pan con tomate too! Either pan con tomate or these easy olive oil toasts would go brilliantly with a perfect authentic Spanish omelette!
Here are some of the meals from Scrummy Lane that we ALWAYS serve this easy side dish with:
Or just use them as the base for a delicious piece of loaded toast! Pile on smashed avocado and feta, this incredible 5-minute spicy Greek feta cheese dip (tirokafteri) or hummus with pine nuts.
Looking to add more green veggies to your plate? More super easy side dish ideas are these 10-minute sautéed frozen green beans or 10-minute stir-fried frozen broccoli!
IF YOU MAKE THIS RECIPE, LET ME KNOW HOW YOU GET ON BY LEAVING A COMMENT AND RATING BELOW… AND DON'T FORGET TO SIGN UP TO RECEIVE ALL MY NEW RECIPES BY EMAIL!
FOLLOW ME ON FACEBOOK, INSTAGRAM, PINTEREST AND YOUTUBE.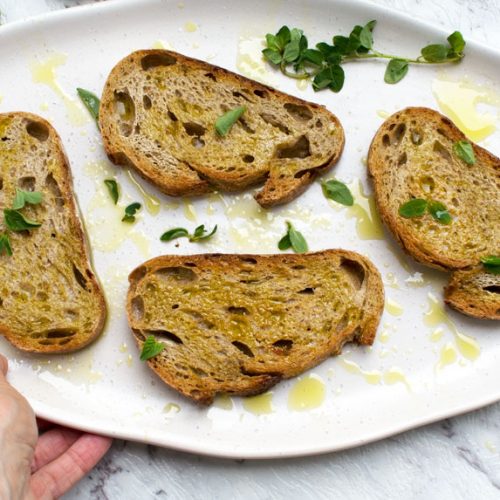 2-minute toasted bread with olive oil and salt (the easiest side dish)
This toasted bread with olive oil and salt is our go-to easy side dish recipe, and I hope it becomes yours too! Just toast slices of your favourite bread, then drizzle with olive oil and scatter with salt. Serve with soups, stews, bolognese, salads, and everything in between.
Equipment (affiliate links)
Ingredients (UK/Australia? Click below for grams/ml)
8

slices

bread

[small slices of fresh bakery or Italian style bread (wholemeal, rye, sourdough, Turkish, Ciabatta, pitta… ) If you only have ordinary large slices of bread, use 4 and cut in two]

2

tablespoons

olive oil

(roughly- I don't usually measure the amount)

salt

to taste (freshly ground e.g. sea salt)
Instructions
Toast the bread in a toaster or under the grill/broiler.

Put the toast on a serving platter, then drizzle all over with the olive oil. Sprinkle over salt to taste.

Scatter over a small handful of fresh herbs e.g. oregano, thyme, basil, parsley (optional). Serve while still warm.
Notes
What type of bread to use
I usually toast frozen sliced bread straight from the freezer. I've used all kinds of different breads including Italian style, sourdough, Turkish bread, Greek style pitta bread or even just plain supermarket bread from a packet.
If the slices are small I keep them whole. If the slices are large I slice them in half after toasting.
Adaptations
You can easily make this into the simplest garlic bread of your life! Just rub the cut side of a clove of garlic all over the bread before toasting, then drizzle with oil and scatter with salt as usual.
You can also scatter over a pinch of paprika, some chili flakes, or even squeeze over a bit of lemon juice.
Add a small handful of fresh herbs too if you have them.
What to serve your toasts with
Soups, casseroles, salads, bolognese and everything in between!
Use Greek style pitta bread sliced into 4 like a pizza instead of ordinary bread.
Do leftovers keep?
If we have any toast left over, we sometimes wrap it and store it in the fridge until the next day. I usually re-toast it on a low setting. This turns out surprisingly OK!
Nutrition
Calories:
213
kcal
Carbohydrates:
28
g
Protein:
6
g
Fat:
9
g
Saturated Fat:
1
g
Sodium:
291
mg
Potassium:
102
mg
Fiber:
2
g
Sugar:
3
g
Calcium:
77
mg
Iron:
2
mg