Last Updated on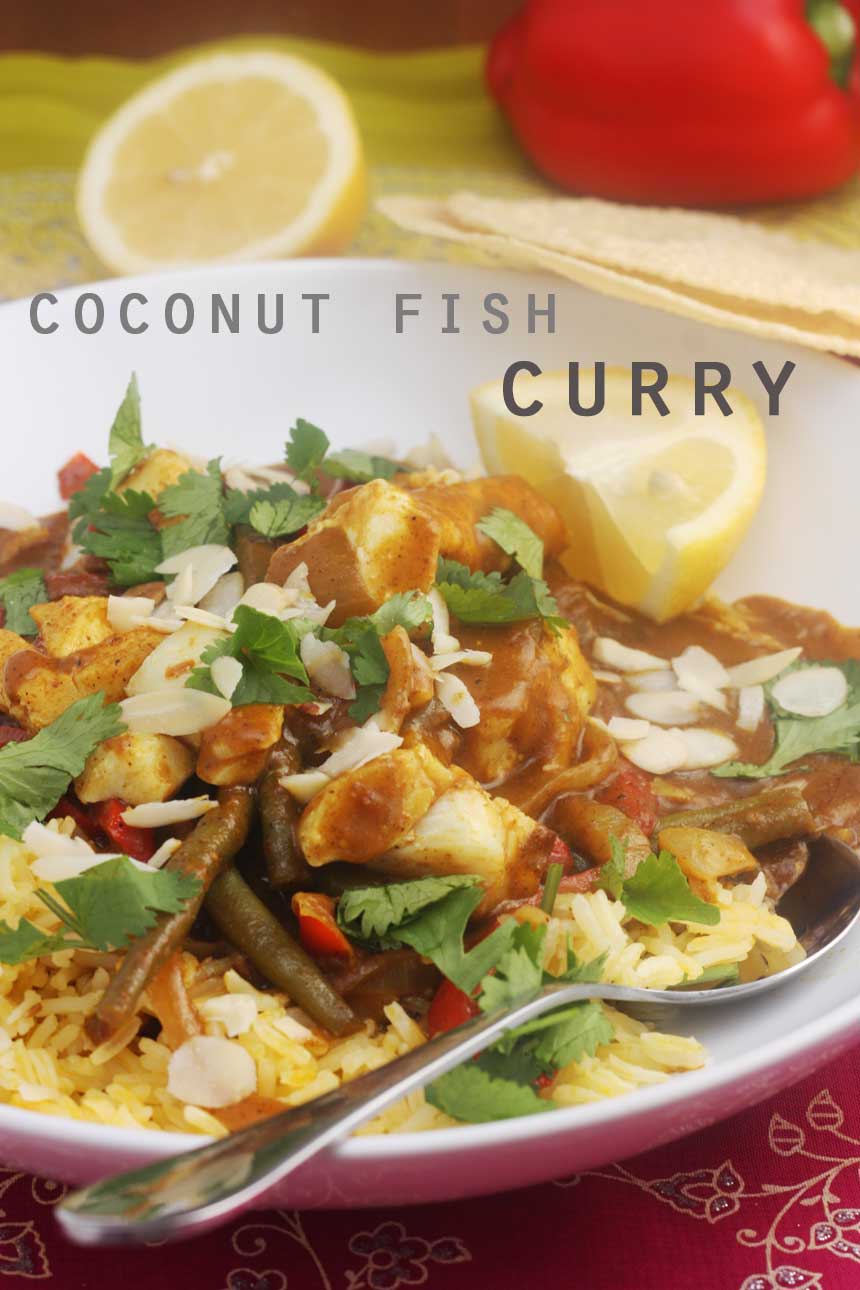 Making this 20-minute coconut fish curry last week (or more like the aroma that lingered in my kitchen for a day or two in our cozy kitchen-living area) took me back to a particularly fun time. A time when I was an early twenty-something living in the East End of London – a very wonderful area of London with a 'colourful' gangster history, lots of high-end converted warehouse apartments (no, not like mine, sadly), trendy designer boutiques, great restaurants, years-old local markets, a famous 24-hour salt-beef bagel shop aaaand … a long, long even more colourful road chock full of curry restaurants. Almost every Friday, my friends and I would walk along our street, turn the corner into Brick Lane and pick a restaurant to dine in for our 'Friday night curry'. I tried many different curries I'd not previously tasted or even heard of, like korai, rogan josh, bhuna, biryani, dhansak, korma, passanda, madras  – always ordered with popadoms and big freshly-made peshwari naan. Mmmm …
At the time, service was not, shall we say, ahem, stellar, and there was a mammoth painted portrait of Princess Diana on the wall of one of our favourite spots to contend with, but the food was super tasty and cheap as chips, and therefore never failed to please.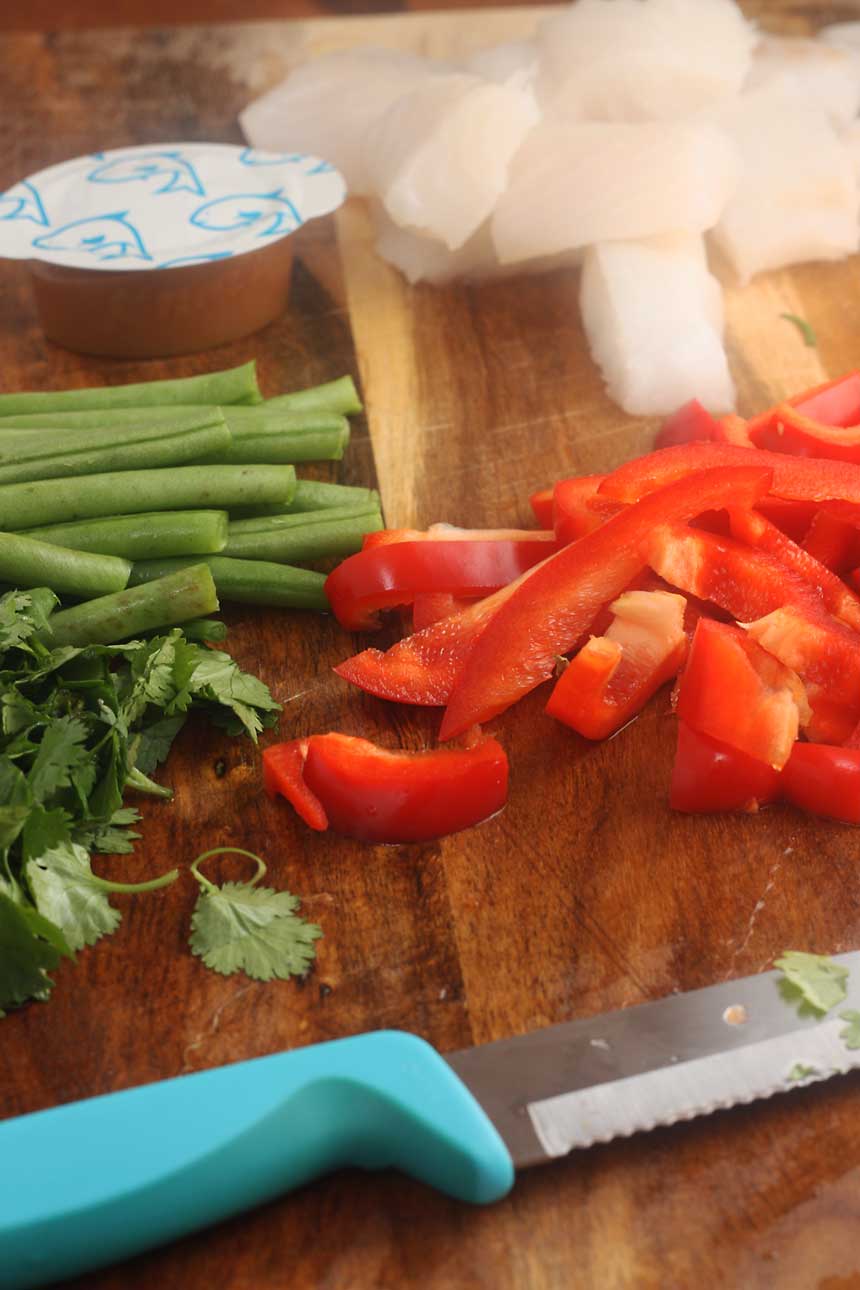 Sadly, moving away from London and to sunnier climes over in Greece brought these outings to an abrupt end and I've had very few curries like it since. And then a couple of weeks ago I went to a curry restaurant again, after a very long time, and the idea of having a go at a curry for the blog popped into my head. An easy one, of course. As I was still feeling a bit fed up of heavy meat-rich food at that point, I decided to have a go, and why not make it a fish curry so that it ended up a bit lighter?
You literally only need about 20 minutes from getting your ingredients together to having this meal finished and on the table. Honestly. And it not only tastes amazing but also ends up looking quite pretty if you add a segment of lemon or lime and sprinkle it with some flaked almonds and coriander at the end as I did. And the other great thing about this is that although I ended up using madras curry paste (that's all my not-so-big local supermarket had), you can use any curry paste that is available or takes your fancy. Try rogan josh (and perhaps add a few tomatoes), or even the much milder korma (actually, korma was what I originally went shopping for …) which works especially well with the coconut milk that's in this basic quick curry.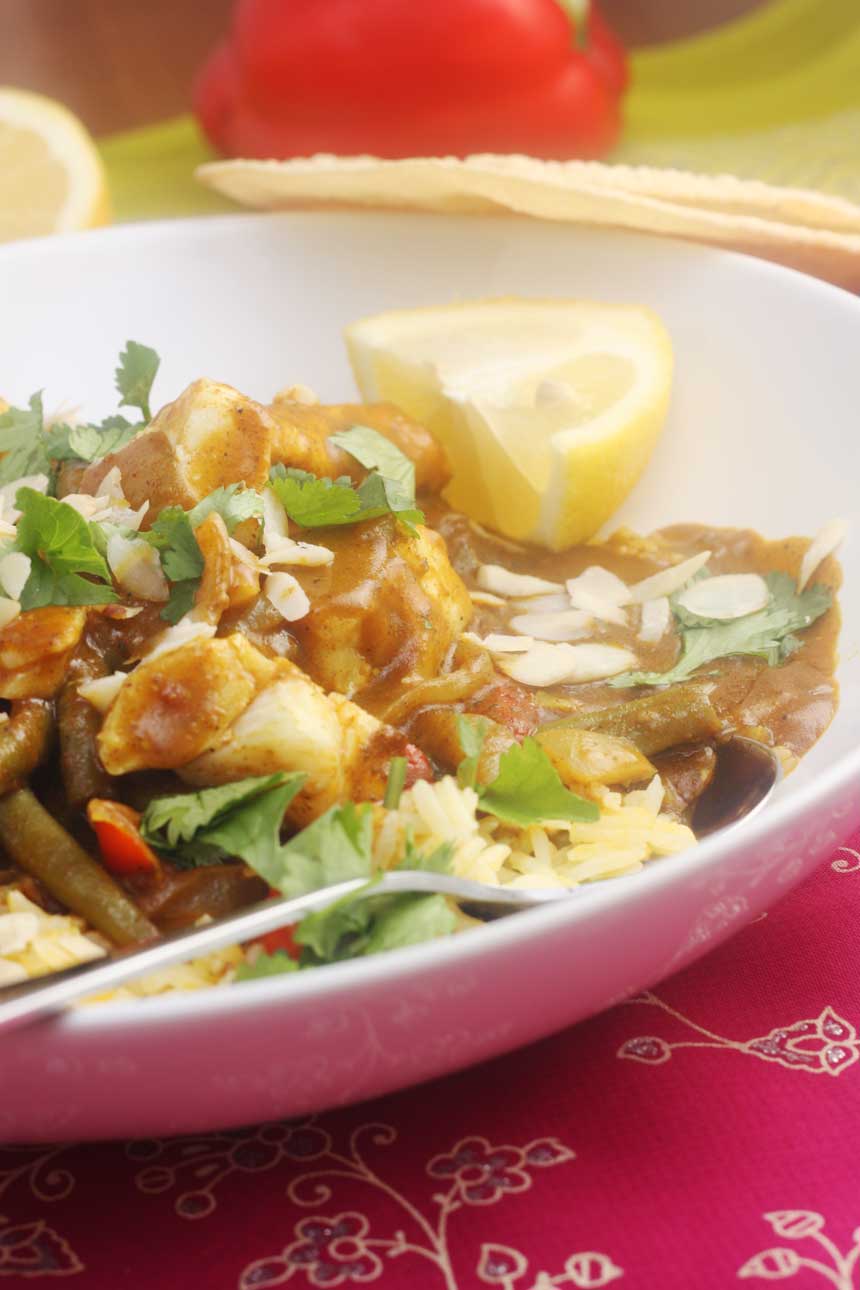 So that's really what this is … a basic formula for a quick mid-week (or weekend – why not?) curry with a coconut milk, curry paste, veggie and fish base. As well as using a curry paste of your choice, you could also easily swap in different veggies. Easy peasy.
Essentially, this is a one-pot meal (if you don't count blanching the green beans and the pot you cook your rice in – and I even cheated there by using a microwavable pre-cooked rice pack for two). All you really have to do is fry a chopped onion until soft in a large saucepan, stir in your curry paste, then add your coconut milk, a stock cube, blanched green beans and a pepper of any colour (I used red for a bit of extra 'pop'). Then you place some white fish (chopped into large-ish pieces) on the top of the dish and put the lid of the saucepan on for around eight to ten minutes until the fish is just cooked.
Don't forget to blanch the green beans – on my first attempt at this curry I didn't and ended up having to remove my fish so that it didn't overcook while the beans had a few minutes longer. Not the end of the world, of course, but it's much less fiddly to pre-cook those little scoundrels a bit first. Unless you use frozen, of course, which would actually be fine – just dump them in at the same time as the coconut milk in that case – no need to pre-cook.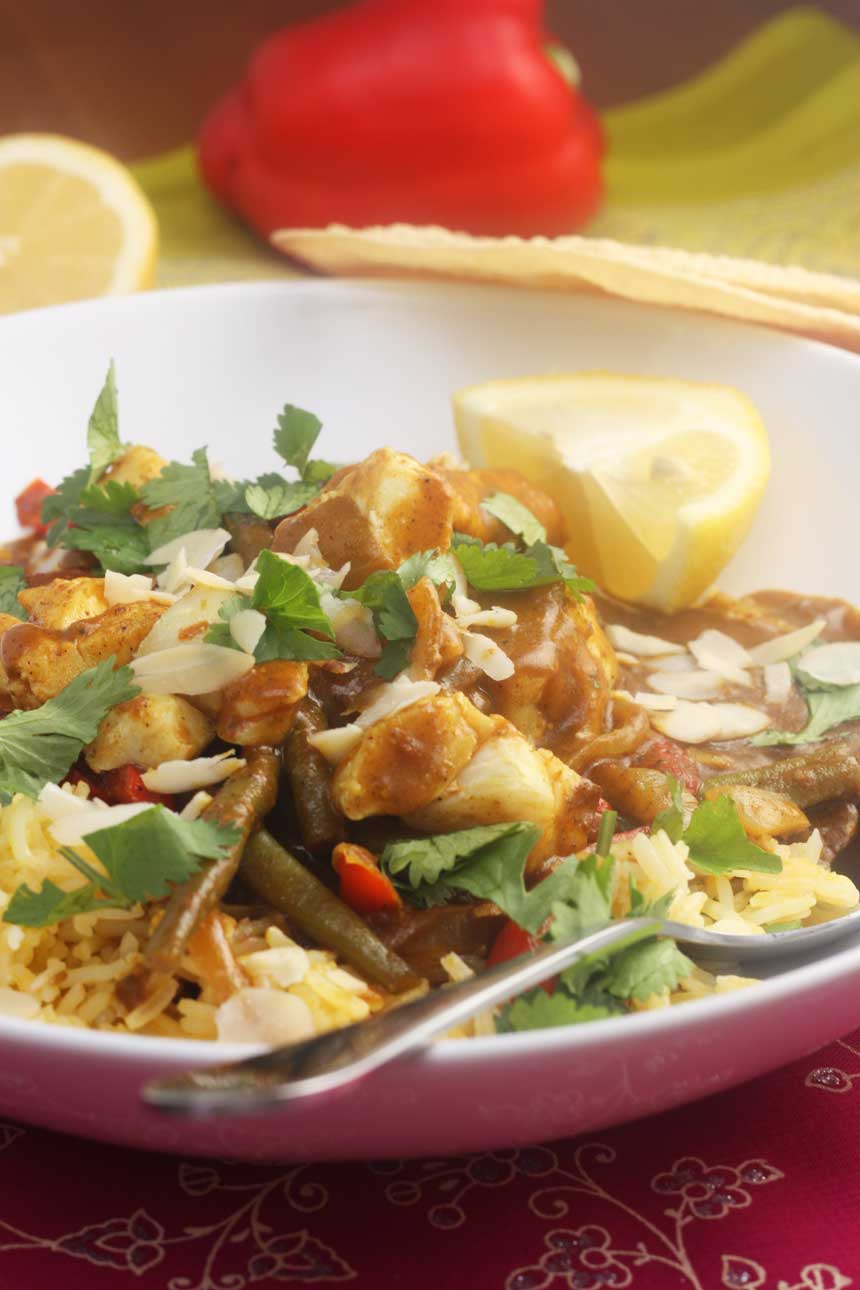 I'll definitely be adding this to my regular meal rotation and subbing in some different curry pastes to see which I like best. You can also adjust the amount of curry paste to taste. I used 2 and a bit tablespoons (for a curry for two) and ended up with a fairly (but really, not overly) spicy dish. It's totally down to personal taste, of course, but I'd say use one and a half tablespoons for a milder flavour and 2 (and perhaps a bit more) tablespoons for a bit more of a hit. The exact spiciness will depend on the brand of paste you use too, of course. If you end up overdoing it a bit, don't worry too much. As I said, our curry was a bit on the spicier side but we just dumped on a spoonful of natural yoghurt to cool it down a little. The result was delicious and got Mr. Scrummy's enthusiastic seal of approval.
If you generally like curries and you like fish, I don't think this 20-minute coconut fish curry will disappoint. Oh, don't forget to sprinkle over those slivered toasted almonds at the end. They add a delicious nutty crunch!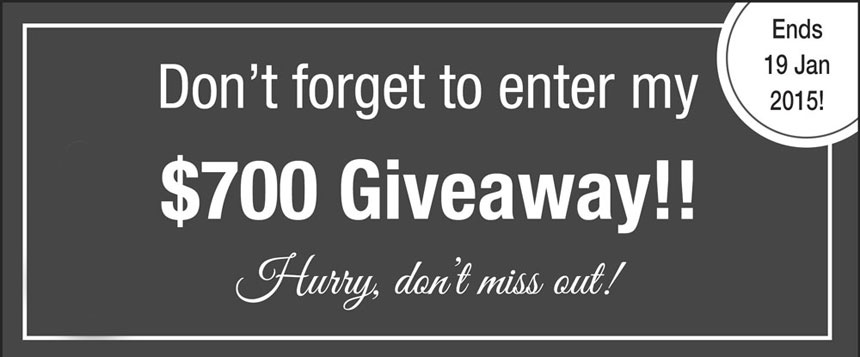 Print
20-minute coconut fish curry
A quick and light fish curry recipe with punchy Asian flavours and a creamy coconut base. Served with rice and sprinkled with toasted almonds and coriander.
Ingredients (UK/Australia? Click button below for grams & ml)
a medium onion

sliced

2

tablespoons

curry paste e.g. korma

rogan josh, madras … (adjust amount of paste to taste)

1

cup

coconut milk

full or lower fat

one stock cube

fish, chicken or veggie

2.5

ounces

green beans

fresh or frozen

1

red or green or yellow pepper

chopped into large chunks

7

ounces

white fish

cut into large chunks (& defrosted if frozen, which is fine)

2

tablespoons

fresh coriander

chopped

1 1/2

tablespoon

slivered almonds

rice

to serve

lemon or lime wedges

natural yoghurt, popadoms/naan bread to serve (optional)
Instructions
Heat a drizzle of oil in a large saucepan, then fry the onion gently for a few minutes until softened. Meanwhile, heat a kettle of water and then blanch the green beans for a few minutes in a small saucepan (if using fresh beans).

Add the curry paste along with a splash of water and stir for a minute or two to release the flavours.

Stir in the coconut milk and crumble in the stock cube, stir around then add the blanched green beans (or frozen green beans) and pepper. Stir around and let it simmer for a few minutes with the lid on the saucepan.

Lay the fish on top of the sauce and vegetables, then replace the lid and simmer for another 8 to 10 minutes or until the fish is just cooked.

Meanwhile, lightly toast the almonds in a dry frying pan (you could get your other add-ons ready during this time, too - rice, coriander, yoghurt, naan, lime/lemon etc.) Serve out the curry into bowls carefully (to keep the fish in large pieces), sprinkle on the coriander and almonds and add a lemon/lime wedge (if using). Enjoy with the yoghurt and your rice and/or naan and/or popadoms as you prefer.
Nutrition
Calories:
407
kcal
|
Carbohydrates:
12
g
|
Protein:
25
g
|
Fat:
30
g
|
Saturated Fat:
22
g
|
Cholesterol:
49
mg
|
Sodium:
71
mg
|
Potassium:
801
mg
|
Fiber:
3
g
|
Sugar:
5
g
|
Vitamin A:
4495
IU
|
Vitamin C:
82.7
mg
|
Calcium:
84
mg
|
Iron:
5.6
mg
This post may contain affiliate links to products I use to make this recipe!
I hope you enjoyed this post! You can subscribe to receive posts directly to your inbox (for free, of course!) by entering your email address into the box at the top of the sidebar on the right.
You can also find more from Scrummy Lane on Facebook, Pinterest, Twitter and Instagram and follow me on Bloglovin! Thanks so much for reading!
*This post may contain affiliate links which means that if you click on a link and make a purchase I get a small percentage of the amount you spend. At no extra cost to you, of course! Thank you!*