Need a super quick and easy side dish that tastes surprisingly delicious? This recipe for sautéed frozen green beans is simple enough for weeknight dinners but also classy enough for special occasions.
No need to defrost the green beans first! Simply toss your frozen beans and chosen dried seasonings into a skillet and stir fry until bright green and tender-crisp. In just 10 minutes, your tasty and healthy side dish will be ready.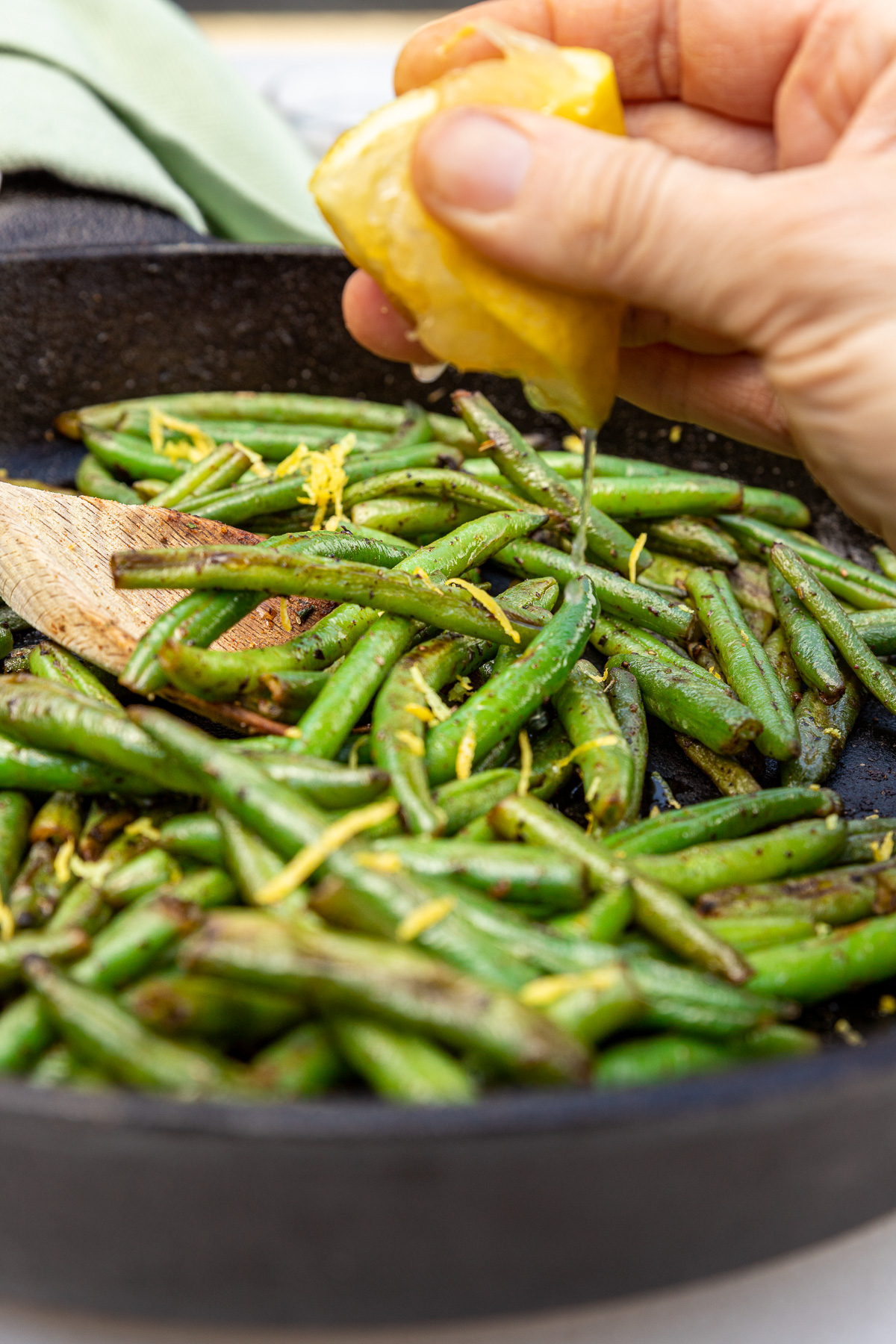 Sautéed frozen green beans are my new favorite simple side dish for dinner. They're as healthy as they are easy, and kind of a blank canvas. You can keep them plain or add your favorite easy flavors such as garlic, black pepper, or lemon.
I also love the perfect mix of tender and lightly browned and caramelized you get when you cook green beans quickly in a skillet.
Not to mention that sautéed green beans go with pretty much everything!
But what I don't love so much is prepping fresh green beans for cooking. Also, green beans don't always stay fresh for very long in the fridge. It's a race against time to use them before they go past their best!
Why you'll love them
✔ Always fresh. Green beans not in season? No worries – just grab the bag of frozen beans. And no worrying about beans going brown in the fridge.
✔ A perfect last-minute side dish option. Ready in just 10 minutes.
✔ No pesky prep necessary. I keep things super simple by using only dried seasoning.
✔ Nutritious. News flash: Frozen green beans are just as healthy as fresh green beans.
✔ Easy to customize. Picky eater in your midst? Melt some butter over the beans before serving and watch the whole family gobble them down!
Fun fact. 'Sauté' comes from the French verb 'sauter' which means 'to jump'! When you sauté something, you cook it quickly in just a small amount of fat – often until it has browned a little. Now I know you're imagining your green beans jumping around in the pan as they cook 😉
Ingredients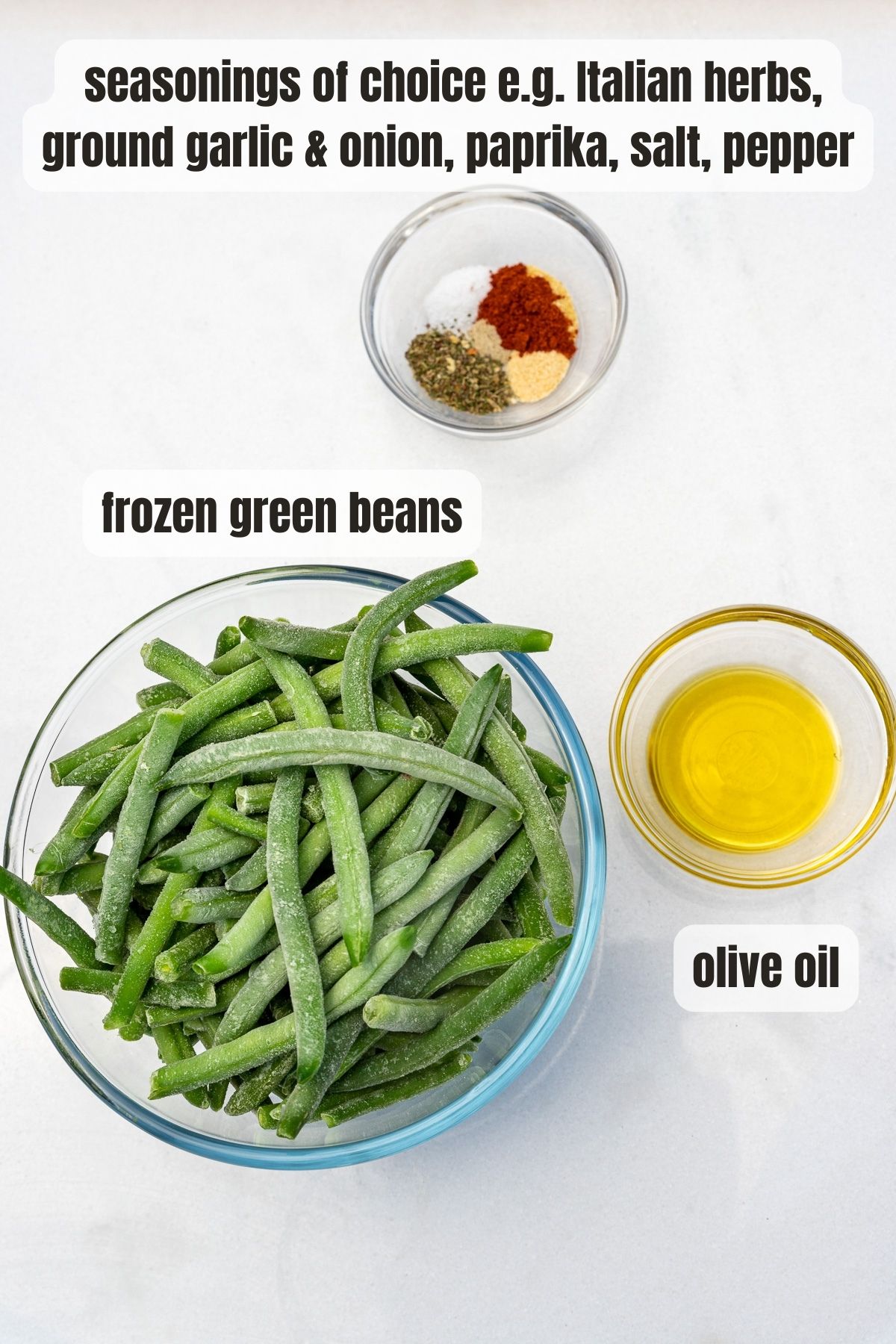 This super easy green bean recipe is such a great option for a last minute side dish. All you need are the frozen green beans and a few flavors, if you like (dried, preferably, so no washing, peeling or chopping necessary!).
Here's what you need to know.
Oil (for cooking): I usually go for olive oil to cook my beans in. Feel free to substitute with any oil of your choice. You can even use butter if you like the idea of buttery sautéed green beans instead!
Green beans: At the store, there can be quite the collection of frozen green beans on offer – cut beans, sliced beans, baby beans, thin beans or whole beans. Sometimes they are even called snap beans, string beans, or haricots verts (the French name!).
Which do I recommend? To be honest, any of these work! But my personal favorite is whole beans or baby beans. They look classier and also seem to crisp up slightly better in the pan than the cut varieties.
Seasonings: 9 times out of 10 I don't wash, peel or chop anything when making this frozen green bean recipe. I simply add pinches and sprinkles of various DRIED flavors from my pantry.
Here are some ideas.
½ teaspoon salt + ¼ teaspoon pepper (black or white)
½ teaspoon of either/both garlic powder and/or onion powder
½ teaspoon paprika (smoked or sweet)
½-1 teaspoon mixed herbs (such as Italian seasoning or herbes de provence)
½ teaspoon lemon pepper seasoning
a pinch of chilli flakes
That doesn't mean that you CAN'T use fresh flavorings if you prefer, such as fresh garlic or herbs. I most often use dried flavors for quickness, but scroll down to 'Variations' below for more ideas!
Top tip: The amounts are to taste. I'll be honest – I usually just shake in a little of this and a little of that depending on how many frozen green beans I'm sautéeing! No measuring spoon in sight!
How to sautée frozen green beans
Step 1: Grab your beans out of the freezer and your chosen seasonings out of the pantry. This will take you a minute or two, tops!
Add a large drizzle (about a tablespoon) of oil to a large skillet, frying pan or cast iron pan. Let it heat up on a medium-high heat until the end of a frozen bean sizzles a little when dipped in.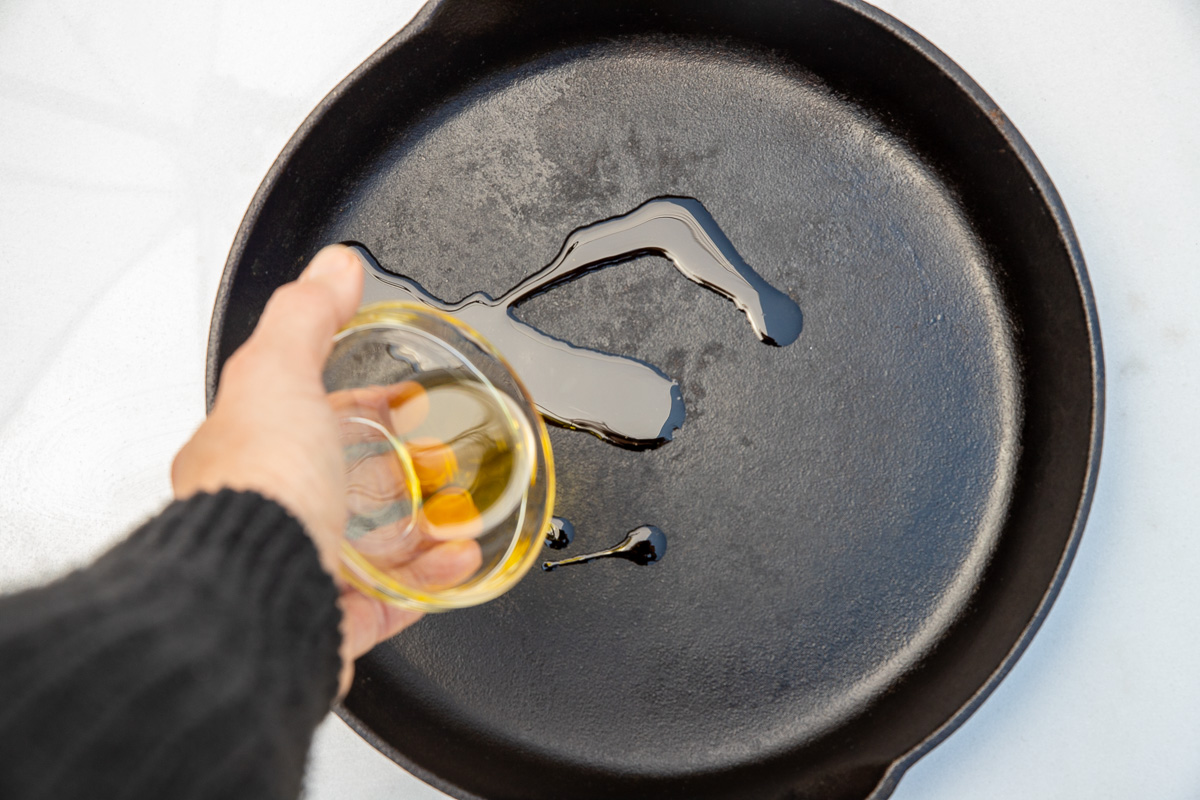 Step 2: Add the beans to the skillet. Toss briefly to get them evenly coated with the cooking oil.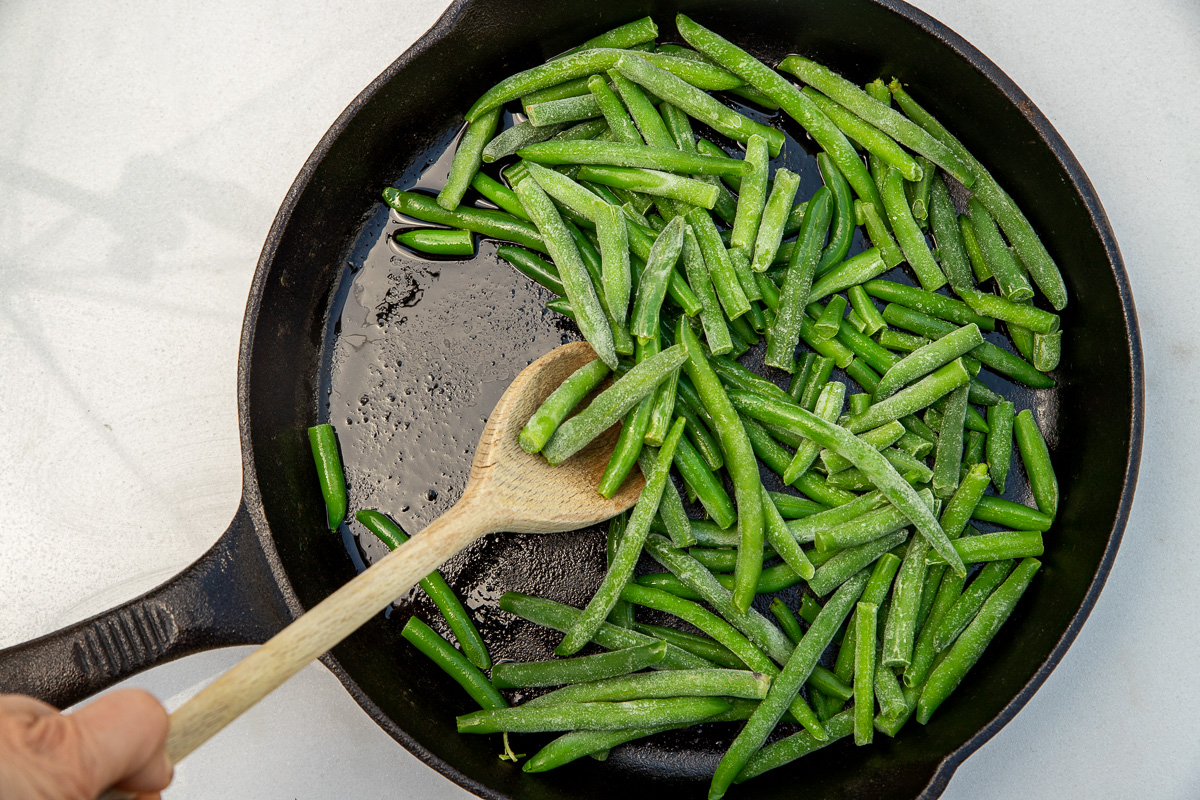 Step 3: Sprinkle over your chosen seasonings. Sauté the green beans for another few minutes (6 to 8 minutes in total), stirring every now and again.
For slightly softer, chewier-in-the-center beans, simply cook for a minute or two longer!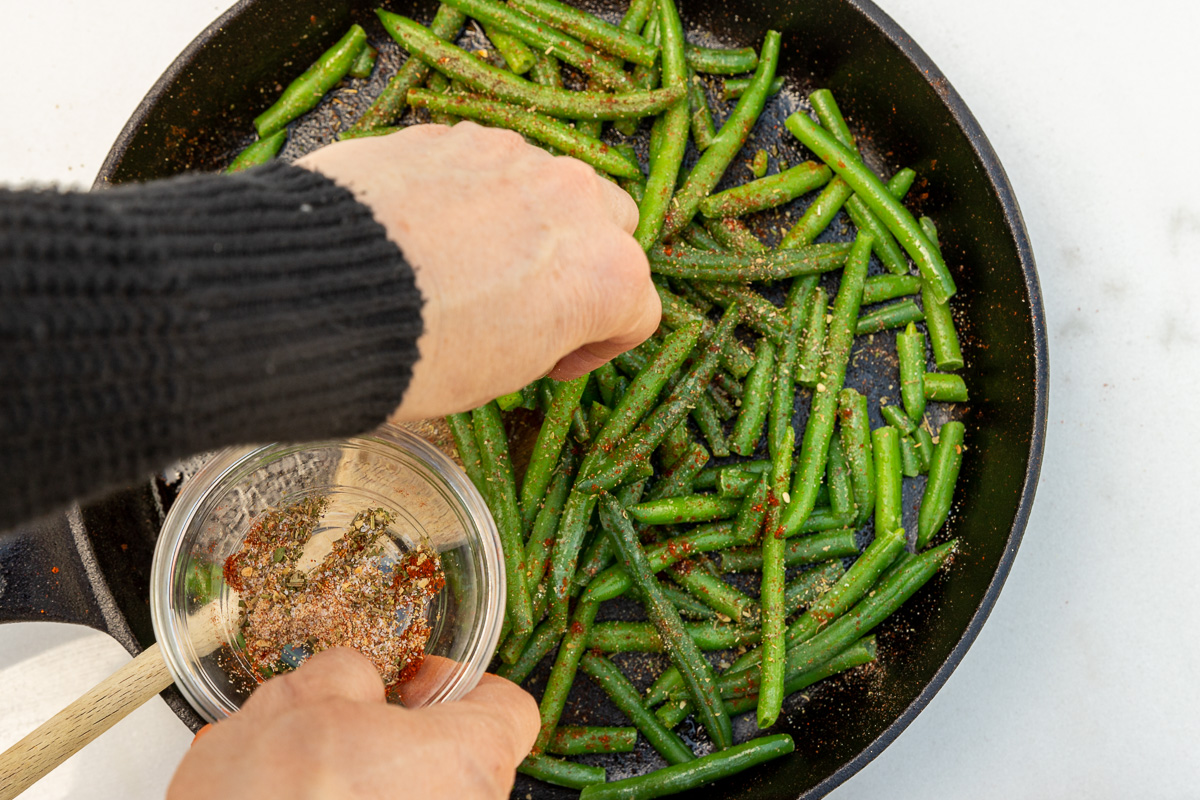 Step 4: Turn off the heat and add a fresh topping (if you like), then serve and enjoy! 🙂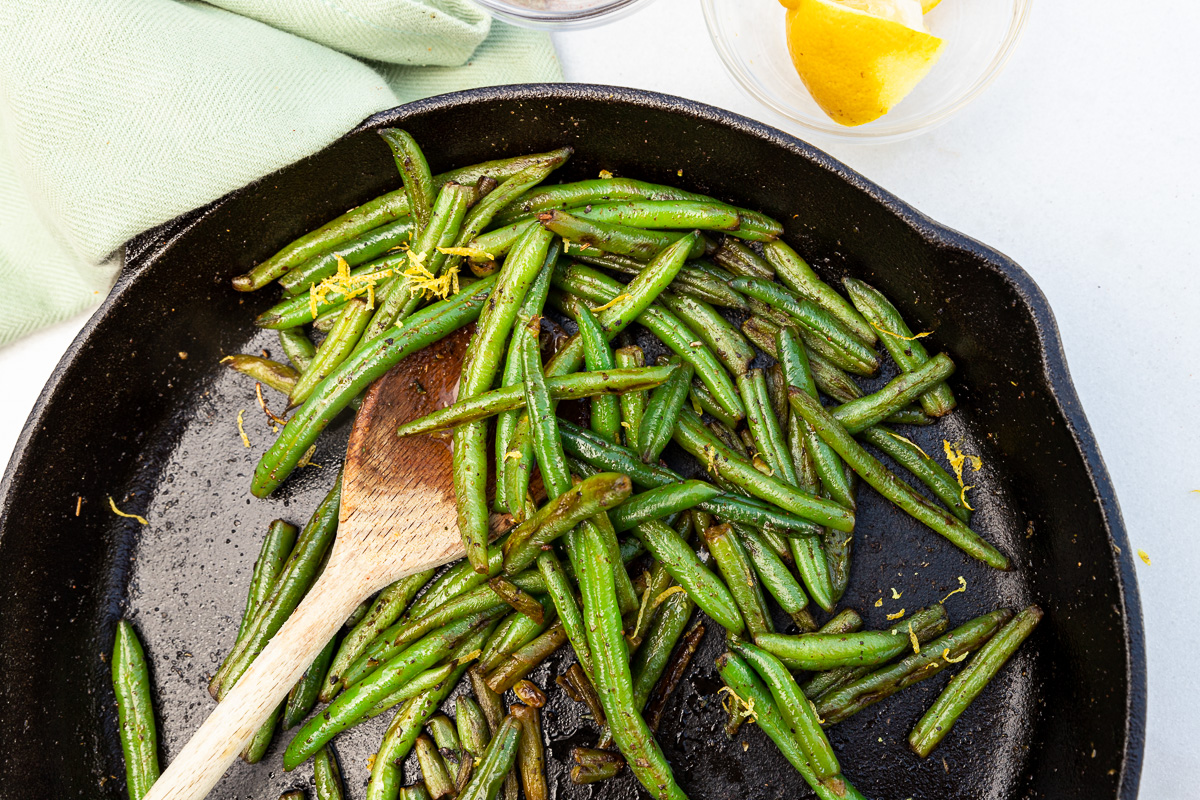 Helen's top tips
I recommend using the largest frying pan or sauté pan you have. It's OK if the beans overlap a little, but you need most of them to touch the hot pan so that they brown rather than steam.
If you're serving more than 4, I recommend using a large dutch oven or wok. Alternatively, you can cook in two batches (or pans!).
You don't need to stir the green beans continuously while they're in the pan. Just toss them around a few times. This results in perfectly cooked beans that are soft in the middle and lightly browned on the outside, without being burned.
Variations
Here are ideas for some flavor-packed 'fresh upgrades' you can make to the sautéed string beans if you like. Why not try a different variation each time?
Add sliced or minced fresh garlic instead of ground garlic.
Melt a little butter over the top before serving for super buttery sauteed green beans!
For lemony green beans, grate a little lemon zest or squeeze lemon juice over the top (as in my photos!). You could even go the extra mile and toss through a little of this simple but delicious lemon & butter sauce!
Sprinkle fresh herbs over the top to serve, such as basil leaves, or fresh oregano, parsley, dill or thyme.
Fry a little bacon or chorizo along with your green beans. I'd pre-fry the bacon for a few minutes, then add the beans into the pan (along with the bacon grease – mmm!).
Toss a handful of grated parmesan cheese through the beans towards the end of the cooking time. Or sprinkle some over at the end. Other cheeses work too, such as crumbled feta cheese, blue cheese, or goat cheese.
Toss a few pine nuts or crushed nuts such as slivered almonds or crushed hazelnuts through the beans to toast them along with the beans.
Stir a little honey and/or balsamic vinegar through the beans before serving.
Sprinkle lightly toasted panko breadcrumbs, or even croutons, over the top.
Sprinkle a thinly sliced chilli over the top, along with a squeeze of fresh lime juice and fresh coriander if you like.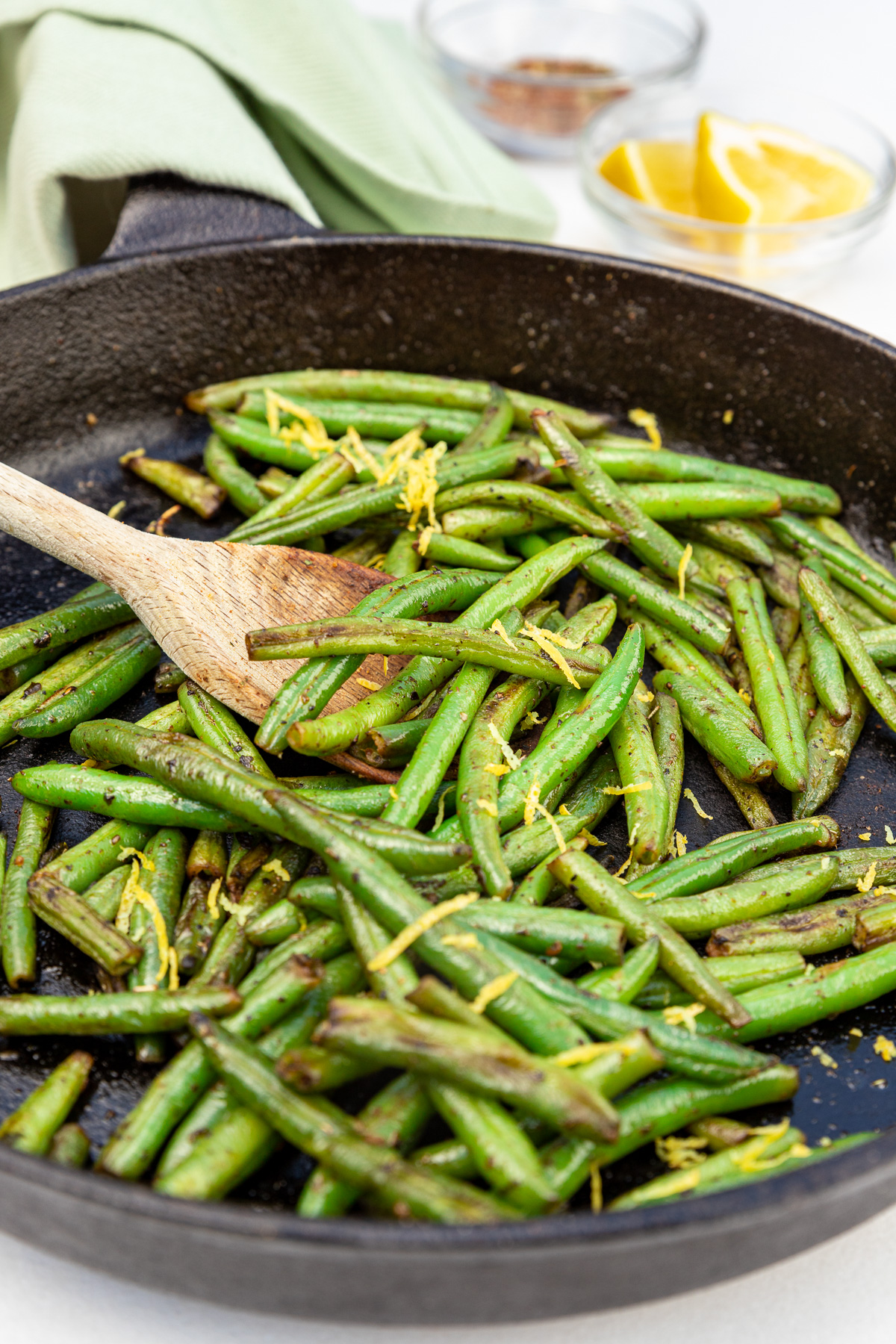 How to serve them
I make these at least once a week on busy weeknights. They're such as tasty way to eat green beans, and a great way to help your family eat more veggies!
I serve them with pretty much anything, but here are some examples of actual meals I've served them with:
Or browse all my quick and easy midweek meals for more ideas.
Recipe FAQ
Are you sure you don't need to thaw green beans before cooking?
Yep, I'm sure. That's the beauty of this dish. Since you sauté the beans on a relatively high heat and without crowding the pan, there's no risk of soggy vegetables. The water evaporates quickly, leaving you with perfectly tender, lightly browned beans.
My beans were soggy. What did I do wrong?
You may have overcrowded the pan. If the beans are layered on top of each other too much, any excess water won't evaporated fast enough and the beans will steam rather than sauté. Avoid this by using a really large skillet, or by cooking in two batches or pans.

It's also possible that your oil wasn't hot enough. Make sure you cook the beans at a medium-high heat. Wait until the end of a bean dipped into the pan sizzles before adding the frozen beans.
Can I reheat sautéed green beans?
Yes, you can. After cooking, you can keep them covered or in an airtight container in the fridge for 3 to 4 days. Simply reheat in the microwave for 2 to 3 minutes, or reheat in a pan again for just a minute or two until hot.
More quick and easy side dishes
IF YOU MAKE THIS RECIPE, LET ME KNOW HOW YOU GET ON BY LEAVING A COMMENT AND RATING BELOW… AND DON'T FORGET TO SIGN UP TO RECEIVE ALL MY NEW RECIPES BY EMAIL!
10-minute Sautéed Frozen Green Beans
Welcome to your new favorite last minute vegetable side dish! You can cook these sautéed frozen green beans straight from frozen (yep, no defrosting necessary!). Choose your own simple flavors for perfectly tender and browned seasoned green beans on your dinner table in only 10 minutes.
Equipment (affiliate links)
Ingredients (UK/Australia? Click below for grams/ml)
1

tablespoon

olive oil

or any oil of your choice (or melted butter)

14

ounces

frozen green beans

or roughly 3.5 ounces or ¾ cup per person (I like uncut green beans but any frozen green beans will work.)
Suggested dried seasonings
½

teaspoon

garlic powder

Or to taste

½

teaspoon

onion powder

Or to taste

½

teaspoon

paprika

Or to taste

1

teaspoon

dried Italian herbs

or any dried herbs of your choice

½

teaspoon

salt

Or to taste

⅛

teaspoon

pepper

A large pinch (or to taste)
Optional fresh toppings
A little lemon zest or juice, or fresh herbs such as basil, parsley, dill, thyme.
Instructions
Pre-heat the oil in a large skillet or sauté pan on a medium-high heat.

Add the frozen green beans to the pan. Stir briefly with a wooden spoon just until the beans are coated in the oil.

14 ounces frozen green beans

Sprinkle the seasonings all over the beans. Then sauté on a medium-high heat for 6 to 8 minutes or until the beans are perfectly tender and browned.

½ teaspoon garlic powder,

½ teaspoon onion powder,

½ teaspoon paprika,

1 teaspoon dried Italian herbs,

½ teaspoon salt,

⅛ teaspoon pepper

Scatter over any fresh toppings such as lemon zest or fresh herbs before serving immediately (more ideas in notes section).

A little lemon zest or juice, or fresh herbs such as basil, parsley, dill, thyme.
Notes
Type of beans: I prefer uncut baby green beans for the sake of presentation. But any frozen green beans work, including cut beans, thin beans or thicker regular green beans. Frozen green beans may be called string beans, haricots verts, French beans or snap beans. All of these are fine. Type of pan: I recommend a very large skillet/frying pan, dutch oven, wok or sauté pan for this recipe. A bit of overlapping is fine, but try not to overcrowd the pan which can result in soggy/not browned beans. Cooking time: I usually cook the beans for as long as it takes for them to become tender and browned. This takes roughly 6 to 8 minutes. You may wish to cook the beans for a little longer for slightly softer beans. Variations: Fry a little bacon for a few minutes before adding the green beans to the pan for a super tasty variation. Try adding fresh garlic instead of dried, melt a little butter over the beans before serving, toss through some parmesan cheese, crumbled feta or goat cheese, add toasted nuts, or stir in a little balsamic vinegar and/or honey before serving.
Nutrition
Calories:
66
kcal
Carbohydrates:
8
g
Protein:
2
g
Fat:
4
g
Saturated Fat:
1
g
Polyunsaturated Fat:
1
g
Monounsaturated Fat:
3
g
Sodium:
297
mg
Potassium:
229
mg
Fiber:
3
g
Sugar:
3
g
Vitamin A:
817
IU
Vitamin C:
12
mg
Calcium:
47
mg
Iron:
1
mg