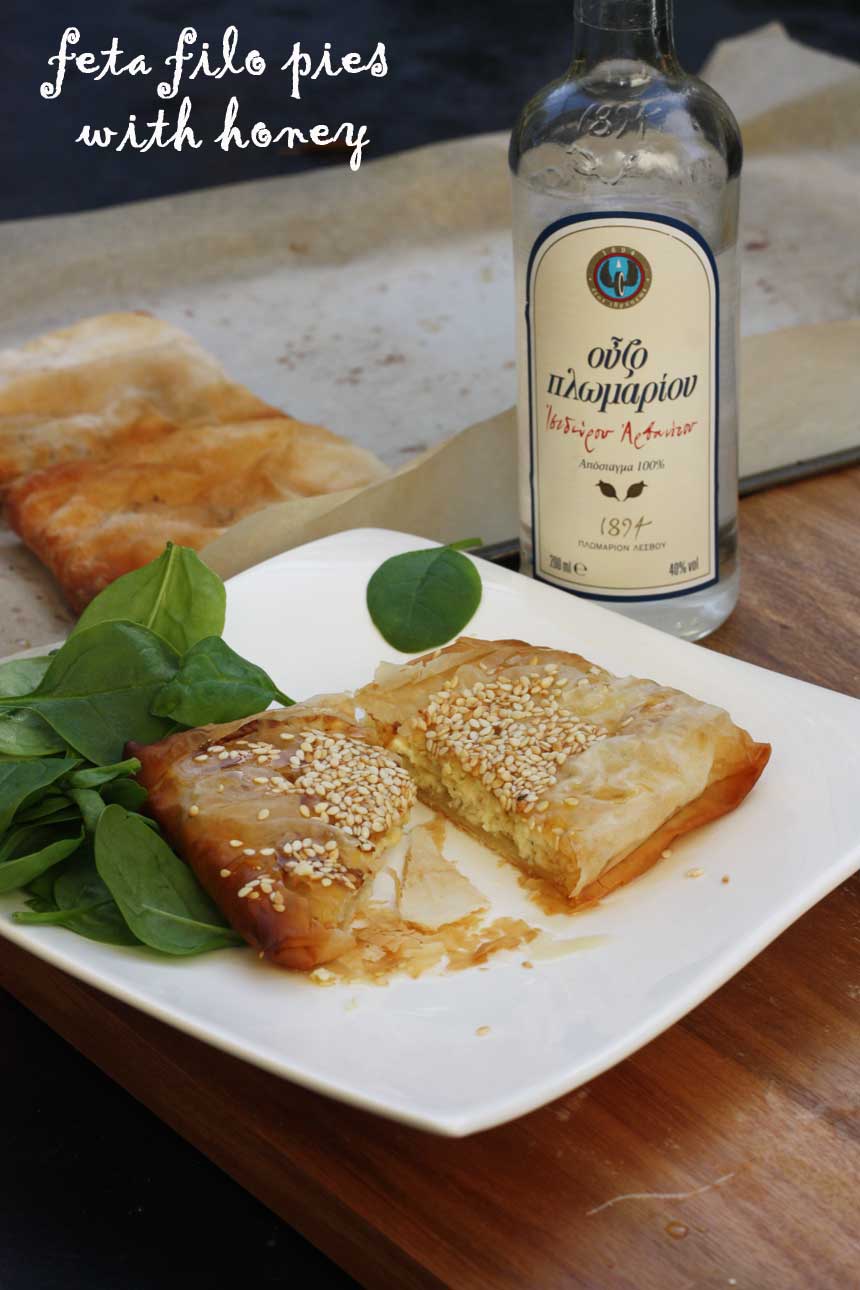 How do you feel about appetizers? Errrm … not sure? Well, maybe I can help you answer the question.
Let's say you go to a restaurant that has one of those 'two courses for however many dollars or pounds or whatever' deals on. Do you choose an appetizer and a main, or a main and a dessert? Or maybe you have all three, you sneaky one there, you.
I'm firmly in the 'main and dessert' camp, with the chocolaty-est dessert on the menu. I'll share some tasty morsels like some nachos or some kind of stuffed little crispy things dipped in a nice bowl of sauce, but other than that, yup, I can definitely live without restaurant appetizers.
Fortunately, while living in Greece for so many years, this 'appetizer or dessert' thing was never really an issue because as you may know the style of eating there is a little different. Nine times out of ten, at a restaurant you'll order lots of little plates of salads and dips and stews and potatoes and veggies (called 'mezze') and share them with the rest of your table. It's wonderful because you never get that awful panicky feeling that you might have ordered the wrong thing or become a big green-eyed monster when your dining partner's meal arrives and it looks more delicious than your own. Although (little tip coming up here), you can always say 'oh, shall we share half and half?' next time that happens. Works every time.
Aaaanyway, back to Greece where not only do they have this great sharing system that gives you the chance to have a little taste of everything (and sneak more of the dishes you really like), but it's also perfectly acceptable to sit down at a little taverna or 'ouzeria' at 3 o'clock in the afternoon (or 3 o'clock in the morning if you like) and choose a little plate of whatever you like to nibble on with a glass of whatever you like to drink. It is also quite alright, if not encouraged, to stay there for three or four hours chatting the afternoon away while soaking up the afternoon sun and watching the antics of the neighbourhood 'wildlife' aka Athens' thousands of canny neighbourhood cats.
Meals and drinks are definitely not to be 'done' in a hurry in this sunny little corner of south-east Europe … which reminds me of a friend who had an acquaintance say to him when he first moved to Greece: 'Terry, why you drink your frappe (iced coffee) so queeekly?' But that of course is another story …
The reason I'm telling you all this is that these feta filo pies with honey are one appetizer that I wholeheartedly recommend that you try making, even if you aren't an appetizer kind of guy or gal. In this post, I already told you what this humble but delicious little appetizer led to for me, so you never know what may come your way when you give this little snack a try along with an obligatory glass of ouzo or red wine and a warm lazy summer late afternoon. 😉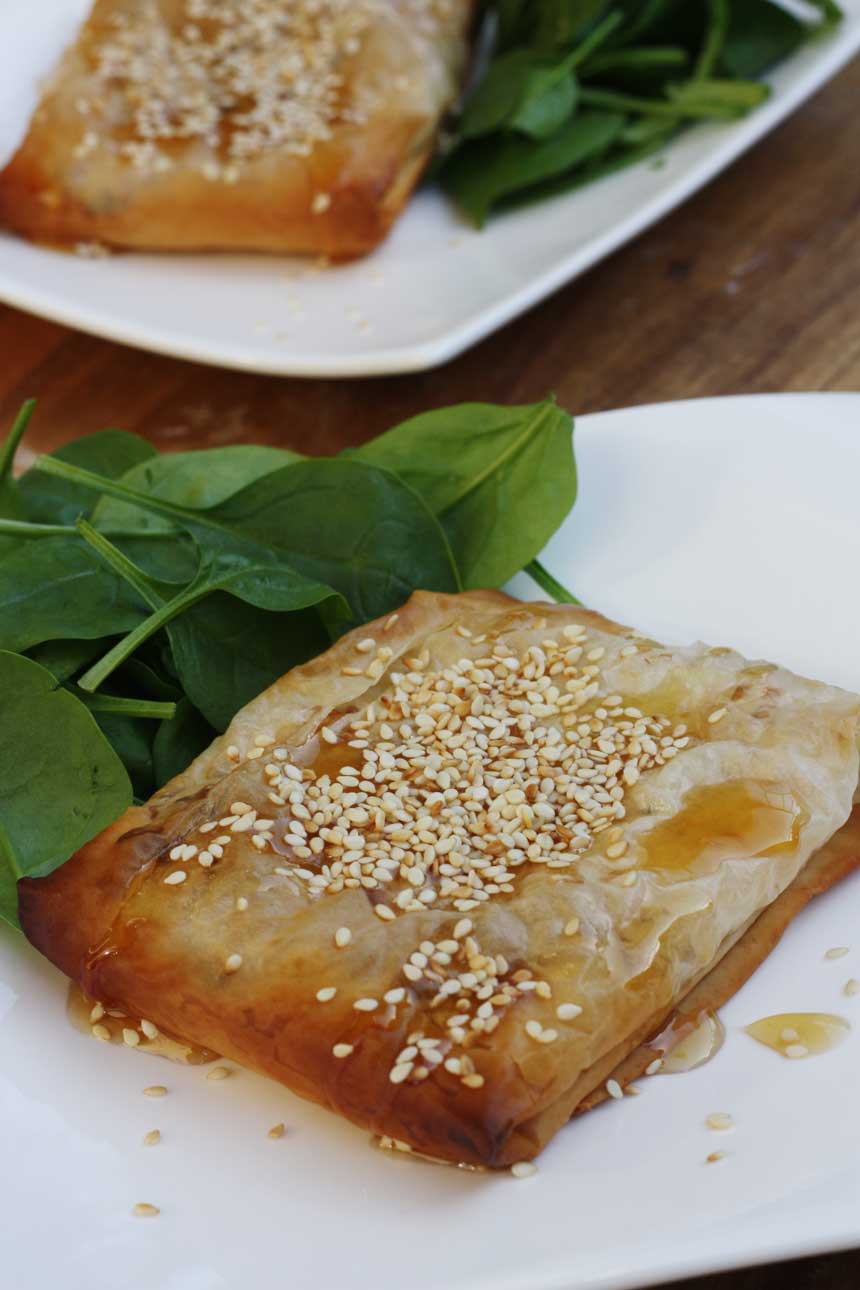 Best of all, this is probably one of the easiest little snacks you'll ever make. I know, I know, I say something similar in every post, but I always mean it. Literally, all it involves is mashing up some feta cheese (good quality from a deli or similar if you can find it) with a little honey and dried oregano, spooning it onto two half sheets of filo pastry layered one on top of the other and wrapping it all up in a simple parcel. Bake or fry, then serve with more honey drizzled over the top and a few toasted sesame seeds. I brushed mine with a little olive oil and baked it but to be perfectly honest I think next time I'm going to try frying the parcels instead for a little bit more of an authentic 'flavour'.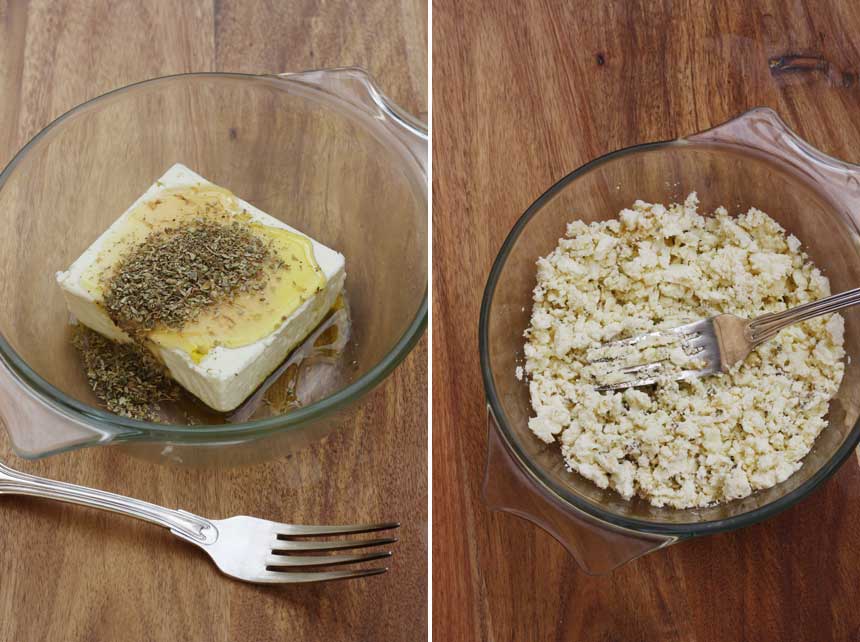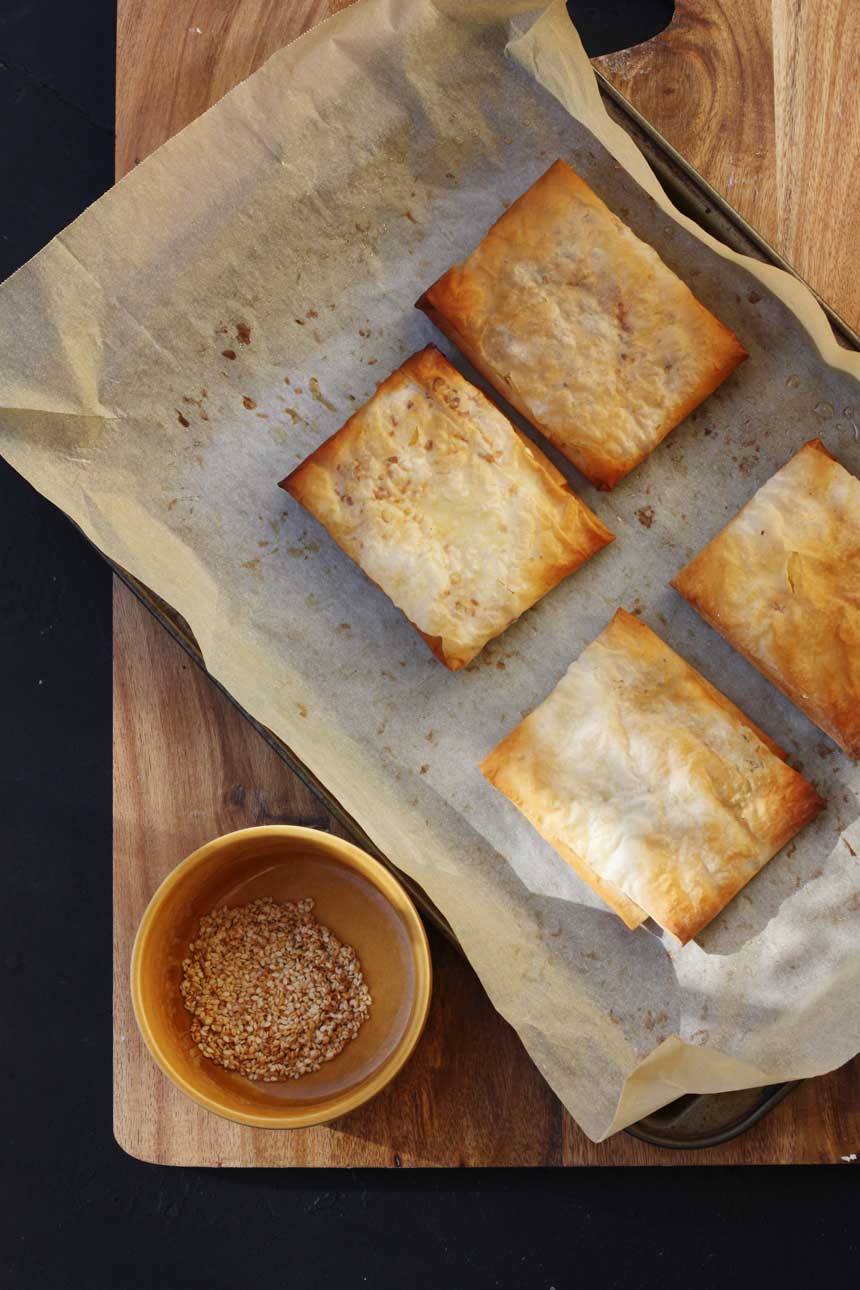 Just remember that the ouzo with this crispy feta snack isn't optional. Oh, OK then, it is, but at least pour yourself a little glass of red wine to go with this very Mediterranean of appetizers. Wine and cheese = long-time match made in heaven, after all!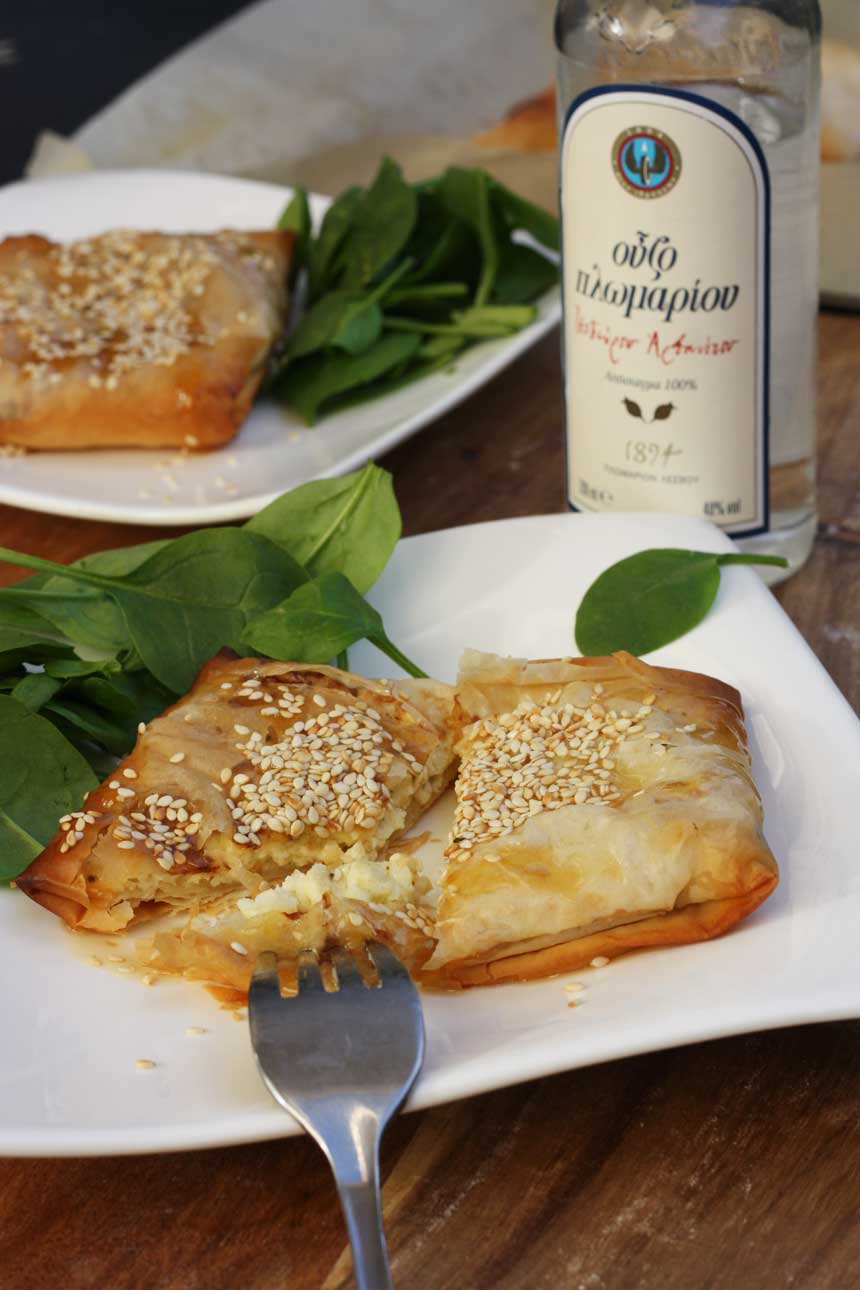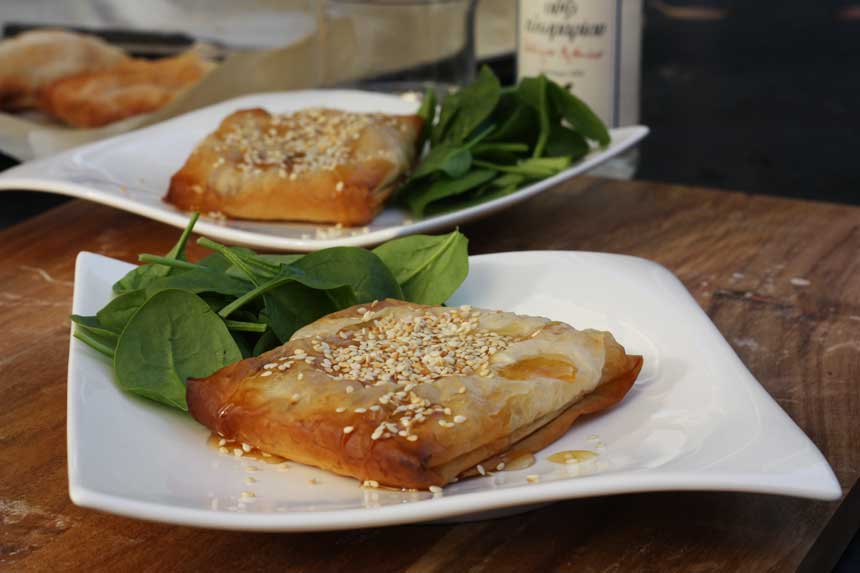 Oh, and one more little 'thing' (two, actually). If you like the idea of this feta in filo, you'll love this baked feta recipe, too. I'm not sure which one is more delicious, so you'll just have to try both to decide for yourself!
'Thing' number two is that I adapted this recipe very slightly from the great Jamie Oliver's recipe from his latest book, Save With Jamie (wonderful as always). Thanks, Jamie!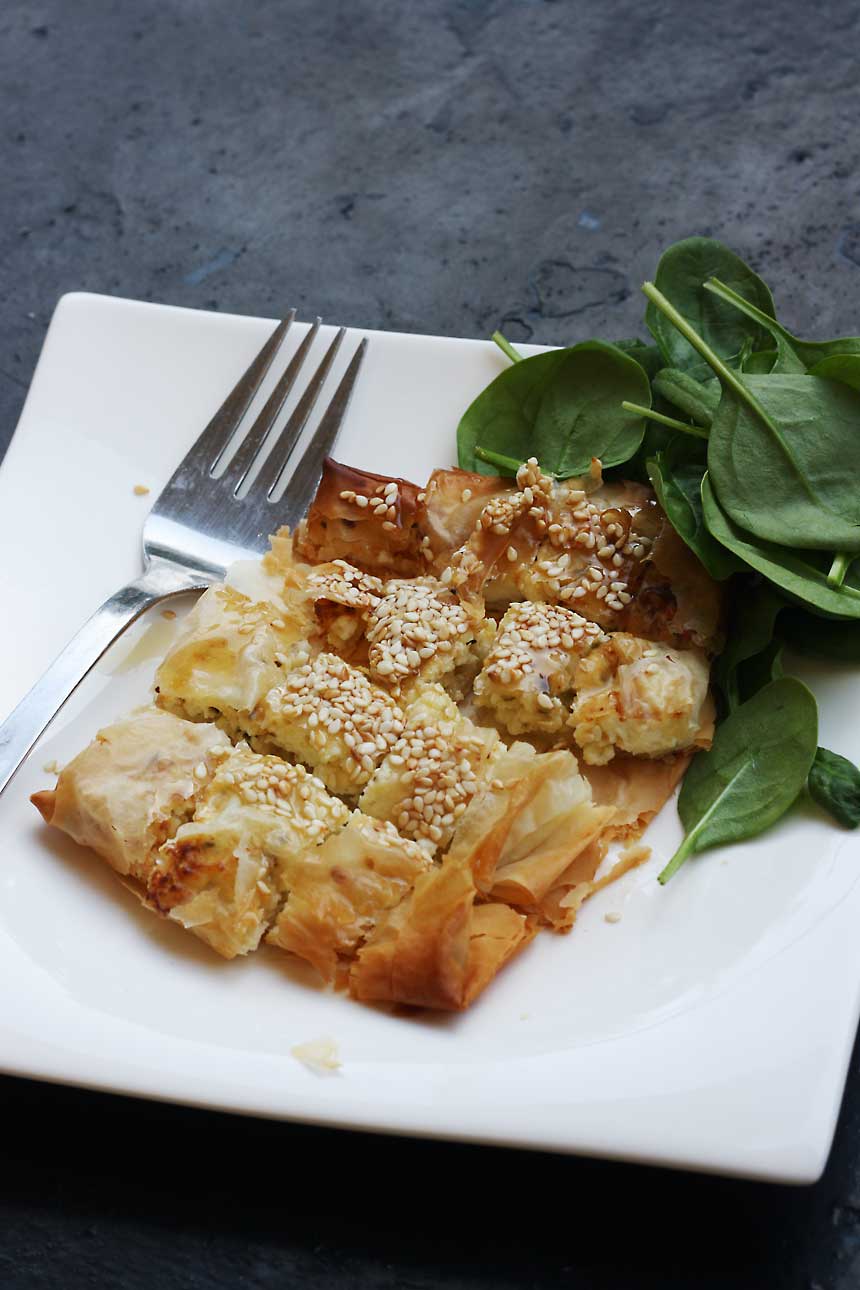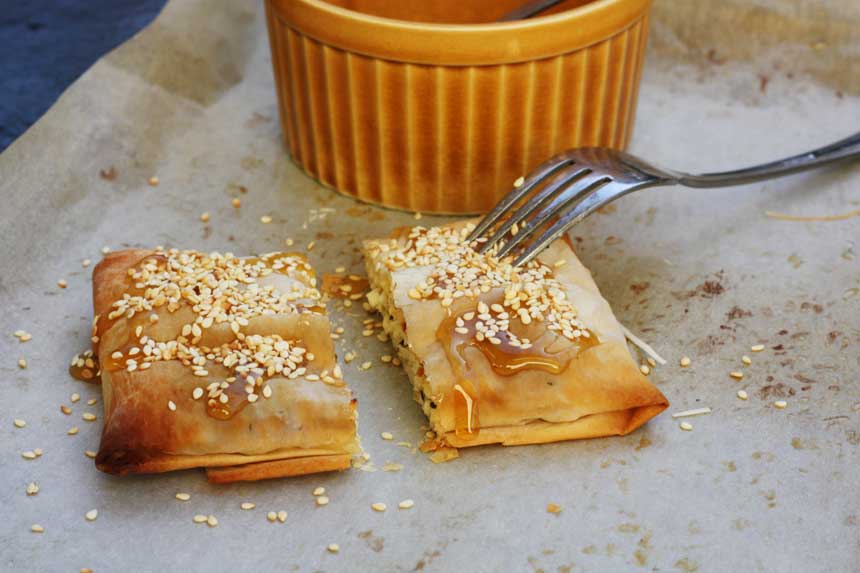 Feta filo pies with honey
Make your own version of this classic Greek appetizer of feta cheese and honey wrapped in crispy filo pastry. Serve with a glass of ouzo or red wine. Who needs to go to the Mediterranean when the Mediterranean can come to you?
Ingredients (UK/Australia? Click below for grams/ml)
5

ounces

feta cheese

as good quality as you can find

1

tablespoon

olive oil plus extra for brushing

2

teaspoons

honey plus a couple of tablespoons extra to serve

1

teaspoon

dried oregano

4

sheets filo pastry

1

tablespoon

sesame seeds

fresh crusty bread and a cold glass of ouzo to serve

optional
Instructions
Pre-heat the oven to 390F/200C if baking.

Mash the feta with the 1 tablespoon of olive oil, the honey & the oregano.

Lay one sheet of filo pastry onto your work surface and brush it lightly with olive oil. Lay another sheet on top. Cut the sheets in half across the width. Repeat this with the remaining two sheets of filo so that you have 4 rectangles of pastry.

Spoon one quarter of the feta mixture into the centre of each piece of pastry. Fold one of the long edges into the centre, then repeat with the other edge. Fold the short edges into the centre, too, so that the cheese is wrapped up like a parcel.

Brush the parcels lightly all over with olive oil, then either bake them on a baking sheet until light brown and crispy (for about 10 minutes) or, if you prefer, pan-fry them for a couple of minutes on each side.

Meanwhile, toast the sesame seeds in a dry skillet/frying pan until they are a light golden brown.

Serve immediately with a big drizzle of honey and some toasted sesame seeds over each parcel - with a little crusty bread if you like.
Notes
This recipe was slightly adapted from Jamie Oliver's recipe in his latest book, Save With Jamie
.
You can bake or fry these little feta filo parcels. They are lovely baked, but I suspect even nicer fried (don't worry, you can use healthy olive oil!)
Nutrition
Calories:
994
kcal
Carbohydrates:
154
g
Protein:
25
g
Fat:
29
g
Saturated Fat:
10
g
Cholesterol:
31
mg
Sodium:
1762
mg
Potassium:
240
mg
Fiber:
5
g
Sugar:
4
g
Vitamin A:
150
IU
Calcium:
233
mg
Iron:
9.8
mg
I hope you enjoyed this post! You can subscribe to receive posts directly to your inbox by entering your email address in the box below or at the top of the sidebar on the right.
You can also find more from Scrummy Lane on Facebook, Pinterest, Twitter and Instagram and follow me on Bloglovin! Thanks so much for reading!
*This post contains affiliate links which means that if you click on a link and make a purchase I get a small percentage of the amount you spend. At no extra cost to you, of course! Thank you!*