Who says you need a grill to enjoy juicy and flavorful chicken kabobs? Just bake them in the oven! Transport yourself to the Mediterranean with this super easy Greek style version in just 30 minutes.
Serve with a crisp, fresh salad, tsatziki sauce and pita bread for a tasty, healthy and – best of all – simple midweek dinner option the whole family will love.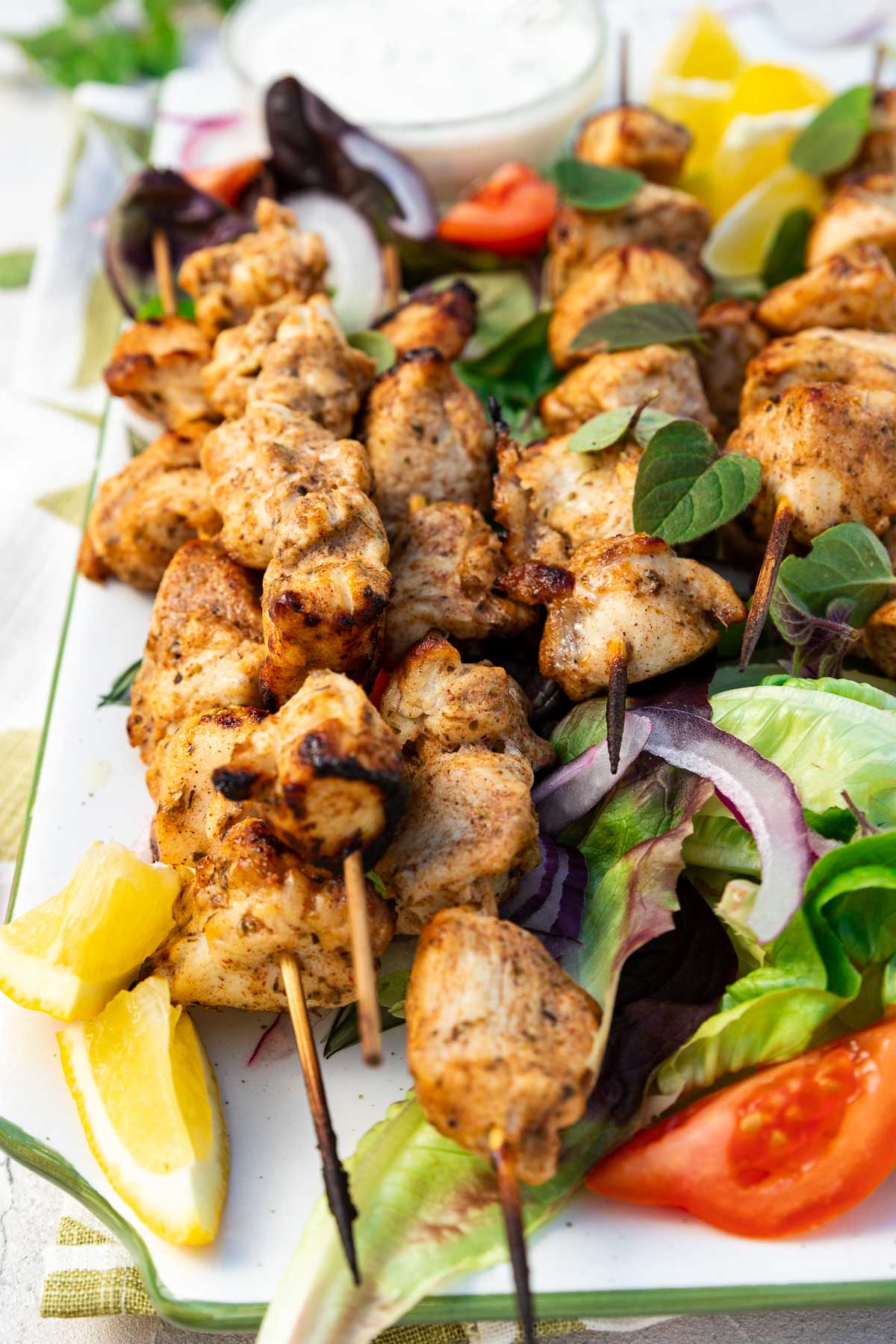 I love making these with Greek style flavors (everyone loves 'souvlaki'!). However, the main idea is to learn how to make chicken kabobs (or kebabs!) in the oven in any 'style' really easily.
You can tweak the recipe in all kinds of ways to make it your own!
Read on to find out how.
Why you'll love Oven Chicken Kabobs
✔ No need for a grill. Sometimes you just want dinner to be hands-off and let the oven do most of the work, right? No scrubbing of grill plates necessary. Clean-up will be a breeze!
✔ A 30-minute meal. You'll need around 15 minutes to toss chicken pieces into a quick Greek yogurt marinade, then thread the pieces onto wooden skewers. Then oven bake the kabobs for around 15 minutes. No one will believe this is such an easy recipe!
✔ Just a few simple ingredients. All you need for the marinade is Greek yogurt and a few Mediterranean flavors such as oregano, paprika and cumin. I bet you have most of what you need in your pantry already.
✔ Moist and juicy chicken… every time! Marinating the chicken in yogurt makes it so tender and delicious. You can absolutely make these oven baked chicken skewers at the last minute. However, if you can marinate for a few hours or, even better, overnight.
✔ Great for any season. Whether it's a warm summer day or a chilly winter evening, these oven-baked chicken kabobs can be enjoyed year-round. No waiting for the perfect grilling weather.
Ingredients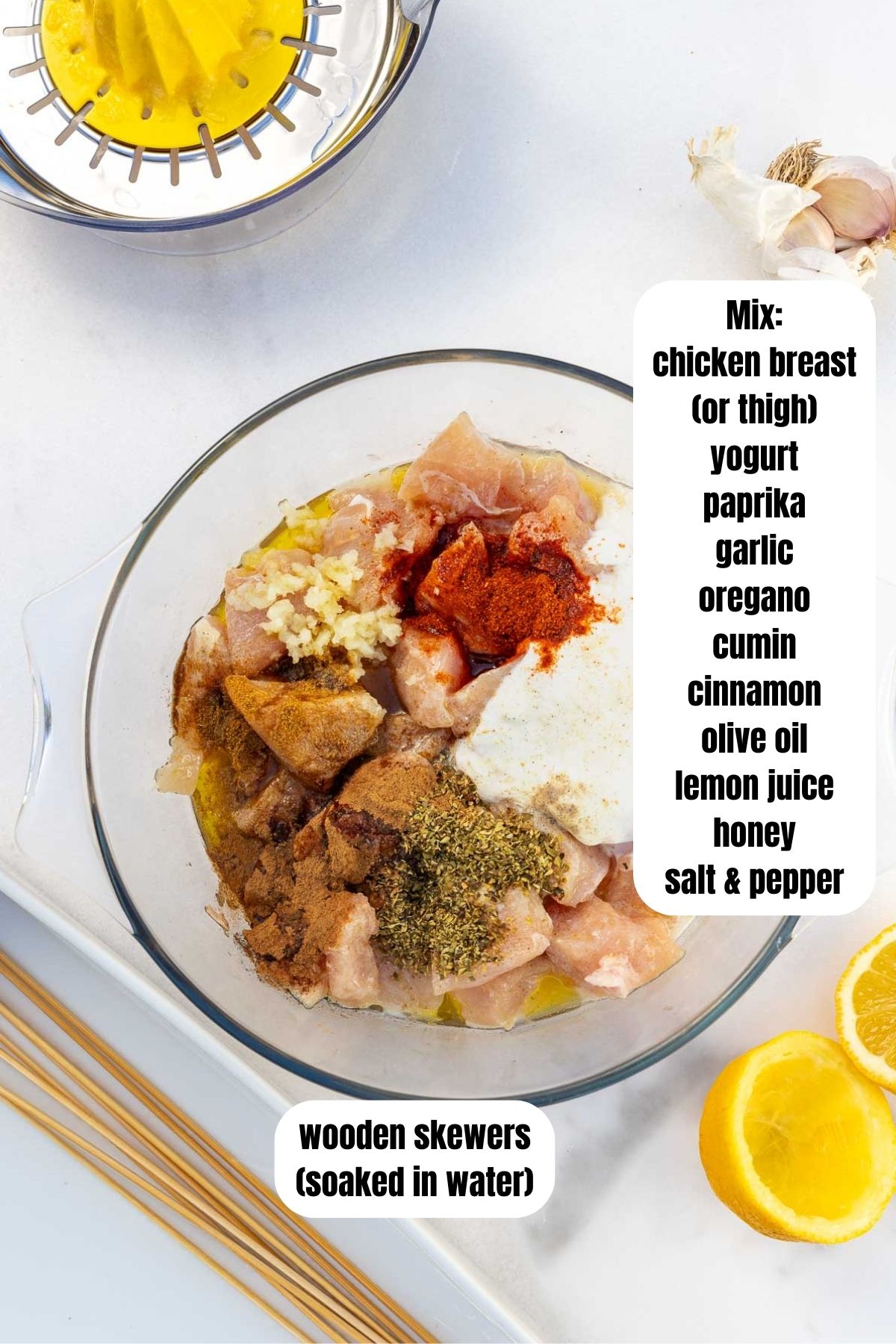 Skewers: I usually use wooden or bamboo skewers. Just remember to soak them in water for at least 5 minutes before threading on the chicken.
Of course, you can also use metal skewers if you have those instead.
Chicken breast: I usually use boneless skinless chicken breasts for this oven kabobs recipe. You can either buy ready-chopped, or chop it yourself into roughly 1 to 1.5 inch pieces.
Of course, it's also possible to use boneless skinless chicken thighs instead. Just trim any fat off before marinating.
Yogurt: I usually use Greek yogurt because that's what I most often have. However, it's absolutely fine to use other types of natural yogurt (including non-dairy) instead.
Lemon juice: If you don't have a lemon, replace with half the amount of white or apple cider vinegar.
Olive oil: I suggest using a nicely flavored good quality extra virgin olive oil. However, it's fine to use any that you have.
Garlic: Throw fresh minced garlic into the marinade. Feel free to use garlic powder instead if you like. 1 teaspoon is equivalent to 1 clove of fresh.
Herbs and spices: I keep things simple with some classic Greek style flavors – dried oregano, paprika, dill, cinnamon (so delicious with meat!), and cumin.
However, there are other dried herbs and spices that would work as well. Try dried mixed Italian seasonings, coriander, cayenne pepper or red pepper flakes, allspice or even ginger.
Salt and pepper: Around half a teaspoon of salt and a quarter teaspoon of pepper is about right. However, you can add less or more to taste.
How to bake chicken kabobs
The first thing you should do is soak some wooden skewers in water. This helps to stop them from burning in the hot oven.
Ideally, do this overnight, or a few hours before cooking. If you forget, however, no worries! Just soak them while you prepare the chicken.
Next, dice the chicken into roughly 1 to 1.5 inch cubes if it isn't already chopped. Put it into a medium sized bowl.
Then add all the chicken kabob marinade ingredients to the bowl and stir.

If you have time, cover the chicken and marinade and pop it into the fridge for a while to let the flavors infuse into the meat.
When it's time to eat, preheat the oven to 425F/220C. Thread 5 or 6 pieces of chicken onto each skewer. Lay them on top of a wire rack on a foil-lined rimmed baking sheet.

Bake for around 15 minutes, or until the chicken is no longer pink in the middle and it's lightly charred on all sides. The internal temperature of the chicken should be 165F/74C. Turn the skewers over half way through the cooking time.
Helen's top tips
If you can, get ahead the night before (or at least a few hours). Soak some wooden skewers in water (don't forget this part – it stops them from burning in the oven). Also get the chicken into the marinade to let the flavors do their magic overnight in the fridge.
Leave a tiny bit of space between each piece of chicken when you thread it onto the skewers. This way, the hot air will be able to circulate around the meat and cook it evenly.
For easy clean up, line your baking sheet/pan with aluminum foil. Then if you have one place a metal rack on top so that the hot air can circulate well around the chicken pieces in the oven. If not simply spray the foil lightly with oil.
How to serve
I love to serve these oven-baked chicken skewers Greek style!
If you like you can arrange them as you see in the photos – on a simple bed of crunchy lettuce, crisp cucumber, juicy tomatoes and thin sliced red onion. Don't forget a sprinkle of feta cheese and a bowl of Greek tsatziki dip, and of course some toasted pita bread.
A few lemon segments and fresh herbs scattered over are the icing on the cake, but not essential.
If you don't have pita bread, these 2-minute toasts with olive oil are wonderful, too!
But this is certainly not the only way to serve them.
For a family midweek meal, make a classic Greek village salad or a lettuce Greek salad to go with your oven chicken kabob recipe instead.
You could leave it at that, or add Greek lemon potatoes, these simple baked diced potatoes (since you already have the oven turned on!) or Greek lemon rice.
Alternatively, this amazing baked eggplant with tomatoes and feta is unbelievably delicious and would go perfectly with these kabobs!
Want ideas other than Greek style? Check out all easy side dish ideas. It's actually hard to pick one that wouldn't go with this baked chicken skewer recipe!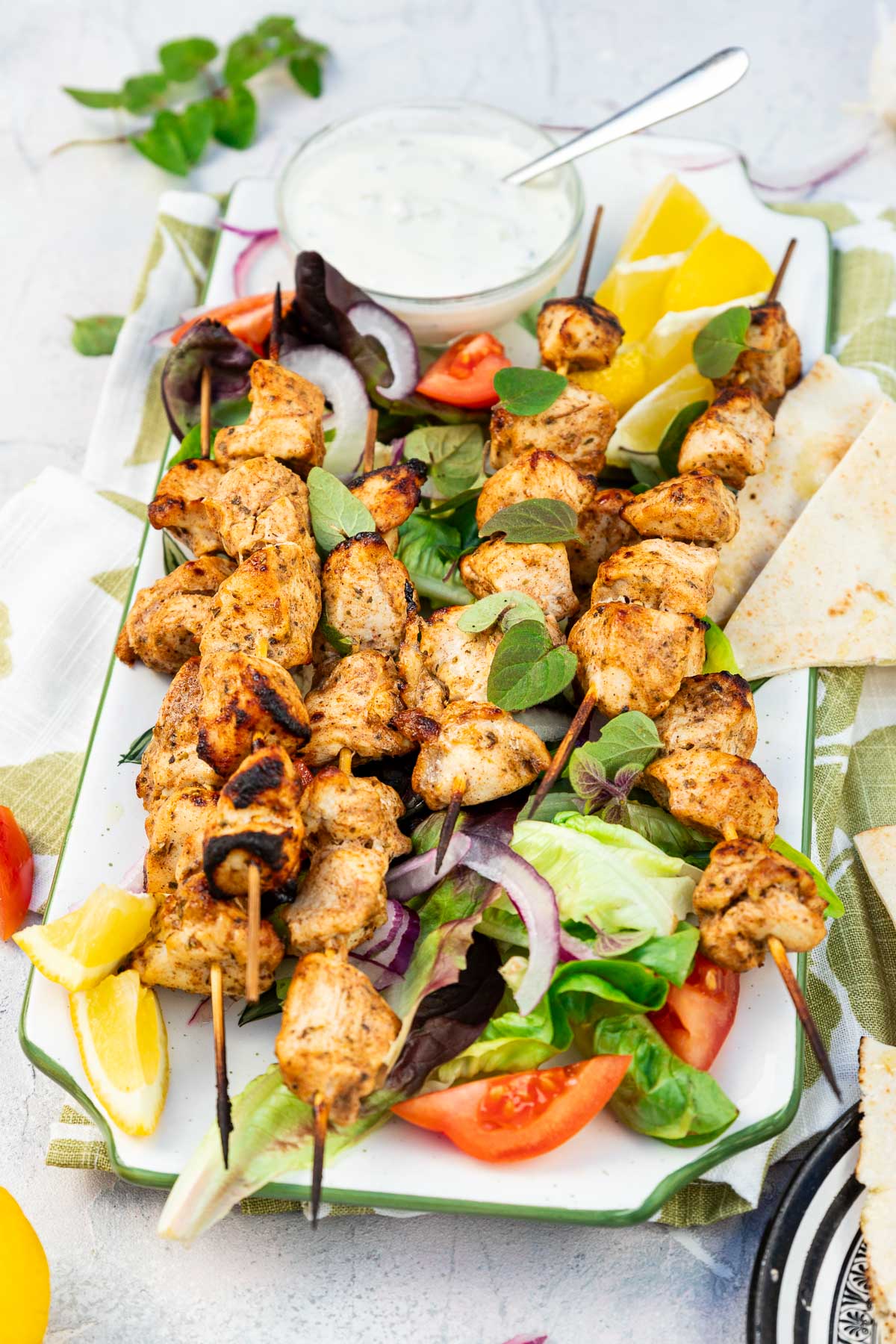 Variations
My top idea is to add a few colorful vegetables onto the skewers in between the chicken pieces. Bell peppers, zucchini, mushrooms, cherry tomatoes, and red onions are my favorites.
Haven't got any yogurt? That's OK – you can skip it altogether and still get very delicious kabobs.
Not in the mood for Greek chicken kabobs? Switch the Greek style spices and herbs for a curry paste, pesto, teriyaki sauce, or any other marinade you like.
Recipe FAQs
How long does it take for kabobs to cook in the oven?
It depends on the size of the chicken pieces, but generally around 15 minutes. Check for doneness after about 12 minutes. You don't want the chicken to start drying out. The chicken is done when it's no longer pink inside and the juices run clear. To be sure, use a meat thermometer to test that the inside is at least 165°F/73.9°C.
Can I use chicken thighs instead of chicken breast to make chicken kabobs?
Yes, no problem at all! Use skinless boneless chicken thighs and trim off any excess fat before adding to the marinade. The recipe and cook time will stay exactly the same.
Can you prepare chicken kabobs ahead?
If you want to get ahead but serve these marinated kebabs while still juicy and hot, simply thread the chicken onto the skewers up to a day ahead. Keep them covered in the fridge until ready to bake.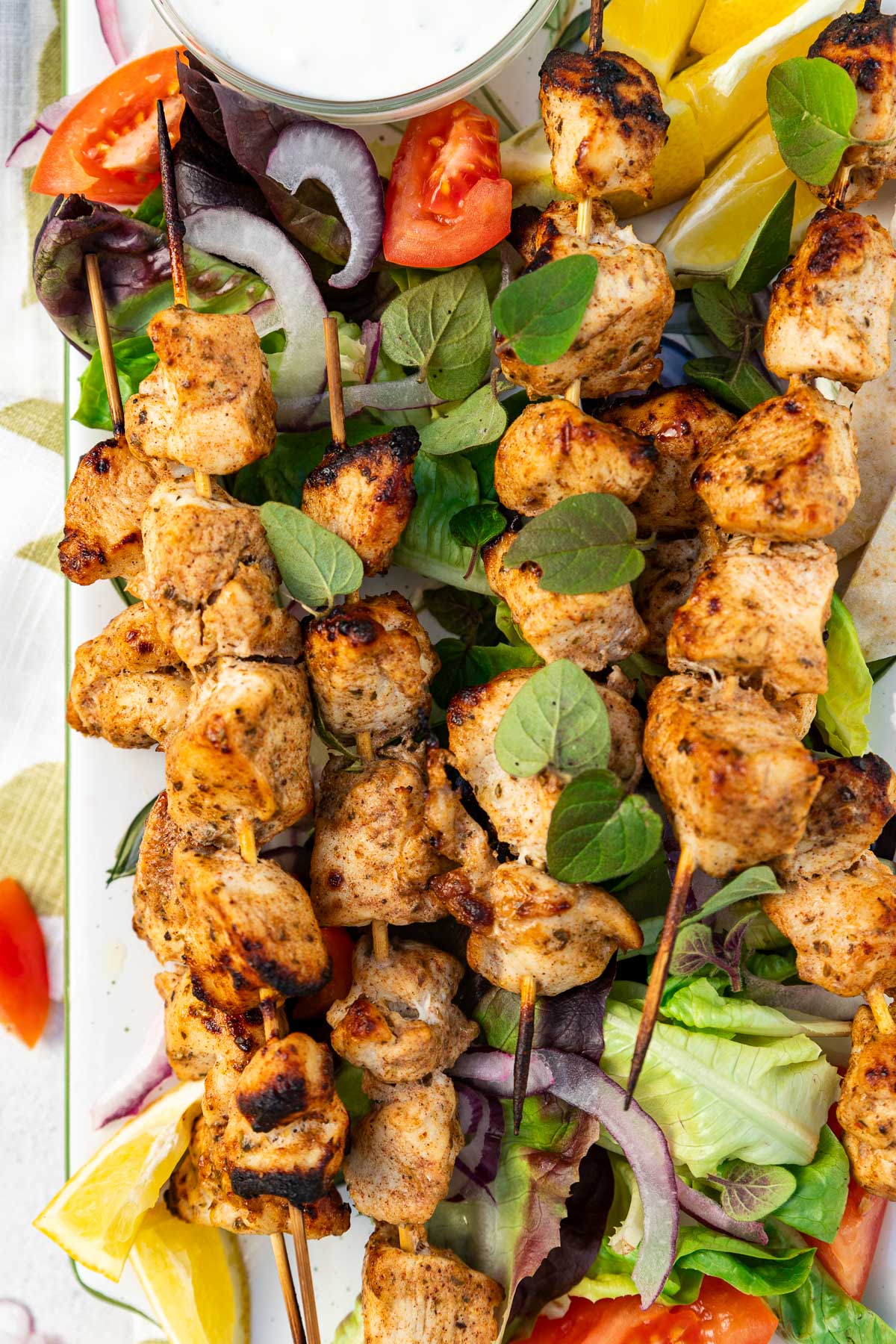 IF YOU MAKE THIS RECIPE, LET ME KNOW HOW YOU GET ON BY LEAVING A COMMENT AND RATING BELOW… AND DON'T FORGET TO SIGN UP TO RECEIVE ALL MY NEW RECIPES BY EMAIL!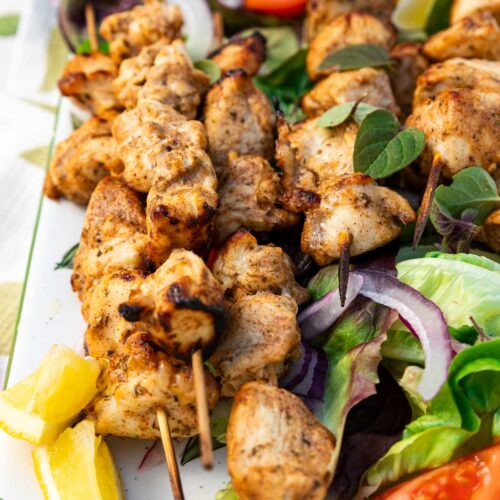 Easy Oven Chicken Kabobs (Greek Style)
Who needs a grill for tasty chicken kabobs? Bake them in your oven! Transport yourself to the Mediterranean with this quick 30-minute Greek-style recipe. Pair with a refreshing salad, tzatziki sauce, and pita bread for an easy, healthy, and family-friendly midweek dinner everyone will enjoy.
Ingredients (UK/Australia? Click below for grams/ml)
8

wooden skewers

soaked in water – at least while you prepare the chicken (longer if possible)

1.75

pounds

chicken breasts

3 large chicken breasts (or equivalent in thighs), cut into roughly 1 to 1.5 inch pieces (or buy ready-chopped)
For the marinade
¼

cup

olive oil

½

cup

Greek yogurt

or regular natural yogurt

½

lemon

(Alternatively, substitute with half the amount of white wine or cider vinegar – about a tablespoon.)

2

cloves

garlic

crushed (or 2 teaspoons garlic powder)

1

tablespoon

dried oregano

1

teaspoon

paprika

½

teaspoon

cumin

½

teaspoon

ground cinnamon

½

teaspoon

dried dill

(optional)

1

tablespoon

honey

½

teaspoon

salt

¼

teaspoon

pepper
To serve
warmed pita bread

(Use either store-bought Greek style pita bread, fresh store-bought flatbread or this 2-ingredient flatbread.)

tsatziki sauce (homemade or store-bought) and lemon segments

Here's a quick tsatziki recipe.

Lettuce, cucumber, chopped tomatoes and sliced red onion.

Or a Greek salad.
Instructions
Put the diced chicken into a medium sized bowl. Add all of the marinade ingredients and combine really well. Cover and let marinate in the fridge at least while you prepare the other ingredients – longer if you can (overnight is ideal).

1.75 pounds chicken breasts,

¼ cup olive oil,

½ cup Greek yogurt,

½ lemon,

2 cloves garlic,

1 tablespoon dried oregano,

1 teaspoon paprika,

½ teaspoon cumin,

½ teaspoon ground cinnamon,

1 tablespoon honey,

½ teaspoon salt,

¼ teaspoon pepper,

½ teaspoon dried dill

Pre-heat the oven to 425F/220C and line a large baking sheet/tray with aluminum foil. Put a wire rack on top if you have one.

While the oven is heating up, thread the marinated chicken breast pieces onto the skewers (5 or 6 pieces per skewer). Don't push the pieces too tightly together. Place the kabobs onto the baking sheet.

Bake for 12-15 minutes, or until the chicken is cooked through, browned and slightly charred in parts. Turn half way through. If you have a meat thermometer, check that the inside is at least 165F/75C.

Serve while still hot with salad, tsatziki dip and pita bread.

warmed pita bread,

tsatziki sauce (homemade or store-bought) and lemon segments,

Lettuce, cucumber, chopped tomatoes and sliced red onion.
Notes
Marinating: If you can, marinate the chicken for a few hours or overnight to infuse the most flavor and tenderize the chicken. If you don't have time to do this, that's OK.
Cooking time: Cook time will vary depending on how big the chicken pieces are. Generally, the kabobs will bake in 12 to 15 minutes. Check after 12 minutes then go from there. If in doubt use a meat thermometer to check it's properly cooked.
Storing and freezing instructions: You can freeze the raw marinated chicken for up to 4 months in a sealed freezer bag or container if you like. Then defrost overnight in the fridge and continue with the recipe as written.
Store leftover cooked chicken in the fridge for up to a few days. Reheat spread out on a baking sheet at 340/170C for 10 minutes or until piping hot again. Or you can reheat in an air fryer for around 5 minutes, or until piping hot.
You can also freeze any leftover cooked chicken for up to 2 months.
Pita bread: If you can find an authentic Greek style pita, great! If not, use a fresh bakery or supermarket flatbread (Arabic style) or this 2-ingredient flatbread recipe if you'd like to try making your own bread.
Quick tzatziki recipe: If you like you can read helpful instructions and tips for making my 10-minute tsatziki recipe. If you just want the recipe, here it is:
Simply combine the ingredients below. Any leftovers are fantastic on top of baked potatoes, with any kind of salad, as a healthy dip or spread onto a burger or sandwich!
2 cups Greek yogurt
1-2 cloves garlic, crushed
1 cucumber (diced finely)
4 tablespoons finely chopped fresh dill
1 lemon (juice only)
Nutrition
Calories:
390
kcal
Carbohydrates:
9
g
Protein:
45
g
Fat:
19
g
Saturated Fat:
3
g
Polyunsaturated Fat:
2
g
Monounsaturated Fat:
11
g
Trans Fat:
0.03
g
Cholesterol:
128
mg
Sodium:
532
mg
Potassium:
836
mg
Fiber:
1
g
Sugar:
6
g
Vitamin A:
343
IU
Vitamin C:
10
mg
Calcium:
73
mg
Iron:
2
mg