These simple crispy salmon fishcakes are a light and delicious meal that is easy on the wallet and great for picky eaters! Shallow-fried in olive oil, these fishcakes have a crispy exterior and a soft, delicately-flavored interior that even kids will love. With simple ingredients and the option to make ahead, these are perfect for a quick and easy midweek meal.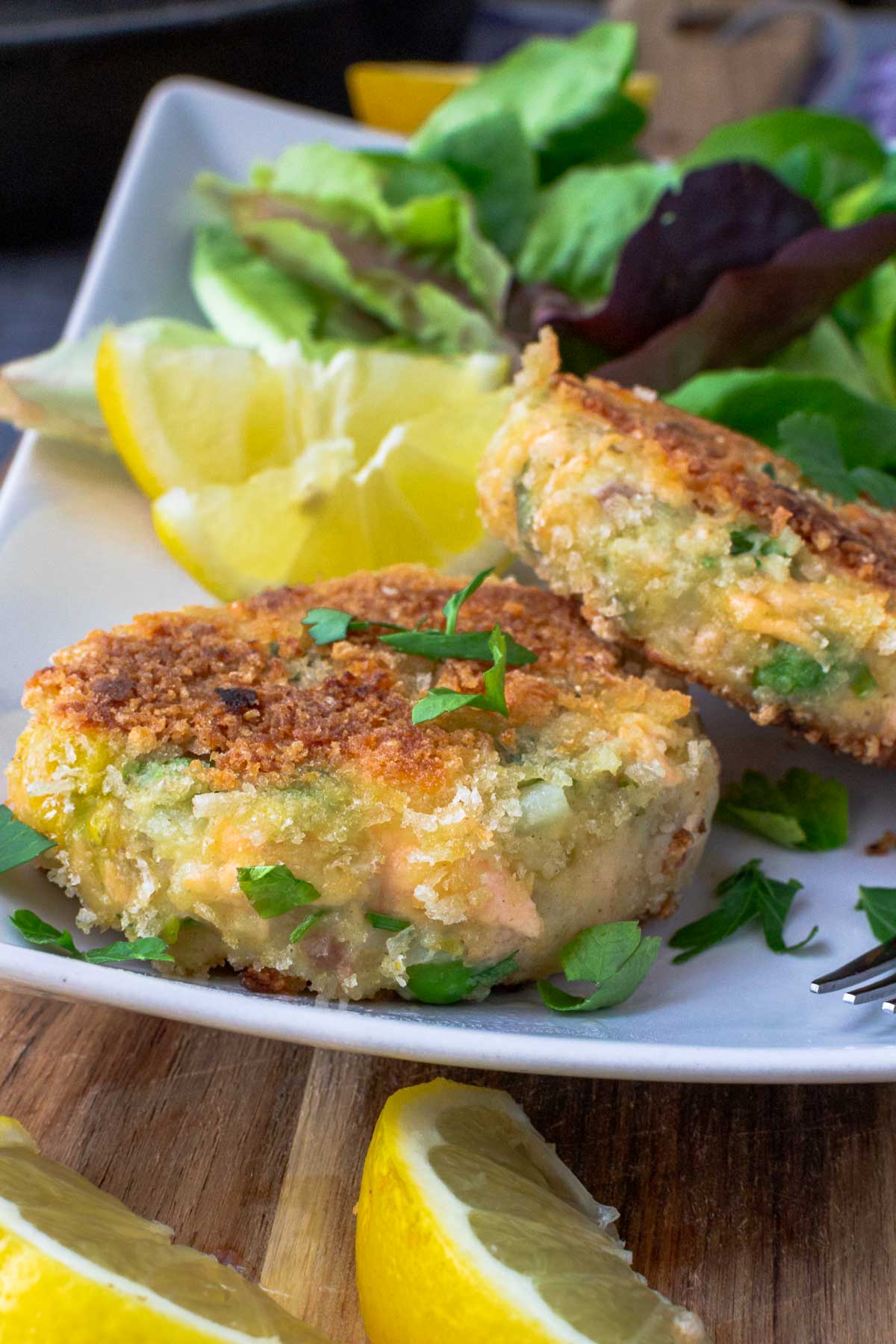 Why you'll love them
Light but delicious. Since these are shallow fried in a little olive oil, they're crispy but still on the lighter side. The inside is soft with flavors that are delicious but don't overshadow the delicately-flavored fish.
Kid frendly crowd pleasers. Salmon fishcakes can be a great way to get your picky eaters to eat nutritious fish and vegetables. Kids love the crispy texture and mild flavor, and it's easy to customize the recipe to include their favorite ingredients.
Budget friendly. Fish cakes are a great way to make salmon go further, or to use up leftover salmon. Salmon isn't always the most economical of ingredients, but flaked in with potatoes, these make an affordable midweek meal.
A simple pantry meal. Grab some fresh salmon and parsley and you probably have most of the other ingredients already. Using canned salmon and dried parsley instead can make this a true pantry meal.
Make-ahead meal. Why not assemble in advance and store in the fridge or freezer until you're ready to cook them?
About the ingredients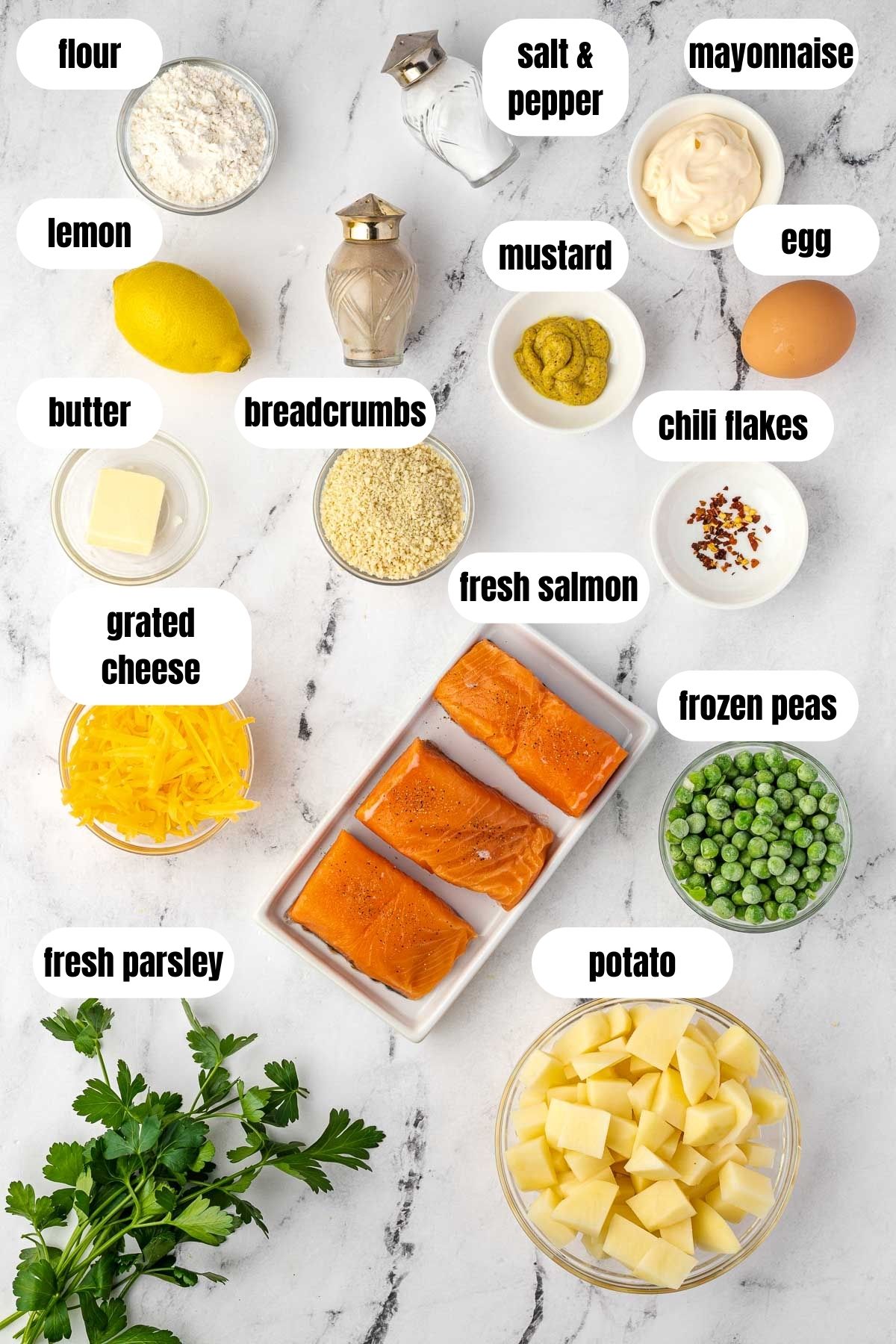 Potatoes: You'll need around 4 medium-sized potatoes to help bind and fill out your salmon fishcakes. Some say starchy potatoes such as Russets, Yukon Golds or purple potatoes are best. However, I say any all-purpose potatoes will do the trick!
Can you also make these with leftover mashed potato? Sure, why not!
Salmon: I usually use 3 small fresh salmon fillets for this recipe. However, defrosted frozen salmon will work, as will another type of affordable firm fish such as cod, trout, tilapia, pollock, hake, haddock or sea bass.
Of course, you can use leftover cooked salmon instead if that's what you have.
Can you use canned salmon? Yes! I'd remove any soft bones and keep it in fairly big chunks, then proceed with the recipe as written.
Frozen peas: For 'hidden' goodness! The best part about this is that you simply add the frozen peas to the water while you're cooking the potatoes. So easy!
Butter: Just a little, to mash along with the potatoes.
Lemon: The zest goes into the salmon and potatoes mixture while you can use the juice to squeeze over your delicious homemade salmon fishcakes to serve.
Mustard: Just a little adds extra delicate flavor.
Grated cheese: Adding a little melted cheese both helps to bind the potato salmon mixture and add extra flavor. I usually use a sharp cheddar but another tasty hard cheese or even parmesan or feta would work.
Fresh parsley: For a little added flavor, color and freshness. Feel free to substitute with a different herb. Dill or basil work particularly well. Alternatively, feel free to use dried herbs. Use a teaspoon of dried for every tablespoon of fresh.
Mayonnaise: This may seem like a strange ingredient to add, but it's great for binding the mixture together as well as adding a little extra moisture and creaminess.
A pinch of chili flakes: This is purely optional, but works well to add a little depth and complexity to the flavor of the fish cakes.
Salt and pepper: As always, add plenty of seasoning to the mixture to enhance the other flavors.
For the panko breadcrumb coating
Panko breadcrumbs: I like to use these for the lightest, crispiest coating. However, regular bread crumbs are fine too.
You'll also need a whisked egg and a little flour so that the breadcrumbs will stick.
How to make easy salmon fishcakes
Firstly, after peeling and chopping the potatoes into chunks, boil them until tender.
Add the frozen peas for the last part of cooking, then mash both together with a little butter. This mixture forms the basis of your delicious salmon cakes!

The next thing to do is to add the fish. If you need to cook the fish from scratch (or perhaps you're using leftover or canned salmon!), I find the easiest way to do this is to microwave it in milk.
This is so quick and easy, and keeps the fish nice and moist. Simply pop the fish into a bowl, cover it with plastic wrap/cling film, and microwave for just a couple of minutes or until 'just cooked'.
However, feel free to cook the salmon in any way you wish. Pan-fry it or bake it for 10 minutes if you prefer.

Then flake the fish and add it to the potato mixture along with all the other fishcake ingredients.

Mix together really well. Then gather the mixture into balls and flatten into fish cake shapes.

Roll the fishcakes first in flour, then dip into egg, then coat in panko breadcrumbs.

The final step is to heat a little olive oil in a large frying pan. Then pan-fry for around 5 minutes on each side or until beautifully dark golden brown and crispy!
Use a fish slice to carefully add and remove them from the pan and turn them over.

So delicious with a squeeze of lemon juice on the top. And so so easy!
Helen's top tips
Don't waste the milk you cook the fish in if you decide to microwave fresh fish in milk as suggested. Freeze it and use it for the sauce when you make this easy fish pie!
Remember to check for any bones as you flake the salmon, especially if you're going to be serving the fish cakes to kids.
I recommend keeping both the potato and salmon in medium sized chunks rather than over-mashing them. This gives the fishcakes a 'just right' texture and stops them turning to mush in the pan.
If you have time, it's a good idea to chill the potato and salmon mixture in the fridge for around 30 minutes before shaping. This will help you to shape them without them falling apart.
Give the salmon patties a gentle yet firm packing before you fry them. This will help keep them together and cook them evenly. But be careful not to pack them too tightly, or you might end up with an undercooked, chilly center. A delicate touch is key!
Following on from the above… don't be tempted to keep moving them around in the pan. Leave them to cook without moving for around 5 minutes on each side so that they can get nice and crispy.
How to serve salmon fishcakes
I love eating these simply, with a salad and perhaps some coleslaw on the side. Try a classic Greek village salad or a tangy Greek lettuce salad. If you'd like a fancier (but still easy!) salad, go for this feta walnut beetroot salad.
If you enjoy a Mediterranean vibe, try adding a bowl of this simple 10-minute tsatziki sauce on the side for dipping. Or how about a homemade tartare sauce, or even a simple homemade Marie Rose sauce that you can make by simply mixing mayonnaise and tomato ketchup together?
Even jarred mayonnaise will work for dipping in a pinch!
This quinoa salad with feta, fennel and blueberries is a fancier salad option that tastes just incredible and goes perfectly with the salmon fishcakes.
To make a more substantial meal out of your fishcakes, serve with a delicious Mediterranean side dish such as this easy Greek lemon rice, Greek baked eggplant or orzo salad with pesto.
Mediterranean roasted vegetables or simpler sautéed frozen green beans would also go well, perhaps with some of this 2-minute toasted bread with olive oil and salt on the side.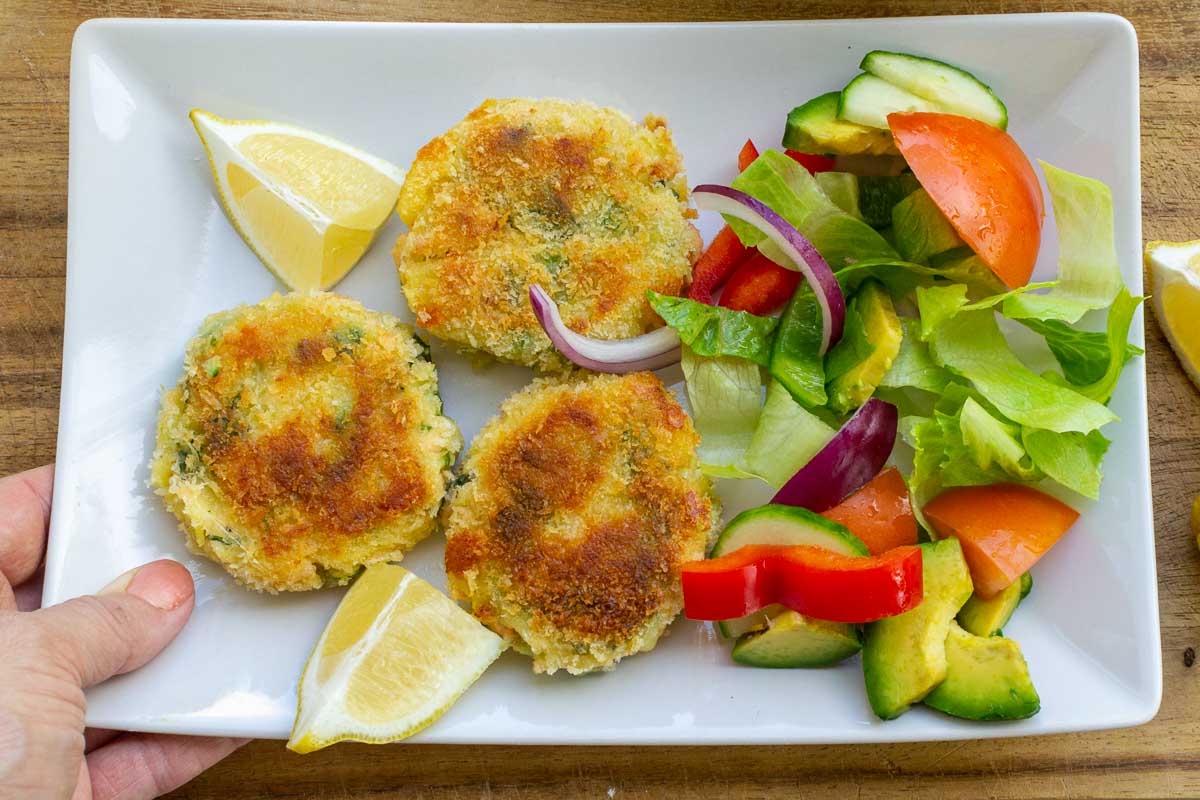 Variations
It's so easy to adapt this salmon fish cake recipe to your personal taste, or to what you have in the fridge or pantry.
Try a different veggie instead of peas, such as frozen broccoli, spinach, edamame or green beans. Pack in all that green goodness!
You can also try adding chopped scallions/spring onions to the mixture. You can use alternative fresh herbs (dill works wonderfully, as does basil), or dried herbs if you prefer. Chopped chives also work well.
Some people even like to add some chopped hard-boiled egg to the fishcake mixture. Try it – it's really delicious!
As for the fish, as already mentioned feel free to use canned salmon (or even tuna if you like for a budget version). Use a large can (around 425g/14oz) in oil or water (drained). Other types of fresh firm white fish work as well, such as cod, smoked fish, tilapia, pollock or sea bass.
Lastly, how about trying the recipe with sweet potatoes instead?
Recipe FAQ
Can I make salmon fish cakes ahead?
Yes, you can. Make them up to the point after you've added the breadcrumbs. Then keep them well covered in the fridge for 1 to 2 days until ready to cook.
Can I freeze salmon fish cakes?
Fishcakes freeze very well. Just freeze between layers of baking paper in a storage container with a lid after adding the breadcrumbs. You can freeze them for up to 3 months. When you want to eat them, defrost in the fridge overnight and then cook as you would from fresh.
I don't have any panko crumbs. What can I use instead?
I like panko because it's easy and crisps up nicely. However, feel free to use something else – ordinary breadcrumbs, crushed crackers, pretzels, cornflakes, tortilla chips or even potato chips! It's also easy to make this meal gluten free by using either gluten free breadcrumbs or one of the above options – but of course choose a gluten free version.
IF YOU MAKE THIS RECIPE, LET ME KNOW HOW YOU GET ON BY LEAVING A COMMENT AND RATING BELOW… AND DON'T FORGET TO SIGN UP TO RECEIVE ALL MY NEW RECIPES BY EMAIL!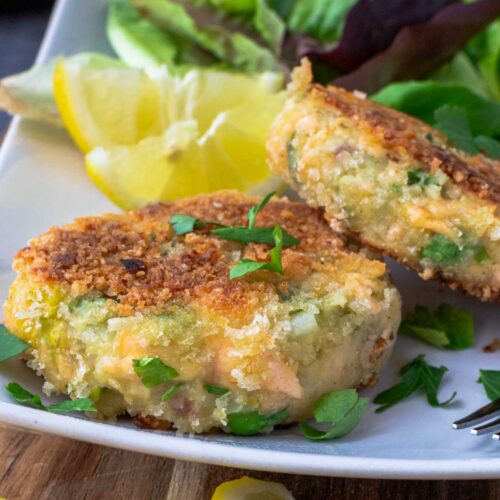 Easy Crispy Salmon Fishcakes
Salmon fishcakes! These are so simple to make, but there's nothing inferior about the taste. Full of delicately flavored salmon and fresh, subtle flavours, these are family crowd pleasers. Even your fussiest kid will love them! My favourite part is the crispy exterior – mmmmm!
Ingredients (UK/Australia? Click below for grams/ml)
for the fish cakes
14

ounces

potatoes

peeled and diced (about 4 small to medium potatoes)

½

cup

frozen peas

2½ ounces

1

tablespoon

butter

9

ounces

salmon

Around 3 portioned fillets (or use another kind of firm fish such as cod, tilapia, pollock or hake, or canned/tinned salmon or tuna)

1

lemon

(zest & squeeze juice over to serve)

2

teaspoons

mustard

any type e.g. yellow, Dijon

¼

cup

fresh parsley

about a handful, finely chopped (or use other fresh herbs such as basil, dill or coriander)

1

ounce

grated cheese

about a handful (I like a sharp cheddar but any strong cheese works e.g. parmesan, crumbled feta)

1

pinch

chili flakes

optional (perhaps skip if serving to children)

2

tablespoons

mayonnaise

salt and pepper
For the crispy coating
3

tablespoons

flour

(roughly)

1

egg

whisked

¼

cup

breadcrumbs

(roughly) I like Japanese panko crumbs, but any breadcrumbs can work

olive oil

(or vegetable oil) for frying
Instructions
Cook the potatoes in salted boiling water until tender (about 15 minutes). Add the peas for the last few minutes. Drain then return to the pan and lightly mash with the butter (I prefer to leave the potato a bit 'chunky'). Empty into a large bowl.

14 ounces potatoes,

½ cup frozen peas,

1 tablespoon butter

Meanwhile, put the salmon in a microwavable dish with around ⅓ cup/100ml milk. Then cover with plastic wrap and microwave for 2 minutes or until just cooked (a thicker piece of fish might need a little longer).

Flake the salmon into the bowl with the potato, then add the lemon zest, mustard, fresh herbs, cheese, chili flakes, and mayonnaise. Add a generous grinding of salt and pepper and mix well.

1 lemon,

2 teaspoons mustard,

¼ cup fresh parsley,

1 ounce grated cheese,

1 pinch chili flakes,

2 tablespoons mayonnaise,

salt and pepper

Cool the mixture for around half an hour in the fridge. Then take golf ball-sized amounts of mixture and then flatten gently to shape into 8 to 10 fish cakes.

To coat the fish cakes, put the flour, egg and breadcrumbs in separate dishes. Then roll the fishcakes first in the flour, then in the egg and lastly in the breadcrumbs. Place on a plate or baking tray ready to cook.

3 tablespoons flour,

1 egg,

¼ cup breadcrumbs

Heat up enough oil to just cover the bottom of a large frying pan on a medium high heat. Then pan fry the fishcakes for about 5 minutes on each side or until golden and crispy. Serve immediately.
Notes
Freezing: These fishcakes freeze really well. Simply freeze them between layers of baking paper in a sealed container. When ready to eat, defrost in the fridge then cook as from fresh.
Fish: I usually use fresh salmon but canned works as well, as does canned tuna (I prefer in oil or water, drained). Smoked fish would work as would firm white fresh fish such as tilapia, cod, haddock, pollock or sea bass.
I prefer to keep the fish and potatoes quite chunky. This gives the fishcakes a nice texture, but also stops them from turning to mush in the pan.
Cooking the fish: Don't waste the milk you cook the fish in if you decide to microwave fresh fish in milk as suggested. Freeze it and use it for the sauce when you make this fish pie! If you prefer you can pan-fry the fish or bake it for 10 minutes instead, or use leftover cooked salmon.
When pan-frying: Don't be tempted to keep moving the salmon fishcakes around. Leave them for around 5 minutes on each side so that they can get nice and crispy.
Nutrition
Calories:
357
kcal
Carbohydrates:
32
g
Protein:
21
g
Fat:
16
g
Saturated Fat:
5
g
Polyunsaturated Fat:
5
g
Monounsaturated Fat:
4
g
Trans Fat:
0.1
g
Cholesterol:
94
mg
Sodium:
244
mg
Potassium:
879
mg
Fiber:
5
g
Sugar:
3
g
Vitamin A:
720
IU
Vitamin C:
46
mg
Calcium:
109
mg
Iron:
3
mg