Yes, you CAN bake banana bread in your air fryer! This mini air fryer banana cake recipe is perfect if you have a lonely overripe banana in your fruit bowl. Crunchy on the top and moist and fluffy on the inside, it's super easy to make in around 30 minutes. With endless substitutions, this is for you if you want a healthier banana bread that you don't even have to switch on your oven for!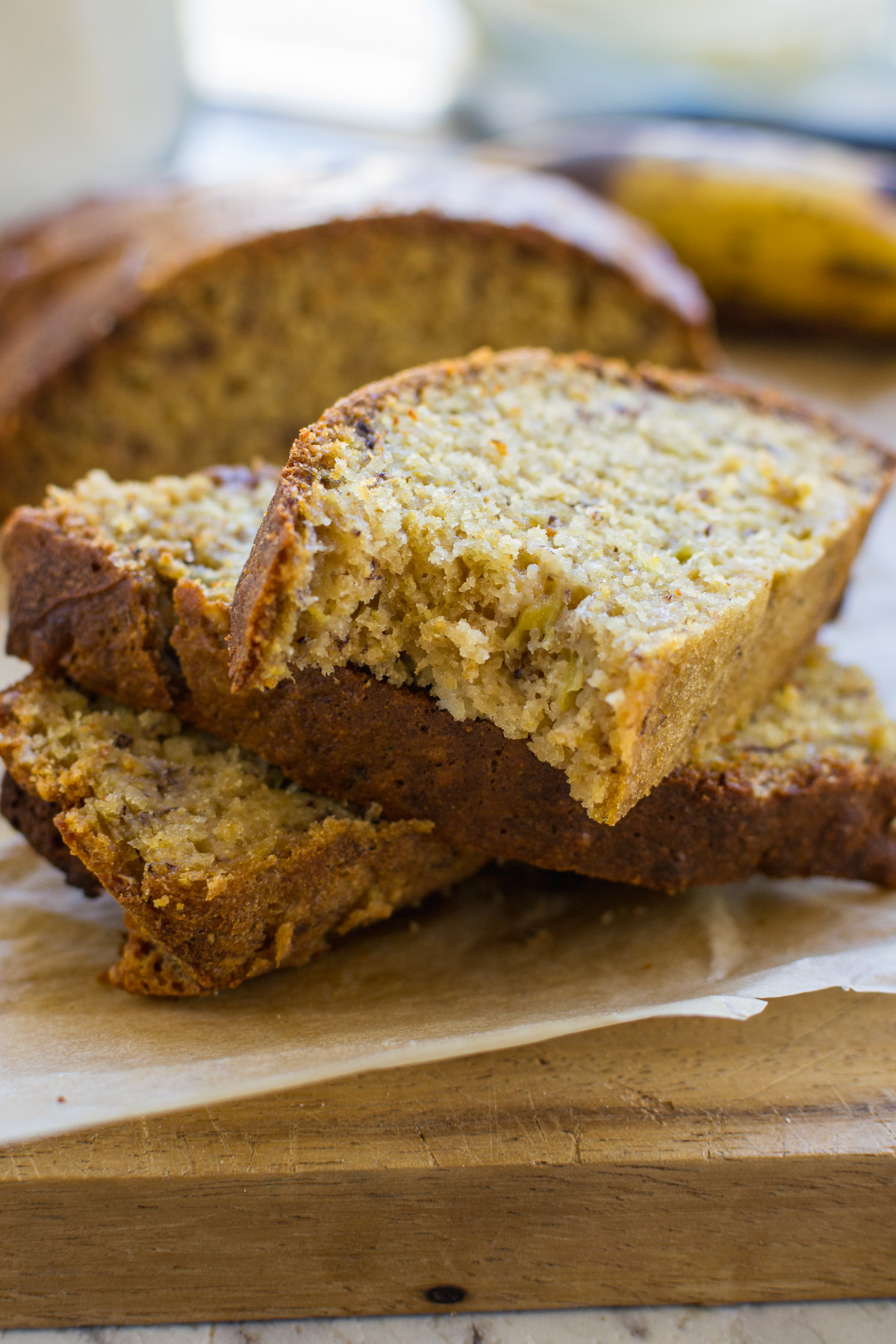 I've yet to meet anyone who doesn't enjoy a slice of freshly baked banana bread, ideally still warm from the oven. But you don't always want a big loaf of cake hanging around your kitchen, constantly tempting you to have that second (and third and fourth?) slice.
So what if you made a small banana bread instead? And you didn't even need to turn on the oven to make it?
Yep, you guessed it, you can make a mini banana bread in your air fryer! How cool is that? You can still make it in your oven if you prefer (see instructions below!) but you'll save power (and possibly even your waistline) if you make it in your air fryer. 😉
The BEST air fryer banana bread
Here's why you should make THIS air fryer banana bread recipe rather than any other:
It's a small banana loaf. Perfect for last minute entertaining or an emergency banana bread craving. No temptation to scoff the leftovers all to yourself!
it's got a crisp outer crust and a soft, fluffy and moist inside. Delicious!
It's a one bowl, super quick recipe. It literally takes around 5 minutes. No pesky creaming of butter and sugar! Just mash a ripe banana, whisk in an egg, then add sugar, oil, and flour.
It's quick to bake, too. Banana bread usually takes about an hour to bake. But this small batch version takes only 30 minutes, whether you bake it in your air fryer or the oven.
It's a fairly healthy recipe and not too sweet. There are only 2 tablespoons of both oil and sugar.
It works with many substitutions! I've made it with almond flour, coconut oil, whole wheat flour, coconut flour, and added raspberries, coconut and more. See below for more healthy substitution ideas!
5 star review *****
"I am so grateful to find a recipe that works! Love the crispy outer crust and soft inner texture! Thank you! ♥️" (Priscilla)
Ingredients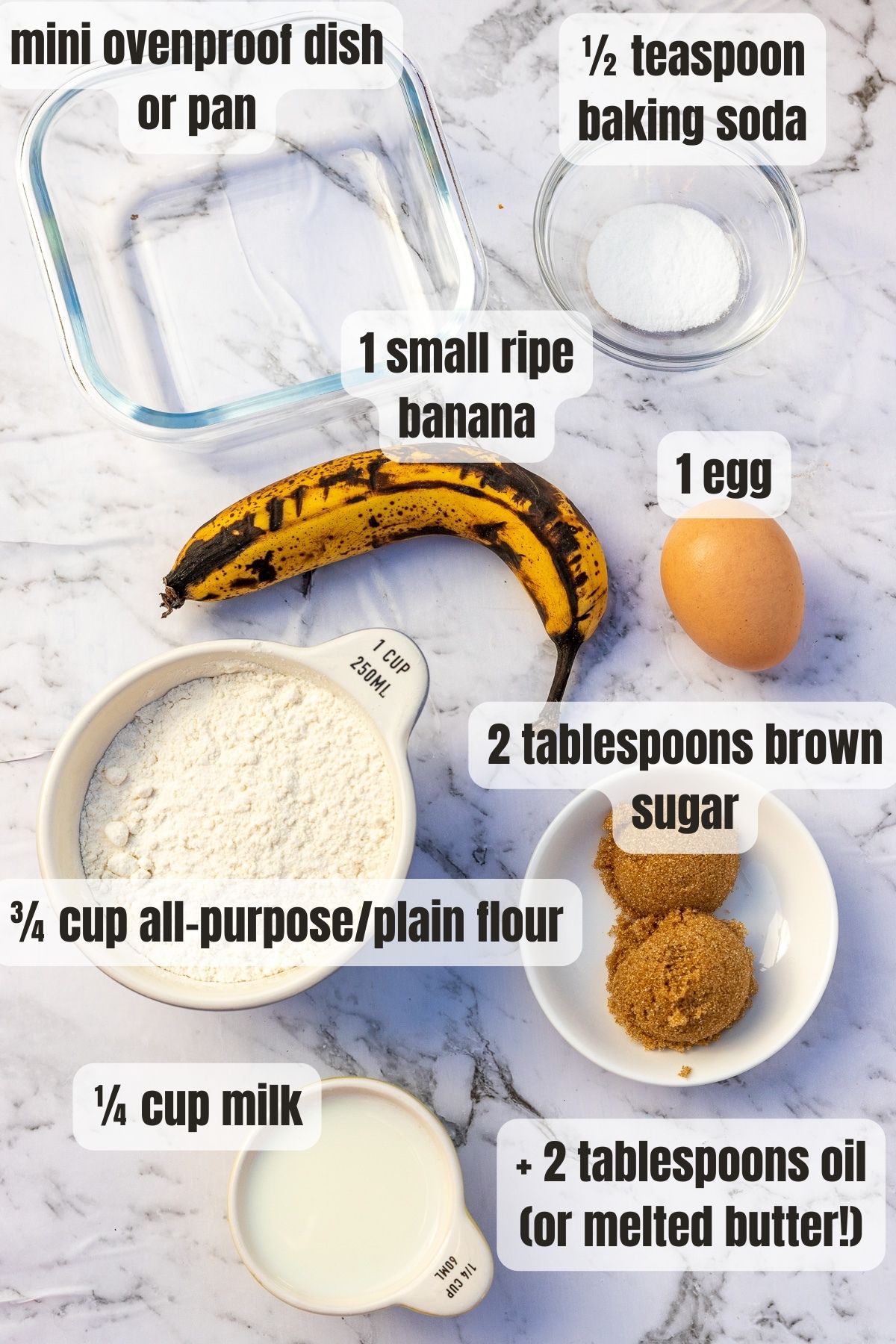 1 banana: Small to medium. The riper the better! Ripe bananas are sweeter and more flavorsome so I find this makes such a huge difference to the taste.
1 egg: I try to go for free range or organic. I usually use large, but this recipe is quite forgiving so any you have will work fine.
Brown sugar: 2 to 3 tablespoons depending on whether you're in a sweet tooth mood or not! Other types of sugar work too, such as white or coconut, but I like the slight caramel-y taste of brown.
Oil: This is a banana bread recipe with oil, for ease. 2 tablespoons of your favorite oil is fine. I've successfully used vegetable oil, melted coconut oil and even light olive oil. Melted butter works, too, if you prefer that classic buttery flavor in your cake.
Milk: I've tried the recipe with whole milk, 2 percent (semi-skimmed/hi lo) and almond. I think it would work with any kind of milk you like, including non dairy milks.
All-purpose/Plain flour: Mix with 1/2 teapsoon baking soda, or just use self-raising flour. Other flours such as whole wheat work too (see below for more suggestions!).
I'd add a pinch of salt, as well!
What pan to use
To make this mini cake in an air fryer, you just need to use a really small baking pan or dish. I use a small glass baking dish that fits into my fairly small air fryer. It's about 5.5 square inches.
However, you can use any dish or pan that's ovenproof – glass, ceramic, metal or silicone – and of course that fits into your air fryer!
I recently bought a set of 4 mini metal loaf pans that are 5.5 inches by 3 inches. These work very well too. If you have a larger air fryer such as the Philips Essential Air Fryer XL then you could even sneakily double the ingredients and make 2 mini loaves at one time!
Whichever pan you use, it's best to line it with baking paper and trim the edges, then spray it with oil to prevent sticking.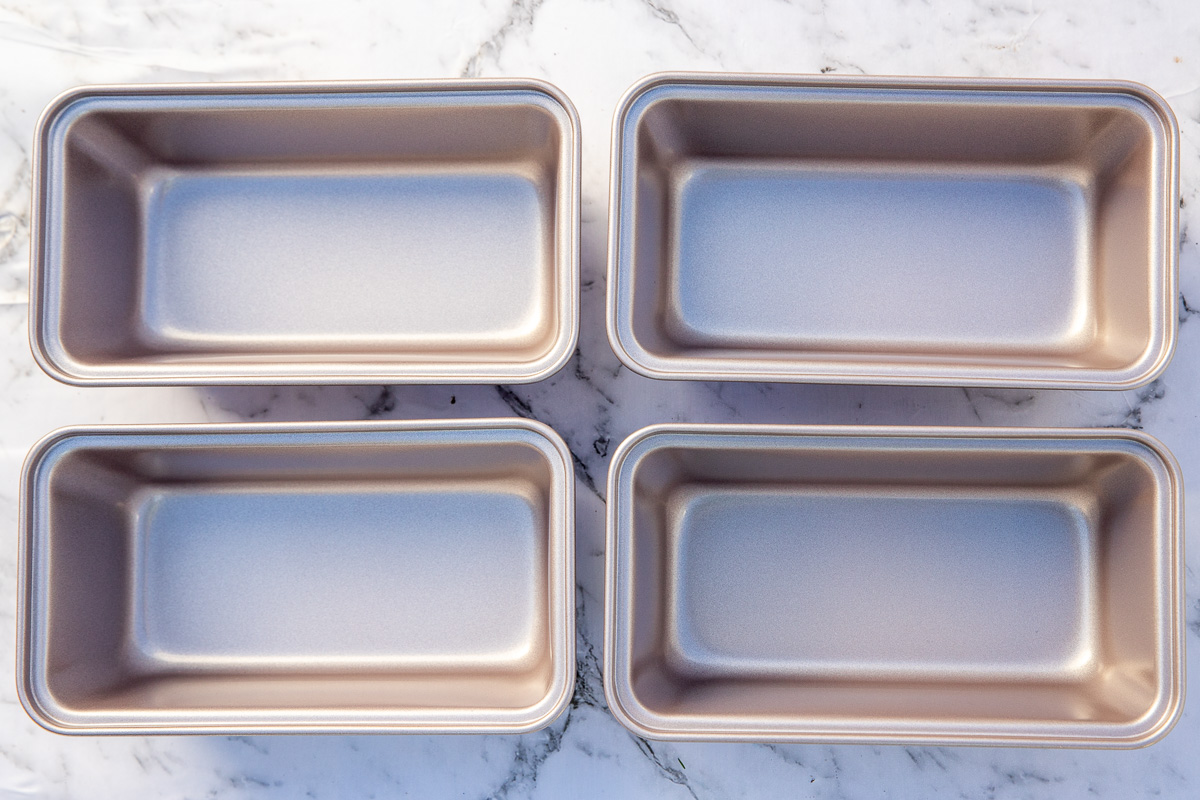 How to make it
The step-by-step guide below should help you make the recipe perfectly first time. Scroll down to the end for the full recipe including ingredient amounts.
Step 1: Pre-heat your air fryer to 320F/160C and line a small baking dish or loaf pan with baking paper.
Step 2: Mash the banana well in a Pyrex jug or small baking bowl. I like to use a jug so that I can just pour the batter into my dish (with a little help from the fork I use to combine all the ingredients). No need for a spatula if you don't want!
Step 3: With a fork, whisk in all the other ingredients (the egg, sugar, oil, pinch of salt and finally the flour and baking soda). Just until well combined – there can be some lumps.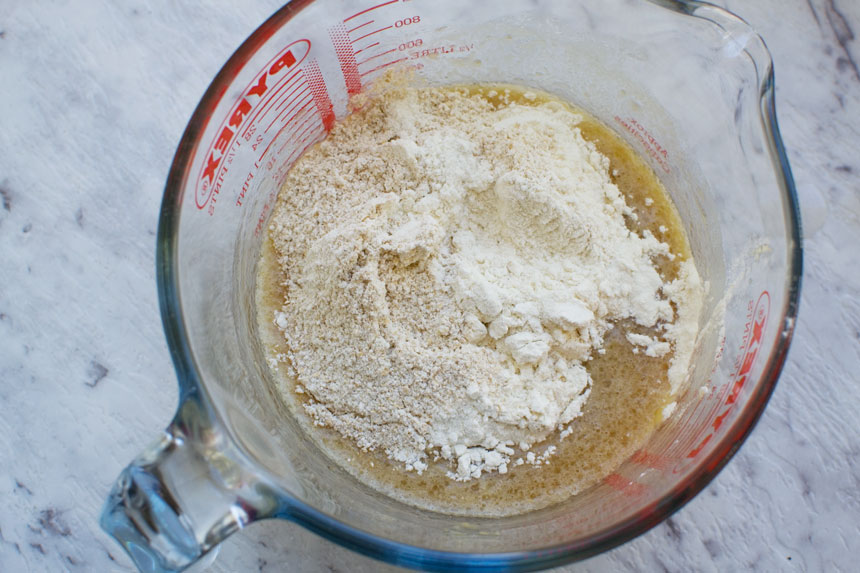 Step 4: Pour or scrape the batter into your small baking dish or loaf pan.
Step 5: Put the pan into your air fryer basket and bake for around 30 minutes. After this, check with a skewer or tooth pick that it's done. If there's still some raw batter, just turn it upside down and put back into the air fryer for an extra 5 minutes with the bottom facing up!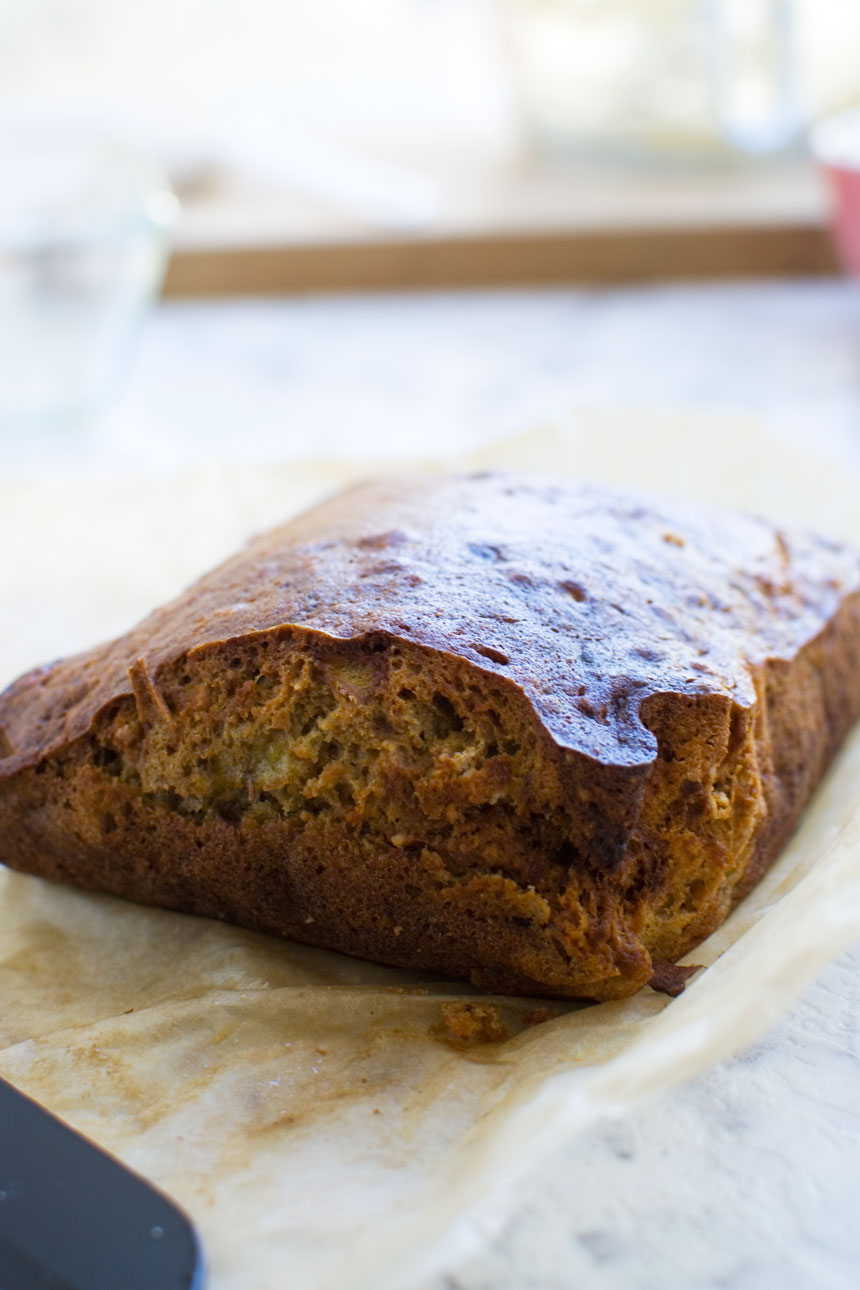 Helen's top tips
Throw all your overripe bananas into a bag in the freezer for your next mini banana loaf craving!
You might want to tuck aluminium foil over the top during the second half of the cooking time. You'll find that the top of the banana bread gets browner than it would in the oven. Personally, I love the contrast of the crunchy top with the moist cake below!
The top sometimes cooks faster than the inside in an air fryer. To check it's fully cooked, simply turn upside down and poke a skewer or cake tester into the center of the bread. If it comes out virtually clean, it's done!
If you prefer to bake it in your regular oven (maybe your oven is already on!), you can do this. The temperature is the same but the cooking time is a little less – around 25 minutes.
If you have a larger air fryer and two ripe bananas, why not double the ingredients and make two mini loaves instead of one? One for now, and one for the freezer!
Substitutions
This small batch banana bread recipe is very adaptable, and very easy to 'healthify'. Not that the recipe is that bad in the first place (hello bananas!!).
You can change it up by:
using different oils. I've already used canola, olive and coconut oils to make this banana bread! You can also replace the oil with melted butter for extra flavor.
varying the flours. Once I used a mixture of whole wheat flour, coconut flour, and hemp seed flour. This one was delicious!
using a natural sweetener such as maple syrup, honey or date syrup instead of brown sugar.
adding things like milk, white or dark chocolate chips, flaked coconut, nuts or raspberries/blueberries. I've tried most of these additions and they were all delicious!
Add a large pinch of cinnamon and/or nutmeg or 1/2 teaspoon vanilla extract for an extra hit of flavor.
Somehow however I adapt it, my banana bread always works and tastes good!
Top tip: Do browse the comments below for more substitution ideas. Readers have already tested making this in so many ways!
Storing and freezing
Your mini banana bread will keep well in an airtight container for a few days (IF it lasts that long, which I doubt).
It also freezes well. You can freeze it well wrapped or in a freezer proof container for up to 3 months.
Sometimes, I like to slice it into separate slices, wrap it in baking paper, and freeze in small freezer bags. I then either let it defrost then reheat for a few seconds in the microwave, or defrost completely in the microwave.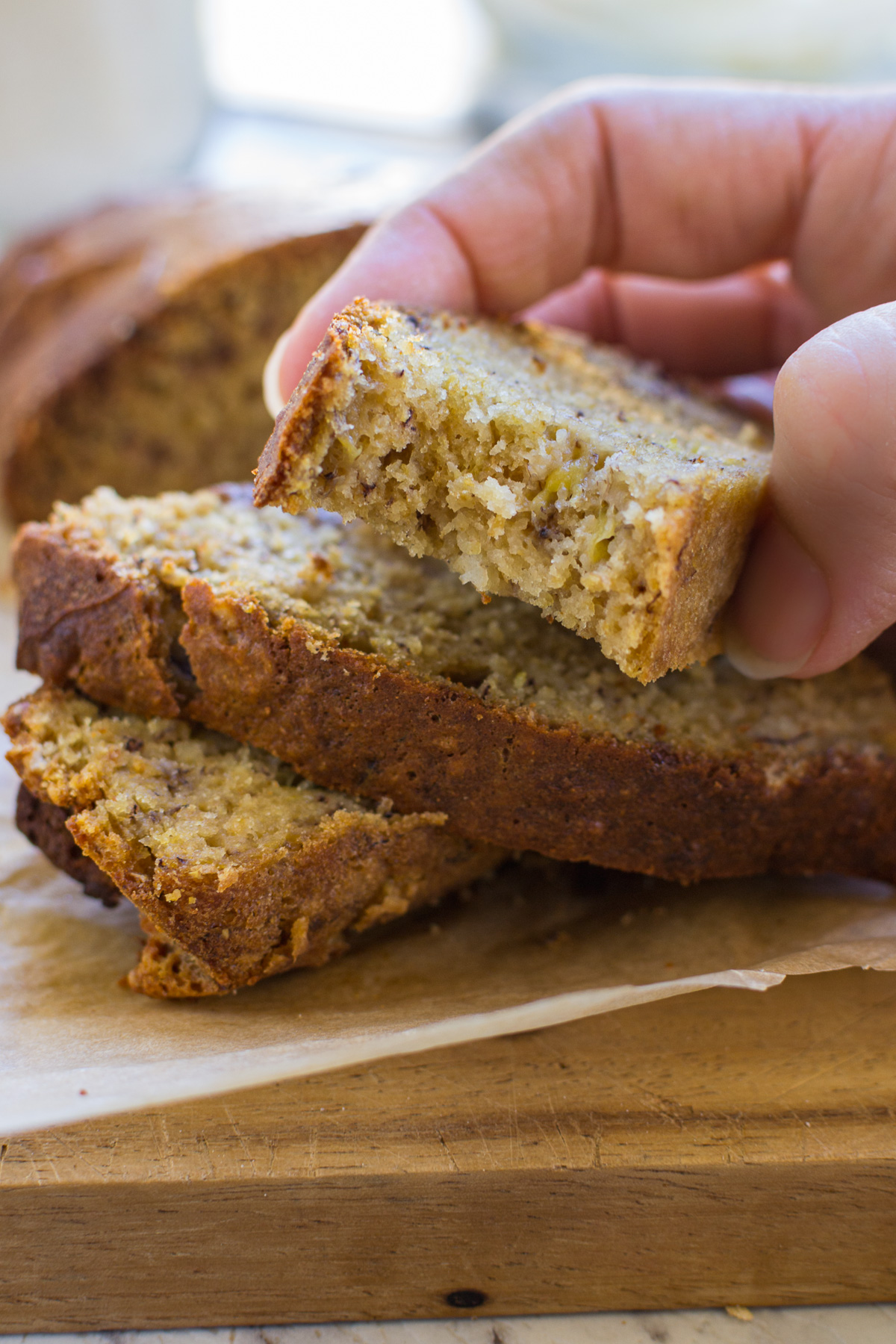 Got brown bananas? What are you waiting for?
Next time you have brown bananas sitting on the counter top that your significant other is threatening to throw away (mentioning no names, Mr Scrummy…), make one of these mini banana breads!
Just see how smug you feel when you take the first bite of your delicious warm-out-of-the-oven treat!
More ripe banana recipes
If you're looking for more air fryer recipes, check out my easy air fryer recipes category. There's air fryer whole roast chicken, air fryer bacon and much more.
IF YOU MAKE THIS RECIPE, LET ME KNOW HOW YOU GET ON BY LEAVING A COMMENT AND RATING BELOW… AND DON'T FORGET TO SIGN UP TO RECEIVE ALL MY NEW RECIPES BY EMAIL!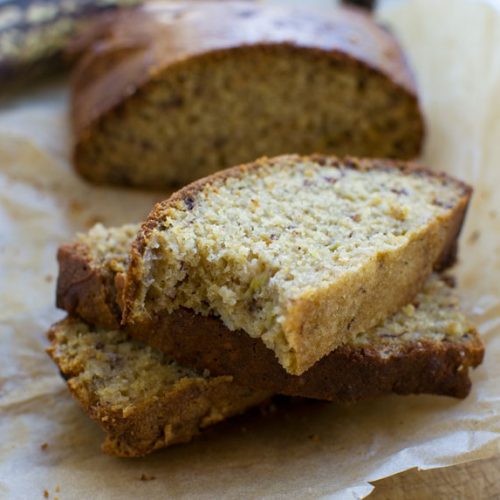 Really Easy Air Fryer Banana Bread (Mini Loaf!)
Got a brown banana hanging around? Fan of freshly baked banana bread but don't want a big loaf lying around to tempt you? This mini banana bread is a super easy one bowl recipe and there's no creaming of butter and sugar necessary. Just mix together a few basic pantry ingredients, pop the cake into your air fryer (or oven if it's already on) and you'll be enjoying a delicious slice of healthy banana bread in around just 30 minutes.
Equipment (affiliate links)
Ingredients (UK/Australia? Click below for grams/ml)
1

banana

small to medium, mashed – the riper the better

1

egg

2

tablespoons

brown sugar

I add 2-3 tablespoons depending on my mood!

2

tablespoons

oil

I've used light olive oil and canola and coconut oils. Melted butter works really well, too.

¼

cup

milk

Any milk works, including non dairy such as almond and soy.

¾

cup

all-purpose flour

I've used white, wholemeal, coconut flours, or a mixture + hemp flour. I've also used self raising flour instead and skipped the baking soda.

½

teaspoon

baking soda

1

pinch

salt

1

pinch

cinnamon or nutmeg

(optional)

raspberries, blueberries, chocolate chips, coconut, nuts, ½ teaspoon vanilla

(All optional extras!)
Instructions
Line a very small ovenproof baking pan, glass dish or mini loaf pan (I've used 5 sq inches and also a 5×3 inch mini metal loaf pan) with baking paper and trim. Spray with a little oil.

Pre-heat air fryer or oven to 320F/160C.

In a small bowl, whisk the egg into the mashed banana. Then whisk in the sugar, oil, and milk.

1 banana,

1 egg,

2 tablespoons brown sugar,

2 tablespoons oil,

¼ cup milk

Add the flour and baking soda and salt and mix until just combined. Fold in any mix-ins e.g. chocolate chips, nuts.

¾ cup all-purpose flour,

½ teaspoon baking soda,

1 pinch cinnamon or nutmeg,

raspberries, blueberries, chocolate chips, coconut, nuts, ½ teaspoon vanilla,

1 pinch salt

Pour the batter into the prepared pan and bake in your oven or air fryer for 25 to 35 minutes or until a skewer poked into the bottom of the cake comes out clean. A little bit of sticky-ness is fine. For me it takes 30 to 35 minutes in my air fryer and 25 minutes in my oven.

Let cool for 10 minutes in the tin/dish, then transfer to a wire rack to cool.
Notes
Banana: Because this is a mini banana bread, I use a small to medium banana for this recipe. You can vary the amount of mashed banana a bit, but if you use too much the base of the bread can become a bit heavy (although it's still delicious!).
Cooking time: This banana bread usually takes 30 to 35 minutes to bake in my air fryer. In my oven it takes 25 to 30 minutes. Unfortunately I think the baking time will vary according to your oven. Just keep checking from 25 minutes onwards!
Since sometimes an air fryer cooks the top of a cake faster than the inside, you can turn the banana bread over 5 minutes before the end of the cooking time.
Storing: This banana bread will keep fresh for a few days in an airtight container.
Substitutions: This small batch banana cake is very versatile. I've healthified it by reducing the sugar and swapping out the oil and flour for healthier versions (e.g. coconut oil, wholewheat or coconut flour…) and the recipe still works really well.
I've also added chocolate chips, coconut flakes and raspberries to the original recipe. I particularly enjoy the raspberry version!
Freezing instructions: This banana bread freezes well. I like to slice it into separate slices, wrap it in baking paper, and freeze in small freezer bags. I then either let it defrost then reheat for a few seconds in the microwave, or defrost completely in the microwave.
Nutrition
Calories:
233
kcal
Carbohydrates:
34
g
Protein:
5
g
Fat:
9
g
Saturated Fat:
1
g
Polyunsaturated Fat:
2
g
Monounsaturated Fat:
5
g
Trans Fat:
0.03
g
Cholesterol:
43
mg
Sodium:
171
mg
Potassium:
181
mg
Fiber:
1
g
Sugar:
13
g
Vitamin A:
103
IU
Vitamin C:
3
mg
Calcium:
37
mg
Iron:
1
mg