Bring a taste of the Mediterranean summer into your kitchen with this quick and easy feta dip recipe! Tangy, creamy, zesty and just a little bit fiery, 'tyrokafteri' (literally 'hot cheese' in Greek) is a spicy feta dip that's perfect for mezze platters, or simple appetizers and snacks.
Throw just 5 simple ingredients into a food processor. In just 5 minutes, your dip will be ready for shovelling into your mouth with warm flat bread, pita chips or on the side with a classic Greek meal.
Move over tzatziki!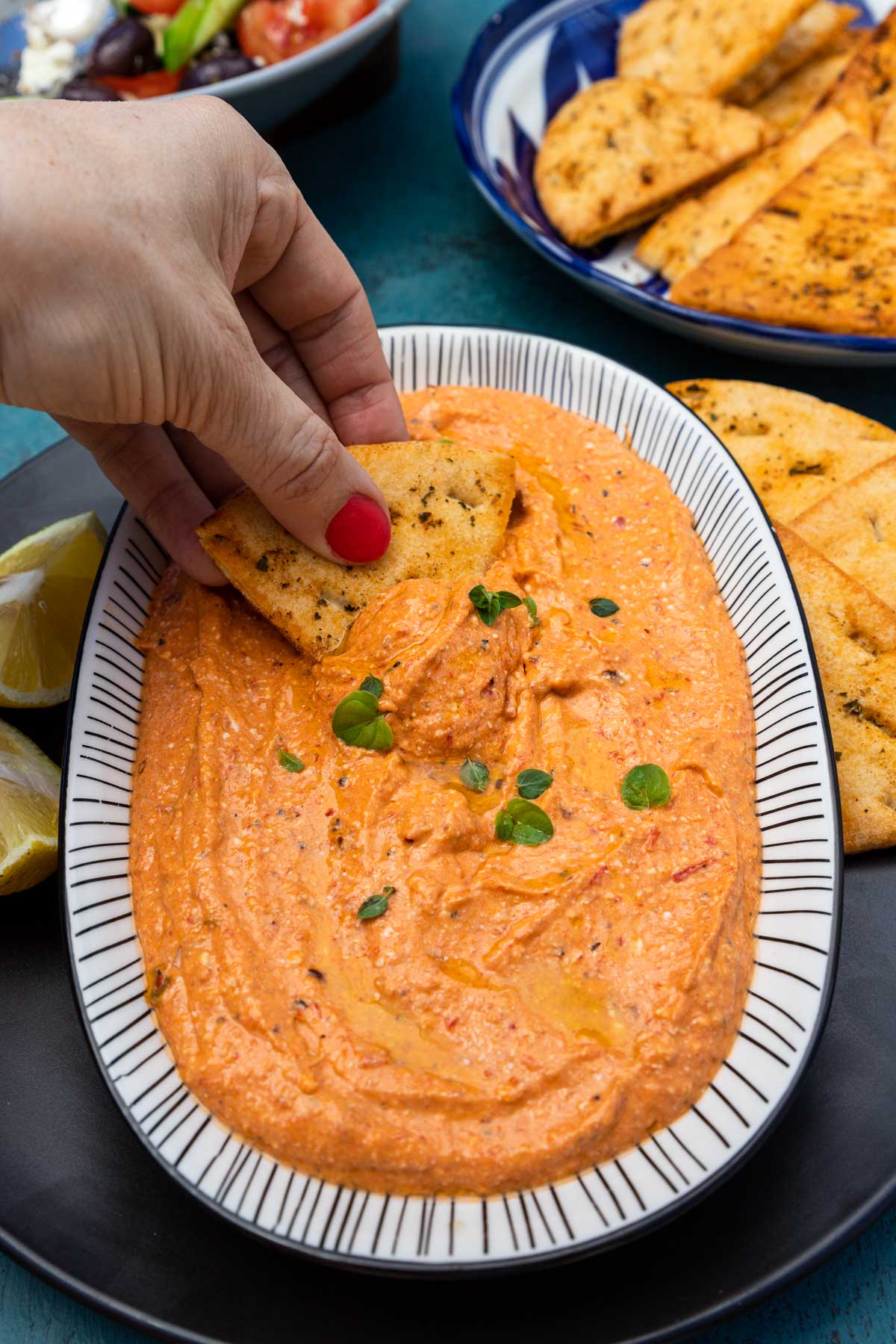 What's tyrokafteri?
First things first… the Greek word Tyrokafteri (written Τυροκαυτερή in Greek and pronounced tee-ro-kaf-ter-EE) literally means 'hot cheese' in English!
Also sometimes spelled tirokafteri, it's a spicy feta cheese dip (or spread!) that's made with feta cheese, roasted red peppers, lemon, olive oil and chili. You'll often see it in Greece as part as a meze platter, or just to enjoy on the side with other classic Greek side dishes and mains.
Like many classic Greek recipes that have been passed down through generations, many people have their own preferred way of making tyrokafteri. Some are made with actual chilis, others are made with hot peppers, and still others just a pinch or two of chili flakes. Some add lemon juice or vinegar and some versions include more red bell peppers than others.
Of course, they are all delicious!
Fun facts
Traditionally, this dip is made with a pestle and mortar. You can try it if you like although expect some arm work! The dip will be chunkier, but arguably even more delicious made this way.
In Greece, you might also come across cheese dips called 'htipiti' or 'kopanisti', which mean 'whipped' or 'beaten'. They are very similar whipped feta dips, but there are some small differences. Tyrokafteri is the spicy one, of course!
Why you'll love it
One of the (many) wonderful things about Greek food is its simplicity. You don't need many ingredients to make something extremely delicious!
Here's what I think you'll love:
SO easy to make in literally 5 minutes and with just 5 ingredients. Add a few store-bought or homemade pita chips and this is such a fantastic option for a quick pre-dinner appetizer for guests!
A crowd pleasing flavor combination. Made with all natural ingredients, this dip is rich and creamy and yet lighter than most cheese dips. The flavors are bold and punchy and yet not overpowering. The sweetness of the red peppers cuts through the salty feta and hit of spice just enough. You won't be able to stop eating it!
Adjust the spice to your personal taste. I like to keep my dip on the milder side with just a little kick of heat. But feel free to add more chili flakes if you like.
Ingredients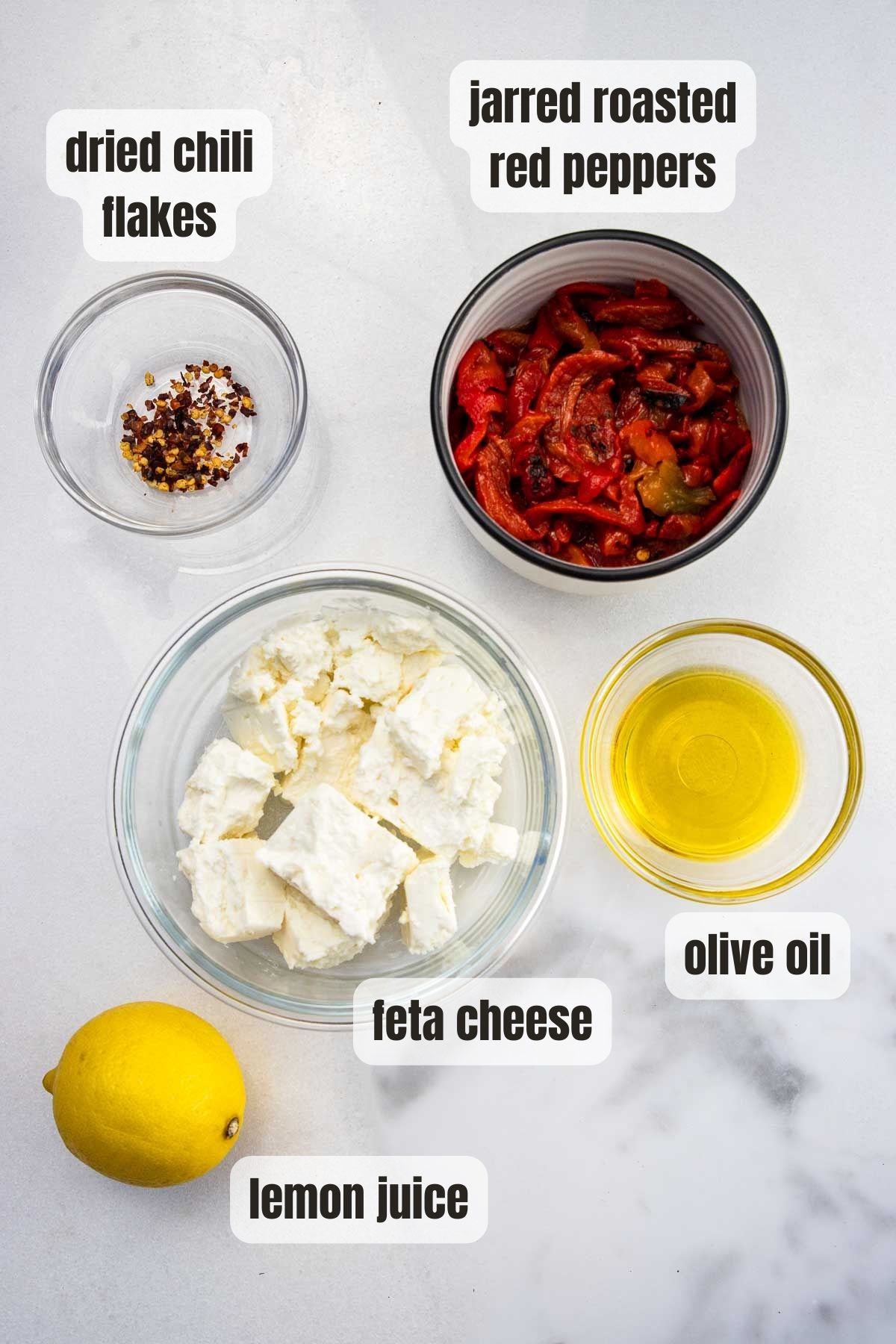 Feta cheese: Since it's the star of the show, I like to pick a good quality feta cheese that I already know I like. My favorite is an authentic Greek brand. However, I also quite like Danish, Persian, Bulgarian or French fetas for their extra smooth and creamy textures.
Roasted red peppers: To make this dip the easiest it can be, I always use jarred roasted red bell peppers that are packed in either water or oil. Whole or chopped are both fine.
Dried chili flakes: I use these since I always have them in my pantry. Feel free to use crushed red pepper flakes instead, or a chopped fresh red chili (start with just one and go from there).
Lemon juice: Not all tyrokafteri recipes include lemon juice, but I love the vibrance and freshness it adds. Feel free to use a little vinegar instead if you don't have lemon juice on hand.
Extra virgin olive oil: You'll add just a little to the dip to help it blend together. If you can use a good quality brand all the better. Since there are so few ingredients in this dip you want each one to shine.
How to make tyrokafteri
It would be hard to find a cheese dip as easy to make as this one!
All you have to do is to throw all of the ingredients into a food processor or blender together. My mini food processor bowl seems like the perfect size!
Then pulse for just a few seconds until you have a smooth creamy dip that still has a few chunks of cheese and peppers in it.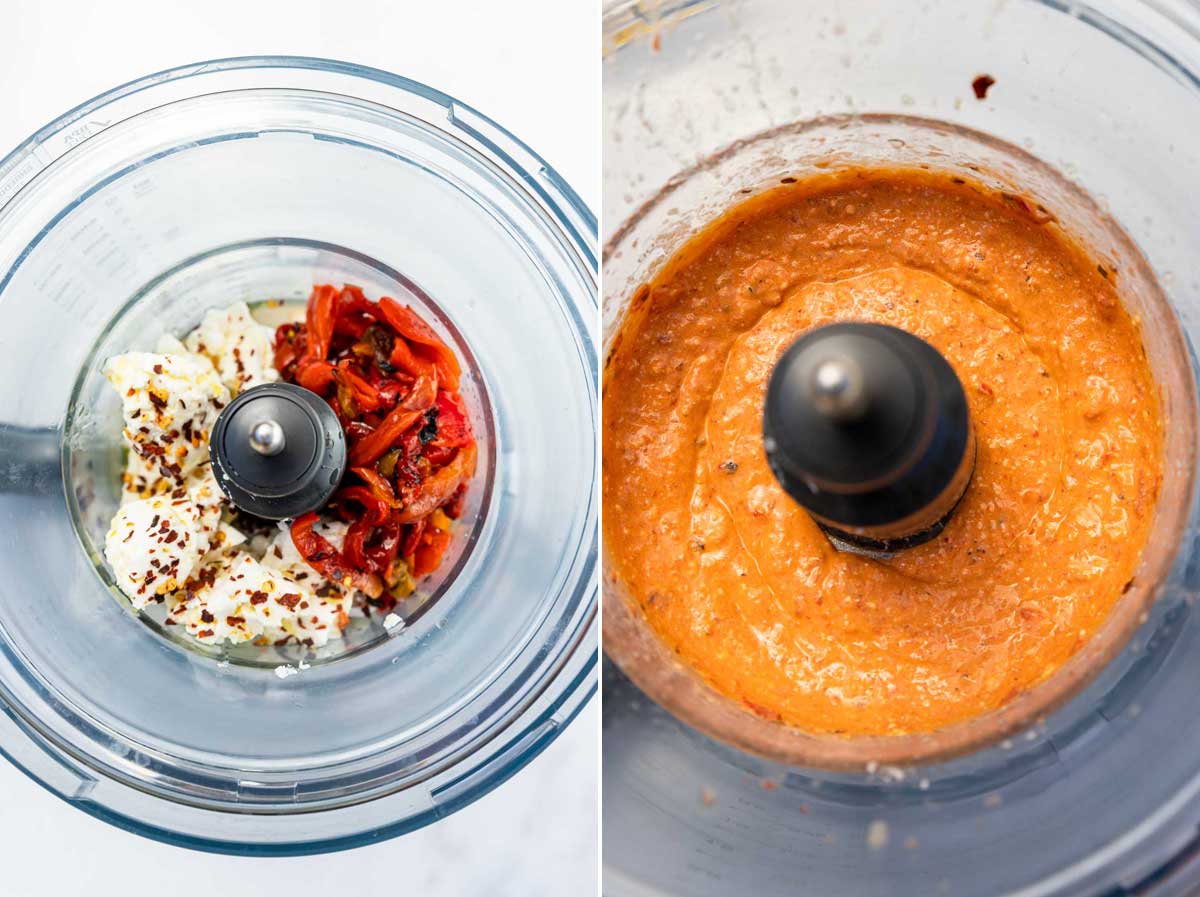 If you have time, pop it into the fridge for a while to 'rest'. Then spread the dip out on a small platter or plate or pile it into a bowl to serve.
I sometimes garnish the top with a few fresh herb leaves (oregano in the photo below), an extra drizzle of extra virgin olive oil, and a few lemon segments if I have any.
Helen's top tips
Don't overmix. Pulse the ingredients in your food processor until just combined. Traditionally, this red pepper and feta dip should be a little chunky in texture.
I find a mini food processor is 'just right' for making this dip. But you can also use a hand held blender or regular blender or even crush and whip the dip by hand in a pestle and mortar if you prefer.
Try to make the dip at least 2 hours ahead. The traditional way to serve tyrokafteri is a little hardened, straight out of the fridge. I love it like this!
How to serve
My favorite way to serve tyrokafteri is as a very simple dip in a bowl with pita chips, tortilla chips (or any chips), crackers, warm sliced flatbread or chopped veggies on the side for dipping and scooping.
If you're interested in making your own homemade pita chips, check out my recipe for air fryer pita chips (also possible in a regular oven!).
If you want to be fancy, make a trio of dips with tyrokafteri, tsatziki and either melitzanosalata (eggplant dip) or hummus. Make crispy Greek zucchini fries for dipping!
But a Greek feta dip is also perfect used as a spread! Spread it onto these 2-minute olive oil toasts, or slather it inside a sandwich or wrap such as these Greek wrap pinwheels.
Or how about serving it pizza style? Spread the cheese dip onto a cooked pizza base, naan bread or other favorite flatbread, and sprinkle chopped Greek salad ingredients over the top!
Last (but most definitely not least), this dip is fantastic served simply on the side with any Mediterranean style dinner. How about serving it as part of a salad bowl, with quinoa or another grain, pita bread and whatever other salad ingredients you like?
Here are some more ideas:
Top tip: This dip also makes a perfect side dish for lamb kleftiko (Greek roast lamb) or any other grilled or roasted meat.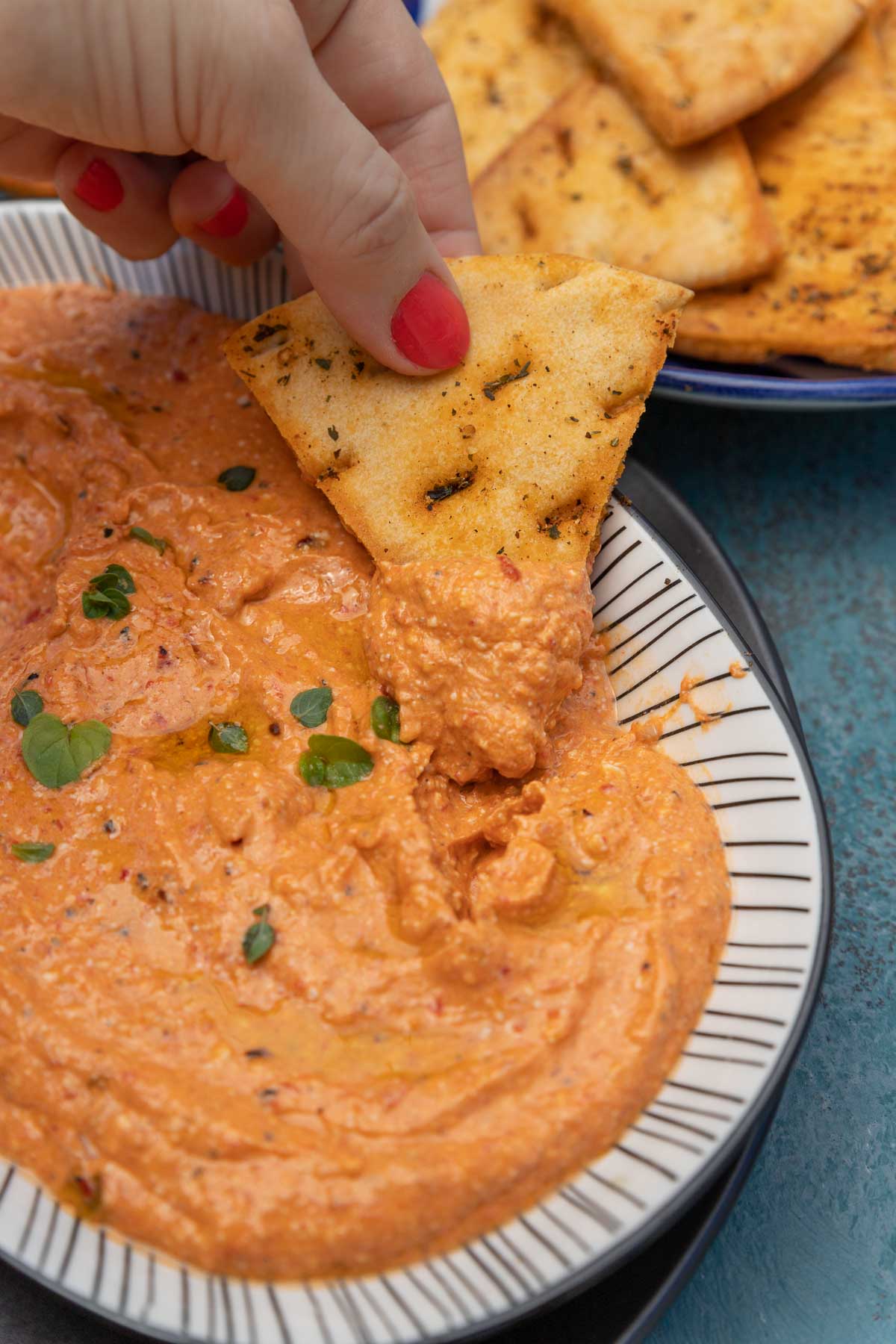 Variations
As already mentioned, you are pretty free to make this spicy feta dip recipe your own by simply varying the amounts of the ingredients you add.
For instance, add a little more or less lemon juice or substitute with vinegar. Up the spice (or don't!). Add just a few roasted red peppers for a hint of pink in the dip, or add more for a dip with more of a salmon-y hue (my fave!).
For a very mild version of the dip, skip the chili altogether, perhaps adding a half to 1 teaspoon of paprika instead.
You can also stir in a few fresh herbs, or sprinkle some over the top to serve. My top choice would be a little fresh oregano, but coriander or parsley would work well, too.
However… my FAVORITE way to vary this recipe is by adding sundried tomatoes into the dip! You can either keep the roasted red peppers and just add a few, or you can entirely replace the bell peppers with sundried tomatoes.
This also makes an incredibly delicious quick and easy feta dip!
Recipe FAQ
What can I substitute for chili flakes when making tyrokafteri?
You can simply use chopped red chilis, crushed red pepper flakes, jalapeños or even Mediterranean hot green peppers if they're available. Any kind of chili or hot peppers will work. Always start with a small amount and go from there to increase the heat.
How long does tyrokafteri keep in the fridge?
If you cover it well or keep it in an airtight container, this spicy feta dip will keep well for a few days in the fridge, and probably longer. If you'd like to keep it longer (up to a week), cover the top with a thin layer of olive oil to help preserve it.

The dip will harden a little in the fridge, but arguably it tastes even better that way!
More recipes starring feta cheese!
For more ideas for your mezze platters and snacks, you might also like to check out this list of 21 easy Greek appetizers!
IF YOU MAKE THIS RECIPE, LET ME KNOW HOW YOU GET ON BY LEAVING A COMMENT AND RATING BELOW… AND DON'T FORGET TO SIGN UP TO RECEIVE ALL MY NEW RECIPES BY EMAIL!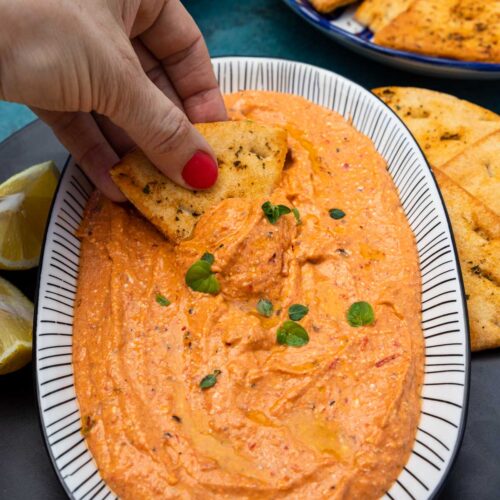 Tyrokafteri (5-Minute Greek Spicy Feta Dip Recipe)
This classic tyrokafteri spicy whipped feta dip is made with just five simple Mediterranean ingredients – roasted red peppers (from a jar!), feta cheese, olive oil, lemon juice and chili flakes. It's unbelievably quick and easy to make, and so versatile to use. Ready for scooping up with homemade pita chips or serving in so many other ways in just 5 minutes!
Ingredients (UK/Australia? Click below for grams/ml)
1

cup

feta cheese

broken into chunks or crumbled

1

cup

roasted red peppers

jarred, in oil or water (ready-roasted)

2

tablespoons

olive oil

2

tablespoons

lemon juice

about the juice of 1 lemon

¼

teaspoon

dried chili flakes

or red pepper flakes, or 1 small red chili (some may prefer more chili flakes, around ½ teaspoon, but start at ¼ teaspoon and go from there)
To garnish (optional)
a few fresh herb leaves e.g. oregano, parsley, coriander

an extra drizzle of olive oil

extra lemon segments
To serve
pita chips, tortilla chips or any chips, warm pita bread or flatbread, vegetable sticks, or zucchini fries
Instructions
Put all the ingredients in the bowl of a food processor, and pulse for a few seconds. I like to pulse until everything's blended together with a few chunky bits still remaining.

1 cup feta cheese,

1 cup roasted red peppers,

2 tablespoons olive oil,

2 tablespoons lemon juice,

¼ teaspoon dried chili flakes

Empty out onto a small serving platter or plate or into a bowl. If you like, garnish with fresh herbs such as oregano, an extra drizzle of olive oil and lemon segments.

If you have time, cover and store in the fridge for a couple of hours to let harden slightly to serve. Serve with something like warm flatbread, tortilla chips, raw vegetables, or store-bought or homemade pita chips.
Notes
Try not to overmix in the food processor. The traditional way to serve tyrokafteri (spicy Greek feta cheese dip) is slightly chunky in texture.
You can vary the amounts of each ingredient to taste. Add more or less chili, more or less lemon, and more or less roasted red pepper for a different color to the finished cheese dip.
Try using sundried tomatoes to make this as well as or even instead of roasted red peppers! Want to skip the chili? That's fine. Either add a bit of paprika instead, or just skip the spice altogether.
Serving suggestions: This dip is perfect scooped up with any kind of chip or bread. It's also great as a spread in a wrap or on a sandwich, with grilled meats, on a salad or as a side with any kind of classic Greek dish.
Storage: The dip will keep in the fridge (well covered or in an airtight container) for a few days or up to a week. If keeping beyond a few days, you might wish to cover the top of the dip with a thin layer of olive oil to help to preserve it.
Nutrition
Calories:
170
kcal
Carbohydrates:
3
g
Protein:
6
g
Fat:
15
g
Saturated Fat:
6
g
Polyunsaturated Fat:
1
g
Monounsaturated Fat:
7
g
Cholesterol:
33
mg
Sodium:
909
mg
Potassium:
85
mg
Fiber:
0.5
g
Sugar:
0.2
g
Vitamin A:
378
IU
Vitamin C:
19
mg
Calcium:
200
mg
Iron:
1
mg