A delicious taste of the Mediterranean. Throw five ingredients into a food processor, and this delicious dip'll be ready for shoveling into your mouth in just 5 minutes.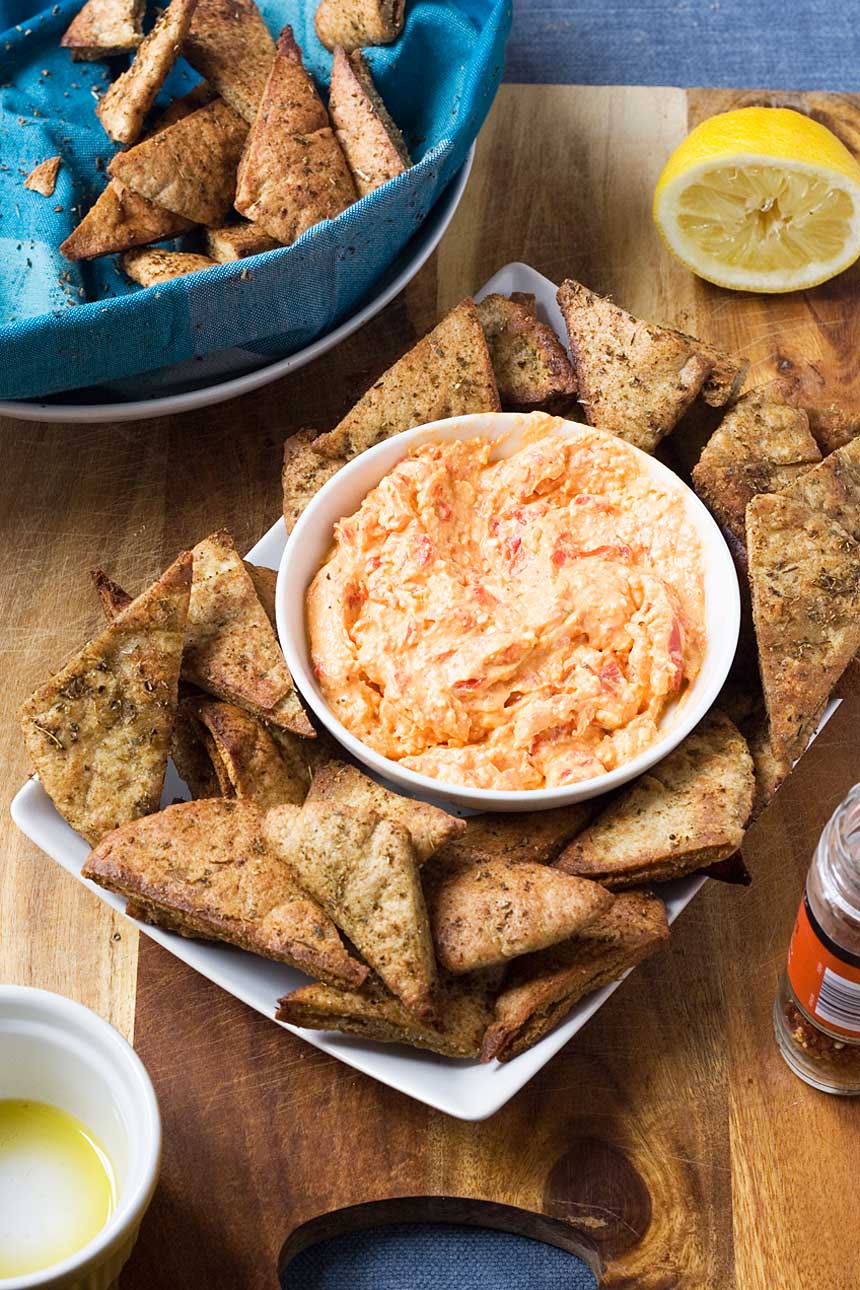 I'm going all Greek on you again lately. And as usual I'm not apologising, because I'll always see Greek food as something worth shouting about.
One of the (many) wonderful things about Greek food is its simplicity. When I went to live in Greece, I soon learnt that you don't need many ingredients to make something delicious – and you certainly don't necessarily need meat. I'm not a vegetarian, but I honestly could be in Greece.
So it might still be chilly where you are (certainly is here!) but how would you like to bring a taste of the Mediterranean summer into your kitchen right now?
This 5-minute roasted red pepper and feta dip is very similar to the spicy cheese dips that you'll find in many a traditional taverna in Greece. But making it requires little more than twisting the cap off a jar of roasted red peppers, opening a packet of feta and dumping both into a food processor with a dash of olive oil, lemon and chili flakes. Pulse for a few seconds, tip out into a bowl, and you're done.
It might not look like the most appetizing food to ever grace your kitchen, but trust me, it's delicious. The sweetness of the red peppers cuts through the salty feta just enough. It's a perfect combination.
Now how would you like to see a short video to help you make this tasty 5-minute roasted red pepper and feta dip? I know, I know, it's so simple you probably don't need it, but I think I might be becoming just a little bit addicted to making videos, so I made it anyway. 🙂
Of course, you need something to scoop up all this deliciousness. Tortilla chips, raw veggies – all the usual suspects – are all fine. But guess what? I made you some Greek pita chips to go with this very Greek of dips – coming soon on the blog!
But if you want a sneaky preview, check out my Youtube channel. And of course, feel free to subscribe while you're there. That would be fab!
Just one more thing before I go today. I'd like to leave you with some more delicious recipes starring feta as one of the main ingredients. Perfect for feta-lovers!
Baked feta with tomato, feta and olives (so simple, but just sublime!)
Feta filo pies with honey (just as simple, just as sublime)
Baked eggplant with tomato and feta (way more delicious than it sounds)
Greek filo parcels with tzatziki (perfect for impressing at a party!)
5-minute roasted red pepper and feta dip
A delicious dip made with just five simple Mediterranean ingredients - roasted red peppers (from a jar!), feta cheese, olive oil, lemon juice and chili flakes. Ready for scooping up with Greek pita chips (coming soon on the blog!) in just 5 minutes!
Ingredients (UK/Australia? Click below for grams/ml)
3

ounces

jarred red peppers in oil

1/2

cup

feta cheese

broken up into chunks

1

tablespoon

olive oil

2

squeezes lemon juice

a large pinch of chili flakes

or 1 small red chili, finely chopped, if you prefer
Instructions
Put all the ingredients in the bowl of a food processor, and pulse for a few seconds (I like to pulse until everything's blended together with a few chunky bits still remaining).

Tip out into a serving bowl, and serve with something like tortilla chips, raw vegetables, or Greek pita chips (coming soon on the blog!).
Nutrition
Calories:
512
kcal
Carbohydrates:
29
g
Protein:
19
g
Fat:
39
g
Saturated Fat:
18
g
Cholesterol:
100
mg
Sodium:
1273
mg
Potassium:
547
mg
Fiber:
7
g
Sugar:
13
g
Vitamin A:
3140
IU
Vitamin C:
223.1
mg
Calcium:
615
mg
Iron:
2.4
mg

Made one of my recipes? Take a pic and tag @scrummylane on Instagram so I can see it!
You can also find more from Scrummy Lane on Facebook, Pinterest, Twitter and Instagram and follow me on Bloglovin! Thanks so much for reading!
*This post may contain affiliate links* 🙂