Chicken and rice has to be the ultimate family friendly comfort food. You don't even have to turn on the oven to make this quick and easy version. Just make it on the stove top and all in one pot!
Even better, you need only 6 main ingredients (including a 'secret' ingredient) and 30 minutes to get it on the table – but you won't believe how much flavor it has! Make it as is or use it as a base to create a new recipe of your own.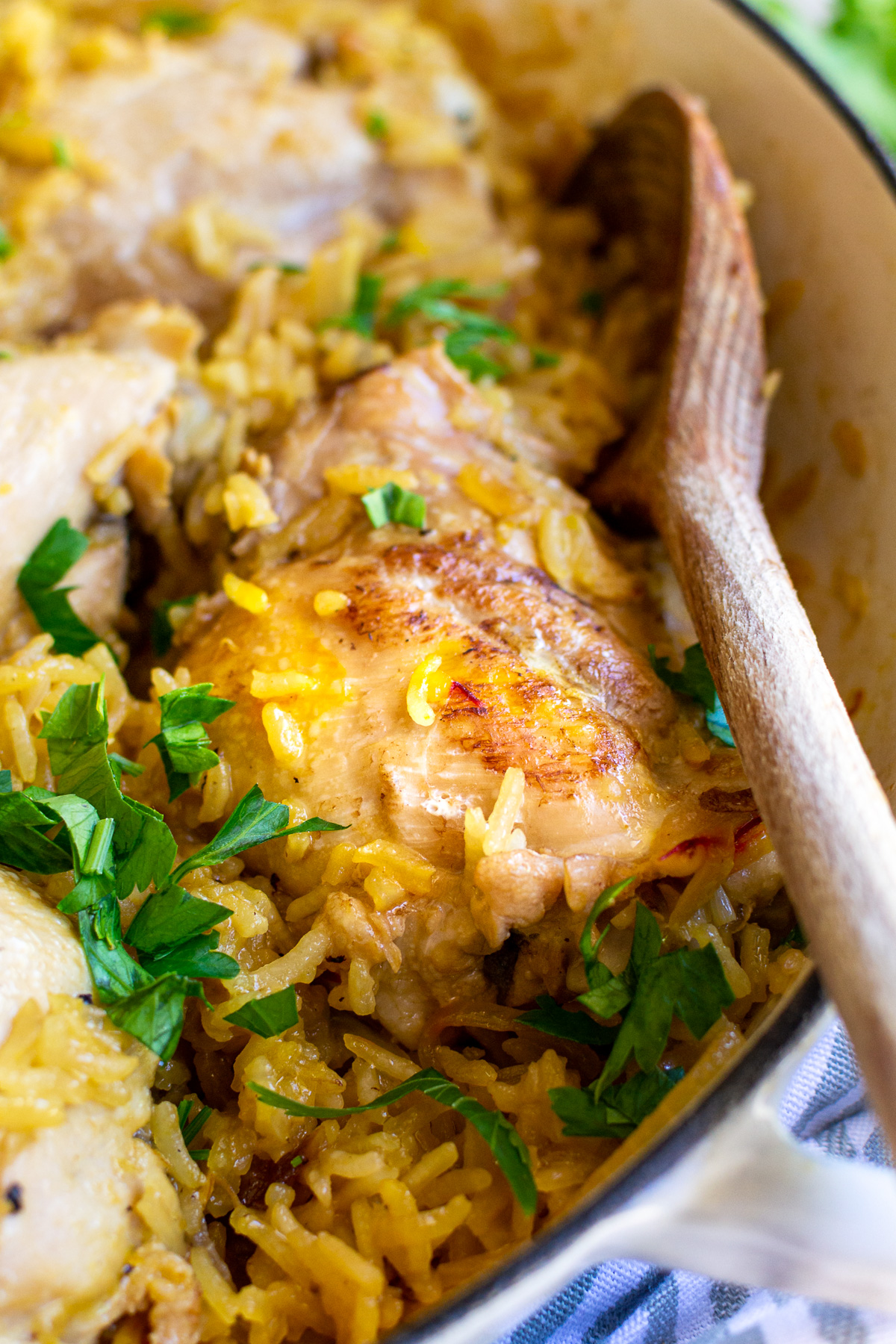 Why you'll love this
Chicken and rice is a staple meal all over the world, but strip it back to the bare essentials and it can still be a super tasty crowd pleaser!
I think the whole family will enjoy this cozy one pot stove top chicken and rice, and here's why:
✔ Only 6 simple main ingredients – but flavorful, thanks to one 'secret ingredient'… and a few cooking tips! (See below!)
✔ Ready in around 30 minutes!
✔ All in one pot!
✔ Tasty enough for adults, mild flavored and 'plain' enough for picky eaters. You can make the recipe exactly as it is with its simple seasoning. Or why not use it as a base recipe, adding other proteins and flavors of your choice? (See below for ideas!)
✔ A good Gluten free and dairy free meal option.
✔ All in all, a great last-minute dinner for busy weeknights. I hope it will soon become a firm family favorite!
Big fan of easy and comforting chicken dinners? You'll love this creamy chicken and leek pie recipe, too!
About the ingredients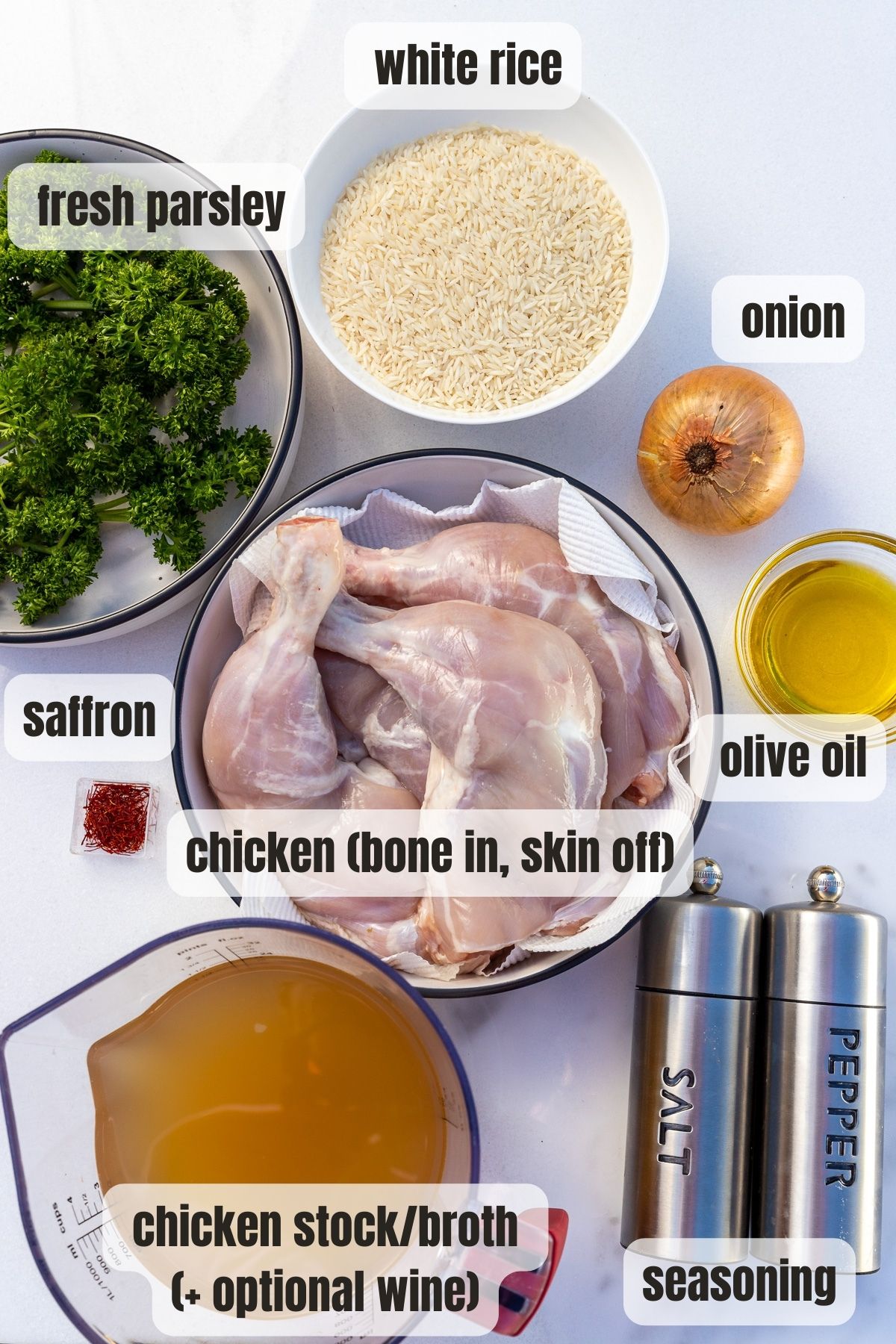 A large onion: This provides the first 'layer' of flavor as you soften a chopped onion in a little olive oil. I suggest a regular white onion as those tend to have the strongest flavor.
Chicken: For maximum flavor, use bone-in chicken thighs, chicken Marylands (including both a thigh and drumstick) or even just legs/drumsticks. Pull the skin off before cooking or ask a butcher to do it for you.
Rice: My favorite kind to use in this dish is Jasmine rice. You can use other kinds of white rice too such as long grain or basmati. I wouldn't recommend brown rice, however, since it takes much longer to cook.
Cooking liquid: I usually use a mix of chicken broth/stock, white wine and water. I do recommend including the wine for maximum flavor. But if you don't want to, that's absolutely fine – just replace with more broth. Remember that the chicken will release more lovely flavor as it cooks.
Saffron: Yep, saffron is the 'secret' ingredient in this simple rice and chicken dish! Don't worry, you don't have to remortgage your house. You only need to add a large pinch of threads to get the rich, unique flavour and pretty yellow color we're looking for.
Don't worry if you don't want to buy any just for this recipe. A good alternative to make yellow rice could be half a teaspoon of turmeric or even curry powder.
Fresh parsley: For a subtly aromatic pop of fresh green color, I like to sprinkle plenty of this herb over the top of the dish at the end. Fresh chervil, cilantro (coriander) or even arugula/rocket could be good substitutes.
You'll also season the dish well with plenty of salt and pepper. This is actually one of the keys to the success of the dish!
How to make chicken and rice on the stove
The step-by-step guide below should help you make the recipe perfectly first time. Scroll down to the end for the full recipe including ingredient amounts.
Step 1: Cook a chopped onion in some extra virgin olive oil – just for a few minutes until softened. You'll need a large pan with a lid such as a cast iron pan or large skillet.
Step 2: Nestle the chicken in with the onions and brown on both sides (This time I used chicken marylands). Then remove the chicken from the pan – just temporarily. This step isn't absolutely essential but it helps improve flavor and adds more color to the dish.

Step 3: Pour the uncooked rice into the pan with the onions. Stir to coat the rice in the pan juices.
Step 4: Nestle the chicken back with the rice mixture in the pan and grind over a good amount of salt and black pepper.

Step 5: Pour over all the liquid and sprinkle over the big pinch of saffron. Put the lid on the pot/skillet. Then let simmer until most of the cooking liquid is absorbed (20-30 minutes, mostly depending on what type of rice you choose).

Step 6: The last step is to sprinkle fresh parsley all over the dish. I usually sprinkle over quite a lot – around half a bunch!

Helen's top tips
Since this chicken & rice dish is made with so few ingredients, try to use the best quality ingredients you can. For example, if the budget allows, use free range or organic chicken, a good quality stock/broth and a wine that you would actually drink (if including!).
If you can't find bone-in chicken thighs or Marylands at the supermarket, try a local butcher. You could even ask the butcher to take the skin off for you.
Check the seasoning! This dish really does depend on being seasoned very well, since it's such a simple dish. Season the dish twice with plenty of salt and pepper. Once before pouring the liquid over, and again just before serving. Like all great cooks do, taste before serving!
When your rice casserole is ready, there may still be some cooking liquid in the pot. Give it a good stir, then leave it to rest for 5 to 10 minutes while you get your plates and any sides ready. A little more liquid will get absorbed so that by the time you sit down to eat it will be just right!
What to serve with chicken and rice
In keeping with the simplicity of this super quick and easy stovetop recipe, there's nothing wrong with serving it by itself. Just don't skip the fresh parsley on top. Grab some big spoons and enjoy a comforting bowl of chicken & rice just as it is.
On the other hand, you might like to serve it with a simple bowl of vegetables such as 10-minute seasoned frozen broccoli, easy sautéed squash or easy sautéed green beans. If you have a little extra time, these Mediterranean roast vegetables or these amazing roasted brussel sprouts and carrots go perfectly!
On warmer evenings, you could make a quick salad to go with it while the chicken and rice is simmering. How about a traditional Greek salad which is not only delicious but really quick to make?
Another option is to serve with a tomato based sauce such as marinara or even ratatouille.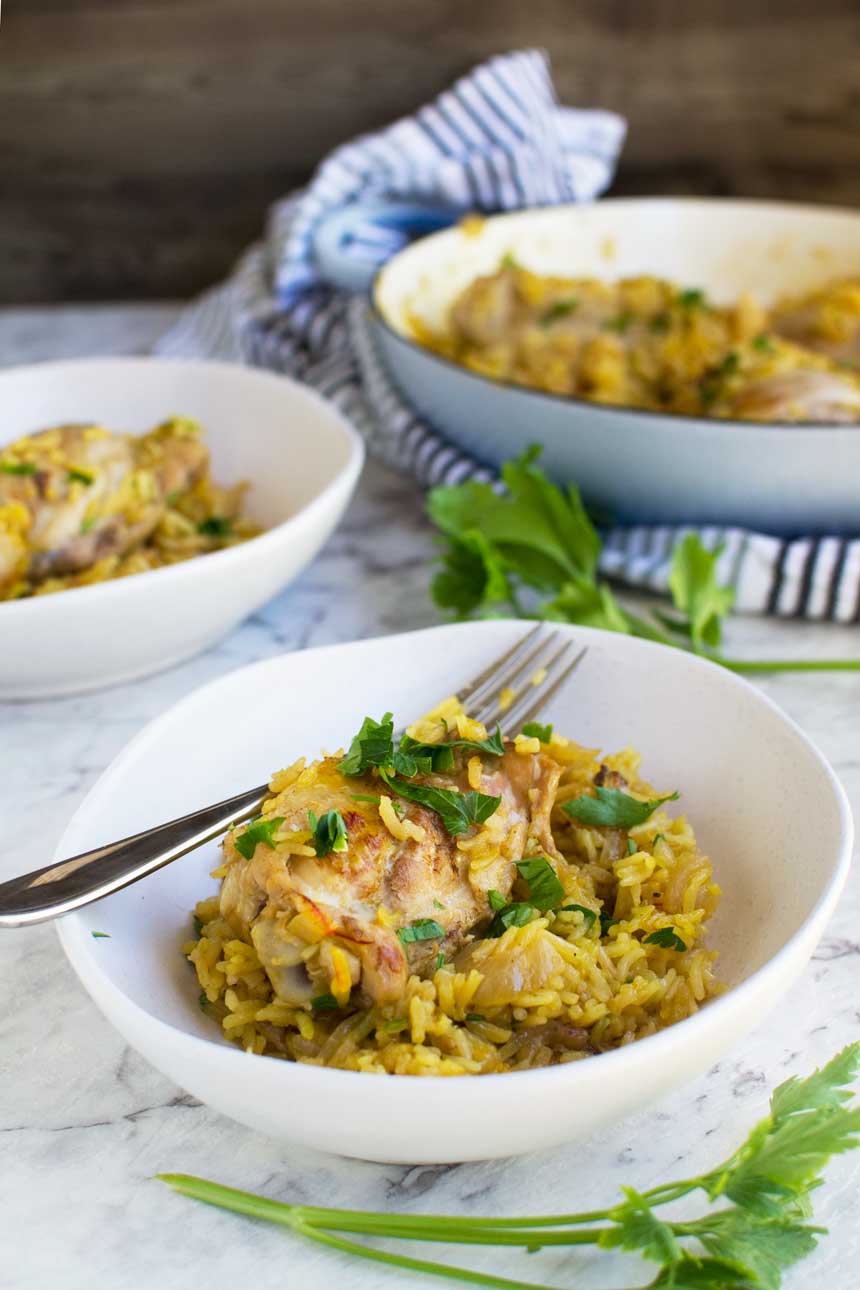 Variations
While tasty, this is a very simple chicken with rice dish – more like a paella or pilaf than a risotto. I think this makes it a perfect 'base recipe' that you can tweak to truly make your own!
Here are some great ideas:
For an extra burst of flavor, fry a little chopped Spanish chorizo at the same time as you soften the onions. Bacon would work well, too.
Fry some sliced mushrooms along with the onion.
Add extra fresh or dried herbs into the cooking liquid (dried Italian herbs, fresh rosemary, tarragon, thyme, dill, basil, or whatever you like). Go easy with rosemary or thyme as they have quite a strong flavor.
Stir extra spices or flavors in when you add the rice, such as paprika or garlic powder (a teaspoon), cumin (half a teaspoon), a tablespoon or two of tomato paste, or even curry paste.
For a zesty finish, add the juice of half a lemon to the cooking liquid and/or grate some lemon zest over the finished dish.
For a North African vibe, add a little ras el hanout spice mix when cooking the onions. Then stir in some raisins and sprinkle over some dukkah or toasted nuts to serve, such as flaked almonds, crushed hazelnuts or pistachios.
For extra veggie goodness, why not add some frozen peas at the same time as you add the liquid, or wilt some spinach in at the end?
Recipe FAQ
How many does the recipe serve?
6 normal servings (4 if you're super hungry). So you can either feed a (tiny) crowd or reheat the leftovers the next day. I think this dish is best served fresh, but leftovers are still very tasty.
What kind of pot should I use?
I always use a shallow but wide cast iron casserole dish with a lid when I make this recipe on the stove top. You can use any large flat pan, including an ordinary large skillet, as long as it has a lid. No lid? Just wrap a double layer of aluminum foil around the top or even use a large baking sheet as a lid!
Can I use chicken breasts instead?
I actually wouldn't recommend this. Dark meat with the bone still in such as chicken thighs or Marylands (or even drumsticks) are more moist and release more flavor as they cook. This is really important for such a simple dish like this that relies on the high quality and flavor of every ingredient to be a success.
How long does chicken and rice keep in the fridge?
3-4 days if well covered or in an airtight container. To reheat, simply add a drizzle more water, then cover and microwave for 3.5 to 4 minutes until piping hot. You can also freeze chicken and rice for up to 2 months.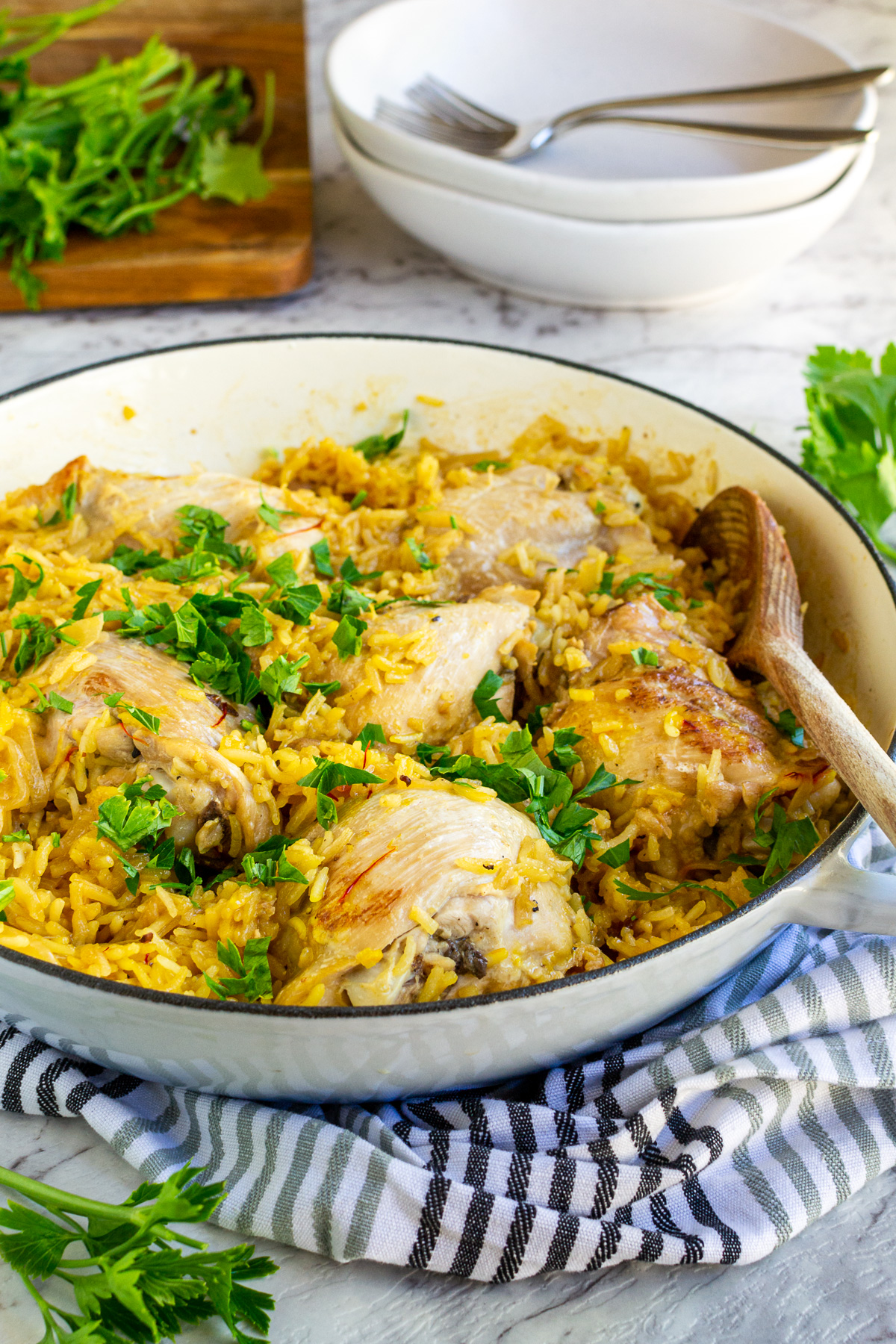 Another simple stove top chicken recipe that I'd love you to try is this Mediterranean stove top chicken casserole. I hope you enjoy this too!
More 30 minute meals
Who wants to spend more than 30 minutes making dinner? Most of the time, not me!
Or browse all my easy midweek meals.
IF YOU MAKE THIS RECIPE, LET ME KNOW HOW YOU GET ON BY LEAVING A COMMENT AND RATING BELOW… AND DON'T FORGET TO SIGN UP TO RECEIVE ALL MY NEW RECIPES BY EMAIL!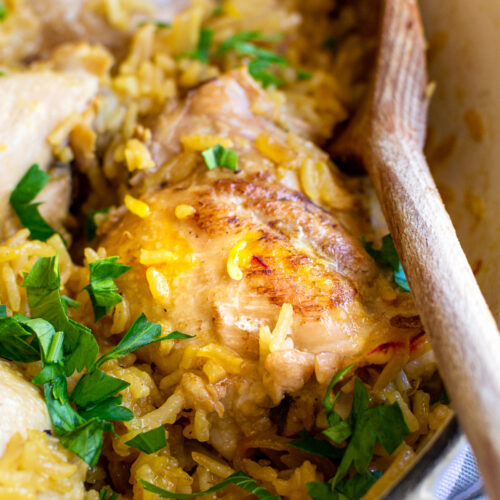 30-Minute Stove Top Chicken And Rice (One Pot)
Everyone needs the simplest of simple chicken and rice recipes in their weekly meal rotation! This is the easiest stove top chicken and rice recipe you can imagine, but it still has LOTS of flavor, thanks to a few simple tricks and a secret ingredient… saffron! Ready in just 30 minutes!
Equipment (affiliate links)
Ingredients (UK/Australia? Click below for grams/ml)
3

tablespoons

olive oil

for cooking

1

onion

(large) chopped

2

pounds

chicken thighs

bone in, skin taken off (or use chicken marylands – thigh and drumstick together – or drumsticks alone)

1½

cups

rice

jasmine, basmati, long grain or any white rice

salt and pepper

to taste

2

cups

chicken broth

UK / Australia – stock (use good quality as there are only a few main ingredients)

½

cup

white wine

optional – replace with more broth or water if you prefer

½

cup

water

or extra broth/stock

1

large pinch

saffron

½

bunch

fresh parsley

chopped
Instructions
Heat the oil in a large pan with a lid (I use a cast iron pan). Cook the onion for a few minutes until softened.

3 tablespoons olive oil,

1 onion

Add the chicken and brown for a couple of minutes on each side on a medium high heat (optional).

Remove the chicken from the pan to a plate (if you decided to brown it), then add the rice to the onions left in the pan. Stir to moisten the grains of rice.

Nestle the chicken back in with the rice / onions, then grind over plenty of salt and pepper.

Pour the chicken broth / stock, white wine (if using) and water over the chicken and rice. Sprinkle in the generous pinch of saffron, then put the lid on the pot and simmer for 20 to 30 minutes, until the rice is cooked and most of the cooking liquid has been absorbed.

2 cups chicken broth,

½ cup white wine,

½ cup water,

1 large pinch saffron

Season again to taste and serve sprinkled with the fresh parsley.
Notes
Recipe based on this simple chicken and rice recipe in the New York Times.
Chicken: It's best to use skin off bone in thighs or chicken marylands (with the thigh and leg together) for this recipe. You can often buy them like that in supermarkets, but if you can't find them go to a butcher and ask them to take the skin off for you.
Saffron: Use a good pinch for the right color/flavor. Alternatively, use a half teaspoon of turmeric or even curry powder.
Use the recipe as a base: This recipe is highly adaptable. Skip the wine if you like (replace with more broth or water) and add other flavours with the onions e.g. chorizo slices, Italian herbs, red or green bell peppers, mushrooms, curry powder, paprika.
Cook time: I usually cook my chicken and rice for about 25 minutes, but the cooking time will depend on the rice, stovetop and pan you use. Just have the confidence to cook until the rice tastes done and most of the cooking liquid has been absorbed. If there's some liquid left but the rice and chicken are cooked, let the dish stand for a few minutes while you set the table and prepare any sides.
Nutrition
Calories:
592
kcal
Carbohydrates:
40
g
Protein:
29
g
Fat:
33
g
Saturated Fat:
8
g
Polyunsaturated Fat:
6
g
Monounsaturated Fat:
16
g
Trans Fat:
0.1
g
Cholesterol:
150
mg
Sodium:
415
mg
Potassium:
445
mg
Fiber:
1
g
Sugar:
1
g
Vitamin A:
520
IU
Vitamin C:
8
mg
Calcium:
41
mg
Iron:
2
mg