You might think you know how to make a Greek salad, but do you really? A proper Greek salad means no lettuce, no chopped up feta, and no fancy dressings. It's such a simple, nutritious meal, and even more delicious if you get it absolutely right!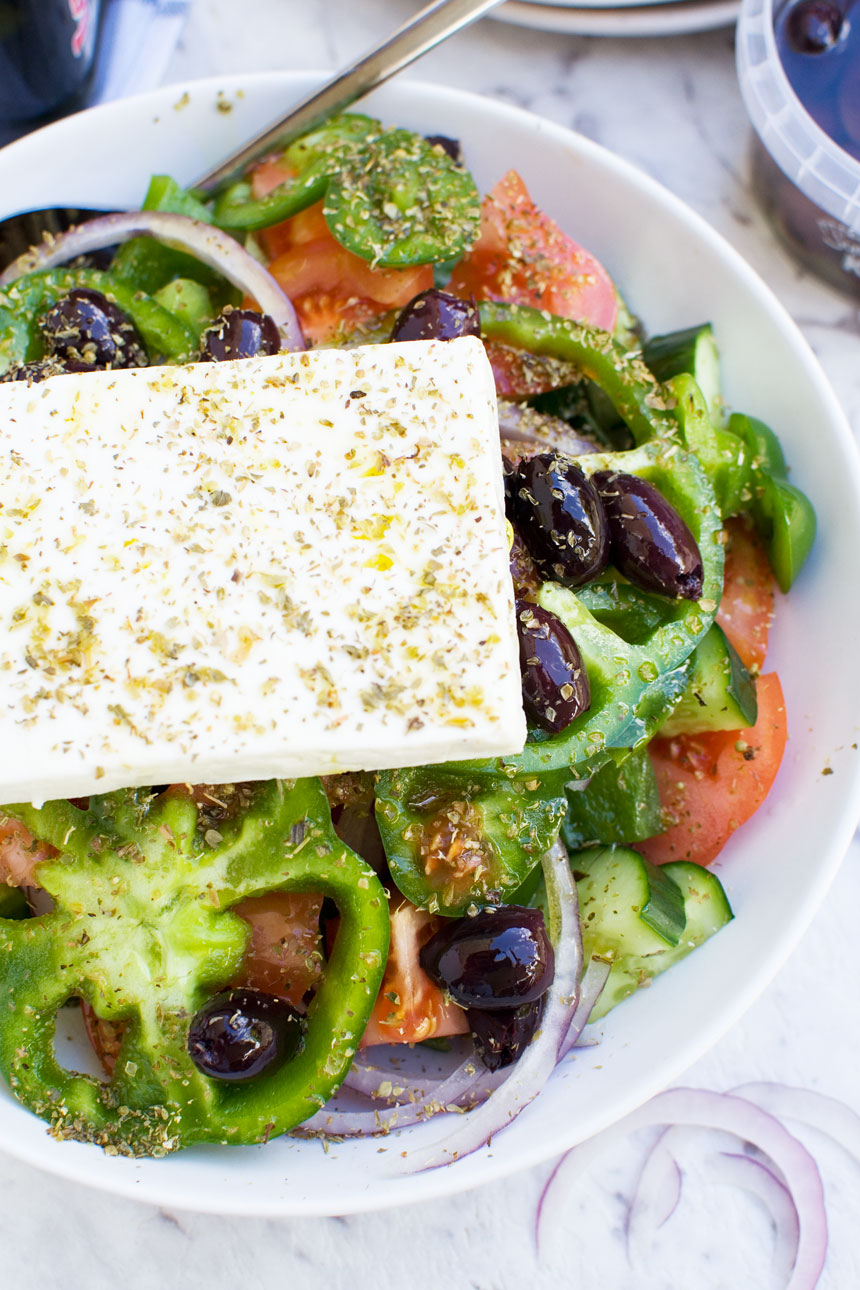 A Greek salad is a meal in itself!
Who would have thought that tomatoes, cucumber, onions, green peppers, feta cheese, black olives, oregano and olive oil could be quite so perfect a combination of ingredients?
I've lost count of the number of times someone's told me that they ate Greek salads every day while they were on holiday in Greece and never got bored of them.
They ate them with almost every meal and even for lunch by themselves with fresh Greek bread. And no wonder because with that creamy, tangy feta cheese on top Greek salads really can be a meal in themselves.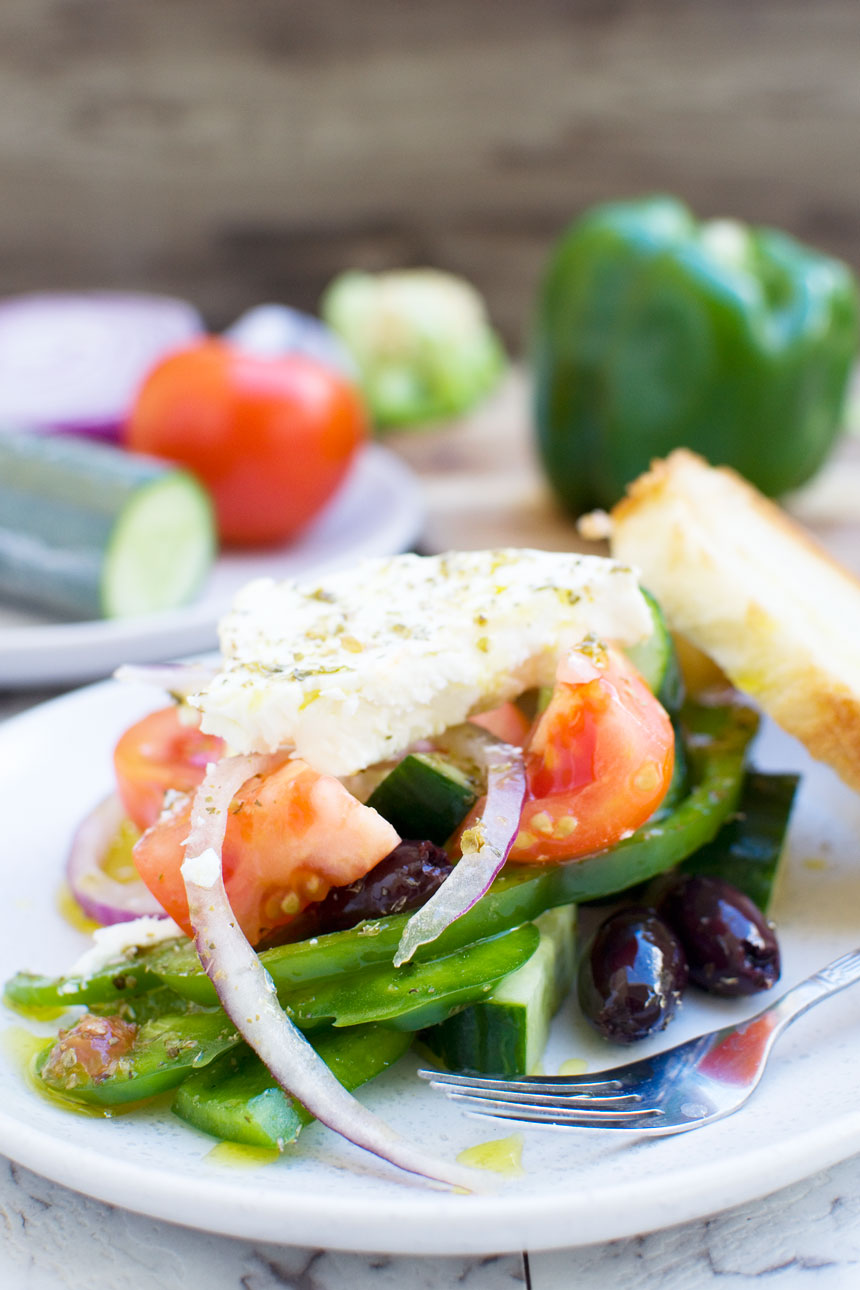 I've personally eaten hundreds of Greek salads in Greece (really!), and they don't vary very much. The type of feta may vary between creamy and delicious to even more creamy and delicious, the tomatoes may be a more or slightly less red and juicy version of perfection and the olives and olive oil may be a little different to those in your last salad, but all in all a Greek salad is a Greek salad …
Am I making you hungry yet?
The good news is that Greek salads are really easy to recreate at home, wherever in the world you are.
So if you want to know how to make a Greek salad…
What's in a traditional Greek salad?
juicy red tomatoes
cucumber chunks
large slices of green bell peppers (Australia: capsicum!)
thin rounds of onion
Kalamata olives (preferably with the stone still in!)
a big fat slice of feta cheese
dried oregano
good quality olive oil
You may be wondering where the lettuce is. Well… no lettuce in Greek salads.
I've never had a Greek salad with lettuce in it in Greece.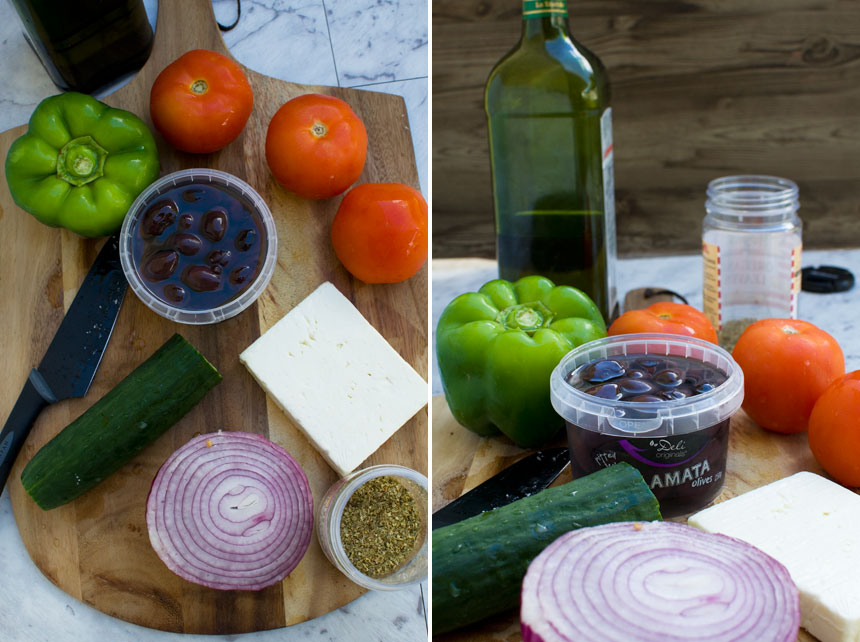 And don't be mean with the feta. There's nothing worse than a Greek salad with hardly any feta cheese in it. You need to lay a big thick slice of real Greek feta cheese on top of the salad.
Take the salad to the table and break up the cheese before everyone serves themselves. You don't have to do this, of course, but once I lay 3 smaller slices of cheese on top and one guest took a whole slice for himself. Oops.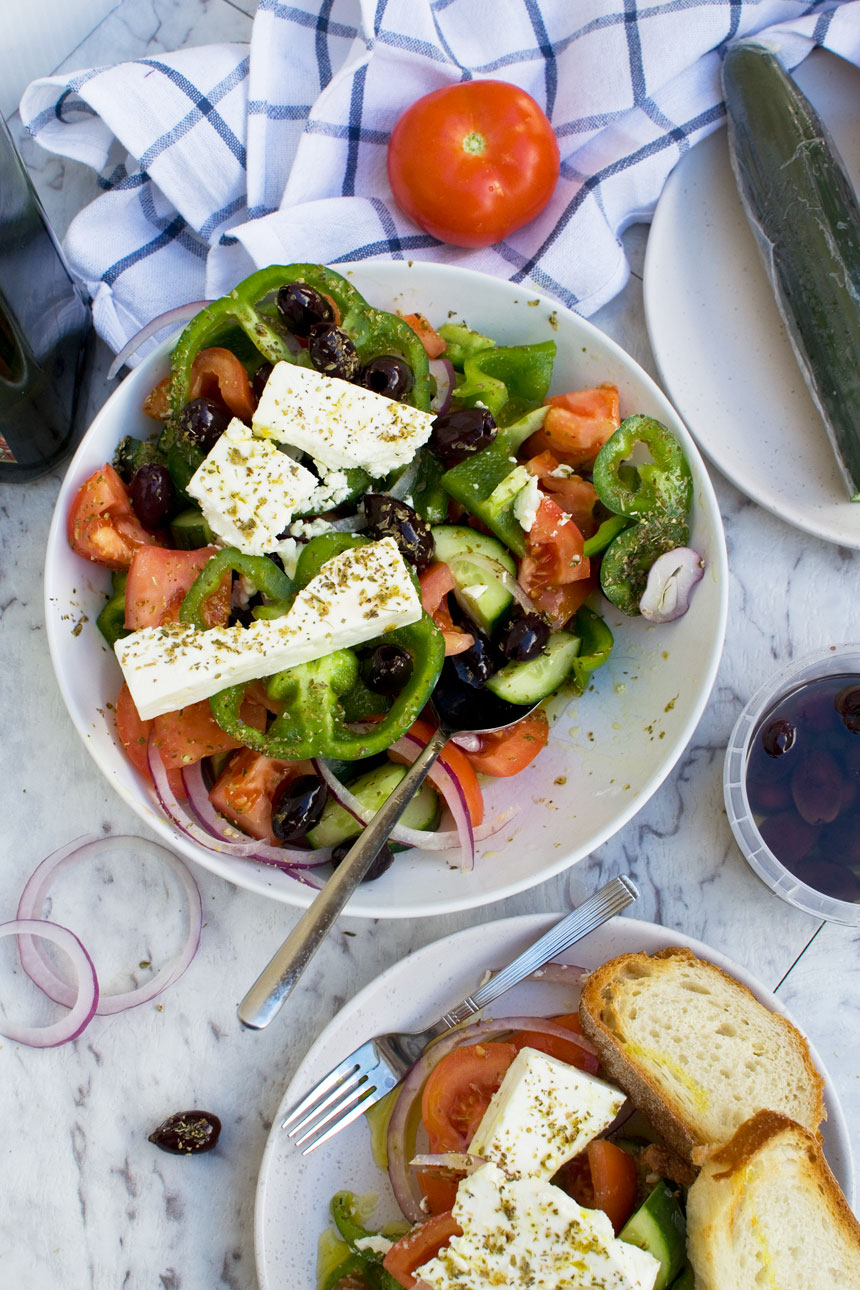 This is my basic Greek salad 101, but here are more tips for making your Greek salad extra amazing:
1 Cut up your tomatoes irregularly – just slice them up any which way. Squeeze about half of them a little as you add them to the dish. This is a great tip I once got from a Greek friend of mine. This way, you get more juice to mix with the olive oil. Delicious!
2 Slice the cucumber thickly – chop the thick slices in half if you like. Slice the onion thinly and don't add too much of it. Ideally, chop the green pepper from the bottom up so that you end up with pretty rounds.
3 Try to use big and juicy Kalamata olives – jarred is fine. Ideally get the ones with the stone still in for a more authentic Greek salad experience.
4 As mentioned above, don't be stingy with the feta … or the olive oil, for that matter. Lay a thick slice of feta on top, then sprinkle it generously with dried oregano.
5 Finally, drizzle lots of olive oil all over the salad so it combines with the salad juices to make a perfect no fuss dressing.
6 Don't forget the fresh crusty bread for mopping up all the delicious juices. Mmmmm.
So how do I make Greek salad dressing?
Erm, you don't (see tip 5 above!). The good quality olive oil you drizzle over the salad generously combines with the juices from the other salad ingredients to make the perfect tasty and easy dressing. No other salad dressing necessary! Another reason this delicious Greek salad is so easy to make.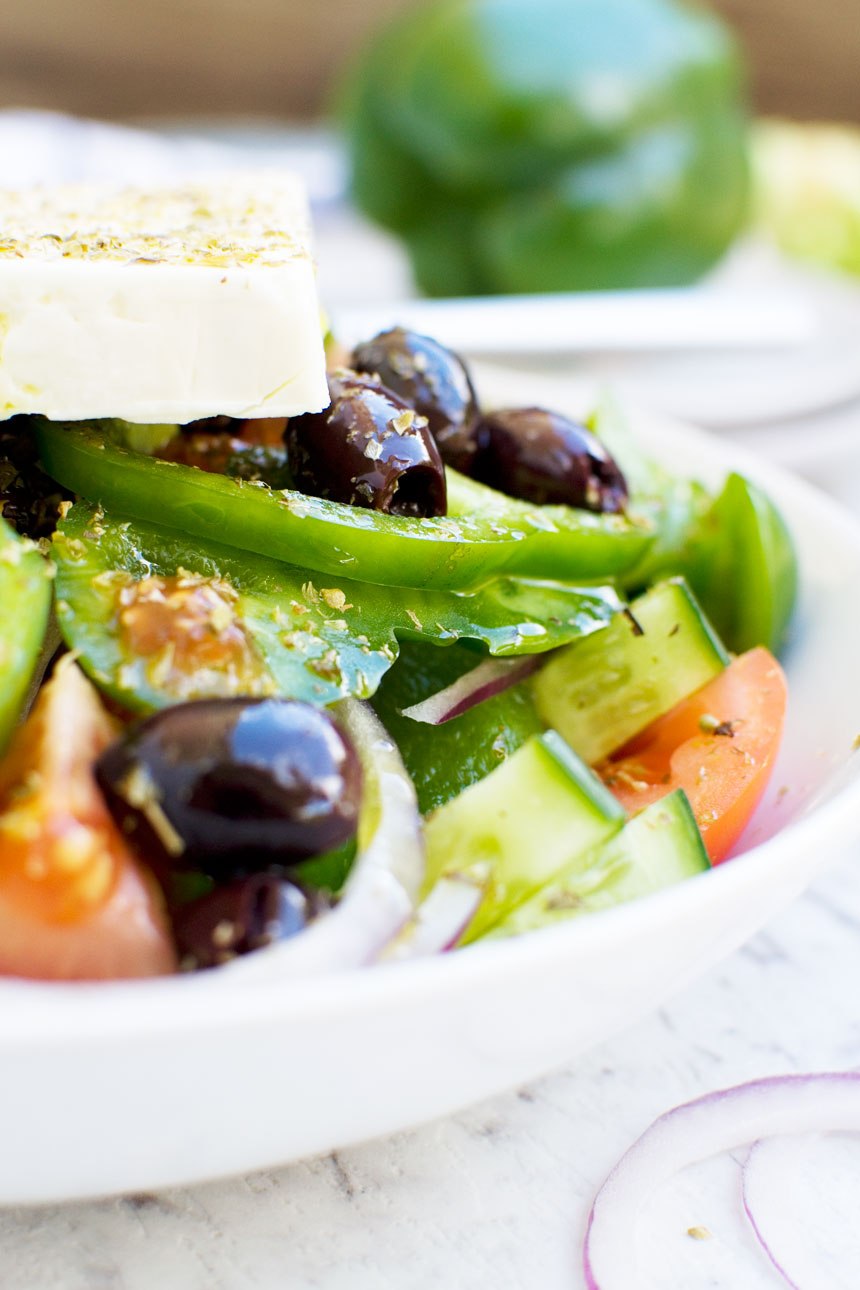 Finally, just in case you're ever in Greece and would like to ask for one of these in Greek, just to be fancy and everything, you need to ask for a 'xoriatiki salata'. It's pronounced hori-AT-iki sal-AT-a if you're one of those people like me who likes to get things right!
Make your next Greek salad just like this, and you'll never look back!
To see EXACTLY how I make my Greek salads (I think I can make them with my eyes closed!), take a look at the handy video!)
So, what meals can you serve a Greek salad with?
The list is endless, but here are some ideas to get you started:
Greek lemon and oregano chicken
Easy moussaka (you HAVE to make a Greek salad to go with this!)
Greek spinach and feta filo pie (vegetarian option!)
Remember, a Greek salad is also delicious served on its own with some fresh bread!
IF YOU MAKE THIS RECIPE, LET ME KNOW HOW YOU GET ON BY LEAVING A COMMENT AND RATING BELOW… AND DON'T FORGET TO SIGN UP TO RECEIVE ALL MY NEW RECIPES BY EMAIL!
FOLLOW ME ON FACEBOOK, INSTAGRAM, PINTEREST AND YOUTUBE.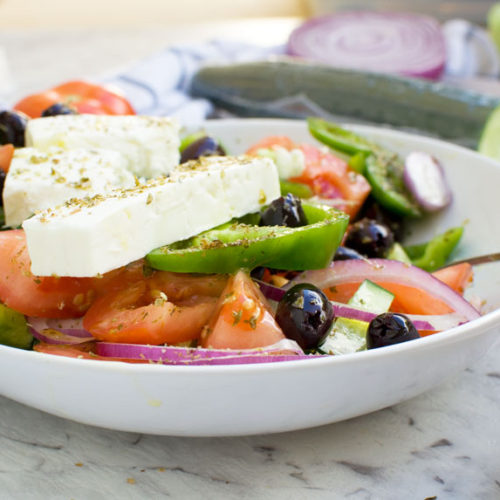 How to make a Greek salad
I've never heard anyone say they don't like Greek salad. This delicious all-year-round salad contains just eight fresh ingredients – tomatoes, cucumbers, onions, green peppers, black olives, feta cheese, oregano and olive oil – and is wonderful as a side dish with so many meals.
Ingredients (UK/Australia? Click below for grams/ml)
4

or 5 medium tomatoes

the redder & juicier the better, randomly sliced into chunks

half to 2/3 of a cucumber

thickly sliced

1

green pepper

sliced into thin rounds from the bottom up

a small amount of thinly sliced onion

to taste

a handful of juicy black olives

stone in (jarred is fine)

3.5

ounces

feta cheese

a thick slice

dried or fresh oregano

1/4

cup

good quality olive oil
Instructions
Add the first five ingredients to a medium-sized salad dish and combine well.

Place the feta on top of the salad, sprinkle the feta and salad with oregano, then drizzle generously with the olive oil.

Serve with nice crusty bread to mop up the juices!
Notes
For an extra juicy salad with more dressing to mop up, squeeze about half of the tomatoes a little into the dish as you add them to the salad.
Use fat black olives with the stone in.
Don't be stingy with the feta and olive oil!
Nutrition
Calories:
425
kcal
Carbohydrates:
14
g
Protein:
9
g
Fat:
38
g
Saturated Fat:
11
g
Cholesterol:
44
mg
Sodium:
568
mg
Potassium:
717
mg
Fiber:
3
g
Sugar:
9
g
Vitamin A:
2480
IU
Vitamin C:
81.5
mg
Calcium:
275
mg
Iron:
1.3
mg