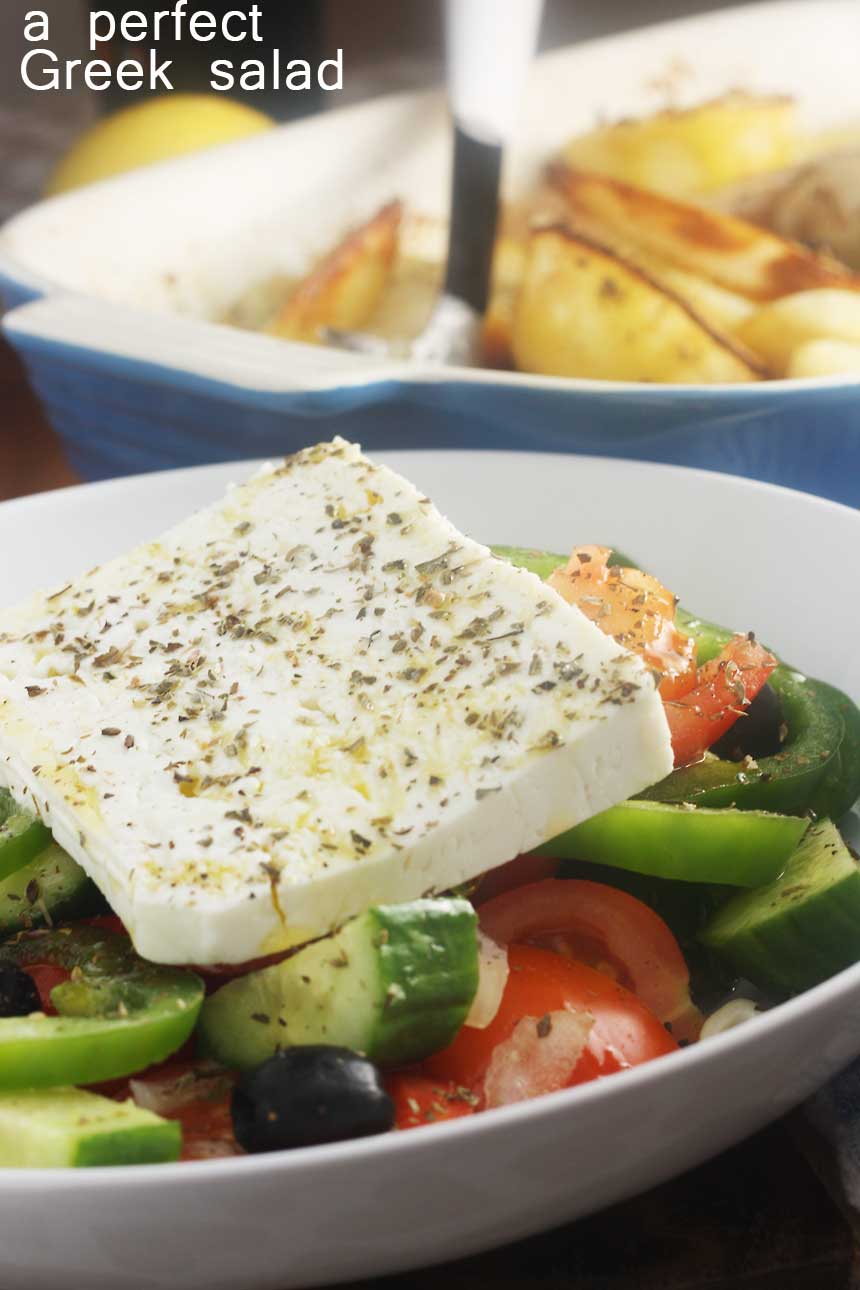 I've lost count of the number of times someone's told me that they ate Greek salads every day while they were on holiday in Greece and never got bored of them. They ate them together with every meal (bar breakfast, although I wouldn't mind giving it a go!) and even for lunch completely by themselves with a bit of bread. And then when they got home they made a Greek salad every day for lunch for days, weeks, months even, in an attempt to recreate the experience. Sound familiar?
It's no wonder Greek salads satisfy like this so easily, because not only are they absolutely delicious, far more delicious than the sum of their parts in my humble opinion, but with the addition of that lovely creamy feta cheese they really can be a whole meal in themselves. Who would have thought that tomatoes, cucumber, onions, green peppers, feta cheese, black olives, oregano and olive oil could be quite so perfect a combination of simple ingredients? But somewhere back in history some clever Greek over there on the shores of the Mediterranean figured out that they were, and we've never looked back since!
I've also lost count of the number of Greek salads I've personally eaten in Greece, and really they vary very little. The type of feta may vary between creamy and delicious to even more creamy and delicious, the tomatoes may be a more or slightly less red and juicy version of perfection and the olives and olive oil may be a little different to those in your last salad, but all in all a Greek salad is a Greek salad … again in my humble opinion, of course!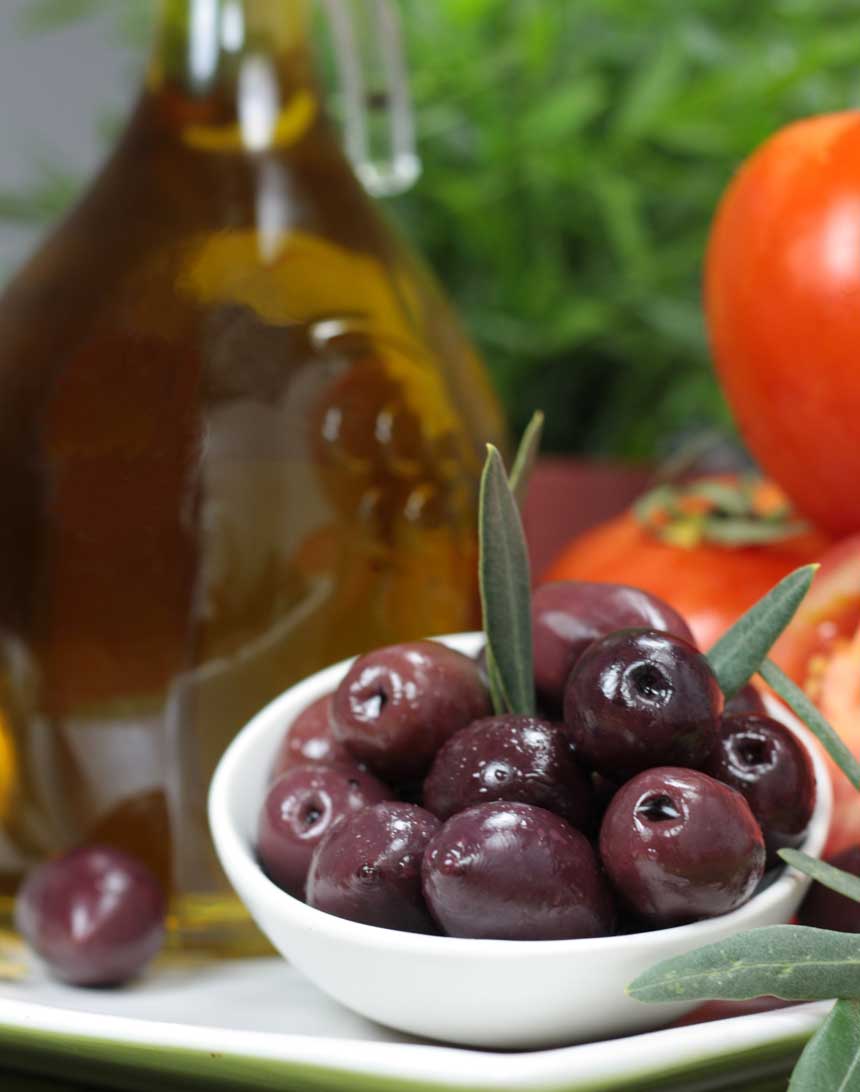 Which means two things. One – they are so easy to recreate at home, wherever in the world you are, so long as you have access to those eight basic ingredients. Yum. Two – Greek salads DON'T have lettuce in them. You may think I'm a stuck up Greek salad snob for saying this, but there's nothing that winds me up more when it comes to food than a Greek salad with masses of lettuce used to bulk it out. As far as I can remember, I have never had a Greek salad in Greece with lettuce in it. My other Greek salad pet hate (yes, there's another one …) is stingy amounts of rubbery feta. The proper way to do this, folks, is to slap a big thick slice of the feta on the top of the salad, then break it up into the rest of the salad at the table. It somehow makes the whole thing look a lot more impressive and 'generous'.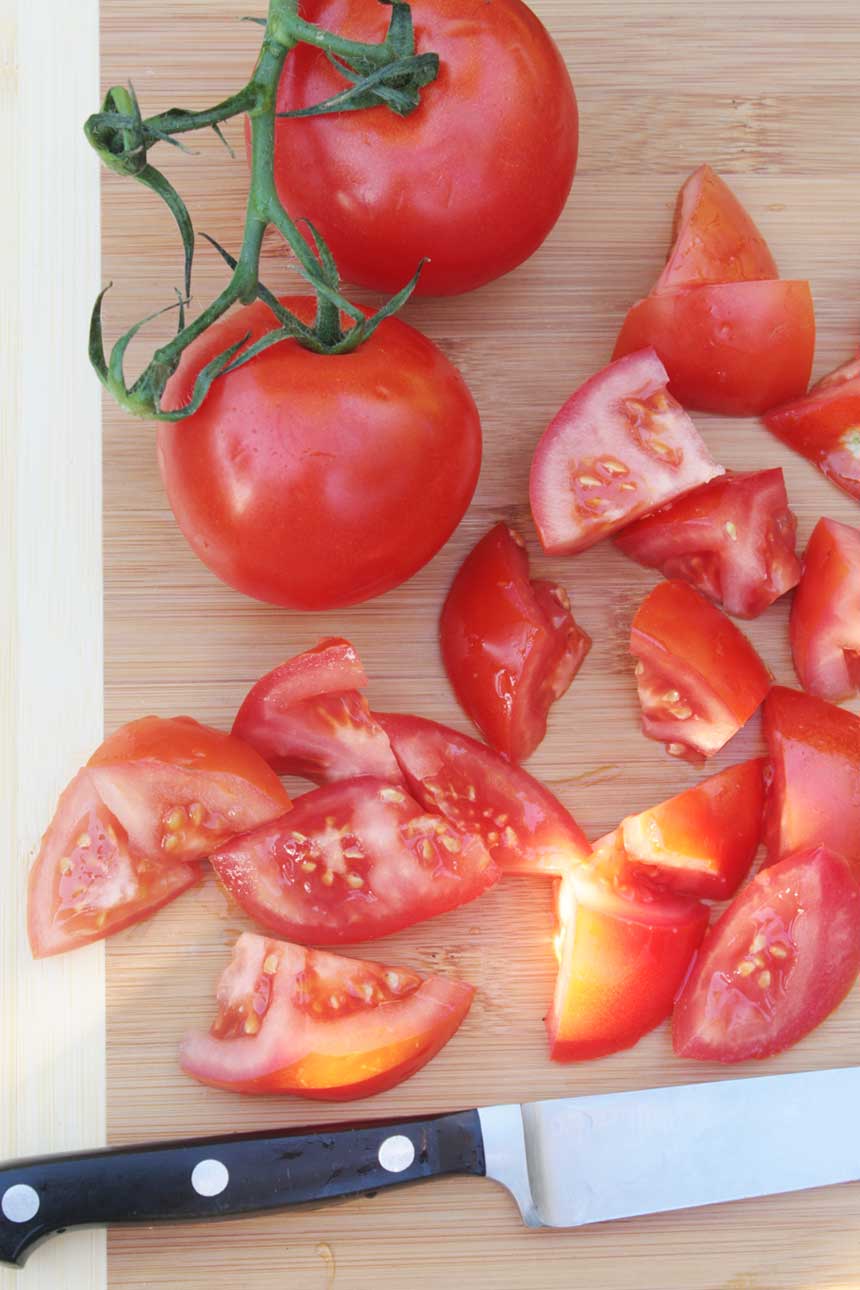 And now for a few tips on making your Greek salad extra good!
1 Cut up your tomatoes irregularly – just slice them up any which way. Squeeze about half of them a little as you add them to the dish (a great tip from a Greek friend of mine!) This way, you get a little more juice to mix with the olive oil you add at the end to make a delicious dressing to mop up with your bread.
2 Slice the cucumber thickly – Chop the thick slices in half if you like. Slice the onion thinly and don't add too much of it, unless the onions are really mild or you like things with lots of raw onion in! Ideally, chop the green pepper from the bottom up so that you end up with pretty rounds.
3 Try to use big fat juicy black olives – jarred is fine so long as they are nice and fat and juicy, but ideally try to get the ones with the stone still in for a more authentic Greek salad experience. Kalamata olives are always a good choice.
4 As mentioned above, don't be stingy with the feta … or the olive oil, for that matter. Lay a thick generous slice of feta on top of your combined tomatoes, cucumber, pepper, onion and olives and then sprinkle the salad and cheese generously with dried oregano (or fresh if you like!)
5 Finally, drizzle a good lot of olive oil all over the salad – remember this will combine with the juices already in the salad to make a delicious dressing. Perfect for mopping up with some nice fresh crusty bread!
If you're wondering what a Greek salad best goes with, well, really the food world's your oyster! It goes well with one-pot hot cooked dishes, grilled meats and potatoes (especially this classic Greek lemon & oregano chicken with crispy potatoes!) pasta and many many other kinds of meals. Or, as I already mentioned, it's great for lunch just as it is with some lovely crusty bread.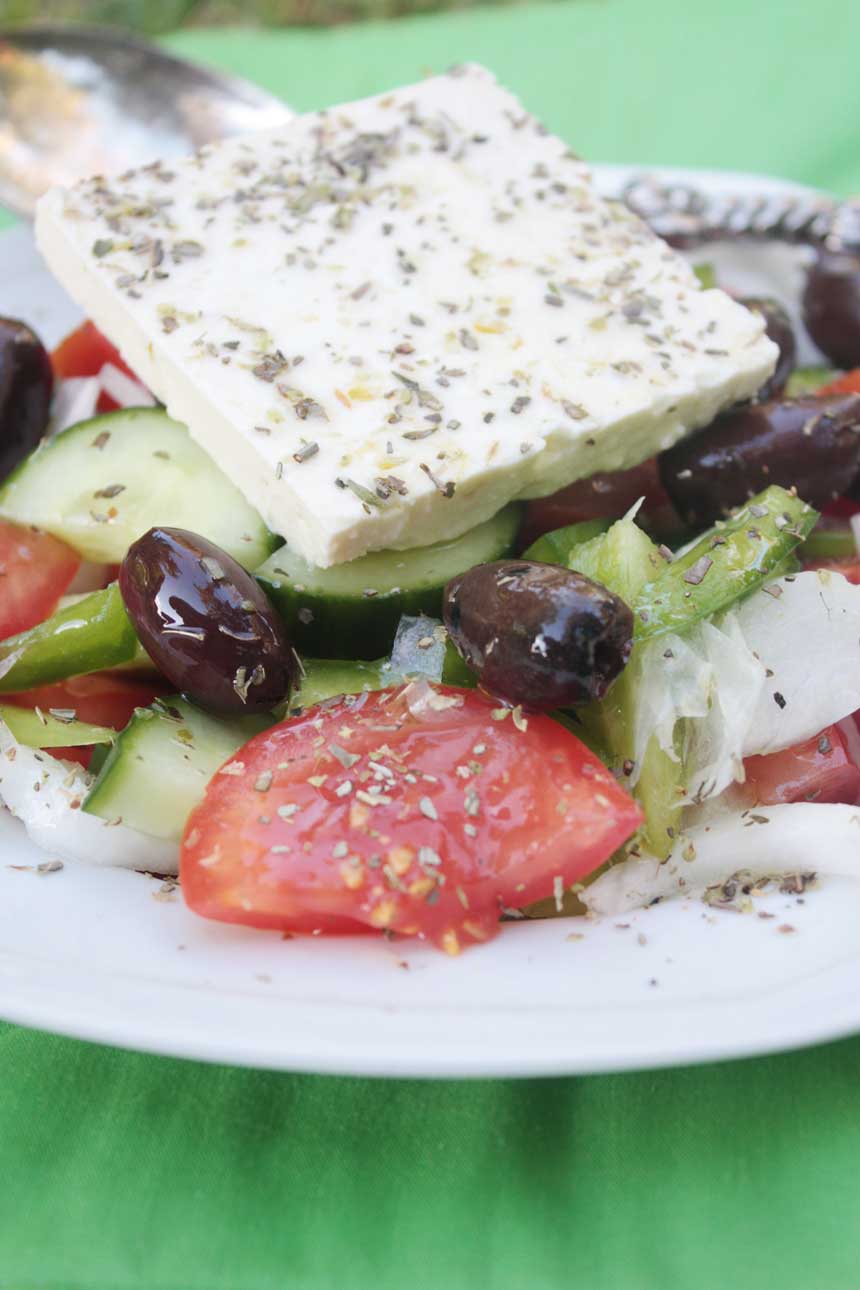 Oh, and just in case you're ever in Greece and would like to ask for one of these in Greek, just to be fancy and everything, you need to ask for a 'xoriatiki salata' (pronounced hori-AT-iki sal-AT-a if you're one of those people like me who likes to get things right!)
And finally, just before I go, a reminder to enter the great $700 worldwide giveaway. Just click on the picture to enter!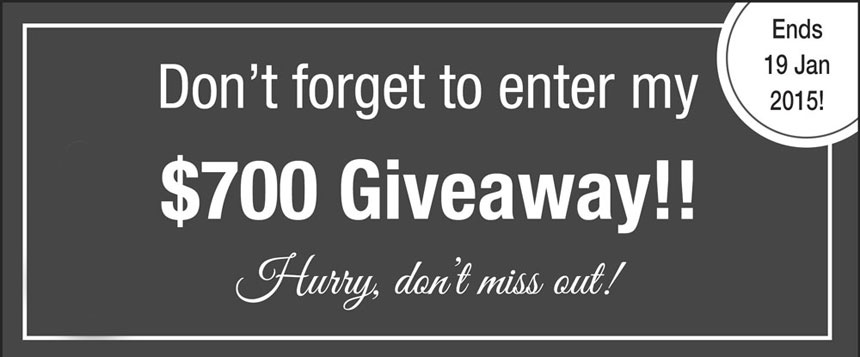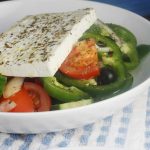 A perfect Greek salad
I've never heard anyone say they don't like Greek salad. This delicious all-year-round salad contains just eight fresh ingredients - tomatoes, cucumbers, onions, green peppers, black olives, feta cheese, oregano and olive oil - and is wonderful as a side dish with so many meals.
Servings
2
as a lunch or 3 to 4 as a side dish
Ingredients
4

or 5 medium tomatoes

the redder & juicier the better, randomly sliced into chunks

half to 2/3 of a cucumber

thickly sliced

1

green pepper

sliced into thin rounds from the bottom up

a small amount of thinly sliced onion

to taste

a handful of juicy black olives

stone in (jarred is fine)

3.5

ounces

feta cheese

a thick slice

dried or fresh oregano

1/4

cup

good quality olive oil
Instructions
Add the first five ingredients to a medium-sized salad dish and combine well.

Place the feta on top of the salad, sprinkle the feta and salad with oregano, then drizzle generously with the olive oil.

Serve with nice crusty bread to mop up the juices!
Recipe Notes
For an extra juicy salad with more dressing to mop up, squeeze about half of the tomatoes a little into the dish as you add them to the salad.

Use fat black olives with the stone in.

Don't be stingy with the feta and olive oil!
Nutrition Facts
A perfect Greek salad
Amount Per Serving
Calories 425
Calories from Fat 342
% Daily Value*
Total Fat 38g 58%
Cholesterol 44mg 15%
Sodium 568mg 24%
Potassium 717mg 20%
Total Carbohydrates 14g 5%
Protein 9g 18%
* Percent Daily Values are based on a 2000 calorie diet.
I hope you enjoyed this post! You can subscribe to receive posts directly to your inbox by entering your email address into the box at the top of the sidebar on the right.
You can also find more from Scrummy Lane on Facebook, Pinterest, Twitter and Instagram and follow me on Bloglovin! Thanks so much for reading!
*This post may contain affiliate links which means that if you click on a link and make a purchase I get a small percentage of the amount you spend. At no extra cost to you, of course! Thank you!*