Last Updated on
On Saturday, Mr. Scrummy and I are off for a little visit to Greece, where I used to live. Now you'd be forgiven for thinking that this would therefore explain today's baked Greek chicken orzo (you know, getting myself in the mood for all those yummy Greek dishes I intend to stuff myself silly with when we're there and all that). Well, I guess I am just a little bit, but my main reason for choosing to make this yesterday was to test out my Christmas present from my parents which was a lovely bright red oval-shaped Le Creuset
cast iron cooking pot.
Now don't worry, this is no sponsored post, so I'm not going to harp on and on about how great my particular pot is! (Are they sighs of relief I hear?) Buuut … I can't resist raving on for just a little while about how great these types of cast-iron pots (sometimes called dutch ovens or casseroles) are in general. Just in case you don't know, what's so clever about them is that you can start off by using them as a saucepan on the stove top (to soften your onions, brown your meat etc.), then you simply add the rest of your ingredients and throw the whole pot into the oven, lid on or off depending on the recipe. So perfect for lazy cooks like me who love making quick one-pot dishes. Also perfect for poor husbands like Mr. Scrummy who have been known to end up as chief tidier-upper when wifey has dirtied every dish in the kitchen while making dinner.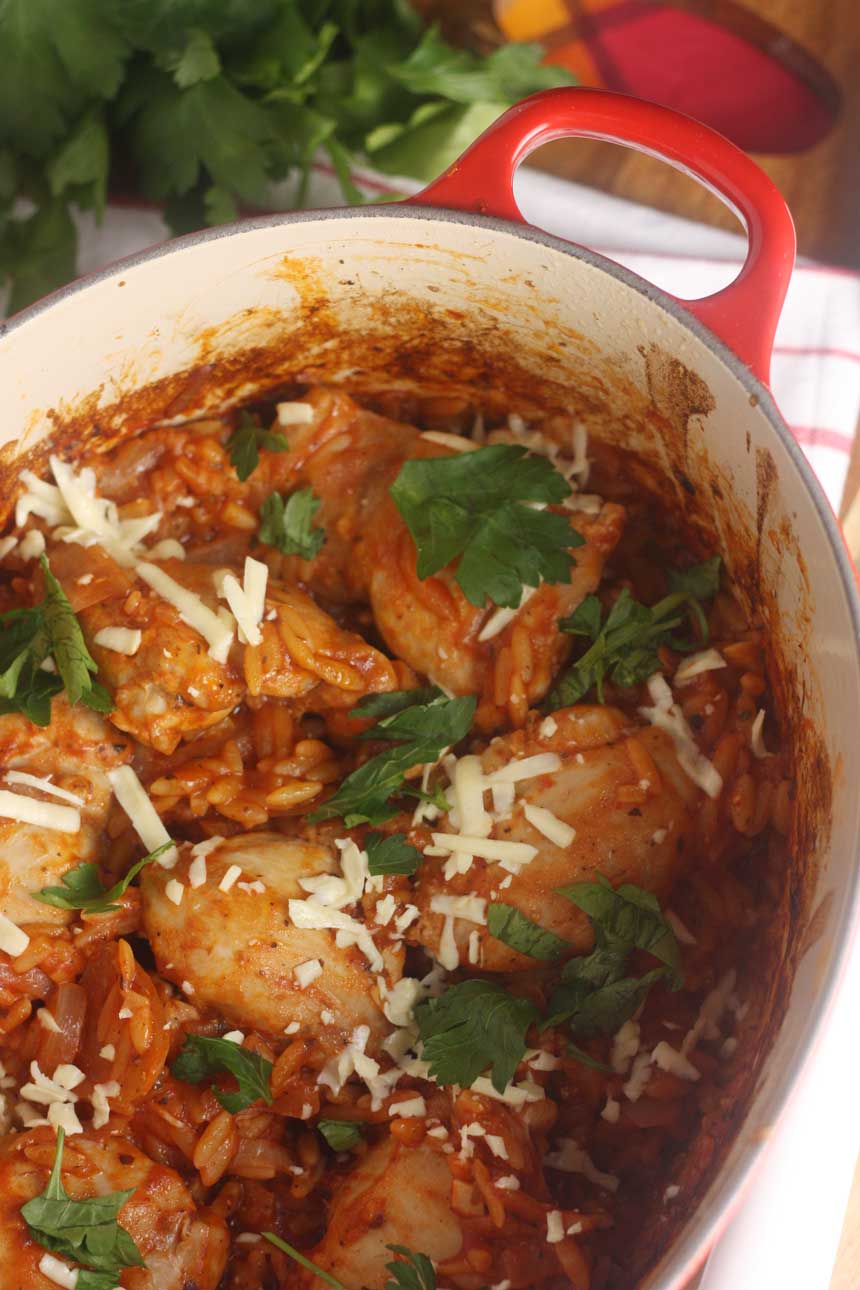 Now I'm not going to lie – Le Creuset pots are really expensive – but the great thing is that there are many many cheaper copies available. There's this one
, for example, or I've seen them going for a song in TK Maxx on occasion or even in the cook-shop sections of larger supermarkets. So long as they have a lid handle that can withstand the heat of your oven then you're good to go!
OK, well thanks for humouring me for a while there … no more product promotion now, I promise. 😉 Much better to move onto extolling the (many) virtues of the actual dish I made!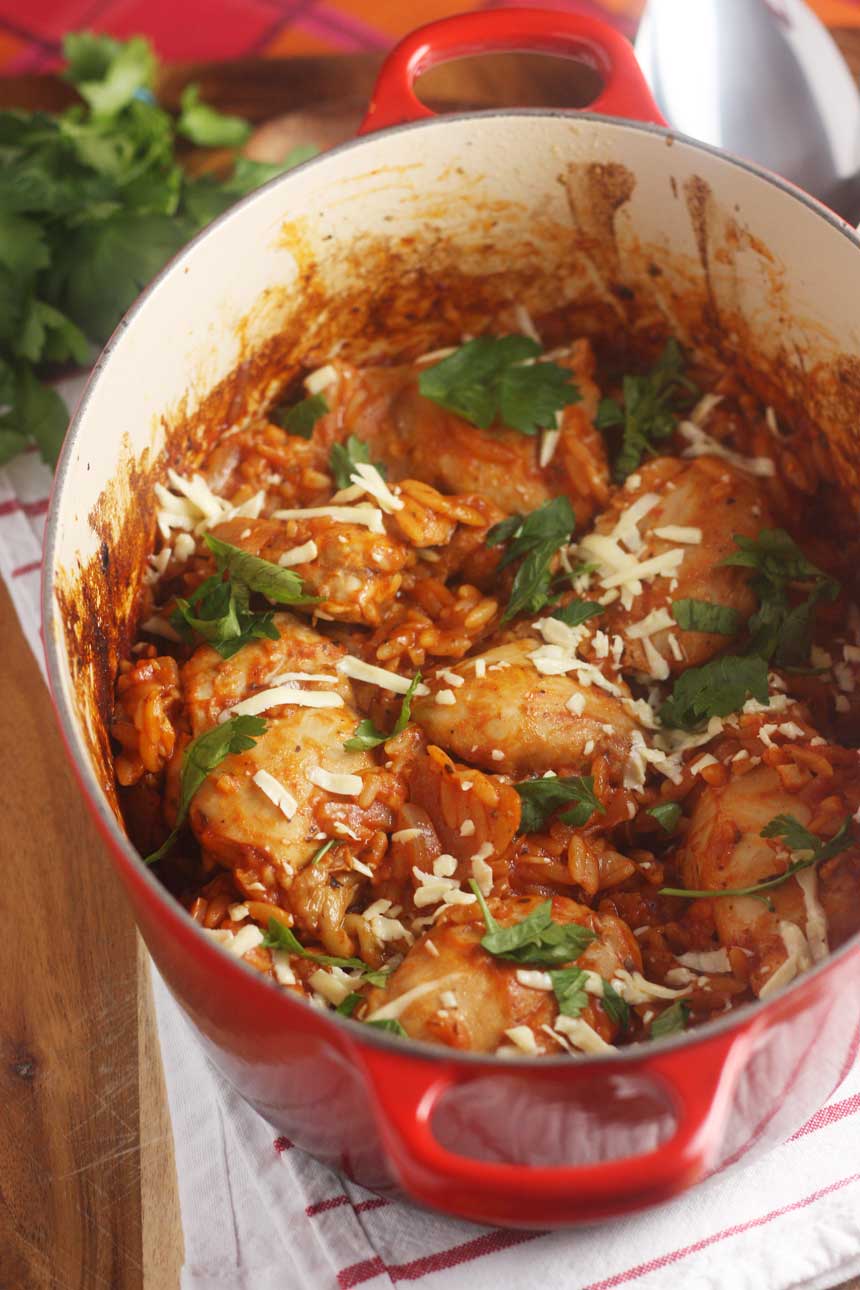 Just a little background – a version of this Greek baked chicken orzo is a pretty commonly made every day-type meal over in Greece (it's called 'yiouvetsi' – meaning any kind of meat baked with tomato, spices and orzo). And there are good reasons that it's so popular because this is perfect super easy, tasty and family-friendly winter comfort food. I mean, it's got pasta, tomato, chicken and cheese – honestly, what's not to like? If you're a fan of tomato-y, cheesy pastas, risotto-like dishes and baked chicken one-pot meals, then this is definitely one for you to try out soon!
And as I've already told you, it's super easy. Just brown chicken thighs for a couple of minutes on each side, remove them from the pan and soften a chopped onion in the left-over fat and juices. Add a stick of cinnamon and the dry orzo (sort of large grains of rice-shaped pasta, in case you don't know) and stir that around on the heat for a short while until the orzo gets coated with the juices and oil, then add the chicken back into the pot and sprinkle over paprika, oregano and a bit of allspice. Throw a whole load of tomato sauce mixed with some chicken stock over the top, give it all a quick mix around and then bake the dish for about half an hour until the chicken is cooked and the orzo has absorbed some of the sauce and is cooked through. Then simply serve with a sprinkling of fresh parsley and plenty of cheese (I used to use 'kefalotiri' cheese in Greece, but any sharp white salty cheese is fine – actually, feta would be great, as well!)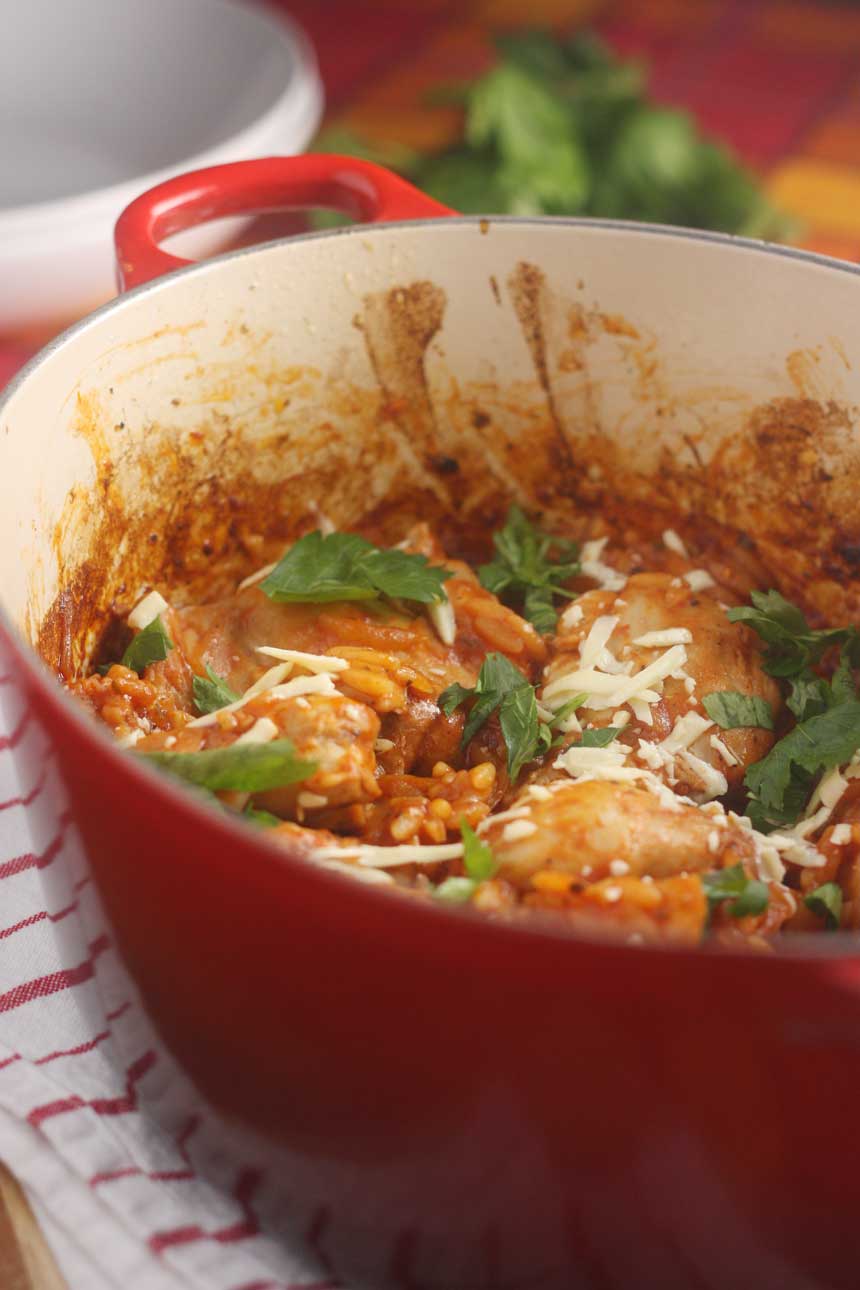 Just one important consideration – keep an eye on your dish while it's cooking in the oven, giving it a brisk stir a couple of times so that the orzo doesn't stick too much. The pot will be pretty messy when the meal is ready with some sticky bits of tomato-y pasta on the bottom, but don't worry, that's how it's supposed to be. The pot is also relatively easy to clean. I just filled it with some hot water and the mess cleaned off easily a short while later. Oh, and don't worry if you don't have a fancy cast-iron pot like mine. Just use a saucepan and then tip the ingredients into an ordinary medium-sized baking pot or deep dish for the oven-baking part.
This ends up sort of like a cross between a risotto, a pasta dish and a tomato-y, spiced casserole … and I think it's delicious! I would be delighted if you'd figuratively journey to Greece with us and give it a go some time soon!
Oh, and before I go and pack my suitcase, the winner of the $700 giveaway from this post (yup, another Greek recipe) is …. drum roll, please … Mayeshree N. from South Africa. Congratulations, Mayeshree … we're so happy for you!
Thank you so much to everyone else for taking part. Sorry you didn't win this time, but the 'consolation prize', of course, is your subscription to some wonderful food blogs … we really hope you continue to enjoy receiving our recipes and reading our posts!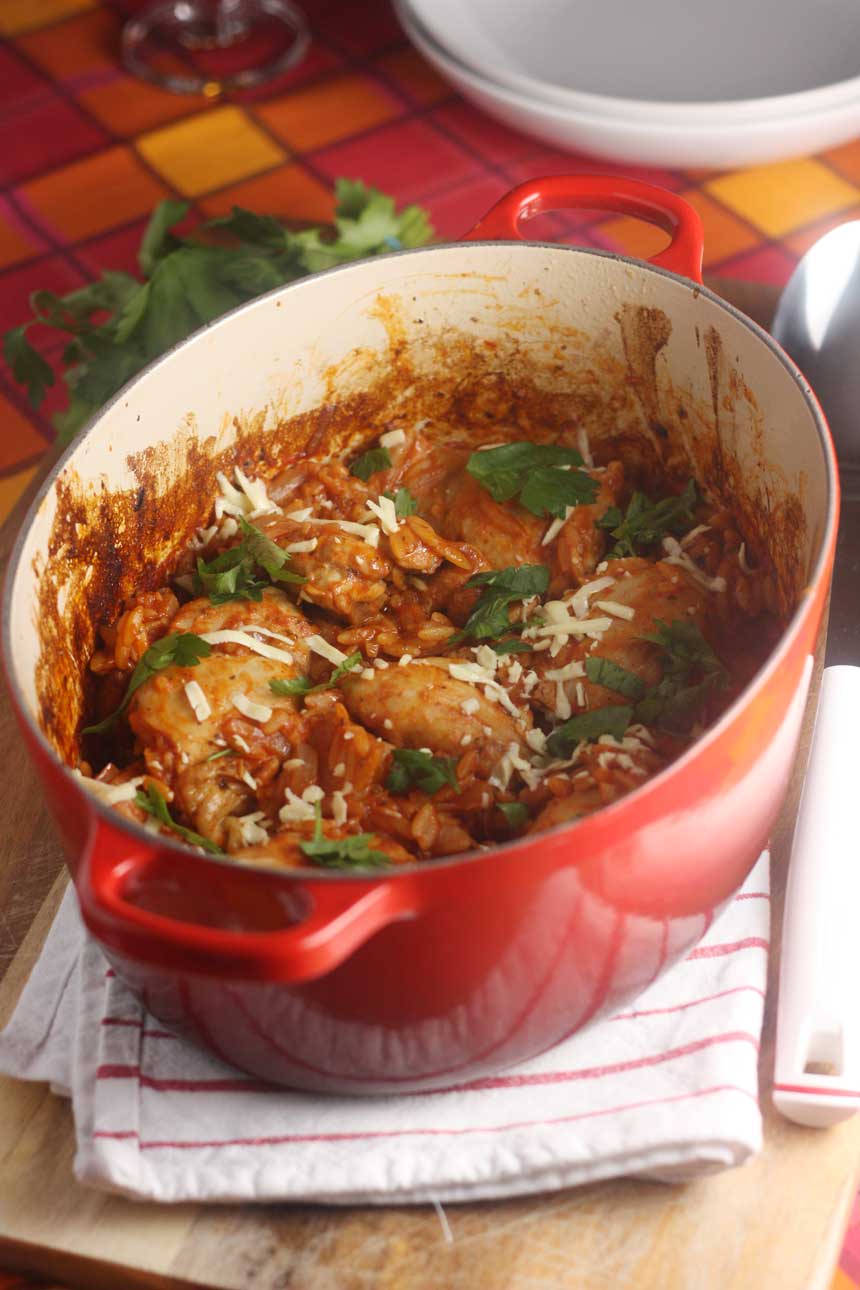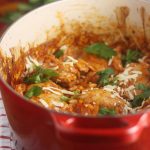 Print
Baked Greek chicken orzo
Chicken and orzo pasta baked in oregano and spice-infused tomato sauce and sprinkled with cheese. A simple mid-week meal ... and with only one pan to wash up!
Servings
3
to 4 (with salad & bread)
Ingredients (UK/Australia? Click button below for grams & ml)
For the baked chicken orzo
a little olive oil for cooking

17.5

ounces

boneless skinless chicken thighs

1

onion

chopped

2

garlic cloves

finely chopped

1

teaspoon

dried oregano

1

cinnamon stick

1

cup

orzo

rice-shaped pasta

1

teaspoon

paprika

1

teaspoon

allspice

salt/pepper

1 1/2

cups

passata

sieved tomatoes mixed with 1 cup chicken stock.
To serve
chopped parsley and hard white cheese

use Greek kefalotiri if you can find it but if not use any hard white cheese – I used English Cheshire! Feta is great, too!

salad and fresh crusty bread

Greek yoghurt
Instructions
Pre-heat the oven to 180C/350F.

Heat a little (about 2 tablespoons) olive oil in a heavy-bottomed oven-proof pot (see notes), then brown the chicken for about 2 minutes on each side. Remove the chicken from the pot onto a plate and set aside.

Add the onion to the pot and stir for a few minutes until it softens. Add the garlic and stir for a minute or so longer, then add the oregano, cinnamon and orzo and stir again for a minute or so until the orzo is coated with the juices/oil.

Take the pot off the heat and then put the chicken back into the pot, then quickly sprinkle with the paprika, allspice, salt and pepper. Finally, pour over the passata and stock and give the pot a good stir.

Bake uncovered for 30 minutes. Check and stir the pot a couple of times during cooking to stop the orzo from sticking too much. If at any time the dish looks too dry, just add an extra splash of water.

Sprinkle with fresh chopped parsley and plenty of cheese to serve. Serve with the salad, bread and a splodge of Greek yoghurt (if you like).
Notes
A cast iron oven-proof pot/dutch oven is great for this dish, but if you don't have one simply use a saucepan to brown the chicken/soften the onion etc., then tip everything into a deep medium-sized baking dish before sprinkling over the spices and pouring over the tomato sauce and baking.
Don't forget to stir the dish a couple of times while baking to stop the orzo from sticking too much to the pot. Add a splash or two of hot water towards the end of cooking if you think the dish is starting to look too dry.
Nutrition
Calories:
455
kcal
|
Carbohydrates:
54
g
|
Protein:
41
g
|
Fat:
8
g
|
Saturated Fat:
1
g
|
Cholesterol:
157
mg
|
Sodium:
188
mg
|
Potassium:
1134
mg
|
Fiber:
5
g
|
Sugar:
9
g
|
Vitamin A:
1005
IU
|
Vitamin C:
16.6
mg
|
Calcium:
87
mg
|
Iron:
4.8
mg
Follow me on Pinterest!
Follow @scrummylane to pin more quick and easy recipes for later
I hope you enjoyed this post! You can subscribe to receive posts directly to your inbox (for free, of course!) by entering your email address into the box at the top of the sidebar on the right.
You can also find more from Scrummy Lane on Facebook, Pinterest, Twitter and Instagram and follow me on Bloglovin! Thanks so much for reading!
*This post may contain affiliate links which means that if you click on a link and make a purchase I get a small percentage of the amount you spend. At no extra cost to you, of course! Thank you!*