A one pot wonder where traditional Greek cooking meets easy comfort food! This delicious Greek style giouvetsi with chicken ticks a lot of boxes. Otherwise called just orzo chicken, it's a super easy and crowd pleasing recipe that's perfect for busy weeknights. Just cook chicken with orzo, tomato passata and a few yummy Greek flavours, then bake. Don't forget a good sprinkle of cheese!
What's giouvetsi
Along with moussaka, stuffed peppers and tomatoes, souvlaki and Greek salad (among other VERY delicious dishes – see all my Greek recipes here), giouvetsi is one of those dishes you're bound to come across on a trip to Greece.
There are quite a few variations of this dish but basically it's meat baked with tomato sauce, spices and pasta. The pasta is usually orzo or risoni (kritharaki in Greek). This is pasta shaped like large grains of rice.
Traditionally giouvetsi is cooked in small clay pots. I keep things simple though by using either a Dutch oven/cast iron pot (this is perfect if you have one) or just a big saucepan and a baking dish.
Why you'll love this
It's quick and easy comfort food. Giouvetsi is everyday food in Greece for a reason. Quick and easy to make, tasty and family friendly.
You only need a few ingredients. You might have to buy chicken and orzo, but most of the others you'll probably have in the pantry already.
It goes a surprisingly long way. With simple sides, this recipe can feed 5 to 6 people.
It's a one pot meal. If you happen to have a Dutch oven/cast iron pot. If not, don't worry. It's then a 2 pot meal (no big deal, right?)
It's like risotto (well, sort of), but easier. Fan of risotto? You'll love this too!
About the ingredients
One of the great things about this Greek orzo recipe is that it's made with mostly pantry ingredients: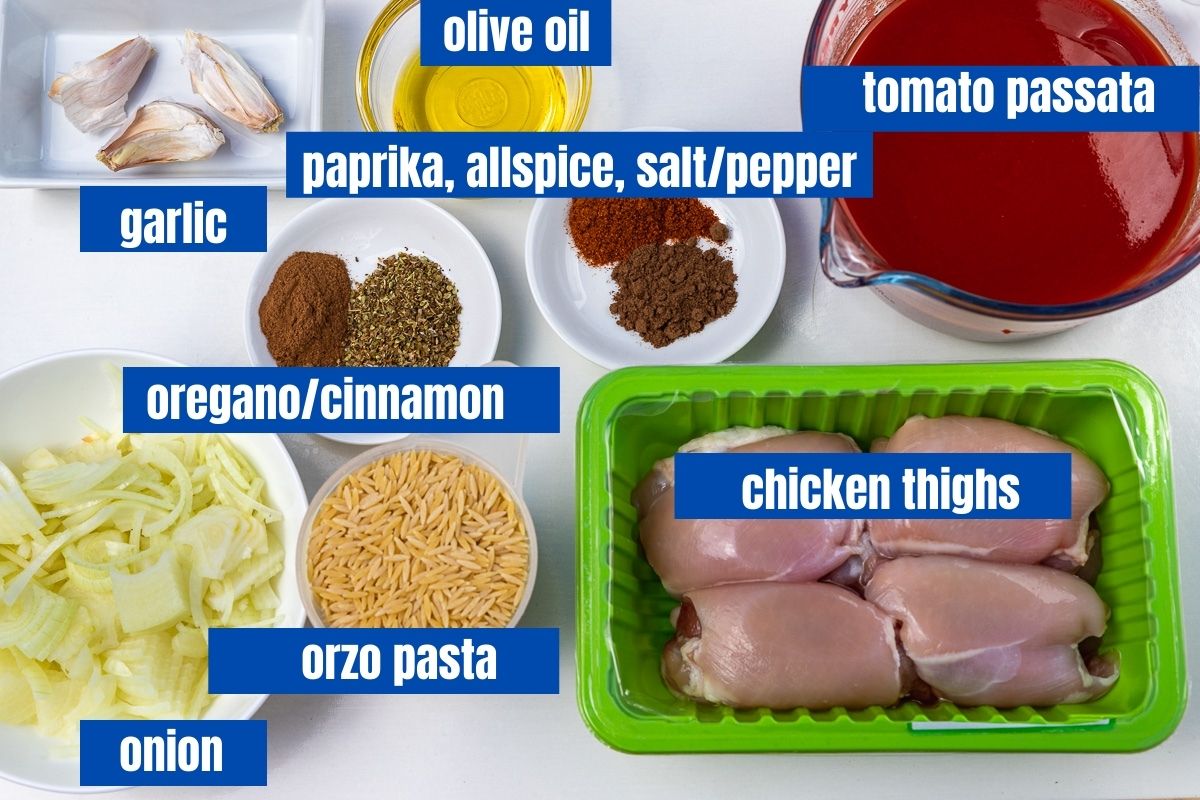 Olive oil: 2 tablespoons, for browning the chicken.
Chicken thighs: You'll need around 500g/a pound (about 4 large chicken thighs). A little goes quite a long way!
An onion: Any kind – medium to large. Chop roughly.
Garlic: 3 cloves. Crush and throw them in!
Dried oregano and ground cinnamon: Classic Greek flavours! You might be surprised by the cinnamon, but trust me, it works so well.
Orzo (sometimes called risoni or kritharaki): This is rice-shaped pasta available in most supermarkets. Alternatively, try a European style speciality shop.
Paprika and allspice: Sprinkle these over the chicken just before you pour over the passata and bake.
Salt/Pepper: Of course!
Passata: This is just tomatoes that have been pureed and sieved. Not that it's NOT the same as tomato puree/paste which is far too concentrated. If you can't find passata, honestly plain old canned chopped tomatoes are a great substitute.
Chicken stock: You'll need around 1.5 cups. The orzo will soak up a lot of liquid while it's cooking.
If you like, you can swap out some of the liquid for red wine, which adds another great level of flavour. You cheeky thing.
How to make it
Did I mention how easy this Greek chicken orzo is to make?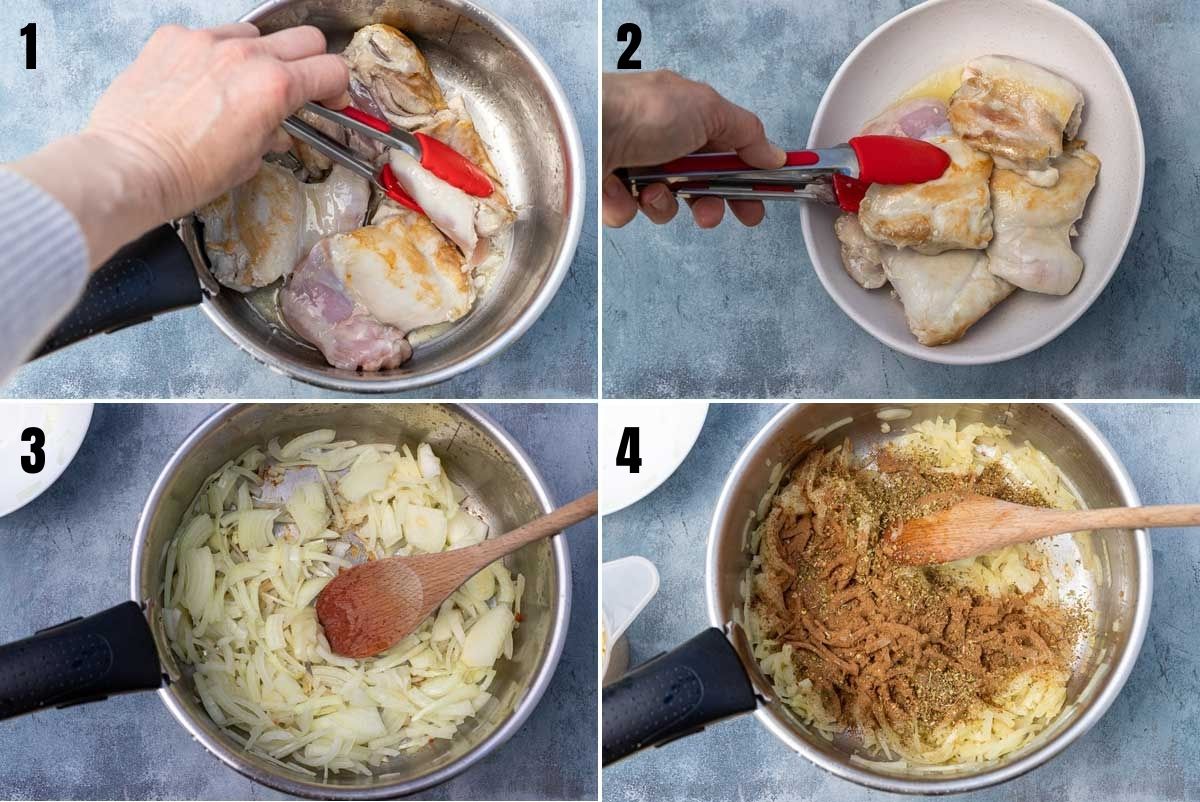 Steps 1 to 3: Brown chicken thighs for a couple of minutes on each side. Remove them from the pan and soften a chopped onion in the left-over fat and juices.
Step 4: Add the cinnamon and oregano.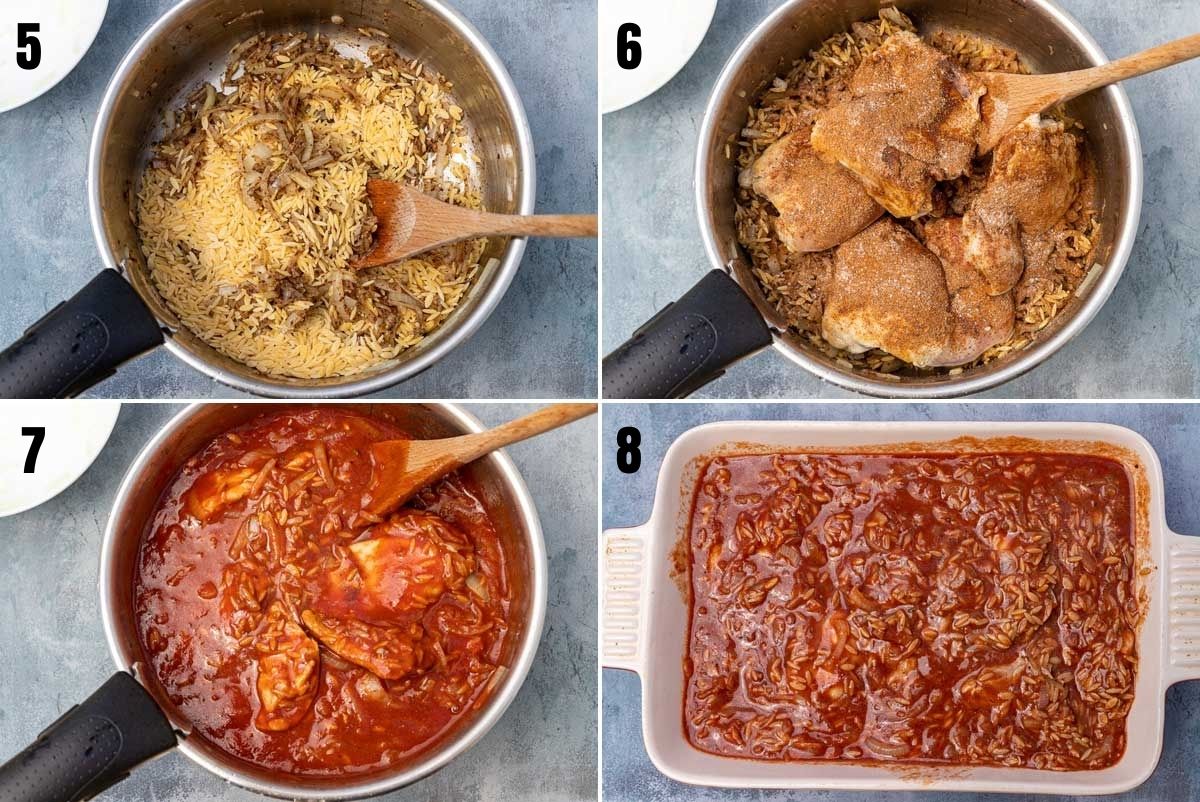 Step 5: Add the dry orzo. Stir that around on the heat for a short while until the orzo gets coated with the juices and oil.
Step 6: Add the chicken and any juices back into the pot. Sprinkle over the paprika and allspice.
Step 7: Throw the passata and chicken stock over the top. Give it all a quick mix around.
Step 8: Pour into a baking dish (if not using a cast iron pot that can go straight into the oven) and then bake for about 30 minutes.

Steps 9 and 10: Remove the dish from the oven when the orzo and chicken are just cooked through. Sprinkle generously with fresh parsley and cheese. Eat immediately!
Pro tips
Keep an eye on the giouvetsi while it's in the oven. Give it a stir a couple of times. Add a drizzle more water if it looks too dry. The pot might be messy when the dish is cooked, but that's OK!
Don't skip browning the chicken. Take a few extra minutes to turn up the heat and brown on all sides. This helps to seal in the flavour of the meat before you start adding everything else.
When you add the orzo to the pan, sauté it for a minute or two before proceeding with the recipe. Just like you would if making a risotto. This will seal in the starch and stop the pasta from becoming too gloopy when cooked.
Don't worry if it looks like there's too much liquid when you take the dish out of the oven. As long as the orzo is cooked you're good. Let the dish sit for 5 to 10 minutes and you'll find that it will absorb some of the liquid.
How to serve giouvetsi
This dish ends up like a cross between a risotto, a comforting bowl of pasta and a spiced tomato chicken casserole.
It's simple and yet flavourful. I always sprinkle the finished dish with plenty of fresh parsley and cheese – either Greek kefalotyri if you can find it, or pecorino or even parmesan. My favourite though is feta!
Serve with a Greek style salad without the feta, or a simple green salad with tomatoes, cucumber and avocado, or similar. Alternatively you can skip the feta (use another cheese instead) and serve it with a Greek salad. I also highly recommend serving with a big spoonful of Greek yogurt. It might sound strange, but try it and see how delicious it is!
If you're serving this to guests, consider making a bowl of these simple but delicious Mediterranean roast vegetables as well, to go on the side.
Lastly, I sometimes serve this with some 2-minute olive oil toasts as well. Perfection!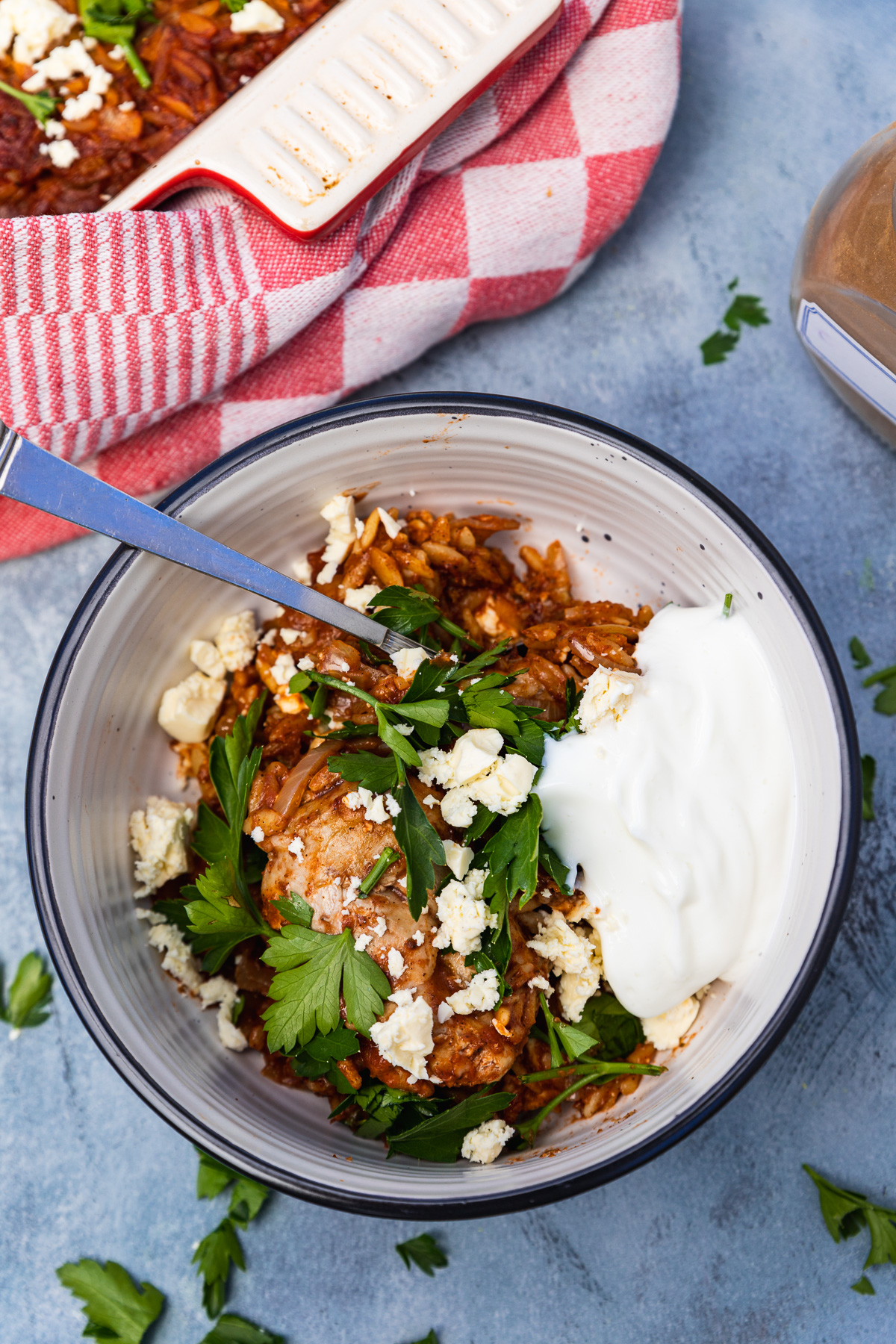 Variations
On the whole I make this recipe exactly as it is, but here are a few ways to spice things up!
Add red wine. Replacing up to half of the chicken stock with red wine will give the dish a very delicious extra richness.
Sprinkle with different types of cheese. Traditionally giouvetsi is served with a hard white cheese called kefalotiri. If you can get that – great! If not pecorino or even parmesan works well. Personally, I prefer big chunks of feta cheese. Because, you know, tasty…
Try a different meat. Giouvetsi isn't always made with chicken, by any means. Beef is popular, as is lamb. For either beef or lamb, simmer chunks of the meat in the sauce gently for 15 minutes before baking with the orzo pasta. If you have to add some extra water to the baking dish during cooking, that's absolutely fine.
More things to know (recipe FAQ)
What is the best pan to make giouvetsi in?
If you have a dutch oven or cast iron pot, definitely drag it out of the cupboard to make giouvetsi! It means you can start the meal off on the stovetop, then finish it in the oven in the same pot.

If you don't have one though, that's absolutely fine. Just use a large heavy saucepan, then tip the pasta mixture into a medium sized baking dish – around 9 x 13 inches.
How do I know when it's done?
This dish is ready when the orzo has soaked up some (but not all) of the sauce, and is just cooked. You may even have to add a tiny bit more water as it cooks. The orzo should be 'al dente' – cooked but still with a tiny 'bite'. Taste a little to check, but 30 minutes in the oven is usually perfectly right.


Can I reheat it?
You can, but add a splash more water before you do. Microwave covered and on reduced power until just piping hot, but try not to overdo it. It won't be quite as good as it was when first cooked, but it still makes pretty tasty leftovers when paired with a simple salad, Greek yogurt and bread. Mmm!
Can I freeze it?
I have to be honest… this is not great frozen. The pasta becomes mushy when defrosted and reheated. So no this isn't a freezer meal. Make it the night you're going to serve it.
What can I use instead of orzo?
Just in case you can't find orzo/risoni easily, see if your supermarket has another very small type of pasta instead. Look for acini di pepe or ditalini (smaller and larger than orzo respectively), or even small orrechiette.
Now what to do with the rest of the orzo? 😉
More delicious orzo recipes
IF YOU MAKE THIS RECIPE, LET ME KNOW HOW YOU GET ON BY LEAVING A COMMENT AND RATING BELOW… AND DON'T FORGET TO SIGN UP TO RECEIVE ALL MY NEW RECIPES BY EMAIL!
FOLLOW ME ON FACEBOOK, INSTAGRAM, PINTEREST AND YOUTUBE.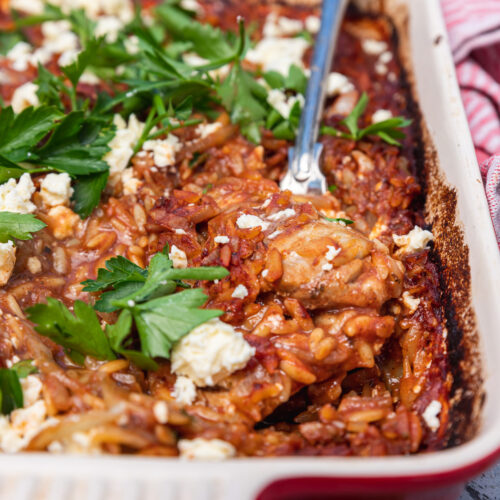 Giouvetsi (Orzo Chicken Greek Style)
This version of the very delicious traditional Greek giouvetsi comes in the form of a chicken and orzo pasta baked in oregano and spice-infused tomato sauce and sprinkled with cheese. A simple Greek-style midweek meal… and with potentially only one (or two) pan(s) to wash!
Equipment (affiliate links)
Ingredients (UK/Australia? Click below for grams/ml)
For the baked chicken orzo
2

tablespoons

olive oil

for cooking

1

pound

boneless skinless chicken thighs

1

onion

chopped

3

garlic cloves

finely chopped

1.5

teaspoons

dried oregano

1

teaspoon

dried cinnamon

1

cup

orzo

rice-shaped pasta, sometimes called risoni or kritharaki in Greece

1

teaspoon

paprika

1

teaspoon

allspice

¾

teaspoon

salt

¼

teaspoon

pepper

1½

cups

passata

sieved tomatoes (use canned chopped tomatoes as a substitute)

1½

cups

chicken stock

(US: chicken broth)
To serve
chopped parsley and cheese, for sprinkling

use Greek kefalotiri if you can find it but if not use pecorino, parmesan or feta.

salad and bread

Greek yogurt
Instructions
Pre-heat the oven to 180C/350F.

Heat the olive oil in a dutch oven/cast iron pan or big heavy-based saucepan. Brown the chicken for about 2 minutes on each side. Remove the chicken from the pot onto a plate and set aside.

2 tablespoons olive oil,

1 pound boneless skinless chicken thighs

Add the onion to the pot and stir for a few minutes until it softens. Add the garlic and stir for a minute or so longer. Then add the oregano and cinnamon.

1 onion,

3 garlic cloves,

1.5 teaspoons dried oregano,

1 teaspoon dried cinnamon

Add the orzo and stir again for a minute or so until the orzo is coated with the juices/oil.

Put the chicken and any juices back into the pot. Then sprinkle with the paprika, allspice, salt and pepper. Finally, pour over the passata and stock and give the pot a good stir.

1 teaspoon paprika,

1 teaspoon allspice,

¾ teaspoon salt,

¼ teaspoon pepper,

1½ cups passata,

1½ cups chicken stock

Bake uncovered for 30 minutes. Check and stir the pot a couple of times during cooking to stop the orzo from sticking too much. If at any time the dish looks too dry, just add an extra splash of water.

Sprinkle with fresh chopped parsley and plenty of cheese to serve. Serve with the salad, bread and a splodge of Greek yogurt (if you like).

chopped parsley and cheese, for sprinkling,

salad and bread,

Greek yogurt
Notes
What pot to use: A cast iron oven-proof pot/dutch oven is great for this dish, but if you don't have one simply use a saucepan to brown the chicken/soften the onion etc., then tip everything into a deep medium-sized baking dish before sprinkling over the spices and pouring over the tomato sauce and baking. Liquid: If you like, you can replace a little (a quarter to half a cup) of the liquid with red wine for extra depth of flavour. While cooking: Don't forget to stir the dish a couple of times while baking to stop the orzo from sticking too much to the pot. Add a splash or two of hot water towards the end of cooking if you think the dish is starting to look too dry. To serve: Giouvetsi is best served immediately, just like risotto. If you leave it too long the orzo starts to soak up too much water and it can become dry. Leftovers/Freezing: This dish goes a surprisingly long way, so you may have some leftovers. To reheat, add a splash more water before reheating on a reduced heat in the microwave. Leftovers are still tasty with the yummy sides, but the pasta is not at its best. Generally I wouldn't advise freezing this. The pasta can become mushy/gluggy!
Nutrition
Calories:
339
kcal
Carbohydrates:
35
g
Protein:
25
g
Fat:
11
g
Saturated Fat:
2
g
Polyunsaturated Fat:
2
g
Monounsaturated Fat:
6
g
Trans Fat:
1
g
Cholesterol:
88
mg
Sodium:
557
mg
Potassium:
756
mg
Fiber:
3
g
Sugar:
7
g
Vitamin A:
617
IU
Vitamin C:
10
mg
Calcium:
52
mg
Iron:
3
mg