Last Updated on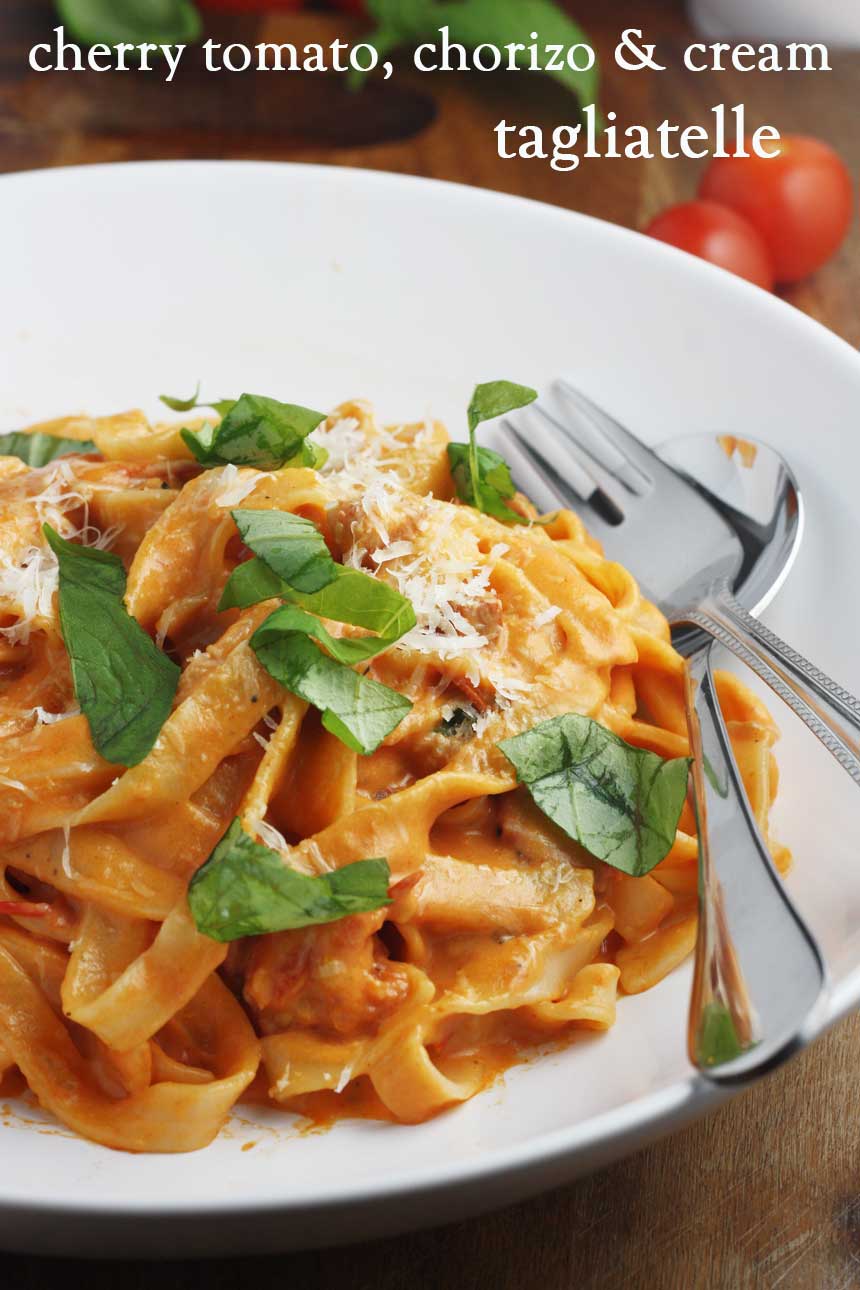 As Mr. Scrummy and I are planning a trip up to the beautiful ancient city of York this weekend to see a good friend, we were discussing the journey with my parents yesterday. Go this way, not that way, they advised us. And if you want to get there at this time then set out at that time – or perhaps a bit earlier so you can stop half way for a coffee break. 'A coffee break?' Mr. Scrummy scoffed. 'But it's only a 2 hour journey!' He proceeded to pretty much fall about laughing. Well, you know, he's from Australia where a long journey means 2 days across a scorching, tree-less never ending road. Here in the UK, ridiculous or not, many if not most of us treat stopping off for a drink on the motorway as part of the excitement of a trip. Yes, even just a 2-hour trip.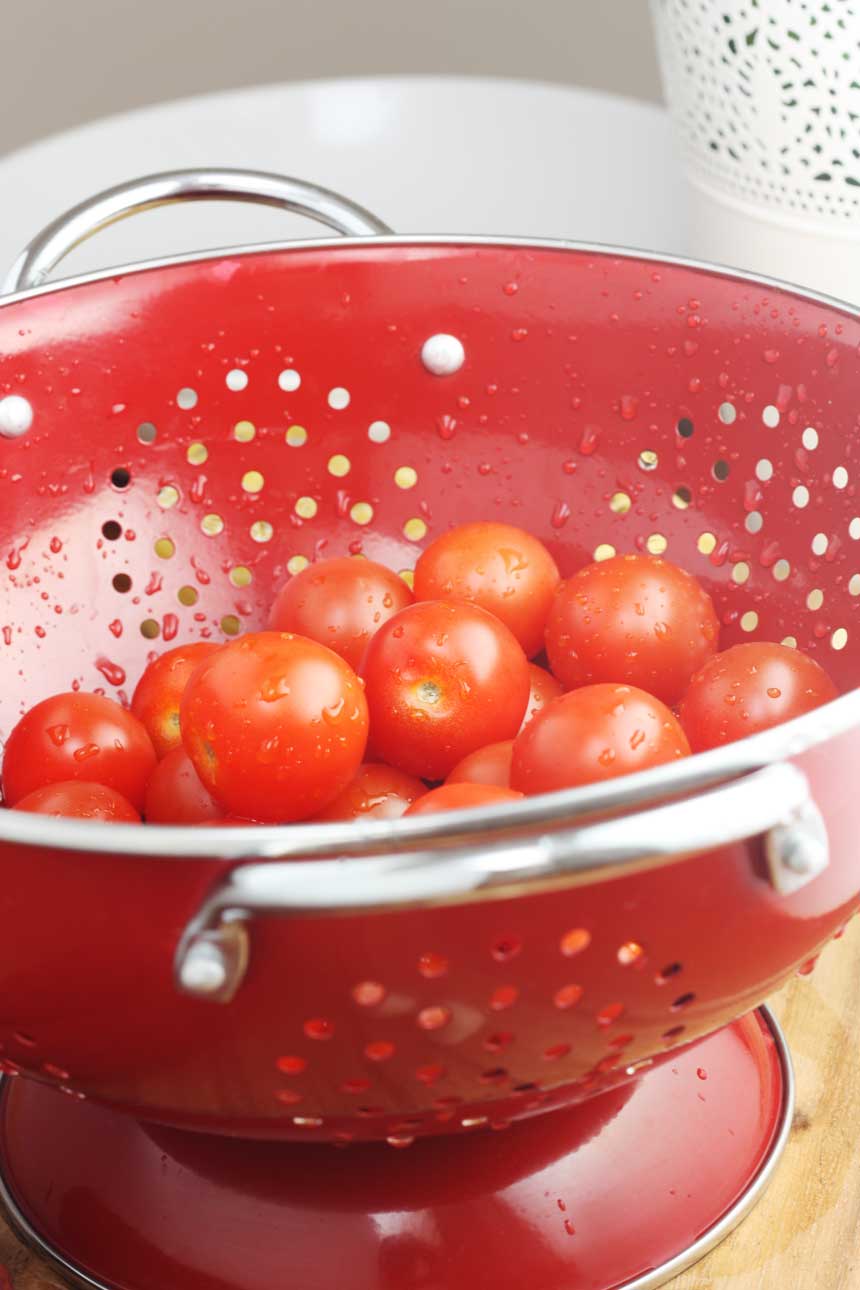 But I can't be too miffed with Mr. Scrummy's scoffing because I too did some scoffing of my own while we were in Australia a few months back … over weather-related things. He and others would declare that it was 'absolutely freezing outside' when in fact it was … ooh, let's say 12 degrees centigrade. Hmmm. My turn to fall about laughing. Just this evening I was walking back from the shops and it was sleeting with a biting cold wind. That felt absolutely freezing to me, and yet if I harped on about it in front of a Canadian, let's say (hi, Canadian friends!) I'm sure I too would get laughed out of the room.
Obviously these kinds of things can be very relative!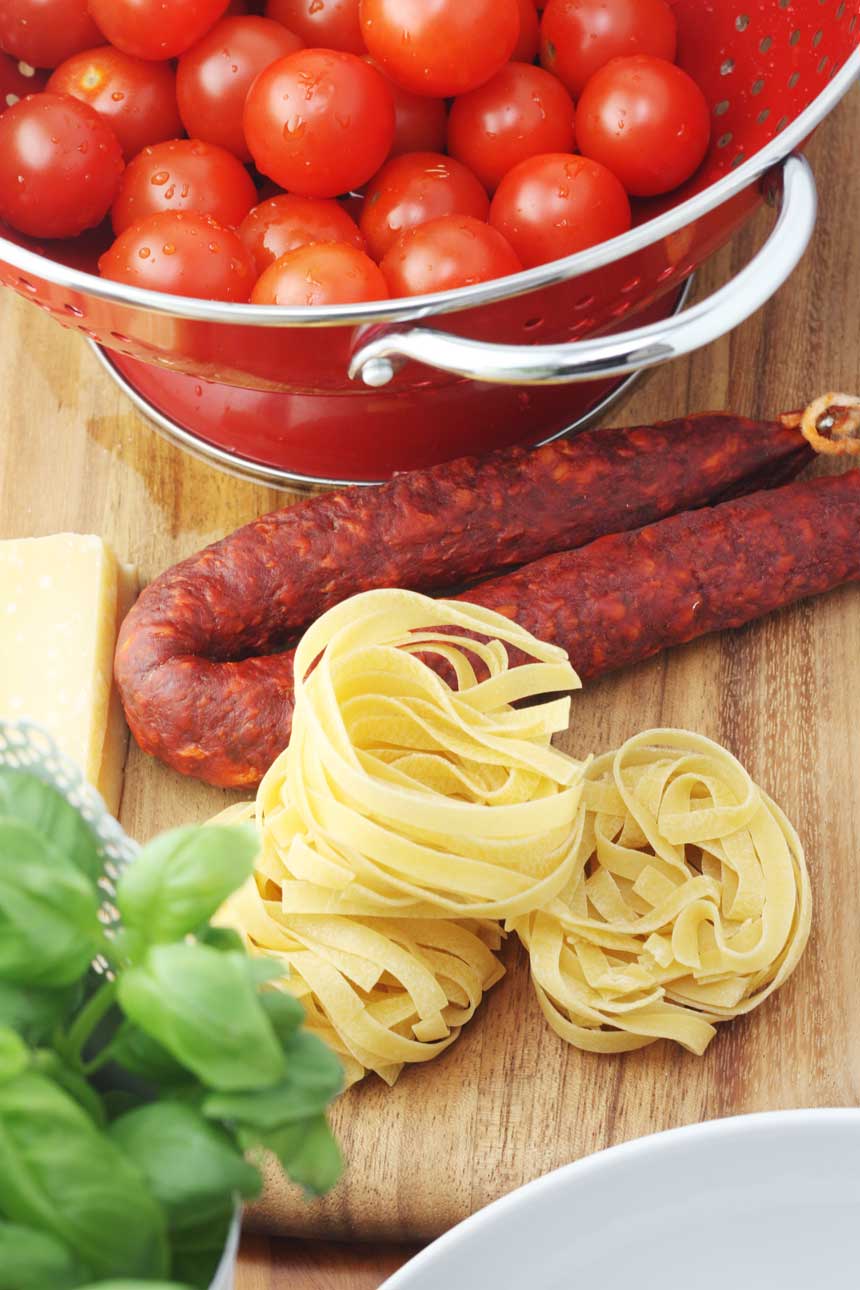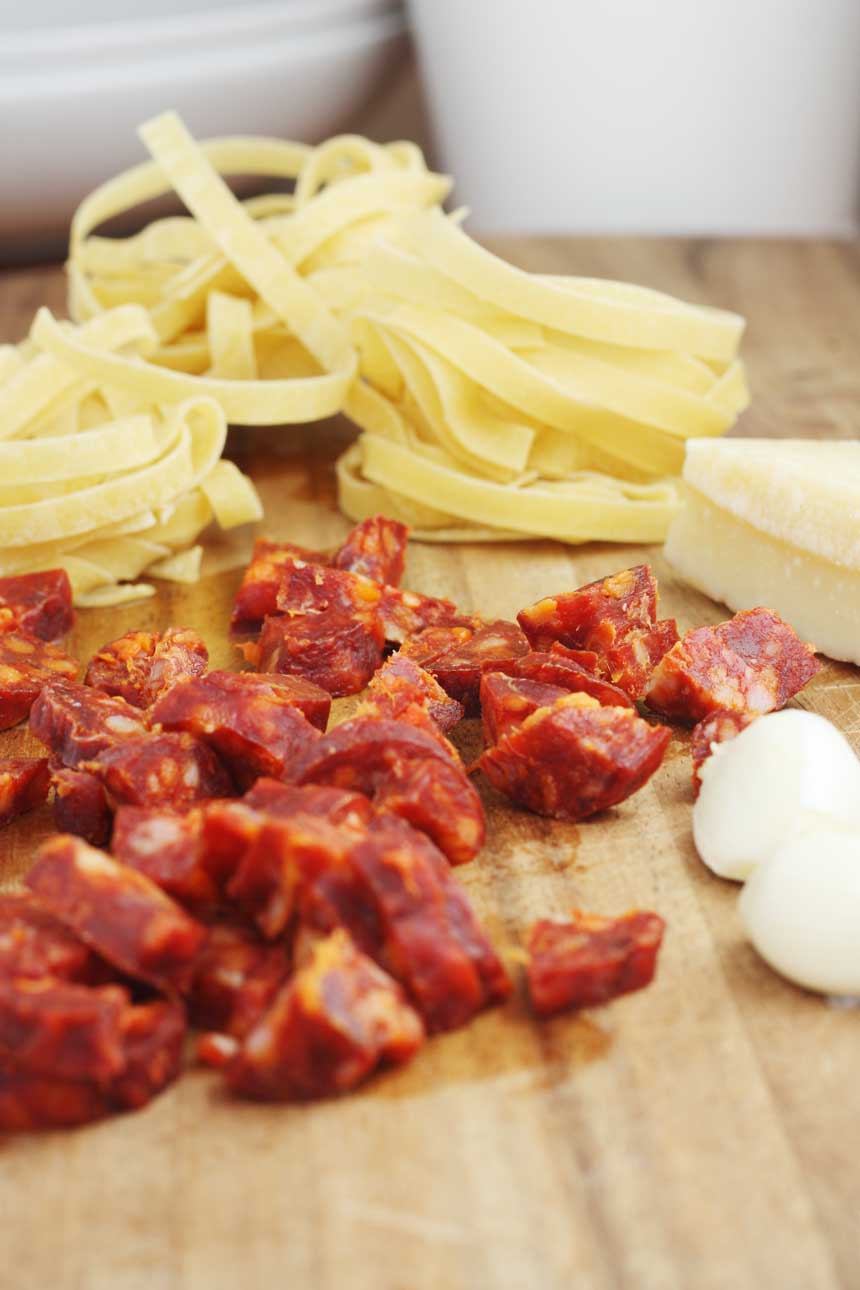 Now onto a very different kind of scoffing (sorry, cheesy lead-in there) because I'm pretty sure if you have a go at this quick tagliatelle in a cherry tomato, chorizo & cream sauce you'll be scoffing it down. I found this so tasty and comforting when I whipped it up this past weekend that I scoffed a whole second bowl of it, to the point that I had that overly full feeling for ages afterwards (oops – and Christmas is still a little while away!)
There are several winner qualities to this dish. Number one: it's super quick and easy with only a few ingredients. Number two: it's really saucy, which for me often equals perfect comfort food. Number three: it's a one-pan dish (well, if you don't count the pasta pan …) and number four: it's creamy and cheesy. Nuff said?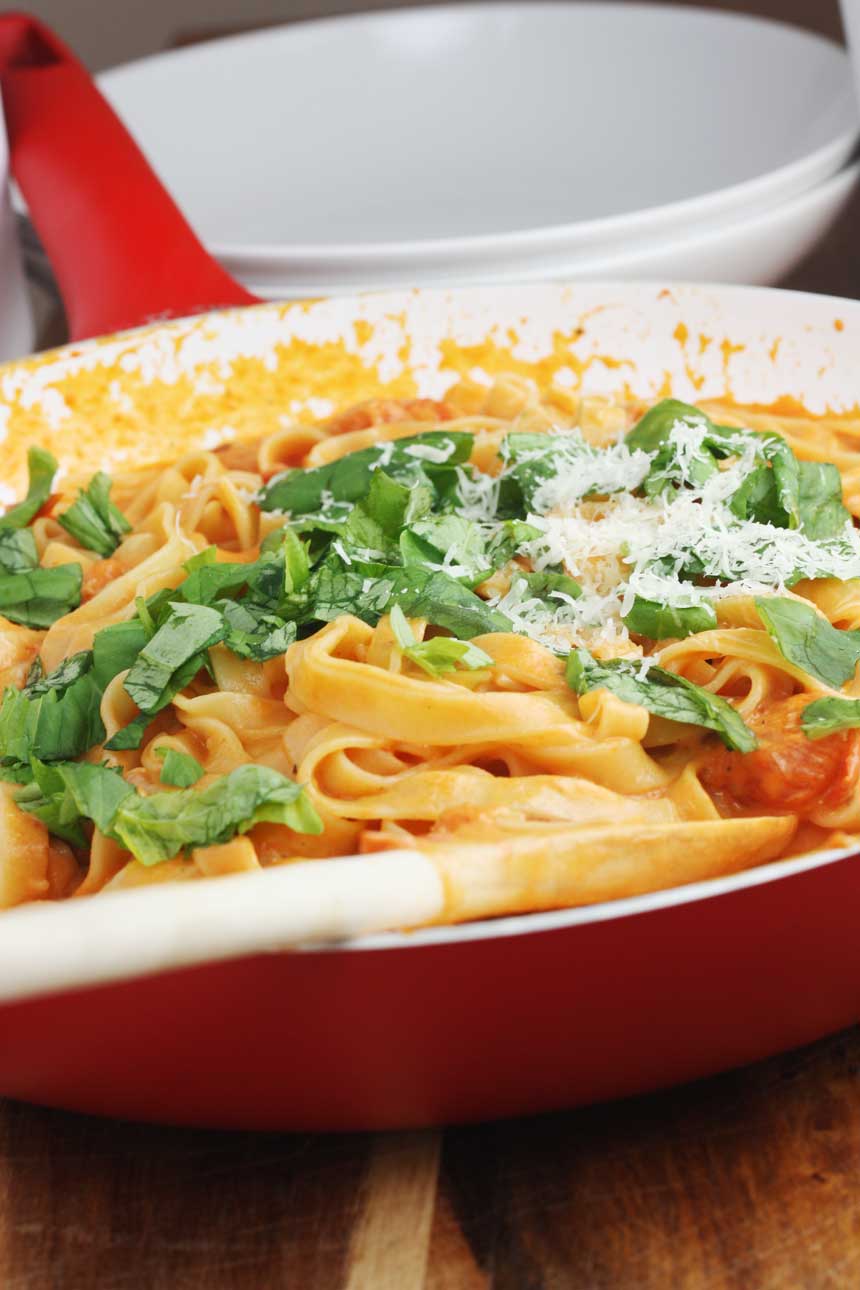 This is insanely easy to throw together. Just throw your garlic, chorizo and cherry tomatoes into a bit of sizzling butter and let the tomatoes cook down for ten minutes until you can squish it into a sort of sauce, then add a bit of passata, cream, parmesan and basil. Dump in your cooked pasta and toss everything together, loosening the dish up with a bit of the pasta cooking water if you feel it needs it. Serve with a bit more parmesan and fresh basil to taste and you've got a super simple, comforting pasta perfection.
The last thing I'd like to say about this quick pasta dish is that you can adjust the amounts of cream, tomato and parmesan added. If you don't like your pasta sauces to be too creamy just add a splash of cream. If cheese takes you to cheesy heaven then go ahead and dump in another handful of parmesan. It's totally up to you!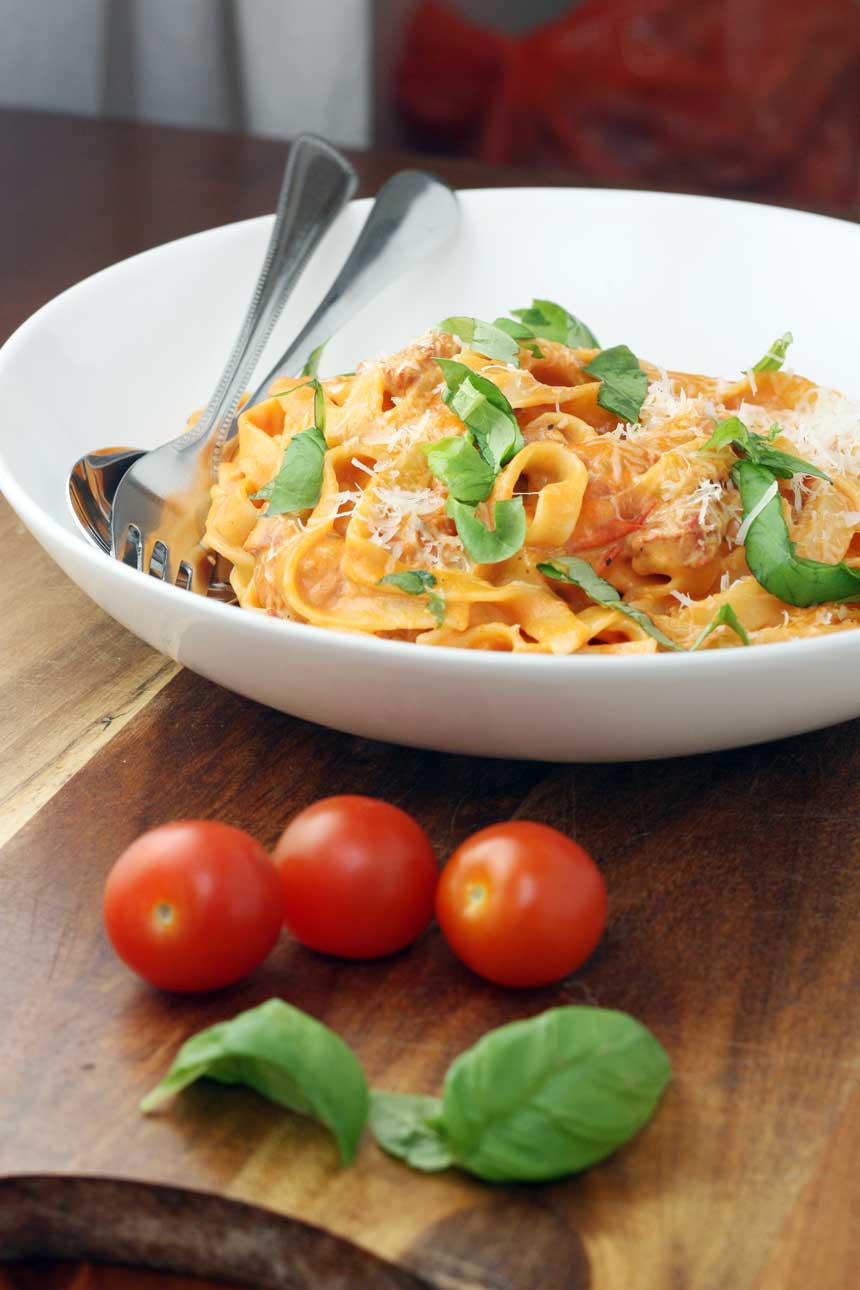 So what do you think about my plans to stop for coffee on a 2-hour drive? Ridiculous or perfectly acceptable?
Have a great weekend!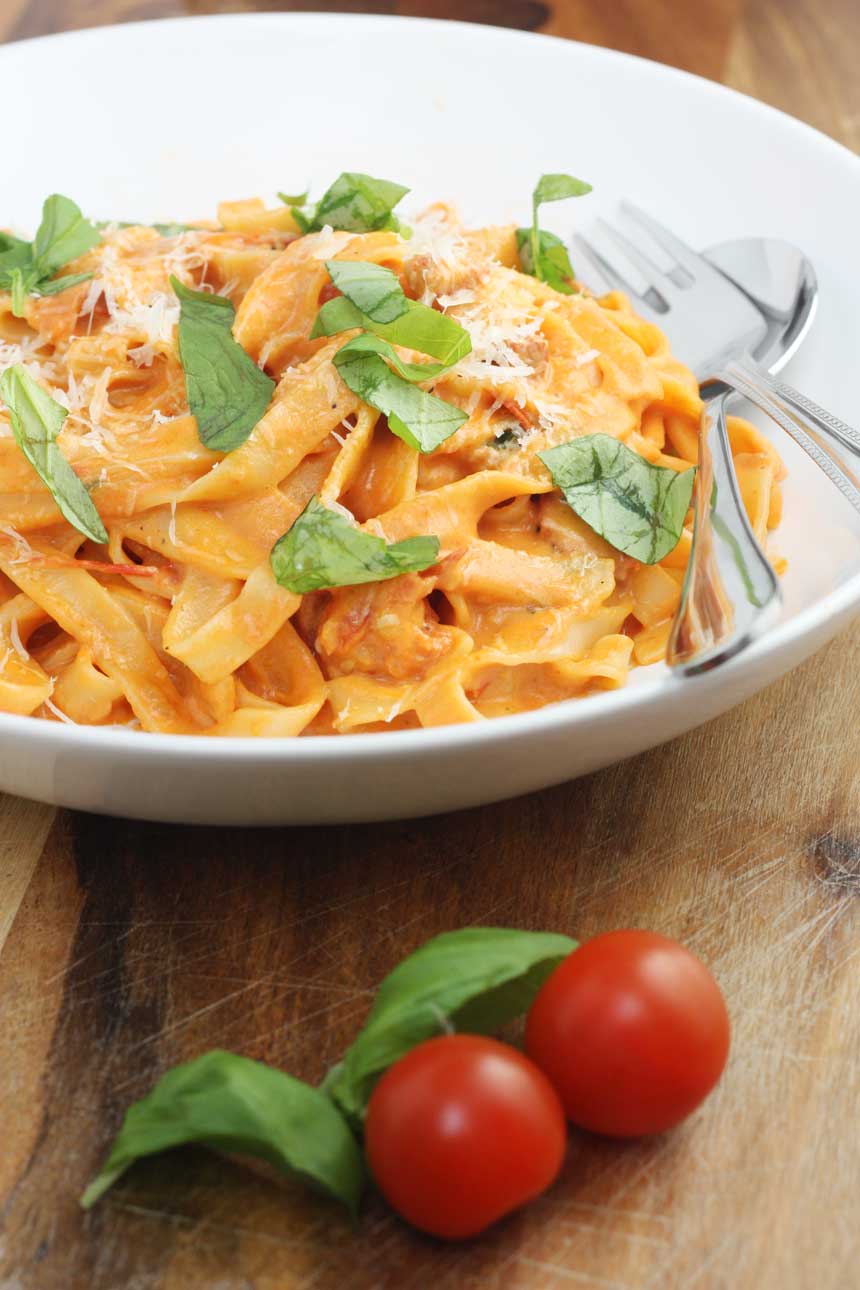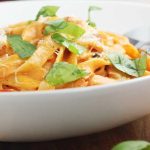 Print
Quick tagliatelle in a cherry tomato, chorizo & cream sauce
This tagliatelle with cherry tomato, chorizo and cream sauce is perfect for those busy days when you want to whip up something tasty and comforting really quickly.
Ingredients
1

knob

butter

2

cloves

garlic

crushed

14

ounces

cherry tomatoes

(ripe)

3.5

ounces

chorizo sausage

chopped into small chunks

0.5

cups

passata

1

pinch

sugar

(large pinch)

salt & pepper

8

ounces

tagliatelle

dried

0.25

cups

cream

(slightly more or less to taste)

3

tablespoons

basil

(fresh) chopped

1

handful

parmesan cheese

grated, plus extra to taste!
Instructions
Put a pot of water on to boil ready for the pasta.

Melt the butter in a pan, then add the garlic and tomtoes and let cook on a medium heat until the tomatoes begin to soften. Squash them into the pan a bit so that they begin to form a sauce (about 10 minutes or so). Then add the chorizo to the pan and let cook for a minute or two.

Add the pasta to the boiling water and cook according to the instructions on the packet.

Meanwhile, add the passata and cream to the pan (add the cream to taste – the sauce should be a deep orangey red colour) and let bubble away for a few minutes while the pasta is cooking so that it reduces a bit. Then add most of the parmesan and stir through most of the basil.

Drain the pasta when cooked, reserving a little of the cooking water, then add it to the pan and mix it into the sauce really well. Add a little of the cooking water to loosen up the sauce if you think it's necessary.

Serve the pasta. Sprinkle with the remaining parmesan and fresh basil. Eat immediately!
Nutrition
Calories:
835
kcal
|
Carbohydrates:
97
g
|
Protein:
32
g
|
Fat:
35
g
|
Saturated Fat:
15
g
|
Cholesterol:
181
mg
|
Sodium:
699
mg
|
Potassium:
1203
mg
|
Fiber:
6
g
|
Sugar:
10
g
|
Vitamin A:
1955
IU
|
Vitamin C:
53.4
mg
|
Calcium:
109
mg
|
Iron:
5.5
mg
This post may contain affiliate links to products I use to make this recipe!