The perfect mix of comforting and super flavorful, this quick creamy chorizo pasta recipe may soon become a family favorite! It's so easy to make the tomato cream sauce (pink sauce!) with crisp chorizo and sweet cherry tomatoes all in one pan. Then toss it through tagliatelle (or your favorite pasta!) and your delicious meal is on the table in just 30 minutes.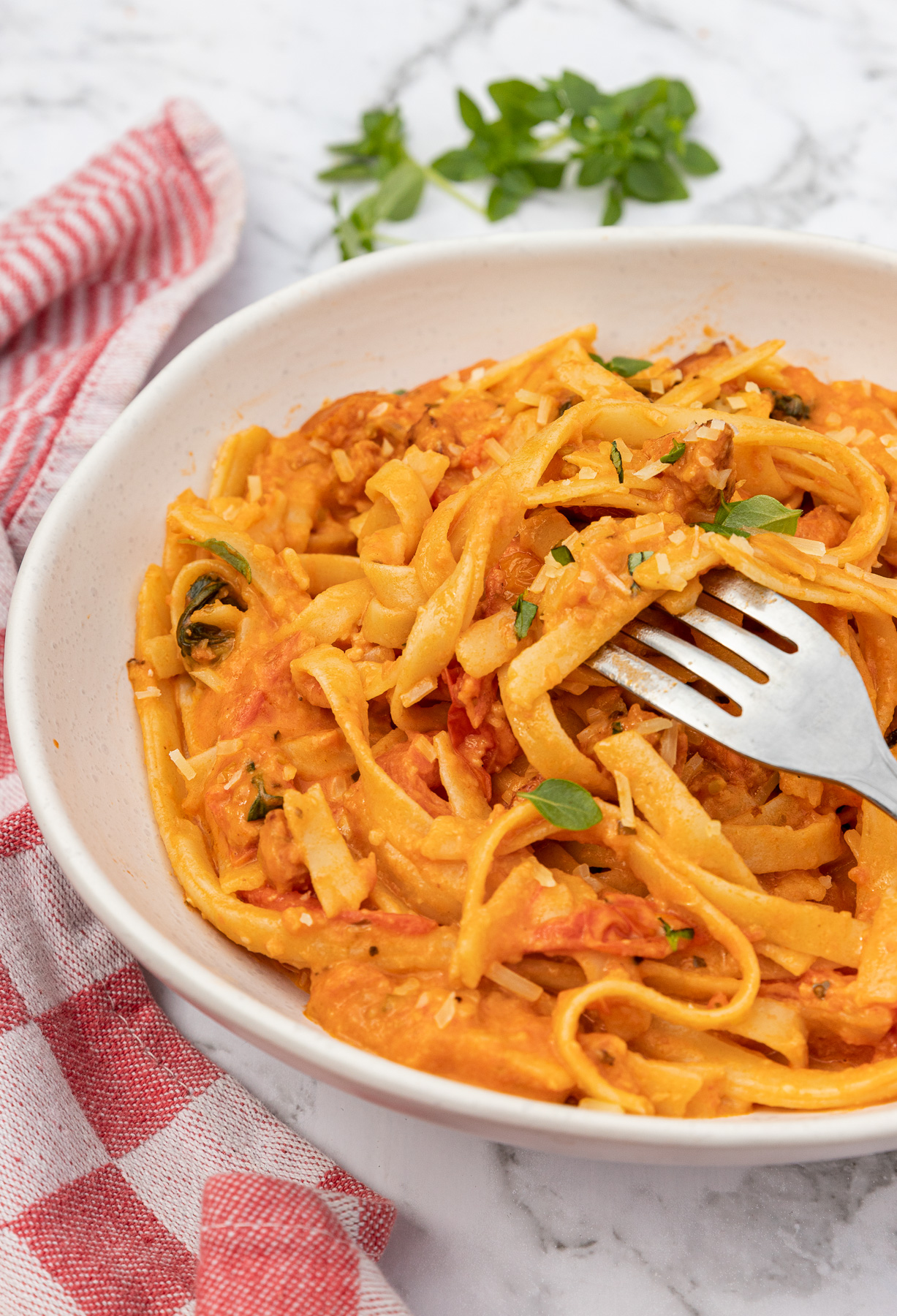 Why you'll love it
✔ A super quick and easy recipe! Made with only a few simple (but very tasty) ingredients in just 30 minutes.
✔ It's perfect comfort food the whole family will enjoy. Creamy, cheesy and satisfying. We don't hold back on the yummy tomato and cream sauce. And yet it isn't as rich as you might think (see below!).
✔ You could say it's a healthier creamy pasta recipe. It looks and tastes creamy, but there's actually only a small amount of cream in it.
✔ Add mix-ins (if you like). Got bell peppers/capsicum, spinach, mushrooms or leftover roast chicken in the fridge? Throw them in!
This makes a great simple weekend dinner! If you need more ideas, check out this list of 100 lazy Sunday dinner ideas.
About the ingredients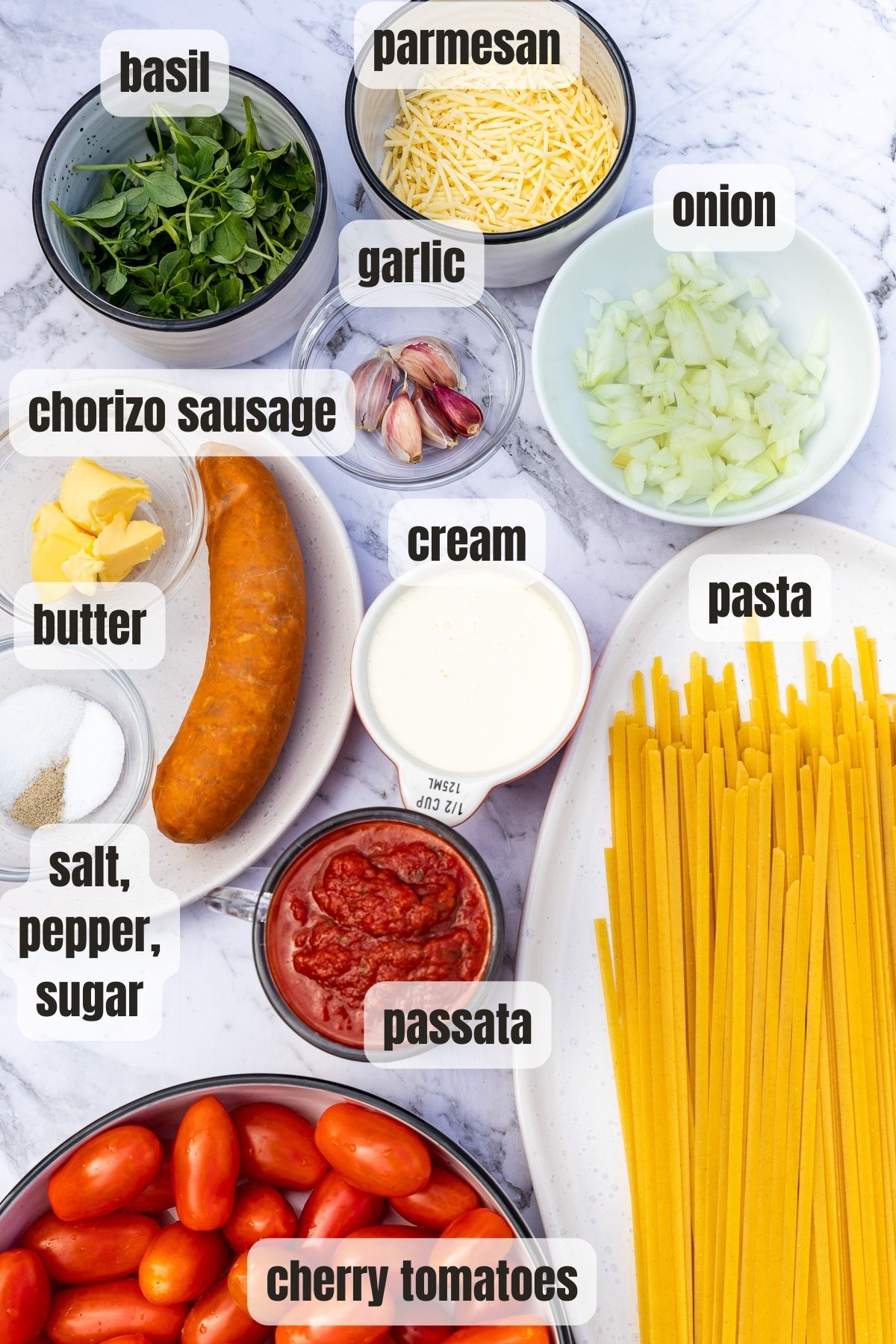 Chorizo: Of course, the smoky chorizo sausage is a key ingredient in this very pink pasta (or is it orange?). This is mainly what gives the tomato cream sauce its rich umami (savory) flavor. I usually go for a good quality Spanish chorizo sausage from the supermarket deli counter. Not all chorizo sausages are created equal, so it might take a couple of tries to find a really good spicy and flavorful one that you like!
I'll just mention here that there's also Mexican chorizo which is a bit different in flavor and texture. That doesn't mean you can't use it as a substitute, but instead of cubing it you'll break it up in the pan with a wooden spoon. Remember also that it starts off raw (not cured like the Spanish variety) so you'll need to make sure it's cooked well.
Butter: Just a tablespoon for cooking the garlic and onions in adds a little extra luxury and flavor!
Chopped onion and garlic cloves: You can use any type of onion. Just make sure it's chopped fairly finely so that it cooks quickly.
Cherry tomatoes: I like to add these to the sauce for extra sweetness and texture. The riper the better. Substitute a can of cherry tomatoes if you prefer.
Passata: Passata is uncooked and strained tomatoes. I usually find it in the same aisle as the pasta sauces and canned tomatoes. Don't confuse it with tomato paste which is super concentrated cooked tomatoes, so definitely not the same thing.
Sugar: Just a teaspoon to balance out the acidity of the tomatoes. You can substitute with a natural sweetener such as honey or maple syrup if you prefer.
Pasta: The silky and creamy tomato sauce clings beautifully to wide, flat pasta noodles such as tagliatelle, fettuccine or pappardelle. Penne pasta or rigatoni, farfalle (bow-tie pasta), fusilli (spirals), shells or long pasta like linguine or even spaghetti work well, too.
Really, you can just use your favorite pasta, or whatever you have in the pantry. I even love the sauce with spaghetti or linguine.
Cream: The great thing is that you only need half a cup of heavy cream (and you can reduce this a bit more if you like). This is enough to make a perfect creamy pink sauce! A healthier creamy sauce – yay!
UK = Double cream. You can also use pouring/single cream or thickened cream. Creme fraiche or a little cream cheese can be good substitutes if you don't have cream.
Basil: I like fresh basil, but dried is fine, too. Or substitute with similar herbs such as oregano, parsley, thyme or mixed Italian herbs.
Parmesan cheese: We've got creamy and tomato-y, now all we need is cheesy! A good quality grated parmesan is perfect.
How to make creamy chorizo pasta
The step-by-step guide below should help you make the recipe perfectly first time. Scroll down to the end for the full recipe including ingredient amounts.
It's insanely easy to throw together this tasty chorizo recipe on a busy weeknight… or whenever!
Step 1: Cook the chopped chorizo in a large pan and a drizzle of oil for a couple of minutes. Remove from the pan into a bowl with a slotted spoon. There'll be some of the chorizo oil left behind which will help flavor the whole dish!
Step 2: Add around a tablespoon of butter into the pan. Throw the garlic, onions, and cherry tomatoes into the sizzling butter and let the onions soften and the tomatoes cook down for ten minutes – until you can squish it into a sort of sauce.

Step 3: Meanwhile, cook the pasta until al dente (check the package instructions to see how to do this).
Step 4: Squash the lovely cherry tomatoes into a kind of sauce (a potato masher is great for this). Then stir the passata, cooked chorizo and cream in and let the sauce bubble and thicken for a couple of minutes.

Step 5: Stir through the parmesan and basil.
Step 6: Throw your cooked pasta into the lovely creamy pink sauce and toss everything together. Loosen the dish up with a bit of the pasta water if you feel it needs it (it may not).

The final step is to serve with more grated parmesan and fresh basil on the side!
Pro tip: You can adjust the amounts of cream, tomato and parmesan. If you don't like your pasta sauces to be too creamy just add a splash of cream. If cheesy heaven is your love language, then toss in an extra handful of parmesan. It's totally up to you!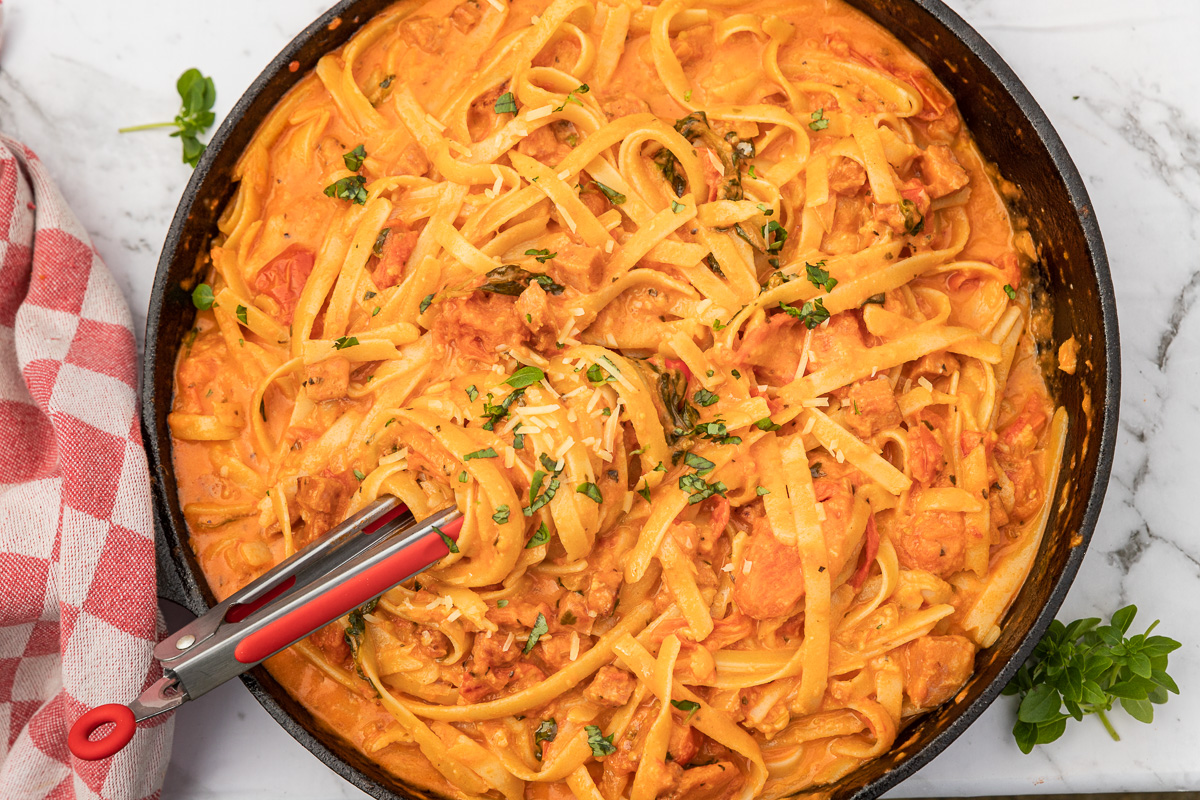 How to serve it
Chances are, when you're in the mood for a comforting, creamy and simple pasta dish like this, you won't want to make any fancy sides.
Keep it simple with your favorite garlic bread and a fresh green salad for everyone to help themselves to. If you want something just a little bit fancier, a traditional Greek salad is always a winning option.
Or even just serve your lovely bowls of pink pasta as they are. Sprinkle over a little more parmesan and basil or chopped parsley and enjoy!
In the mood for a glass of wine with it? Fresh Spanish red wines such as a Rioja or a fruity Montsant go well with chorizo!
Variations
I love that you can switch up the chorizo cream sauce ingredients a bit depending on what you have in the fridge.
Here are some ideas:
Chicken: Got leftover rotisserie chicken (or any leftover chicken) in the fridge? Throw it in for a satisfying chicken and chorizo pasta!
Prawns: How about prawn and chorizo pasta for a classy version of this delicious pasta recipe for a date night or to serve to guests? Simply toss the prawns into the pan when you're cooking the chorizo.
Sausage: Erm… chorizo is sausage, right? Yep, so go ahead and make this with regular sausages instead if you like! Just remember that they will need a little longer to cook.
Bacon: Love chorizo, but love bacon even more? You can definitely swap chorizo for bacon in this dish. Or even a good quality chunky ham.
Spinach: An easy way to up the nutrition value of your meal. Wilt a handful or two of spinach into the sauce just before tossing it through the pasta.
Mushrooms: Just add them at the beginning along with the onions, garlic and tomatoes.
Red or yellow peppers/capsicum: Dice them and add along with the onions.
Chorizo pasta bake: Why not bake the pasta and sauce in a baking dish (sprinkle over mozzarella first!) for 20 minutes for a pasta bake version of this dish?
Top tip: How about serving this sauce over chicken or a baked potato instead? You could even try simmering some eggs in the sauce and serving for a special brunch with fresh crusty bread!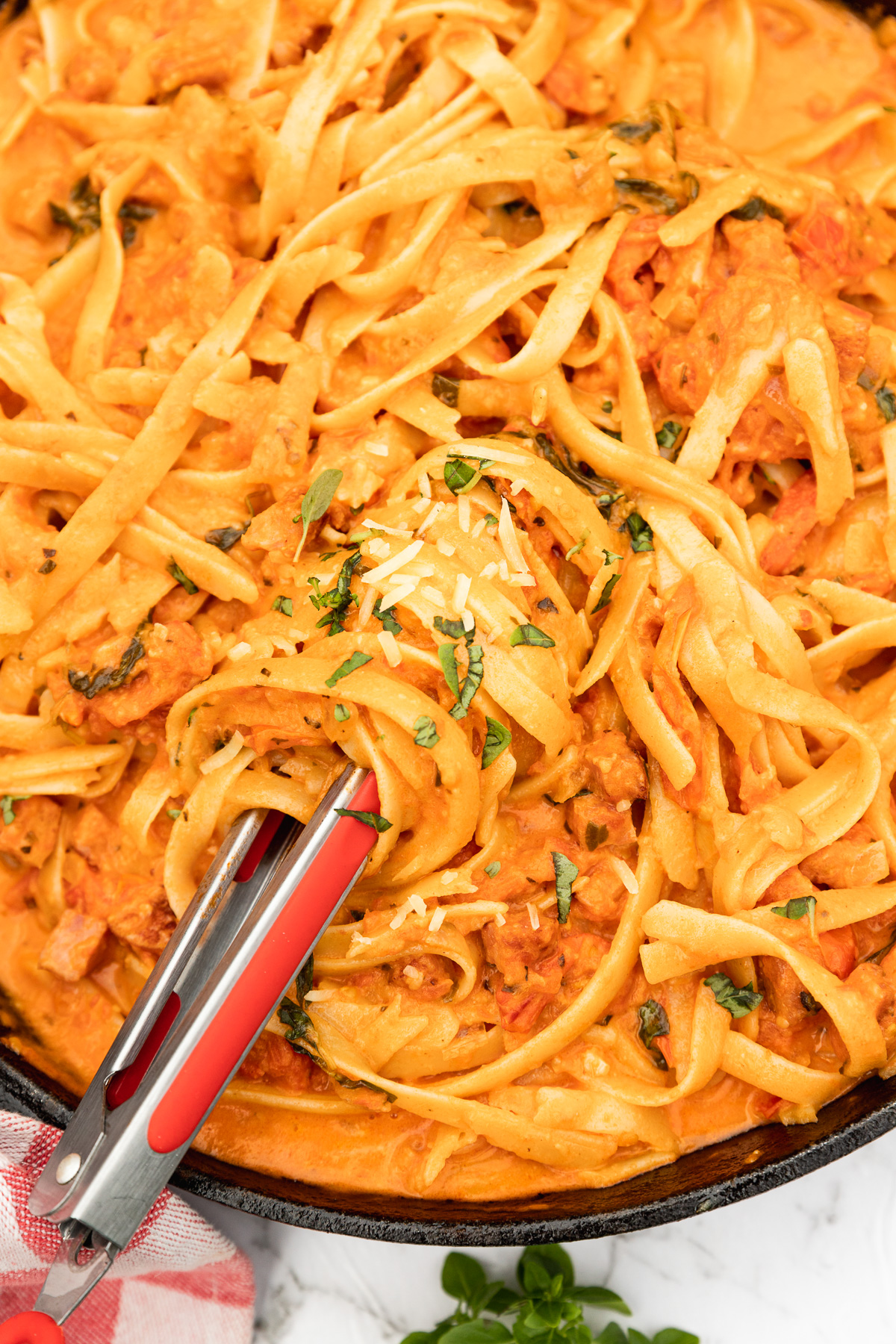 More things to know (recipe FAQ)
What's a good substitute for passata?
No passata in the pantry? If you puree canned tomatoes in your food processor, you've made some passata for yourself! A good quality pasta sauce works too. Just don't use tomato paste (UK tomato puree) which is very concentrated tomatoes and so not the same thing at all.
Can I substitute the cream for something else in a tomato cream sauce?
Cream cheese or creme fraiche can work, but I don't recommend subbing the cream in a creamy tomato pasta sauce for something lighter like half and half or milk. Because tomatoes are acidic, they can make the sauce curdle. You could skip the cream altogether, but that wouldn't be very much fun!
Can you reheat chorizo pasta?
Store leftovers in the fridge in a container for up to 3 days. The pasta will soak up some of the sauce, so I'd recommend adding a little water (or cream!) before reheating gently in the microwave or on the stove. If you can, store any extra sauce and pasta separately.
More easy pasta recipes
Or take a look at all my pasta recipes.
IF YOU MAKE THIS RECIPE, LET ME KNOW HOW YOU GET ON BY LEAVING A COMMENT AND RATING BELOW… AND DON'T FORGET TO SIGN UP TO RECEIVE ALL MY NEW RECIPES BY EMAIL!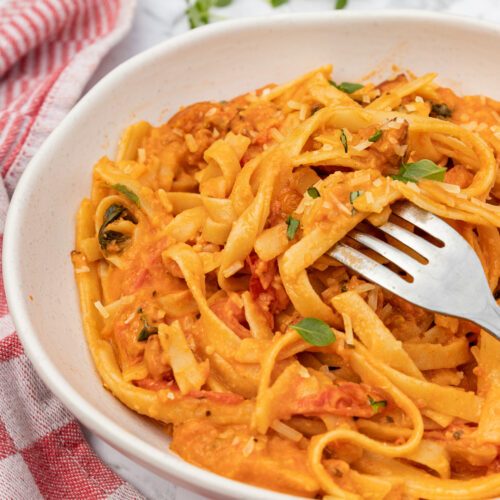 Easy Creamy Chorizo Pasta
This creamy chorizo pasta is an easy and very tasty 30-minute pasta dinner that your family will love. Make the delicious tomato and chorizo cream sauce all in one pan and from just a few simple ingredients. Toss through tagliatelle (or your favorite pasta!) and enjoy!
Ingredients (UK/Australia? Click below for grams/ml)
10

ounces

tagliatelle

dried (or your favorite pasta – thicker works best e.g. fettuccine, farfalle (bow-ties), shells, penne)

5

ounces

chorizo sausage

About 1 regular sized Spanish chorizo sausage, chopped into small chunks. Try to find an authentic good quality chorizo (Aldi usually has good options!).

2

tablespoons

butter

4

cloves

garlic

crushed

½

onion

finely chopped

2

cups

cherry tomatoes

(around 30 to 50 tomatoes) Or use a can of cherry tomatoes instead.

1

cup

passata

1

teaspoon

sugar

½

teaspoon

salt

¼

teaspoon

black pepper

½

cup

cream

(slightly more or less to taste)

½

cup

fresh basil

Or 2 teaspoons dried basil (or mixed Italian herbs)

½

cup

parmesan cheese

grated, plus extra for sprinkling over each dish
Instructions
Cook the pasta until 'al dente', according to the instructions on the packet.

Meanwhile, in a large frying pan or cast iron pot, cook the chorizo in a small drizzle of oil on a medium high heat for a couple of minutes until starting to brown. Remove from the pan with a slotted spoon and set aside.

Now melt the butter in the pan and add the finely chopped onion, garlic and tomatoes. Let simmer on a medium heat until the tomatoes begin to soften (about 10 minutes). Then squash them into the pan a bit so that they begin to form a sauce.

2 tablespoons butter,

4 cloves garlic,

½ onion,

2 cups cherry tomatoes

Add the passata, cream, sugar, salt and pepper to the pan (add the cream to taste – the sauce should be a deep pink to orangey red colour). Add the chorizo back into the pan as well. Then let bubble away for a few minutes while the pasta finishes cooking so that it reduces a bit.

1 cup passata,

1 teaspoon sugar,

½ teaspoon salt,

½ cup cream,

¼ teaspoon black pepper

Stir through most of the parmesan and basil (reserve a little for sprinkling at the end).

½ cup parmesan cheese,

½ cup fresh basil

Drain the pasta, reserving a little of the cooking water. Add the pasta to the pan and mix it into the sauce really well. Add a little of the cooking water to loosen up the sauce if you think it's necessary.

Serve the pasta. Sprinkle with the remaining parmesan and fresh basil. Eat immediately!
Notes
Pasta: I like tagliatelle or another wide, flat pasta like fettuccine, pappardelle or even linguine. But use whichever pasta you have or like. Bigger, chunkier shapes like shells, bow-ties or penne are best.
Cherry tomatoes: You can use a can of cherry tomatoes instead if you like.
Cream: I don't recommend substituting with a low fat alternative such as milk or half and half since the sauce can split. However, you can add it to taste. Choose the shade of sauce you end up with (pink or orange?) by adding a little less (or more!) if you like.
Chorizo: Use Spanish chorizo for the best results. You can usually find this at a supermarket deli counter.
Passata: You can use pasta sauce as a substitute if you like, or even a blended can of chopped tomatoes.
To store/reheat: You can store leftovers in an airtight container for up to 3 days. The pasta may soak up some of the sauce however, so add a drizzle more water before reheating gently on the stove or in the microwave.
If possible, store any extra sauce and pasta separately (before mixing them together).
Nutrition
Calories:
582
kcal
Carbohydrates:
64
g
Protein:
21
g
Fat:
28
g
Saturated Fat:
16
g
Polyunsaturated Fat:
2
g
Monounsaturated Fat:
6
g
Trans Fat:
1
g
Cholesterol:
142
mg
Sodium:
1107
mg
Potassium:
694
mg
Fiber:
4
g
Sugar:
9
g
Vitamin A:
1775
IU
Vitamin C:
33
mg
Calcium:
235
mg
Iron:
4
mg