Essentially, this mustard parmesan crispy chicken recipe is a chicken schnitzel, which is always delicious. But this version is even tastier, and only takes a little over 15 minutes to make!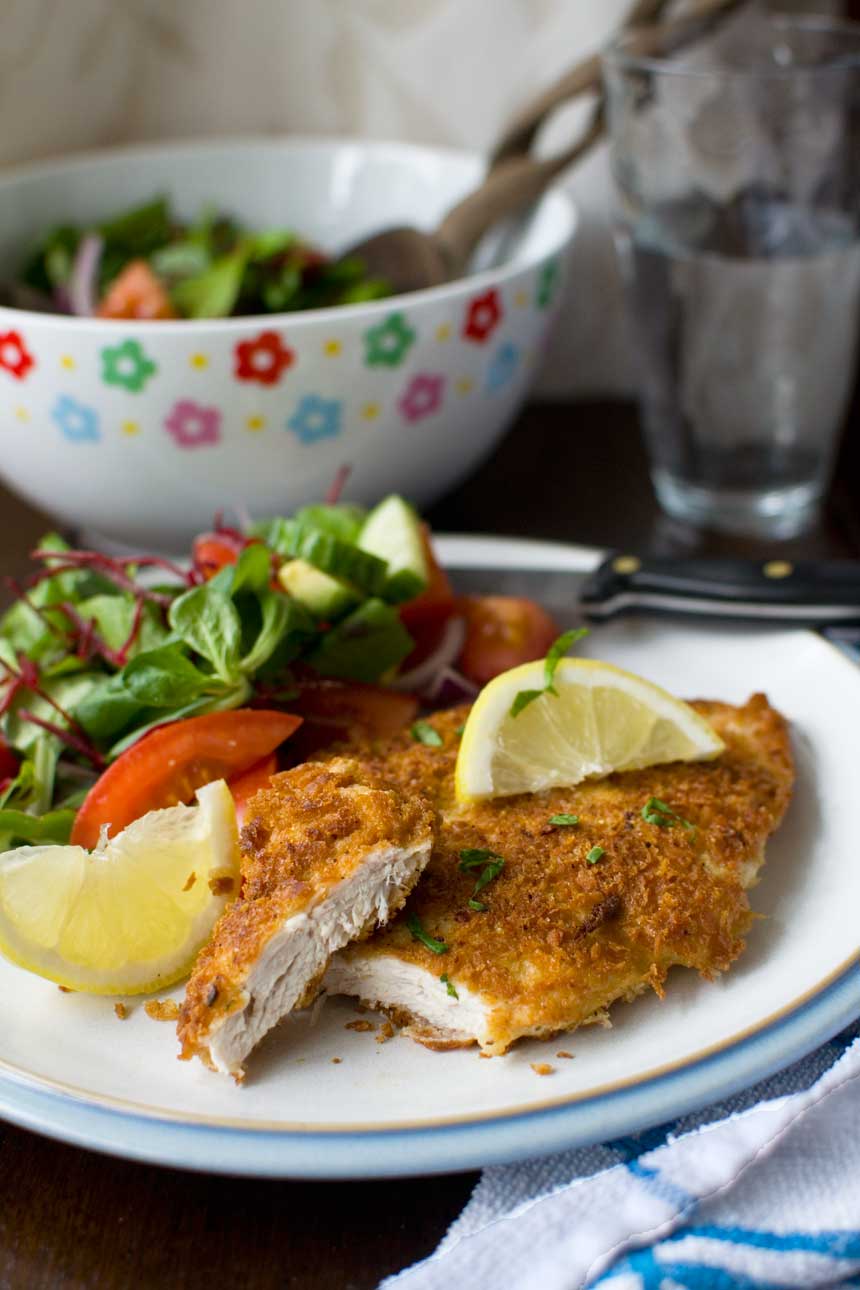 A chicken schnitzel has an uncommon ability to be both simple and fancy at the same time.
Pair it with a simple but elegant salad and a glass of crisp white wine and it's either a perfect easy midweek meal, or worthy of serving to guests.
Why is this recipe so great?
That makes a chicken schnitzel great in itself, but what makes THIS recipe worth your effort?
You don't need to mess around with sticky egg and flour to make this. I smear a mixture of mustard, dried mixed herbs, and garlic all over the chicken breasts before rolling them in panko breadcrumbs and pan frying.
Said mustard, herbs and garlic make the finished chicken both super tasty, juicy and moist.
The chicken takes just 3 to 6 minutes on each side to cook (it depends on how thick each piece of chicken is!). This should give you just enough time to throw together a quick salad…. which virtually makes this a 15-minute meal! (16 minutes, to be exact)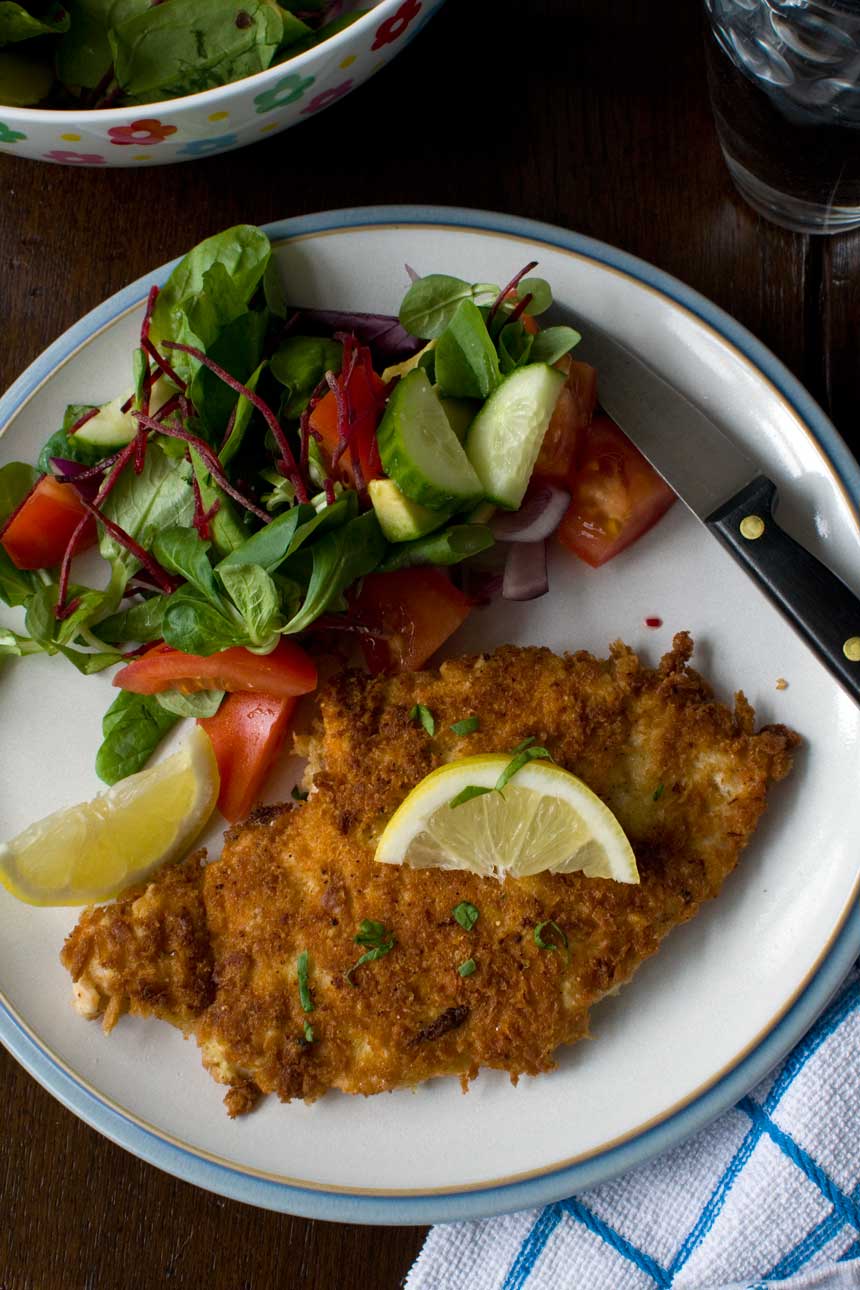 Ingredients
This is essentially a 6-ingredient recipe (plus seasoning and cooking oil!):
chicken breasts
mustard
dried herbs
garlic
panko breadcrumbs
parmesan cheese
How to make the schnitzels
Possibly the most difficult part of this recipe is flattening the chicken so that they cook evenly and quickly. And that's not really difficult. Do it once and next time you'll be a pro!
Step 1: Sandwich your chicken between 2 layers of cling film/plastic wrap. Bash with a rolling pin until flat and even!
Alternatively you can slice the chicken in two pieces across the width. This can be a little tricky, but it's easier if you use a very sharp knife (obviously just watch your fingers!).
Step 2: Slather the mixture of mustard, herbs and garlic all over the chicken. I usually do this with a spoon.
Step 3: Press the chicken into the plate of breadcrumbs until really well covered.
Step 4: Pan fry. There's a little bit of an art to this to get it right, but again, once you've done it once you'll be a pro!
Pro tip: After you put the chicken in the pan, DON'T TOUCH IT until you're ready to turn it over. If you try to move it too soon, you'll find the coating will stick to the pan. You might find little bits of the coating still stick to the pan or drop off the chicken, but it's OK folks! Your dinner will be delicious!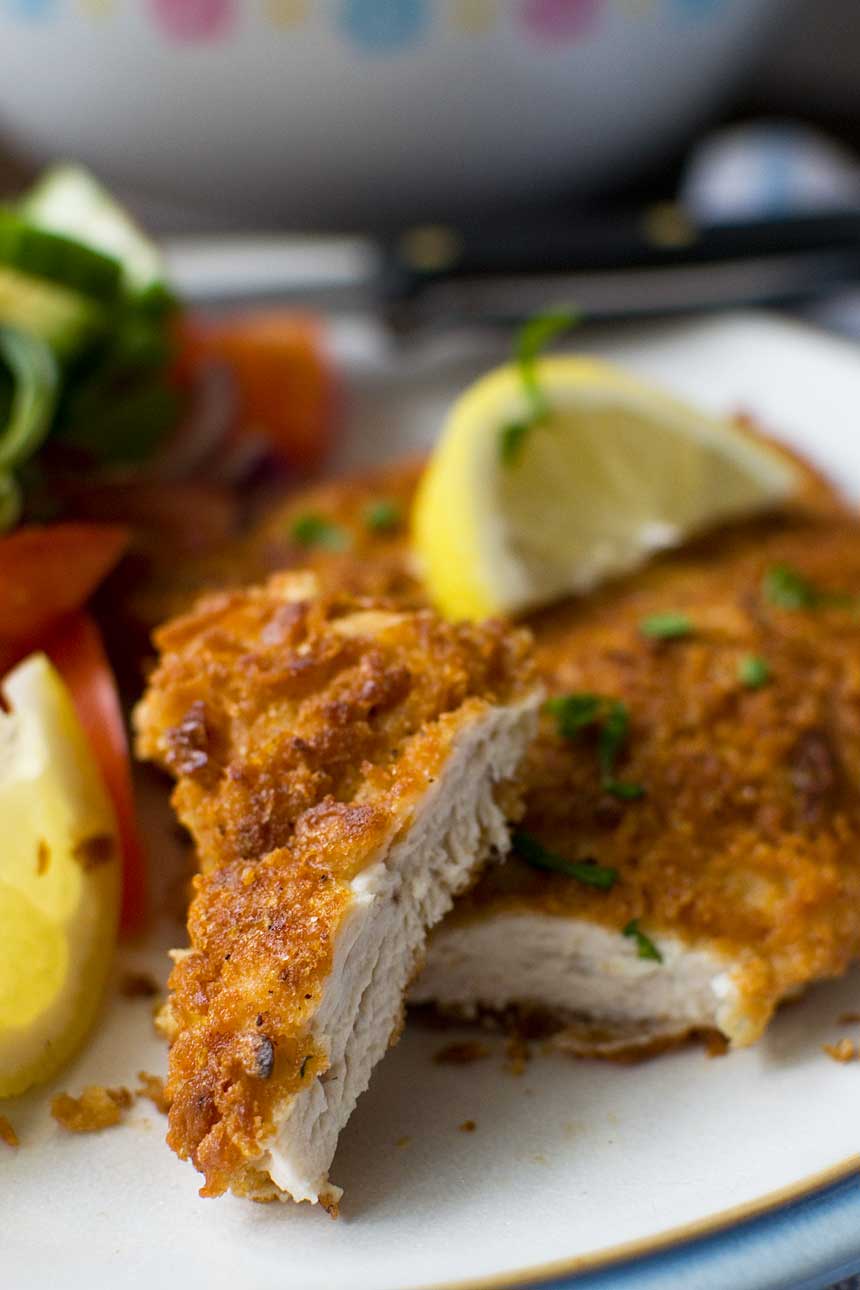 How to serve it
Again, this is one of those recipes that makes a tasty midweek meal for yourself, but is also worthy of serving to guests.
It's a classy meal with a salad on the side, and perhaps some fresh bread, but your guests would never know it was so quick and easy to make!
Alternatively, serve your schnitzel with roasted vegetables (roast for 30 minutes at a high temperature), or some kind of potato side like these Greek crispy smashed potatoes. Or with these mini hasselback potatoes. Or just simple homemade potato wedges or sweet potato wedges.
If you prefer rice, I'd highly recommend this lemony Mediterranean rice with chickpeas. It's very quick and easy, healthy, and makes fabulous lunch leftovers!
If you like all things crispy, something tells me you might enjoy these crispy halloumi fries too. Fancy giving your crispy chicken an Asian twist? Try this crispy chicken katsu curry, or its even simpler cousin, chicken katsu with tonkatsu sauce.
More 15-minute meals
IF YOU MAKE THIS RECIPE, LET ME KNOW HOW YOU GET ON BY LEAVING A COMMENT AND RATING BELOW… AND DON'T FORGET TO SIGN UP TO RECEIVE ALL MY NEW RECIPES BY EMAIL!
FOLLOW ME ON FACEBOOK, INSTAGRAM, PINTEREST AND YOUTUBE.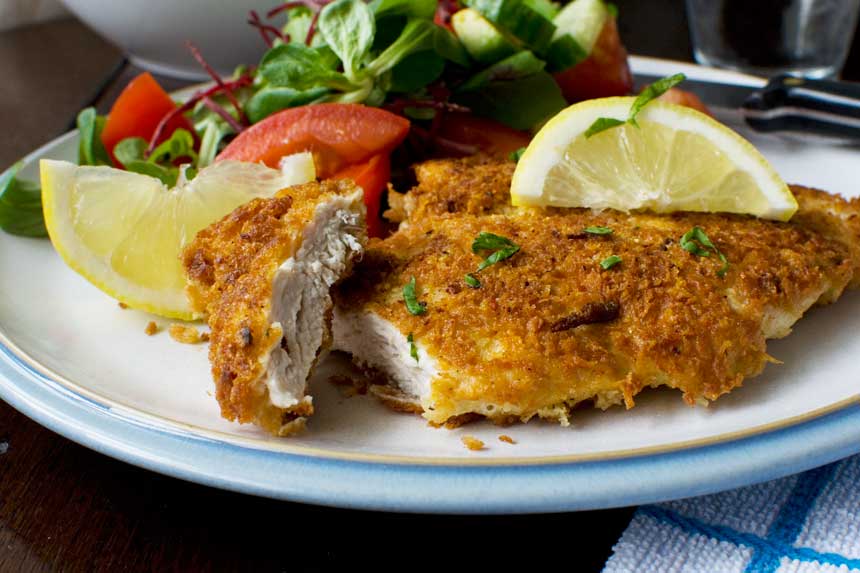 Mustard parmesan crispy chicken
Chicken schnitzel always makes a delicious easy meal, but this version flavored with mustard and parmesan cheese is even easier to make. Mmm… tasty!
Ingredients (UK/Australia? Click below for grams/ml)
2

chicken breasts

salt and pepper

2

tablespoons

mustard

mild e.g. Dijon, American

1

teaspoon

mixed herbs

dried

2

cloves

garlic

crushed

0.5

cups

panko breadcrumbs

0.25

cups

parmesan cheese

grated

2

tablespoons

oil

for cooking
serving suggestion
fresh salad, warm crusty bread and a glass of fruity white wine!
Instructions
In turn, place each piece of chicken between 2 sheets of cling wrap (plastic wrap) and flatten to an even thickness with a rolling pin or wooden mallet (about ½ inch thick is ideal).

Sprinkle each side of the chicken with salt and pepper.

Mix together the mustard, herbs and garlic, then smear over both sides of the chicken with a brush or teaspoon.

Mix the panko breadcrumbs with the parmesan, then scatter over a plate. Press the chicken into the mixture until both sides are fully covered.

Heat the oil in a pan on a medium heat, then pan fry the chicken for about 3 to 6 minutes on each side (depending on chicken thickness), or until crispy, golden and cooked through.

Serve immediately* with a big salad and crusty bread.
Notes
Tip: You may like to keep the chicken warm in the oven until you're completely ready to eat, especially if your pan is too small to cook both breasts at the same time. It will still stay moist and crispy!
The amount of crumb mixture in this recipe is quite generous, but that is to allow for different sized chicken breasts! If you are using smaller chicken breasts, you could slightly decrease the amount of panko/parmesan if you like.
This recipe is really easy to adapt for more people. Cooking for 3? Just add another tablespoon of mustard, half a teaspoon more herbs and another clove of garlic to the mustard mixture, and a quarter cup more panko breadcrumbs with a large pinch of parmesan.
Panko breadcrumbs are extra fine Japanese breadcrumbs. They're available in large supermarkets (at least here in the UK). If you can't find them, it's fine to use any kind of breadcrumbs really. Panko will just make your chicken a bit crispier.
Nutrition
Calories:
387
kcal
Carbohydrates:
13
g
Protein:
31
g
Fat:
22
g
Saturated Fat:
3
g
Cholesterol:
80
mg
Sodium:
612
mg
Potassium:
486
mg
Fiber:
1
g
Sugar:
1
g
Vitamin A:
130
IU
Vitamin C:
2.3
mg
Calcium:
202
mg
Iron:
1.7
mg