This crispy panko chicken recipe will soon become a family favorite. All you have to do is roll chicken brushed with seasoned tangy dijon mustard and a little egg in panko breadcrumbs and parmesan cheese for delicious crispy chicken every time. No fussy breading, and ready in around 15 minutes!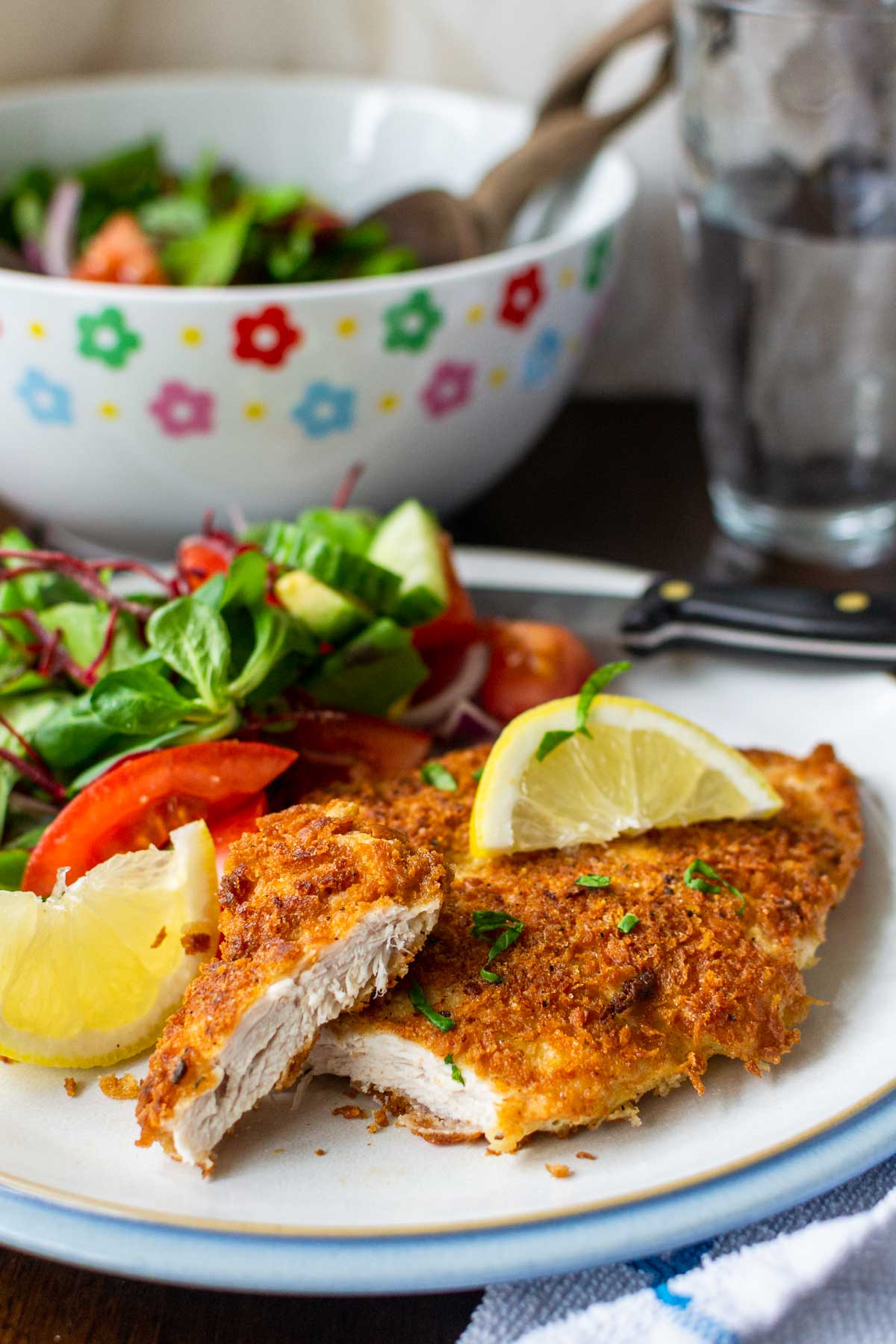 Why you'll love it
✔ Both simple and fancy at the same time! Pair it with a simple but elegant salad and it's either a perfect easy midweek meal, or worthy of serving to guests.
✔ Ready in around just 15 minutes, with just a few ingredients and steps.
✔ No fussy breading! Traditionally, panko crumbed chicken requires three dishes with flour, egg and crumbs. For this recipe you'll need just mustard and seasonings (and a little egg yolk to help the crumbs stick) before breading.
✔ Beautifully crisp and flavorful. The mustard, simple seasoning and parmesan panko give you tasty, juicy and moist chicken every time. Even your fussiest child will (hopefully) love it!
✔ Different serving options. Serve by itself with a simple salad or veggies. Alternatively, make chicken burgers, or use it to top a salad, or in a wrap.
Ingredients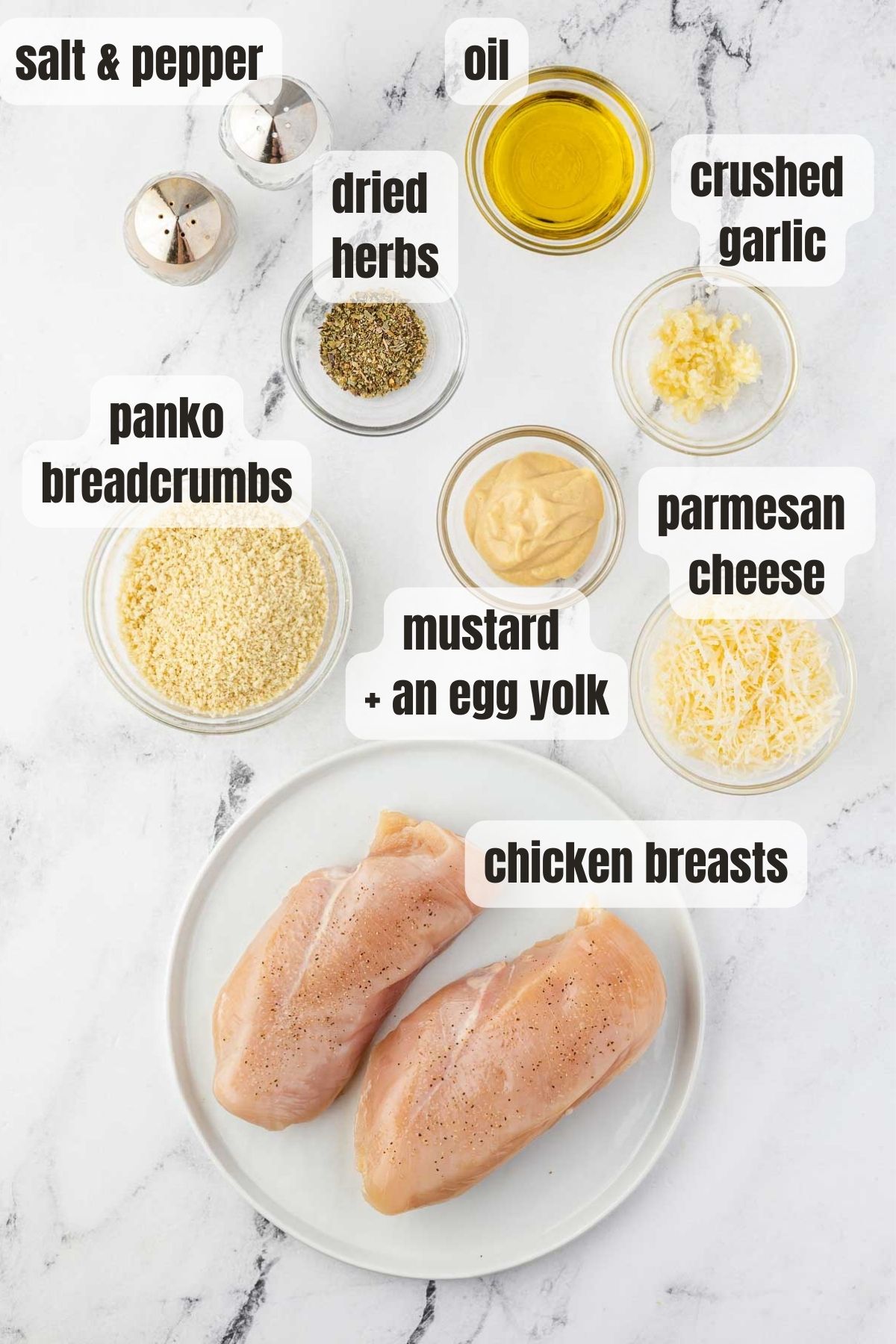 This is essentially a 7 main ingredient recipe (plus seasoning and cooking oil!):
Chicken breasts: I like small to medium-sized boneless skinless chicken breasts. If you can only get really large ones, you can cut them in half if you like.
Mustard: I like Dijon, but American or another mild, yellow mustard is fine, too.
An egg yolk: The original version of this panko crusted chicken didn't include an egg. I added it to the mustard just to help the crumbs stay on the chicken while it's in the pan.
Tip: Separate the yolk from the white by either letting the white run through your fingers into a bowl, or by moving the egg from one half of the cracked shell to the other, again letting the whites run into a bowl.
Dried herbs: To add to the mustard mixture. I usually go for simple mixed Italian or Mediterranean herbs. However, use whichever dried herbs you have or like (basil, oregano, thyme etc., or a mixture).
Crushed garlic: Also for mixing into the mustard mixture. If you don't have fresh garlic, garlic powder is also fine. Use around a quarter teaspoon for 2 cloves.
Panko breadcrumbs: Panko breadcrumbs are extra fine Japanese breadcrumbs. They're often in the Asian food isle at major supermarkets. If you can't find them, any breadcrumbs will work. Panko breadcrumbs will however give you the lightest, crispiest crumb!
Parmesan cheese: Shredded or grated are both fine. I prefer the texture of shredded. To save time, I keep ready-shredded parmesan cheese in the freezer, ready to go!
A little oil for cooking: I like to use olive oil, but any vegetable oil is fine.
How to make panko chicken
Possibly the most difficult part of this recipe is flattening the chicken so that it cooks evenly and quickly. And that's not really too difficult. Do it once and next time you'll be a pro!
First, I usually prepare the mustard mixture, and then the panko mixture. The panko mixture should be on a medium-sized plate because you'll soon be pressing the whole chicken breast into it.
Now it's time to prepare the chicken. Sandwich each chicken breast between 2 layers of plastic wrap/cling film. Hit hard with a rolling pin until flat and even. Great for when you're having a bad day? 😉
Grind salt and pepper all over the chicken.
Then smear the mustard mixture all over the chicken – on both sides. I usually do this with the back of a spoon.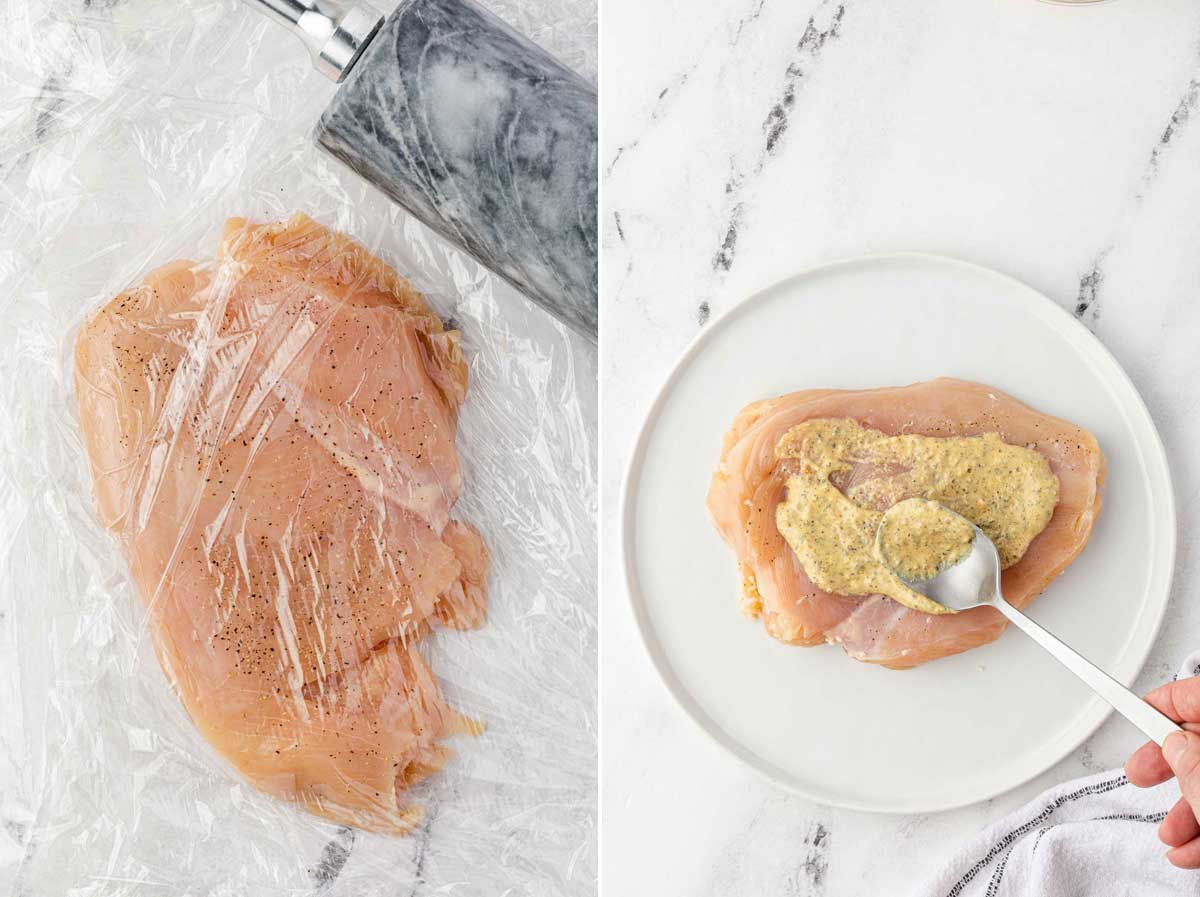 Then press the chicken into the plate of panko bread crumb mixture until really well covered on both sides.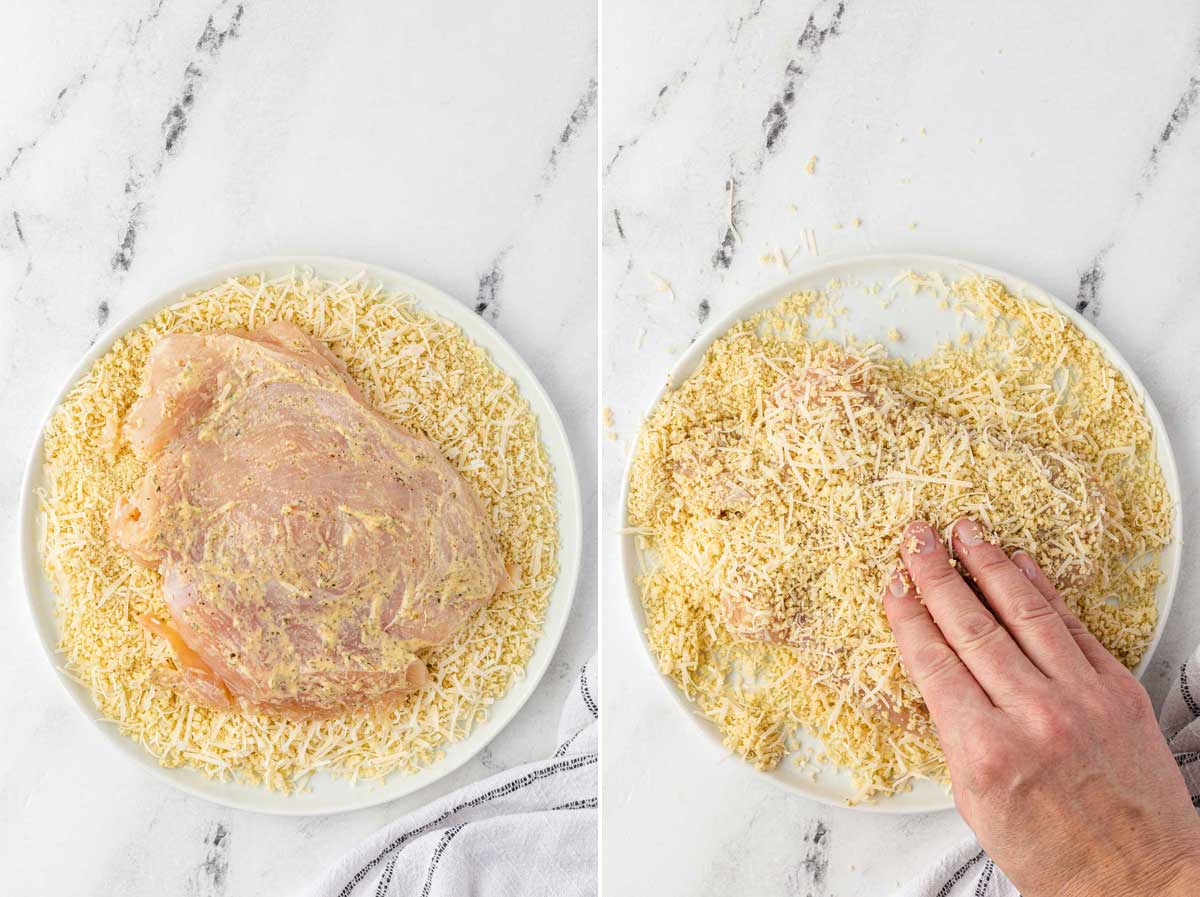 Then you're ready to pan-fry the chicken. First, heat the oil on a medium-high heat in a large pan. Then place the chicken into the pan (small kitchen tongs are good for this!).
For chicken that's around half an inch thick, it'll need around 3-4 minutes on each side. The panko chicken breasts will be golden brown and crispy!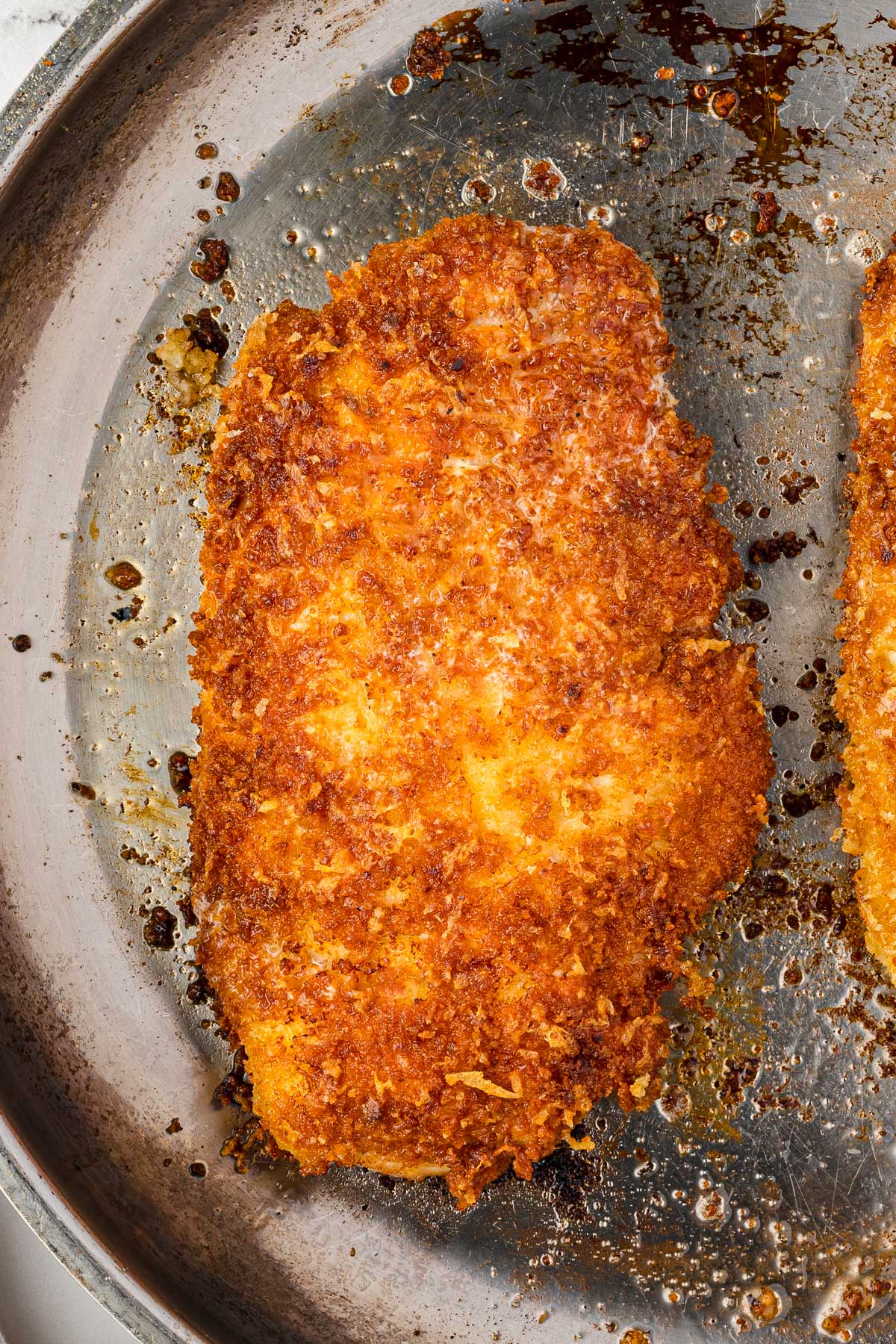 Helen's top tips
Prefer to slice rather than hit your chicken? If so, slice it in two pieces across the width. This is a good option for really large chicken breasts. Use a very sharp knife (obviously just watch your fingers!).
While pan-frying. DON'T TOUCH the chicken in the pan until you're ready to turn it over. If you try to move it too soon, the panko coating might stick to the pan. Little bits may still stick to the pan or drop off the chicken, but it's OK folks! Your dinner will still be delicious!
How long does it take to cook? Chicken that is around 1/2 an inch thick should need 3-4 minutes on each side for tender juicy chicken. If your chicken is a bit thicker, it'll need a little longer. To be sure it's ready, test with an instant-read thermometer. The internal temperature should be 165°F (74°C).
If your pan isn't big enough to cook both chicken breasts at the same time, keep warm in the oven until you're completely ready to eat. It will still stay moist and crispy!
How to serve it
It's worth mentioning again that this panko fried chicken is one of those recipes that makes a tasty midweek meal for yourself, but is also very worthy of serving to guests!
This makes such a classy meal with a simple green or mixed salad on the side. Or how about going Greek with an authentic Greek salad or simpler Greek lettuce salad?
Prefer a fancier salad for guests? How about this truly delicious (not to mention healthy!) quinoa salad with feta, fennel and blueberries? Or this very quick and easy beetroot salad with feta and walnuts (made with cooked beetroot)?
It's true. This crispy panko chicken goes really well with a salad! Check out all my easy salads.
Not really in the mood for salad? Serve your delicious crumbed schnitzel with Mediterranean vegetables, 10-minute sautéed frozen broccoli, potatoes such as these Greek crispy air fryer smashed potatoes or mini hasselback potatoes.
Or how about simple homemade fries or sweet potato wedges?
If you prefer rice, I'd highly recommend this lemony Mediterranean rice with chickpeas. It's very quick and easy, healthy, and makes fabulous lunch leftovers!
There are actually almost endless ways to serve this chicken. It would even work well with a veggie pasta dish such as creamy green pea pasta or pasta alla norma. Or with a pasta salad such as penne pesto pasta or a simple pesto orzo salad (great hot or cold!).
Or slice and stuff into a sandwich or wrap!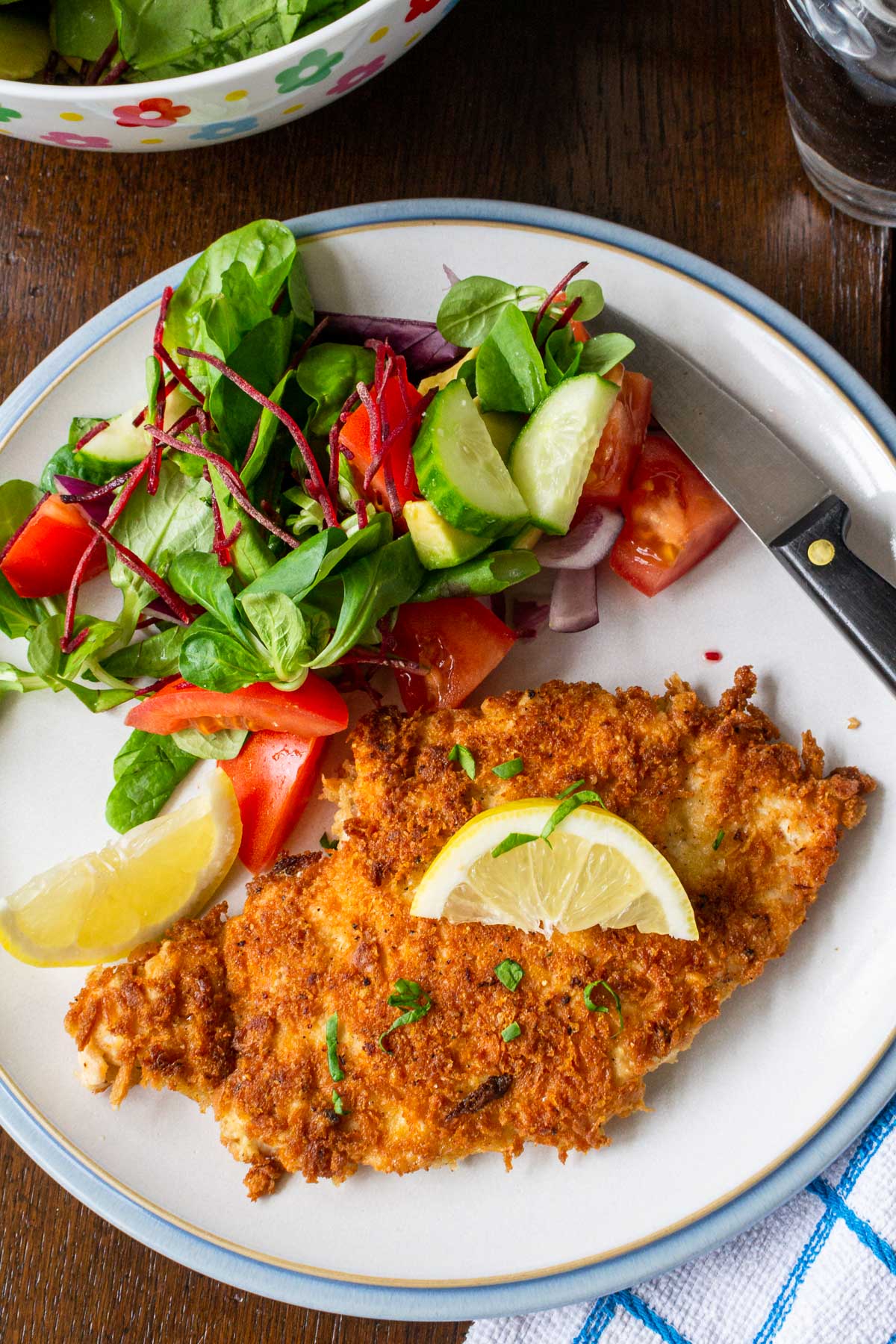 Variation idea: Try topping with the most amazing simple homemade Italian marinara sauce and mozzarella cheese and broiling (putting under the grill) for a quick and extremely tasty version of chicken parmigiana!
Recipe FAQ
Can I use regular breadcrumbs instead of panko?
Yes, you absolutely can. However, the breading might not be quite as light and crisp in texture.
Can I use chicken thighs instead of chicken breasts?
Yes, is possible to use boneless skinless chicken thighs instead in this recipe. Simply fold out the thighs and then flatten with a rolling pin as for chicken breasts.
Can I substitute Dijon or yellow mustard for wholegrain mustard?
For this panko breaded chicken recipe… no, I wouldn't. You need the mustard to be perfectly smooth so that you can smear it all over the chicken and then get the panko mixture to stick to it.
Can I reheat panko chicken the next day?
It's best eaten immediately after cooking. However, if you have leftovers you can reheat them in the oven. Try 400F/200C for 15 minutes, turning half way. Alternatively, you can reheat the schnitzels in an air fryer if you have one. Preheat the air fryer to 375°F (190°C), then place into the basket for 4 to 5 minutes or until hot and crisp again.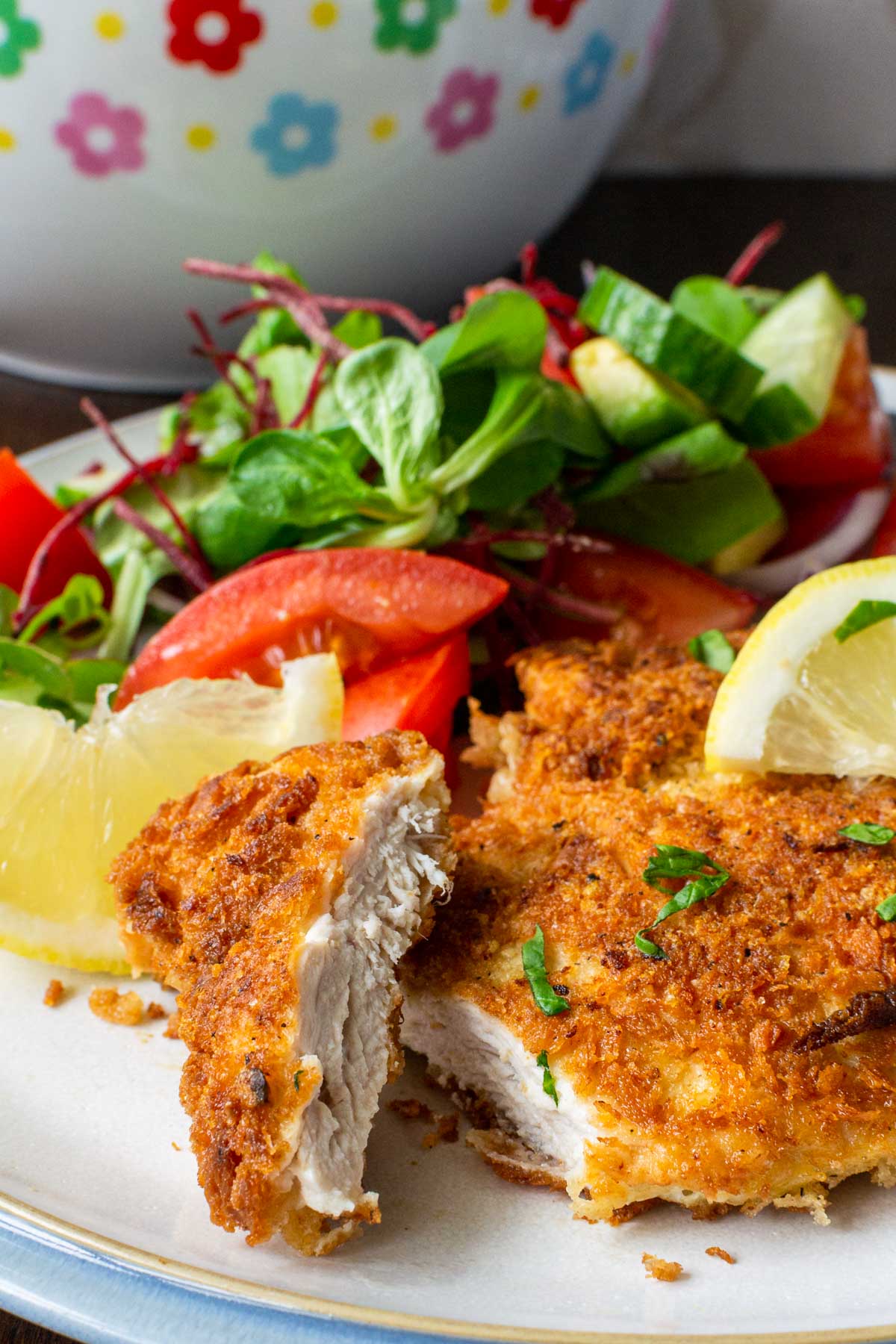 Want to give your crispy chicken an Asian twist? Try this crispy chicken katsu curry, or its even simpler cousin, chicken katsu with tonkatsu sauce.
Love easy chicken recipes? Check out this list of recipes made with thin sliced chicken breast!
IF YOU MAKE THIS RECIPE, LET ME KNOW HOW YOU GET ON BY LEAVING A COMMENT AND RATING BELOW… AND DON'T FORGET TO SIGN UP TO RECEIVE ALL MY NEW RECIPES BY EMAIL!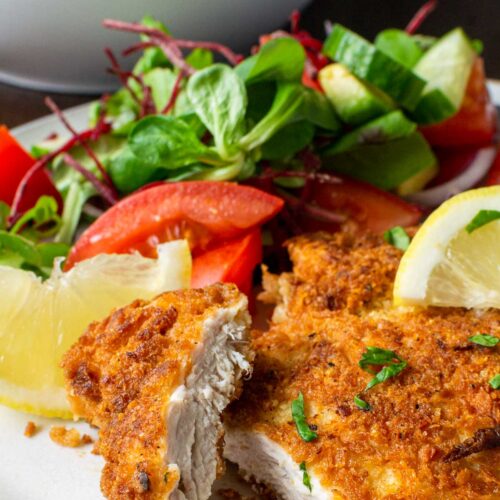 Easy Panko Chicken With Mustard And Parmesan
Panko Chicken is pretty simple to make, but this 15-minute version with mustard and parmesan is even easier! Smother chicken breasts with mustard and panko breadcrumbs, pan-fry for just a few minutes on each side, until deliciously moist, flavorful, crisp, and golden brown. This one is a keeper!
Ingredients (UK/Australia? Click below for grams/ml)
2

chicken breasts

Small to medium, but if large consider cutting in half.

salt and pepper

to grind over the chicken breasts before crumbing

2

tablespoons

mustard

mild e.g. Dijon, American, yellow

1

egg yolk

Separate by letting the whites run through your fingers and into a bowl.

1

teaspoon

mixed herbs

dried (mixed Italian, basil, oregano, thyme etc.)

2

cloves

garlic

crushed (or ¼ teaspoon powdered garlic)

½

cup

panko breadcrumbs

found in major supermarkets, usually in the Asian food isle

¼

cup

parmesan cheese

shredded or grated

2

tablespoons

oil

for cooking (I like olive oil, but any is fine)
serving suggestion
Serve with a simple green salad or mixed salad, Greek salad, pasta salad or rice.
Instructions
In turn, place each piece of chicken between 2 sheets of plastic wrap (cling film) on a chopping board. Flatten to an even thickness with a rolling pin or wooden mallet (about ½ inch thick is ideal).

Sprinkle each side of the chicken with salt and pepper.

Mix together the mustard, egg yolk, herbs and garlic. Then smear over both sides of the chicken with the back of a metal spoon.

2 tablespoons mustard,

1 egg yolk,

1 teaspoon mixed herbs,

2 cloves garlic

Mix the panko breadcrumbs with the parmesan, then scatter over a plate. Press the chicken into the mixture until both sides are fully covered.

½ cup panko breadcrumbs,

¼ cup parmesan cheese

Heat the oil in a pan on a medium heat. Then pan fry the chicken for 3 to 6 minutes on each side (depending on chicken thickness), or until crispy, golden and cooked through. If unsure, check with a meat thermometer until 165°F (74°C) inside. Try not to move the chicken while it's cooking.

Serve with a simple salad, pasta, pasta salad, or rice.
Notes
Panko breadcrumbs are extra fine Japanese breadcrumbs. They're available in large supermarkets, often in the Asian food isle. If you can't find them, it's fine to use any kind of breadcrumbs. Panko will just make your chicken a bit lighter and crispier. Don't move the chicken around in the pan because that can cause the delicate crumb to fall off. A few bits of crumb may still fall off, but that's OK! If your pan isn't big enough to cook both chicken breasts at the same time, keep warm in the oven until you're completely ready to eat. It will still stay moist and crispy! Cooking time: Your chicken will need 3-4 minutes on each side if it's around 1/2 inch thick. If it's any thicker it will just need a minute or two longer. To check it's cooked, use a meat thermometer to make sure it's at least 165F/74C inside. This panko chicken recipe is easy to adapt for more people. Cooking for 3? Just add another tablespoon of mustard, half a teaspoon more herbs and another clove of garlic to the mustard mixture, and a quarter cup more panko breadcrumbs with a large pinch of parmesan.
Nutrition
Calories:
540
kcal
Carbohydrates:
14
g
Protein:
57
g
Fat:
27
g
Saturated Fat:
5
g
Polyunsaturated Fat:
6
g
Monounsaturated Fat:
13
g
Trans Fat:
0.1
g
Cholesterol:
250
mg
Sodium:
742
mg
Potassium:
933
mg
Fiber:
2
g
Sugar:
1
g
Vitamin A:
307
IU
Vitamin C:
4
mg
Calcium:
217
mg
Iron:
2
mg