Last Updated on
Moussaka is one of my favourite meals. Traditionally it takes a bit of time to make, but this version's pretty quick and easy – and as delicious as ever!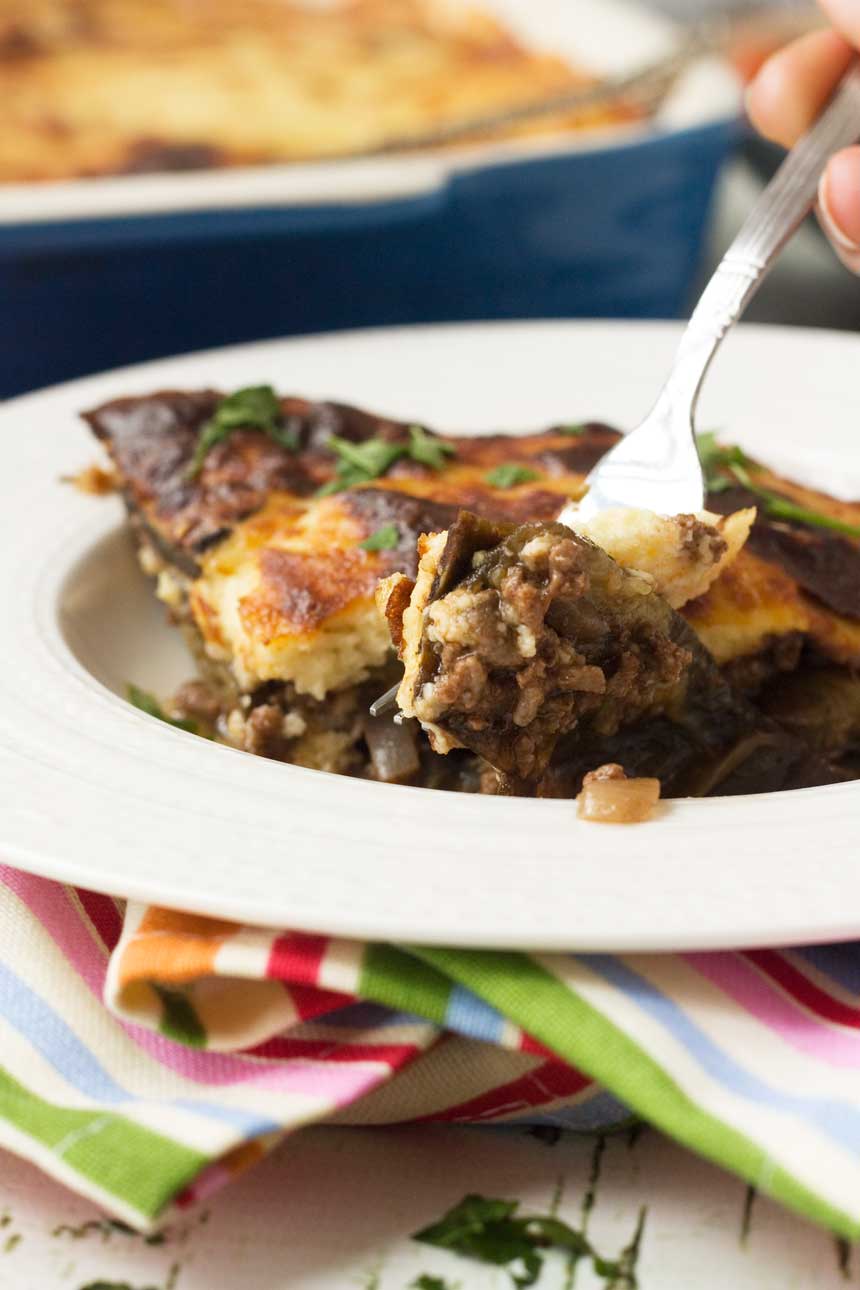 A nice and juicy, full-of-flavour classic Greek moussaka has long been my idea of a pretty perfect meal.
Actually, I'm assuming you know what mousska is, which I shouldn't do. I know what it is because Brits tend to, with Britain being not all that far from Greece (relatively speaking!). And I know how delicious it is after ordering it countless times when I lived in Greece.
So a moussaka is basically a bit like a lasagna in that it's got 3 layers – eggplant (aubergine) slices, a rich meat and wine sauce, and a soufflé-like béchamel topping. It's really popular in Greece, and if you ever go there you'll come across amazing passed-down-the-generations versions.
Like anything, anywhere, I guess you could be unlucky and come across a poor version. But I honestly was only ever served a poor moussaka once during my long period of time in Greece, and that was in a 'tourist trap' type restaurant in the centre of Athens (let me know if you go there and I'll tell you which restaurant you need to avoid!).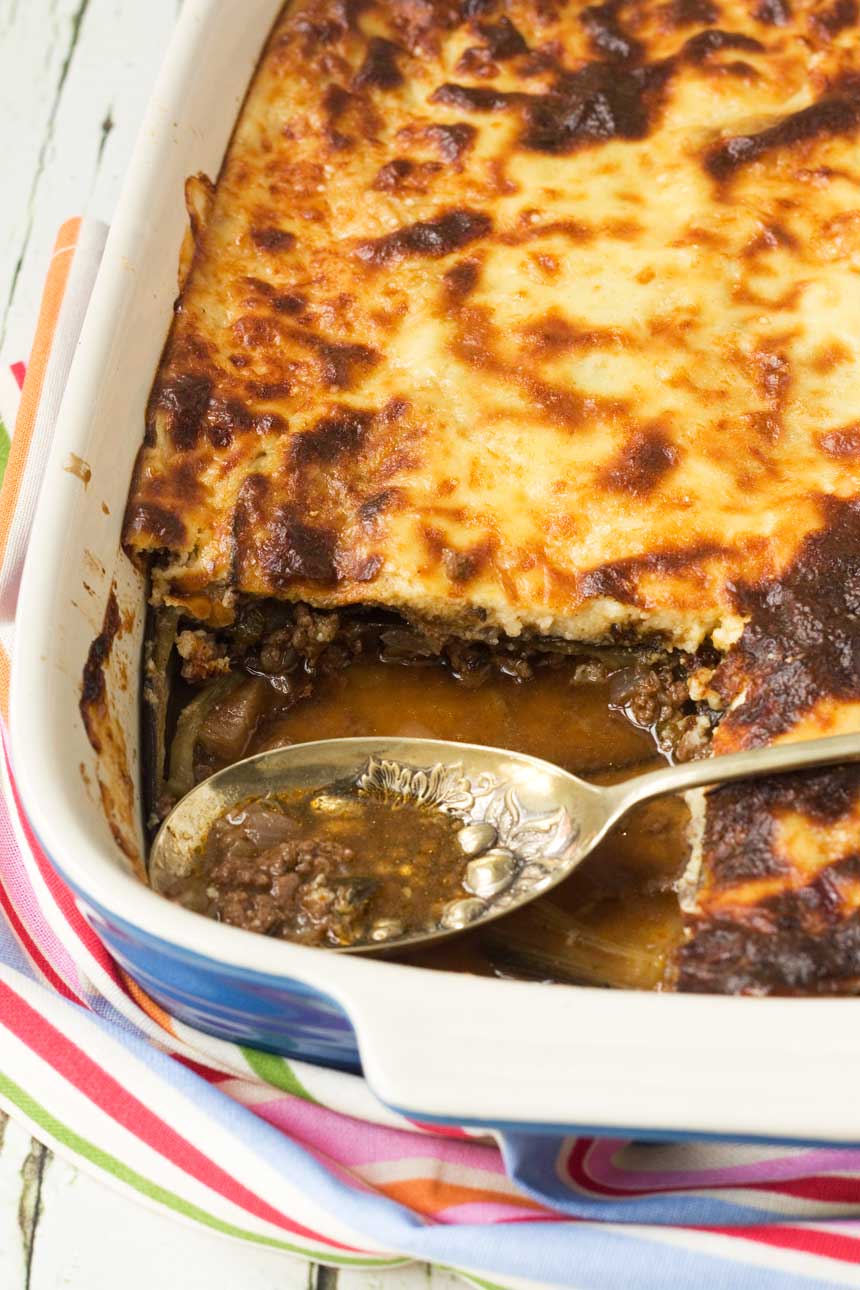 So let's just imagine for a moment that you got the chance to try a selection of Greek grandmas' moussaka recipes. I know, silly, but just humour me. I'm pretty sure you'd find them all a little different from one another, but you would find at least a couple of 'common denominators' – namely cinnamon and oregano in the meat sauce, and that creamy, soufflé-like béchamel sauce laced with nutmeg on the top.
I've been making this particular version of moussaka for a few years now, and it never fails to be delicious. I like it because it's a particularly easy version (not a potato in sight – I don't think you need them!), and the recipe cuts the number of ingredients down to the bare minimum.
Moussaka does take a little while to make and cook, because of those multiple layers, so I like to make sure we're not adding any unnecessary steps.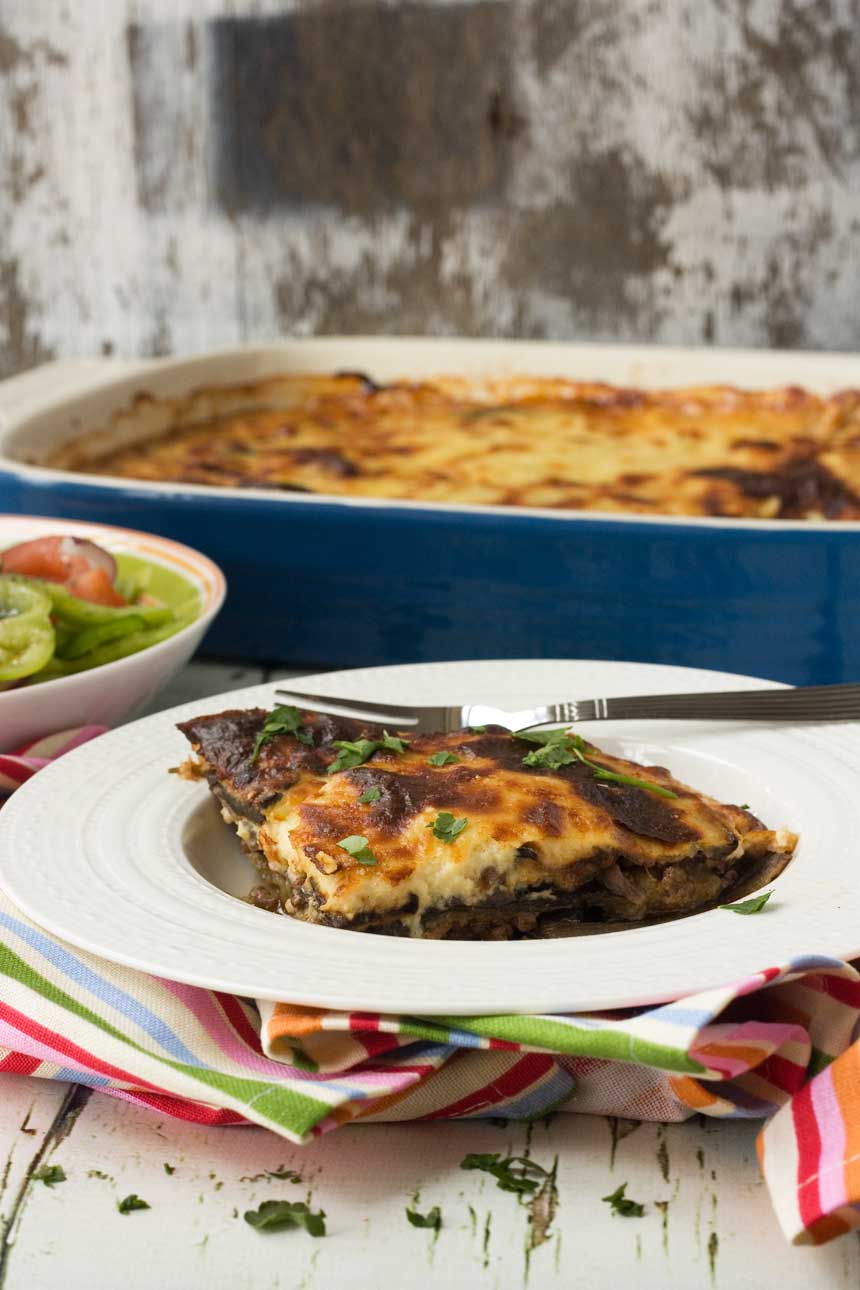 Essentially, I use a recipe I originally found in the Guardian newspaper, but I do add a bit more cinnamon and oregano to my moussaka, to give it more of an authentic flavour.
And it really is very easy to prepare. Start by brushing eggplant slices with olive oil and baking. Meanwhile, make a quick and easy meat sauce out of beef (or lamb) mince, onions, garlic, tomato puree and wine. Then a different sort of cheesy béchamel sauce that you whisk a couple of eggs into so it puffs up a bit in the oven like a soufflé.
Assemble. Bake. Leave to 'rest' for 30 minutes (worth doing). Slice. Eat. Absolutely delicious.
The other great thing about this is that it serves at least 6. In fact, we find it's easily good for 8 because we like to serve it with a Greek salad and some toasted fresh bread.
If there aren't 8 people in your house, it simply means you get to eat this twice and then freeze the leftovers for another time. Bonus!
P.S. If you like this, you may also enjoy my skinny chicken moussaka. Feeling lazy? This moussaka penne is pretty darn tasty, too!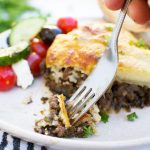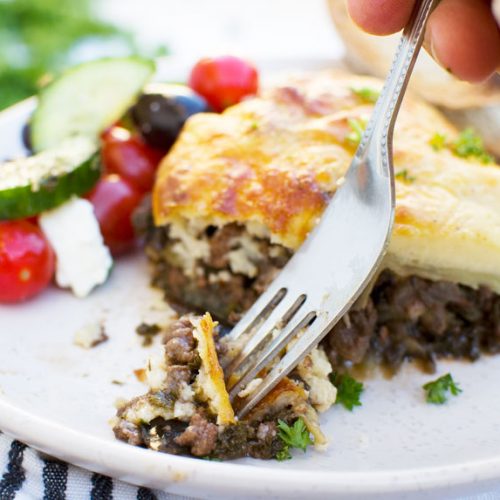 Print
Easy moussaka
With its tasty layers of eggplant, meat sauce and bechamel sauce, a traditional Greek moussaka is a really hard meal to beat. I love it, but it often takes a while to make. Enter this version, which is so easy to make, but just as delicious!
Total Time
1
hour
45
minutes
Ingredients
2

large eggplant

/ aubergines, cut into even ½ cm-thick slices

olive oil

1

onion

finely chopped

4

garlic cloves

crushed or chopped

2

teaspoons

cinnamon

1 1/2

teaspoons

dried oregano

1

pound

ground beef

or lamb (ground beef = minced beef in UK)

2

tablespoons

tomato puree

/ paste mixed with about 1/2 cup water

2/3

cups

red wine

salt and pepper

1

bunch

fresh parsley

chopped
For the béchamel topping
2

ounces

butter

4

tablespoons

plain flour

2

cups

milk

warmed slightly in the microwave or in a pan

2

ounces

parmesan cheese

or Italian pecorino / Greek kefalotiri if you can find it!

fresh nutmeg

(to taste / a good grating or sprinkling)

2

eggs
Instructions
Pre-heat the oven to 180C. Lay the eggplant/aubergine slices on large baking trays and brush each side with a little olive oil. Bake for about 25 minutes or until the slices are soft and floppy.

Meanwhile, start making your meat sauce. Start by softening your onion for a few minutes in a little olive oil, then add the garlic, cinnamon & oregano and cook for a couple more minutes.

Add the meat to the pan and brown while breaking up with a wooden spoon. Then add the tomato puree & water and wine. Let the sauce simmer gently until it has thickened (about 20 to 30 minutes). At the last minute, add in the parsley and salt and pepper to taste.

To make the béchamel, melt the butter in a medium saucepan, then stir in the flour until you have a paste. Take off the heat, then stir in the milk little by little.

Heat and stir until the sauce is almost bubbling and has thickened nicely, then add most of the cheese and a really good grating of nutmeg. Let cool for five minutes or so, then whisk in the two eggs.

Now you're ready to assemble your moussaka! (I used a 12 x 9 inch baking dish*) Start with a layer of eggplant/aubergine slices, followed by half of the ragu sauce, another layer of eggplant/aubergine, another layer of meat and a final layer of eggplant/aubergine. Finally, pour the béchamel topping over the top and smooth it out. Sprinkle over the rest of the cheese.

Bake for forty to forty-five minutes or until the topping is golden and bubbling (cover it with aluminium foil if it gets too dark). Leave the moussaka to rest for half an hour before serving (so that the pieces stay together better when you cut and serve them).
Notes
Basic moussaka recipe adapted from this recipe in Guardian Life and Style.
Serve with a Greek salad and toasted fresh bread! (this way you can feed 8 with this recipe!)
*You can use a baking dish that's a bit smaller than this, but don't use a bigger one. The meat and eggplant / aubergine layers will be very thin layers, but that's fine!
You can make this moussaka ahead. Simply assemble fully and cover in the fridge until ready to bake. Add 5 to 10 minutes to the cooking time. 
You can also freeze the cooked leftovers, then defrost and reheat. Mmm!
Nutrition
Calories:
358
kcal
|
Carbohydrates:
18
g
|
Protein:
17
g
|
Fat:
22
g
|
Saturated Fat:
10
g
|
Cholesterol:
107
mg
|
Sodium:
249
mg
|
Potassium:
598
mg
|
Fiber:
4
g
|
Sugar:
8
g
|
Vitamin A:
485
IU
|
Vitamin C:
5.1
mg
|
Calcium:
200
mg
|
Iron:
2.4
mg
This post may contain affiliate links to products I use to make this recipe!
Made one of my recipes? Take a pic and tag @scrummylane on Instagram so I can see it!