Fan of risotto? You'll love this one pot creamy chicken orzo just as much! With tasty mushrooms and bacon as well as chicken, it's an equally as oozy, cheesy bowl of comfort food, with a similar taste. But it's easier to make! The best part? There's actually no cream!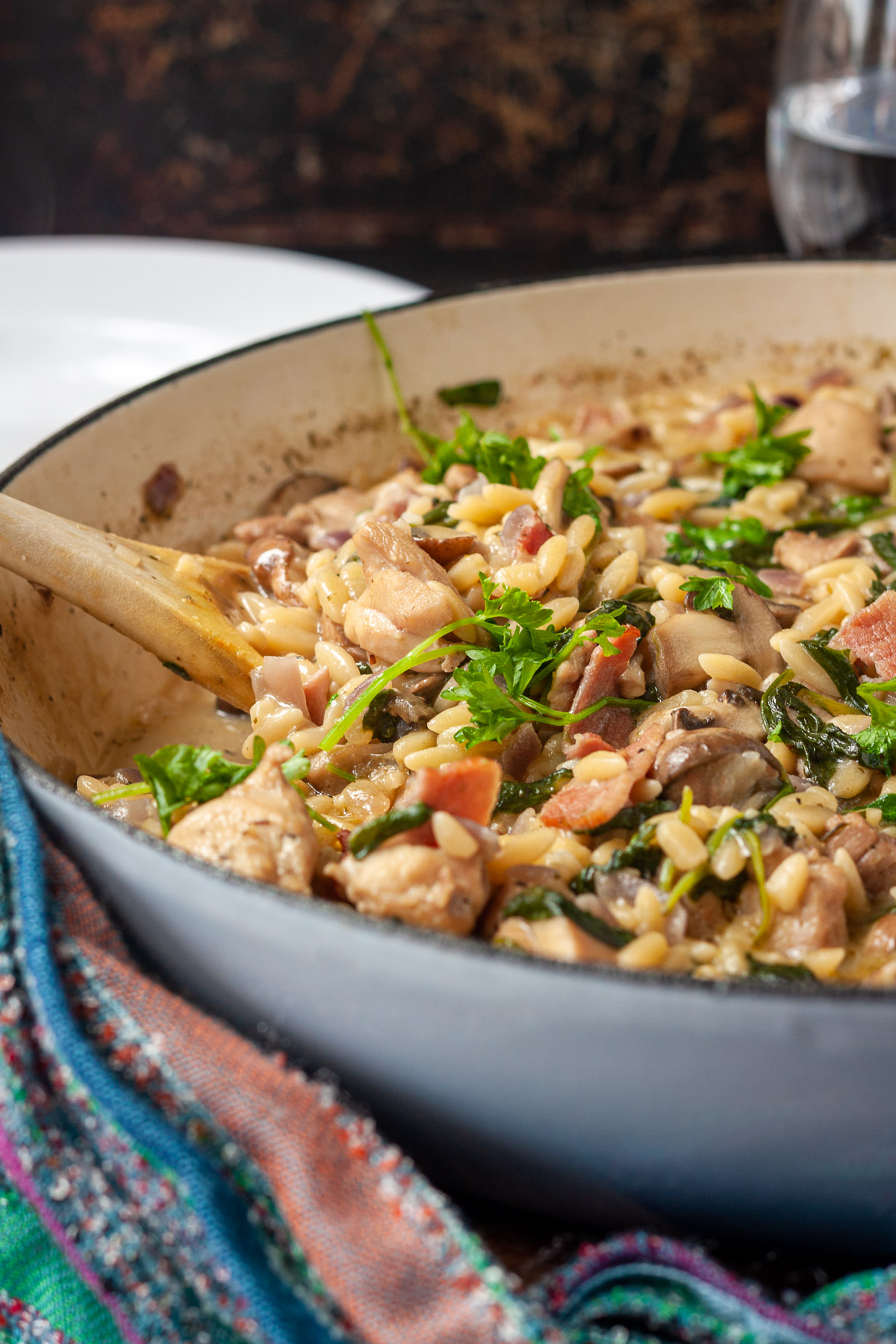 Why you'll love it
You could call this winner-of-a-dinner creamy chicken orzo recipe a risotto for lazy people!
Personally, I would never say no a lovingly-stirred risotto. But I admit it can be a bore to make. Add the stock too quickly, or don't stir the rice enough, and you won't end up with that silky, creamy result that makes a good risotto so delicious.
But luckily for me and for you, this one-pot chicken orzo with mushrooms and bacon tastes remarkably similar! Here's what else you'll love about it:
✔ So SIMPLE to make with a few easy ingredients. No constant stirring necessary. This is a perfect weeknight dinner the whole family will enjoy!
✔ SO MUCH flavor! The juicy chicken thigh, smoked bacon, and tasty mushrooms all add a good hit of flavor. Then the half-cupful of parmesan and hint of lemon stirred in at the end adds creaminess and freshness and makes your taste buds sing even more.
✔ Oh-so-creamy and comforting. But did I mention there's NO CREAM in it? Just like a risotto, the dish ends up quite creamy anyway! (Thank you pasta starch, cream cheese, and parmesan!)
Loving the idea of creamy comforting dishes… but without any actual cream? You just have to try this classic pasta carbonara without cream and this creamy chicken and leek pie as well!
Ingredients
Fun fact: Still wondering what on earth orzo is? Well, it might look quite like rice, but it's actually pasta… but in the shape of large grains of rice. I know, confusing. But all you REALLY need to know is that orzo is very tasty, especially when cooked risotto-style with chicken and other yummy ingredients!
Grab chicken, mushrooms, bacon, and of course orzo from the supermarket, and it's possible you already have everything else you need to make this creamy orzo recipe.
Here's what you need to know:
Butter (for cooking): For added flavor!
Onion: I prefer a white onion for maximum flavor.
Garlic: 2 large cloves, crushed.
Dried herbs: I like a mixture of thyme and oregano. You can substitute with any dried herbs you like. Mixed Italian seasonings work well.
Bacon: Smoked bacon adds more flavor. I prefer thick cut back bacon. Streaky bacon, lardons (slab bacon sliced into small cubes or sticks) or pancetta will work, too.
Chicken: Use skinless boneless chicken thighs for lots of flavor and tender meat that's difficult to overcook. Chicken breasts will work too, however. This can also be a good dish for using up cooked rotisserie chicken. Simply stir the cooked chicken in when you add the mushrooms.
Dried orzo pasta: You might see it called risoni instead (meaning 'big rice' in Italian, in case you were wondering!). Grab it from the dried pasta aisle at the supermarket, or visit an Italian or other European style deli.
Leftover orzo/risoni to use up? Check out this list of 38 best risoni recipes!
Chicken broth (stock): Since there's quite a lot in the recipe, I prefer to choose a good quality broth such as organic or free range.
Mushrooms: 'Tasty' mushrooms such as brown, cremini, portobello, shiitake or a medley of different mushrooms are perfect for adding flavor. However, use whatever is available. Even white button mushrooms will do the job!
Fresh spinach: The final little 'touch' to your chicken and orzo is wilting in some big handfuls of spinach for extra nutrition and color. Frozen peas would do the job, as well.
Parmesan cheese: This is stirred in at the end. It's partly what makes the dish oozy, cheesy, creamy (without any cream!) and extra delicious, so I wouldn't recommend skipping it.
Top tip: I usually get grated parmesan cheese from the fresh cheese aisle and keep it ready to go in the freezer.
Cream cheese: This is not essential, but I love to add just a tablespoon of this to this chicken orzo risotto at the end. For extra richness and creaminess. A small drizzle of heavy cream would give the same result.
Lemon juice: Just a squeeze or two, added at the end for a touch of brightness and freshness, to enhance the other flavors, and balance out the richness of the dish. It makes a big difference!
If you like, add a little of the lemon zest on the top of the dish when serving, too.
Fresh parsley: Once again, this is most certainly not essential. But I love to sprinkle a generous amount of fresh parsley over each dish of creamy orzo just before serving.
And of course, we'll add salt and pepper to taste!
How to make it
The step-by-step guide below should help you make the recipe perfectly first time. Scroll down to the end for the full recipe including ingredient amounts.
This delicious, comforting one pot meal is so easy to make – perfect for a busy weeknight! This is all you have to do.
The first step is to pan-fry the chopped onion for a few minutes in the butter in a large skillet, dutch oven, or other wide, large pan. Then add the garlic and herbs.
Next you pan-fry the chicken and bacon for a few minutes to brown and begin releasing the lovely flavors. Your orzo and broth should be ready and waiting to go!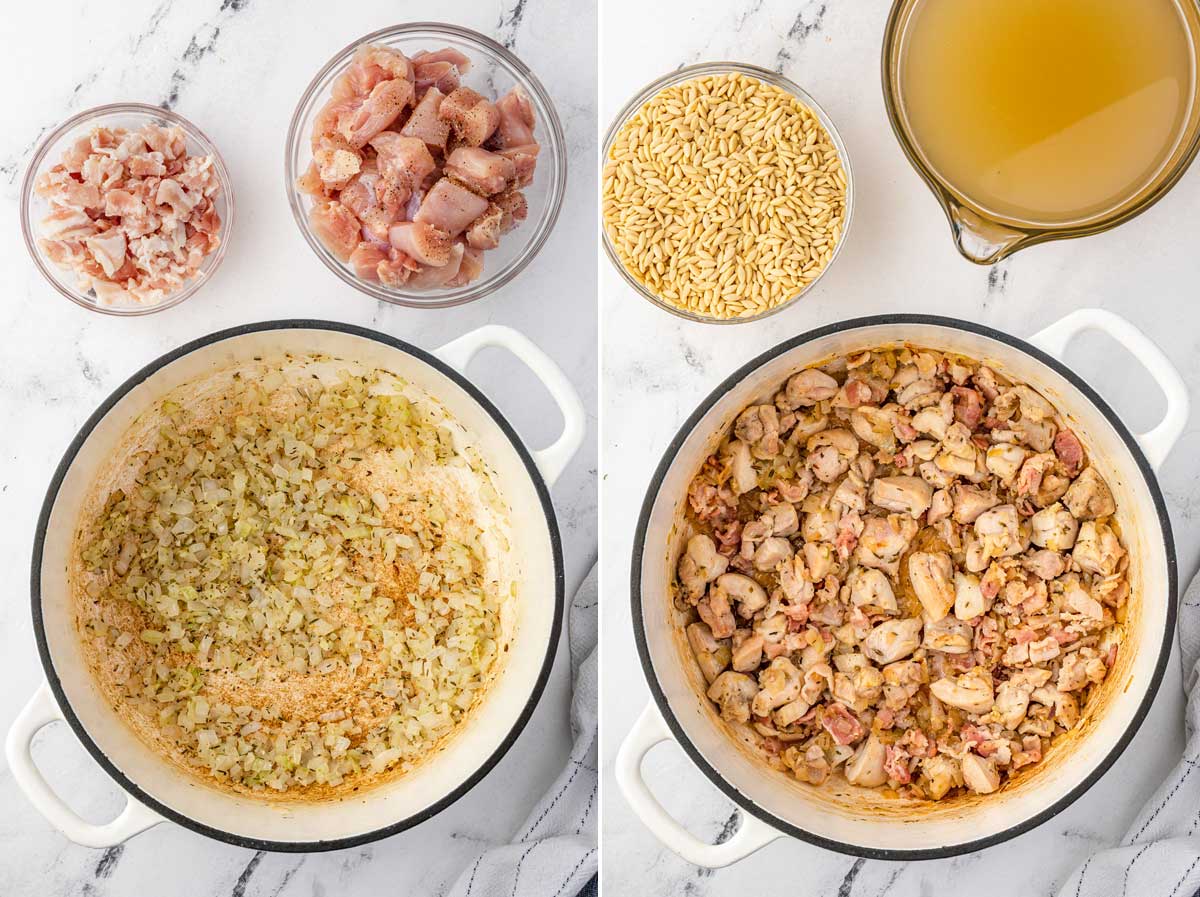 Now it's time to add the dried orzo. Just as you'd add rice to a risotto. You stir to coat the pasta in the pan juices, then pour in the broth so that everything is covered.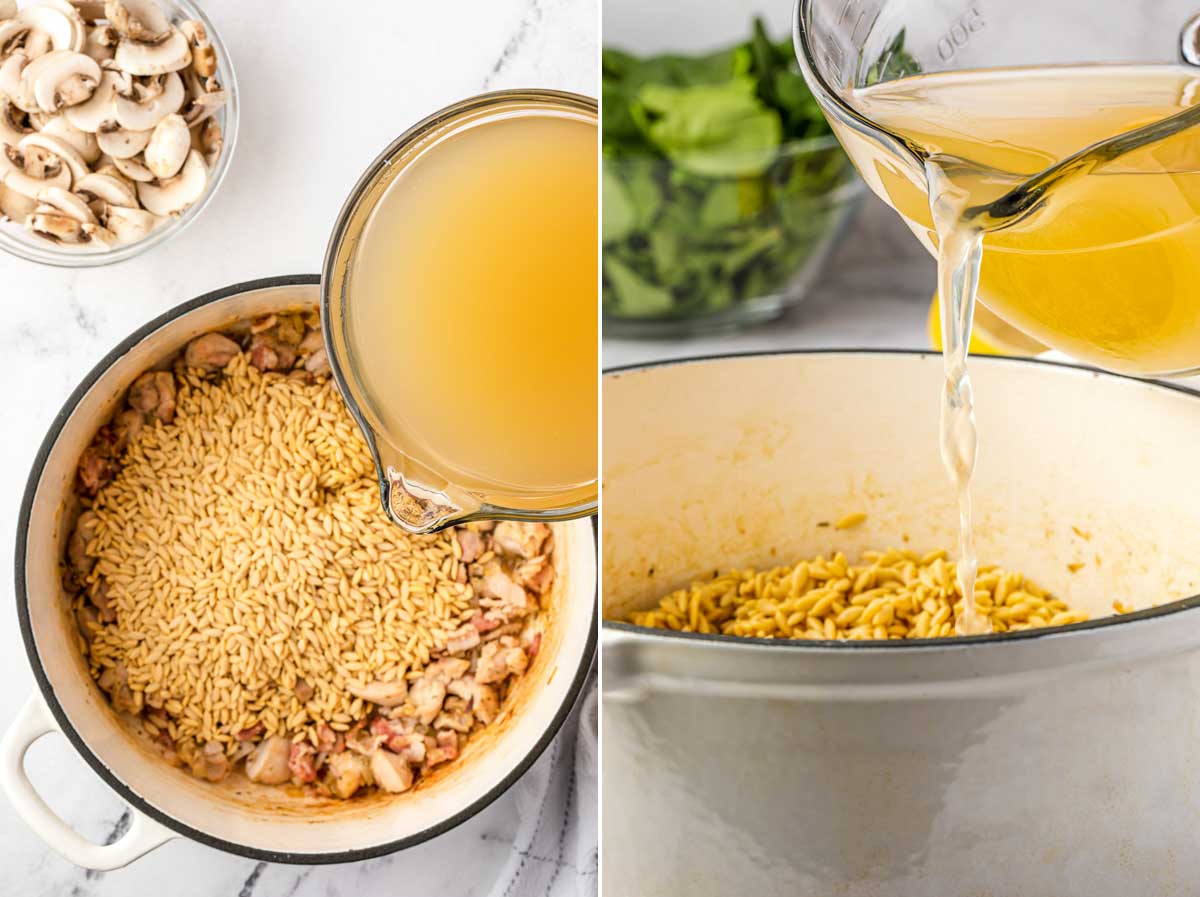 Stir a few times to stop it sticking to the pan. But apart from that, the orzo and chicken pretty much cooks itself. I'll take a bit (or a lot) of that on a busy weeknight!
After it's simmered for around 15 minutes, stir in the mushrooms and cook for a further 10 minutes. The pasta will thicken a little, like a risotto, but there should still be some liquid.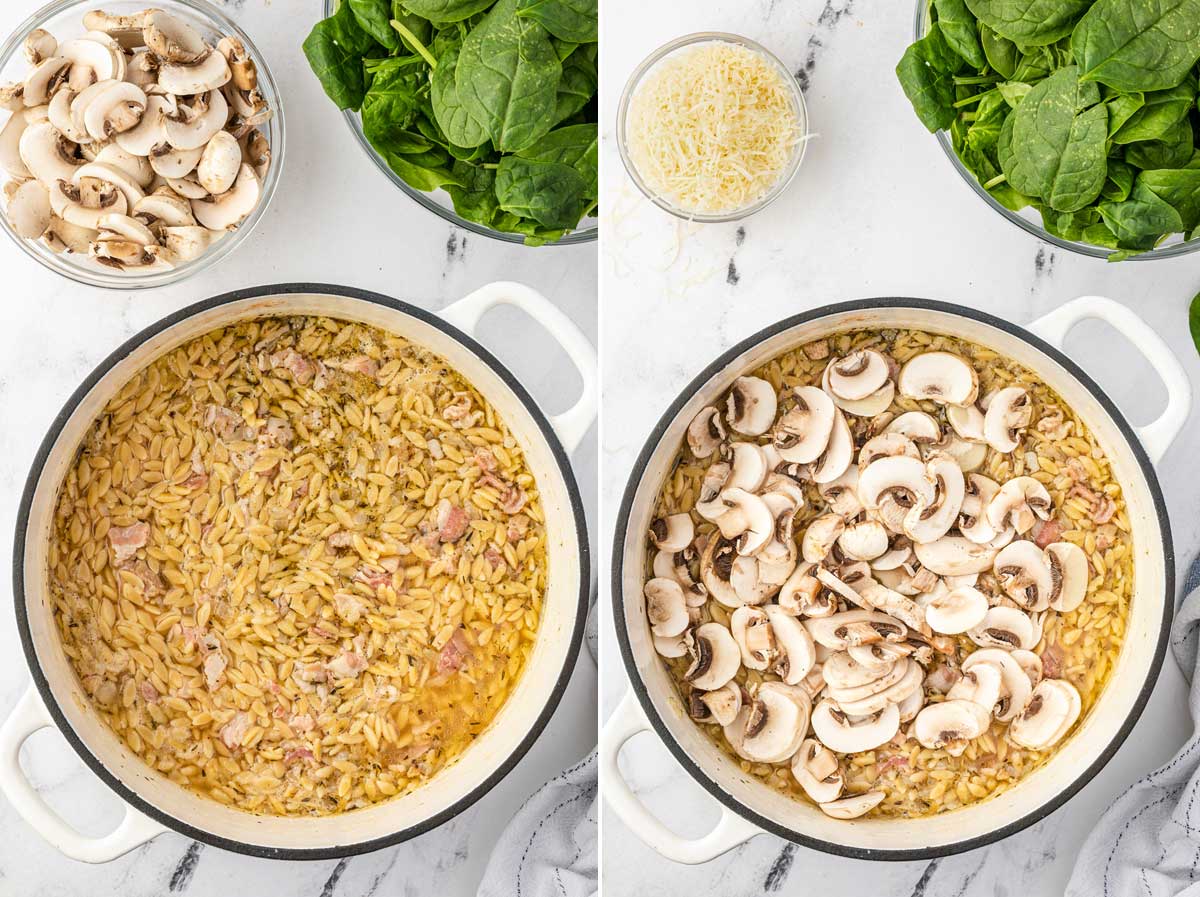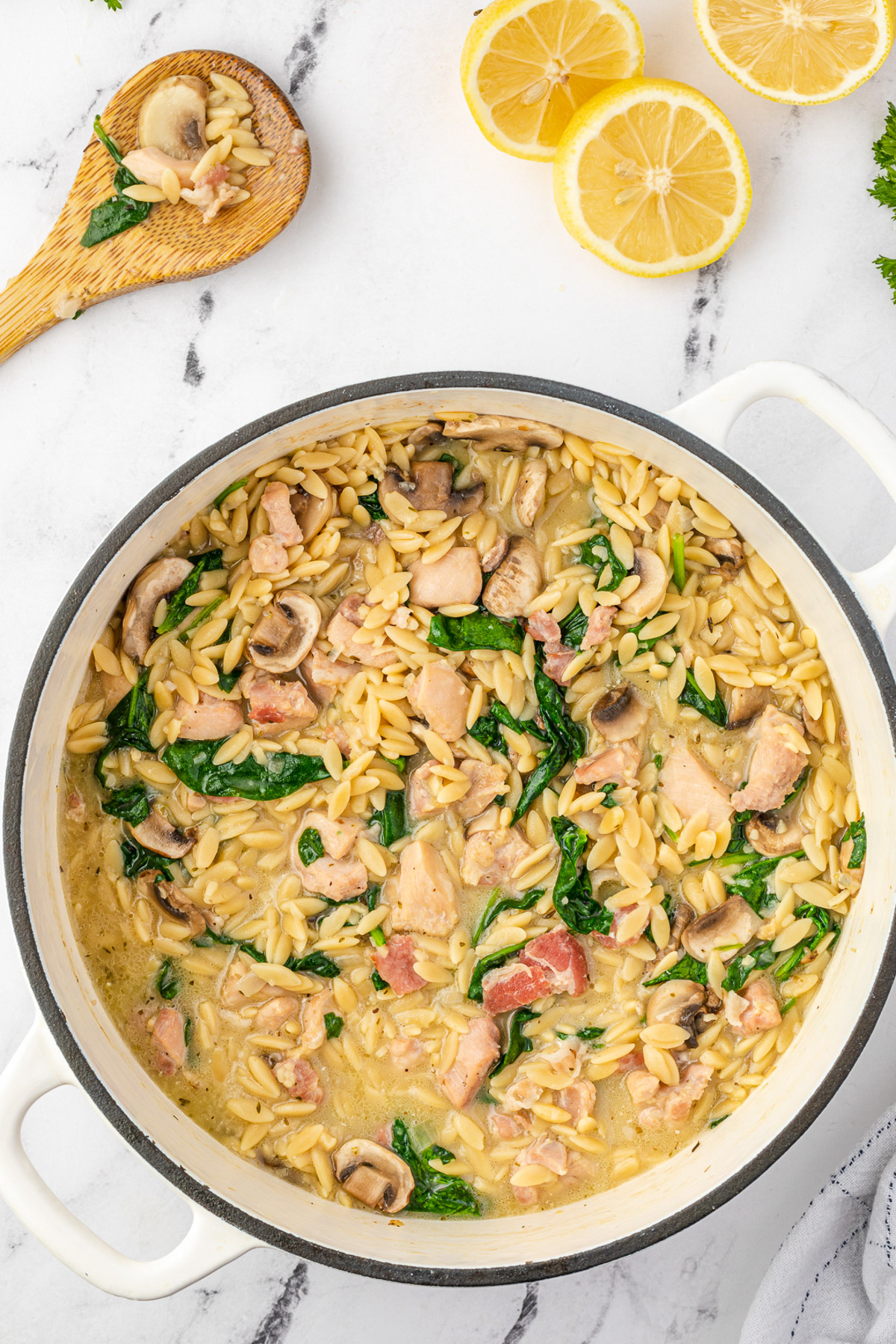 Then this is when the magic happens. Stir in the parmesan cheese, cream cheese and lemon juice. Serve sprinkled with fresh parsley and extra parmesan if you wish!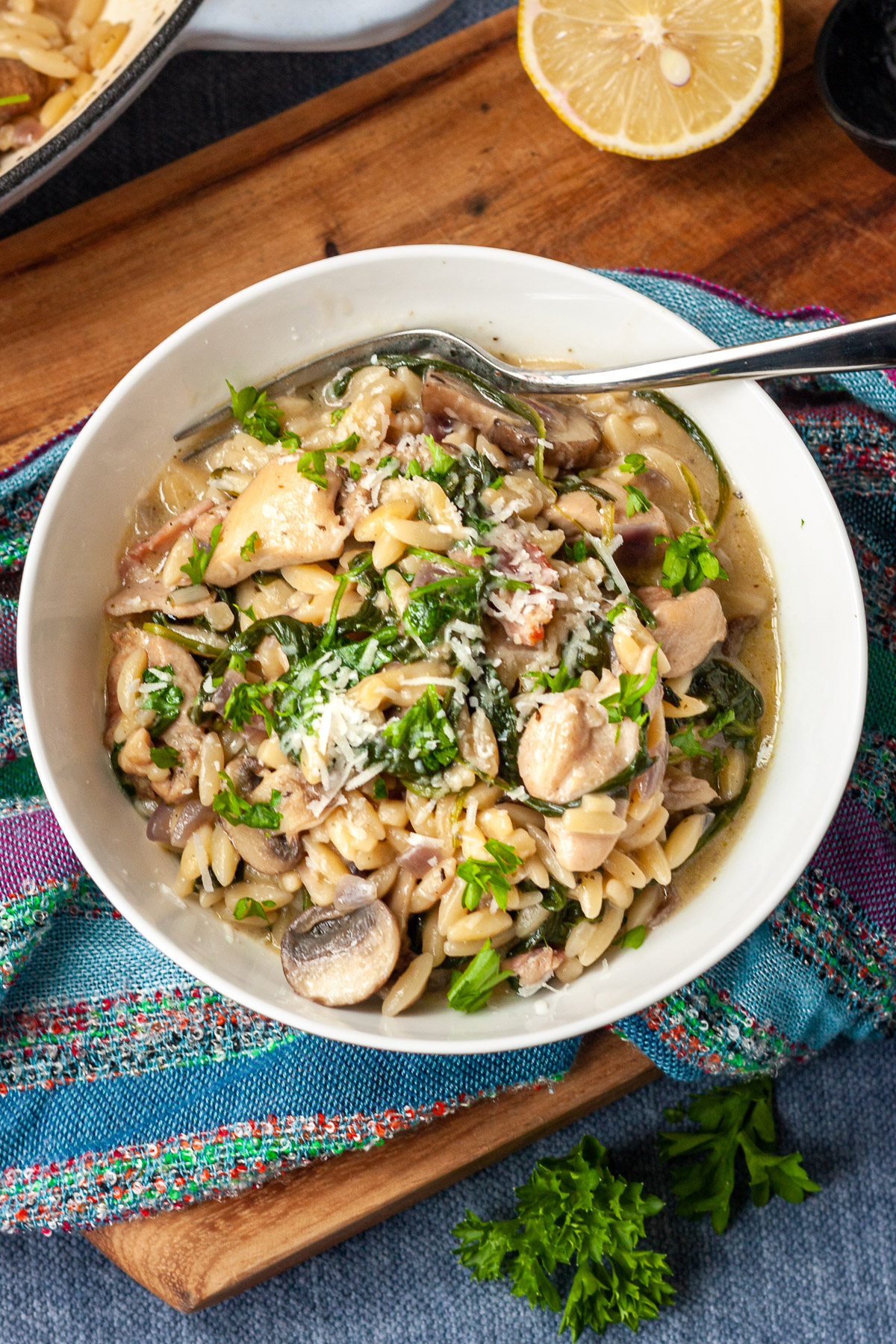 How to serve
This creamy orzo chicken is one of those dishes that I could eat until I'm uncomfortably full (not that I'm speaking from experience, of course).
You might think it's purely a dish for winter, but I see it as a 'meal for all seasons'. Serve with a simple green salad such as this refreshing Greek lettuce salad and it's also a perfect lighter but satisfying meal for a warm summer evening.
You could also serve it with a simple vegetable side dish such as these 10-minute sautéed frozen green beans. Or just serve it by itself – it doesn't really need anything on the side!
I usually scatter some fresh herbs such as parsley over the top to serve, as well as a little more parmesan cheese. A small grating of lemon zest looks and tastes great, too! Or just add lemon segments for everyone to squeeze over more juice if they like.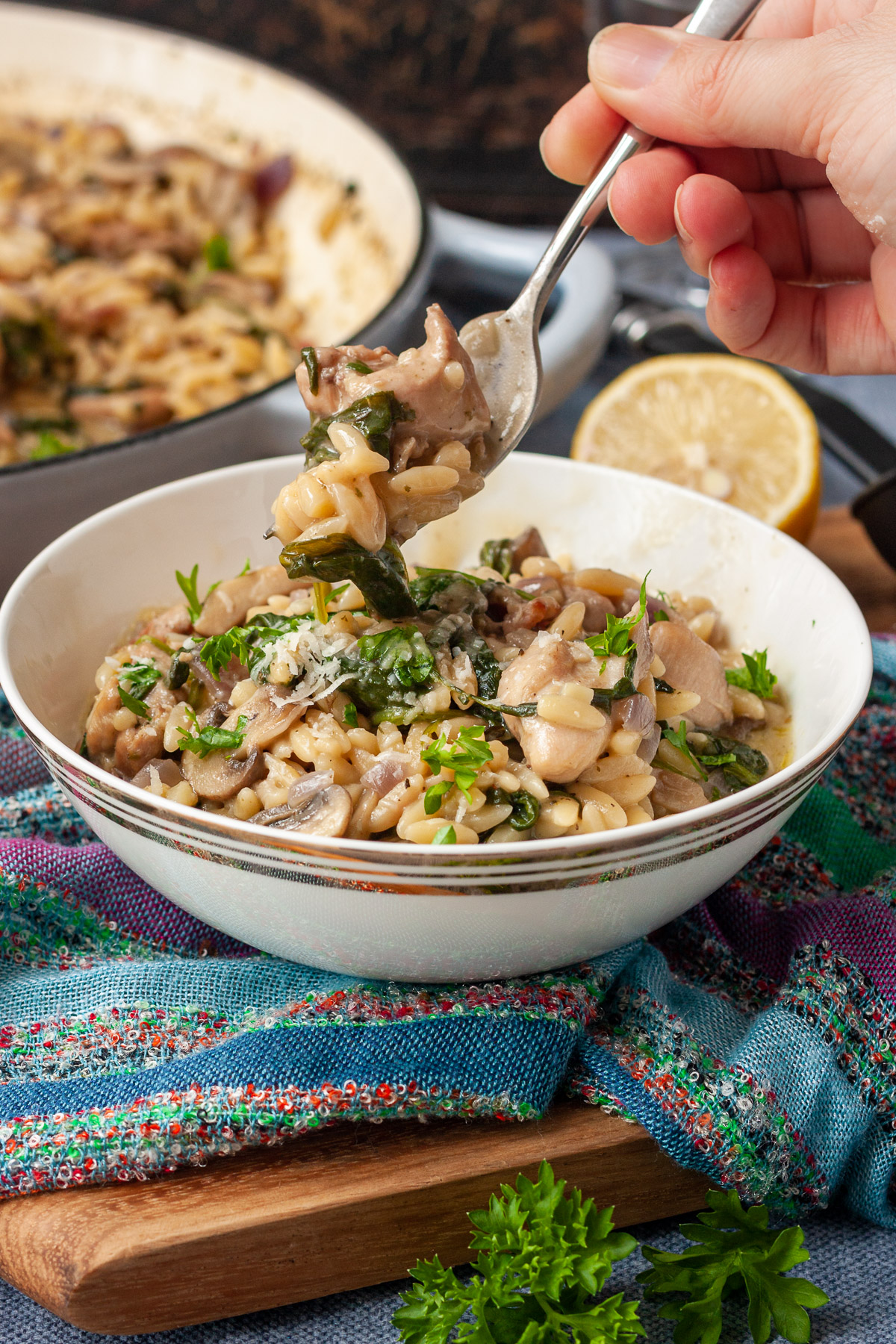 Variations
I don't tend to vary this orzo chicken recipe too much since it's very easy and delicious as it is!
However, there are certainly a few tweaks and substitutions you can make. For instance:
Stir in a few sundried tomatoes towards the end of the cooking time.
Experiment with using different dried herbs, although I especially love adding thyme – it goes so well with bacon and mushrooms!
Add a few more vegetables at the beginning with the onions, such as chopped carrots and celery. Or add some chopped asparagus or frozen vegetables at the same time as you add the broth (since these don't need much cooking).
Recipe FAQ
I can't find orzo pasta. What can I use instead?
This recipe will work with other types of 'small' pasta such as ditalini (small tubes), small elbow macaroni, fregola (small pasta beads), or even Arborio rice (but you'll have to stir the dish more often if you use rice). Actually, any small pasta that's a similar size to orzo will work!
How long will chicken orzo keep?
Like any kind of cooked pasta, this orzo chicken will keep for 3 to 5 days in the fridge. Simply cover it well with plastic wrap, or keep it in an airtight container.
Can I reheat it?
Yes, absolutely! I'd recommend adding a drizzle more broth/stock or water before covering and microwaving individual portions for 3 to 4 minutes on 80% power. Stir half way through and check the chicken is piping hot again before eating.
Can I freeze it?
Yes! Let cool, then freeze in airtight containers for up to 2 months for best results. Let defrost in the fridge overnight before reheating and enjoying.
Love creamy pasta? How about a classic Italian pasta carbonara (no cream!). Ready and on the table in just 15 minutes. Or this 20-minute chicken and mushroom pasta (again, not much cream!).
More easy orzo recipes
Or check out all my easy one pot meals.
Did you know orzo/risoni is also perfect in salads and soups? Check out this list of 38 best risoni recipes for more ways to use this versatile ingredient.
IF YOU MAKE THIS RECIPE, LET ME KNOW HOW YOU GET ON BY LEAVING A COMMENT AND RATING BELOW… AND DON'T FORGET TO SIGN UP TO RECEIVE ALL MY NEW RECIPES BY EMAIL!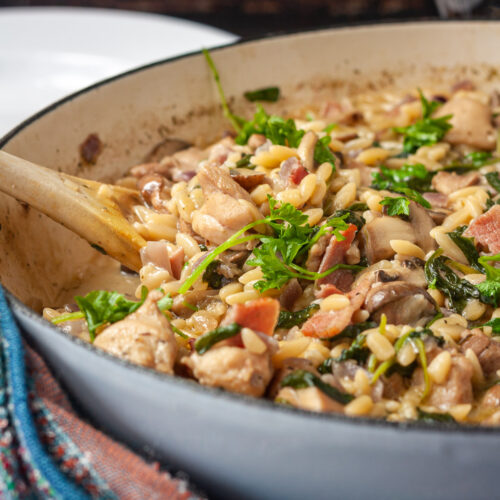 Creamy Chicken Orzo With Mushrooms And Bacon (One Pot)
This creamy chicken orzo is a risotto-like family dinner packed full of comforting chicken, bacon and mushrooms – that's actually made with rice-shaped pasta… and no cream! Super easy to make with simple ingredients and all in one pot.
Equipment (affiliate links)
Ingredients (UK/Australia? Click below for grams/ml)
1

tablespoon

butter

for cooking

1

onion

chopped finely

2

garlic cloves

crushed

½

teaspoon

dried thyme

½

teaspoon

dried oregano

4

ounces

smoked bacon

chopped (about 4 slices of back bacon or ¼ cup)

12

ounces

skinless boneless chicken thighs

(around 5 small thighs, chopped into pieces)

9

ounces

orzo pasta

(dried, about 1½ cups)

4¼

cups

chicken broth

(stock)

5

ounces

mushrooms

sliced

6

ounces

fresh spinach

½

cup

parmesan cheese

grated

1

tablespoon

cream cheese

½

teaspoon

salt

Or to taste

¼

teaspoon

pepper

Or to taste

½

lemon

(juice only)
To serve (optional)
¼

bunch

fresh parsley

a little more grated parmesan cheese

lemon segments

(For squeezing over at the table, if desired.)
Instructions
Melt the butter in a large pan on a medium heat, then add the onion. Cook, stirring, for a few minutes until softened, then add the garlic and herbs. Cook for a minute or so longer.

1 tablespoon butter,

1 onion,

2 garlic cloves,

½ teaspoon dried thyme,

½ teaspoon dried oregano

Add the bacon and chicken pieces to the pan and cook, stirring, for a few minutes until cooked on the outside.

4 ounces smoked bacon,

12 ounces skinless boneless chicken thighs

Add the dry orzo to the pan and stir in well, then pour in the chicken broth/stock. Simmer for about 15 minutes, stirring occasionally so that the orzo doesn't stick to the bottom of the pan too much.

9 ounces orzo pasta,

4¼ cups chicken broth

Add the mushrooms and simmer for about another 10 minutes, or until the dish has thickened (there will still be some liquid, which is fine).

At the last minute, stir in the spinach until wilted, then stir through the parmesan cheese and the tablespoon of cream cheese. Add the salt, pepper, and lemon juice.

6 ounces fresh spinach,

½ cup parmesan cheese,

1 tablespoon cream cheese,

½ teaspoon salt,

¼ teaspoon pepper,

½ lemon

Serve immediately in bowls with fresh parsley, more parmesan and lemon segments (if desired) on top.

¼ bunch fresh parsley,

a little more grated parmesan cheese,

lemon segments
Notes
What's orzo? Orzo looks like big grains of rice, but it's actually pasta! You can get it from large supermarkets, or try an Italian or other European deli if you're struggling to find it. Alternatively, use another 'small' pasta such as small elbow macaroni.
Chicken: I prefer chicken thighs, but feel free to use chopped chicken breasts instead. You can even use leftover cooked chicken such as rotisserie chicken. However, I think that cooking the chicken in the dish makes the dish the most flavorful.
Got leftovers? Try re-heating any leftover creamy orzo chicken the next day in the microwave. You might like to add a drizzle of extra broth or water beforehand. Simply cover and microwave on 80% power for 3-4 minutes until piping hot again.
Can you freeze it? You can. Simply cool, then freeze in an airtight container for up to 2 months for best results. Let defrost in the fridge overnight before reheating as above.
No cream cheese? Add a small drizzle of heavy cream to the finished chicken orzo instead of cream cheese if you prefer. If you don't have either cream or cream cheese, add extra parmesan cheese, or simply don't worry – your chicken and mushroom orzo will still be wonderfully creamy and delicious!
Nutrition
Calories:
521
kcal
Carbohydrates:
57
g
Protein:
40
g
Fat:
15
g
Saturated Fat:
6
g
Polyunsaturated Fat:
2
g
Monounsaturated Fat:
4
g
Trans Fat:
0.1
g
Cholesterol:
120
mg
Sodium:
1826
mg
Potassium:
951
mg
Fiber:
5
g
Sugar:
5
g
Vitamin A:
4560
IU
Vitamin C:
27
mg
Calcium:
253
mg
Iron:
4
mg