If you're on the hunt for a really easy meatless meal, you won't be disappointed with this easy vegetarian eggplant lasagna. With no white sauce to make, you need just a few steps and around 30 minutes hands-on time to get it in the oven. It's garlic-y, meaty, healthy, and VERY tasty. The best part? There's even some eggplant sauce left over for another dinner, so it's a 2-in-1 meal!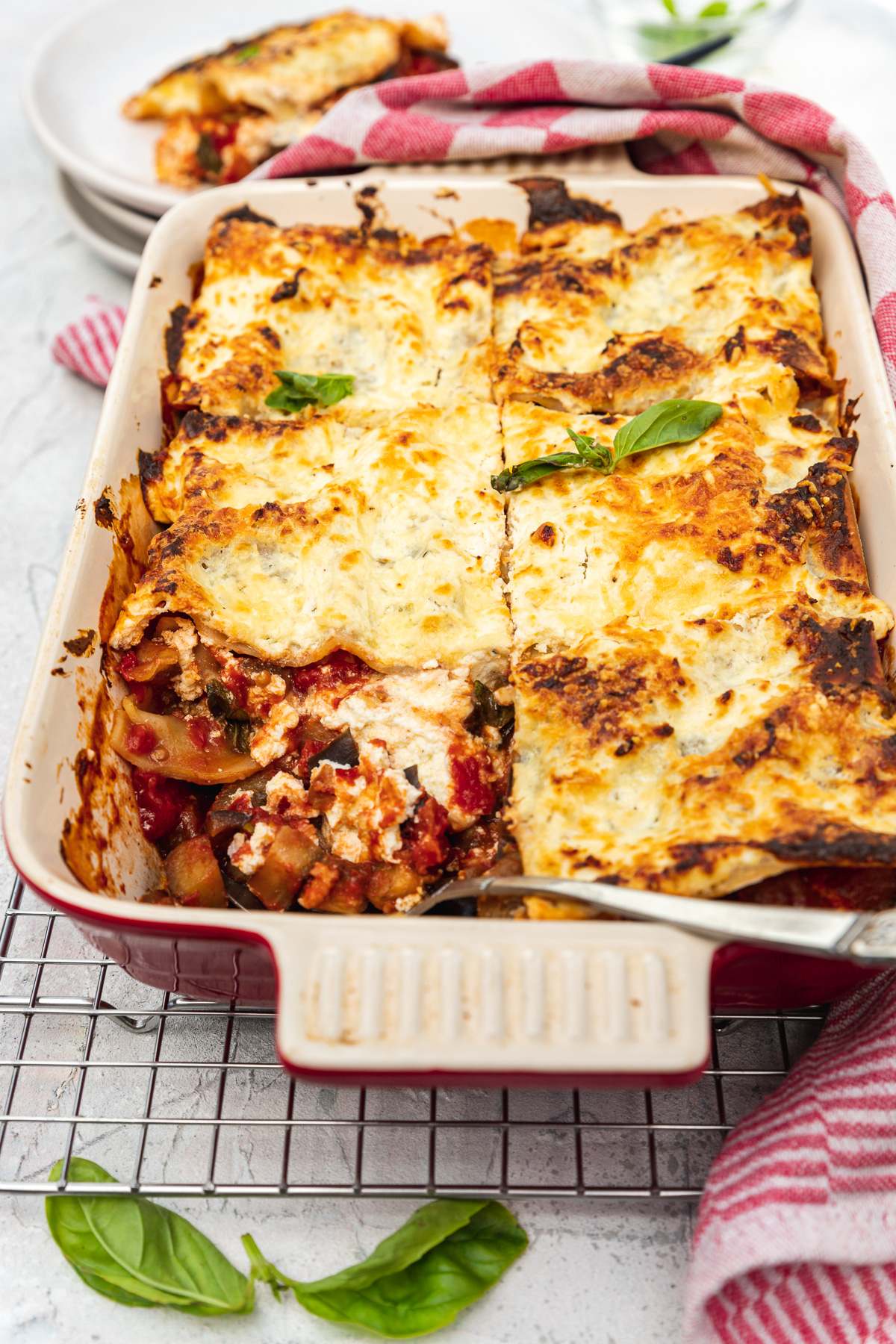 Why you're going to love it
It can be tough to find an easy vegetarian lasagna that appeals to both vegetarians and meat eaters alike. But whichever you are – 'meat lasagna die-hard' or 'veggies all the way' kind of person, you might be surprised how much you enjoy this yummy eggplant lasagna.
I sometimes call this lasagna alla norma because the sauce is just like the sauce I use in this very popular and equally as delicious pasta alla norma recipe!
So what's so great about it?
No tiresome white sauce to make. Just combine ricotta cheese with an egg and parmesan for a creamy and delicious replacement for a traditional white sauce.
It's a hearty dinner, almost 'meaty' in texture.
It's quick and easy to make. You need around 30 minutes to make it. Then pop it in the oven and put your feet up while it bakes.
It's completely meat free, but it tastes rich, cheesy and flavoursome. Not watery and disappointing like some veggie lasagnas I've tried.
It's budget friendly, serving 6 as a main with sides.
Stuffed full of eggplant, tomatoes and garlic, it's healthy! It's also fairly low-carb with just 2 layers of lasagna sheets.
There's usually enough sauce left over for another meal. Scroll further down for ideas!
About the ingredients
Reading between the lines, you only need around 6 main ingredients to make this. The rest of the ingredients are pantry oils, flavours, herbs etc. that you probably already have.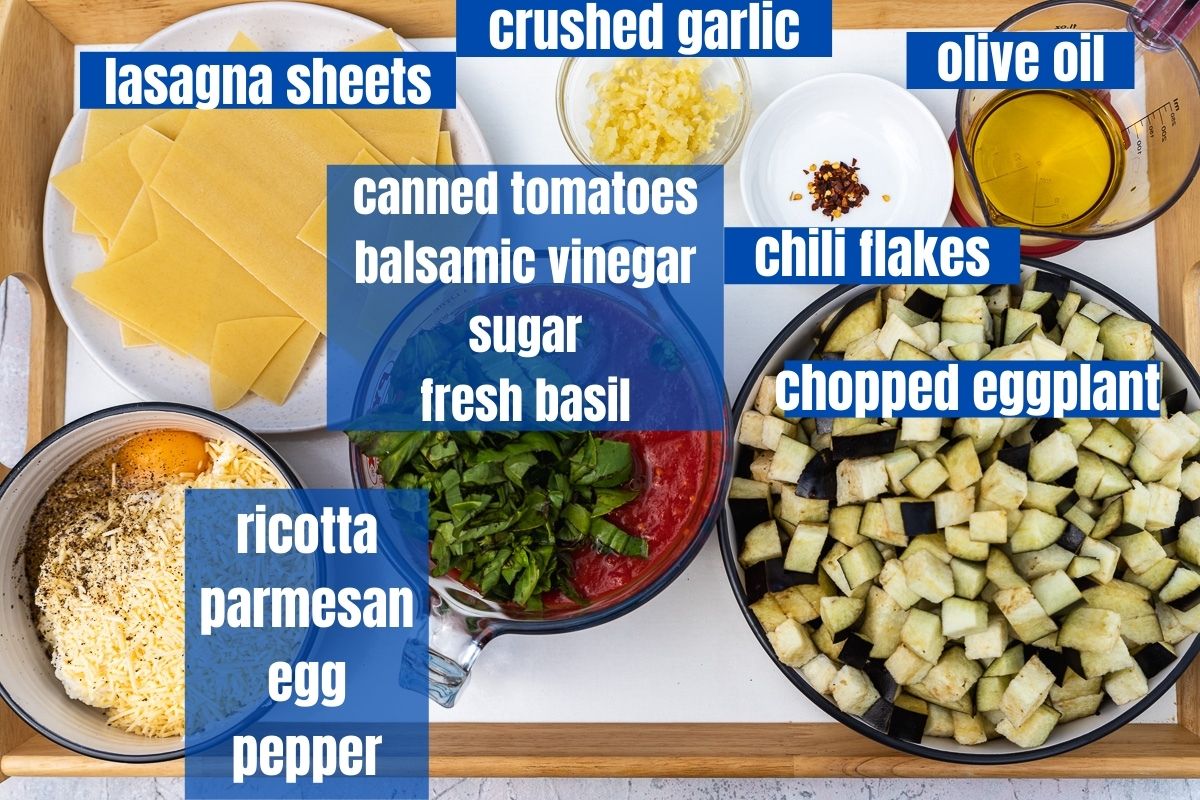 For the eggplant sauce:
Olive oil: This recipe starts with a relatively big amount of oil. Because it really adds to the flavour of the sauce, I recommend using a good quality extra virgin olive oil.
Eggplant (UK = aubergine): You need 2 whole eggplant/aubergine for the lasagna sauce. Slice it into roughly 1 to 2 cm cubes before you start cooking.
Garlic: This lasagna tastes gloriously garlic-y! Crush 5 whole cloves (I go for big ones!) for the sauce.
Chili flakes: A quarter teaspoon or a large pinch of chili flakes is optional, but I think it really adds something to this dish.
Cans of chopped tomatoes: I often go for whole tomatoes and snip them inside the can with scissors before pouring them into the dish! I hear that whole tomatoes are often better quality than chopped.
Sugar: A heaped teaspoon balances out the tartness of the tomatoes. Replace with a big squirt of honey if you prefer.
Balsamic vinegar: I always add this to my homemade tomato sauces. It's delicious. Just trust me.
Fresh basil: Either use a whole bunch of fresh basil, or a tablespoon of Italian dried herbs of your choice.
For the ricotta 'sauce':
Ricotta cheese: Ricotta forms the basis of the 'sauce' in this lasagna. No need to cook anything.
An egg: Mixing an egg into the ricotta turns it into a spreadable consistency and will help it to 'set' into a delicious layer in the oven.
Parmesan: You'll need a whole cup of grated parm plus extra for sprinkling over the top of the 'sauce'.
Black pepper: A good grinding of pepper finishes off the ricotta layer. I don't add salt as it's already seasoned by the parmesan cheese.
And of course the lasagna!
Lasagna sheets: You can either use fresh lasagna sheets or dried. There are only 2 layers of pasta, so you won't need too many sheets – somewhere between 5 and 8, depending on their size.
How to make it
First make the sauce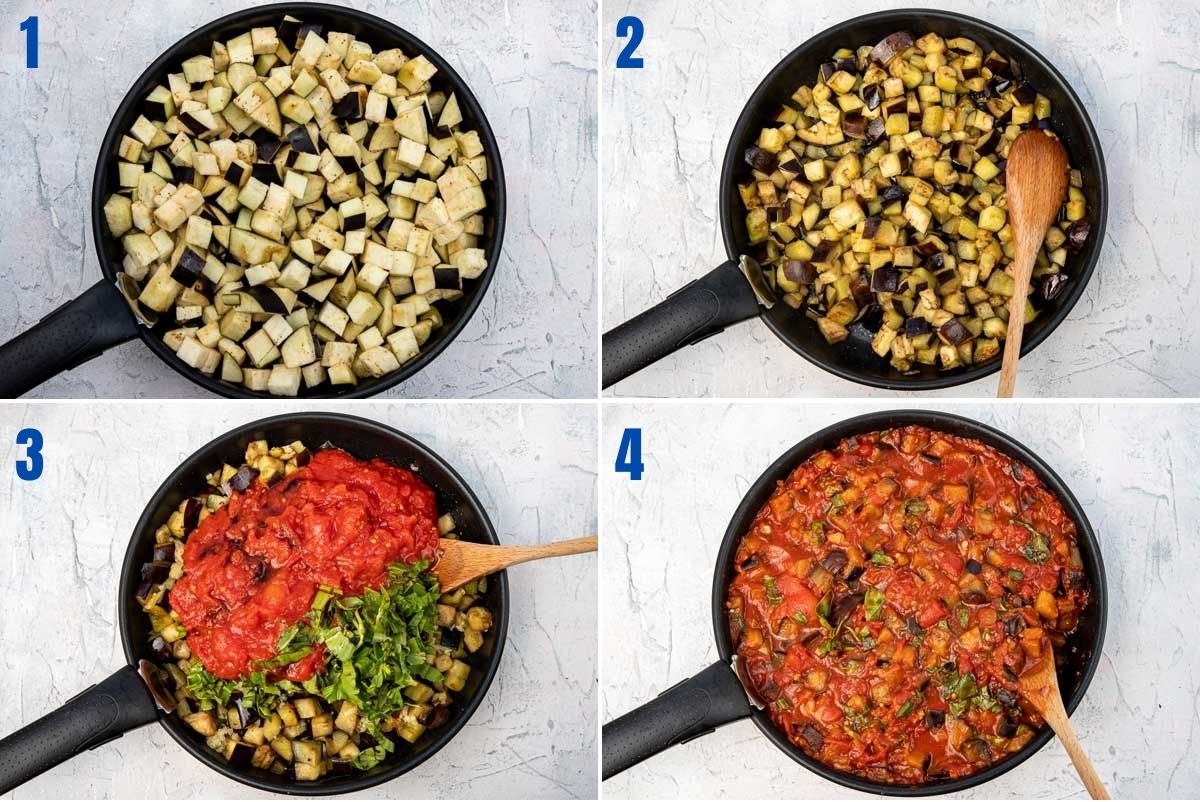 See how easy it is?
Photos 1 and 2: Saute cubes of eggplant in lots of good quality olive oil. After around 10 minutes it will be mostly soft and cooked.
Photos 3 and 4: Add the rest of the sauce ingredients, stir well and let simmer for around 15 minutes. After this step the eggplant will be completely tender.

While the sauce is simmering, mix together the few ricotta 'sauce' ingredients. This is so much easier than making a bechamel sauce!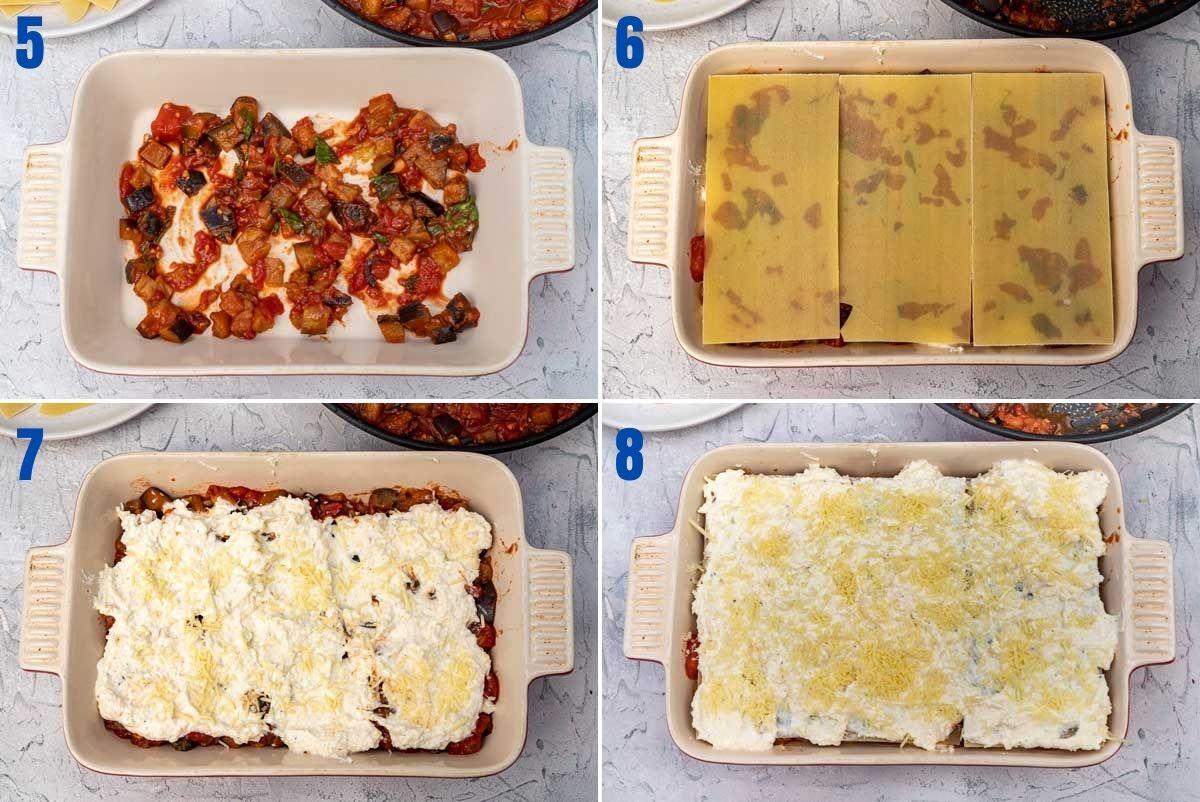 Photos 5 to 8 above show how to layer up the lasagna:
Photo 5: Start with a small amount of sauce so that the lasagna sheets don't stick.
Photo 6: Cover with the first layer of lasagna. If the sheets are too big, just snap them to make them the right size. The coverage doesn't have to be perfect!
Photo 7: Cover the first layer of lasagna sheets with another (thicker this time!) layer of eggplant sauce.
Top this layer of sauce with half of the ricotta mixture. Sprinkle with a little more parmesan if you like.
Photo 8: Add another thin layer of eggplant sauce. You'll probably still have plenty of sauce left over. This is fine. I'll give you some ideas about what to use it for later on.
Cover with the second layer of pasta sheets.
Spread the rest of the ricotta mixture over the top. Sprinkle with more parmesan cheese.
All that's left to do is bake the lasagna for around 30 minutes or until golden and bubbling. Sometimes I like to put it under the grill/broiler just before serving to brown the top slightly more. A couple of minutes should be all you need.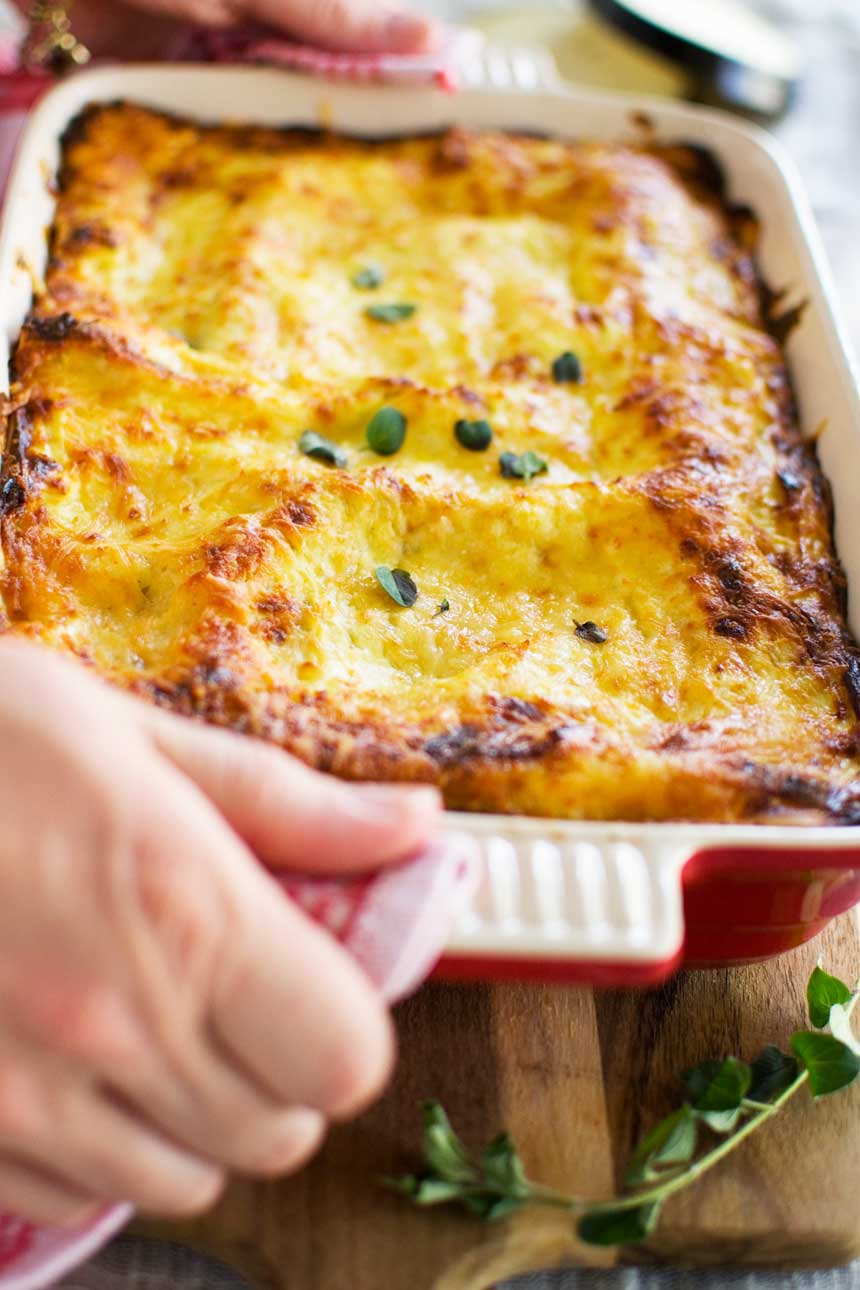 How to serve it
This vegetarian lasagna with eggplant makes a great meal served by itself with some 2-minute toasted bread with olive oil and salt and perhaps a simple green salad.
It's fantastic for vegetarians or meatless Mondays. However… it's also perfect with some simple meatballs on the side. My vote goes to these easy Greek meatballs which you can make in your air fryer or oven. They reheat well so you can even make them ahead.
In fact it goes well with any kind of protein including steak, roast chicken or fish. Got guests coming over? Serve the lasagna as a fancy side!
What to do with the leftover eggplant sauce
What was that about 2-meals-in-1? Well, I find there's often quite a lot of sauce left over after assembling the lasagna.
If you have quite a lot left, you could use it to make an extra smaller lasagna for the freezer.
Use it to make a simple pasta alla norma. Just stir the spare sauce through any kind of cooked pasta. Add a little of the pasta water to the dish to loosen up the sauce, then sprinkle with plenty of parmesan or feta cheese before serving.
Stir through boiled or pan-fried (my favourite) gnocchi. Add a sprinkle of feta cheese. Delicious!
Use it as a pizza sauce for homemade pizza.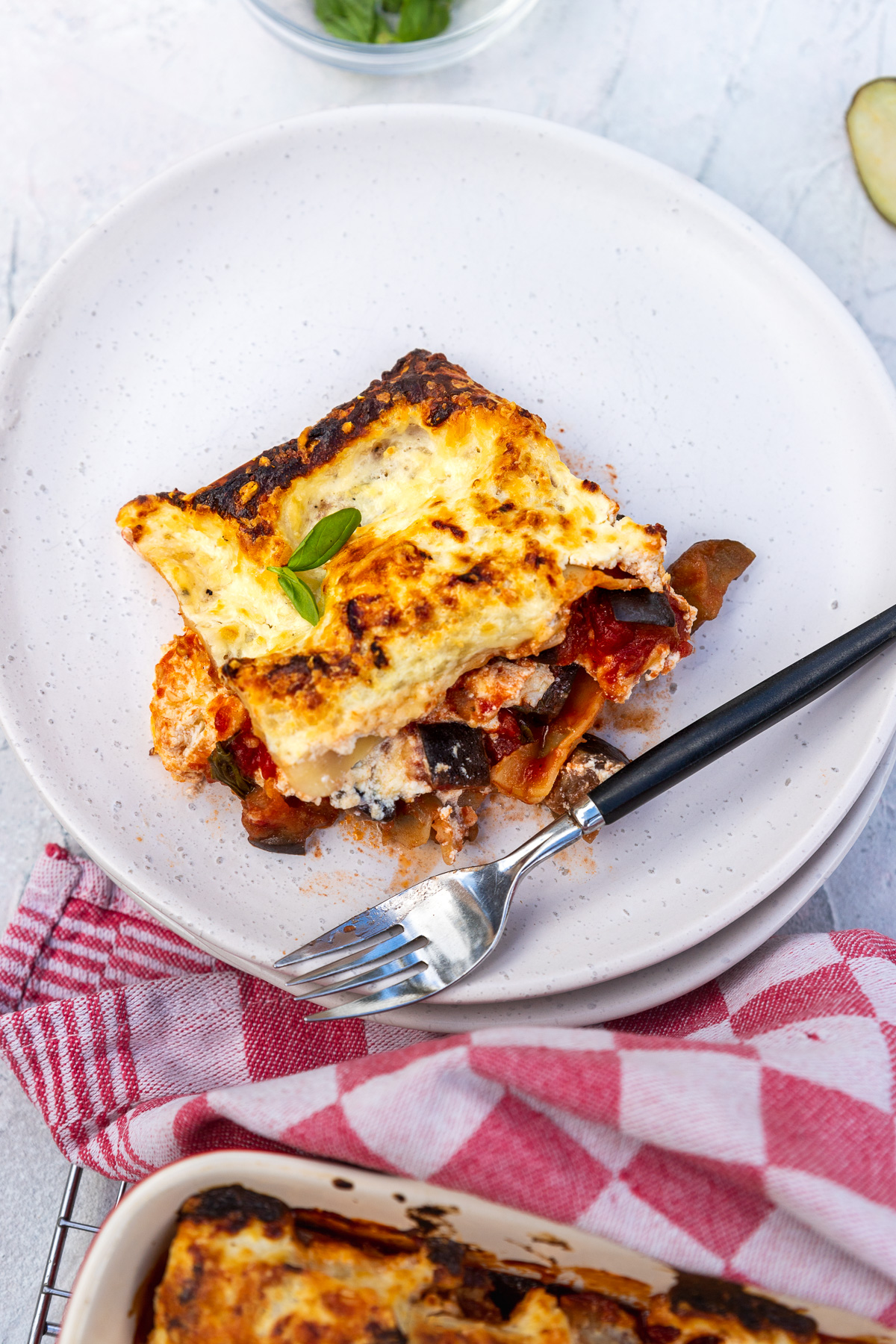 More things to know (FAQs)
What size baking dish should I use?
It's best to use a medium sized rectangular or square baking dish. The one I usually use is 7.5 inches by 10.5 inches at the top (a bit smaller on the bottom). Yours doesn't have to be exactly this size – just roughly.
Do I need to salt the eggplant?
I never salt the eggplant before cooking it for this dish. It doesn't taste bitter. In fact, I never salt eggplant and never end up feeling like I should have. The fact is, modern eggplants have had the bitterness bred out of them, so in most cases you don't need to worry about salting it.
How do I know if the eggplant is cooked?
The time stated in the recipe should ensure that the eggplant is cooked enough before it goes in the oven. This is important because it won't soften too much more in the oven.

You can usually tell if eggplant is cooked just by looking at it. If it's completely translucent it's nice and soft and delicious. If there are still any white bits it needs a bit longer. Undercooked eggplant doesn't taste very nice! To be completely sure, just have a taste.
How can I make this a vegan or gluten-free eggplant lasagna?
If you use a vegan ricotta cheese and vegan parmesan, and replace the egg with 1/4 cup vegan yogurt, you can easily make this lasagna a vegan one. Also make sure that you use lasagna sheets without egg in.

To make this gluten-free, simply use gluten-free lasagna sheets. The rest is naturally gluten-free. I'd love to hear how you get on if you give either of these versions a go!
Can I make this ahead?
Yes! It's actually the perfect dish to make ahead. So it would be a great option for easy entertaining. You can make and assemble the dish up to 2 days ahead. All you have to do is cover it and store it in the fridge until you're ready to bake it as normal. Or wrap well and freeze at this stage. Either cook from frozen, adding about fifteen minutes to the cooking time, or defrost and cook as normal.
Can I freeze it?
Maybe you'd like to make this ahead and freeze it, or make two and freeze one for another time? Just make the lasagna and assemble it. Then wrap it really well in two layers of cling wrap (plastic wrap) and 1 layer of aluminium foil, and freeze it for up to 3 months.

You can either freeze the whole lasagna like this or you can freeze individual slices if you have leftovers.

When you're ready to eat it, either cook from frozen, adding about fifteen minutes to the cooking time, or defrost and cook as normal.
Want to go even easier and classier? Try this free-style aubergine lasagne recipe instead (or as well!)
More popular eggplant recipes
IF YOU MAKE THIS RECIPE, LET ME KNOW HOW YOU GET ON BY LEAVING A COMMENT AND RATING BELOW… AND DON'T FORGET TO SIGN UP TO RECEIVE ALL MY NEW RECIPES BY EMAIL!
FOLLOW ME ON FACEBOOK, INSTAGRAM, PINTEREST AND YOUTUBE.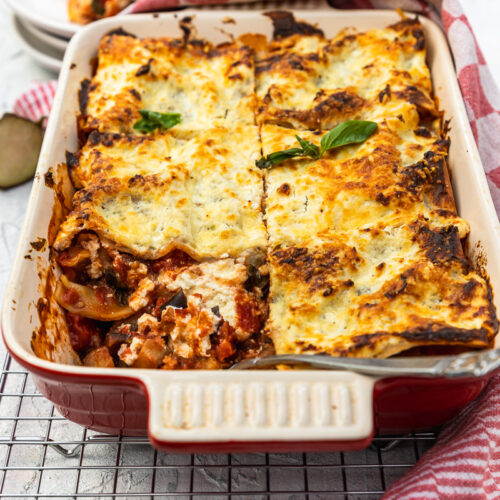 Vegetarian Eggplant Lasagna
That perfect (not to mention easy) vegetarian lasagna you've always been looking for. This vegetarian eggplant lasagna aka lasagna alla norma is made by layering a simple pasta alla norma sauce with a ricotta mixture and lasagna sheets. There's no white sauce to make, and it's on the table in just an hour. You definitely won't miss the meat!
Ingredients (UK/Australia? Click below for grams/ml)
6

tablespoons

olive oil

2

eggplant

medium to large, cut into small cubes (about 1cm)

5

cloves

garlic

crushed

¼

teaspoon

chili flakes

optional

2

cans

chopped tomatoes

(14 ounce cans)

1

teaspoon

sugar

heaped

1

tablespoon

balsamic vinegar

1

bunch

basil

chopped, or a heaped teaspoon dried herbs (I use mixed Italian)

1.5

cups

ricotta cheese

1

egg

1

cup

parmesan cheese

plus some extra for sprinkling

black pepper

to taste

8

lasagna sheets

fresh or dried (You'll need roughly 5 to 8 sheets, depending on their size of course)
Instructions
Heat up the olive oil in a large skillet/frying pan, then cook the eggplant cubes for 10 minutes, stirring regularly.

6 tablespoons olive oil,

2 eggplant

Add the garlic and chili flakes and cook and stir for another minute or two.

5 cloves garlic,

¼ teaspoon chili flakes

Add the tomatoes, sugar, balsamic vinegar and herbs and simmer for 15 minutes or until the eggplant is tender.

2 cans chopped tomatoes,

1 teaspoon sugar,

1 tablespoon balsamic vinegar,

1 bunch basil

Meanwhile, beat the egg and 1 cup of parmesan into the ricotta cheese. Grind in some black pepper (to taste).

1.5 cups ricotta cheese,

1 egg,

1 cup parmesan cheese,

black pepper

Cover the bottom of a 10 x 7 inch (or equivalent/similar) baking dish with a really thin layer of the eggplant mixture (just to stop the lasagne sticking). Top with lasagna sheets, then spread a good layer of eggplant sauce over them.

Top with half the ricotta mixture. Sprinkle with a bit of extra parmesan cheese.

Add another layer of eggplant sauce (you will have lots left over, which is OK), then more lasagna sheets, then top with the rest of the ricotta mixture. Finally, sprinkle with more parmesan cheese.**

Bake at 355F/180C for 30 minutes or until bubbling around the edges and starting to brown on top.
Notes
Making ahead and/or freezing: You can make the dish up to 2 days ahead. Simply assemble fully, then cover and store in the fridge until you're ready to bake. Or wrap well and freeze at this stage. Either cook from frozen, adding about fifteen minutes to the cooking time, or defrost and cook as normal.
While baking: Cover with aluminium foil if the top starts to brown too much. On the other hand, if you'd like the top to be a bit browner at the end of the cooking time, just grill(UK)/broil(US) for a few minutes. I often do this!
What to do with the leftover sauce: You have several options for the leftover eggplant sauce. Either make another smaller lasagne for the freezer (probably with just 2 eggplant layers this time), make pasta alla norma with it, or use it as a nutritious pizza sauce… mmm!
Nutrition
Calories:
516
kcal
Carbohydrates:
47
g
Protein:
21
g
Fat:
28
g
Saturated Fat:
10
g
Polyunsaturated Fat:
2
g
Monounsaturated Fat:
14
g
Trans Fat:
1
g
Cholesterol:
70
mg
Sodium:
533
mg
Potassium:
799
mg
Fiber:
7
g
Sugar:
11
g
Vitamin A:
734
IU
Vitamin C:
17
mg
Calcium:
401
mg
Iron:
3
mg