Pasta alla norma – it might sound really fancy, but it's actually just a super simple but tasty and silky tomato and eggplant sauce stirred through pasta. Add a pinch of chili flakes and some oozy mozzarella for a vegetarian pasta dish that even the most hard core meat eater in your life will enjoy.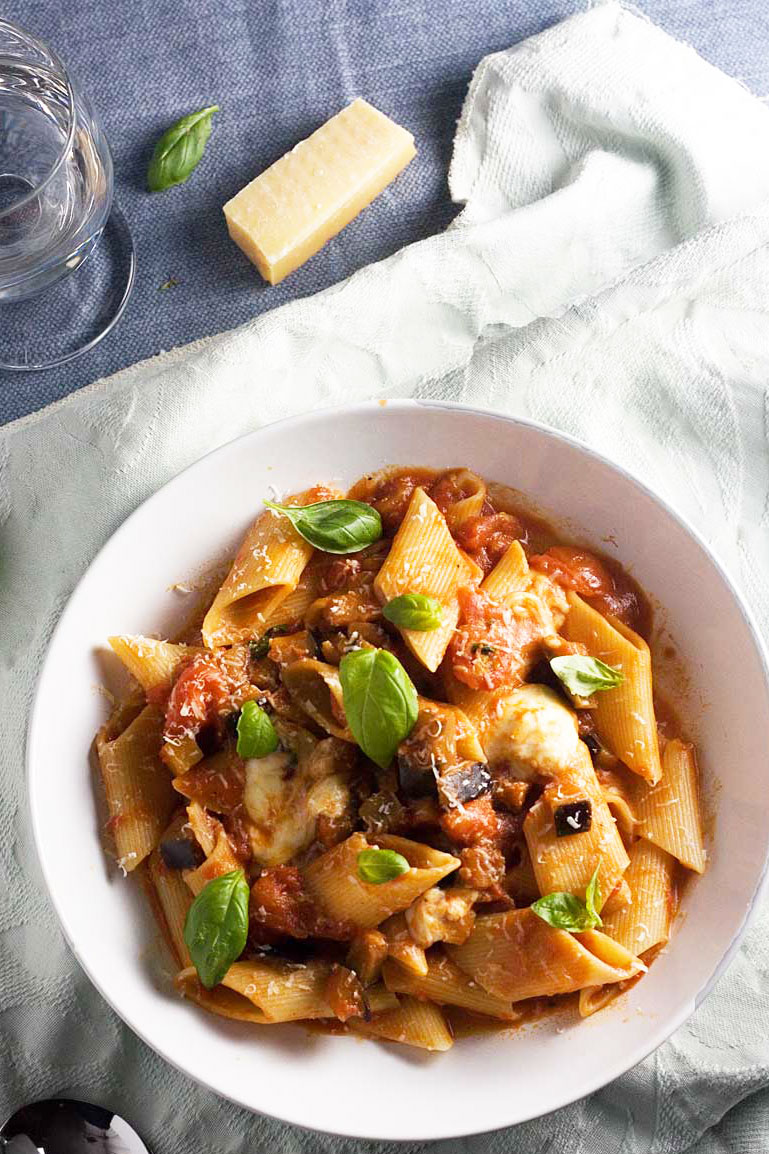 Pasta alla norma… it sounds so fancy, but it isn't. You can always depend on the Italians when it comes to super simple recipes that taste way more delicious than the sum of their parts.
More simple and delicious traditional Italian recipes: 12-minute cherry tomato pasta (which means 'hurry hurry' – isn't that cool?) / a classic pasta carbonara that's basic in every way except how tasty it is / this crowd pleasing easy Italian apple cake, otherwise known as 'torta di mele'
Why should I make this?
Pasta alla norma is a traditional tomato and eggplant pasta based on a Sicilian recipe. What's the secret of its success, other than the fact that it's been handed down through the generations?
I always think of eggplant or aubergine as a 'meaty' vegetable so it's great for 'meat free Mondays', or for anyone wanting to eat a more plant based diet.
It goes without saying that it's also a great recipe for vegetarians. Just skip the cheese and use an egg free pasta and it's a perfect vegan meal too.
It's on the table in just over half an hour.
It's made mostly with pantry ingredients. Grab an eggplant/aubergine from the shops or market and you're probably good to go!
The sauce is healthy, delicious and somewhat versatile. You can use it to make this eggplant lasagna if you prefer. Or pour it over baked or grilled meat or fish. Or use it as a pizza sauce! (my favourite)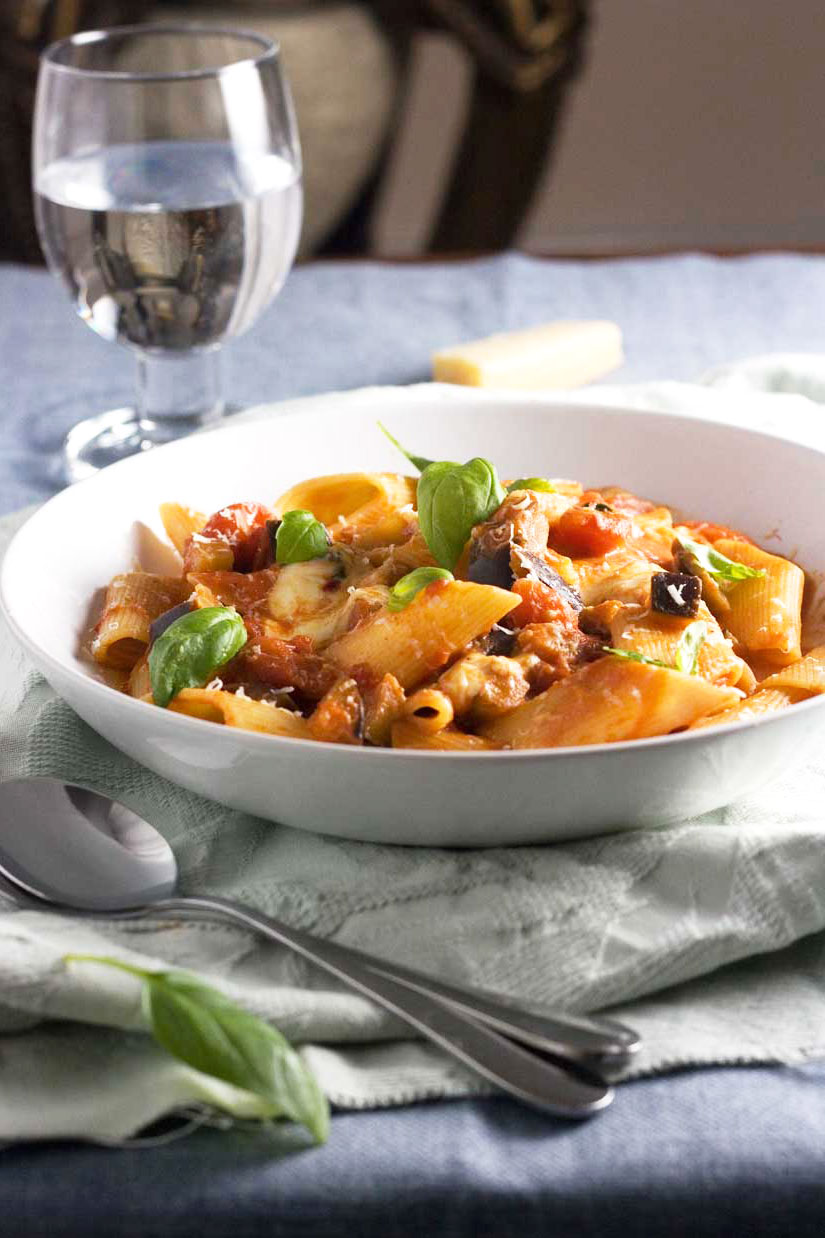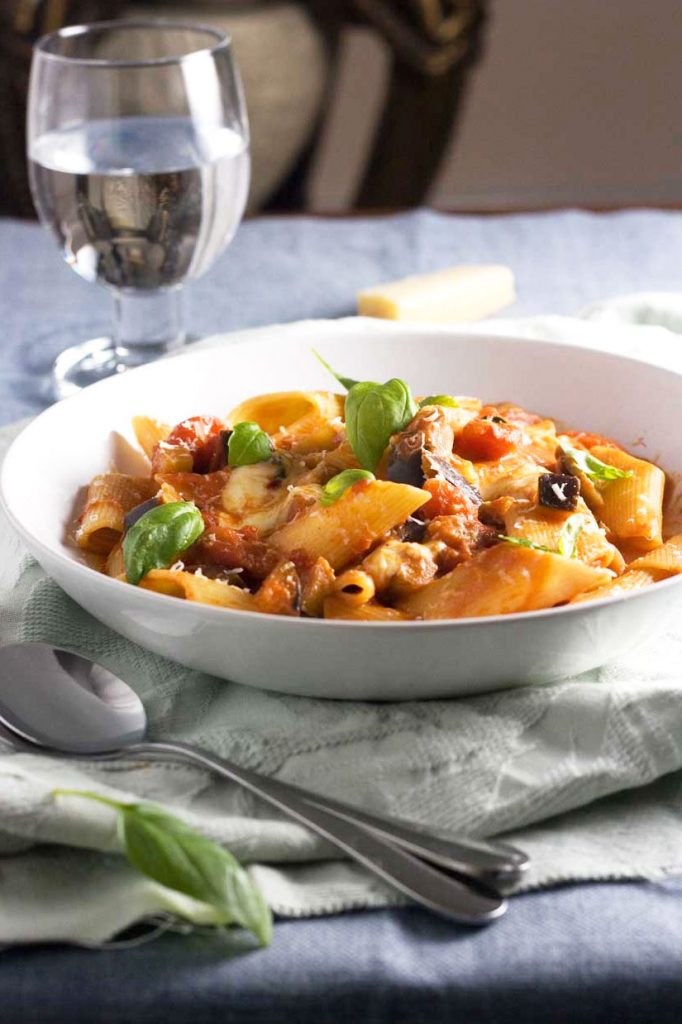 What ingredients you need
TO PREPARE THE EGGPLANT/AUBERGINE: a medium eggplant/aubergine (chopped into small cubes that will cook easily) plus plenty of good quality olive oil to cook it in
crushed garlic and a pinch of crushed chilis to stir into the cooked eggplant
TO MAKE THE SAUCE: whole canned tomatoes, a drizzle of balsamic vinegar and a sweetener (either sugar or honey) to add balance to the sauce while it's simmering
TO ADD TO THE SAUCE AT THE END: salt and pepper and lots of fresh basil to stir into the sauce
TO ASSEMBLE THE MEAL: pasta (of course), mozzarella, pasta cooking water for extra silkiness in the sauce, and parmesan and extra basil for sprinkling over the top just before serving
How to make the perfect pasta alla norma!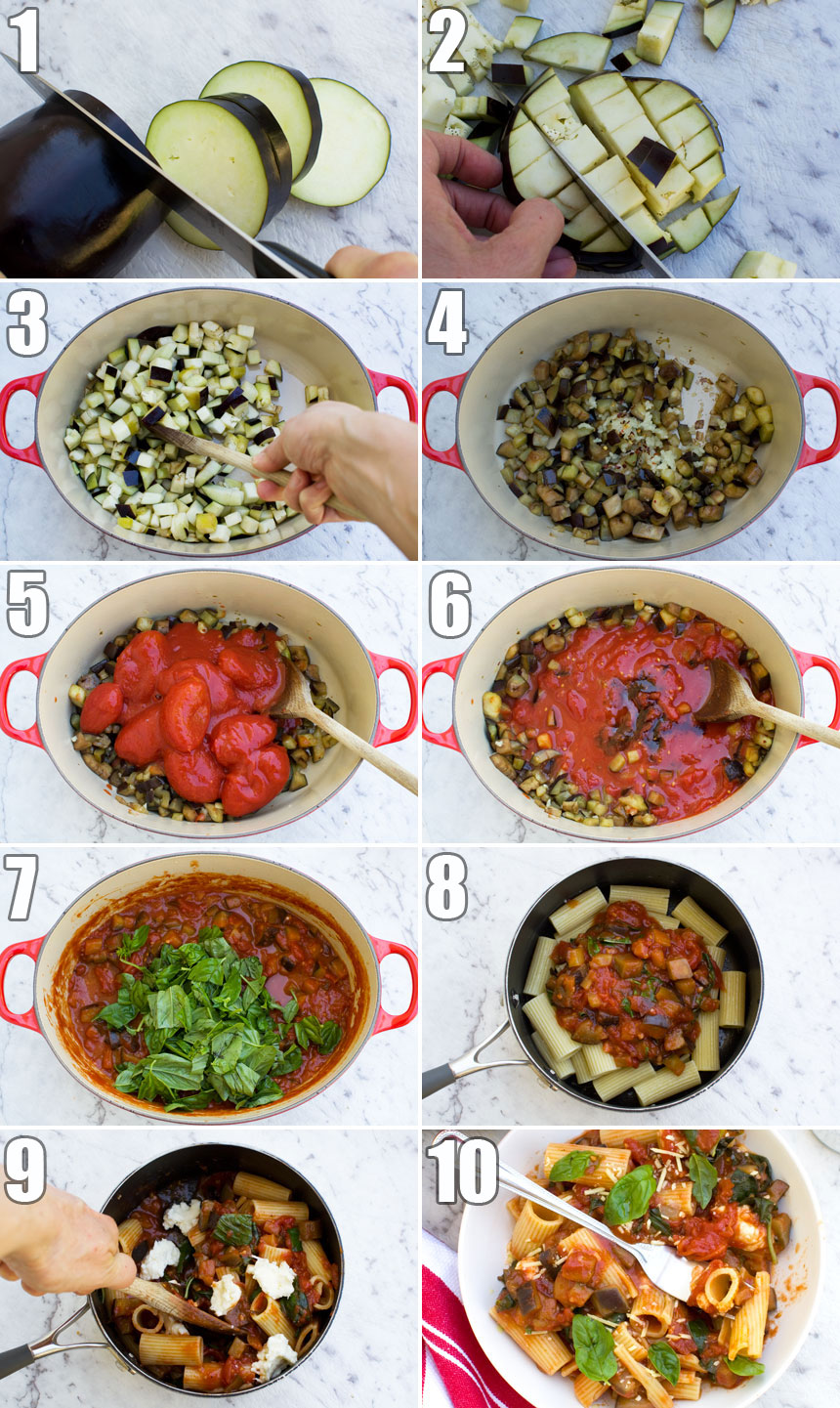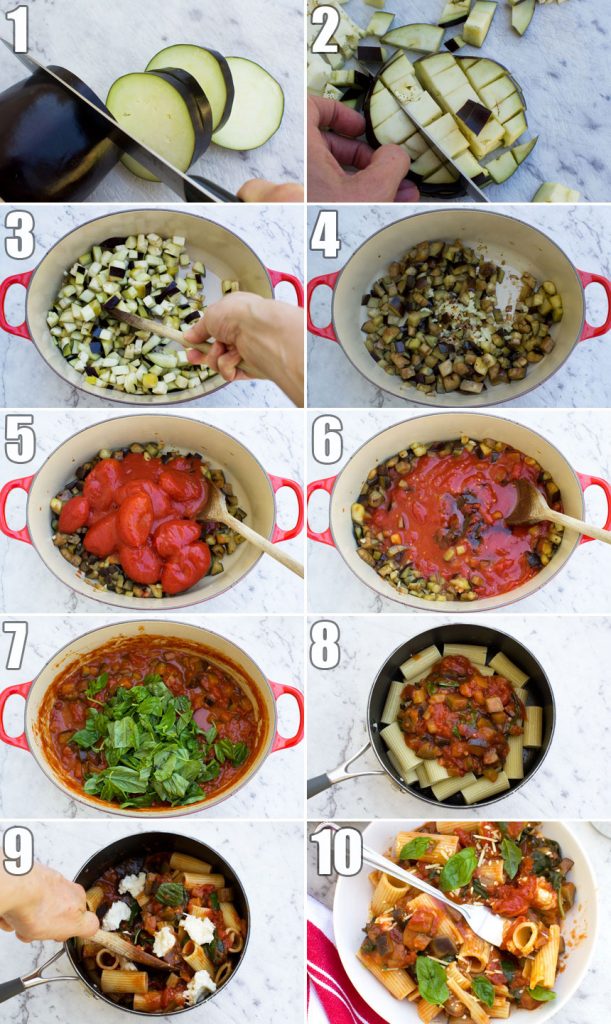 Make sure the cubed eggplant/aubergine is properly cooked. Begin by sauteing it slowly for 10 to 15 minutes in more olive oil than you would normally think sensible. Then simmer it in the tomatoes until perfectly tender. Under-cooked eggplant is pretty hard to swallow!
Use a bit more garlic than you think you need (a key to success for any tomato-basked pasta!)
Use whole tinned tomatoes rather than chopped/crushed, as they tend to be better quality – then crush them yourself in the pan as you go.
Make sure you check the seasoning at the end of the cooking time (salt, pepper, sweetness) and adjust to taste.
Don't forget to save some of the pasta cooking water and stir it into the dish at the end. This simply loosens up the dish and leaves the pasta perfectly silky and coated in sauce. Just put a bowl or jug under the colander when you drain the pasta into the sink. I mention this because I've forgotten a few times!
How to make the dish your own
This recipe (and especially the sauce) is very versatile. You can easily adapt it to your tastes.
You can skip the chili if you like. It actually isn't in a traditional Pasta Alla Norma – I just like the slight hit of spice.
Use a different kind of cheese. Ricotta cheese or pecorino cheese works well instead of the mozzarella. I think crumbled feta cheese would be delicious, too.
I tend to use large pasta shapes like large penne or pappardelle for this dish because the sauce is quite heavy. But of course it's OK to use any kind of pasta shapes you like. Tagliatelle or fettucine would work well, as would pasta twists or shells.
Make a pasta bake instead! I've included instructions in the 'notes' section of the recipe below.
Leftover sauce? Freeze it for another time. Pour it over meat or fish. Or use it as a yummy and nutritious eggplant pizza sauce.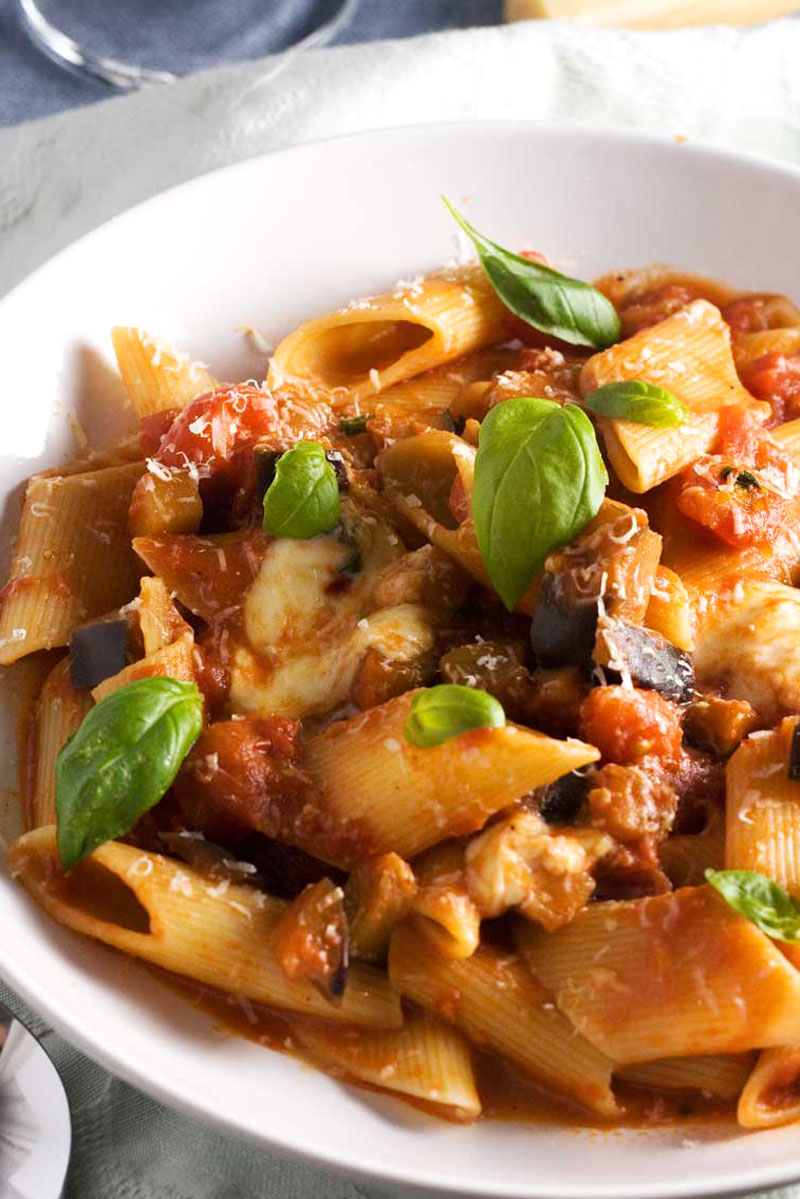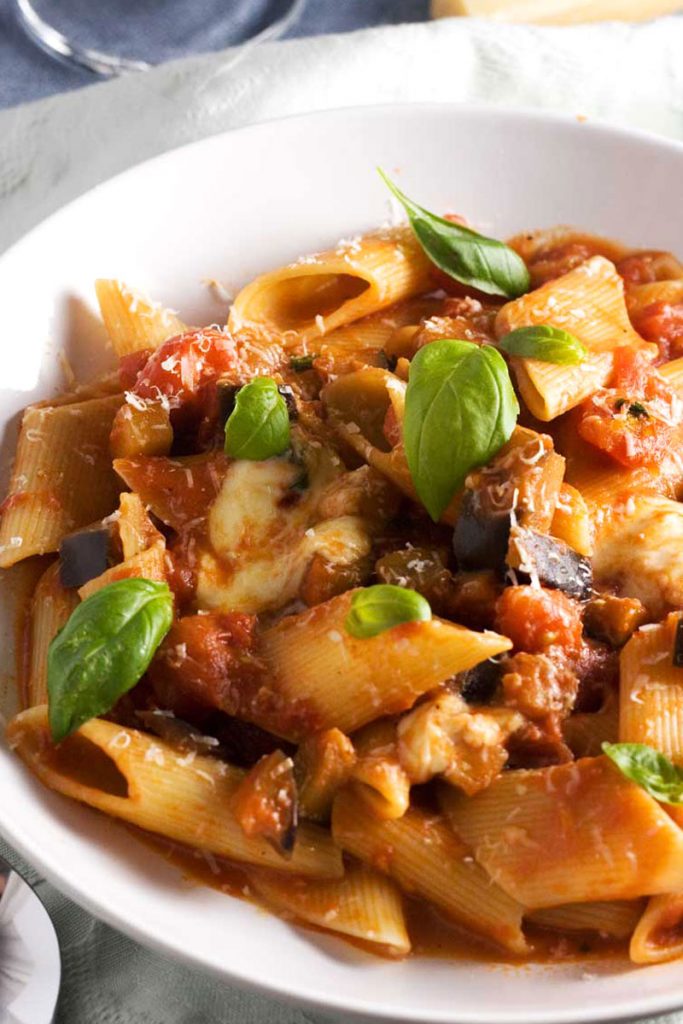 Fun fact: Pasta alla norma is named after an opera – 'Norma' – composed by Sicilian Vicenzo Bellini.
More easy pasta recipes
Or take a look at all my pasta recipes.
IF YOU MAKE THIS RECIPE, LET ME KNOW HOW YOU GET ON BY LEAVING A COMMENT AND RATING BELOW… AND DON'T FORGET TO SIGN UP TO RECEIVE ALL MY NEW RECIPES BY EMAIL!
FOLLOW ME ON FACEBOOK, INSTAGRAM, PINTEREST AND YOUTUBE.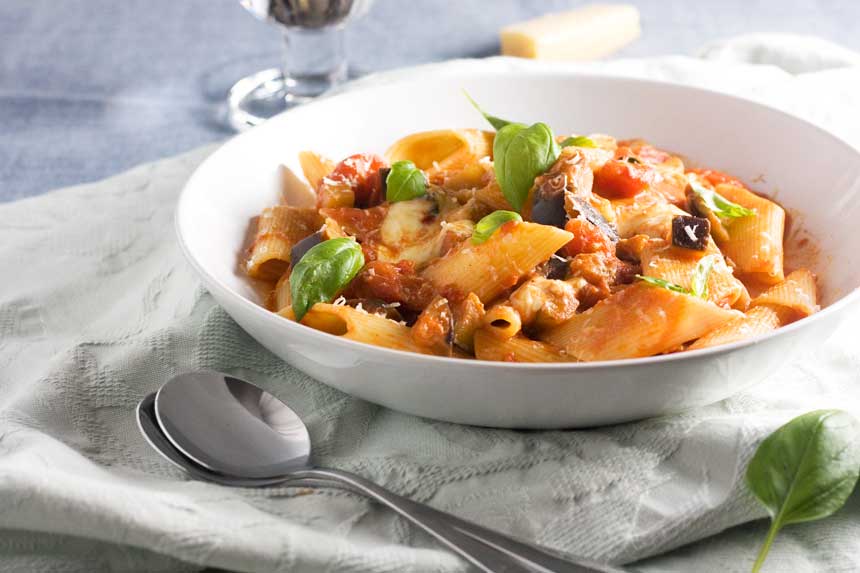 Pasta alla norma (tomato and eggplant pasta)
Pasta Alla Norma is a traditional Sicilian pasta dish made with eggplant, tomatoes, basil and cheese. It's perfect for those nights when you want a healthy home cooked dinner, but without any fuss.
Equipment (affiliate links)
Ingredients (UK/Australia? Click below for grams/ml)
4

tablespoons

olive oil

1

medium

eggplant

(aubergine) cut into small cubes (about 1cm²)

4

garlic cloves

crushed or sliced

1/4

teaspoon

crushed chilis

(or 1/2 teaspoon if you like)

28

ounces

whole tomatoes

(two cans)

1

tablespoon

balsamic vinegar

1

teaspoon

sugar

(or honey)

salt and pepper

to taste

1

bunch

fresh basil

10

ounces

pasta

I used a variant of penne, but any medium-sized pasta shapes will do

1

ball of mozzarella

freshly grated parmesan cheese

to serve
Instructions
Heat up the olive oil, then stir in the eggplant, making sure it all gets coated in oil. Let cook, stirring occasionally, for about ten to fifteen minutes.

Add the garlic and chili flakes to the pan and cook, stirring, for a couple more minutes.

Add the tomatoes to the pan, then crush them and break them up with a wooden spoon. Pour in the balsamic vinegar, then add the sugar/honey. Simmer for about 15 minutes or until the eggplant is nice and soft.

At the end of the cooking time, season well and stir in most of the basil.

Meanwhile, boil the pasta according to the packet instructions (until al dente is best). Then drain, reserving some of the water.

Add the pasta to the sauce and toss until well coated. Add enough of the reserved cooking water to make the dish nice and smooth and 'silky'.

Rip the mozzarella into the pan and stir again briefly.

Serve out into bowls immediately. Top with grated parmesan and the remaining fresh basil.
Notes
How to cook the eggplant/aubergine
It's really important to check that the eggplant/aubergine is nice and soft before you tip the pasta into the sauce. Undercooked eggplant is nasty!
What if I don't like mozzarella or don't have any?
Use ricotta cheese or pecorino instead of the mozzarella if you like (if you choose pecorino, you won't need parmesan as well).
What if I don't have any whole canned tomatoes?
It isn't the end of the world if you use crushed/chopped tomatoes, but whole tomatoes add a bit more 'quality' to the dish.
Can I freeze the sauce?
Absolutely! Just cool and freeze in a sealed container or freezer bag.
Why not make a pasta bake instead?
If you like, you can make this into a pasta bake. Just tip the finished pasta and sauce into a baking dish, sprinkle with plenty of parmesan and broil (UK – put under the grill!) until the cheese is bubbling and browned (probably about 4-6 minutes).
Nutrition
Calories:
462
kcal
Carbohydrates:
70
g
Protein:
12
g
Fat:
16
g
Saturated Fat:
2
g
Cholesterol:
1
mg
Sodium:
294
mg
Potassium:
805
mg
Fiber:
8
g
Sugar:
12
g
Vitamin A:
364
IU
Vitamin C:
23
mg
Calcium:
96
mg
Iron:
3
mg