Everyone loves a good blueberry muffin, don't they? Enter these super light, moist and airy blueberry muffins made with protein-packed Greek yogurt.
Super easy to make in around 30 minutes, these delicious yogurt muffins have a perfect 'muffin top' and always seem to turn out well. And as they're relatively low sugar, you can enjoy one (or two – why not?) guilt free!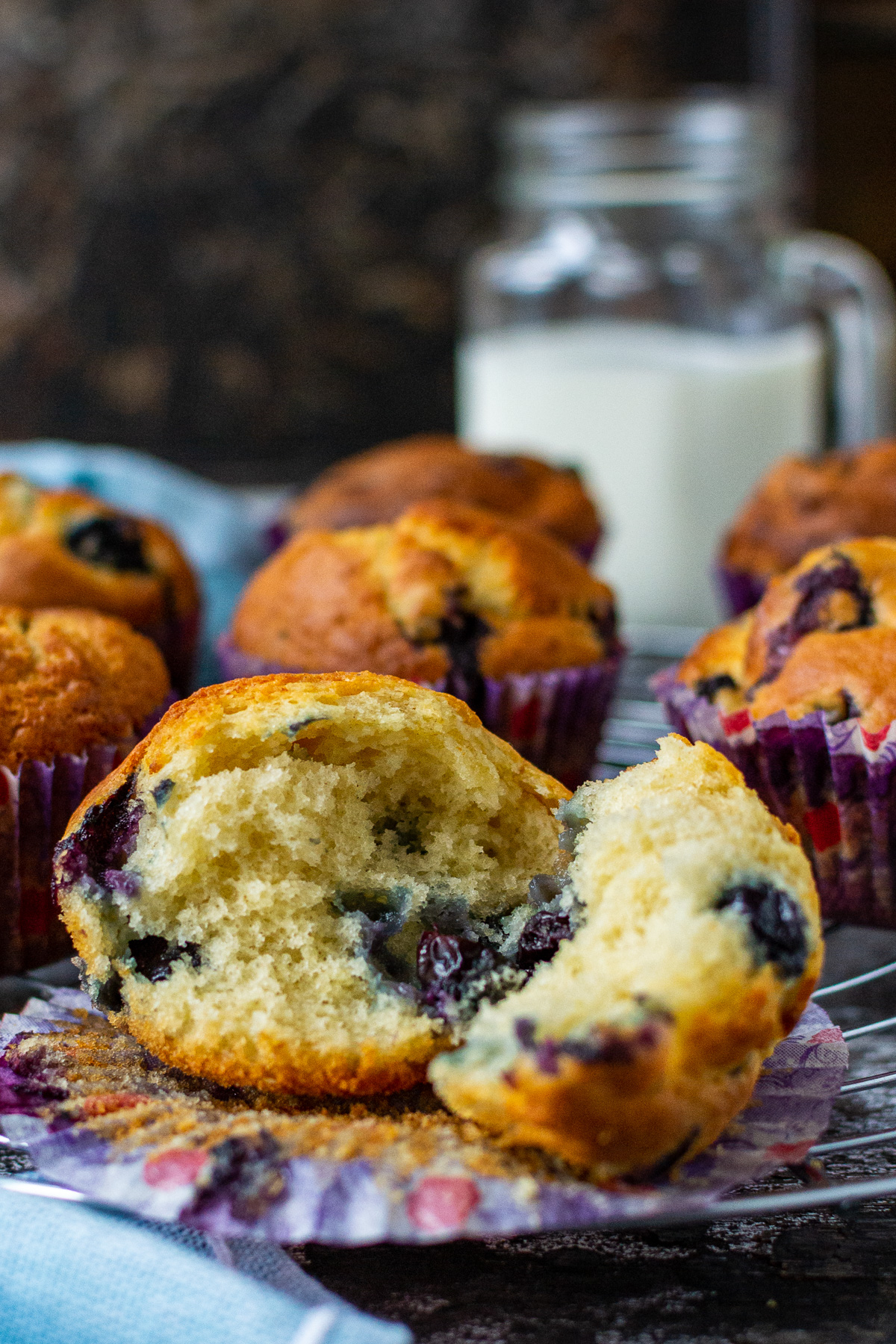 The best blueberry muffins you've ever had
I received a rare compliment indeed from Mr. Scrummy the first few times I made these Greek yogurt blueberry muffins.
He said "As you know, I'm not much of a muffin man, but I think this was the best muffin I've ever tasted. It was perfect." I take this as an extra vote of confidence that these are good – really good.
Years later, I still make these muffins regularly for morning or afternoon teas, lunch boxes, portable and healthy-ish breakfasts, and even gifts. Every time, I think to myself that this is definitely one of the very best recipes here on Scrummy Lane. I really hope you try them, and come to love them as much as we do!
Why you'll love them
✔ THEY'RE EASY. Like, I'll stick my neck out and say that these yogurt blueberry muffins are impossible to mess up. I've made them more times than I can count. I haven't always (ahem) been super accurate with the ingredients amounts, but they pretty much never fail.
✔ PERFECT TEXTURE. You'll love how light, fluffy and moist they are! They've been described as the fluffiest muffins ever, and also as having 'the perfect muffin top' – nicely risen, golden brown, and lightly crisp!
✔ THEY'RE A HEALTHY BLUEBERRY MUFFIN RECIPE. Or at least healthiER. Low sugar, high protein, packed with nutritious blueberries, and fairly low calorie. Each of these muffins only contain about 270 calories.
[I'm not sure if that makes these 'skinny' muffins, but then again Starbucks' skinny blueberry muffins contain 317 calories, so I'll leave you to decide ;-)]
✔ SO QUICK TO MAKE. You can cook up a batch within about 30 minutes. No fancy beating or creaming of ingredients. Just mix the wet ingredients into the dry, pop into muffin cases, and bake.
✔ ENDLESSLY ADAPTABLE. Really. Take a look at the hundreds of comments below the recipe. It constantly astounds me how many successful adaptations and substitutions readers have tried. Apparently, they even turn out well at high altitude!
5* Reviews
"I have been baking for well over 65 years and these are the best blueberry muffins I have ever made. I love them!" (Marybeth)
"Unbelievably amazing! I've finally found the perfect blueberry muffin recipe, so light and fluffy. They're perfect for both breakfast or dessert!" (Ella)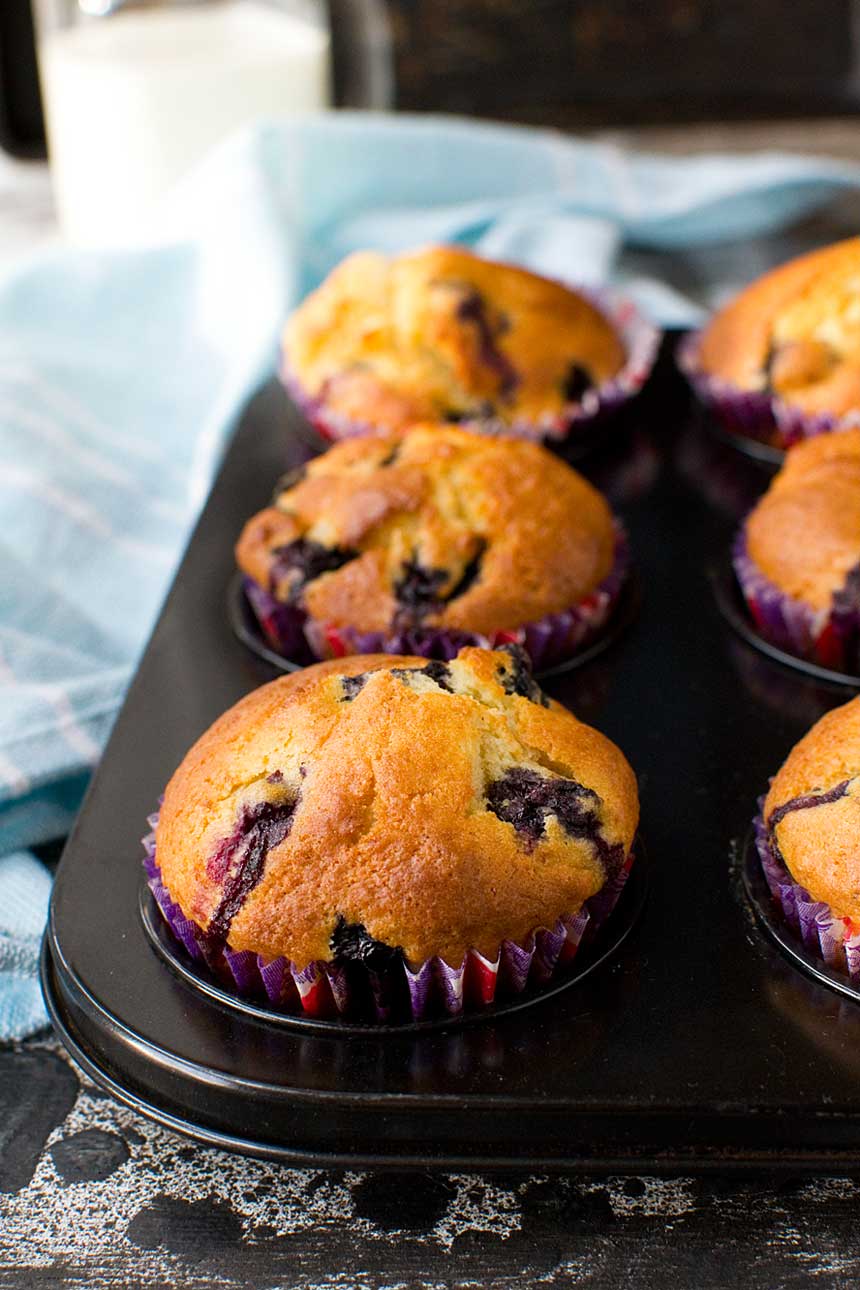 About the ingredients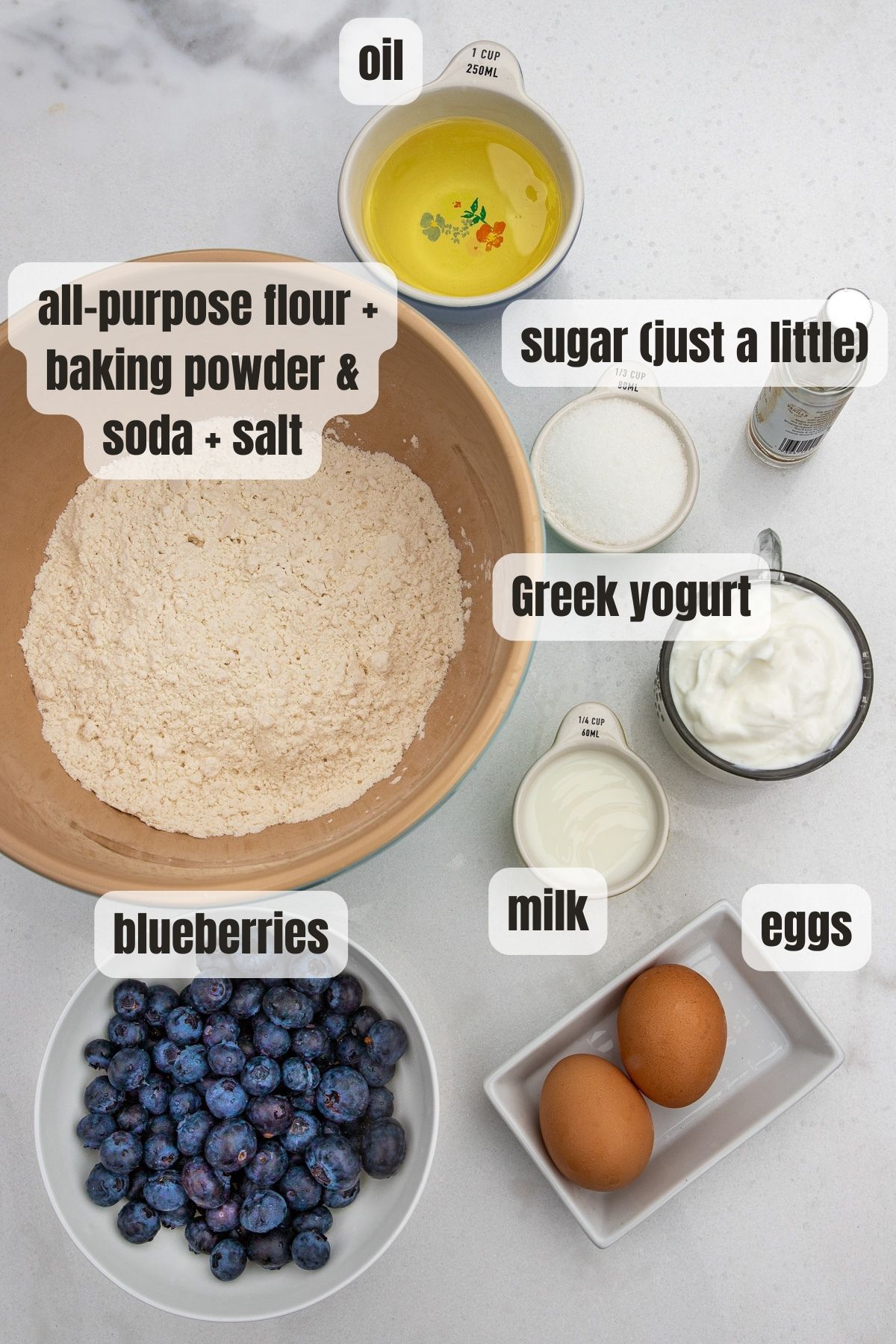 As you can see, you only need 7 main ingredients (plus raising agents and salt) to make these failsafe Greek yogurt muffins.
Here's what you need to know.
All-purpose flour (plain flour): Sometimes I replace some of the flour with whole wheat flour (wholemeal). Readers have reported successfully using all white whole wheat flour, cake flour, and gluten free flour. I've also successfully substituted in a little spelt or coconut flour.
Sadly these muffins do not appear to work with all almond flour, but you can try substituting a little.
You may need to add a little more milk to compensate for different types of flour.
Baking powder: Yep, there's a whole tablespoon of baking powder in these muffins – around a teaspoon per cup of flour. It might seem like a lot, but the muffins turn out with a great 'muffin top'. And don't worry, there is no horrible aftertaste.
Baking soda: Just a little, apparently to balance out the acid in the yogurt and make sure you get a good rise and colour on your muffins.
Sugar: For me, just half a cup of plain white sugar provides the perfect amount of sweetness. If you have a sweeter tooth, you might like to sprinkle a little extra over the top of the muffins before baking. You can also use even less sugar if you like.
The recipe doesn't seem to depend on the sugar for the texture of the cake. Many readers have successfully replaced all or some of the sugar with alternative sweeteners such as Stevia.
Salt: After feedback from readers over the years, I now include half a teaspoon of salt to round out the other flavors.
Eggs: 2 large, lightly whisked. I haven't tried it myself, but several readers have successfully used egg replacements to make the muffins vegan.
Oil: I use either canola oil (or another vegetable oil), light olive oil, or a mixture of the two. Another oil such as melted coconut oil would work, as would melted butter.
Several readers have tried substituting around half of the oil with more yogurt. They've been happy with the results!
Greek yogurt: I always use an authentic style Greek yogurt made with just yogurt cultures and milk. However, readers have reported using ALL KINDS of Greek and Greek style yogurts in this recipe, even flavored versions. It seems they all work!
Since the yogurt is the key ingredient in these muffins, I wouldn't try to completely miss it out.
Milk: I usually add between a quarter and a half cup of milk. The amount I add seems to depend on the particular brand of yogurt that I use i.e. how thick it is. Add even more if you think the batter needs it. It should be quite thick and fluffy, but not dry.
Blueberries: Around a cup and a half of fresh blueberries makes sure there are blueberries in every bite! Feel free to use frozen blueberries. Frozen sometimes create a few blue streaks in the muffin batter. I don't find this to be a problem if I fold the fruit in carefully with just a few brief folds with a wooden spoon.
How to make them
The step-by-step guide below should help you make the recipe perfectly first time. Scroll down to the end for the full recipe including ingredient amounts.
it couldn't be easier to make a batch of these healthy blueberry muffins with yogurt. Here's what you do.
Step 1: Line a 12-hole muffin tin with paper liners (or silicon if preferred). I usually lightly spray them with oil to help prevent sticking. I also start preheating the oven at this point.
Step 2: Mix together all the dry ingredients (including the sugar) in a large mixing bowl.
Step 3: Mix together all the wet ingredients in a medium mixing bowl or jug.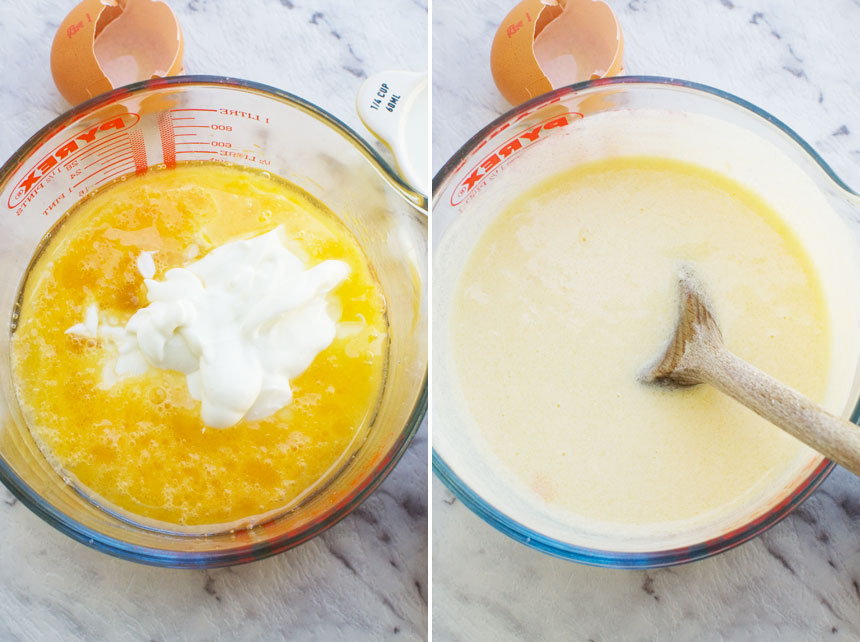 Step 4: Pour the wet ingredients into the dry. Stir with a wooden spoon or spatula until 'just' combined.
Step 5: If the mixture is at all dry, add a little more milk until it isn't any more.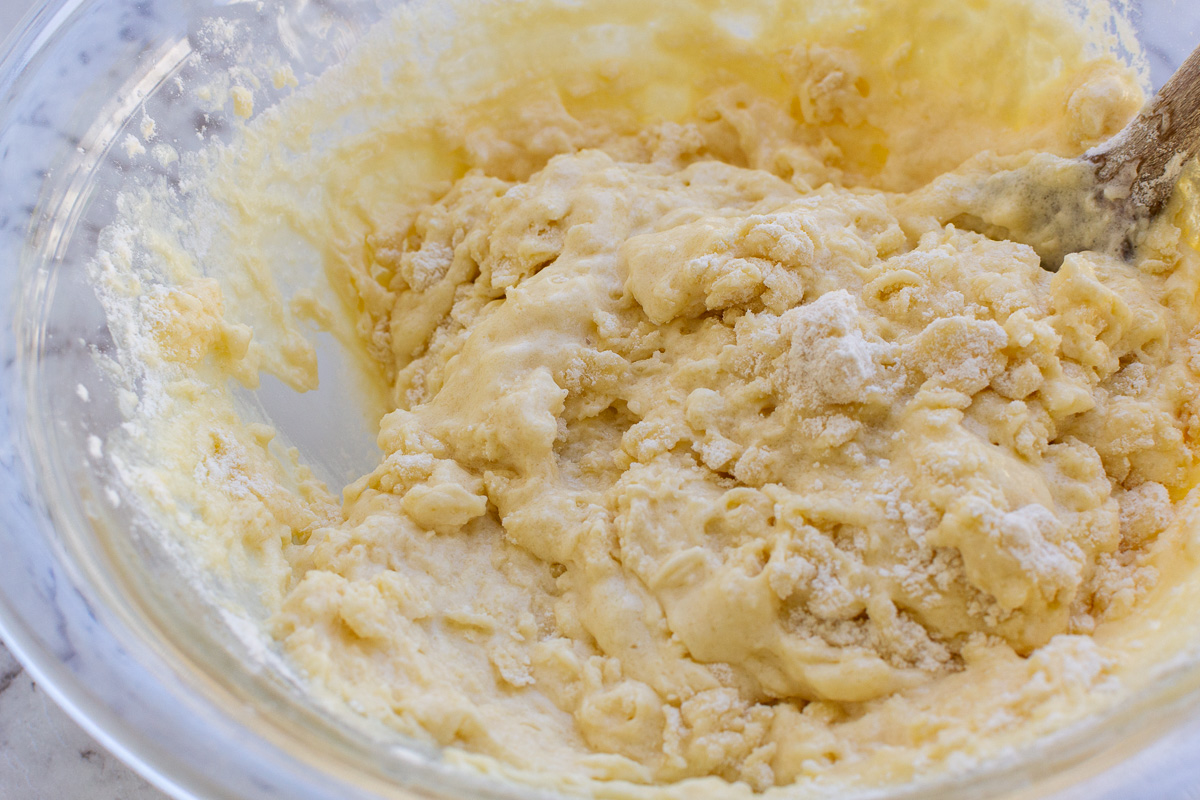 Step 6: Fold the blueberries through the mixture gently. Then divide batter between the muffin liners (you can fill to the top).
Step 7: Bake for anything from 17 to around 25 minutes. This will depend on the size of the muffins, really. As soon as a skewer or sharp knife poked into the center of a muffin comes out clean, they're ready!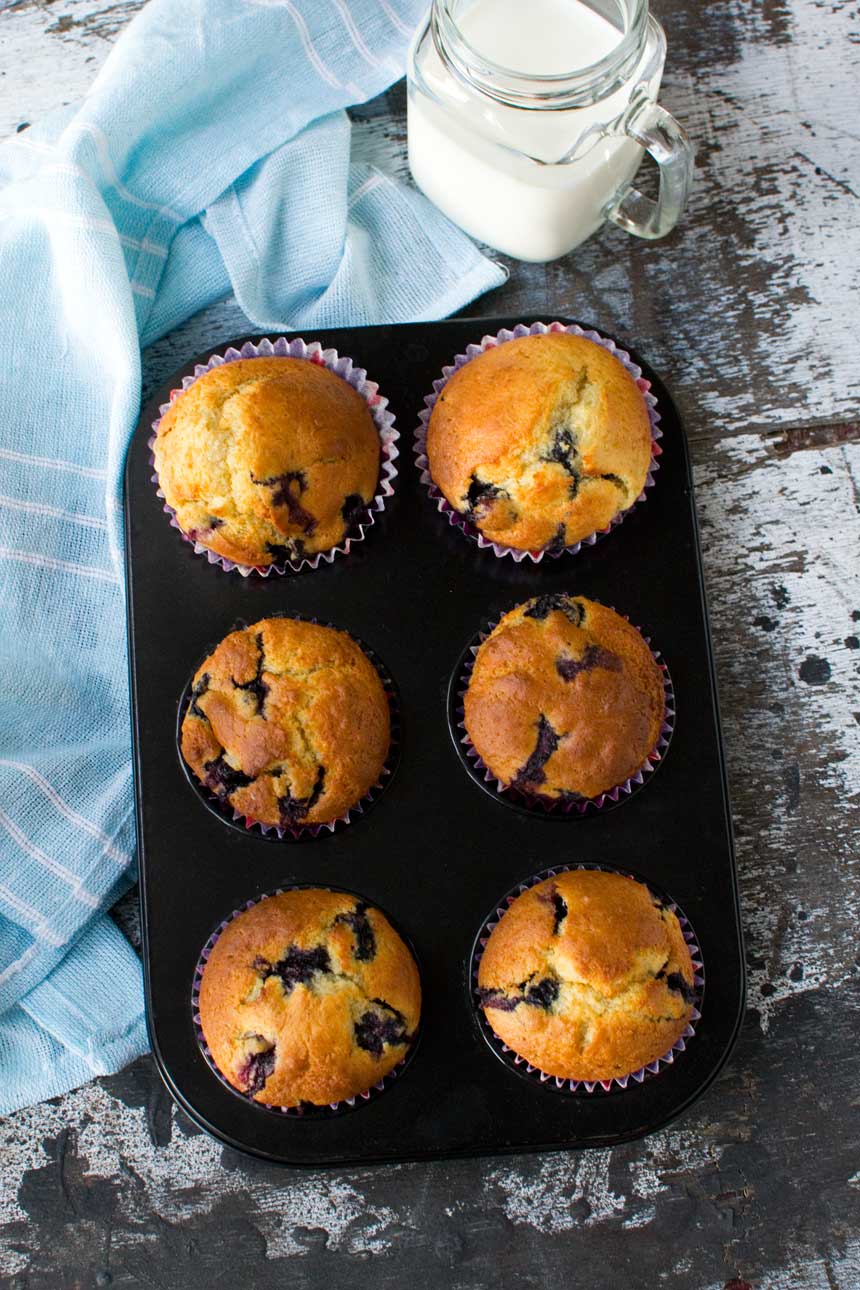 Helen's top tips
Don't forget the 'basic' rule of homemade muffin making i.e. keep the dry and wet ingredients separate until the last minute, then mix until barely combined. A few lumps are fine.
Don't be afraid to add a little more milk than the recipe calls for. The batter should be thick but not dry.
Experiment! Feel free to tweak the recipe to make these blueberry yogurt muffins your very own (see ideas for variations below!).
Variations
These Greek yogurt muffins are the most (successfully) tweaked and altered recipe on the site! It's a fantastic recipe to experiment with and make your own.
Here are my favorite ideas (thanks to reader feedback over many years).
Replace some or all of the blueberries with different fresh or frozen fruit. Make alternative healthy berry muffins with raspberries or blackberries, or how about grated apple, chopped pear, chopped banana or peaches? I've tried nearly all of these. All turned out great, and I'm pretty sure other fruits would work too.
These Greek yogurt blueberry muffins have proven so popular that I decided to create a chocolate chip version. Take a look at my recipe for Greek yogurt choc chip muffins

(also fairly low sugar) as well. Enjoy!
Add chopped nuts or dried fruit.
Add a teaspoon of vanilla extract or almond essence, or some lemon zest.
In the mood for a slightly sweeter treat? Sprinkle a little brown sugar and cinnamon on top before baking.
Make a Greek yogurt blueberry bread instead! It's just as phenomenally delicious as the muffins. Simply reduce the oven temperature by 50F/10C and bake for about an hour until a skewer poked into the center comes out clean.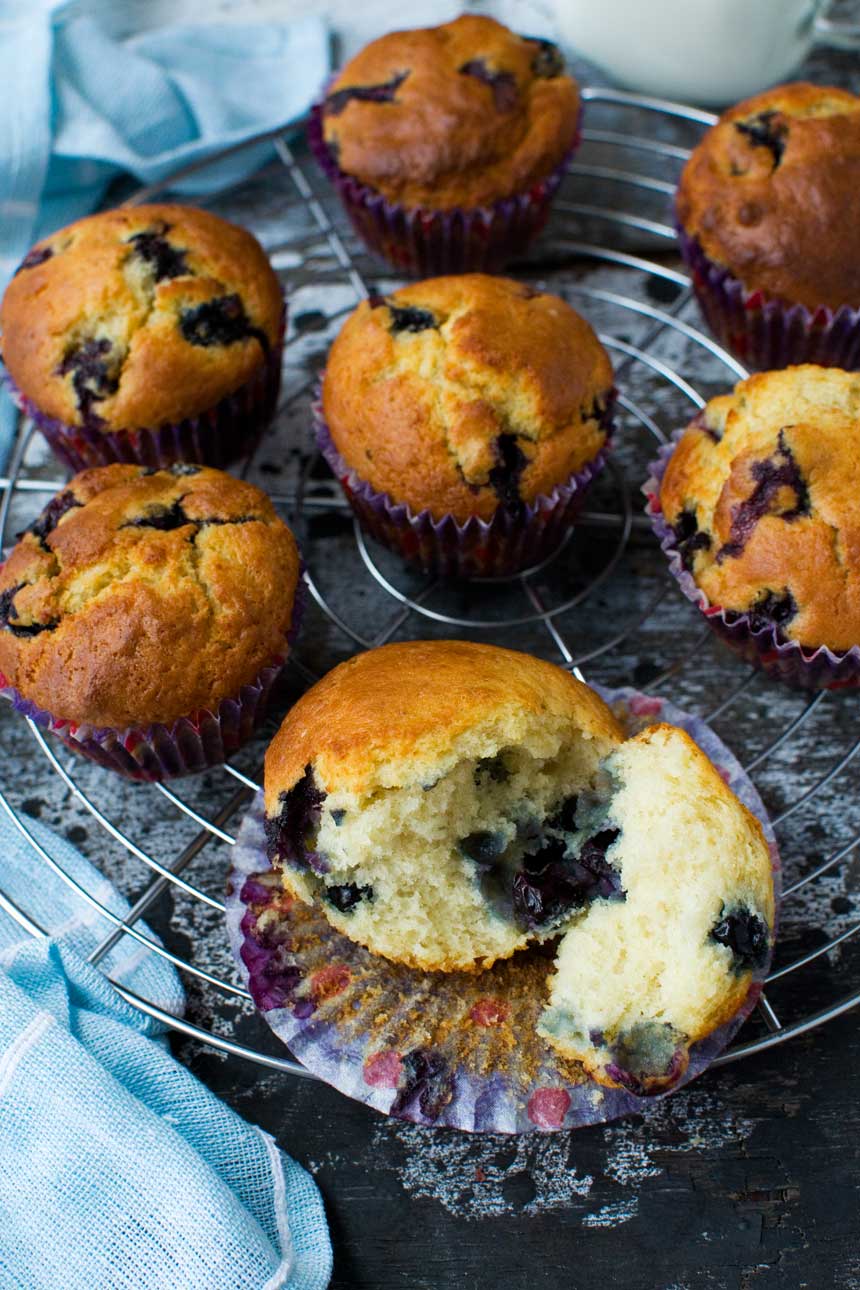 Recipe FAQ
How long do these blueberry muffins last?
4 days after baking, these muffins are still light, moist and delicious if they've been stored in an airtight container in a cool spot. In the summer, it's best to keep them in the fridge. They'll keep well for up to 5 days.

When they truly are on their last legs, just pop them in the microwave for about 15 seconds before eating. Spoon over a little extra Greek yogurt (why not?) and enjoy!
Can you freeze them?
Yes, these yogurt muffins freeze really well. Just make sure you cool them completely, then store in freezer bags for up to 3 months. Perfect for a grab-and-go healthy breakfast, or for school lunches or afternoon snacks.
Can these muffins be adapted to suit special dietary requirements? (gluten free, dairy free, sugar free etc.)
A thousand times YES! I've never received so much positive feedback on a recipe after people have made different substitutions! You can make these with dairy free Greek yogurt (try coconut) and dairy free milk, with gluten free flour, with a sugar substitute such as stevia, and even with an egg substitute to make them vegan.

As already mentioned, you can even replace some of the oil with more yogurt, and reduce the sugar more if you like. If I haven't mentioned the particular substitution that you want to try, I highly recommend browsing through the reader comments below. There's a good chance your substitution has already been tried!
Can I make mini muffins instead?
You can! Simply bake for 10 to 13 minutes, checking after 10 and then every minute after that if not ready.
Also check out this list of 25 low sugar cakes (that still taste great!).
IF YOU MAKE THIS RECIPE, LET ME KNOW HOW YOU GET ON BY LEAVING A COMMENT AND RATING BELOW… AND DON'T FORGET TO SIGN UP TO RECEIVE ALL MY NEW RECIPES BY EMAIL!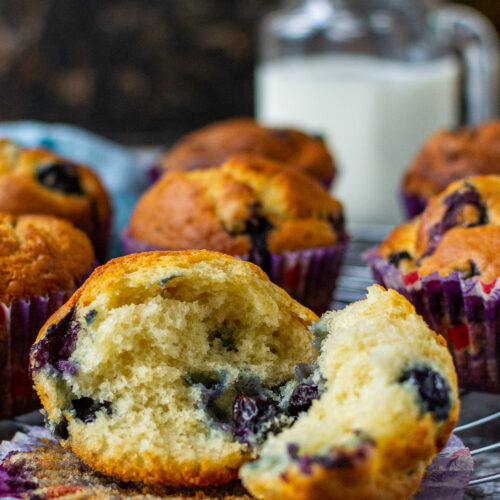 Greek Yogurt Blueberry Muffins (Low Sugar Recipe)
These Greek yogurt blueberry muffins are the lightest, fluffiest and most versatile blueberry muffins ever! They're pretty low in calories, and they couldn't be easier to make – just throw the wet ingredients into the dry, stir, and bake!
Ingredients (UK/Australia? Click below for grams/ml)
2½

cups

all-purpose flour

(= plain flour) Cake flour also works. You can substitute some or all for white whole wheat flour if you like.

1

tablespoon

baking powder

½

teaspoon

baking soda

(= bicarbonate of soda)

½

cup

sugar

(heaped)

½

teaspoon

salt

2

large

eggs

lightly beaten

⅔

cups

oil

(I use either canola or light olive oil, but any oil is fine.)

1

cup

Greek yogurt

I prefer authentic Greek yogurt, but any Greek yogurt works. You may have to adjust the amount of milk.

¼

cup

milk

(Actually, ¼ to ½ cup. The mixture should be quite thick, but if it's dry add a little more milk.)

1½

cups

blueberries

extra sugar

for sprinkling (optional)
Instructions
Preheat the oven to 190C/375F.

Combine the flour, baking powder, baking soda, sugar and salt in a large bowl.

2½ cups all-purpose flour,

1 tablespoon baking powder,

½ teaspoon baking soda,

½ cup sugar,

½ teaspoon salt

Combine the eggs, oil, yogurt, and milk in another bowl or jug.

2 large eggs,

⅔ cups oil,

1 cup Greek yogurt,

¼ cup milk

Add the wet ingredients to the dry. Stir until just combined. Fold in the blueberries. Add a tiny bit more milk if the mixture still seems too thick (the consistency of the batter can vary depending on which brand of yoghurt you use). The batter will be fairly thick, but not dry.

Spoon the batter into muffin cases placed in muffin pans (you can fill almost to the top). Sprinkle a little extra sugar (white or brown) over the top of the muffins, if you like, then bake for 17 to 20 minutes or until risen and golden and a skewer pushed into the centre comes out clean.

Cool on a wire rack, then store in an air tight container.
Notes
Sugar content
These are NOT like the super sweet blueberry muffins you usually find in cafes and bakeries. If you have a sweeter tooth and think you'd prefer them a bit sweeter, simply sprinkle a bit of extra sugar over the top of your muffins before baking. Brown sugar works well!
Batch size
Although I've said this recipe makes 12 to 14 muffins, it really depends on the size of your muffin cases! I've made just 10 in big muffin cases, and a lot more in smaller ones.
If you prefer to make mini muffins, bake for 10 to 13 minutes, checking after 10 minutes and every minute after that.
Getting your batter just right
I find that sometimes my batter is a bit thicker than other times, depending on which brand of yoghurt I use. If the mixture still seems dry or super thick (you want it to be quite thick, but not at all dry) just add a little more milk.
Don't worry too much. These muffins are hard to mess up!
Bake time
Although I usually bake my muffins for 17 to 20 minutes, sometimes they take longer to bake if they're bigger.
Really big muffins could take 5 to 10 minutes longer to bake. Just keep checking with a skewer every couple of minutes if you don't think they're done after 20 minutes.
A final note on substitutions/variations!
This is now one of my oldest and most successful recipes!
I still make these fluffy blueberry muffins regularly – at least once a month. So we can safely say this is a tried and tested recipe. I hope you like it as much as we do.
Feel free to make substitutions e.g. whole wheat flour, dairy free yogurt, sugar substitutes. Of course I haven't tried them all. I recommend taking a read of the comments below to see the different ways readers have adapted them.
How to make Greek yogurt blueberry bread instead
I sometimes make a blueberry loaf out of this recipe instead of muffins, and it's just as moist, fluffy and delicious! Simply pour into a lined and oil sprayed loaf pan and bake for about an hour until a skewer comes out clean. Reduce the oven temperature by about 50F/10C and keep an eye on the top. If it's browning too quickly, just tuck a piece of aluminium foil over the top.
Not in the mood for blueberries?
Replace the blueberries with another berry or grated or chopped fruit. Alternatively, try these Greek yogurt chocolate chip muffins or these Greek yogurt banana muffins instead.
Nutrition
Calories:
272
kcal
Carbohydrates:
32
g
Protein:
5
g
Fat:
13
g
Saturated Fat:
1
g
Cholesterol:
28
mg
Sodium:
65
mg
Potassium:
183
mg
Fiber:
1
g
Sugar:
11
g
Vitamin A:
60
IU
Vitamin C:
1.8
mg
Calcium:
77
mg
Iron:
1.5
mg