Wherever you go in Greece, a warm slice of freshly made spinach and feta pie (spanakopita!) is never far away. I miss it a lot, but luckily this show-stopping version is super easy to make at home with just store-bought filo pastry and a few more fresh, simple ingredients.
A spinach feta filo pie is perfect for every occasion from lunch with friends or an easy midweek meal to a party, picnic or snack. Everyone will love the golden, crispy layers of pastry and the healthy and delicious spinach and feta filling inside!
It's slightly embarrassing how many spinach and feta recipes there are on this blog, but I'm not going to apologise for adding one more!
Go to any Greek bakery, or Greek party, and you'd be shocked if there wasn't some kind of feta and spinach pie on offer.
In fact, there really aren't many occasions when a big fresh piece of spinach and feta pie (called spanakopita in Greece) doesn't do the job. It's wonderful for breakfast, brunch, lunch, dinner for guests, or even an after clubbing snack (I'm too old for all that now, but the Greeks do love their all-nighters followed by some typical Greek comfort food!).
Why you'll love it
Spinach and feta cheese is a match made in heaven. Well, in Greece at least, which many would say is the next best thing to heaven! Add fresh herbs, sundried tomatoes, spring onions (scallions) and the lightest, crispiest filo crust and you have one extraordinarily delicious savory pie.
Spinach feta pie of any kind tastes amazing, and you'd think it was difficult to make, but really it couldn't be easier. It's especially easy if you make it this way – with ready-made paper-thin sheets of filo pastry.
You don't have to make the pastry or roll it, pre-bake it, or even fit it neatly into a pie dish. You don't have to pre-cook anything for the delicious but very simple spinach and feta cheese filling, either. Not even the spinach! You simply empty it into a springform pan lined with several layers of the paper-thin pastry and scrunch it around and on top of the filling.
Bake until the top is irresistibly golden and crispy. It looks delicious, impressive, and perhaps a little complicated. But you'll be shocked how easy this simple version of a classic Greek dish is to make!
Make this next time you have guests over for lunch and you won't hear any complaints!
5 star review *****
"Hi Helen – I've made your Spanakopita recipe probably half a dozen times now, so I feel that I can say: it is delicious, it is a cinch to make, and thank you for sharing it! My Dad especially adores it, so thank you for giving me a way to show him some love 🙂 xx" (Maya)
Ingredients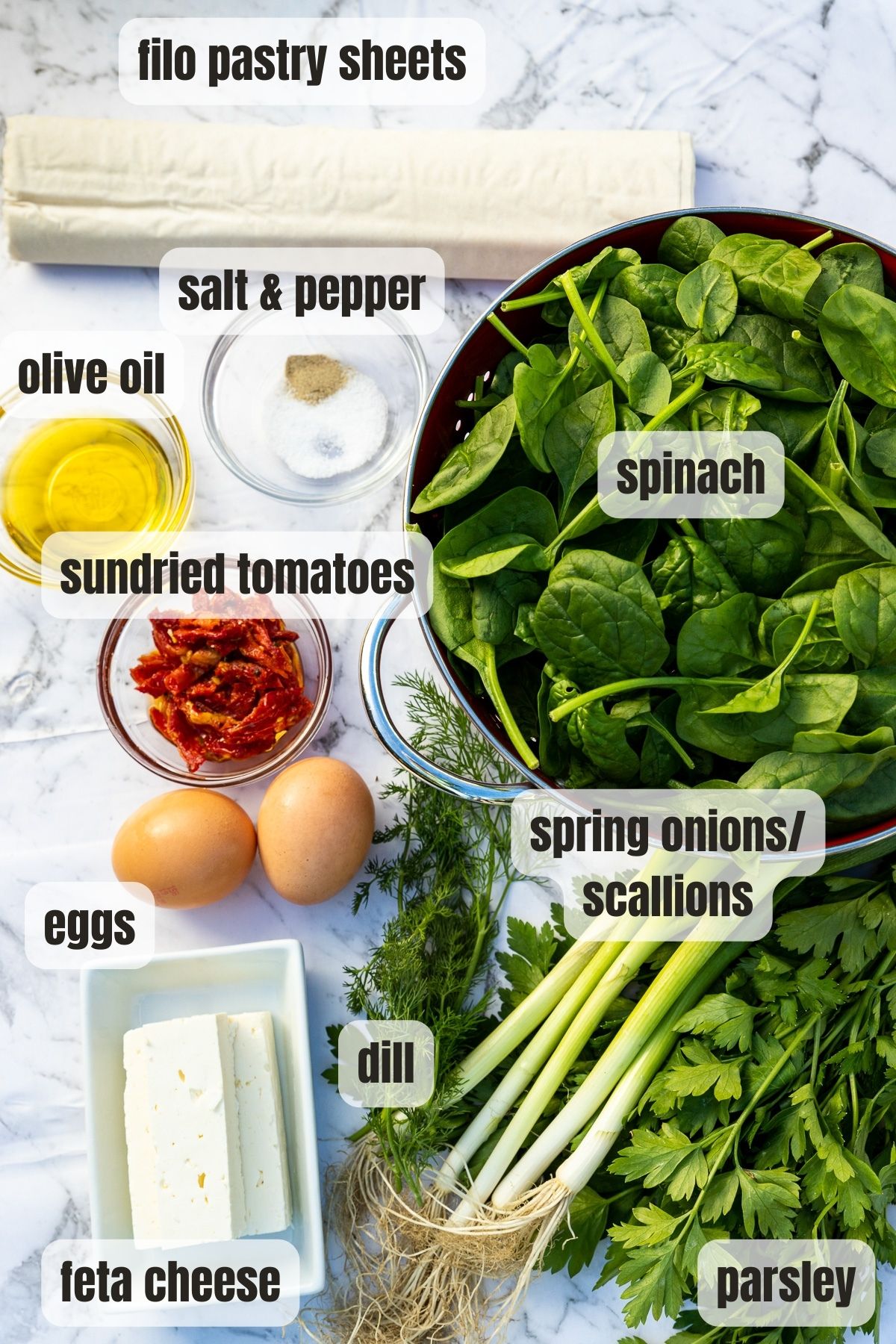 It's amazing how few ingredients you need for making this easy spanakopita with filo pastry. Here's what you need to know:
Filo pastry: Sometimes called 'phyllo dough'. I usually grab a box of fresh filo pastry but frozen is fine, too. Just make sure you let it defrost in its box in the fridge overnight or at room temperature for at least 2 hours.
Olive oil: You'll need a small bowl of olive oil (around 3 tablespoons) to brush all over the pastry layers and on the top of the pie before baking. I always prefer good quality extra virgin olive oil, but use what you have.
Spinach: I prefer to use fresh baby spinach that doesn't need much chopping. You only need around 5 cups or 200 grams/7 ounces, unlike some other recipes for spinach filo pie which use ridiculous amounts of the stuff!
For sure it's also possible to use a package of frozen spinach instead. You'll need around half a 10-ounce frozen package to get the equivalent amount.
Feta cheese: I prefer using an authentic Greek style feta. However, you can use any type. I occasionally use Danish style feta instead, which is creamier in texture. Crumble before adding to the filling.
Fresh parsley: A whole bunch to chop up and mix in with the spinach feta mixture.
Eggs: You'll add 2 large eggs to the filling to bind everything together.
Sundried tomatoes, fresh dill, spring onions/scallions: These are all optional ingredients. Just in case you don't have or can't find any of them. I do recommend adding all of these if you can, though, especially the dill and spring onions.
Just in case… here is a list of the 20 best dill substitutes for this recipe and more.
How to make it
The first thing I always do when making this very easy feta and spinach filo pie is to make the filling.
Step 1: Wilt the spinach by pouring boiling water over it in a metal colander. Rinse with cold water, then squeeze out as much of the water as you can. I use the back of a metal spoon, pressing it down into the colander. Then to finish simply squeeze it with your hands!
Step 2: Roughly chop the wilted, squeezed spinach and throw it into a large bowl. Then mix in the rest of the filling ingredients. Finally, stir through the 2 lightly whisked eggs.
Then set the filling aside because it's done! I told you this filo pie was easy!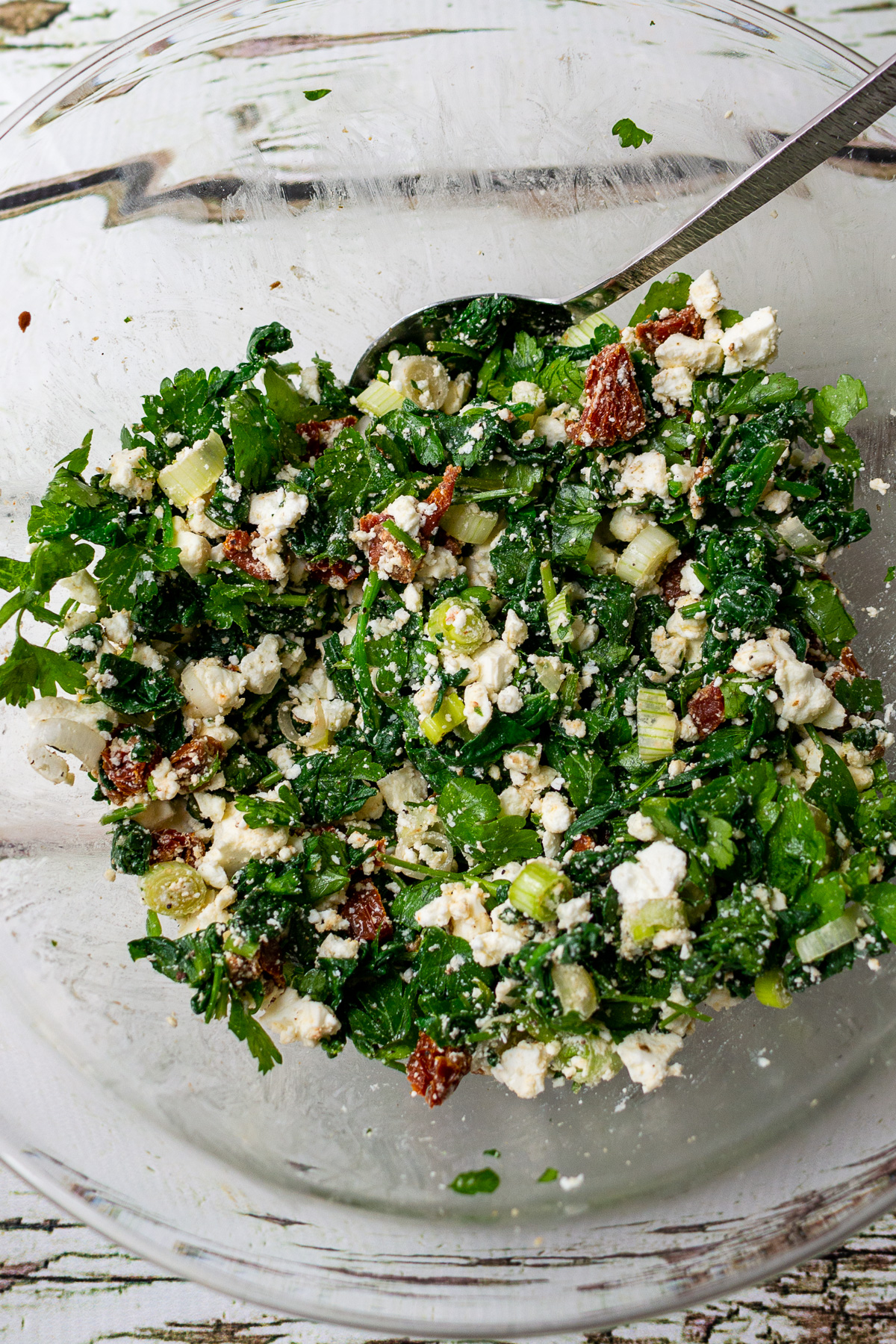 Step 3: Now you need to layer 4 or 5 of the thin filo sheets into a loose-bottomed (spring-form) round baking tin. Each sheet should overlap onto the next and with the sides hanging over the edge.
You should brush olive oil over the empty spingform pan and then between each layer of pastry.
Like this: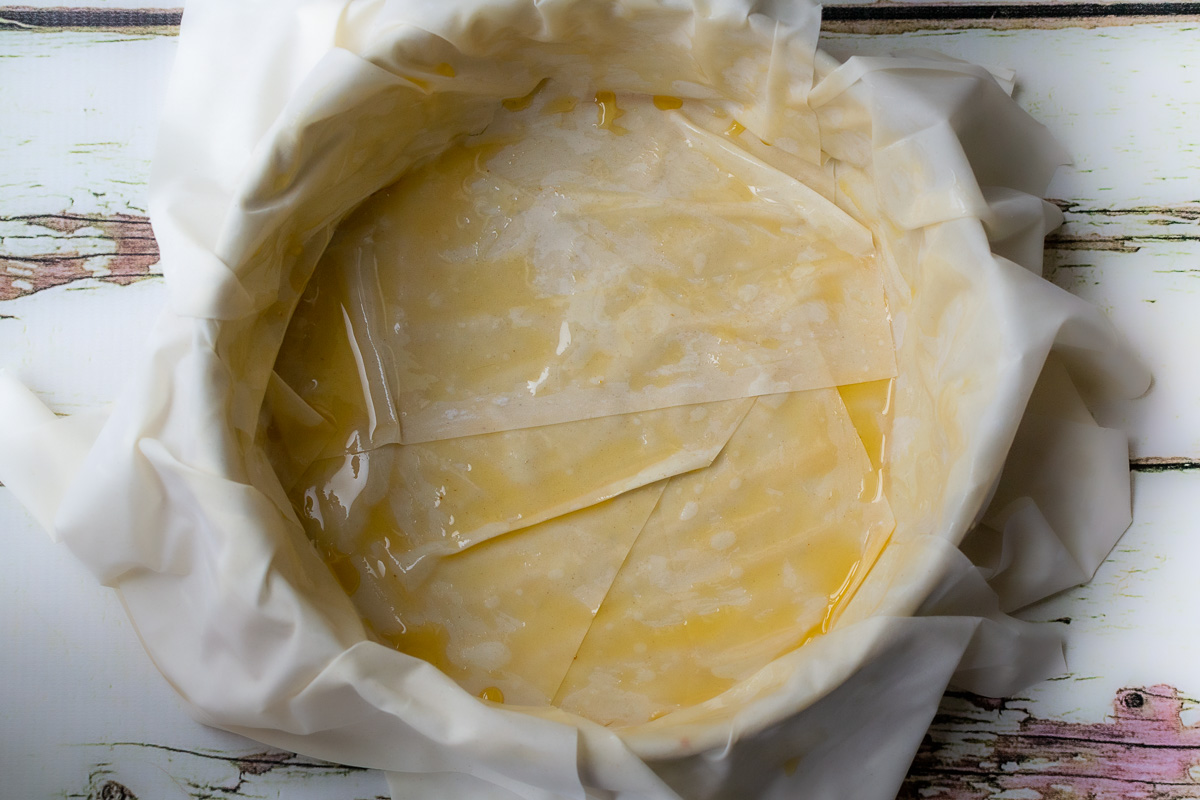 Step 4: Then pile in the filling.
Step 5: Fold and scrunch the over-hanging pastry over the top of the pie.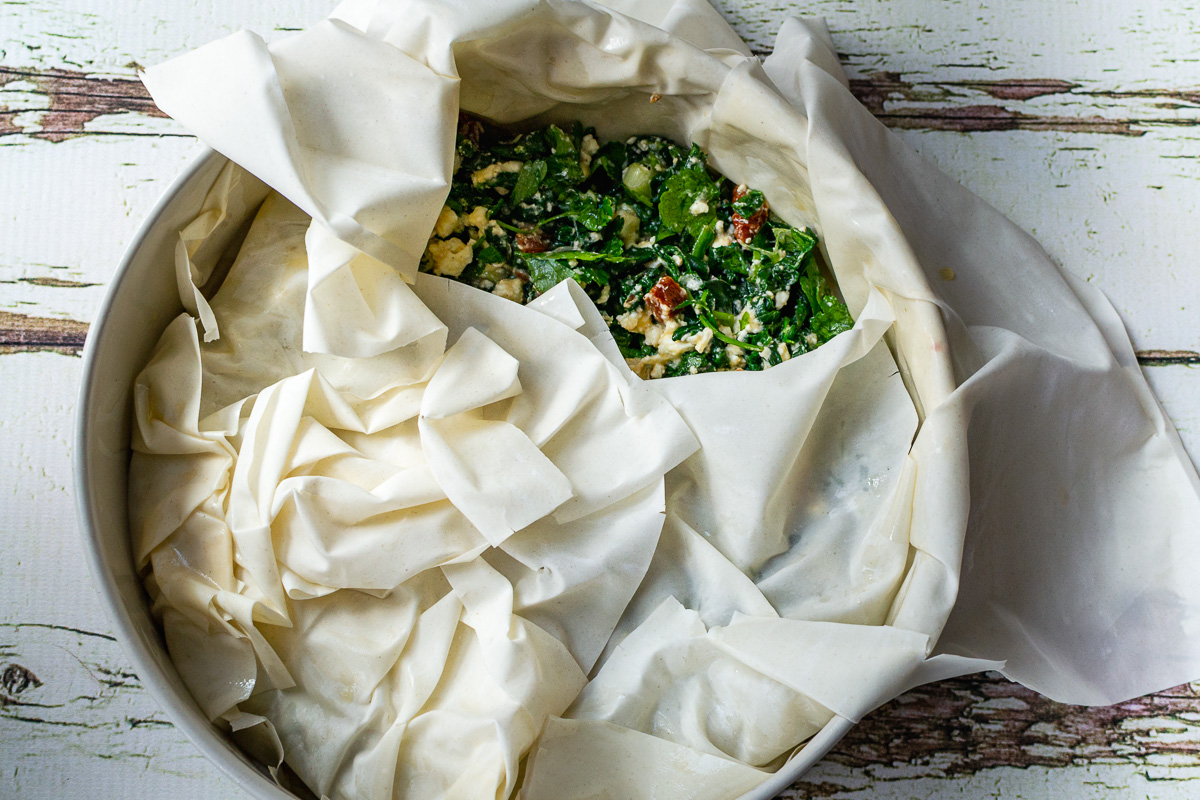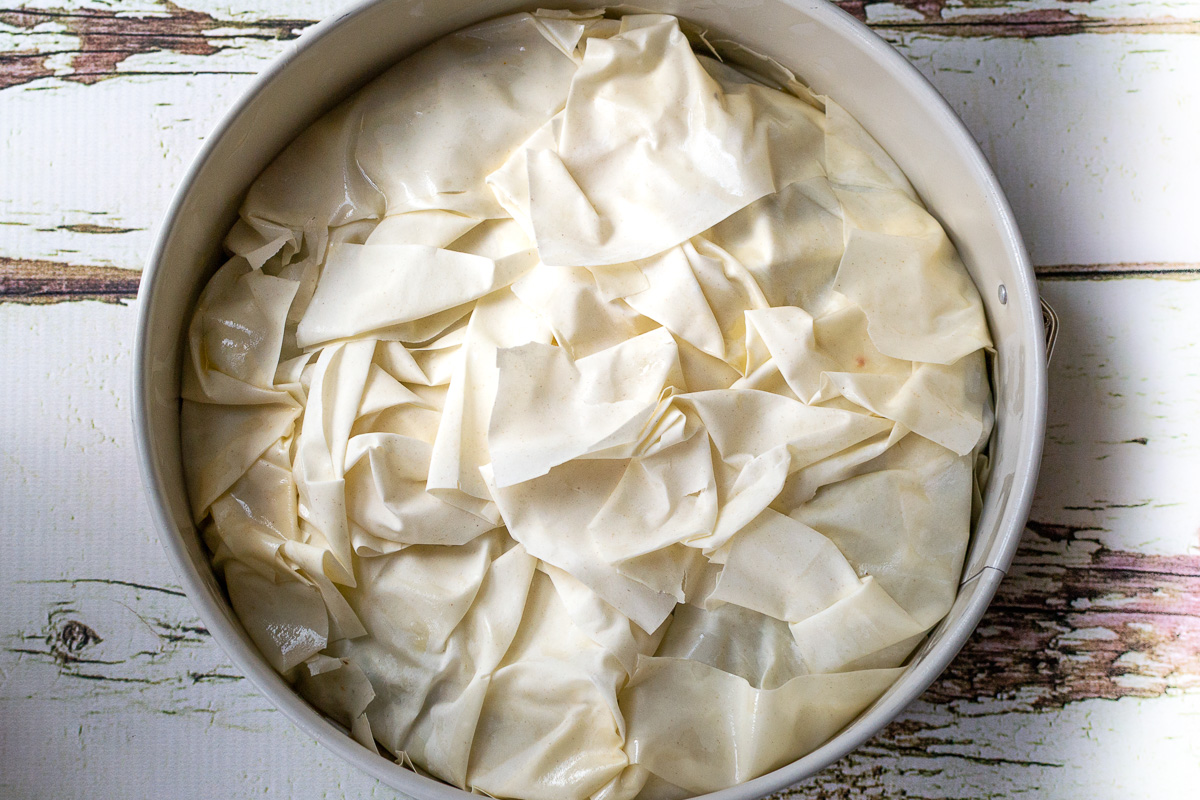 Step 6: Brush with more olive oil. Then bake for around 30 minutes until very browned and crisp on top.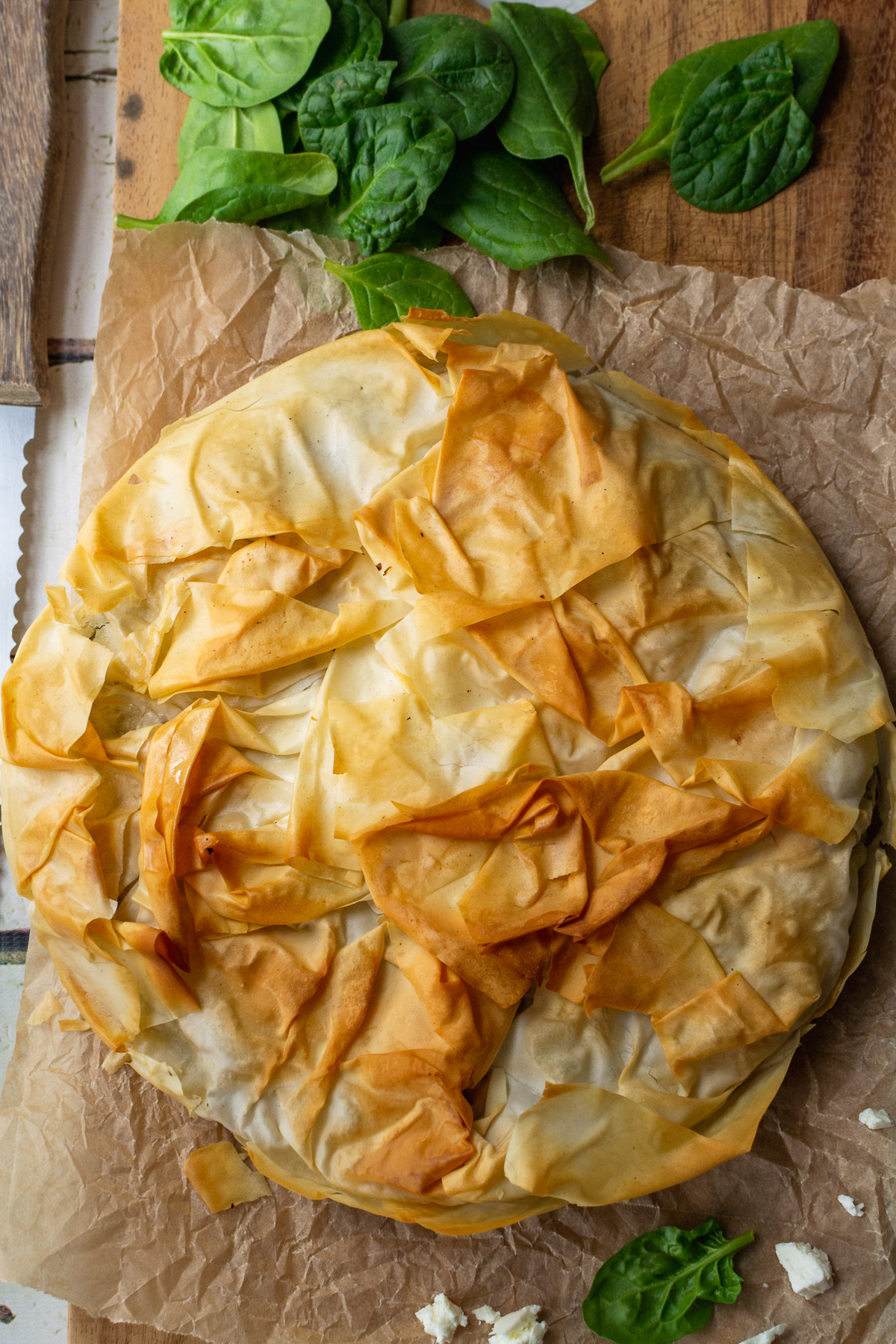 Then simply slice and enjoy!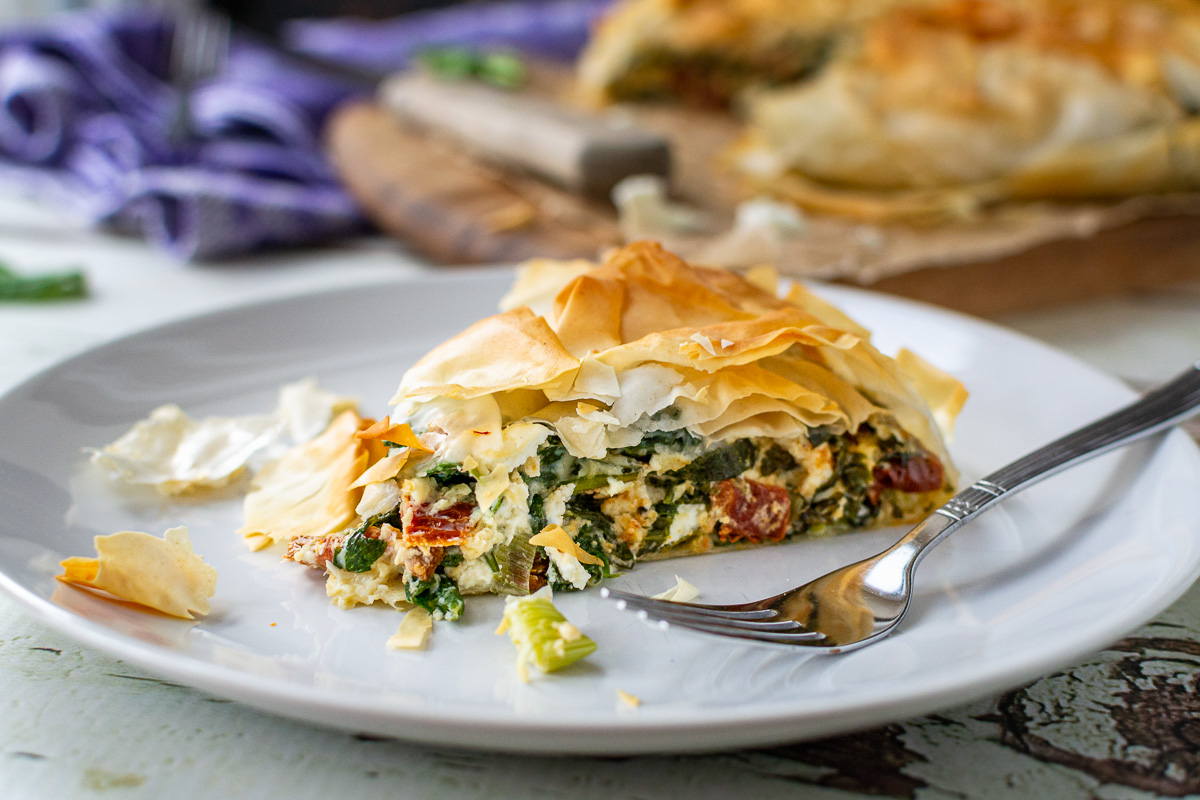 Helen's top tips
As filo pastry sheets can come in different sizes, go for the largest if there's a choice. If not no worries! You'll be overlapping the sheets and scrunching them up to cover the top of the pie in a very rustic fashion!
While you're layering up the pastry sheets, drape a damp tea towel over the rest of them because they can dry out easily.
My top tip when it comes to the spinach is to pile it into a big metal colander and pour boiling water all over it to wilt it (I usually just boil a kettle). Then squeeze the water out of it. No pre-cooking necessary! Spend a few extra minutes doing this thoroughly – it's worth it.
Try adding jarred roasted peppers instead of sundried tomatoes, finely chopped onion instead of scallions, and different fresh herbs if you can't find dill.
How to serve
FUN FACT: Traditionally, spanakopita is served as part of a big holiday dinner alongside Greek lamb or Greek lemon chicken. But equally you can grab it from a bakery for breakfast or a snack on the run, and it's also served at parties of every description!
This filo spinach & feta pie makes an absolutely delicious impressive but easy lunch for guests (or just for yourselves!).
Serve it with a simple salad (maybe a perfect Greek salad?) and maybe a dip such as Greek tzatziki (cucumber and yogurt dip) or hummus on the side.
It's also fantastic made for a picnic or party.
If you'd like to make it part of a larger Greek feast, You will NEVER go wrong with this famous Greek potato recipe. Prefer rice? This Greek lemon rice is so simple made on the stove-top or in your pressure cooker (Instant Pot).
Keep your meal vegetarian (try serving some of these very delicious giant Greek beans on the side), or add some delicious and easy Greek baked chicken.
For more incredibly delicious Greek recipe ideas, browse my popular Greek category.
Recipe FAQ
Can I make it ahead?
Yes, you can make a spinach and feta filo pastry pie up to a couple of hours in advance. It doesn't need to be served piping hot. Don't make it much far ahead than this, though, because the pastry does lose its crisp pretty quickly.

If you have leftovers, you can easily crisp the pastry up again in the oven (about 15 minutes at 180C/355F should do it).

These days, I reheat pretty much everything in my air fryer at 340F/170C for around 5 minutes. This pie is no exception and reheats perfectly in an air fryer!

Can I freeze it?
Why not make a 'spare' spinach feta pie and freeze it for another time? Simply assemble it as if you were cooking it immediately, but don't brush over the top layer of pastry with oil. Wrap all around the baking pan tightly with plastic wrap and/or aluminium foil, and store in the freezer for up to 3 months.

When you're ready to cook your delicious spanakopita, brush a little olive oil over the top. Then cook from frozen, adding about 10 minutes on to the cooking time.
Can I cook a feta and spinach pie in an air fryer?
Yes, you can, if your air fryer is large enough. I have an oven style air fryer, which is fine. The pan may also fit into an extra large basket style air fryer, too.

Cook the pie for 20 to 25 minutes or until the top is golden and crispy.
What pan should I use?
I always use an 8″ loose-bottomed baking pan for my filo spinach and feta pie. This way, it's super easy to get the cooked pie out of it.

However, it's fine to use any roughly 8 inch round baking pan such as a metal cake pan or a baking dish.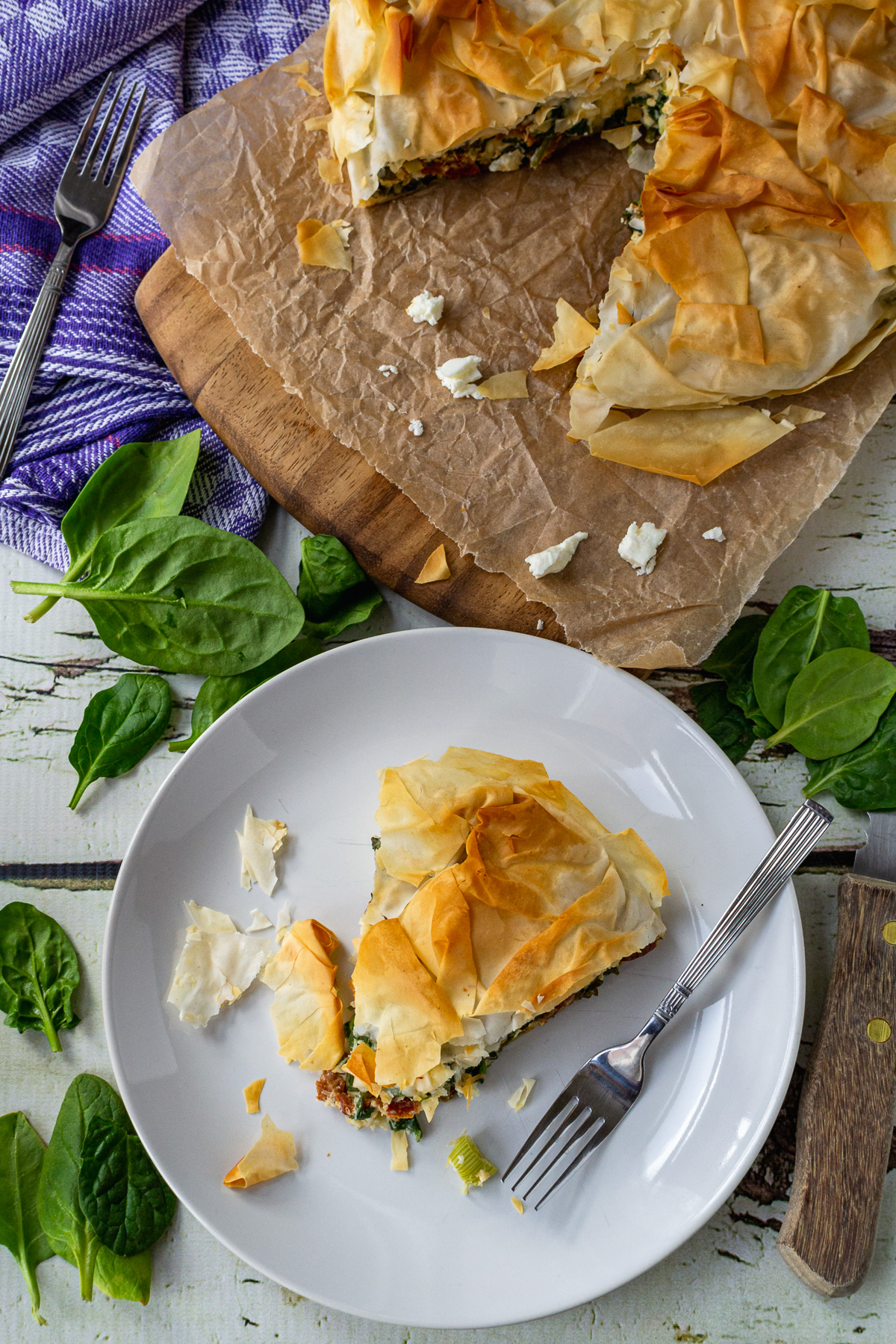 For another quick and simple lunch for yourself or guests, try this delicious zucchini slice. It isn't quite a quiche, it isn't quite a pancake, and it isn't quite cornbread. It's an absolutely delicious something between the three!
More spinach and feta recipes
IF YOU MAKE THIS RECIPE, LET ME KNOW HOW YOU GET ON BY LEAVING A COMMENT AND RATING BELOW… AND DON'T FORGET TO SIGN UP TO RECEIVE ALL MY NEW RECIPES BY EMAIL!
FOLLOW ME ON FACEBOOK, INSTAGRAM, PINTEREST AND YOUTUBE.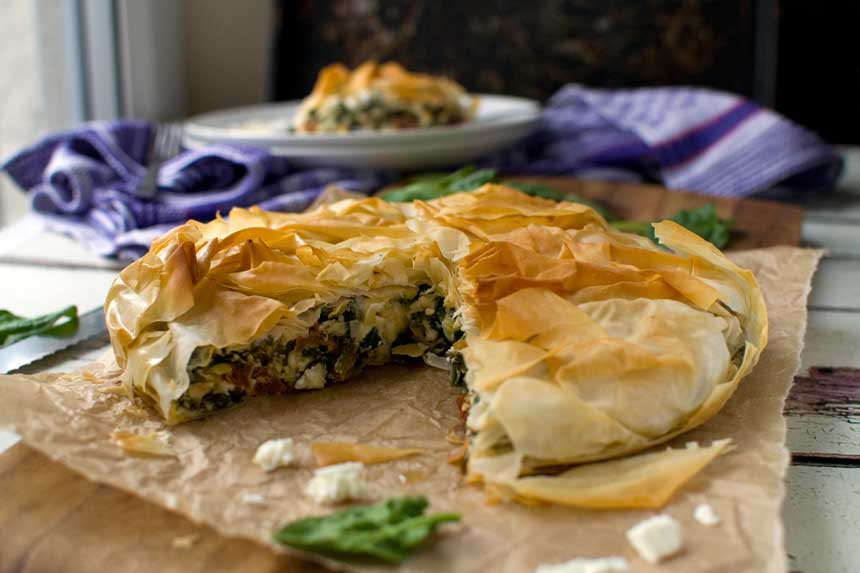 Greek Spinach And Feta Filo Pie
Ever tried Greek 'spanakopita'? This super easy (but impressive!) version, AKA feta and spinach filo pie, is incredibly delicious, and equally as perfect for a simple lunch for guests as it is for a midweek meal for the family. It also makes great party or picnic food! Made with just a few ingredients and a very simple but show stopping filo crust.
Ingredients (UK/Australia? Click below for grams/ml)
7

ounces

fresh spinach

around 5 cups (alternatively, use frozen: around 5 ounces/140 grams)

5

sundried tomatoes

chopped (optional), or 5 teaspoons of ready chopped from a jar

1

bunch

spring onions

optional (= salad onions or scallions (US), chopped) Use finely chopped ordinary onion as a substitute.

5

ounces

feta cheese

crumbled

1

bunch

parsley

fresh, chopped

2

tablespoons

dill

fresh & chopped (optional)

2

large

eggs

lightly whisked

5

sheets

filo pastry

large

3

tablespoons

olive oil

for brushing over the pastry

¼

teaspoon

pepper
Instructions
Pre-heat the oven to 355F / 180C.

Pour boiling water over the spinach in a colander to wilt it, then squeeze out as much of the water as you can with the back of a spoon (and your hands!). Chop the spinach and put into a large bowl.

Add the sundried tomatoes, salad onions, feta (crumbled), parsley, dill, eggs and pepper to the spinach and combine well. Set the filling aside.

5 sundried tomatoes,

1 bunch spring onions,

5 ounces feta cheese,

1 bunch parsley,

2 tablespoons dill,

2 large eggs

Now prepare the pastry. Lightly brush or spray an 8 to 9" loose-bottomed baking pan with olive oil. Then drape a sheet of filo pastry in the centre of it at an angle, with about half of it hanging over the edge. Repeat with the other 4 sheets of pastry, rotating the pan as you go so that the whole of the bottom of the pan and the sides are covered with pastry. Brush lightly with olive oil between each layer.

5 sheets filo pastry,

3 tablespoons olive oil

Tip the filling into the centre of the pan, on top of the pastry, then gather the overhanging pastry over the top of the pie, scrunching a little as you do. Brush a final layer of olive oil over the top.

Bake for 30 minutes or until the pastry is golden and crispy. Serve immediately with a simple salad, and tzatziki if you like.
Notes
Optional ingredients: You'll see that some of the ingredients are optional. The tomatoes, onions and herbs add a little something, but really just the spinach and cheese are essential! Spinach: Pour boiling water (from a kettle or pan) to wilt the spinach. Then squeeze it really thoroughly to get out as much water as possible. It's also worth drying the herbs with kitchen towel. It's fine to use frozen spinach instead. Just let it defrost, then squeeze the water out it as best you can. Baking pan: It doesn't matter if you don't have an 8″ baking pan. Use any round baking pan you have – as long as it isn't too much bigger or smaller – and you'll be fine! Freezing instructions: Wrap tightly when assembled (but not cooked). Freeze for up to 3 months. When ready to cook, cook from frozen, but add about 10 minutes to the cooking time. Enjoy!
Nutrition
Calories:
319
kcal
Carbohydrates:
19
g
Protein:
12
g
Fat:
22
g
Saturated Fat:
7
g
Polyunsaturated Fat:
2
g
Monounsaturated Fat:
11
g
Trans Fat:
0.01
g
Cholesterol:
125
mg
Sodium:
896
mg
Potassium:
535
mg
Fiber:
3
g
Sugar:
2
g
Vitamin A:
6235
IU
Vitamin C:
35
mg
Calcium:
268
mg
Iron:
4
mg