Wherever you go in Greece, a lovely warm slice of freshly made spinach and feta pie is never far away. I miss it a lot, but luckily it's really easy to make it at home with just a roll of readymade filo pastry and a few more ingredients.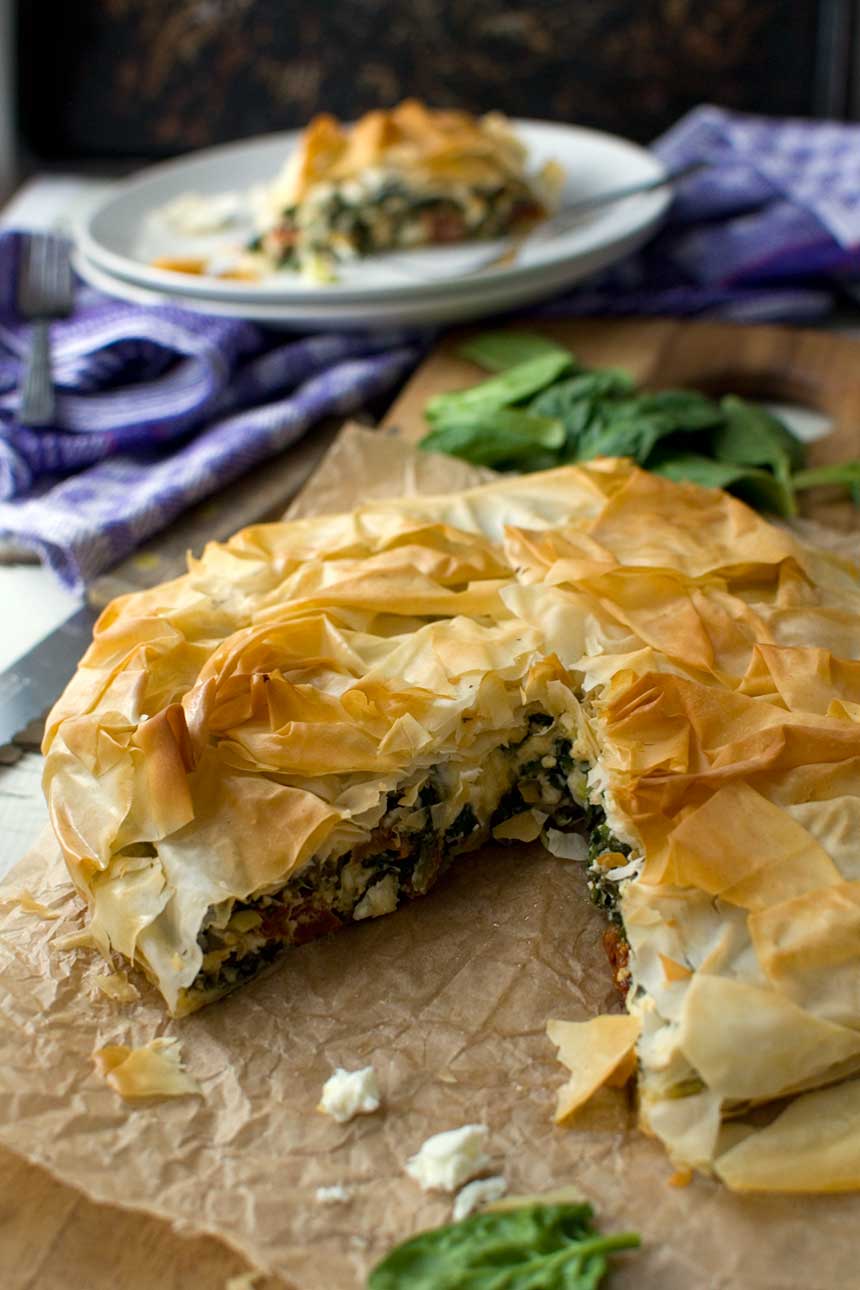 It's quite embarrassing how many spinach and feta recipes there are on this blog; but I'm not going to apologise for adding one more!
Go to any Greek bakery, or Greek party, and you'd be shocked if there wasn't some kind of spinach and feta cheese pie on offer.
In fact, there really aren't many occasions when a big fresh piece of spinach and feta pie (called spanakopita in Greece) doesn't do the job. It's wonderful for breakfast, brunch, lunch, dinner, or even an after clubbing snack (I'm too old for all that now, but the Greeks do love their all-nighters followed by some typical Greek comfort food!).
There are many variations on the theme, but to me the taste is always pretty much the same. The marriage of spinach and feta cheese is one made in heaven. Well, in Greece at least, which many would say is the next best thing to heaven!
Spinach and feta pie of any kind tastes amazing, and you'd think it was difficult to make, but really it couldn't be easier. You must be bored of me constantly saying that everything is super easy, but for me this is an ultimate selling point!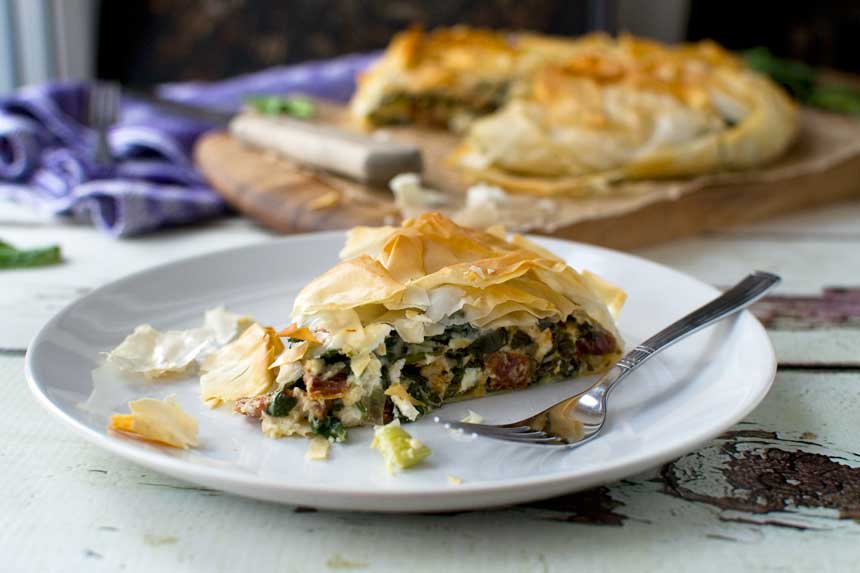 This is especially easy if you make it this way – with ready-made filo pastry. You don't have to make or roll it, pre-bake it, or even fit it neatly into a pie dish.
Just roughly layer 4 or 5 of the thin filo sheets into a loose-bottomed round baking tin, each overlapping onto the next and with the sides hanging over the edge. I'm not sure if this is a very good description, but don't worry, it's not rocket science, or even an exact science.
Just roughly layer the filo sheets, brushing oil over the pastry between each layer. Then pile in the filling and fold and scrunch the over-hanging pastry over the top.
Maybe these photos help you to see what I mean:
Bake for around 30 minutes, then slice and eat!
This makes an absolutely delicious lunch for guests (or just for yourselves!). Serve it with a simple salad and maybe a blob of tzatziki.
The essential ingredients are spinach, feta, filo and olive oil, of course, but I also decided to add some salad onions, parsley, dill, and sundried tomatoes. Bind together with a couple of eggs and you're done – the filling is ready.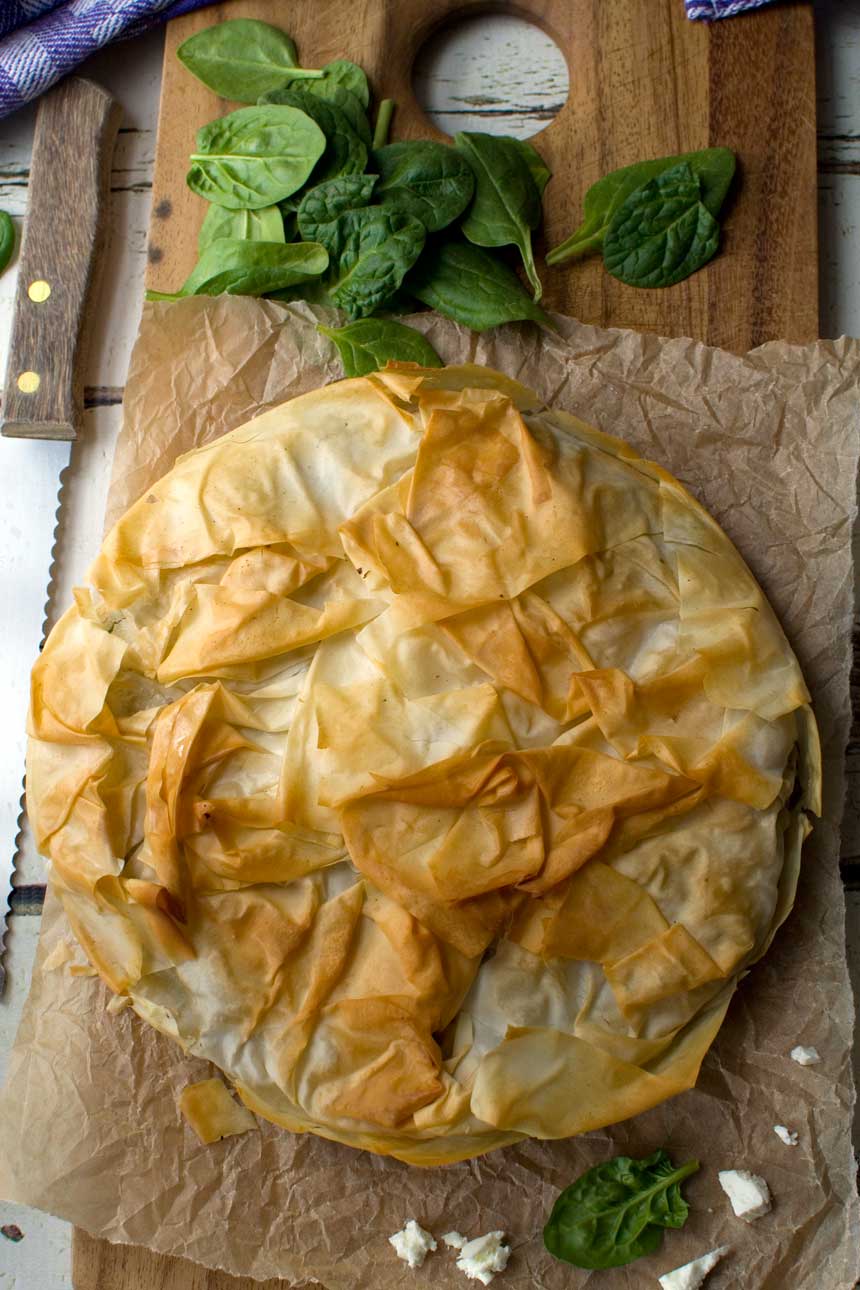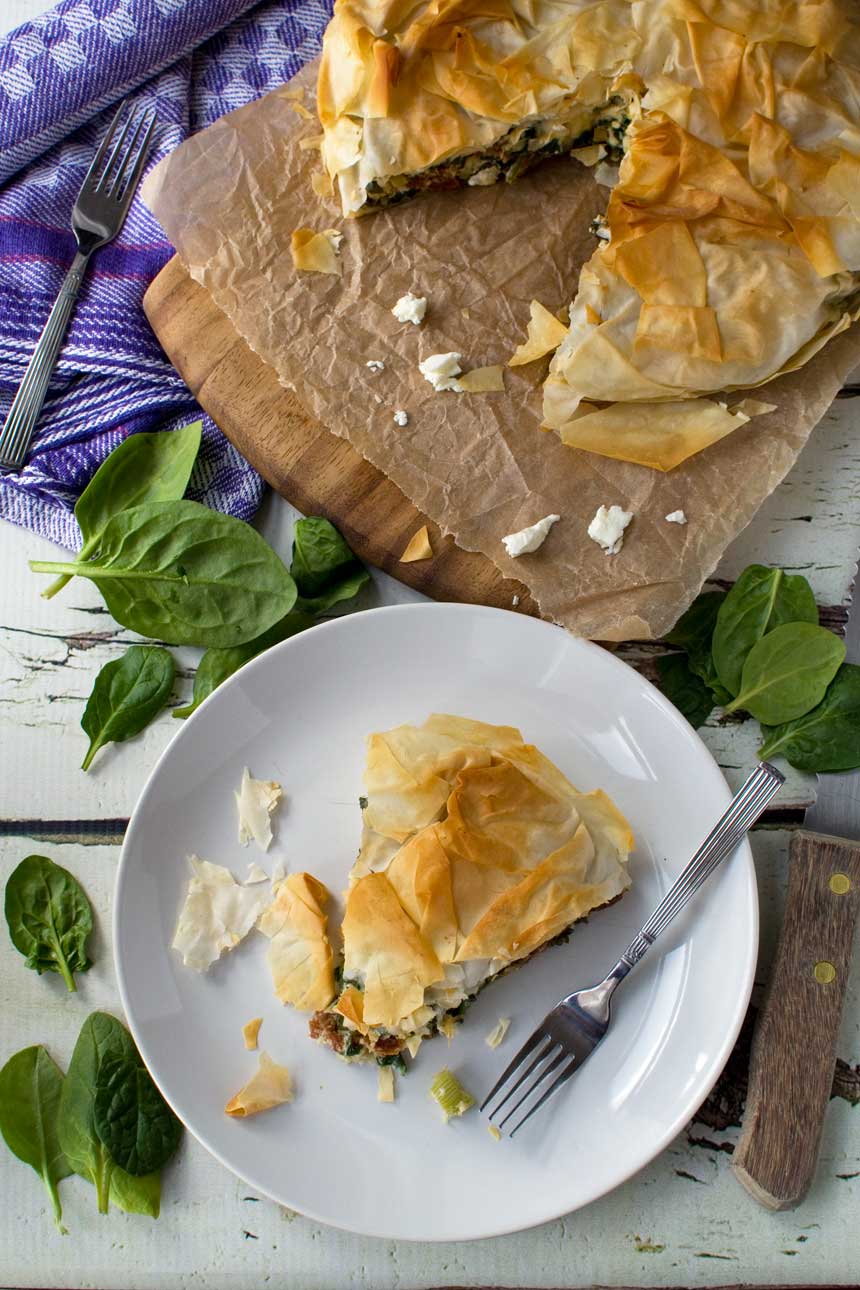 In my opinion, this is one of the tastiest snacks or light lunches you could ever eat. Next time I'm going to make a 'spare' one and freeze it for another time. Delicious, and it goes so well with the recipe I have planned for next week (stay tuned!).

Greek spinach and feta filo pie
Prep time:
Cook time:
Total time: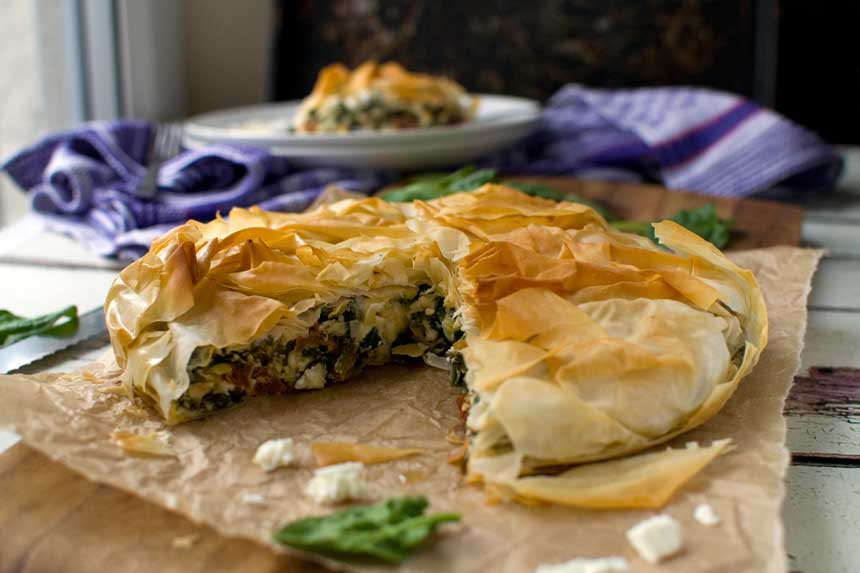 Ever tried Greek 'spanakopita'? It's soooo delicious, and perfect for any meal or snack. Try this quick and easy version, with just a few ingredients and a super simple filo crust.
Ingredients
200 grams / 7 ounces fresh spinach
about 5 or 6 sundried tomatoes, chopped (optional)
small bunch (about 5) salad / spring onions, chopped (optional)
150 grams / 5 to 6 ounces feta cheese
1 small bunch fresh parsley, chopped
2 tablespoons chopped fresh dill (optional)
2 eggs, lightly whisked
5 sheets of filo pastry
olive oil for brushing
Instructions
Pre-heat the oven to 180C / 355F.
Pour a kettle of boiling water over the spinach in a colander to wilt it, then squeeze out as much of the water as you can with the back of a spoon (and your hands!). Chop the spinach and put into a bowl.
Add the sundried tomatoes, salad onions, feta (crumbled), parsley, dill and eggs to the spinach and combine well.
Now prepare the pastry. Lightly brush or spray your baking pan with olive oil, then drape a sheet of filo pastry in the centre of it at an angle, with about half of it hanging over the edge. Repeat with the other 4 sheets of pastry, rotating the pan as you go so that the whole of the bottom of the pan and the sides are covered with pastry. Brush lightly with olive oil between each layer.
Tip the filling into the centre of the pan, on top of the pastry, then gather the overhanging pastry over the top of the pie, scrunching a little as you do. Brush a final layer of olive oil over the top.
Bake for 30 minutes or until the pastry is golden and crispy. Serve immediately with a simple salad, and tzatziki if you like.
Notes
You'll see that some of the ingredients are optional. The tomatoes, onions and herbs add a little something, but really just the spinach and cheese are essential!

Why not save this to your appetizers board for later? 🙂
Would you like to follow me on Pinterest, too? I'm always pinning tasty food!