Did you know that chicken burgers can be beautifully crispy and delicious made in your air fryer? No need to turn on the oven, and no deep frying necessary! Made with chicken thighs in panko crumbs and simple flavours, air fryer crispy chicken burgers are a quick and easy crowd pleaser the whole family will love.
Ready in just 30 minutes, these healthier homemade burgers are so juicy and flavorful. Pan fry if you prefer!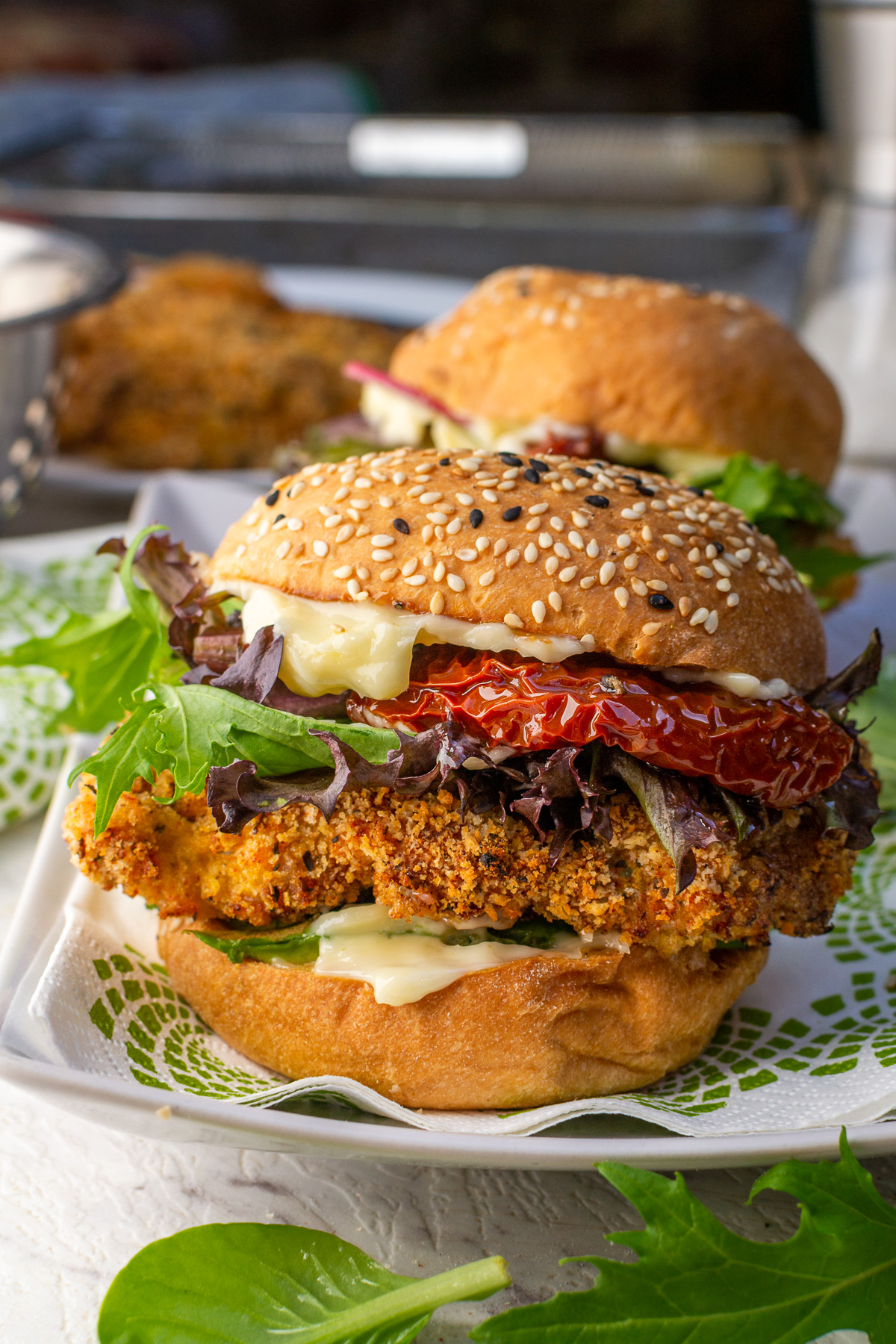 My favourite meals are the ones that I know the whole family will enjoy. Safe bets for us are anything chicken – the plainer the better where my picky eater is concerned (click here for easy chicken dinners).
AND anything crispy. Check out these basic crispy salmon fish cakes and this mustard parmesan crispy chicken if you're crispy food lovers like we are!
These Mediterranean-style air fryer crispy chicken burgers are beautifully crispy and so also a regular feature on our dinner table.
Why you'll love them
A 30-minute meal that everyone loves. At our place, our picky eater picks them apart and eats the bun then the chicken, but I'm OK with that. 😉
Budget-friendly. I use chicken thighs, which are generally more economical than breasts. And juicier, too. Even more juicy cooked this way, since air frying locks in the cooking juices!
Made with simple ingredients. No fancy sauces or hard-to-find spices. And you can easily adapt the toppings to what you already have.
A healthy option. These are healthier than a classic deep fried chicken burger – but just as moist and flavorful!
Make-ahead and freezer friendly.
Different cooking options. You can air fry the chicken (my choice) or pan fry it. You can even bake it, but air frying or pan frying gets you the crispiest chicken.
About the ingredients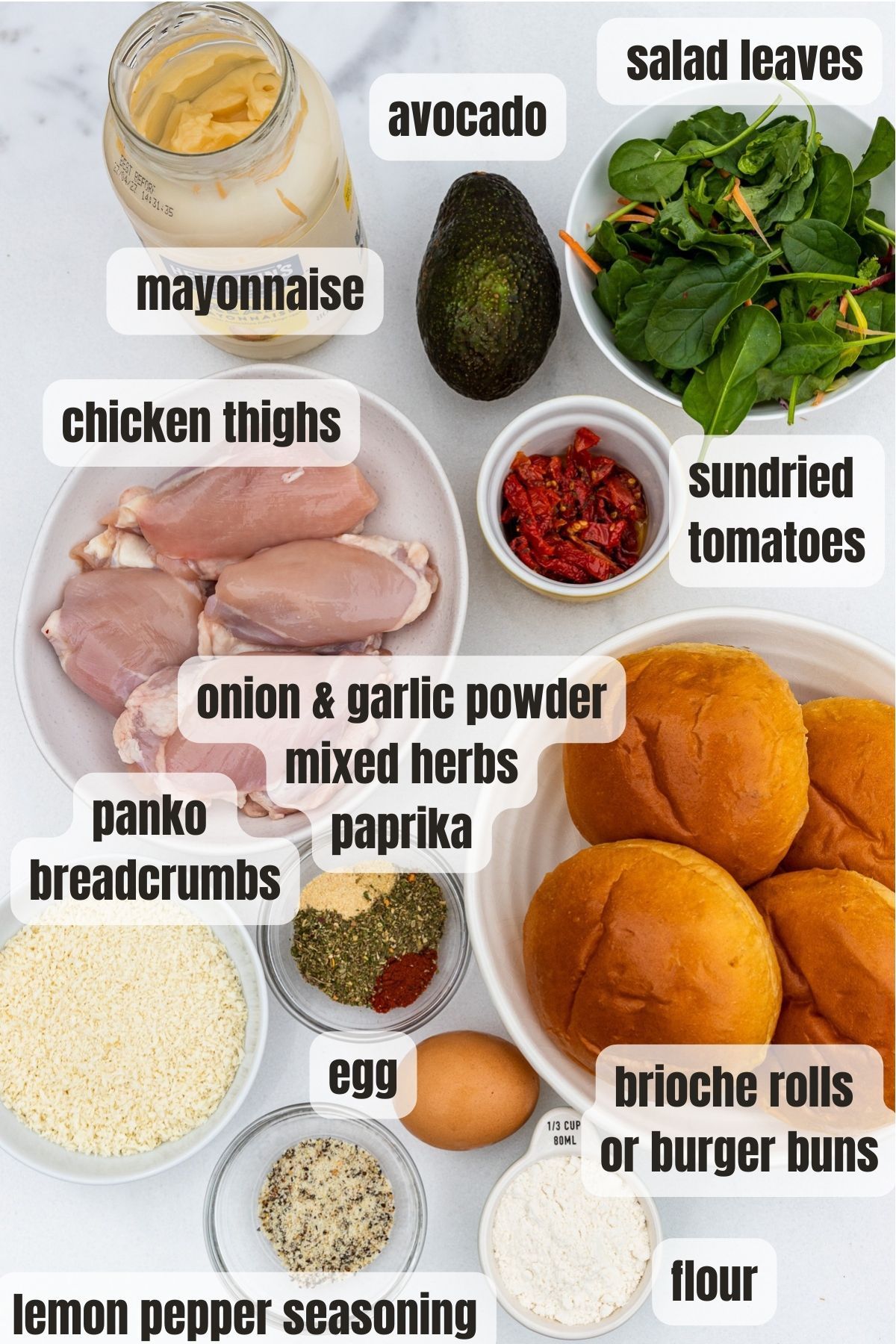 As I said, this is not a fancy burger! You can make a very delicious crispy chicken burger in around 30 minutes and with just a few carefully chosen ingredients. And plenty of seasoning.
Note there's no cheese (not needed)! Although you can add it if you like.
Chicken: This is a chicken thigh burger recipe, rather than a burger made with ground chicken. I open the thighs out flat before covering in the panko crumbs. There's quite a lot of chicken in each burger, so you can even halve the pieces and make 2 burgers out of each thigh if you like.
Japanese panko breadcrumbs: You can find these in most supermarkets these days. But you can use ordinary fine breadcrumbs if you prefer.
Tip: Why not make this delicious chicken katsu curry with the leftover panko crumbs?
A little flour and whisked egg: For breading the chicken, along with the panko crumbs.
Herbs and spices: To mix into the panko crumbs for that authentic fried chicken burger vibe. I give some suggestions in the recipe, but actually whatever you have is fine. I like to use lemon pepper seasoning (or lemon zest), paprika, garlic and/or onion powder, and Italian herbs.
Avocado, fresh lettuce and sundried tomatoes: Compulsory. Only kidding, of course. You can definitely skip any of these. We're keeping the toppings simple, but for me they're key for an exceptionally yummy crispy chicken sandwich.
Mayonnaise: Just spread a little onto each toasted burger bun.
Brioche buns: The supermarket I go to stocks two kinds. I have to admit I usually go for the expensive ones because the ingredients list is much shorter. The very best are homemade, of course. They're surprisingly easy! I've made them from this recipe in the New York Times and they were fantastic! (make ahead and freeze)
There are no rules saying you have to use brioche buns, of course. Your favorite alternative burger buns are fine, too.
How to make crispy air fried chicken burgers
The step-by-step guide below should help you make the recipe perfectly first time. Scroll down to the end for the full recipe including ingredient amounts.
As I said, it 'aint fancy! But it's delicious. You're basically making a fried chicken burger – crunchy with simple herbs and spices, but you aren't deep frying (win-win).
Step 1: Bread chicken. You need 3 dishes. Put flour in one, whisked egg in another, and panko crumbs mixed with spices in the third. Press into flour first, then egg, then crumbs.
Step 2: Cook chicken. Spray lightly with oil on both sides first. Cook for about 20 minutes in an air fryer basket (or 15 minutes in a frying pan if you prefer).
Step 3: While the chicken is cooking, get your burger buns and toppings ready. Lightly toast the buns, and grab the mayonnaise, lettuce and sundried tomatoes.
Assembling the burgers
Maybe it's just me, but sometimes I'm not sure which order to add things on a burger! There are no strict rules, but this is how I assemble my crispy chicken burgers:
Spread both sides of the toasted buns with mayonnaise. Lay a few avocado slices on top.
Put a piece of crispy air fried chicken onto the bottom half of each bun.
Top the chicken with a pile of fresh lettuce/other salad greens.
Lay 2 or 3 sundried tomato halves over the top of the lettuce.
Cover with the top half of the burger. And enjoy!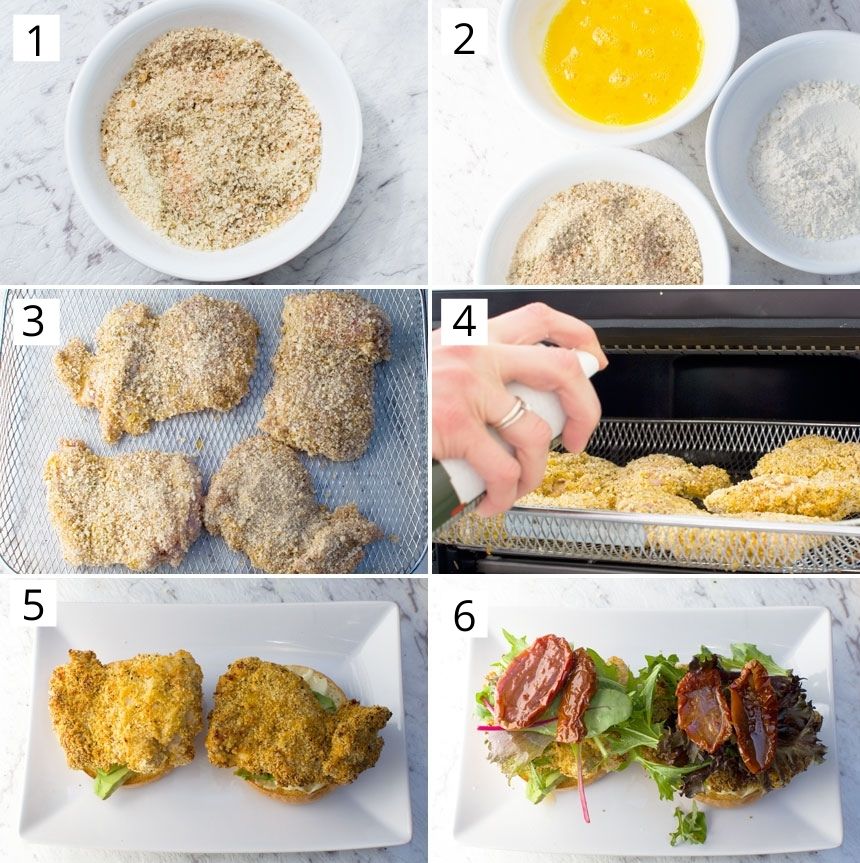 Helen's top tips
Breading the chicken: I find it's best to use one hand to dip the chicken into the flour and egg, then your other hand to press it into the crumbs. I use a spoon to spoon over the crumbs so that all parts of the chicken are covered.
Bread the chicken ahead of time if you like. Just pop onto a plate, cover with plastic wrap and store in the fridge until you're ready to make dinner.
Knowing when the chicken is cooked: Generally the chicken is done in 15-20 minutes, when golden and crispy looking. The cooking time in different air fryers does vary a little, however. To be sure, check the inside with a meat thermometer. The internal temperature should be 165F/75C. Don't worry too much about overcooking – chicken thighs are pretty forgiving!
Pan frying option: If you pan fry your crispy chicken, place a splatter cover over the pan. The key is to cook on a medium to high heat for the first 5 to 7 minutes WITHOUT MOVING IT. Then flip over and cook for another 7 or 8 minutes until crispy and cooked through.
Variations
I usually make these burgers exactly as I've described, but here are some easy ways to make them differently:
Add a sprinkle of feta cheese over the lettuce and sundried tomatoes
Add a pinch of chili flakes to the panko breadcrumbs to make the burgers spicy. Or squeeze a tiny bit of sriracha or other chili sauce into the mayonnaise.
Add the zest of a lemon to the panko crumbs and/or a handful of parmesan cheese.
Use sliced olives, marinated artichokes, pickles, or caramelized onions instead of (or as well as!) sundried tomatoes.
Add some kimchi to your burger instead of sundried tomatoes for a Korean style chicken burger.
Or how about Hawaiian style? Switch the tomatoes for pineapple, and add some crispy bacon or ham and BBQ sauce.
How to serve
If I'm making these crispy chicken burgers for lunch, I just serve them as they are. Yum.
If I'm making them for dinner, I serve them in several ways.
I make a tray of these roasted Mediterranean vegetables. It may seem like extra effort, but the leftovers are great on pizzas and salads, or in toasties, quesadillas or couscous or pasta salads.
What to make your air fryer do double duty? Another great roasted veggie option is this crispy air fryer cauliflower. Make it while you assemble your chicken burgers!
Other times I make a quick and simple salad to go on the side. A Greek salad always goes down well at our house. Or, alternatively, a Greek lettuce salad. These are both perfect for making ahead. Prefer a fancier (but still very easy) salad? My top recommendation is this walnut feta beetroot salad.
If I'm feeling really fancy, I make some homemade chips/fries, sweet potato fries or potato wedges to go with them. How about these air fryer smashed potatoes? You'll only need a small portion, since the burgers are already quite filling.
Leftovers and freezing
Leftovers reheat really well in an air fryer! I usually reheat at 160C/320F for about 6 minutes. You'll have nice and crispy chicken thighs again!
You can reheat in your normal oven, too. Take the chicken out of the fridge about 20 minutes before you're going to reheat it. Then reheat for about 20 minutes at 160C/320C or until hot and crispy again.
You can freeze the breaded chicken as long as it hasn't been frozen before. Just store in an airtight container between layers of baking paper. Let defrost in the fridge, then spray lightly with oil on both sides before cooking as from fresh. For best results use within 1 to 3 months.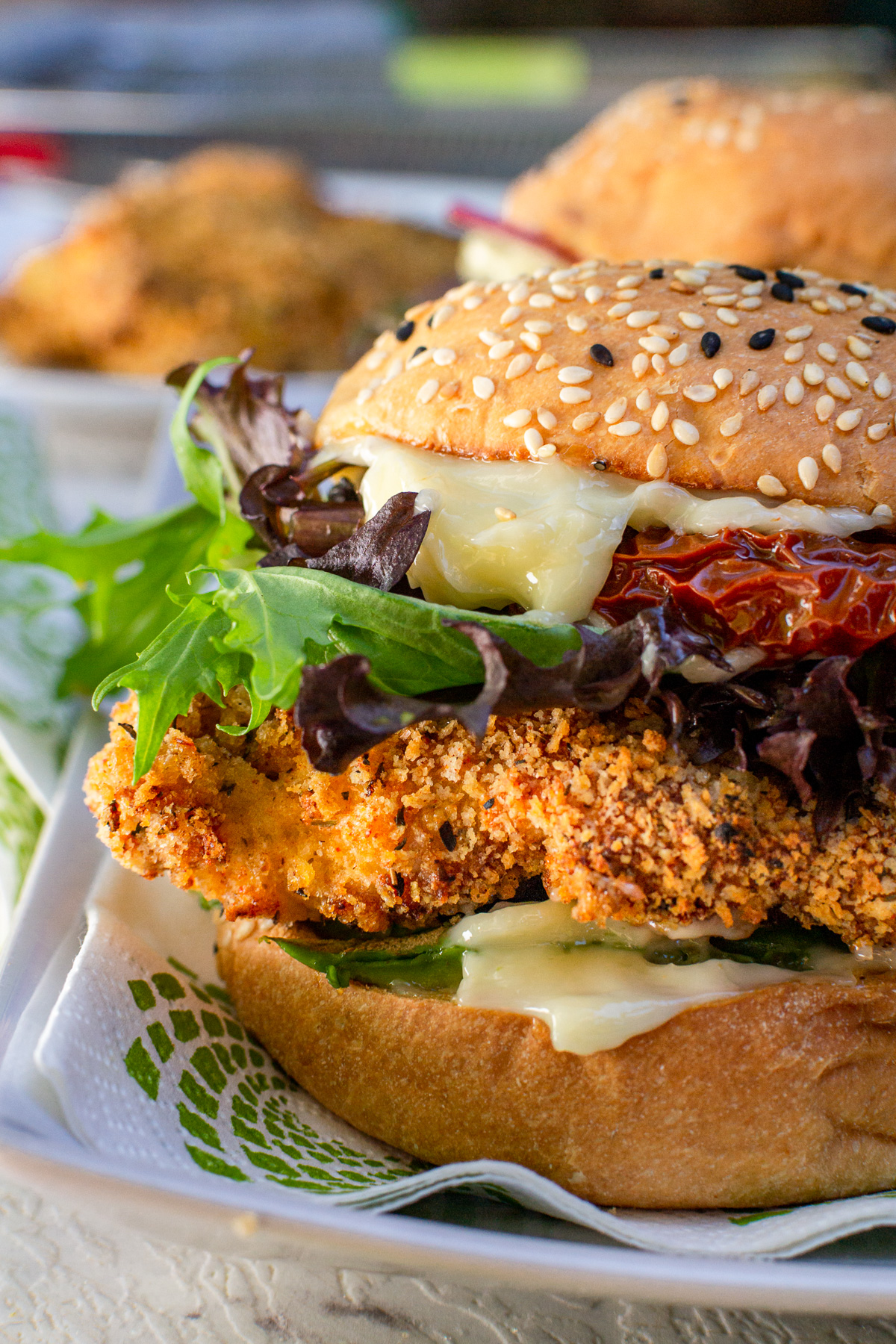 Recipe FAQ
Can I use chicken breasts instead of chicken thighs?
Yes, you can if you prefer. Cooking time will be about the same (test with a meat thermometer: chicken should be 165F/75C in the thickest part). You may wish to cut the cooked crispy chicken breasts in half so that it fits into the burger better.
Can I bake the chicken instead of air frying or pan frying?
You can, but I find it doesn't get as crispy as if you air fry it or pan fry it. You can lightly toast the panko crumbs in a pan and then crumb the chicken if you like which will make it crispier when baked.

Alternatively you can 'double crumb' the chicken. Just dip it in the flour, egg and crumbs twice instead of the usual once. Lightly spray with oil on both sides and bake on a baking tray with a wire rack on the top.
What's a good substitute for lemon pepper seasoning?
If you don't have any lemon pepper seasoning, no problem! Just use the zest of a small lemon, half a teaspoon of salt and a teaspoon of black pepper instead.
Loving your air fryer? Have you tried roasting a whole rotisserie chicken in your air fryer yet? Try it once and you won't look back! These air fryer Greek chicken meatballs also come highly recommended.
More easy burgers and sandwiches
IF YOU MAKE THIS RECIPE, LET ME KNOW HOW YOU GET ON BY LEAVING A COMMENT AND RATING BELOW… AND DON'T FORGET TO SIGN UP TO RECEIVE ALL MY NEW RECIPES BY EMAIL!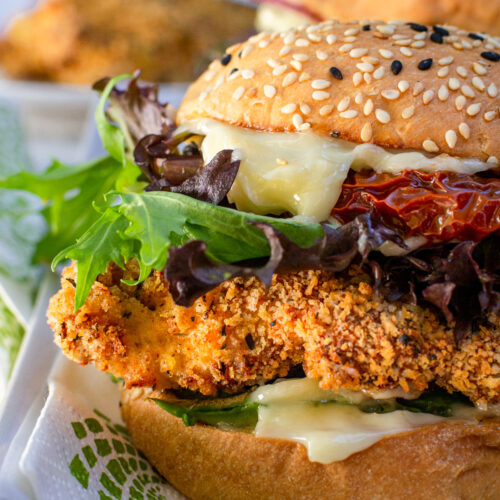 Crispy Air Fryer Chicken Burgers
Try these crispy air fryer chicken burgers once and they'll quickly become one of your go-to meals. Coat chicken thighs with lots of yummy herbs and spices and super crispy panko breadcrumbs, and air fry (pan fry if you prefer). Sandwich with a few toppings in a fresh brioche bun and they're done. It's an unbelievably tasty and easy 30-minute meal!
Ingredients (UK/Australia? Click below for grams/ml)
for the crispy chicken
⅓

cup

flour

1

large egg

¾

cup

panko breadcrumbs

1

tablespoon

lemon pepper seasoning

1

teaspoon

paprika

1

teaspoon

onion powder

1

teaspoon

garlic powder

2

teaspoons

Italian herbs

(can be mixed herbs or just basil, oregano, thyme)

4

chicken thighs

opened out so they are mostly flat

salt and pepper

for grinding over the raw chicken
for the rest of the burgers
4

brioche buns

I prefer the good quality ones with minimal ingredients!

8

tablespoons

mayonnaise

or to taste

1

avocado

sliced (you need about ¼ small avocado per person)

4

small handfuls

mixed salad

4

sundried tomatoes

Sometimes I use sundried tomato strips or sundried tomato halves – it doesn't matter.
Instructions
Crumbing the chicken
Put the flour, egg and panko crumbs in 3 separate bowls.

⅓ cup flour,

1 large egg,

¾ cup panko breadcrumbs

Add all the spices and herbs to the panko crumbs and mix well.

1 tablespoon lemon pepper seasoning,

1 teaspoon paprika,

1 teaspoon onion powder,

1 teaspoon garlic powder,

2 teaspoons Italian herbs

Fold out each chicken thigh so it's mostly flat. Grind over plenty of salt and pepper.

Press each chicken thigh first in the flour, then in the egg, then in the crumbs. Use one hand to dip in the flour and egg, and the other hand to press into the crumbs.
Air frying the chicken
Preheat the air fryer to 390F/200C for 3 minutes. Spray the bottom of the air fryer basket lightly with oil. Put the chicken in the air fryer basket (it's OK if it overlaps slightly) and spray the chicken lightly with oil.

Air fry for 8 minutes. Turn the chicken over and spray lightly with oil again. Air fry for another 7 minutes. At this point the chicken might be golden and crispy, or it might need another 5 minutes (it depends on your particular air fryer). In my air fryer I usually cook for another 5 minutes (so 20 minutes in total).
Pan frying the chicken (alternative to air frying)
Heat up about 2 tablespoons olive oil in a large frying pan. When the oil is quite hot, add the chicken.

Let cook for about 5 minutes without moving the chicken. Turn chicken over and turn down the heat to medium. Cook for about another 10 minutes or until golden and crispy on both sides.
Assembling the burger
Lightly toast the burger buns.

Spread 1 tablespoon of mayonnaise on each burger half (top and bottom).

Put one crispy chicken thigh on top of each burger bottom.

Top each chicken thigh with a handful of green salad and a sundried tomato. Put the tops on the buns and serve immediately.

4 small handfuls mixed salad,

4 sundried tomatoes
Notes
Breading the chicken: I usually use disposable kitchen gloves for this part, as it can be a bit messy. Use one hand to dip the chicken in the flour and egg, and the other hand to press it into the spiced crumbs. I usually spoon the crumbs over the chicken so that it's well covered, turn it over, and repeat.
Before air frying: Remember to spray both sides of the chicken lightly with oil before air frying, so that they get nice and crispy.
Making ahead: Crumb the chicken ahead if you like. Cover with plastic wrap/cling film and store in the fridge until ready to cook dinner.
To freeze, just store in sealed containers between layers of baking paper. Let defrost in the fridge, then spray lightly with oil on both sides before cooking as from fresh. For best results use within 1 to 3 months.
Leftovers reheat really well in an air fryer! Reheat at 160C/320F for about 6 minutes. You'll have nice and crispy chicken thighs again!
Nutritional info: Please note that the nutritional info depends a lot on the size of the chicken thighs used and also the size of the brioche buns. I use small(ish) ones so the calorie content may be lower than what's shown here.
If pan frying: I recommend putting a wire splatter cover over the top of the frying pan to prevent oil splashing everywhere!
Nutrition
Calories:
1000
kcal
Carbohydrates:
65
g
Protein:
34
g
Fat:
68
g
Saturated Fat:
21
g
Cholesterol:
307
mg
Sodium:
767
mg
Potassium:
714
mg
Fiber:
6
g
Sugar:
3
g
Vitamin A:
1694
IU
Vitamin C:
15
mg
Calcium:
118
mg
Iron:
4
mg