Throw six basic ingredients in a bowl, quickly gather it into a ball of dough, then forget all about it. A bit later, press into a baking tin and bake. Your reward? Warm homemade Italian focaccia bread that's lightly crispy on the outside and fluffy on the inside. Not to mention a kitchen that smells incredible all day!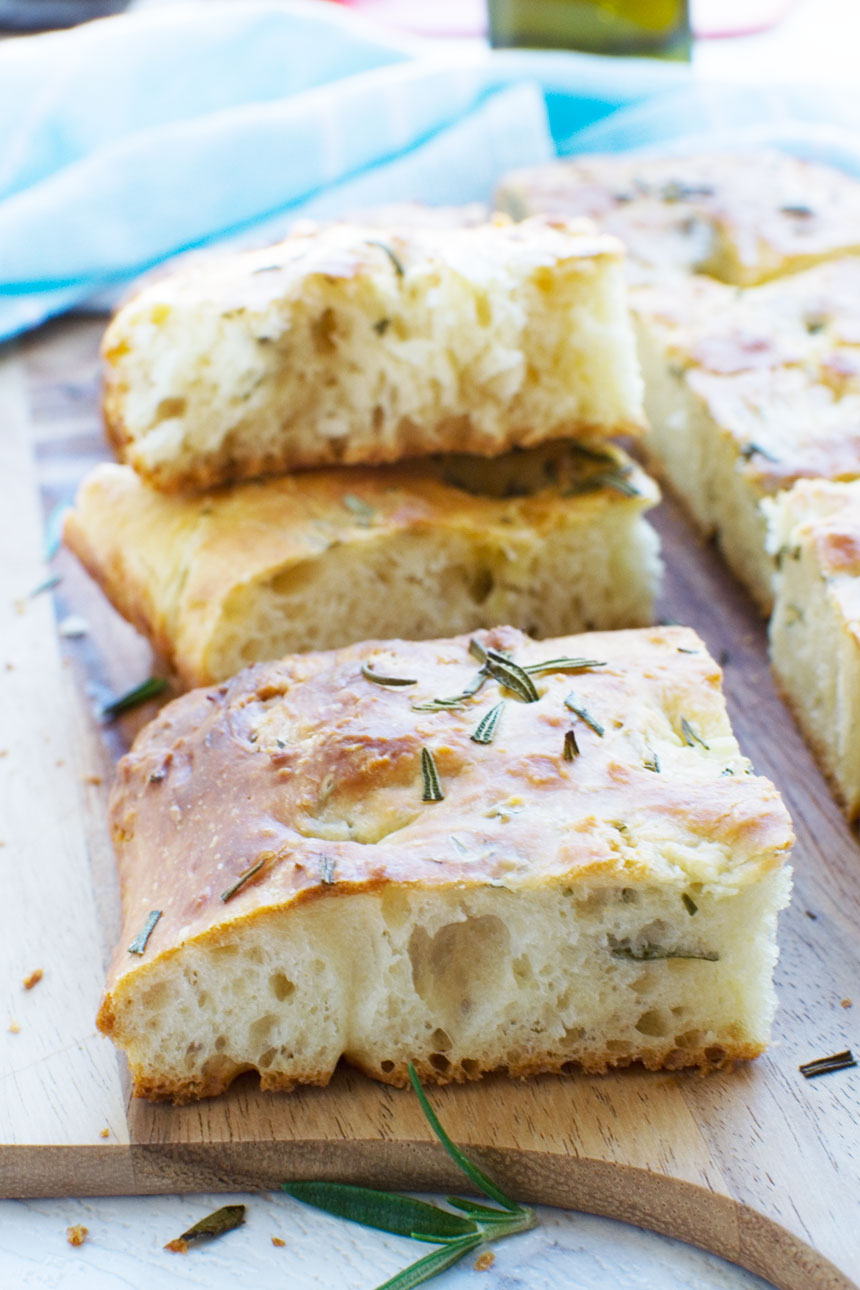 What you're going to love about it
If homemade bread making has been in the 'too hard' category in your head for years, that might be about to change.
This easy focaccia bread recipe has lived here since my site's humble beginnings, but it's been given a well overdue makeover. I've tweaked and tested it to make sure you get a delicious and fluffy loaf of bread every time.
I've boldly called this recipe for one of everyone's favourite types of Italian bread 'shockingly easy' because:
you can make the dough in minutes – roughly about ten minutes, I'd say. You need a few minutes to get your 6 basic ingredients together, a few more minutes to add them all to a big bowl, and a final few minutes to mix them and gather them together into a ball.
you don't really need to knead the dough. You might knead it a few times just to help you form it into a ball, but that's it. It's something to do with the type of dough and the type of crumb and crust that you're looking for when you make focaccia bread compared to other types of bread. Whatever the science, I'll take it!
it rises quickly. Relatively. Leave to rise for one to three hours (depending… I'll explain!).
you can prepare it ahead. I LOVE this part. You can pop the bowl of dough in the fridge overnight. Or – wait for it – for UP TO A WEEK (some say even longer…) until you're craving some fresh and fluffy focaccia.
it's super easy to 'shape'. Just press the dough into a small-ish cake tin or baking dish.
it comes out beautifully crunchy on the outside, and soft and fluffy on the inside – every time. Delicious!
About the ingredients
'Normal' bread ingredients: bread flour (all purpose works well too), sugar, yeast, salt
A cup of tepid water (it should feel like 'nothing' – neither warm nor cold)
For optional but recommended toppings choose from: fresh or dried herbs, olives, more olive oil, cherry or sundried tomatoes, pesto, garlic etc (see more suggestions below!)
How to make it
You are just a few very simple steps away from fresh bread heaven.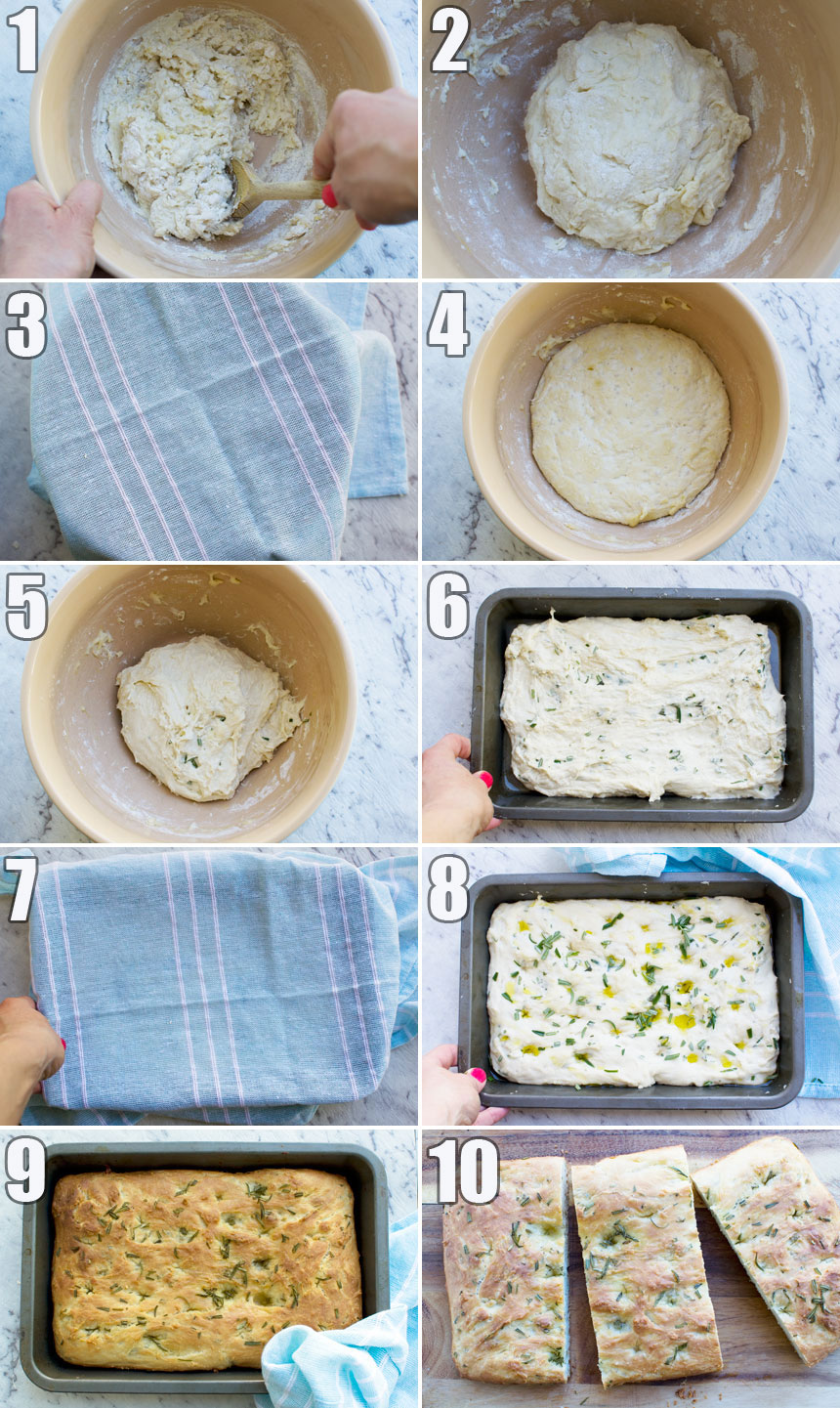 Step 1: Gather your six dough ingredients. Mix them together in a big bowl.
Step 2: Gather into a ball. You may need to work the dough for a few seconds with your hands.
Step 3: Cover the bowl and leave to rise for one to three hours. The dough has risen enough when it's roughly doubled in size. You can just leave it on the kitchen counter if you like. The warmer the temperature, the faster it'll rise.
Step 4: Mix some herbs or chopped olives into the dough if you like (I like rosemary). Roughly press the dough into a smallish baking tin or dish.
Step 5: Let the dough 'prove' (or rest) for a final 30 minutes before it goes into the oven.
Step 6: Press little 'dimples' into the dough with your fingers. Add any toppings you want to add, a drizzle of olive oil and a bit of salt. Bake for 20 to 25 minutes.
Then eat! Make a delicious sandwich, or check out the other ways to eat focaccia below.
Two common problems and how to fix them
This bread is pretty forgiving, but just in case…
1. Your dough is too wet and sticky to form a ball
The dough is supposed to be on the wet and sticky side. If it's too sticky to handle, however, just add a tiny bit more flour. Just enough to bring it into a ball.
2. Your dough isn't rising very much
Leave it to rise for longer. It should roughly double in size.
Is your house quite cold today? If so, turn on the oven on a low or 'keep warm' setting. As soon as it's warmed up a little, turn it off and open the door. Pop covered bowl of bread inside.
It only needs to be slightly warm in there. The ideal temperature for dough to rise is between 25 and 32 degrees centigrade (80 to 90F). Higher temperatures than this will kill the yeast.
If your dough still isn't rising, there are several possible reasons for this. Try popping it into the fridge until the next day, and baking it anyway.
Can you make the dough ahead?
Yes! This is one of the many great things about this recipe.
Make the dough in the evening, then pop it into the fridge either in a bowl covered with cling wrap/plastic wrap or in a big food bag. Your dough will rise very slowly overnight. The next day, take it out of the fridge a couple of hours before you want to shape it so that it can come to room temperature again. Then press it into a baking pan and proceed with the recipe as normal!
Unbelievably, you can keep the dough in the fridge for up to a week! Some say even longer! How clever is that?
How to eat focaccia bread
When Mr. Scrummy and I lived in the UK, we got into the habit of buying pre-packaged focaccia bread to have with meals like this sausage pappardelle, this amazing baked chicken with chorizo and tomatoes, this one pan chicken pizzaiola (25-minute meal!) and this traditional Greek salad.
We'd slice it in half across the width, lightly toast it and drizzle with olive oil and sprinkle with salt, just like in this olive oil toasts recipe.
My mouth is watering at the very thought of serving this homemade focaccia with any kind of casserole, soup, one pot meal, salad, and more. You have to try it!
But there are so many more ways to enjoy this quick and easy bread:
Need an easy appetizer? Serve small slices of focaccia warm and with a simple olive oil and balsamic vinegar or balsamic glaze 'dipping sauce'. If you're feeling a bit fancier, try this delicious recipe for lemon butter sauce.
Need a slightly fancier appetizer or side dish? Try topping the focaccia dough with simple tings like halved cherry tomatoes, olive oil and crushed garlic, caramelized onions, or different cheeses before baking. (see long list of more ideas below!)
Make a simple but delicious sandwich. Slice the focaccia loaf into 4 or 6 slices – depending on how hungry you are! – and fill with your favourite sandwich fillings. My fave is tuna salad. Don't forget the salt and pepper – it makes all the difference.
Use it to make a focaccia pizza. Add your favourite toppings and grill/broil until lightly golden and bubbling. Yum. You can even make it in your air fryer, if you like. Simply follow the instructions to make 10-minute air fryer naan pizza, but use focaccia instead!
Make toasted sandwiches if you have leftovers the next day. Or make focaccia croutons for a soup or salad. Toss in olive oil, herbs and salt and pepper and bake for 8 to 10 minutes at 180C/355F until golden brown.
All these ideas are great. BUT… my absolute favourite way to eat this is as this Italian toasted veggie sandwich. You just have to try it!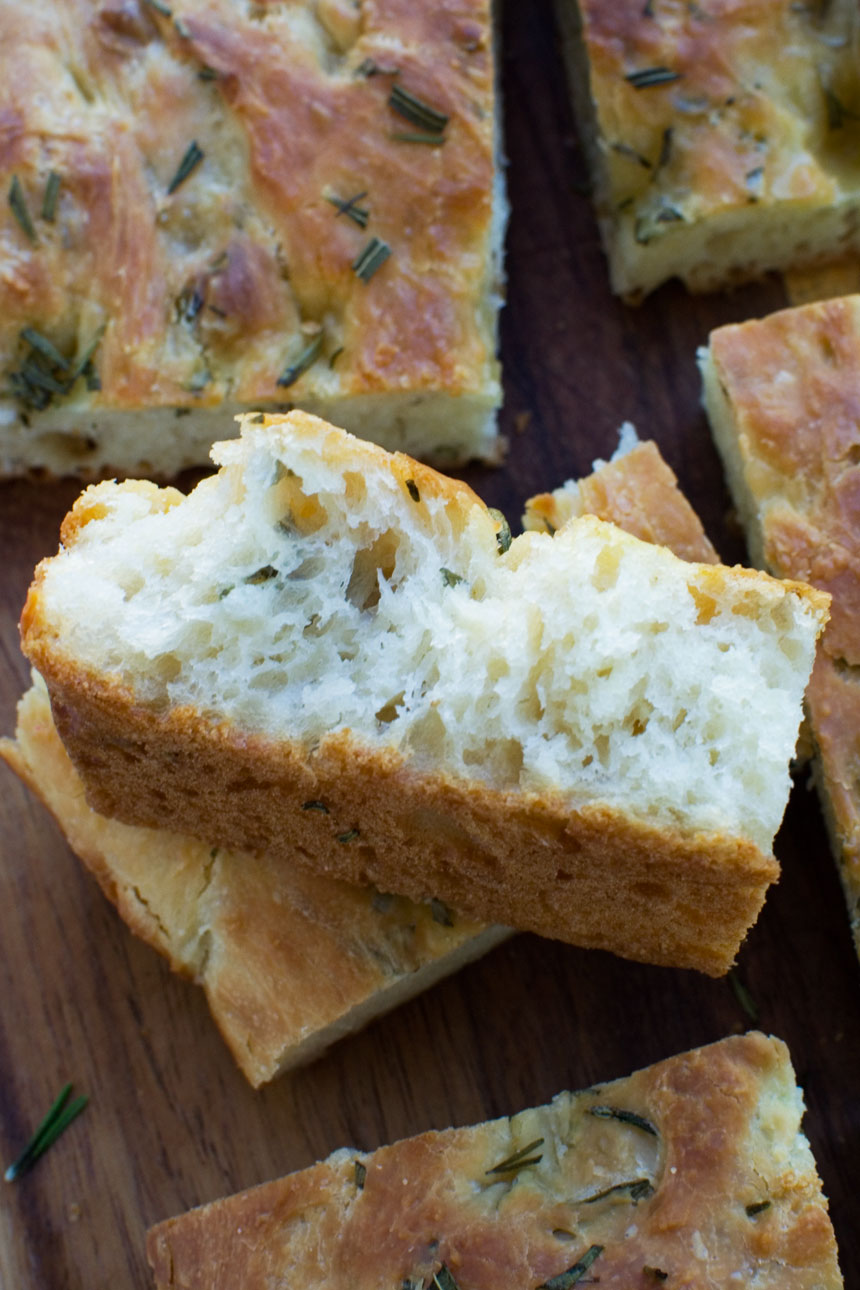 Focaccia topping ideas
Usually I just knead a bit of chopped fresh rosemary into my bread, then I sprinkle more on the top. Because we have the world's biggest rosemary bush in our garden!
Then I sprinkle with sea salt and drizzle with more olive oil. I also sneakily drizzle with yet more olive oil after it comes out of the oven.
You can jazz focaccia up with so many other yummy toppings, though – before or after baking (it's up to you!). Here are some ideas, but really the possibilities are endless:
any kind of fresh or dried herbs you have or like (I love rosemary and thyme, but any herbs work)
parmesan cheese either in the dough and/or on the top
other kinds of cheese such as feta, goat's cheese, mozzarella, ricotta, blue cheese or cheddar
tomatoes of any and every description – cherry, on the vine, roasted, semi-dried, sundried… (although it's best to sprinkle sundried or semi-dried tomatoes on the top AFTER baking, or they can burn in the oven)
onions caramelised with a bit of balsamic vinegar
olives, either chopped or whole (without the stone, of course)
garlic butter – mmmmm!
jarred artichokes or red peppers
asparagus!
little bits of cooked bacon, salami, sausage, pepperoni or prosciutto (best to add these after the bread's baked so that they don't burn)
sliced chilies
grapes or sliced apples!
sesame seeds or pine nuts
mushrooms (cooked)
roasted eggplant/aubergine or zucchini/courgette
any kind of spice and/or herb mixes from your pantry!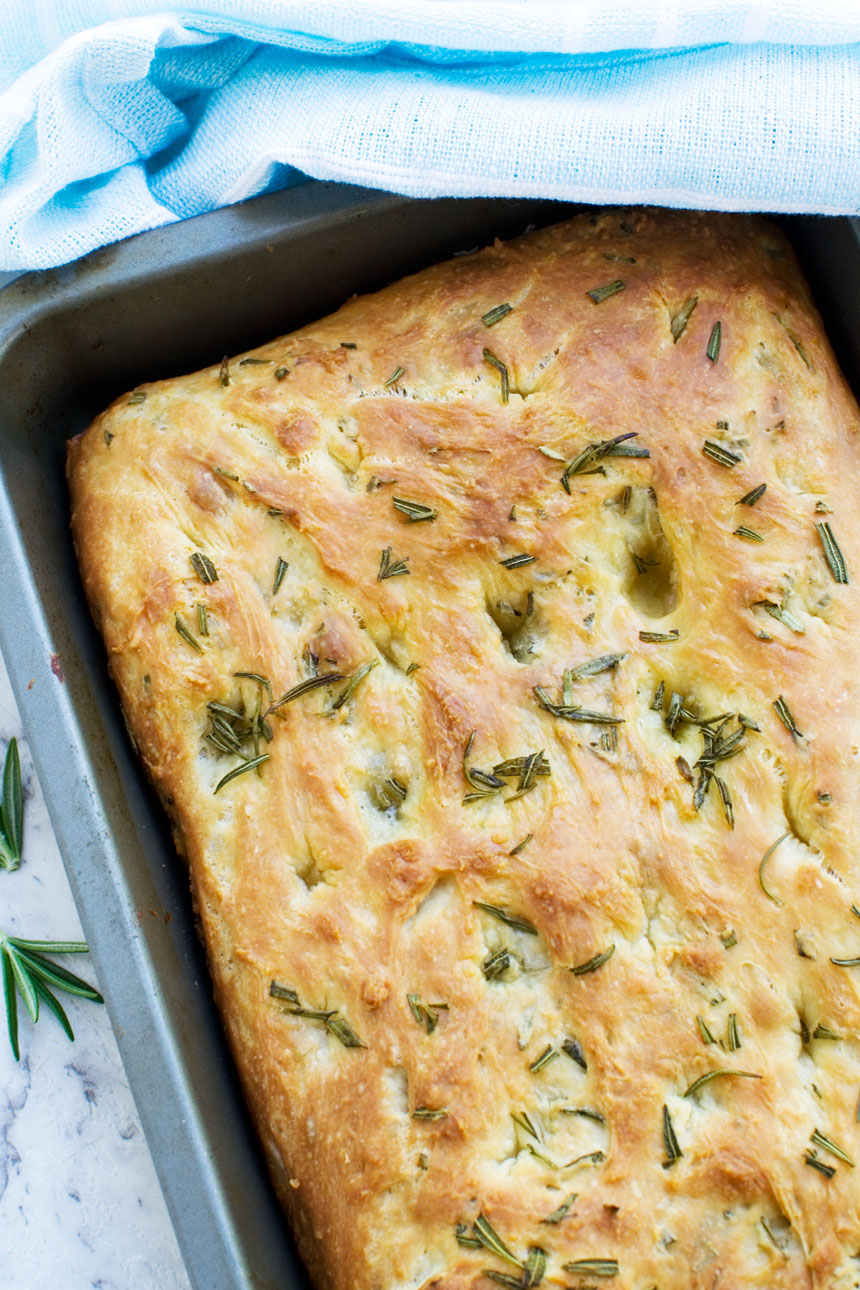 More shockingly easy breads, pizzas, bruschettas and pastries
IF YOU MAKE THIS RECIPE, LET ME KNOW HOW YOU GET ON BY LEAVING A COMMENT AND RATING BELOW… AND DON'T FORGET TO SIGN UP TO RECEIVE ALL MY NEW RECIPES BY EMAIL!
FOLLOW ME ON FACEBOOK, INSTAGRAM, PINTEREST AND YOUTUBE.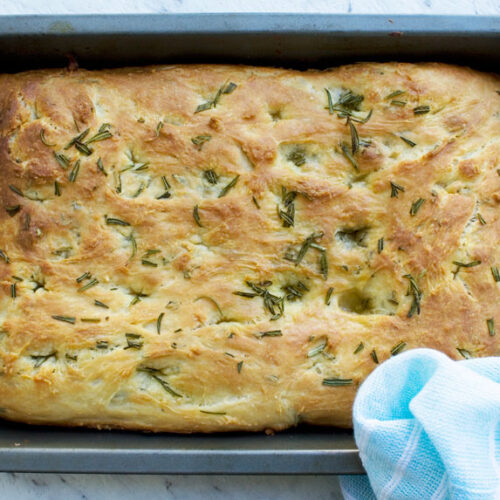 Shockingly easy Italian focaccia bread (no knead!)
A quick and easy traditional Italian focaccia bread that requires only 6 very basic pantry ingredients, and that impreses every time. Make the dough in minutes, leave it to rise, and press it into a pan. Then it's ready in 20 minutes. No kneading or other fussing necessary!
Equipment (affiliate links)
Ingredients (UK/Australia? Click below for grams/ml)
2

cups

white flour

(I usually just use plain flour, but strong bread flour may yield even better results!)

½

tablespoon

sugar

1

teaspoon

yeast

1

teaspoon

salt

2

tablespoons

olive oil

plus extra for greasing the pan and drizzling over at the end

1

cup

tepid water

(it should feel neither warm nor cold, almost like nothing)

3

tablespoons

fresh rosemary

optional, chopped finely

balsamic vinegar and more olive oil

optional – for dipping!
Instructions
Add the first 5 ingredients to a large bowl. Pour over the water.

Stir vigorously with a wooden spoon until everything is combined and a ball of dough starts to form.

Add a tiny bit more flour if the dough is still really sticky (but not too much – you want the dough to be on the wetter/stickier side). Then, with floured hands, knead just enough times to gather into a smooth ball of dough.

Lift up the dough while you spray or brush a little oil over the bottom and sides of the bowl. Then cover the bowl of dough with a clean tea towel and leave to rise for 1 to 3 hours, or until roughly doubled in size (or leave for longer – see note below for details). If you leave the dough in a warm place it will rise faster (again, see notes below).

Sprinkle 2 tablespoons of the chopped rosemary over the dough and mix it in with floured hands (optional). Add any other mix-ins at this point.

Press the dough into a rectangular or circular cake pan or baking dish. I usually use a 10 x 7 inch cake pan or an 8 inch circular cake tin. Roughly push the dough right to the edges.

Cover with a tea towel again and leave for about 30 minutes more. After 20 minutes, preheat the oven to 220C / 430F.

Push your thumb into the dough in a few places to make indentations. Then sprinkle over the rest of the rosemary, if using. Drizzle over about a tablespoon of olive oil. Grind over some sea salt (optional).

Bake for 20 to 25 minutes or until the bread is golden on top and has started to pull away from the sides of the pan.

Serve warm with a meal, slice into 4-6 and make sandwiches, or slice into fingers and serve with a dish of olive oil and balsamic vinegar as an appetizer. The bread is best eaten the same day, but you can make a toasted sandwich or croutons the next day. You can also freeze leftovers for 3 to 6 months (but best eaten within a month).
Notes
Getting the dough right
Don't worry, your measurements don't have to be perfectly exact!
If your dough seems really wet and sticky when you've stirred all the ingredients together, simply sprinkle over a little more flour so that you can knead a few times and gather it all up into a ball.
Don't add too much extra flour, though. The dough should be on the wetter/stickier side to help it rise fairly quickly.
How long to let it rise
The rising time varies according to how warm it is, but you're aiming for it to roughly double in size.
If it's warm in your kitchen, you might find your dough has doubled in size after barely an hour. If it's really cold, it'll still rise but it'll take longer – up to 3 hours.
If you'd like your dough to rise quickly, here's a simple trick: Switch on your oven to the 'keep warm' or similar setting (turn it on to a low heat, basically). When it's heated up a little bit (not too much), turn the oven off and open the door. Place your covered bowl of dough inside. Just make sure it isn't too hot in there – you don't want the temperature to be above about 32C/90F or you'll kill the yeast.
If you use fast acting yeast AND your kitchen is warm, you might even get away with just half an hour rising time. Just make sure your dough has roughly doubled in size.
How to make the dough ahead
Yes, you can make the dough ahead – up to a week (or some say even longer) ahead, actually.
Just pop the dough into a large food or freezer bag and seal it until you want to bake your fresh bread. Take it out of the fridge a couple of hours before you're ready to shape it to let it come to room temperature. Then press it into a pan and proceed with the recipe as normal.
You can even freeze the dough for up to 3 months if you want to. Let it rise as if you are going to bake it immediately, then punch it down, rub it with a little olive oil (to stop it sticking to the wrapping) and freeze it in a freezer bag. Let it defrost thoroughly before pressing into a pan and proceeding with the recipe as normal.
Shaping the dough
Don't worry if the dough seems quite stretchy and difficult to push into the corners of your pan. It doesn't have to be perfect – it'll still bake up to perfection.
How long does focaccia keep?
Enjoy it the same day if possible, but focaccia bread will keep well for 2 days if wrapped well.
I usually eat mine as is on the day of baking and if there are any leftovers the next day (IF!) I make a toasted sandwich with it – yum!
If there are still leftovers (unlikely, but it happens) I freeze big slices of it in portions. The bread is best eaten within a month but it keeps pretty well for 3 to 6 months.
Nutrition
Calories:
307
kcal
Carbohydrates:
51
g
Protein:
8
g
Fat:
8
g
Saturated Fat:
1
g
Sodium:
585
mg
Potassium:
106
mg
Fiber:
3
g
Sugar:
2
g
Vitamin A:
44
IU
Vitamin C:
1
mg
Calcium:
14
mg
Iron:
3
mg