Next time you cook a leg of lamb, slow roast it like the Greeks! This authentic slow cooked Greek lamb recipe (kleftiko!) is a perfect meal for easy entertaining. Slow cook the lamb for an all-in-one meal with the most delicious lemon garlic potatoes and vegetables. This only needs 15 minutes hands-on attention, then let your oven, slow cooker or instant pot do the hard word until it's fall apart tender and delicious!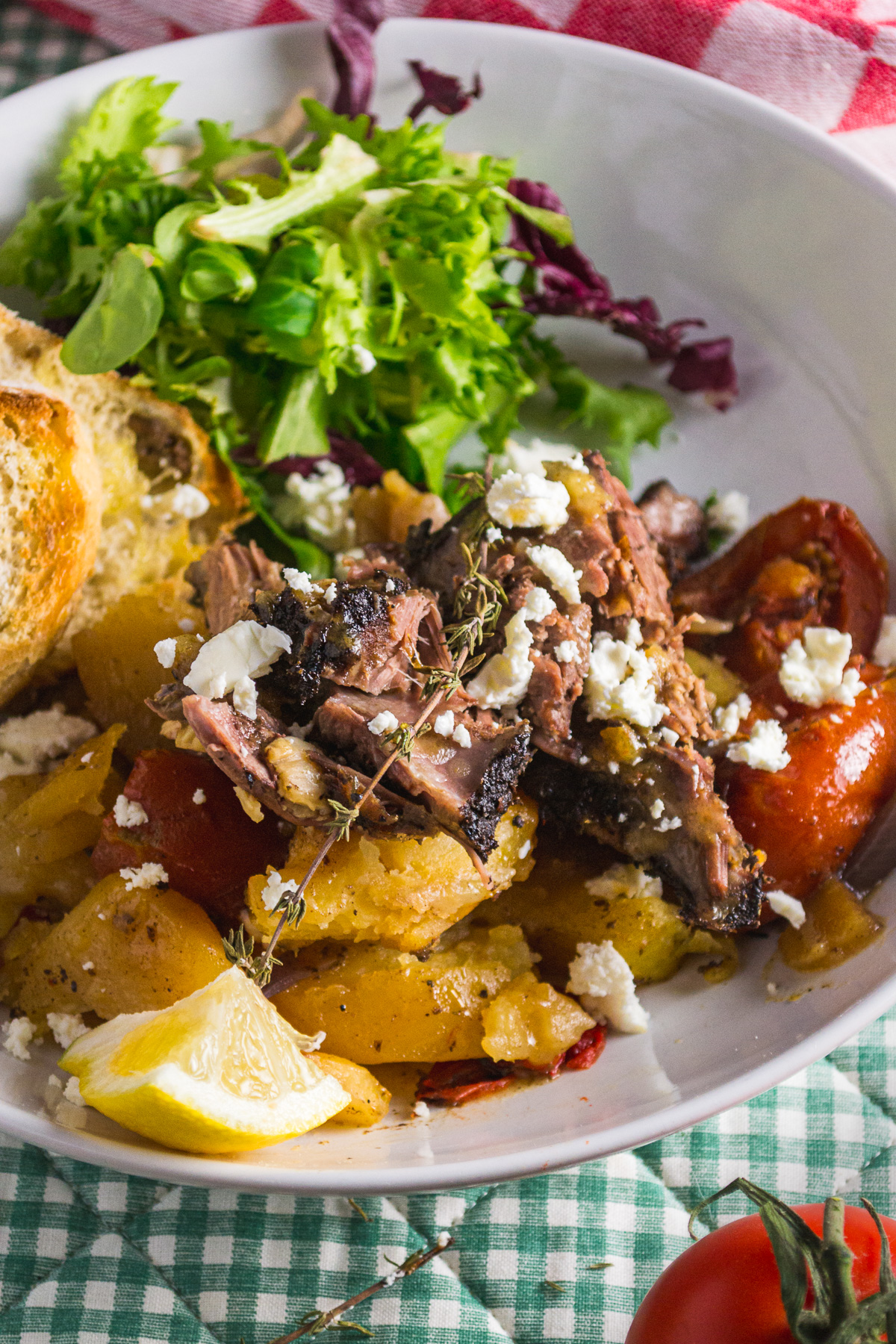 I didn't use to be a big fan of lamb. But after my first bite of melt-in-the-mouth slow roasted lamb during my years in Greece, I was hooked!
What's lamb kleftiko?
Lamb kleftiko is a classic slow cooked Greek lamb dish made with simple ingredients. It's often served on special occasions such as Easter Sunday, Christmas, Thanksgiving, or simply as a special dinner for friends or family.
The name literally means 'bandit's lamb'! According to legends, sheep thieves would cook their stolen haul very slowly in pits in the ground in the hope that they wouldn't get caught.
These days, thankfully you can just cook kleftiko in the oven in a casserole dish. An affordable version of a Le Creuset cast iron pot is perfect.
It's also possible to cook it in a slow cooker or pressure cooker if you prefer. Choose the method that best fits into your day!
Why you'll love it
I've already given you a few reasons to love this amazing classic Greek dish. But the best thing about this slow cooked leg of lamb is how little effort you have to put in to make such a delicious meal!
All you do is rub a leg (or sometimes shoulder) of lamb with olive oil, lemon juice and some simple Greek seasonings. Then you place it on top of potatoes and Mediterranean vegetables, and add more lemon and a little water.
This will probably take you as little as 15 minutes (honestly!).
Then you slow roast the lamb for around 4 hours (if oven roasting) until ridiculously juicy, fall-off-the-bone tender and delicious. This may sound like a long time but it's absolutely worth the wait!
Add simple garnishes and the result is frankly a restaurant quality meal. No need to prepare elaborate side dishes or make gravy since you have the delicious pan juices and vegetables to enjoy with the lamb.
The other thing I love about this easy Greek lamb recipe is that it's perfect for feeding – and impressing – a mini crowd! You can serve at least 6 with simple sides.
This is one of those dishes that you had on your Greek island holiday and find yourself dreaming about when you get back home. Like traditional Greek moussaka and this incredible roasted Greek chicken and potatoes.
No doubt your incredible roasted leg of lamb would taste even better while sipping a glass of ouzo in the Greek sunshine. But trust me, it's still pretty amazing enjoyed with your family and friends at home!
Lamb kleftiko ingredients
To go in the pot
A leg of lamb: To serve around 6 people, I recommend a roughly 2 pound (1 kilo) leg of lamb with the bone in. No worries if it's a little smaller or larger! The recipe will still work.
If you get the leg from a butcher, ask them to cut off the shaft bone so that the meat will fit nicely in your pot.
It's also possible to make the recipe with a lamb shoulder. Shoulder is a fattier cut of meat so is also ideal for slow roasting.
I always try to get a leg or shoulder with the bone in, but a boneless lamb leg works too. Since the oven temperature is low, you honestly can't go wrong!
Potatoes: Waxy potatoes such as Kipfler, Dutch Cream or Nadine are best so that they don't turn to mush. All-purpose potatoes are fine, too, such as Desiree, Sebago or Yukon Gold.
On the whole, though, don't sweat the type of potatoes. The dish will be amazing whichever you use!
Mediterranean vegetables: Different versions of Greek lamb kleftiko include more or less veggies. I add more types to mine since I figure I might as well make it a complete balanced meal.
I like to add tomatoes, red pepper and red onions!
Bay leaves, salt & black pepper: Extra seasoning – why not?
To rub all over the lamb
Here are the ingredients you'll need for the quick and easy marinade that you'll rub all over the meat before cooking.
Olive oil: I like to use a good quality extra virgin olive oil. Since there aren't many ingredients in this recipe you want them all to shine.
Dried oregano: This herb features in so many Greek recipes for good reason!
Ground cinnamon: You could say this is the 'secret ingredient' in the rub. It adds a characteristically Greek depth of flavour. You'll love it!
Lemon: You'll need 1 whole lemon. Half to rub over the outside of the lamb. The other half to sprinkle all over the vegetables. You'll even tuck the squeezed lemon rinds into the veggies for extra flavour.
Garlic: You'll use a whole head of garlic! Like with the lemon, you'll stick half of the cloves into slits in the lamb, and you'll scatter the rest around it with all the veggies.
How to make Greek lamb kleftiko
The step-by-step guide below should help you make the recipe perfectly first time. Scroll down to the end for the full recipe including ingredient amounts.
Step 1: Throw the potato chunks and veggies into the pot. Keep the chunks pretty large. A large cast iron pot such as this very affordable Amazon Basics Dutch Oven works very well, but a large roasting pan is fine, too. Then sit the lamb on top.
Step 2: Rub the meat with the olive oil, lemon and other seasonings. You can do this the night before if you like for maximum flavour infusion, but you don't have to.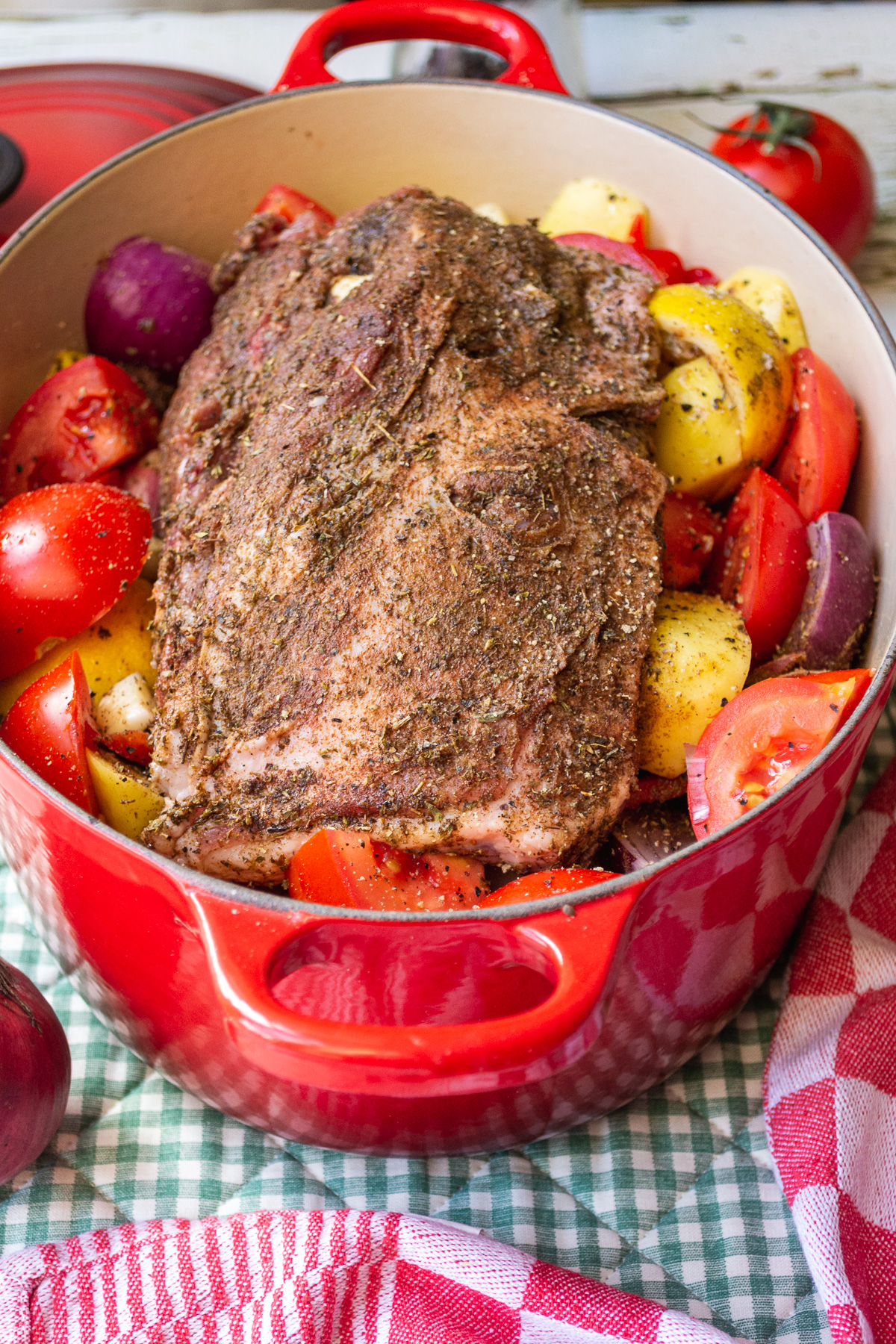 Step 3: Make small slits in the meat with a small sharp knife. Peel half of the garlic and chop it into small(ish) pieces (thirds to quarters is fine). Push the garlic pieces into the slits in the lamb.
Step 4: Tuck the rest of the garlic in with the veggies (no need to peel it this time). Squeeze the rest of the lemon all over the potatoes, vegetables and garlic.
Step 5: Pour just under a cup of water over the whole dish and cover (with either a pan lid or aluminum foil). Then let the oven do its magic! Check a couple of times during cooking and add more splashes of water if needed.
At this point, your house will smell amazing!
Step 6: 15 minutes before the end of the cooking time, uncover the dish and turn up the oven to a high heat to let the potatoes and lamb brown a little on top. Mmm!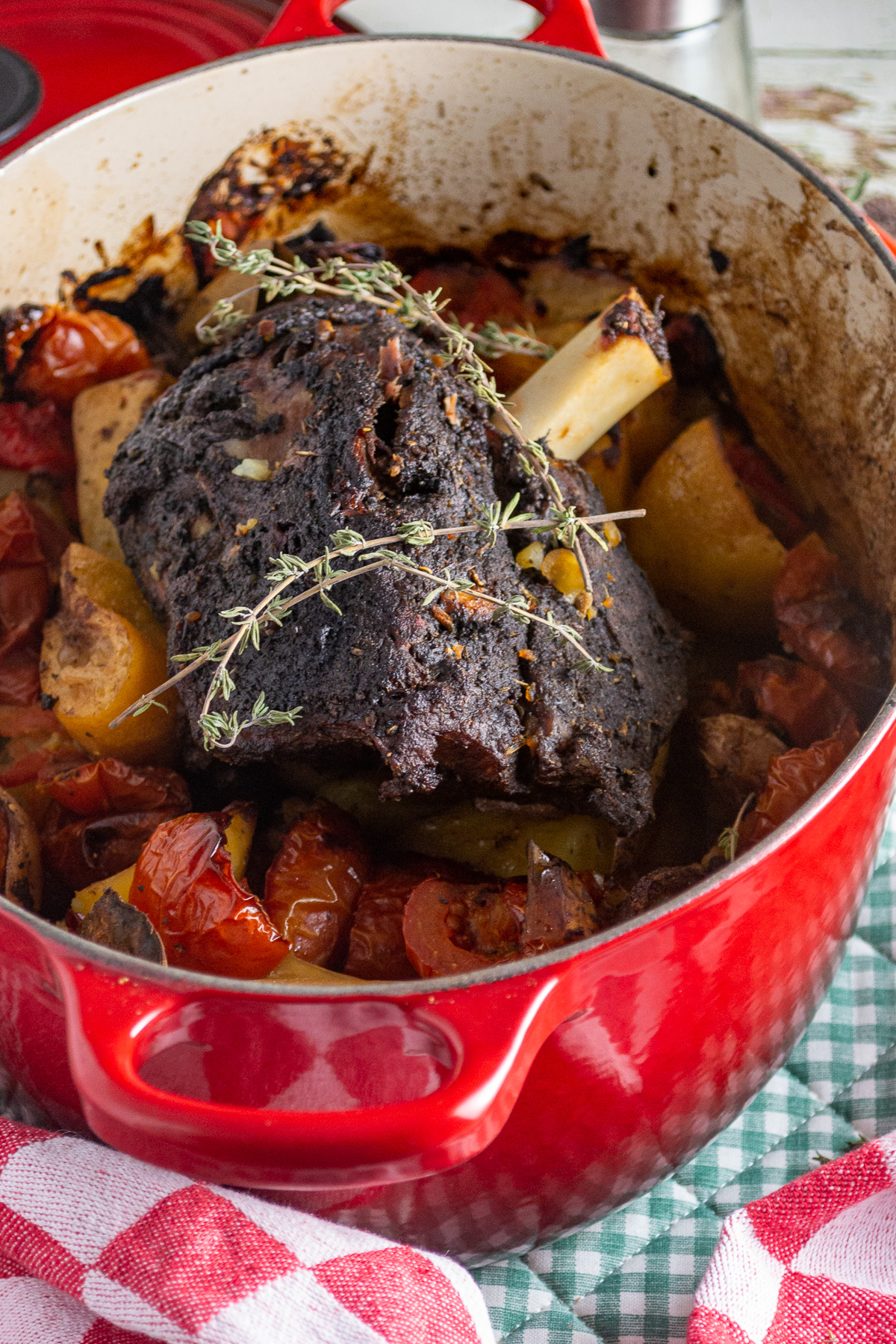 Then lap up all the compliments as everyone devours their crazy delicious meal!
Can I cook it in a slow cooker?
Yes, you definitely can! Readers have tried this Greek lamb kleftiko recipe in their slow cooker and left positive reviews. Of course, this is useful if you don't want to stay at home and babysit the lamb while it's in the oven.
I'd recommend browning the lamb and potatoes separately first, then following the oven version of the recipe.
The only thing that will change is the cook time. Cook in the slow cooker on low for about 9 hours. You may be happy to know that you will not have to check and add water at any point!
Your potatoes will not be crisp and browned, but the lamb will be just as fall-apart delicious as with the oven version. If the paler appearance bothers you, you can put both the lamb and vegetables l under the grill (broiler) for a few minutes before serving to brown the top.
Can I cook it in my Instant Pot/electric pressure cooker?
Yep. Instant Pot Greek lamb is a thing, too. The results are pretty similar to the slow cooker version. Perfect of course when you want to speed up the cooking process but still get fall-apart tender lamb.
Brown the lamb on all sides on the saute function first. Take the lamb out of the pot while you saute the potatoes for a few minutes. Then put the vegetables in the bottom of the slow cooker, placing the lamb on top as you would if cooking in a pot.
Then cook on high pressure for 45 minutes. Use natural release.
I use and love a Breville electric multi cooker, but an Instant Pot or any other multi-cooker model should work. Remember multi cookers also have a slow cooker setting so you can pick whichever cooking method suits you best on any particular day!
How to serve Greek lamb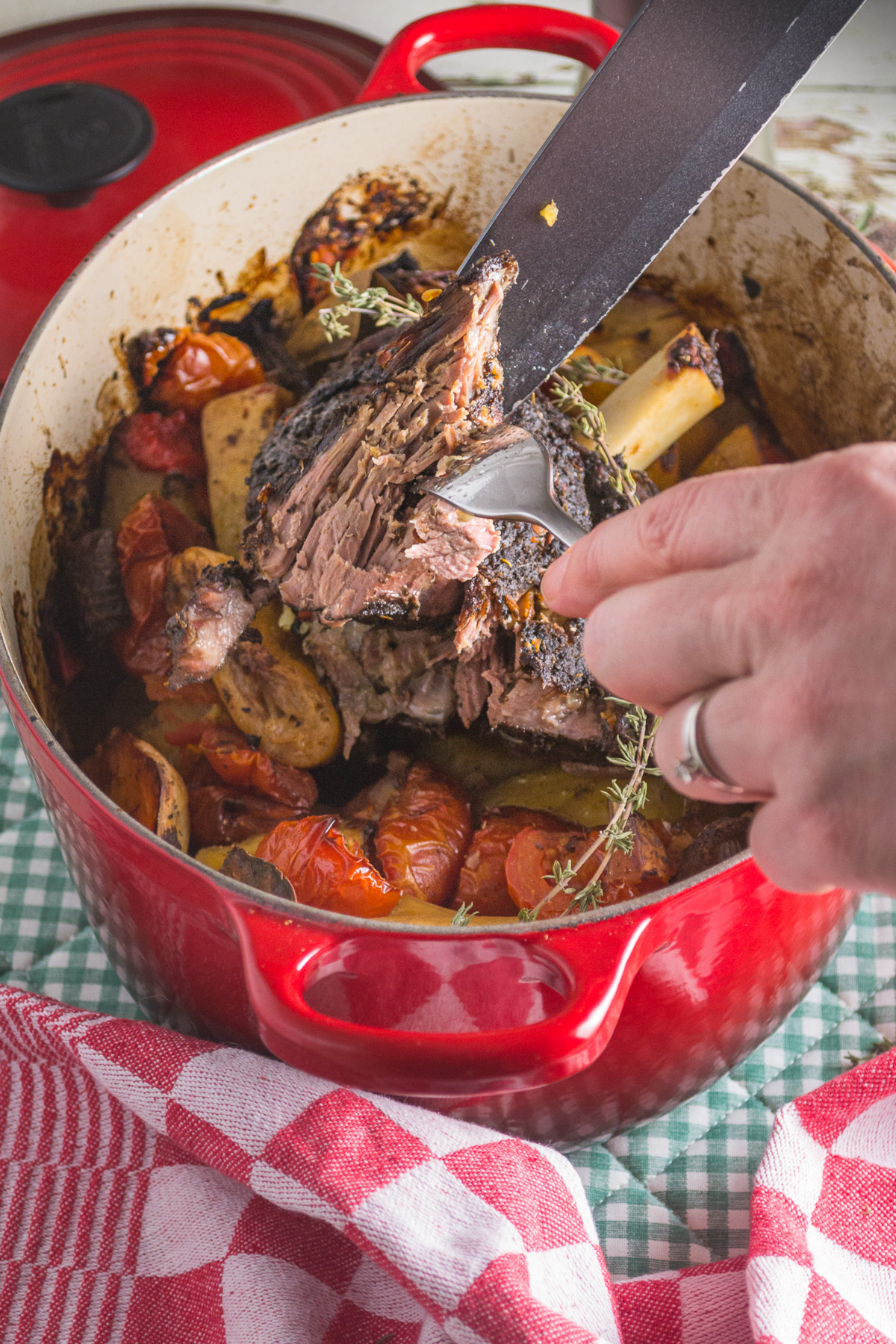 Slow cooked Greek lamb is just perfect for those winter days when you really don't want to leave the couch, let alone the house.
But it's most certainly not just for winter. It's a pretty special meal that's perfect for ANY kind of special occasion, or just a dinner party for family or friends.
In Greece something like this is commonly served to celebrate Greek Easter.
What to serve it with? So easy. This Greek lamb is a one pot meal of course so you have your potatoes, vegetables and delicious pan juices already.
I like to describe the following as accompaniments or garnishes rather than sides. But don't be mistaken. The result is a delicious all-in-one meal fit for a (Greek) king!
I like to sprinkle a little feta cheese over each person's lamb (trust me, it's the icing on the cake).
How about some tsatziki sauce to go on the side? If you want to keep things super simple, use plain Greek yogurt as the 'sauce' instead (I often do this).
I also serve a little plain green salad on the side, just to finish off the plate. This simple maroulosalata (Greek lettuce salad) is a great option which you can prepare ahead.
Feeling super fancy? Add thyme or oregano sprigs to the top of each person's meal.
If you'd like to serve the lamb as part of a bigger Greek feast, by all means serve it with a few more simple sides. How about baked eggplant with tomato and feta, tyrokafteri or 5-minute spicy feta dip (or serve this as an appetizer with pita chips!), or this easy Greek lemon rice?
Or take a look at this list of 50 best easy side dishes for lamb. There are vegetables, Salads, Potatoes, Pasta, Rice and more, so take your time to choose from the delicious ideas.
Helen's top tips
Try replacing 1/3 or even 1/2 of the water you pour over with white wine for some extra depth of flavour!
Check the amount of water as the lamb cooks. You'll probably need to add a big splash or two about two thirds of the way through – and then again fifteen minutes before the end of the cooking time.
Be creative with the leftovers! How about Greek lamb pita wraps (don't forget the tzatziki)? Or pies! Wrap in filo pastry parcels or make traditional pies with store-bought pastry. Perfect if you happen to own a pie maker (great for mini quiches, too!).
Alternatively, check out this list of creative leftover lamb recipes, including pies, curries, soups, salads and more.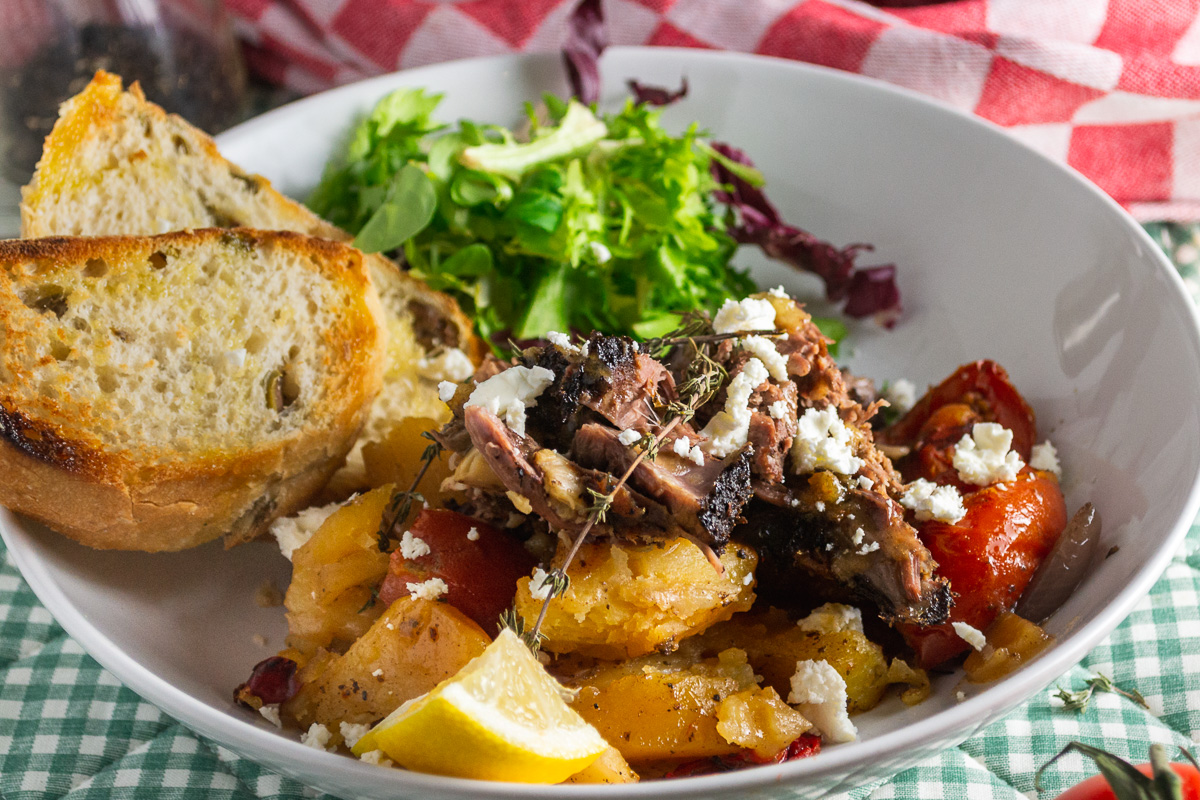 More things to know (recipe FAQ)
Can I make Greek kleftiko with lamb shanks or lamb chunks instead?
You can! Try using 3 to 4 lamb shanks depending on how many people you want to serve and how many shanks fit into your pot. I find 1 shank serves 1 to 2 people depending on how big it is. You can reduce the oven time to 3 hours for shanks.

For big lamb chunks, try cooking the dish for around 2.5 hours. Keep the chunks on the larger side – 2 inches/5cm square or even larger.
How can I adapt the recipe for a 4 pound (2 kilo) leg of lamb?
Double all of the ingredients and increase the cooking time to around 5 hours. Make sure you have a big enough pot before you buy the lamb!
Do I have to brown the lamb before slow cooking?
If you're cooking the lamb in the oven, I don't think it's necessary to brown it beforehand.

If you decide to cook it in your slow cooker or instant pot, however, it's definitely worth spending a few minutes extra on this step. It'll really help seal in the flavours and begin to caramelize the juices. Mmm!
Can I reheat the leftovers?
The leftovers are very tasty and will keep well in the fridge for 3-4 days. I usually reheat separate portions (covered) in the microwave for a few minutes on 80% power. Then I serve with fresh garnishes (feta, salad, bread).

Make sure the lamb is piping hot before serving. If unsure, check with a meat thermometer that the internal temperature is at least 75C/167F.

Make sure you check out my list of creative lamb leftovers recipes!
Can I freeze cooked lamb?
Greek lamb freezes well. You can freeze it in airtight containers or food bags for 2-3 months. When you want to serve it, simply let defrost in the fridge, then reheat as described above.
What wine goes best with lamb kleftiko?
Great question! The best wines to go with roast lamb are usually red wines such as a rich Cabernet Sauvignon or a classic Bordeaux.

If this interests you, Decanter has more great info on ways to best match wine with your lamb!
Forget the lamb, just feed me potatoes! Please add these crispy Greek potatoes to your list of recipes to try soon. I call them the best Greek potatoes for a reason. Warning: you'll want to eat them all to yourself!
Virtual cooking classes
Loving the international food vibe here in general? The Chef & The Dish runs beautiful online cooking classes teaching you the art of cooking some of the world's most iconic dishes with chefs from around the world – but in your own kitchen!
You can browse their classes and choose the one you like the sound of best. Use code 5TheDish to save 5% off any Chef & The Dish class or $15 off any class with code Chef15!
What an amazing and memorable date night or special gift! (these are affiliate links)
More delicious Greek dishes
Or if you're just enjoying the whole Greek food vibe in this post, you might like to check out my Greek recipes archives!
Last but not least: Need a quick and easy dessert to serve after this meal? Here are 11 really easy desserts (6 ingredients or less!)
IF YOU MAKE THIS RECIPE, LET ME KNOW HOW YOU GET ON BY LEAVING A COMMENT AND RATING BELOW… AND DON'T FORGET TO SIGN UP TO RECEIVE ALL MY NEW RECIPES BY EMAIL!
FOLLOW ME ON FACEBOOK, INSTAGRAM, PINTEREST AND YOUTUBE.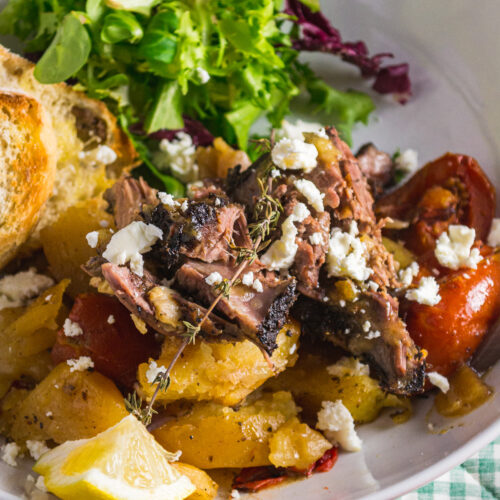 Easy Slow Cooked Greek Lamb (Lamb Kleftiko)
A super easy and tasty authentic slow cooked Greek lamb roast (otherwise known as lamb kleftiko), with delicious lemon potatoes and vegetables. No need for fancy sides! Throw the veggies in a pot, sit a lamb leg on top, rub in simple Mediterranean flavours, and slow roast for 4 hours to fall-apart perfection. Perfect for a family celebration or mini crowd!
Equipment (affiliate links)
Ingredients (UK/Australia? Click below for grams/ml)
2

pounds

potatoes

peeled and cut into large wedges

3

tomatoes

large, cut into big chunks

1

red pepper

cut into large chunks

1

red onion

(1 large, or 2 smaller) peeled and chopped into chunks

3

bay leaves

salt and pepper

2

pounds

leg of lamb

bone in (or lamb shoulder)

1

tablespoon

olive oil

1

teaspoon

dried oregano

1

teaspoon

ground cinnamon

1

lemon

1

head of garlic
To serve (optional)
feta cheese, tzatziki or Greek yogurt, salad and fresh crusty bread
Instructions
Preheat the oven to 160C / 320F.

Place the potato wedges, tomatoes, red pepper, onions, and bay leaves in an oven proof cooking pot or deep roasting pan. Grind over plenty of salt and pepper, then sit the lamb on top. Make sure the 'fat' side of the lamb is facing up.

Rub the lamb all over with the olive oil, then with the oregano and cinnamon. Squeeze over the juice of half the lemon.

Peel half of the garlic cloves and roughly chop into chunks. Cut small slits all over the lamb with a sharp knife and insert the garlic chunks into them.

Tuck the rest of the garlic (unpeeled is fine) in and around the lamb and potatoes/veggies. Then squeeze the other half of the lemon all over the potatoes/veggies. Finally, pour over 200ml (just under a cup) water.

Put the lid on the pot (or tightly cover with foil if using a roasting dish). Roast for 4 hours until the lamb is fall-apart tender. Check half way through cooking, and again about two thirds of the way through. Add a few drizzles more water if you think the dish needs it.

15 minutes before the end of the cooking time, add another splash or two of water if necessary, then turn the oven up to 220C/430F. Roast uncovered until the potatoes and vegetables have browned a little.

Remove the bay leaves. Then serve with a sprinkle of feta, tzatziki or Greek yogurt, olive oil toasts and green salad leaves.
Notes
What kind of lamb to buy: You need to get a whole lamb leg with the bone still in for this recipe (about 2 pounds or 1 kilo). A shoulder works well, too, and actually is a bit fattier so the result may be even more fall-apart tender.
If you'd like to scale up for more people and you have a big enough pot, use the sliding scale at the top of the recipe to adjust the ingredient amounts. Try a local butcher to get the best quality lamb you can.
Water or wine? If you like you can replace some of the water you pour over the lamb before putting it in the oven with wine! (try about 1/3 cup of wine)
While the lamb is cooking: Other than putting your feet up, lift the lid of the pot every now and again and add a drizzle more water. I usually do this half way through the cooking time and about 15 minutes before the end.
Also remember to take the lid off the pot and turn up the oven for the last 15 minutes to let the potatoes and lamb brown a little on top.
How to serve: This is a one pot meal with delicious lemon potatoes and vegetables all ready to serve with the lamb.
To make the meal even more incredible, though, serve with a sprinkle of feta cheese, a dollop of Greek yogurt or tzatziki, grilled bread drizzled with olive oil and sprinkled with salt, and a nice crisp green salad. Perfection!
Want to serve it as part of a delicious feast? Take a look at this list of 50 best easy side dishes for lamb!
Slow cooker instructions: Simply brown your lamb on all sides either in a pan or a slow cooker with a saute function first. Then brown your potatoes for a few minutes.
Then follow the recipe as for the oven version, but slow cook on low for 9 hours. You don't have to add any more water during cooking.
The potatoes will not be crispy but the meal will be just as delicious as the oven version. If you like you can pop the meal under the grill (US broiler) for 5 minutes for a bit of colour and crisp!
Instant Pot/Electric pressure cooker instructions: Follow the slow cooker instructions, but cook for 45 minutes on high pressure. Use natural release.
Again, grill (UK)/Broil (US) for 5 minutes for a bit of crisp and colour!
Leftovers: Reheat on 80% power in the microwave for a few minutes. Leftovers keep well in the fridge for 3-4 days.
Alternatively you can freeze leftovers for up to 3 months.
Leftovers also make great Greek pitas and/or pies!
Nutrition
Calories:
290
kcal
Carbohydrates:
34
g
Protein:
24
g
Fat:
7
g
Saturated Fat:
2
g
Polyunsaturated Fat:
1
g
Monounsaturated Fat:
3
g
Cholesterol:
61
mg
Sodium:
73
mg
Potassium:
1159
mg
Fiber:
6
g
Sugar:
5
g
Vitamin A:
1150
IU
Vitamin C:
75
mg
Calcium:
50
mg
Iron:
4
mg