Homemade meatballs are a hassle, right? Not these easy Greek air fryer chicken meatballs. All you do is throw ground chicken in a bowl with a few Mediterranean flavours, panko crumbs and an egg. Mix, make bite-sized balls and air fry for just 10 minutes. No air fryer? Just bake.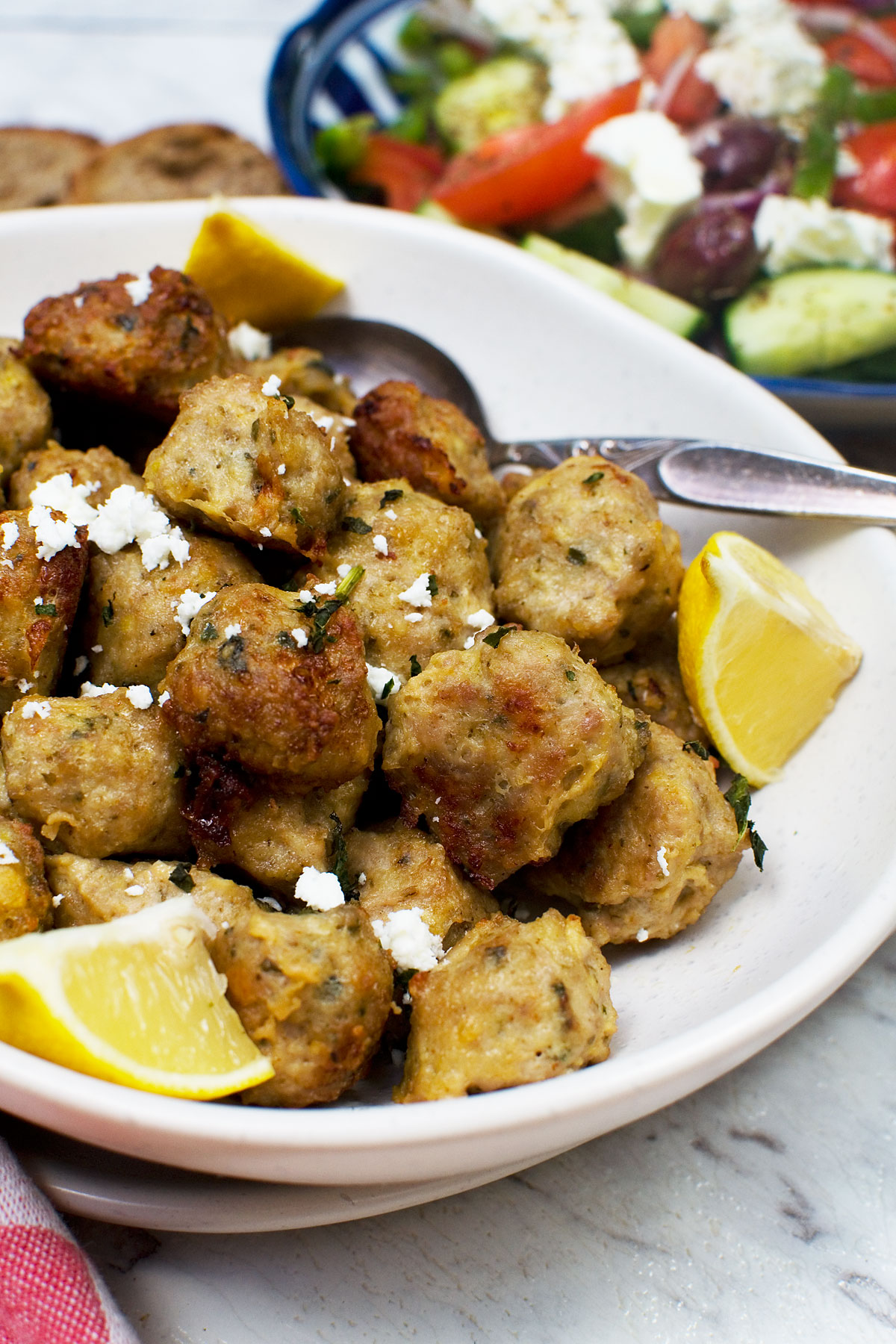 Why you'll love this recipe
Greek chicken meatballs (called keftedes or kef-ted-es in Greek) are a particularly tasty version of meatballs.
I don't post a recipe here unless I can really get behind it, but this one I can REALLY get excited about. I think you will too and here's why:
It's Greek style, which is always something to get excited about. Add garlic, onion, lemon zest, dried oregano, mint and paprika for a classic Mediterranean burst of flavour.
They really are very easy chicken meatballs. No peeling, chopping or crushing. Just throw everything in a bowl and stir. Most of the flavours are in dried or powder form. The only real 'work' you have to do is zest a lemon.
They're ready in around 20 minutes. If you're oven baking them, 30.
The recipe makes 30 to 40 bite-sized meatballs. Perfect for feeding a small crowd.
They're very versatile. Scroll down for serving ideas!
About the ingredients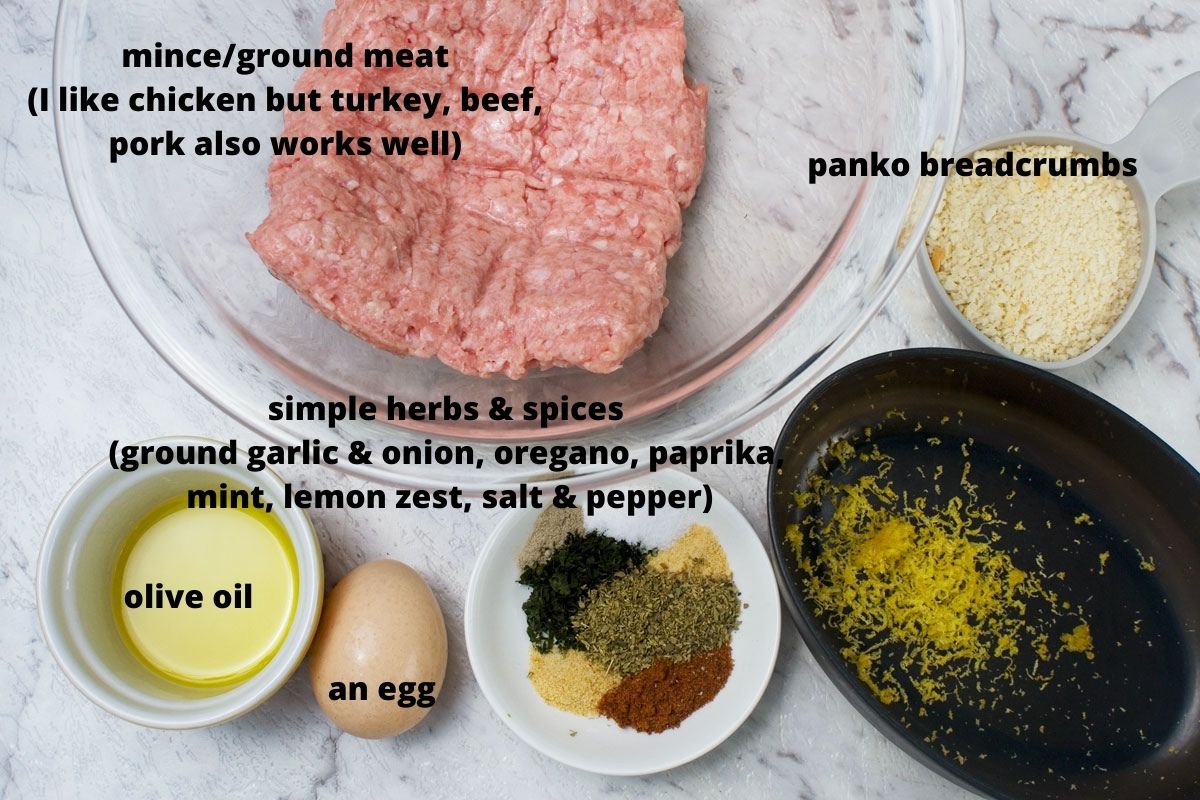 The meat: I usually use good quality chicken mince/ground chicken to make my Greek meatballs. But use turkey, beef or even pork if you prefer.
The 'fillers': Meatballs usually contain breadcrumbs and an egg. I use panko breadcrumbs in my recipe for ease. No blitzing of stale bread required! If you want to make the meatballs gluten-free, simply use your favourite gluten-free breadcrumbs, or skip the breadcrumbs altogether. The recipe will still work well.
I like these organic gluten-free breadcrumbs in case you'd like to give them a try.
The flavours: Powdered garlic and onion, lemon zest, dried oregano, dried mint and paprika. These take seconds to add as no chopping is required!
What else: Apart from a tablespoon of olive oil to keep the meatballs moist, that's it! I told you these are REALLY easy air fryer meatballs!
How to make chicken meatballs in your air fryer
If you're a busy person (who isn't?) you'll love that all of the flavours in these particular Greek meatballs are in powder form – apart from the lemon zest of course. I also use shop/store bought breadcrumbs such as panko crumbs so there's no blitzing of bread either.
Throw in the air fryer and a couple of easy sides (see ideas below!) and you have one very simple Mediterranean themed dinner idea. In a few very simple steps: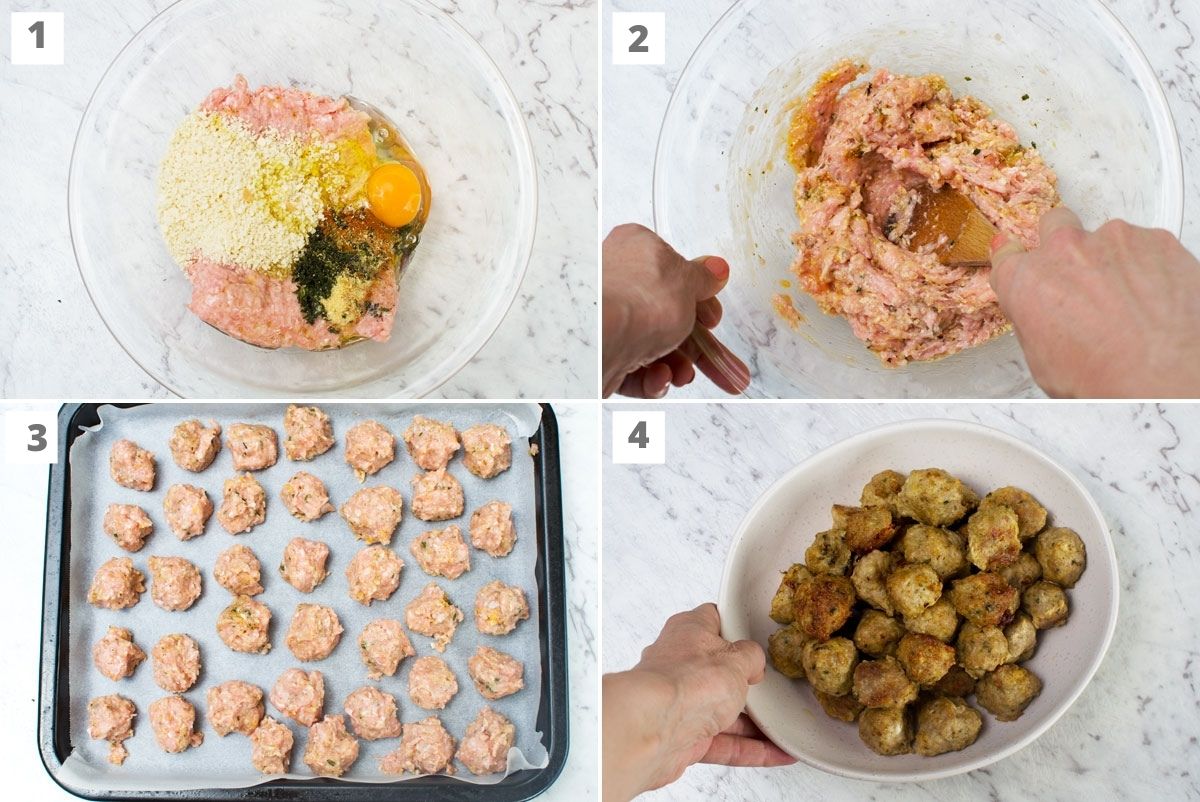 Step 1: Zest the lemon, then throw it plus everything else together. Yes, everything. I find the mixture is quite soft, especially if you're using ground/minced chicken, so I just mix with a wooden spoon. I hate mixing with my hands!
Step 2: Roll the mixture into bite-sized meatballs. I use disposable gloves for this part! It's quick and easy as the meatballs virtually form themselves. I usually get 30 to 40 little balls.
Step 3: Air fry for 8 to 12 minutes. A basket style air fryer tends to cook them a bit faster, but they're ready when they're lightly golden and starting to caramelise. Alternatively, bake for 25 to 30 minutes. If you shake or turn the meatballs half way through cooking you'll get a more even colour, but it isn't a disaster if you forget!
A note on different types of air fryers: I currently use an oven style air fryer that I can fit a medium-sized baking tray into. If you have a basket style air fryer, there won't be room for all 30 to 40 meatballs. I'd suggest only cooking as many as you need for that meal and refrigerating or freezing the rest for later. Alternatively you can cook them in 2 batches – or just bake them all in one go!
How to serve Greek meatballs
There are more possibilities than you might think!
Classic spaghetti and meatballs. Grab a jar of your favourite good quality pasta sauce or make a quick marinara sauce like the one in this Greek eggplant recipe. Dinner is served!
Serve with sweet potato wedges/fries, air fried smashed Greek potatoes, a simple green vegetable like broccoli or sautéed green beans, and your favourite sauce – even ketchup, a nice chutney or mayo/aoli will do! As I have an oven style air fryer I can fit the wedges in the basket and the meatballs on a baking tray below. If you don't you can just bake everything, or cook in batches. Broccoli can be microwaved, steamed or sautéed on the stovetop in just 10 minutes!
Serve them on cocktail sticks at a party with a bowl of Greek tsatziki on the side.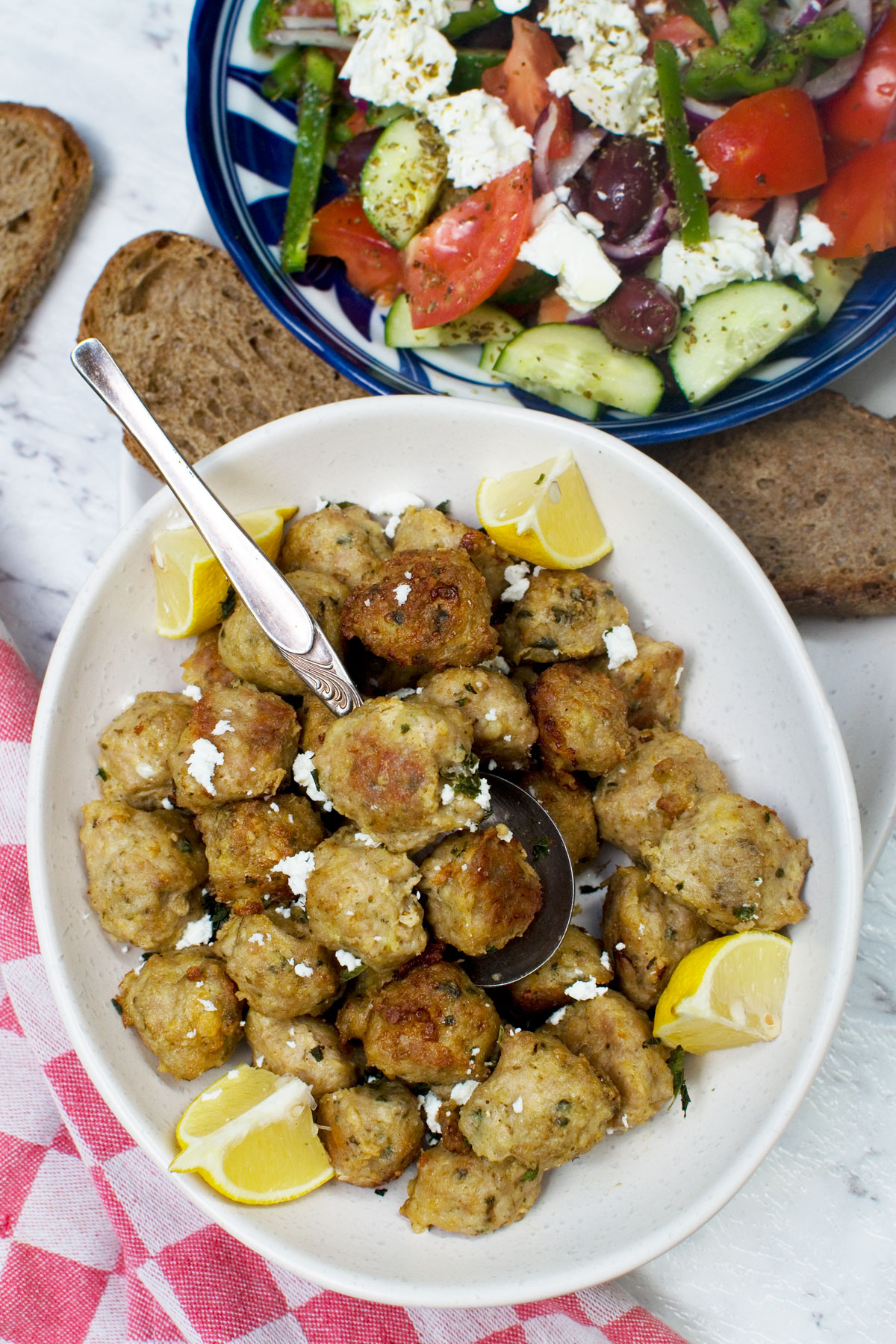 Ways to vary them
I usually make Greek chicken meatballs, but you can use any other kind of ground/minced meat instead if you prefer.
I sometimes throw half a cup of cubed feta cheese into the meatball mixture. Other times I sprinkle a little over the top of the meatballs after they're cooked. If I'm serving the meatballs with a Greek salad though I skip extra feta of course!
Grate a little zucchini into the mixture. It's a little extra work, but it's worth it if you want to add some hidden goodness for a picky child! Just make sure you blot the zucchini well with kitchen paper before adding it to remove any extra moisture.
FAQ
What kind of ground meat/mince works best?
I like chicken, but turkey, or lean beef or pork work well too.
Can you reheat them?
Yes, I do this all the time. Reheat in your air fryer for 4 to 6 minutes at 340F/170C until piping hot again. Or reheat at 350F/175 in the oven for around 15 minutes.
Can you freeze them?
Definitely! Freeze uncooked or cooked between sheets of baking paper in glass containers for up to 3 months. Let defrost then cook or reheat as normal.

Alternatively, you can cook these meatballs straight from frozen but for around 50% longer. Keep an eye on them though after the 10 minute mark as all air fryers are different. You don't want them to burn or dry out.
Do you need to turn the meatballs half way through cooking?
I sometimes shake or turn the meatballs half way through cooking. They do brown more evenly this way, but it depends if I remember!
What's the best air fryer to use?
I don't think there's a 'best' air fryer. Just pick one that's the right size for your family. I use this Breville Smart Oven Air Fryer daily, but I also like this family sized basket-style Cosori Air Fryer XL 5.8Qt air fryer.

Of course, use the one you have. If your air fryer is on the smaller size, just cook the meatballs in batches! It won't take too much longer.
Are these meatballs gluten free?
No they aren't, because they contain panko breadcrumbs. However, you can easily make them gluten-free by using gluten-free breadcrumbs, or even by skipping the breadcrumbs altogether.
More easy air fryer recipes
Or browse this list of 10 best easy Greek chicken recipes.
IF YOU MAKE THIS RECIPE, LET ME KNOW HOW YOU GET ON BY LEAVING A COMMENT AND RATING BELOW… AND DON'T FORGET TO SIGN UP TO RECEIVE ALL MY NEW RECIPES BY EMAIL!
FOLLOW ME ON FACEBOOK, INSTAGRAM, PINTEREST AND YOUTUBE.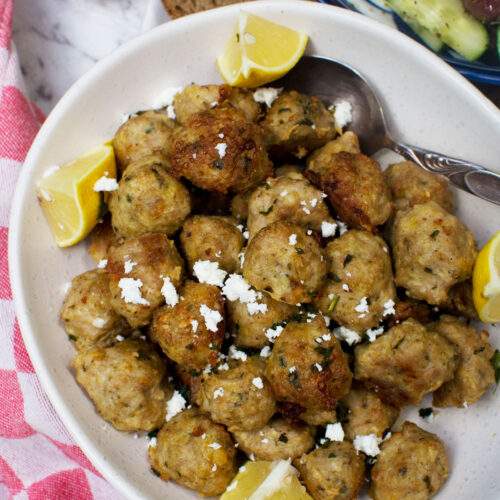 Easy Greek Air Fryer Chicken Meatballs (Keftedes)
Greek chicken meatballs can be delicious AND quick and easy when you make them in your air fryer. Just mix together all the ingredients, shape quickly into bite-sized meatballs and air fry for around 10 minutes. They're incredible served with a Greek salad, tzatziki and toasted bread, but you can serve them in many other ways as well.
Equipment (affiliate links)
Ingredients (UK/Australia? Click below for grams/ml)
1

pound

ground chicken

UK/Australia = minced chicken – turkey, beef and pork also work

½

cup

panko breadcrumbs

or any breadcrumbs

1

egg

1

lemon

zest only (then you can use the rest of the lemon for squeezing over at the end)

½

teaspoon

garlic powder

½

teaspoon

onion powder

½

teaspoon

paprika

1½

teaspoons

dried oregano

1

teaspoon

dried mint

(1.5 teaspoons semi-dried, or 7 to 8 leaves of fresh mint, finely chopped)

½

teaspoon

salt

¼

teaspoon

pepper

1

tablespoon

olive oil
To serve (optional)
feta cheese

a little, to crumble over the top

fresh chopped mint or parsley

lemon wedges

(you can use the same lemon you used for the zest)
Instructions
Line a baking tray with baking paper. Preheat the air fryer or oven to 400F/205C.

Put all of the ingredients into a large bowl. Mix with a wooden spoon until well combined.

Shape the mixture into small bite-sized meatballs and place on the baking paper.

Air fry for 8 to 12 minutes until starting to go golden brown (basket-style air fryers tend to cook faster than oven-style air fryers). Cook in 2 batches if necessary. Turn or shake lightly half way through cooking. If baking, bake for around 20 minutes, until lightly golden and cooked through. Turn half way through cooking.

Serve with a Greek salad, tzatziki and bread, sweet potato wedges and vegetables, or turn into Greek wraps or tacos.
Notes
How to mix: I find the mixture is soft enough to mix easily with a wooden spoon, especially when using chicken or turkey mince. Use bare hands if you prefer!
What size to make the meatballs: I pinch a tiny bit of mixture (about a large teaspoon), roughly form a ball and place on the baking tray. It's really quick and easy!
Different air fryers: If you have a basket style air fryer, you might need to cook the meatballs in 2 batches. Cook them directly in the air fryer basket.
If you have a larger oven style air fryer, you can probably cook them on the baking tray. I find that my oven style air fryer takes a little longer to cook than a smaller basket-style air fryer. I usually air fry my meatballs for 11 to 12 minutes.
The meatballs might only take 8 minutes to cook in a basket style air fryer. Keep an eye on them. They're ready when they're going golden brown, are starting to caramelize and are 165F/75C inside.
Nutrition
Calories:
168
kcal
Carbohydrates:
6
g
Protein:
15
g
Fat:
10
g
Saturated Fat:
2
g
Trans Fat:
1
g
Cholesterol:
92
mg
Sodium:
287
mg
Potassium:
457
mg
Fiber:
1
g
Sugar:
1
g
Vitamin A:
143
IU
Vitamin C:
10
mg
Calcium:
33
mg
Iron:
1
mg