Looking for interesting ways to cook fish? Fan of Mediterranean food? This delicious Greek fish recipe (AKA psari plaki) is for you! It's so simple and healthy – just local white fish baked with tomatoes and onions and lots of yummy Greek flavors. So easy to make with just a few basic ingredients, and the oven does most of the work!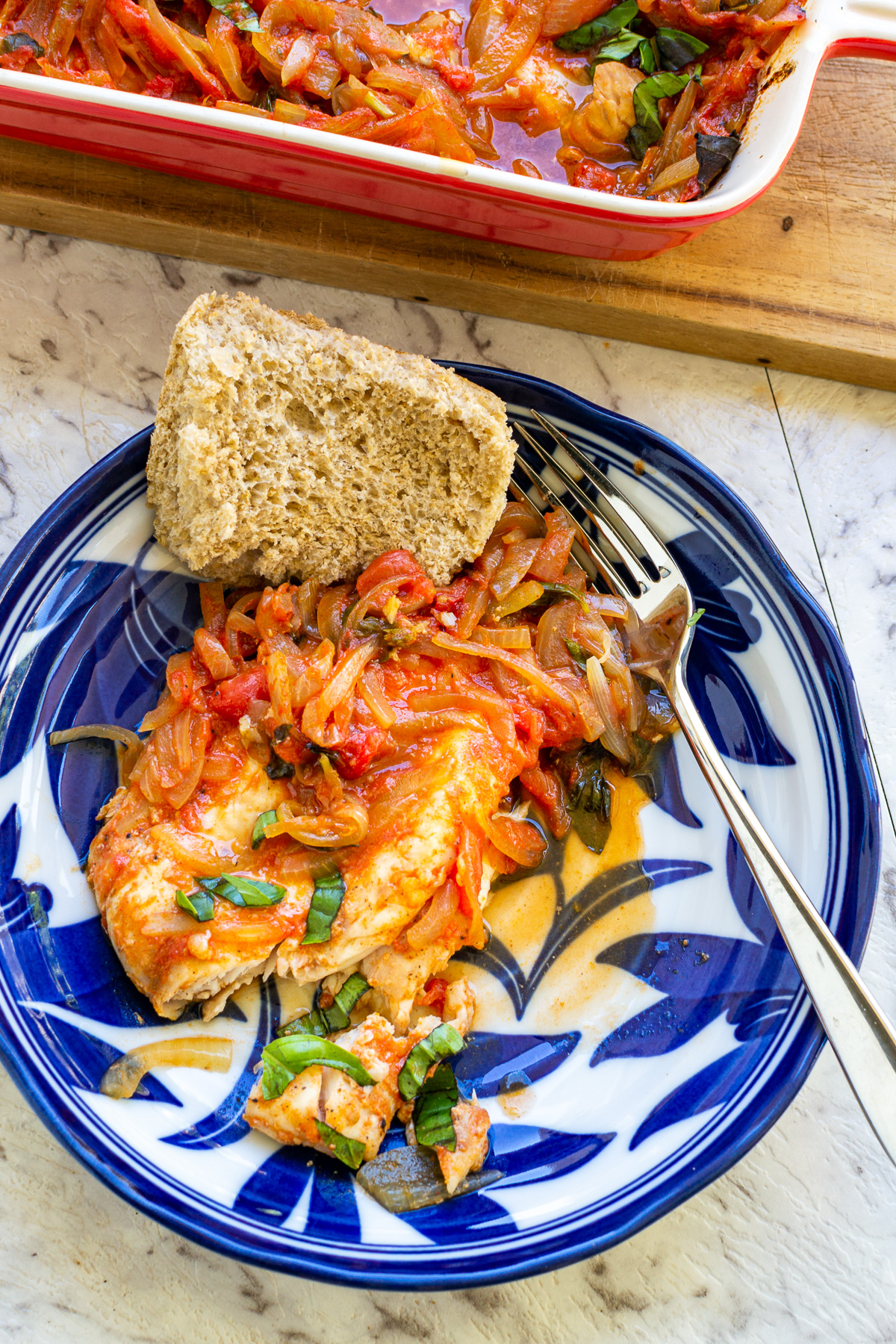 What's Psari Plaki?
Psari (pronouned p-SAR-ee, with an emphasis on the SAR) means fish in Greek. Give it a try! Plaki (plak-EE) is actually a classic Greek cooking method meaning baking in the oven with olive oil, vegetables and herbs.
So psari plaki is simply a delicious Greek fish dish baked in the oven in tomatoes and onions and other delicious and simple Greek flavors. It's definitely one of those recipes that everyone in Greece has their own version of (like moussaka and gemista!).
I hope you enjoy mine!
Why you'll love it
If you're wondering how to make baked fish taste good, you've come to the right place!
This Mediterranean fish is one of those recipes that you'll wish you'd known years ago. Here's what I love about it:
It's quick and easy to make. Ready in about an hour, but the oven does most of the work.
It's super simple – just white fish baked in lots and lots of tomatoes and onions.
But it's such an interesting way to cook fish. Red wine and Greek herbs and spices take it to next-level delicious! Read on to find out my 'secret ingredient' ;-).
It's very healthy and low in calories, if that happens to be important to you.
It's a delicious and healthy fish dinner to serve midweek, but it's also a good choice for easy entertaining.
5 star review *****
Wow. Made it this evening and just added it to my list of regular recipes. Served with boiled rice and Greek salad. Time to see what other delights this site has to offer… (Fiona)
Ingredients
For the tomato and onion sauce
Onions: The recipe starts with 2 whole large onions. Regular white onions are fine.
Garlic: You'll need 3 large cloves.
Good quality olive oil: To slowly cook the onions and garlic in.
Greek herbs and spices: Paprika, cinnamon & dried oregano. You could say cinnamon is the secret ingredient in many traditional Greek dishes. Don't skip this!
Tomatoes, tomato paste and red or white wine: Mix together these 3 before pouring them into the sauce with the onions. It doesn't matter which wine, but you can't go wrong with a full-bodied red such as Cabernet or Merlot.
Honey: For a touch of sweetness to balance out the acidity of the tomatoes.
Fresh basil or parsley: I prefer the fresh and subtle anise flavor of basil, but by all means use parsley instead if basil isn't available.
What kind of fish to use
Any kind of white fish fillets will work really well for this Mediterranean fish recipe. In Greece, tsipoura (sea bream) would be a great choice. Cod, haddock, snapper, tilapia, bass or grouper would all work too.
I like to use local Australian wild caught snapper – just because that's what's commonly available, it's reasonably priced, and it tastes good.
I'd definitely look for a good quality, wild caught fish if the budget allowed. But you can use whatever white fish is economical and widely available where you live.
How to make it
This is so simple you won't believe it. Essentially, there are only 3 main steps.
Step 1: Start by gently cooking the sliced onions for about 10 minutes, then add garlic. You might think it looks like a lot of onions. It is, but that's OK!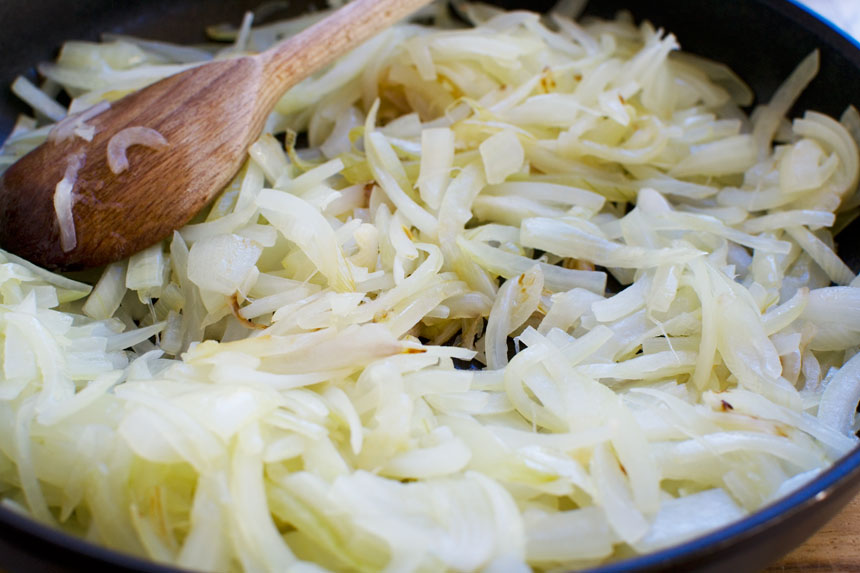 Step 2: Then add the can of tomatoes, tomato paste and the wine, plus all the yummy Greek herbs and spices (and of course salt and pepper).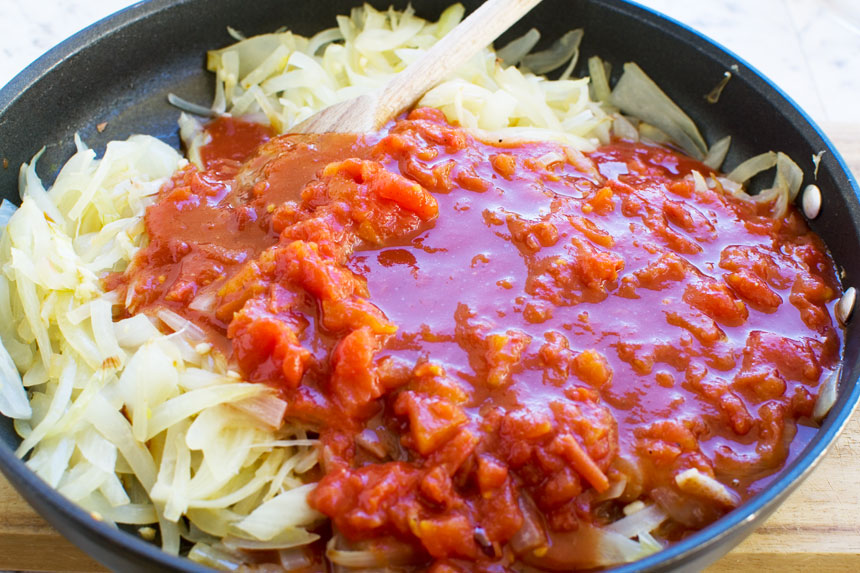 Step 3: Let simmer for about 15 minutes. Then stir in the honey and fresh herbs. Pour over the fish and bake for about 30 minutes.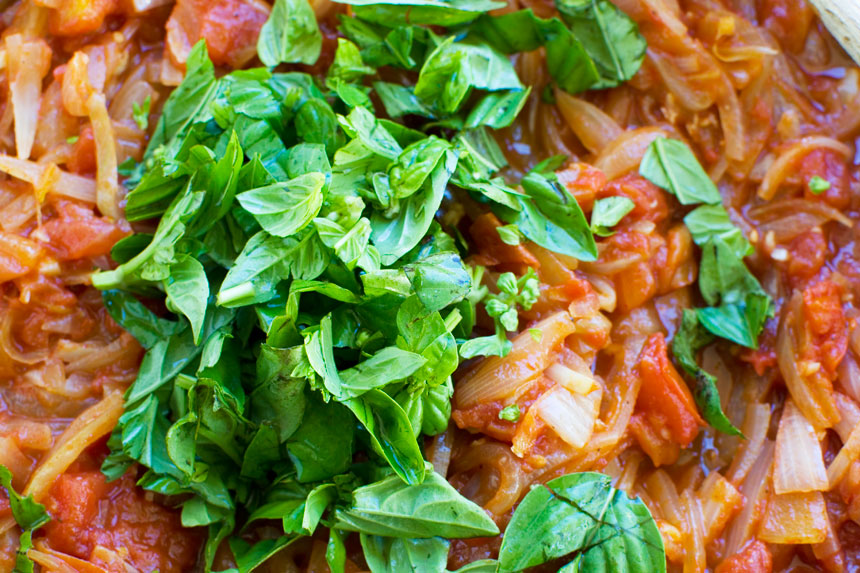 Put your feet up while it cooks! Then serve immediately and enjoy!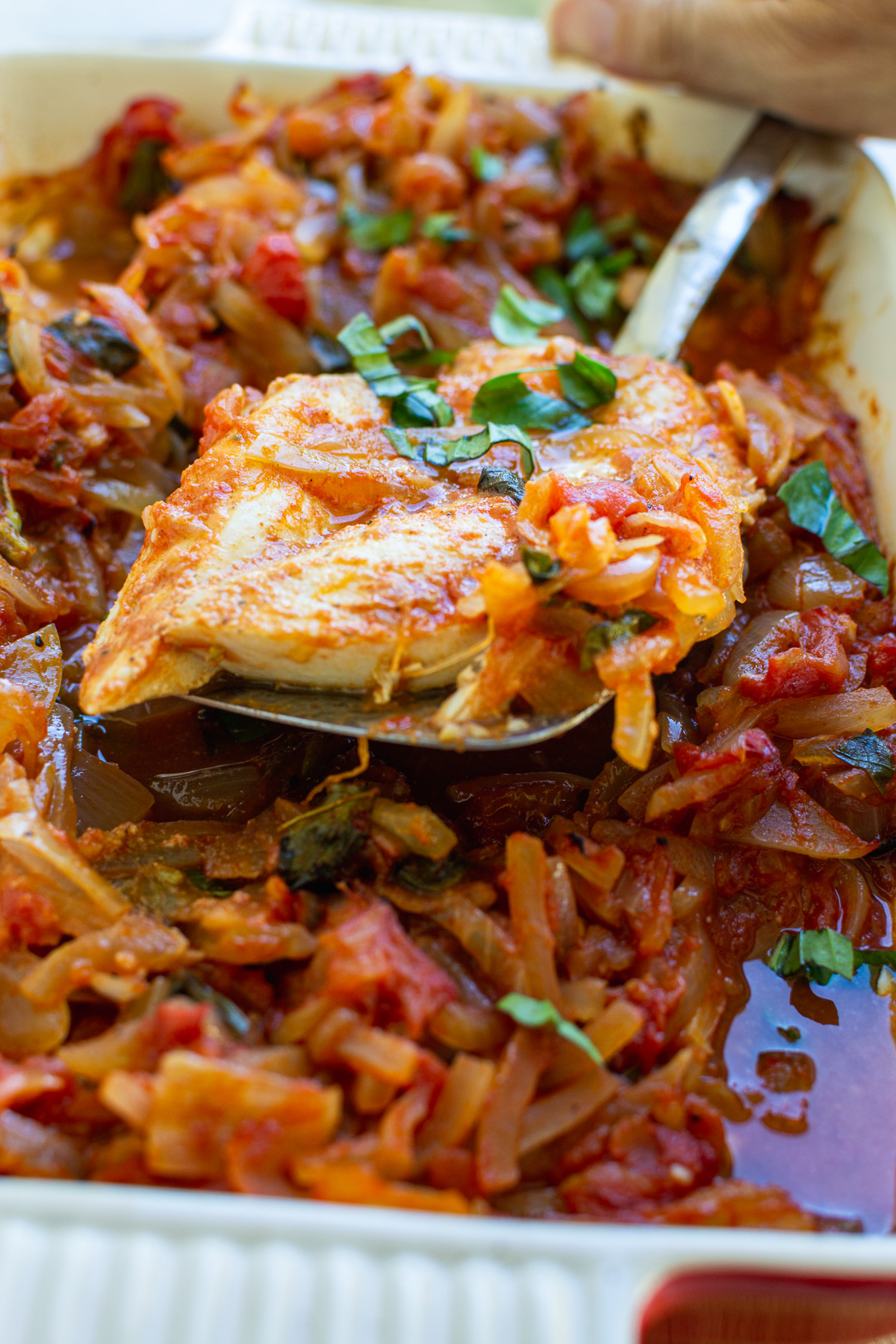 How to serve
We tend to keep our wonderful Greek baked fish or 'psari plaki' simple:
Serve everyone some of the delicious oven roasted fish in the yummy and healthy Mediterranean tomato onion sauce.
Optionally, serve a big traditional Greek salad on the side (if you have the energy, or if you're serving this meal to guests!)
Other side dish possibilities could include:
Rice! Several readers have enjoyed this Greek style baked fish with rice on the side. This Greek lemon rice is perfect, and you can make it either on your stove-top or in your Instant Pot (pressure cooker).
Looking for more Greek style sides? Take a look at this collection of 21 easy Greek side dishes for loads of delicious inspiration!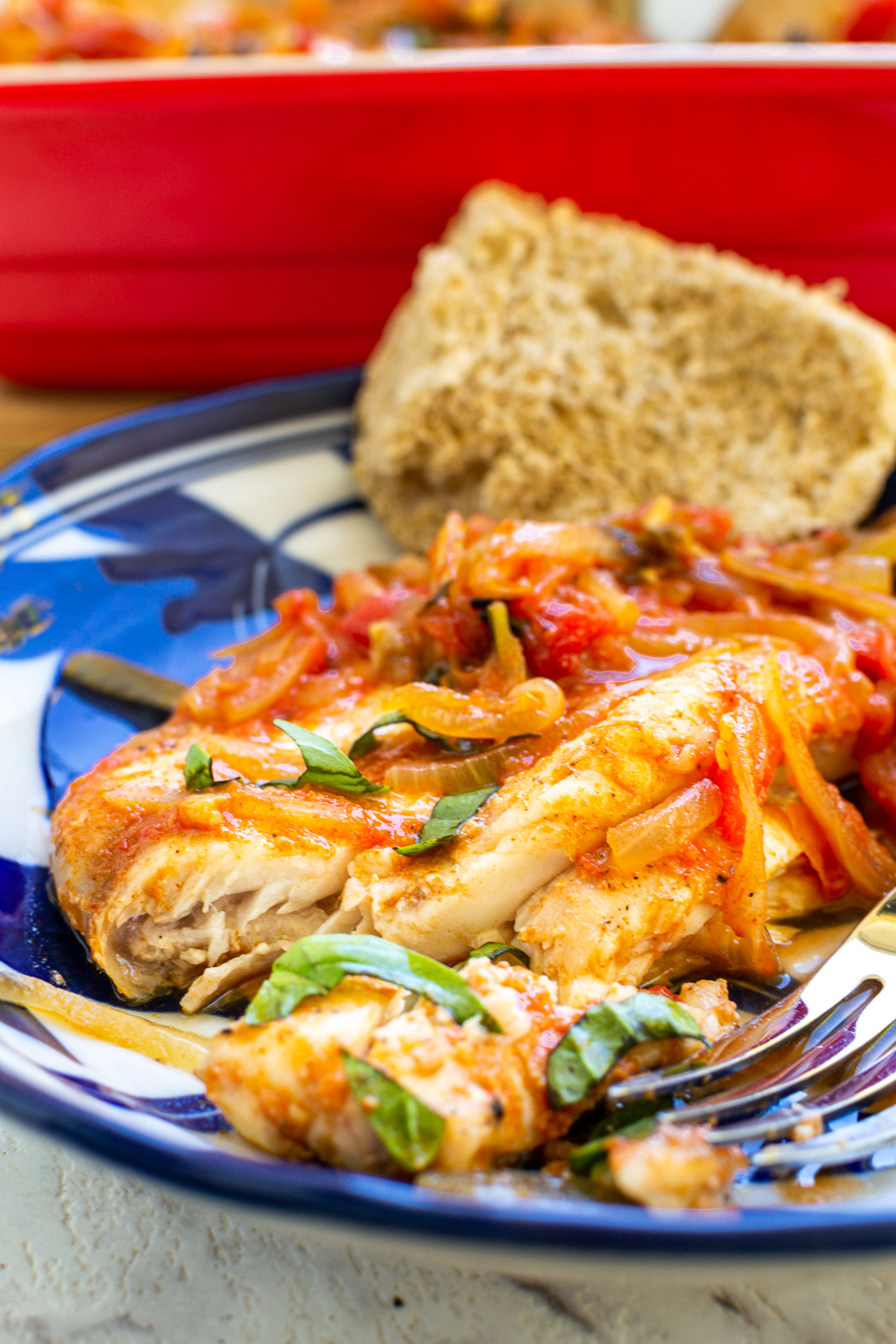 Recipe FAQ
Should I cover the fish when baking it?
No, there is no need to cover the dish for this recipe, which makes it even easier!
How do I know when the fish is cooked?
To check if fish is done, just insert a fork in the thickest part and twist it to see if the fish easily flakes. If it still looks opaque in the middle, give it a few more minutes before checking again. If you have a food thermometer, the internal temperature should be 145F/63C.
Can I reheat the leftovers?
Fish cooks quickly and can be easily overcooked, so it's always best eaten when first cooked. If you have leftovers, however, you can reheat them gently in the oven. Just cover with aluminium foil and warm through at around 275F/135C for about 15 minutes or until piping hot again.

I don't recommend using the microwave to reheat this. It's too easy to overheat the fish, making it tough and dry.
More easy fish dinners
If you like this recipe, please do also check out some of my other easy Greek recipes!
IF YOU MAKE THIS RECIPE, LET ME KNOW HOW YOU GET ON BY LEAVING A COMMENT AND RATING BELOW… AND DON'T FORGET TO SIGN UP TO RECEIVE ALL MY NEW RECIPES BY EMAIL!
Easy Greek Oven Baked Fish (Psari Plaki)
If you're looking for an interesting, delicious and healthy way to cook fish on a week night, you'll love this easy Greek baked fish! Make a quick tomato and onion sauce packed with simple Mediterranean flavours, pour it over the fish and bake for 30 minutes. Serve alone with fresh bread or 2-minute olive oil toasts, or with a Greek salad if you're serving it to guests.
Equipment (affiliate links)
Ingredients (UK/Australia? Click below for grams/ml)
2

tablespoons

olive oil

2

large

onions

halved then sliced thinly

3

cloves

garlic

crushed or sliced

1

teaspoon

paprika

1

teaspoon

oregano and/or other dried herbs

1

teaspoon

cinnamon

a big pinch each of salt & pepper

14

ounces

chopped tomatoes

1 can

1

tablespoon

tomato paste

mixed with ¼ cup water (UK = tomato puree)

½

cup

red or white wine

1

teaspoon

honey

½

cup

basil

(fresh) plus extra for sprinkling at the end (or use parsley)

1

pound

fish fillets

I used 4 fillets of wild caught snapper fillets, as I'm in Australia, but use any good quality white fish that's good where you live.
Instructions
Cook the onions in the olive oil for about 10 minutes or until soft, sweet and starting to colour.

2 large onions,

2 tablespoons olive oil

Add the garlic and cook for another minute or two.

Add the rest of the sauce ingredients (everything except the fish and fresh basil or parsley). Bring to the boil, then lower the heat and simmer for about 15 minutes or until the sauce has reduced and thickened slightly.

1 teaspoon paprika,

1 teaspoon oregano and/or other dried herbs,

1 teaspoon cinnamon,

a big pinch each of salt & pepper,

14 ounces chopped tomatoes,

1 tablespoon tomato paste,

½ cup red or white wine

Stir in the honey and then the fresh herbs (basil or parsley).

1 teaspoon honey,

½ cup basil

Meanwhile, preheat the oven to 190C/355F. Lay the fish in a medium-sized baking dish in a single layer.

When the sauce is ready, pour it all over the fish in the baking dish. Bake uncovered for 30 minutes or until the fish is just cooked through (internal temperature should be 145F/63C).

Sprinkle with extra fresh basil or parsley, then serve with the toasted bread or whichever side dishes you have decided on.

fresh bread or toasted bread with salt and olive oil,

Greek salad
Notes
Recipe based on this recipe in the New York Times.
What fish to use: Use any local wild caught white fish. I tend to choose any variety of snapper that seems reasonably priced and wild caught, as I'm in Australia. Cod, grouper, tilapia, haddock, bass would all work in other locations.
What to serve with it: We usually keep it simple and serve the fish with some nice toasted bread with olive oil and salt, but rice would go well (try Greek lemon rice with chickpeas), as would roasted/baked potatoes.
Try these Greek potatoes if you're feeling particularly brave (brave because they're addictive!).
I sometimes also serve a Greek salad with this, particularly if I'm serving it to guests.
Storage and reheating: This baked fish is best served when first cooked. However, leftovers will keep well in the fridge for up to 2 days.
To reheat, cover with aluminium foil and reheat for about 15 minutes at 275F/135C or until piping hot.
I don't recommend reheating in the microwave – it's too easy to ruin the fish by overheating it and making it tough and dry.
Nutrition
Calories:
258
kcal
Carbohydrates:
15
g
Protein:
25
g
Fat:
9
g
Saturated Fat:
2
g
Polyunsaturated Fat:
1
g
Monounsaturated Fat:
6
g
Cholesterol:
57
mg
Sodium:
238
mg
Potassium:
750
mg
Fiber:
3
g
Sugar:
8
g
Vitamin A:
585
IU
Vitamin C:
17
mg
Calcium:
79
mg
Iron:
2
mg