[scrumptious + yummy = scrummy … in case you were wondering!]
Currently residing in my original home in Nottingham, England, Mr. Scrummy and I have had quite a ride over the past couple of years travelling between here, Athens Greece and Perth Australia. Luckily, while being this complicated, we've managed to travel, take lots of photos and sample plenty of the local street food.
So why the blog? Well, if nothing else it will be a fun and tidy way for me to archive my recipes for myself – but of course I do hope that you'll enjoy some of the recipes on here too!
So what exactly will you find here?
Well… for me cooking/baking is about using every day ingredients to create something delicious in the least amount of time possible. Let's face it, we're all mostly time-poor, especially mid-week – but we're still HUNGRY and like to eat GOOD FOOD!
I really enjoy learning what people from all over the world like to cook and eat at home every day and attempting to make some version of it myself; pad thais from Thailand, pestos from Italy, mee gorengs from Malaysia, quesadillas from Mexico, spring rolls from Vietnam. I might just have a go if it seems like a recipe I can reproduce easily and even half-way authentically.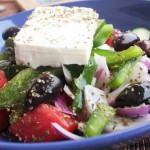 Final disclosure. I have spent many years in the Greek sunshine stuffing myself to contentment with Greek salads, moussaka and 'tiropites' and 'spanakopites' (delicious cheese and spinach pies), so my recipes may sometimes feature a little too much feta cheese!
Please feel free to leave a comment below or get in touch with me by email [helen[at]scrummylane.com] if you have any comments, questions or suggestions, if you're interested in working with me (recipe development, sponsored posts, brand ambassadorship, food photography etc.). I'm eager and willing if I feel that the opportunity fits in well with the personality of the blog.