Sometimes, when you're in the mood for pasta, only creamy will do. But the great thing about this creamy chicken and mushroom pasta (with delicious pappardelle!) is that there isn't actually that much cream in it at all. Just a little drizzle of crème fraiche or cream, and a couple of tricks.
The best part? Dinner is on the table in just 20 minutes!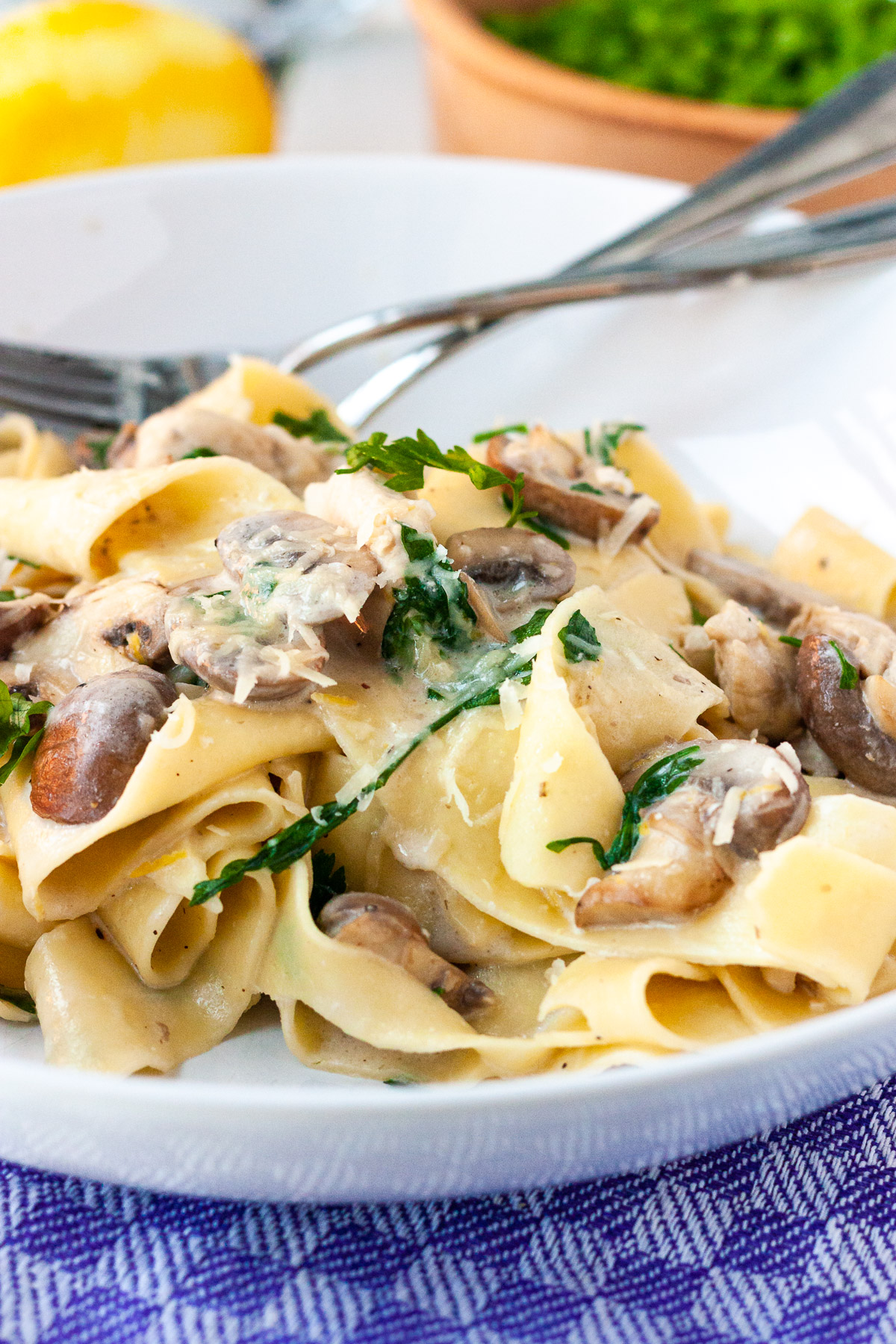 Why you'll love it
When you're in the mood for a delicious bowl of comforting creamy pasta, you don't always want to eat a big bowl of cream.
This easy chicken and mushroom pasta has a perfect creamy sauce made with just:
a few splashes of crème fraîche or cream
white wine (or chicken broth)
a little pasta water
In other words, it's a healthier creamy pasta with NOT a lot of cream! But don't worry. It's still a satisfying comfort food dinner the entire family will love.
A colleague who'd just returned from a holiday in Italy introduced me to this idea. If the Italians find it acceptable to make a creamy pasta with only a splash or two of cream, then you can certainly do the same!
What else you'll love:
✔ Ready in just 20 minutes. This has to be the simplest creamy chicken mushroom pasta recipe ever. It's a perfect quick and easy midweek meal or easy date night dinner!
✔ Made with just 7 main ingredients, plus a little fresh parsley and grated parmesan for the top.
✔ Full of flavor. Yes, it's a lighter creamy pasta, but the 'secret' ingredients (tangy crème fraîche, white wine and lemon zest!) take it to next level delicious.
✔ Make it with your favorite pasta noodles. I prefer thick and chewy pappardelle, but you can use your favorite noodles, or what you already have.
Ingredients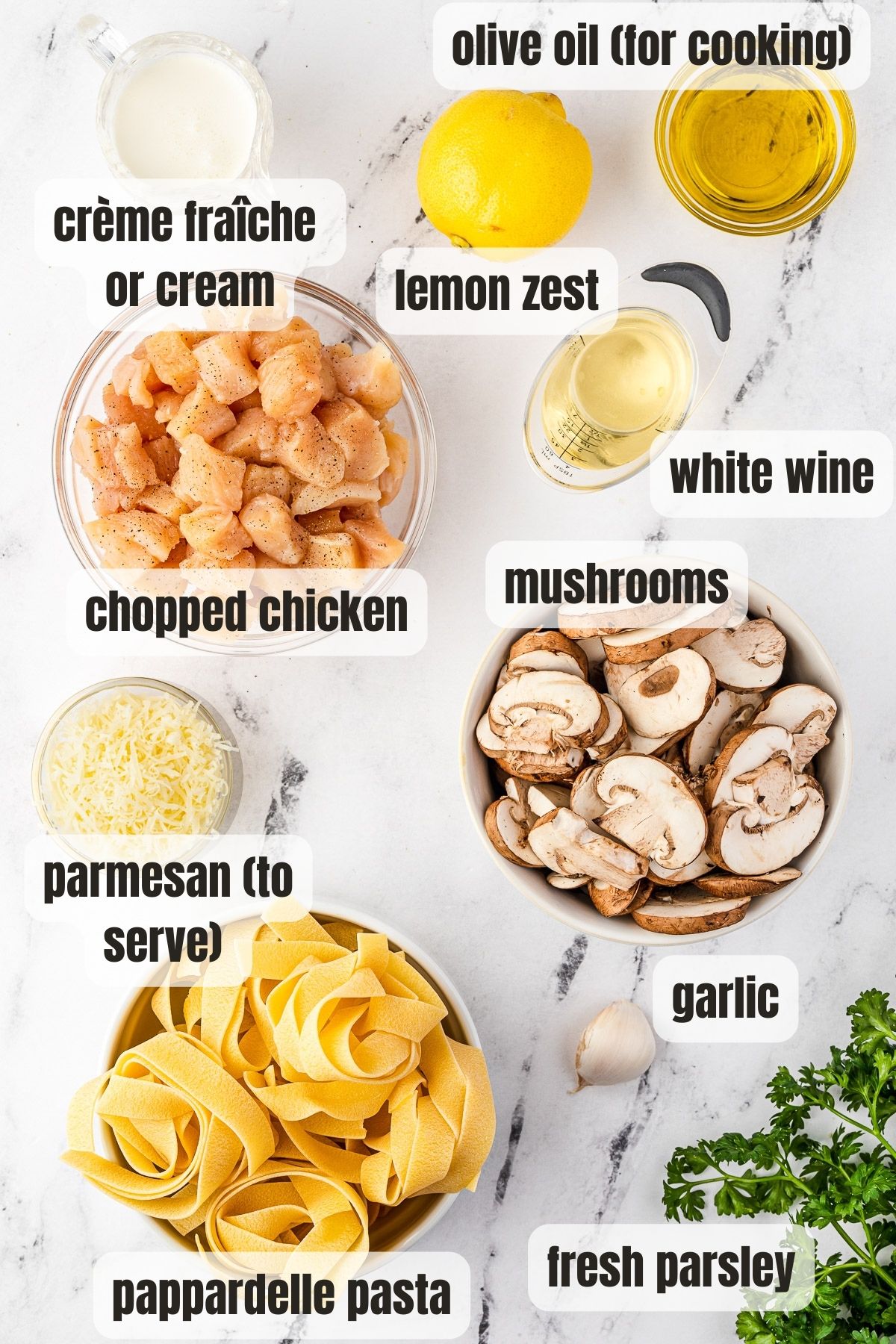 There are only 7 main ingredients in this dish, plus optional (but recommended) parmesan and fresh herbs to serve. Here's what you need to know.
Olive oil: Just a little, for cooking. Don't have any? No worries, just use any oil you have.
Chicken breasts or thighs: Use whichever you prefer. I tend to go for boneless skinless chicken thighs since I find they stay more tender and are more difficult to overcook. However, breast is OK too, especially if it's ready chopped, making dinner even easier!
Pasta: I really love to use pappardelle pasta for this recipe. Cooked 'al dente' ('just' cooked) it works well with a creamy sauce like this one. Other 'ribbon' pasta noodles such as tagliatelle, linguine or fettuccine work pretty well, too. Or how about rigatoni?
But of course, use any type of pasta you like!
Fun fact: The word 'pappardelle' comes from the Italian verb 'to gobble' ('pappare'). It's a perfect description of how you'll eat this dish!
Mushrooms: Since these are key to the flavor of the dish, I'd go for the tastiest mushrooms available! Cremini, brown, portobello, shiitake or a medley of different mushrooms are perfect for adding yummy flavor.
Garlic: I usually add just one crushed clove, but feel free to add another if you're a fan of garlic.
White wine: Making it a white wine sauce adds tons of flavor to this dish. You don't need a lot, or you can easily substitute for chicken broth/stock if you'd prefer.
Lemon zest: Adding this zesty twist really 'lifts' the flavor of the dish. I wouldn't recommend skipping it!
Crème fraîche: 4 tablespoons of this (so not a lot) is what makes this a 'lighter' creamy pasta recipe. If you prefer, use regular heavy/double cream, or even sour cream for a similar tangy flavor.
Fresh parsley: You'll add most of a bunch to the pasta, and save a little for sprinkling over at the end.
Grated parmesan cheese: Sprinkled generously over each bowl of mushroom and chicken pasta, to serve.
What's crème fraîche? In case you're wondering, it's a classic French ingredient that tastes a lot like soured cream. In fact, some say it tastes like a cross between yogurt and sour cream. It's tasty, and also it doesn't curdle in the pan when heated.
How to make chicken and mushroom pasta
The step-by-step guide below should help you make the recipe perfectly first time. Scroll down to the end for the full recipe including ingredient amounts.
In a few simple steps!
Firstly, stir fry the chicken in a large skillet or frying pan until cooked through. It shouldn't take long – just a few minutes. Then remove from the pan and set aside for now. A slotted spoon is perfect for this.
Then add the mushrooms to the pan you cooked the chicken in and cook until softened. Add the garlic, then the drizzle of wine.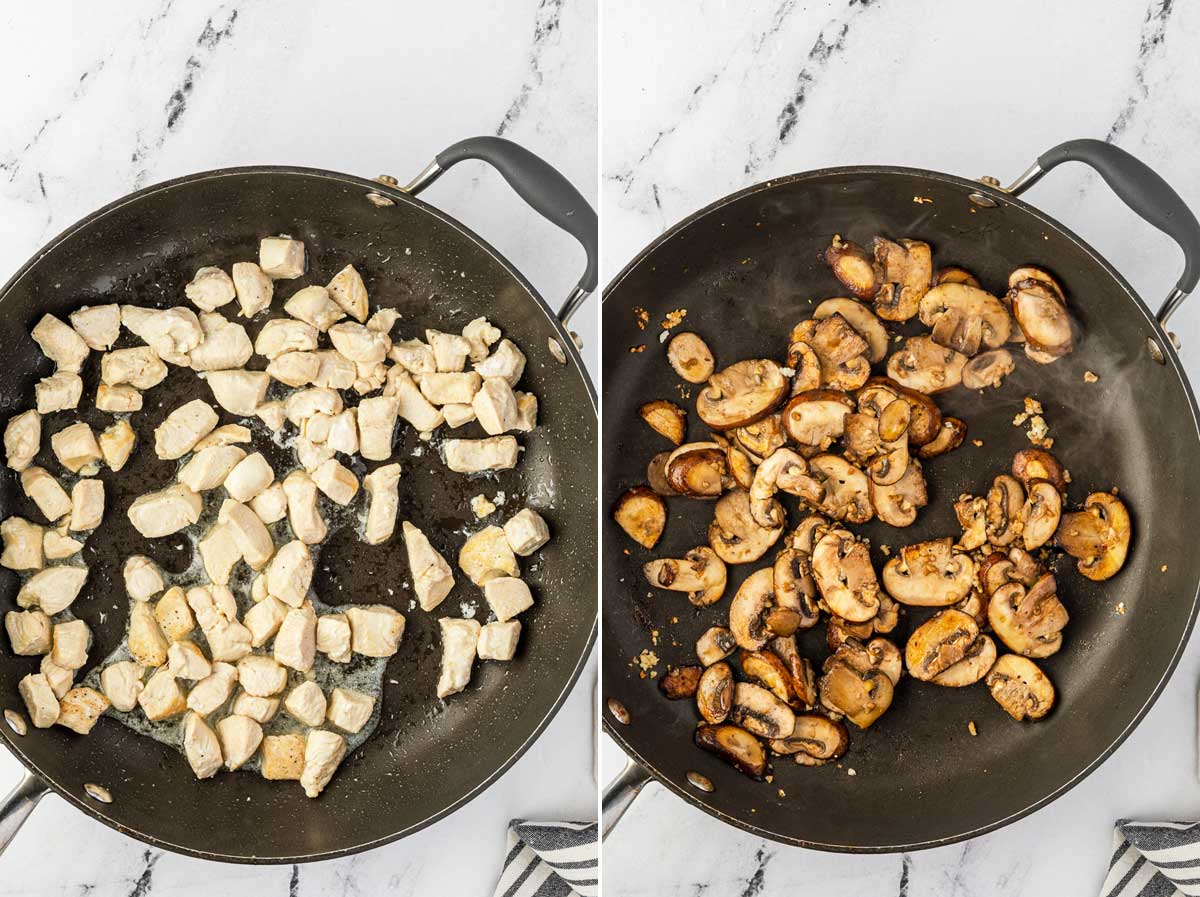 Meanwhile, you can cook the pasta.
Add the lemon zest to the pan, followed by the crème fraiche or cream and most of the parsley.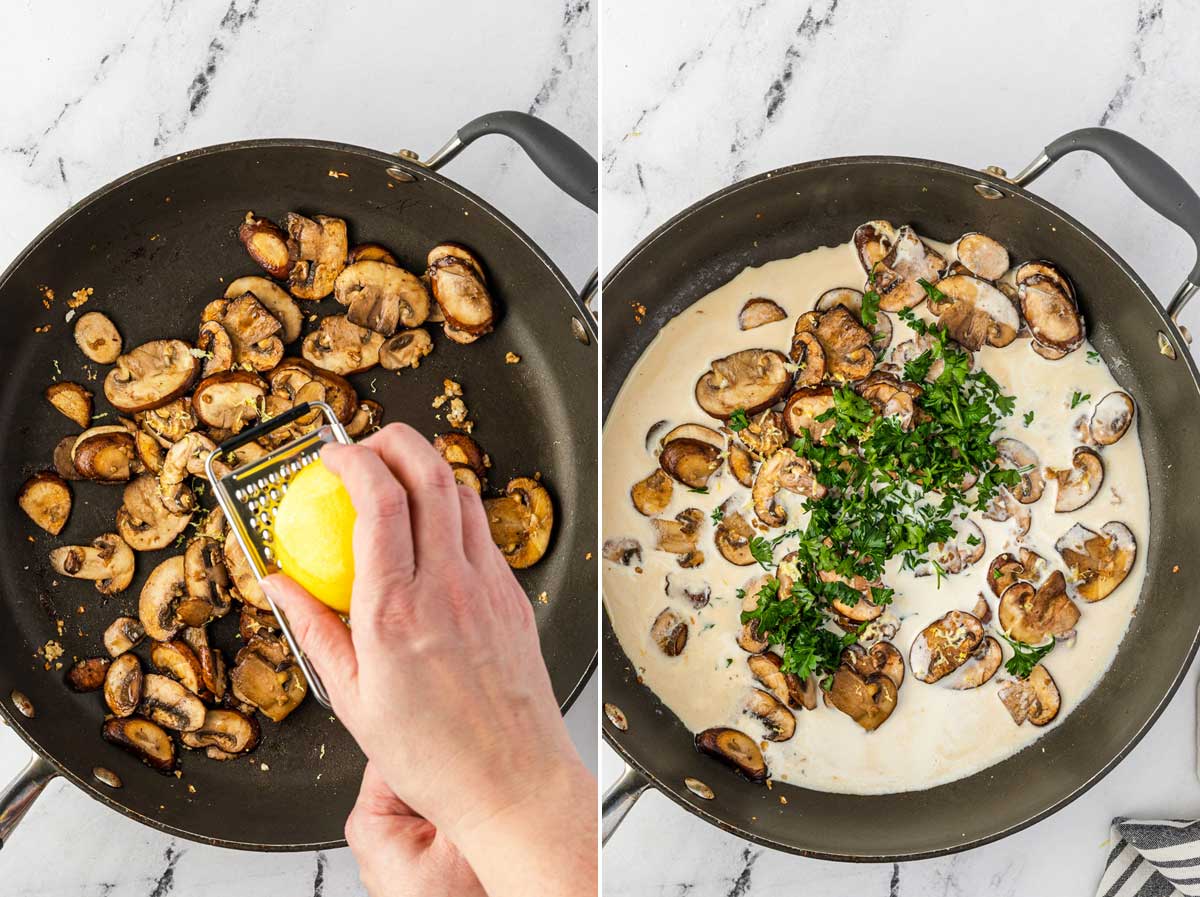 Stir the cooked chicken back into the creamy mushroom mixture.
Then lift the pappardelle out of the cooking water and add directly to the pan using tongs.
Toss with the tongs until everything is really well combined.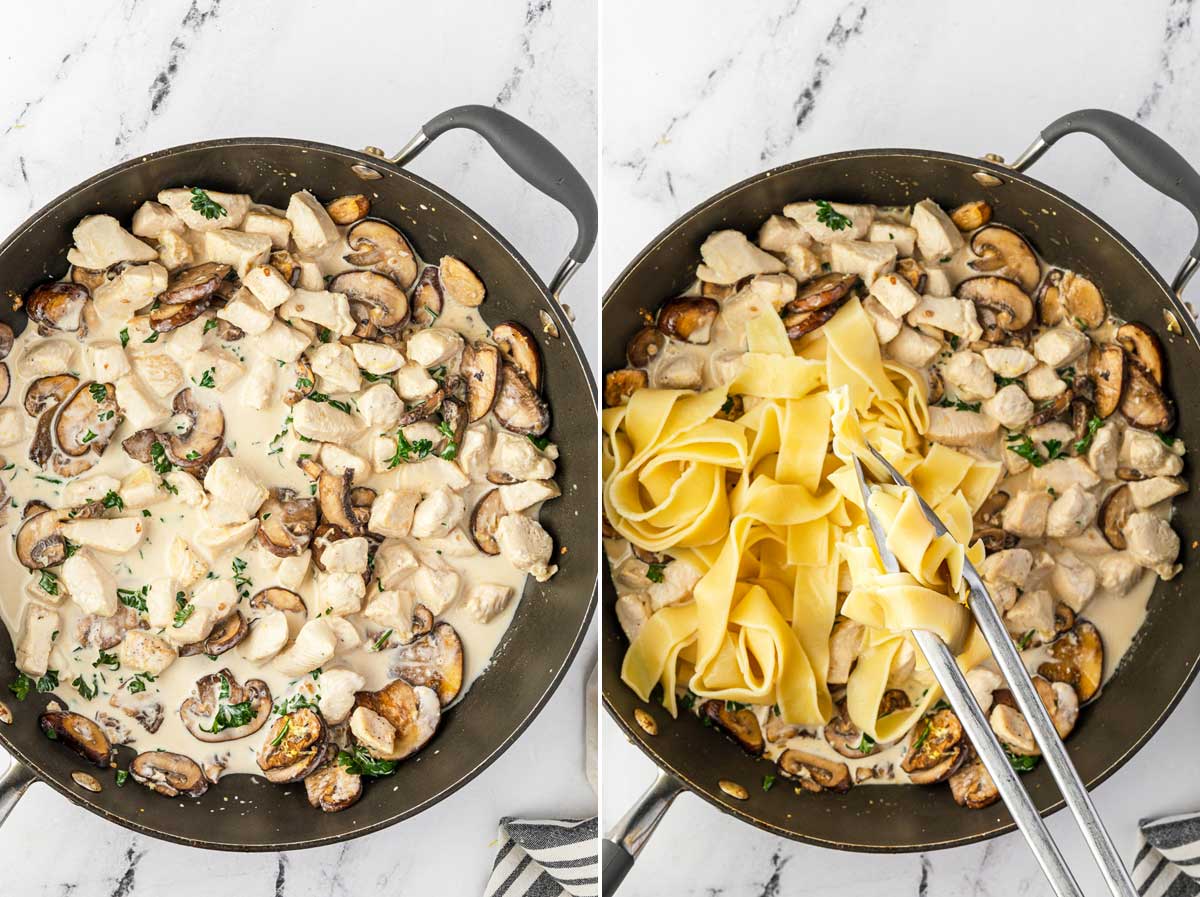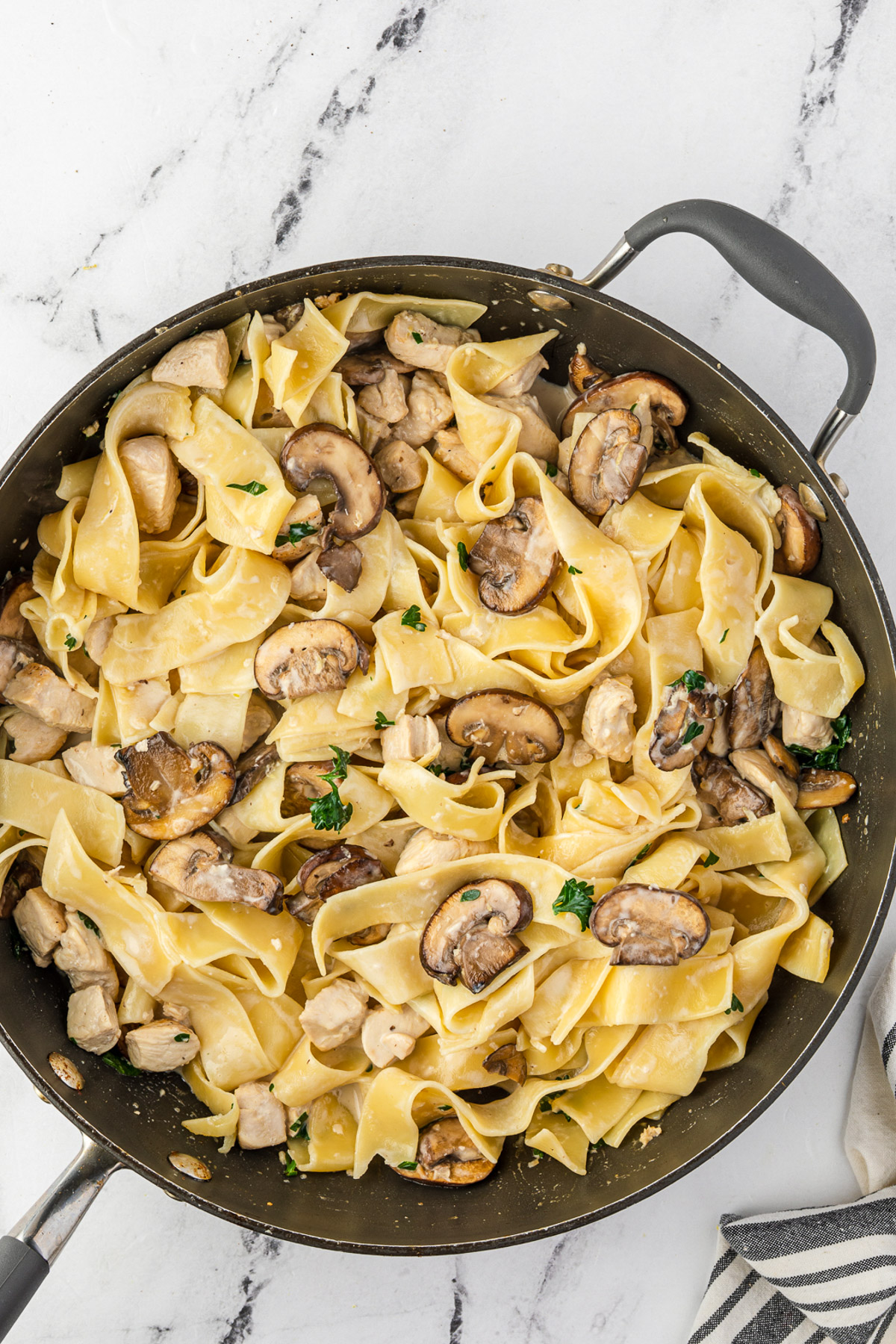 Serve out into bowls. Sprinkle with parmesan and the rest of the parsley to taste.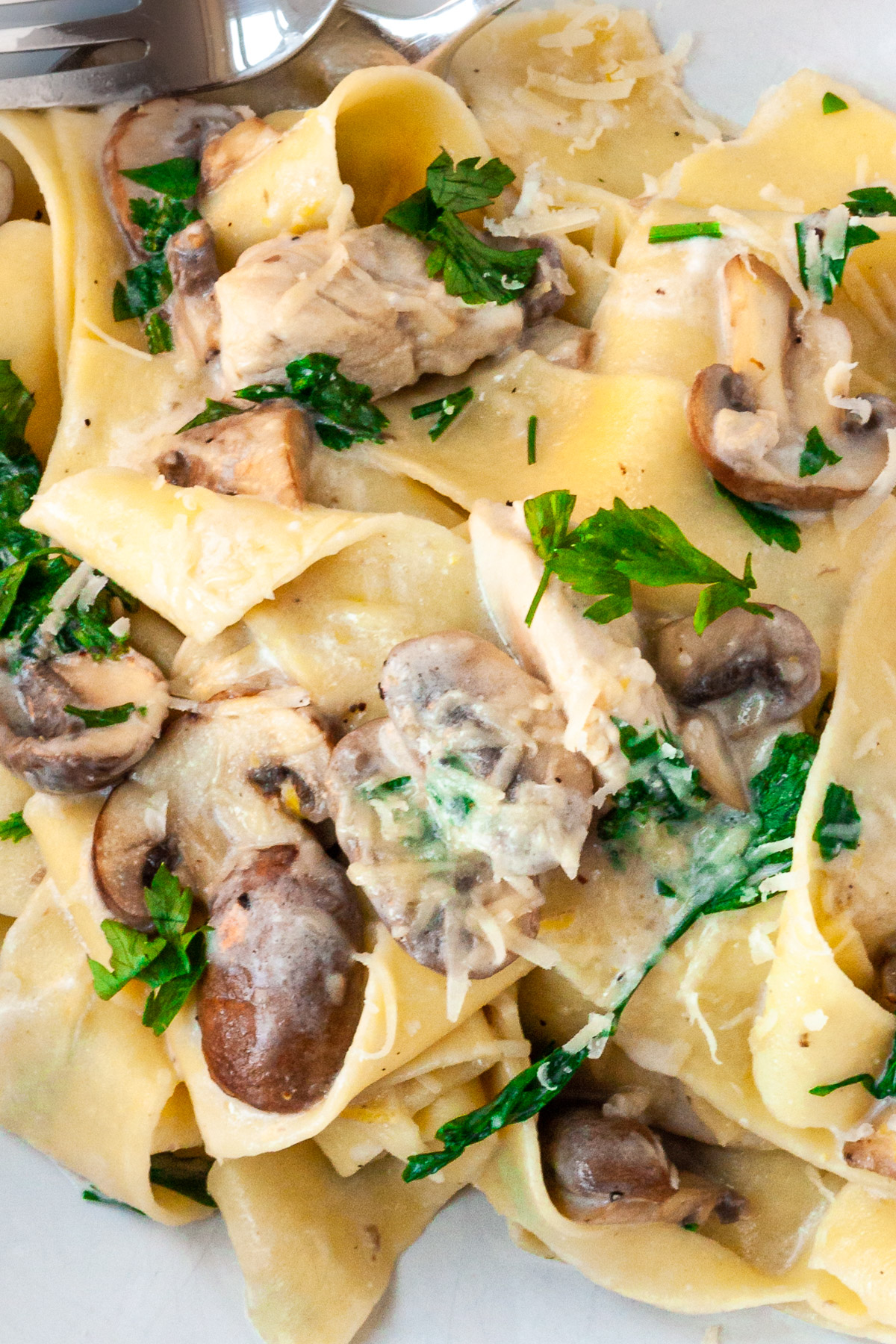 Helen's top tips
Before pan frying, season the chopped chicken well by grinding over some salt and black pepper.
Try not to overcook the pasta. Follow the instructions on the package to cook it 'al dente' (just cooked). Or simply undercook by a couple of minutes.
Using tongs, transfer the pasta straight out of the cooking water and into the pan. This way, you add a little of the starchy pasta water. This helps make the sauce smooth, loose and silky – without being watery.
Variations
Add spinach for extra nutrition and color. Fresh or frozen will work. Simply wilt into the sauce at the end.
Fry a little chopped bacon with the chicken to make your pasta with chicken and mushrooms extra tasty.
Add a few chopped sundried tomatoes or jarred artichokes to the sauce at the end.
Stir-fry some chopped asparagus at the same time as you cook the mushrooms.
Meat free Monday? Feel free to make this a pasta with a creamy mushroom sauce by… simply skipping the chicken! Add a few more mushrooms than stated in the recipe if you like.
Add even more flavor by adding a half teaspoon of dried thyme with the mushrooms and garlic.
How to serve
I suggest either serving this simple creamy mushroom chicken pasta by itself or with a very quick and easy vegetable side such as frozen baby peas or a fresh green salad.
If serving to guests, you could make a Greek lettuce salad to go with it, and also add some of these 2-minute olive oil toasts.
Recipe FAQ
How long does creamy chicken pasta last in the fridge?
About 2 to 3 days. To reheat, either cover and microwave on 80% power for a few minutes until piping hot, or reheat gently on the stovetop. You may wish to add a drizzle of water or milk since the pasta will have soaked up some of the sauce.
Can you freeze this dish?
You can, although it's definitely best eaten when freshly made. If you do want to freeze it, seal in freezer safe containers for up to 2 months. Then let defrost in the fridge before following the instructions above to reheat.
What can I use instead of cream in a creamy pasta?
Crème fraîche is a great lighter alternative to cream. It makes a delicious and slightly tangy creamy sauce. You can also try Greek yogurt mixed with a little milk, or around two tablespoons of cornstarch slowly mixed into a cup of milk (you'll need to heat and stir it until it thickens).
Believe it or not, another 'healthier' creamy pasta is a classic Italian pasta carbonara without cream! Ridiculously easy, and on the table in just 15 minutes!
More easy pasta recipes
This creamy chorizo pasta could be everything you ever wanted in a pasta dinner. It's a perfect midweek crowd pleaser.
Or take a look at all my pasta recipes.
IF YOU MAKE THIS RECIPE, LET ME KNOW HOW YOU GET ON BY LEAVING A COMMENT AND RATING BELOW… AND DON'T FORGET TO SIGN UP TO RECEIVE ALL MY NEW RECIPES BY EMAIL!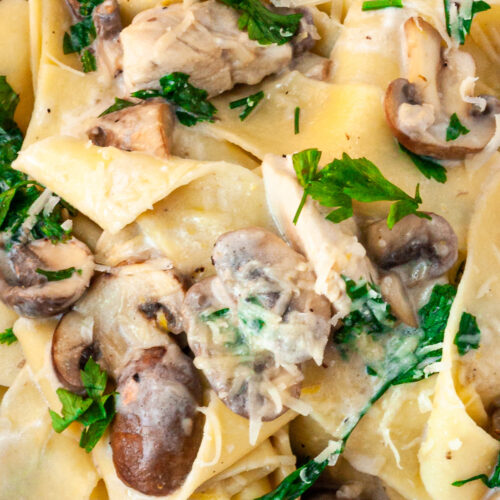 20-Minute Creamy Chicken And Mushroom Pasta (NOT much cream!)
A 20-minute creamy chicken and mushroom pasta made simply, with a bit of wine and cooking water, just like the Italians do it. So delicious!
Equipment (affiliate links)
Ingredients (UK/Australia? Click below for grams/ml)
1

tablespoon

olive oil

for cooking

10

ounces

chicken breast

(or thigh) chopped into small pieces and tossed with a little salt and black pepper to taste.

6

ounces

pasta

(dried or fresh) I like pappardelle, but tagliatelle, linguine, fettuccine or any other pasta will work too.

9

ounces

mushrooms

(sliced) I prefer tasty mushrooms such as chestnut, brown, cremini or a medley of mushrooms, but use any you like.

1

clove

garlic

crushed

¼

cup

white wine

(or chicken stock if you prefer)

1

lemon

zest only

4

tablespoons

crème fraiche

(or heavy/double cream)

1

bunch

fresh parsley

(small) washed and chopped finely

grated parmesan cheese

to serve
Instructions
Heat up the oil in a large pan. Then stir fry the chicken for a few minutes on a medium-high heat until cooked through. Remove from the pan and set aside for now.

1 tablespoon olive oil,

10 ounces chicken breast

Add the mushrooms to the pan you cooked the chicken in. Cook until softened (a few minutes). Add the garlic and cook for a minute longer, then add the wine and let sizzle for a moment.

9 ounces mushrooms,

1 clove garlic,

¼ cup white wine

Meanwhile, cook the pasta until 'al dente' (just cooked), or a couple of minutes less than it says on the package.

Now add the lemon zest to the pan, followed by the crème fraiche or cream and most of the parsley. Then stir the cooked chicken back into the mushroom mixture.

1 lemon,

4 tablespoons crème fraiche,

1 bunch fresh parsley

Lift the pappardelle out of the cooking water and add directly to the pan using kitchen tongs. Toss everything together well, then add enough cooking water to make the dish loose and silky.

Serve out into two bowls. Sprinkle with the rest of the parsley and parmesan to taste.
Notes
Pasta: I like pappardelle, but any 'ribbon' pasta works well, such as tagliatelle, fettuccine or linguine. But of course feel free to use any kind of pasta you like.
Cook al dente (just cooked, still with a little bite), or according to the package instructions less 2 minutes.
When cooked, transfer to the pan straight out of the cooking water and into the pan. If needed, add a little more cooking water to further 'loosen' the sauce.
Crème fraîche: This is like a slightly tangy, lighter version of cream. It's nice in this recipe, but feel free to substitute with regular heavy, double or thickened cream.
Wine: Feel free to use chicken broth/stock instead of wine if you prefer.
Variations: Feel free to add sundried tomatoes, chopped jarred artichokes or fresh or frozen spinach to the sauce towards the end of the cooking time.
Try pan frying a little chopped bacon along with the chicken, or sautéing chopped asparagus with the mushrooms.
For even more flavor, add a half teaspoon of dried thyme (or even another dried herb) with the garlic and mushrooms.
Meatless Monday? Make this dish vegetarian by skipping the chicken – it's just as delicious!
Nutrition
Calories:
722
kcal
Carbohydrates:
77
g
Protein:
48
g
Fat:
24
g
Saturated Fat:
9
g
Polyunsaturated Fat:
3
g
Monounsaturated Fat:
9
g
Trans Fat:
0.01
g
Cholesterol:
125
mg
Sodium:
203
mg
Potassium:
1408
mg
Fiber:
6
g
Sugar:
8
g
Vitamin A:
2896
IU
Vitamin C:
72
mg
Calcium:
107
mg
Iron:
5
mg