Ever tried Greek 'spinach pie' and enjoyed it? If so (or even if you haven't!), you're going to love these cute little Greek filo parcels stuffed with lovely Mediterranean flavours including spinach, feta cheese, dill and sundried tomatoes. Mmmmm!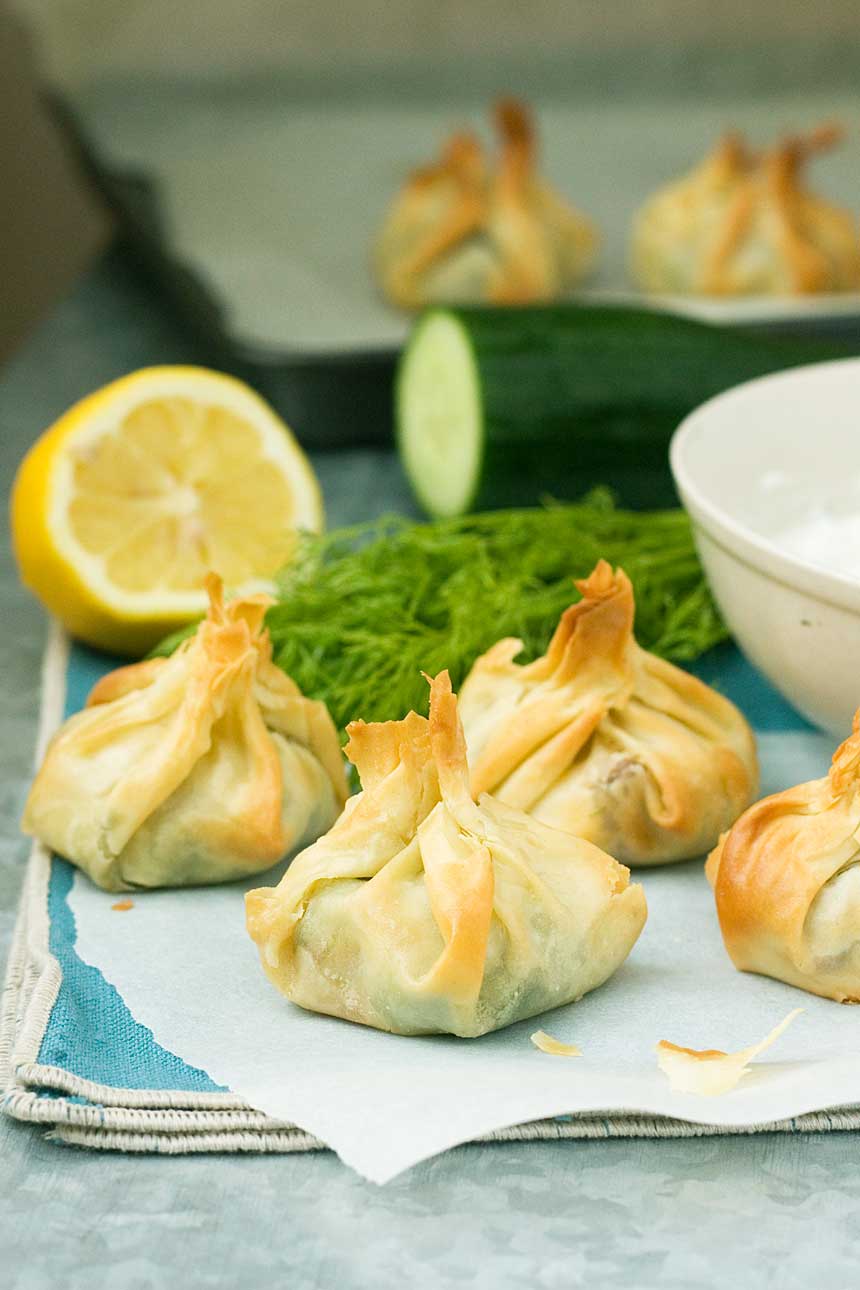 I'm afraid I'm going to get all British on you again by talking about the weather.
But don't worry, I won't drone on about it for very long. I just wanted to explain that these Greek filo parcels with tzatziki came about because a couple of very dear friends who I first met in Greece came to visit me this past weekend. We had a wonderful day of talking each other's ears off and laughing far too loudly.
We also visited a local park complete with families of deer and a very eccentric and slightly creepy old mansion called Wollaton Hall. The creepy mansion – where incidentally some scenes from the Batman movie The Dark Knight Rises were filmed – is also a sort of natural history museum.
I say 'sort of' because the 'natural history' part actually consists of hundreds of stuffed birds and various other stuffed animals including a huge giraffe and gorilla that have apparently been there since my mum was a little girl and … wait for it … a colony of Madagascan hissing cockroaches.
I just know you're all rushing off to book your trips to Wollaton Park now. 😉
Seriously, though, I shouldn't be rude because we had a really fun time chuckling at this slightly unusual 'museum' that's hardly changed for at least a hundred years! The only disappointment was that the ant colony and life-size dinosaur skeleton that I remember being there during my childhood were no more.
After leaving the hall, we went for a walk in the park and then sat outside for afternoon tea. It would all have been very English had it not been for the scorching sunshine that made it feel very much like my friend who is still living in Greece had brought the weather back with her. Well, until the sudden downpour, that is, that had us dashing for cover in true British summer style.
So to stop myself feeling too sad after my lovely friends had left, I decided to make something Greek for the blog today. I know, AGAIN, but no apologies because, well … who needs to apologise for a suggestion to eat more tasty, not to mention healthy, Mediterranean food?
I've been wanting to make these little Greek filo parcels for quite a while. You just mix up a quick spinach, feta, spring onion, sundried tomato and dill mixture, lay a spoonful of it in the centre of a couple of overlapping filo pastry squares, then pull the sides in and up, scrunching them up at the top.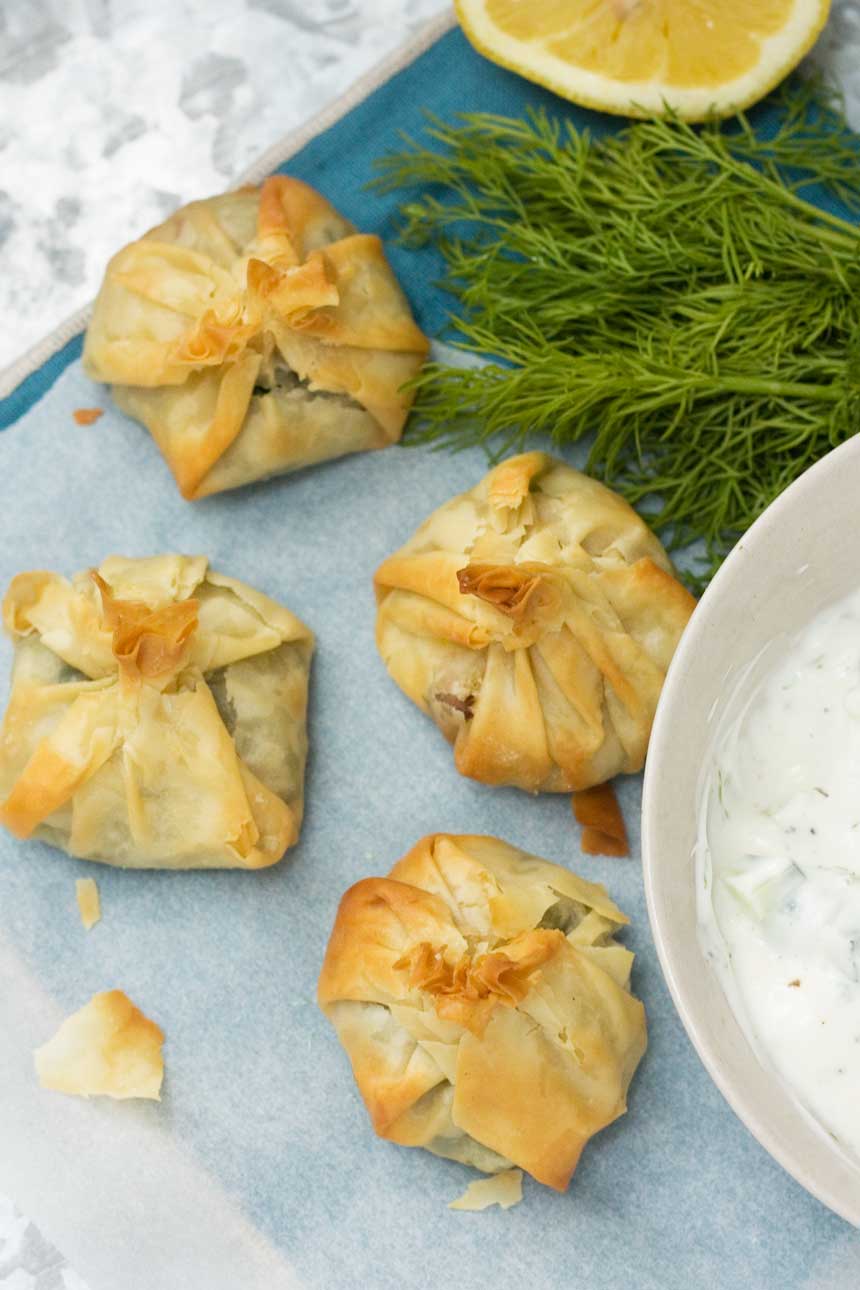 I wasn't quite sure whether this would be one of those recipes that ends up being more complicated and fiddly than it sounds, but I'm happy to report that it wasn't at all. The little parcels actually look quite cute and classy – don't you think?
We ate ours with some baked salmon and my own version of a corn, tomato, avocado and basil salad that I spotted on the wonderful David Lebovitz' blog yesterday (mmm – might post this soon myself – it was delicious!). But of course they could just be a little party treat or appetizer or even a cheeky little mid-morning snack (the Greeks eat this sort of thing at any time of day, but especially as a late breakfast with coffee).
The tzatziki on the side is optional, but I'd definitely encourage you not to skip it. It's so easy to make and you feel like you're eating a naughty mayonnaise-y type sauce, but it's actually super healthy as it's just yoghurt, cucumber, dill, garlic and lemon juice … bonus!
Oh, and just before I go … if you like the sound of this filo parcel recipe, you'll like these ones, too: Greek spinach and feta filo pie, and Greek quesadillas with tzatziki. To my surprise, the Greek quesadillas recipe has been pinned on Pinterest almost 50,000 times at the last count, so they must be good, right? 😉
Now which to make first???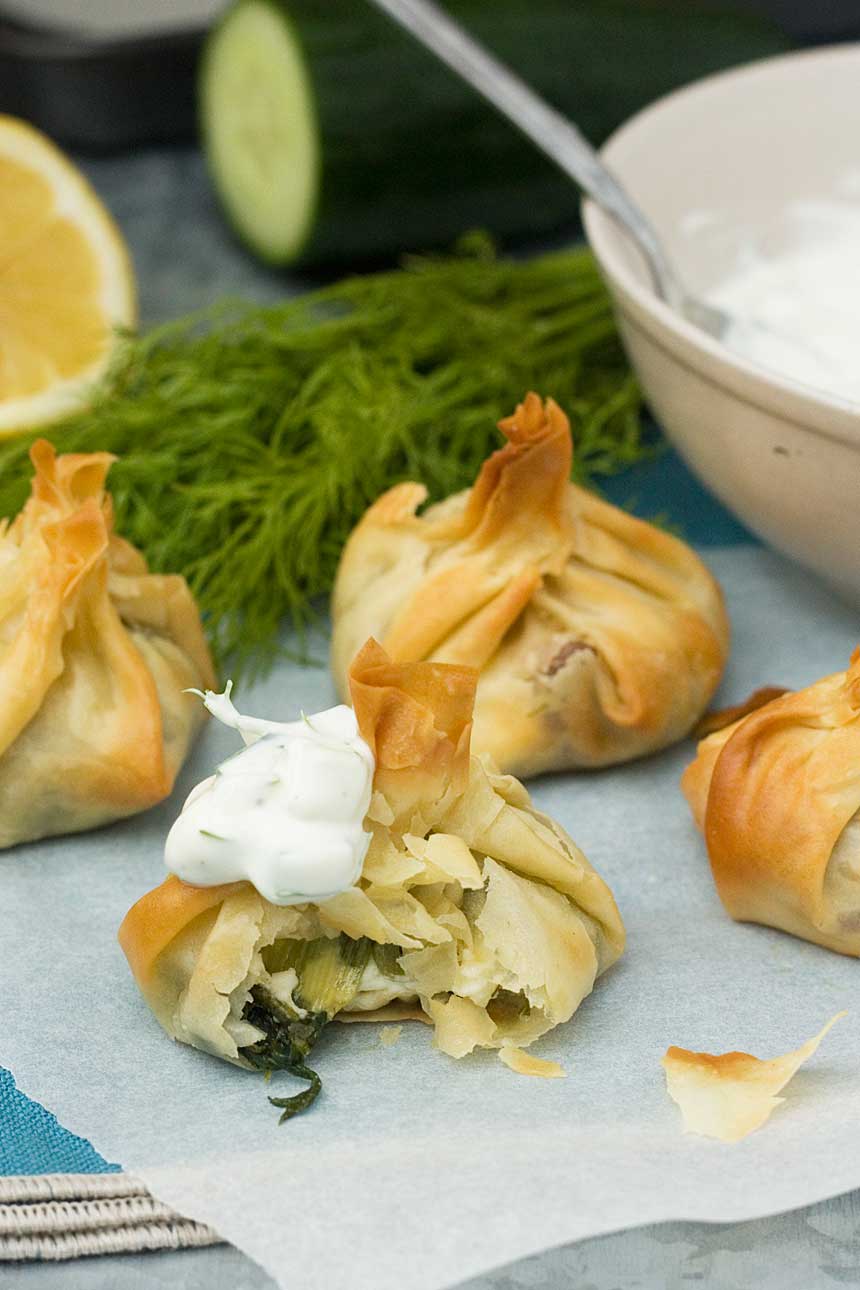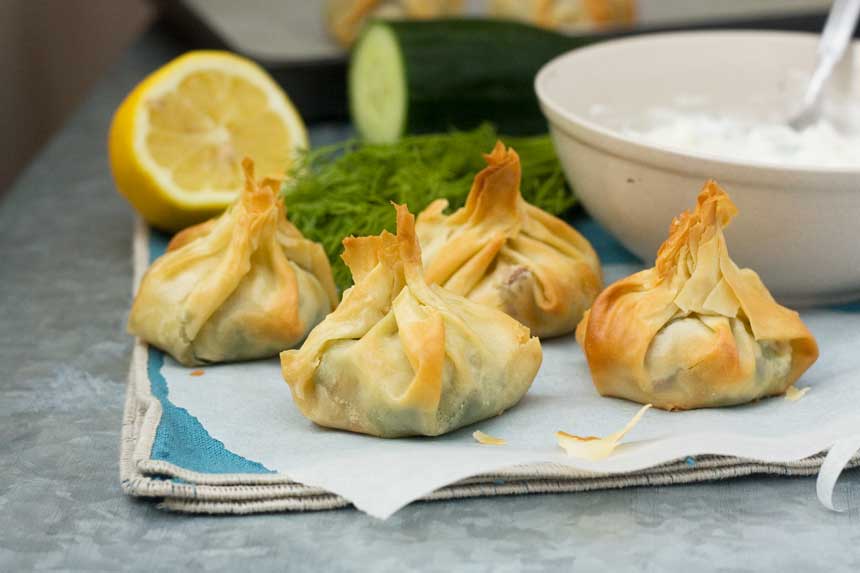 Greek filo parcels with tzatziki
Little squares of filo pastry topped with a feta, spinach and sundried tomato mixture and scrunched up at the top to make cute little parcels. If you love 'spanakopita' or Greek spinach and feta cheese pie, you'll love these too!
Ingredients (UK/Australia? Click below for grams/ml)
For the filo parcels
7

ounces

spinach

washed

2

spring onions

scallions, washed and finely chopped

1

tablespoon

dill

chopped

3

sundried tomatoes

finely chopped

2.5

ounces

feta cheese

crumbled

4

sheets

filo pastry

chopped into 20 squares of roughly 12 x 12 cm

olive oil

for brushing
For the tzatziki
0.5

cups

Greek yogurt

0.25

clove

garlic

minced

1

teaspoon

dill

chopped

2

squeezes

lemon juice

salt & pepper

to taste

olive oil

optional - to garnish
Instructions
Preheat the oven to 200C/390F.

Wilt the spinach in a pan, then squeeze out the water with your hands and place in a medium bowl.

Add the spring onions (scallions), dill, tomatoes and cheese and set aside.

Lay a pastry square on a board or clean work surface and brush with a little oil. Lay another square over the top but with the corners crossing the sides of the first square (see picture above) and brush with a little more oil.

Place about a heaped teaspoon of spinach and feta mixture in the centre of the pastry squares and gather up the sides so that they meet in the middle. Press them together to seal your parcel.

Place on a baking tray, then repeat until you have made all the parcels. Brush the tops with a little more oil, then bake for 12 to 15 minutes or until the parcels are golden and crispy.

Meanwhile, make the tzatziki sauce by combining all the main ingredients, then drizzle with a little olive oil if you like.

Serve the parcels warm with the tzatziki.
Notes
You can freeze the parcels before baking if you like. Bake from frozen – for a few minutes longer than it says in the recipe.
Nutrition
Calories:
54
kcal
Carbohydrates:
5
g
Protein:
3
g
Fat:
2
g
Saturated Fat:
1
g
Cholesterol:
6
mg
Sodium:
136
mg
Potassium:
162
mg
Vitamin A:
1920
IU
Vitamin C:
6.3
mg
Calcium:
67
mg
Iron:
0.9
mg