For a healthier, more delicious and more economical chip to dunk in your dip, give these wholemeal Greek baked pita chips a go. They take moments to make, and just ten minutes to bake.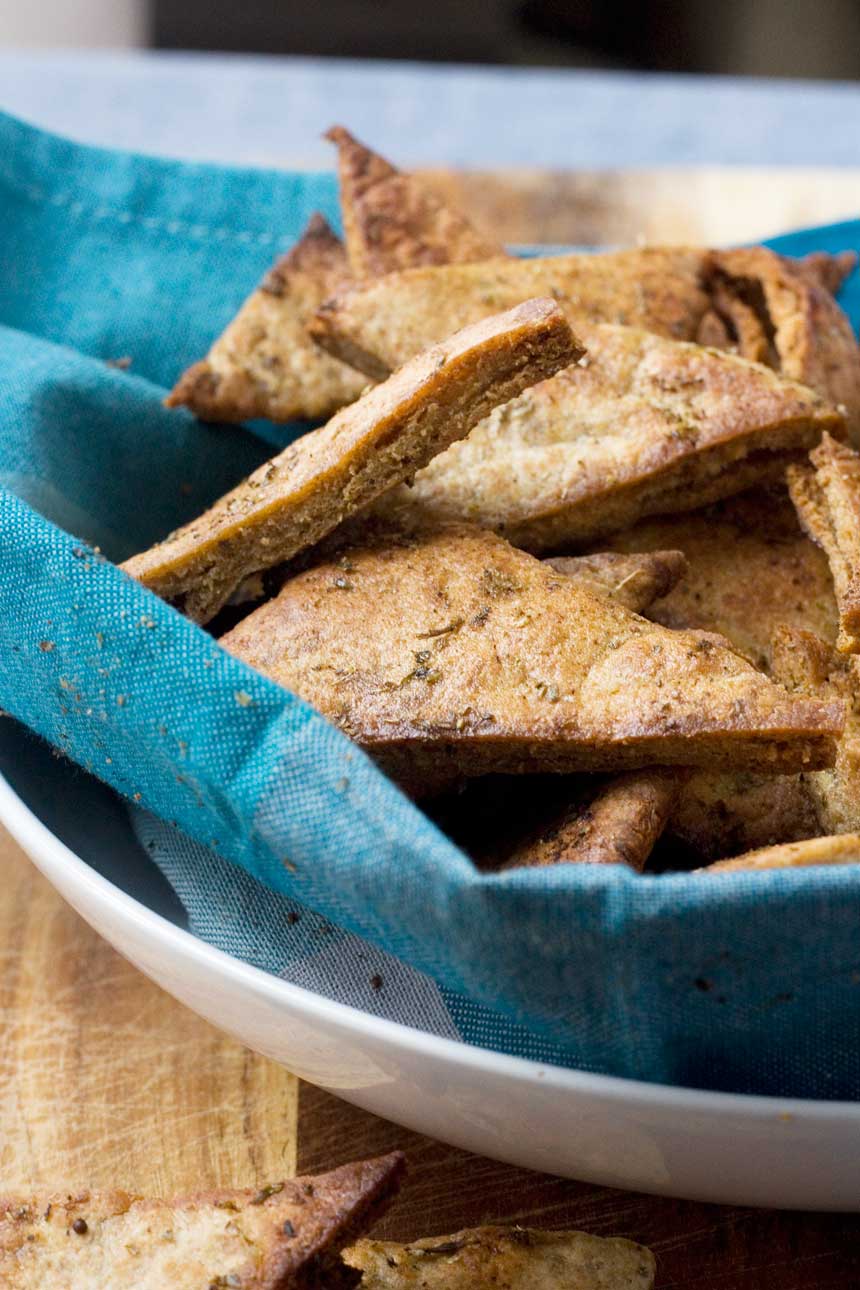 Greek pita chips? Why not?
You might think this is a bit of a stretch, making pita chips GREEK, but actually the Greeks sell a lot of this sort of thing at the supermarket. So why not make them 'a thing' in our kitchens too?!
How to make your own wholemeal pita chips
The very best thing about this recipe – apart from it being a pretty tasty one, if I may say so – is that it isn't really even a recipe. In other words, it's a lazy-person's (just like me) idea.
And by this I mean that all you really have to do is open a packet of ready-made wholemeal pita bread (you can make your own of course, but who's got time for that when a chips-and-dip craving strikes?), cut each pita into 8 wedges and lay them on a baking tray, paint each wedge on both sides with your yummy Greek flavours, then bake for 10 minutes. No matter how lazy you're feeling, you can find the energy to do that!
But just in case you're more of a visual person, let me show you exactly how it's done:
Pro tip: Because you're using wholemeal pitas, these baked pita chips will look fairly dark when they're done. If you prefer them to be a bit lighter (and slightly less crunchy), just keep an eye on them in the oven and bake for a couple of minutes less. No biggie.
How long do they keep?
I've noticed that some recipes for pita chips suggest that these will keep for about five days in an airtight container.
But… to be totally honest with you I found that they were past their best even the next day. You can experiment for yourself with this and make up your own mind, but to be safe I'd just make as many as you think you'll need for that day.
I'd say the recipe below makes plenty for about six to eight as an appetizer or snack.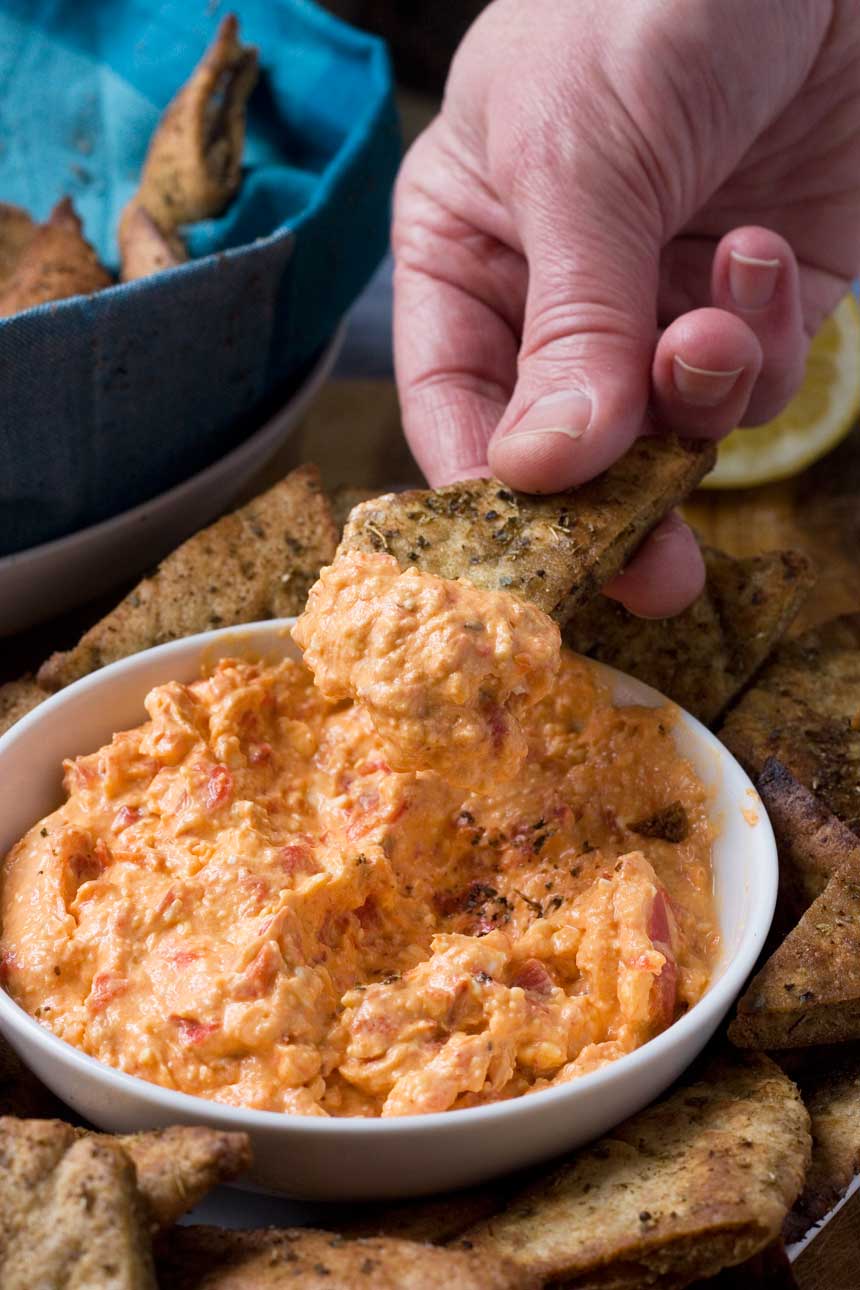 What to serve with homemade pita chips!
So once you've got your lovely Greek baked pita chips, what are you going to dip them into?
Anything you like, of course, but I'd suggest you stick with the Greek flavours. A simple homemade tzatziki would work brilliantly (recipe here along with some delicious Greek quesadillas!).
Or you could make this gorgeous 5-minute roasted red pepper and feta dip. It's so much more delicious than supermarket dips.
More quick and easy party food
Or see all my easy party food here
IF YOU MAKE THIS RECIPE, LET ME KNOW HOW YOU GET ON BY LEAVING A COMMENT AND RATING BELOW… AND DON'T FORGET TO SIGN UP TO RECEIVE ALL MY NEW RECIPES BY EMAIL!
FOLLOW ME ON FACEBOOK, INSTAGRAM, PINTEREST AND YOUTUBE.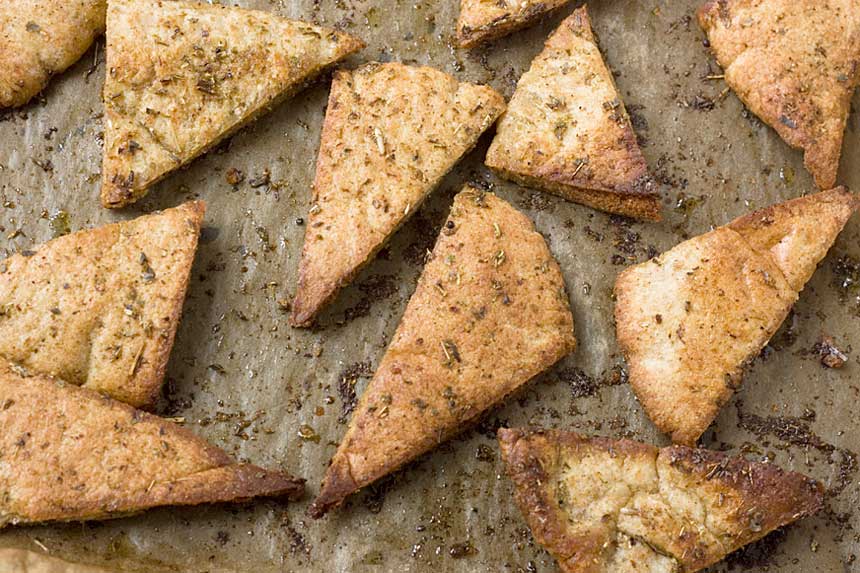 Greek baked pita chips
Just made a dip? You're only 15 minutes away from having these easy Greek pita chips to go with it!
Ingredients (UK/Australia? Click below for grams/ml)
Instructions
Pre-heat oven to 200C / 375F.

Whisk together the olive oil, oregano, and lemon juice. Set aside.

Cut each pita into 8 wedges (cut in half, then half again, then half again).

Lay the wedges out in one layer on a baking tray lined with baking paper. Then 'paint' each one generously with the olive oil mixture (use a pastry brush). Flip over, and paint on the other side as well.

Bake for 10 – 15 minutes, or until the chips are golden brown.
Notes
Adapted from this recipe (Epicure).
Some say that pita chips will keep for up to 5 days in an air-tight container. I find that they are best eaten on the day they're made, but you can do your own experiment with this if you like!
Nutrition
Calories:
287
kcal
Carbohydrates:
42
g
Protein:
6
g
Fat:
9
g
Saturated Fat:
1
g
Sodium:
400
mg
Potassium:
100
mg
Fiber:
1
g
Vitamin A:
15
IU
Vitamin C:
0.7
mg
Calcium:
78
mg
Iron:
1.4
mg