This recipe for homemade Greek giant beans is a quick and easy stovetop twist on traditional Greek 'gigantes plaki'. You'll love the perfectly tender, creamy beans in their rich, tomato-vegetable sauce with punchy Mediterranean flavors. Skip the oven for an easier but just-as-delicious version of this Greek comfort food classic!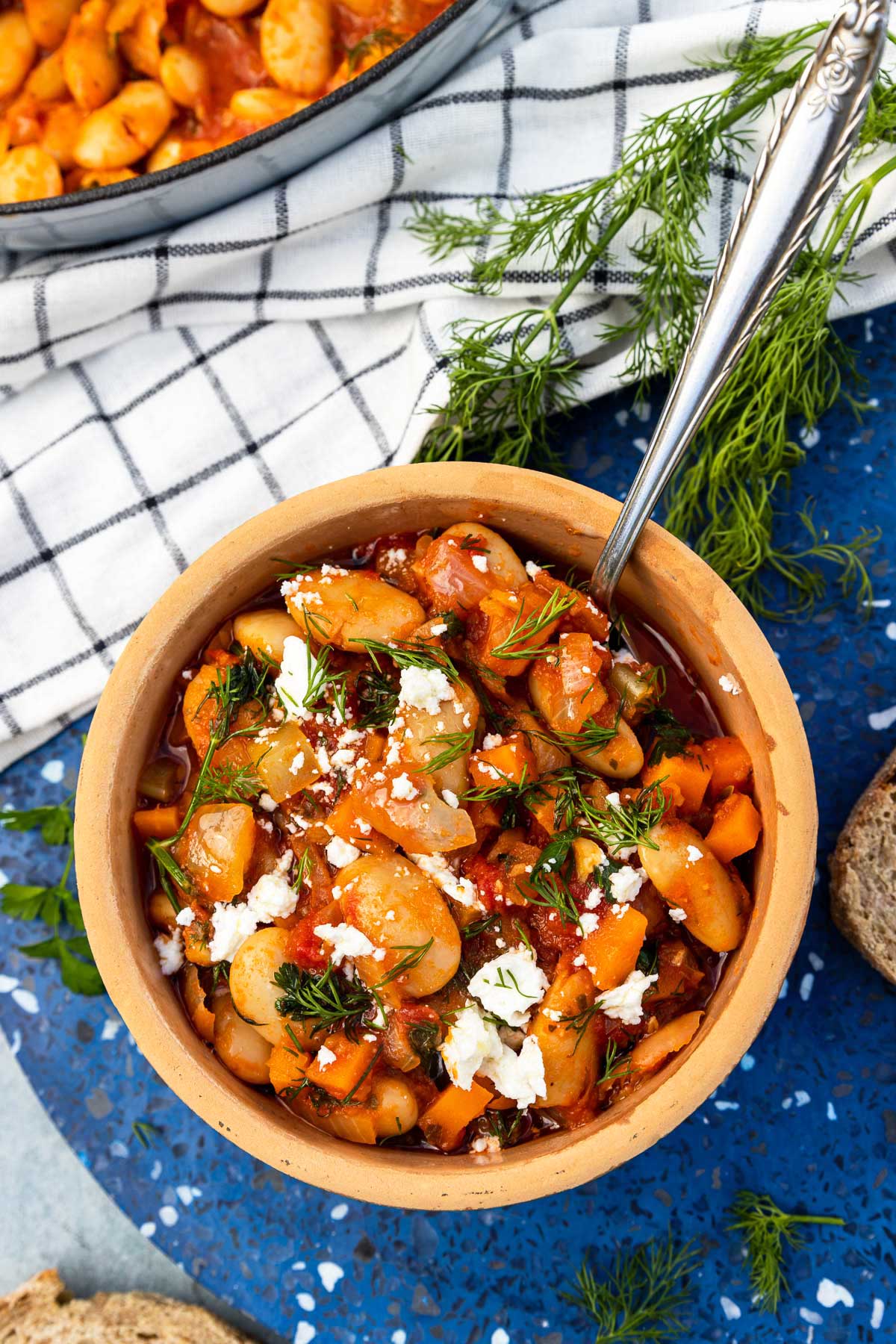 What are Greek giant beans?
Greek giant beans (known as 'gigantes' – pronounced GEE-gan-tez – or 'giants' in Greek), are large white kidney-shaped beans that are popular in Greek cuisine.
These beans are called lima beans or butter beans (depending on where you live!) in English. You'll recognize them by their large size, delicious creamy-tender but also slightly firm texture, and mild, some say 'buttery' flavor.
In the classic Greek recipe 'Gigantes Plaki' ('baked/roasted giants'), the giant white beans are usually baked in a rich tomato sauce with vegetables and classic Mediterranean flavors like oregano, dill and garlic.
The beans are of course the stars of this dish, and a perfect 'blank canvas' to absorb the beautiful flavors of the sauce. You might like to call this recipe simply Greek baked beans!
Fun fact: 'Gigantes' are sometimes called 'elephant beans' in Greece because they are huge like an elephant's ear!
Why you'll love this recipe
Uses canned lima/butter beans. No need to worry about soaking beans overnight. No need to even turn on the oven! This easy and fast one pot stovetop version saves on power and time, but is just as tasty as a classic Greek giant beans recipe.
Rich and satisfying. You'll love the mouth-watering and comforting combination of hearty beans, tangy tomato and vegetable sauce, and aromatic herbs.
Healthy baked beans! Pulses are always a healthy choice, but this gigantes plaki recipe can be a nourishing meal in one with the addition of all those veggies and fresh herbs.
Versatile dish. Serve as a hearty and filling main dish with a generous sprinkle of feta cheese and fresh bread or olive oil toasts, either as is or with meat on the side. Or, serve as an appetizer, tapas style, with other Mediterranean style snacks (see ideas below).
Family friendly. While these Greek beans are packed full of Mediterranean flavors, the taste is also familiar and mild enough for (hopefully) even your pickiest eater to enjoy.
A naturally vegetarian and gluten free meal option. Or serve as they are (without any feta and replacing the honey for sugar) and in fact they're even vegan friendly!
Ingredients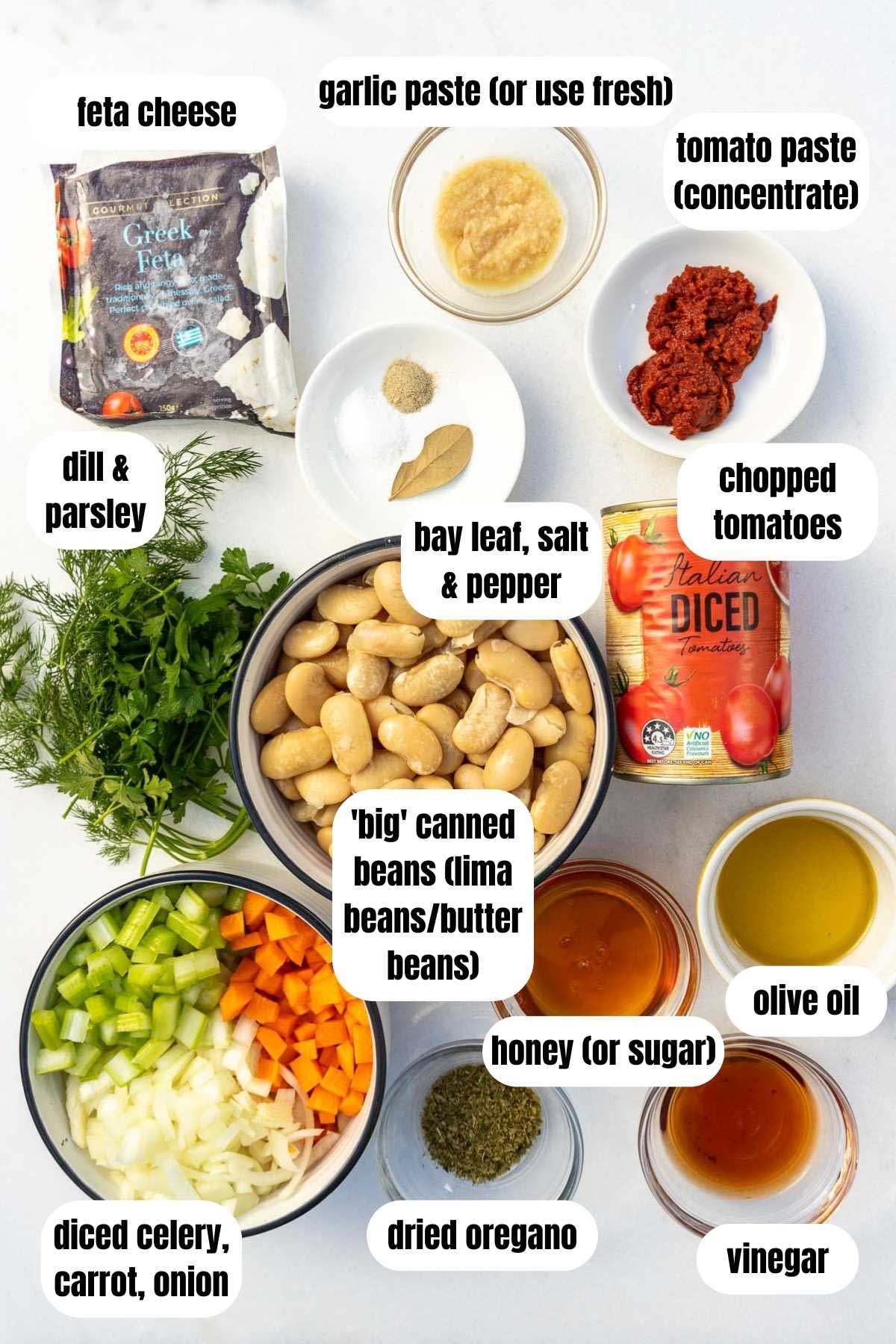 Olive oil: So we're not talking 'a little bit of olive oil for cooking the veggies in' here. Olive oil is a key ingredient in this recipe and you'll need a little over a quarter of a cup. Go for a good quality extra virgin olive oil if possible since it really adds to the overall flavor and texture of the sauce.
Onion: I prefer to use a brown or yellow onion with plenty of flavor.
Celery: For extra depth of flavor with slightly earthy and herbaceous notes.
Carrot: 1 or 2 chopped finely for a little natural sweetness and extra texture and nutrition in the sauce.
Garlic: I often use garlic paste for convenience, but feel free to substitute with fresh garlic cloves.
Dried oregano: This herb adds distinct authentic Greek flavor. I suggest adding a whole tablespoon. Don't skip it – your Greek butter beans just won't taste right without it.
Tomato paste: Sometimes called tomato purée (but not the American kind) or tomato concentrate. To add punchy tomato flavor.
Canned tomatoes: For ease, I usually go for chopped or diced tomatoes.
Canned lima/butter beans: These are ready-cooked beans which should be easy to find in the canned foods aisle in any supermarket. Alternatively, try a European style deli or other store.
Honey: Add a whole 2 tablespoons of honey (or a little sugar if you don't have honey) to balance out the acidity of the tomatoes perfectly.
Vinegar: In addition to the honey, I add 2 tablespoons of vinegar (any is fine – white, red or even balsamic) for a hint of sweet and sour in the beans.
Salt and pepper and a bay leaf: As always, the right amount of seasoning makes or breaks the finished dish. A bay leaf is optional, but will add a subtle but pleasant mild floral note to the dish.
Fresh parsley and dill: Both of these add refreshing and aromatic notes to the dish that don't overpower the other flavors. Dill has the more distinctive taste of the two and I feel it's really essential to the authentic flavor of this giant beans recipe.
Really not a fan of dill, however? I've got you covered since I wrote a whole post about alternatives to dill, just in case!
Feta cheese: So this is entirely optional (the beans are great eaten by themselves!) but I love to sprinkle just a little feta cheese over the delicious Greek butter beans before serving. Plus more fresh herbs to make them look extra pretty.
How to make Greek giant beans
Step 1: Cube the vegetables (as finally as you can – use a food processor if you prefer). Then cook in the olive oil on a medium high heat for around 7 minutes. You want the veggies to soften and sweeten but without browning.
Step 2: Stir in the garlic and oregano.

Step 3: While still on the heat, stir in the tomato paste and canned tomatoes and then the beans (drained and rinsed first), honey and vinegar.
Then, using the empty tomato can, add half a can of water. Finally, add salt and pepper and a bay leaf if you have one, and stir well.

Step 4: Bring the mixture to the boil, then turn the heat down and simmer for around 20 minutes or until the vegetables are tender and the sauce has reduced and thickened a little.
Step 5: Stir in the fresh herbs at the end.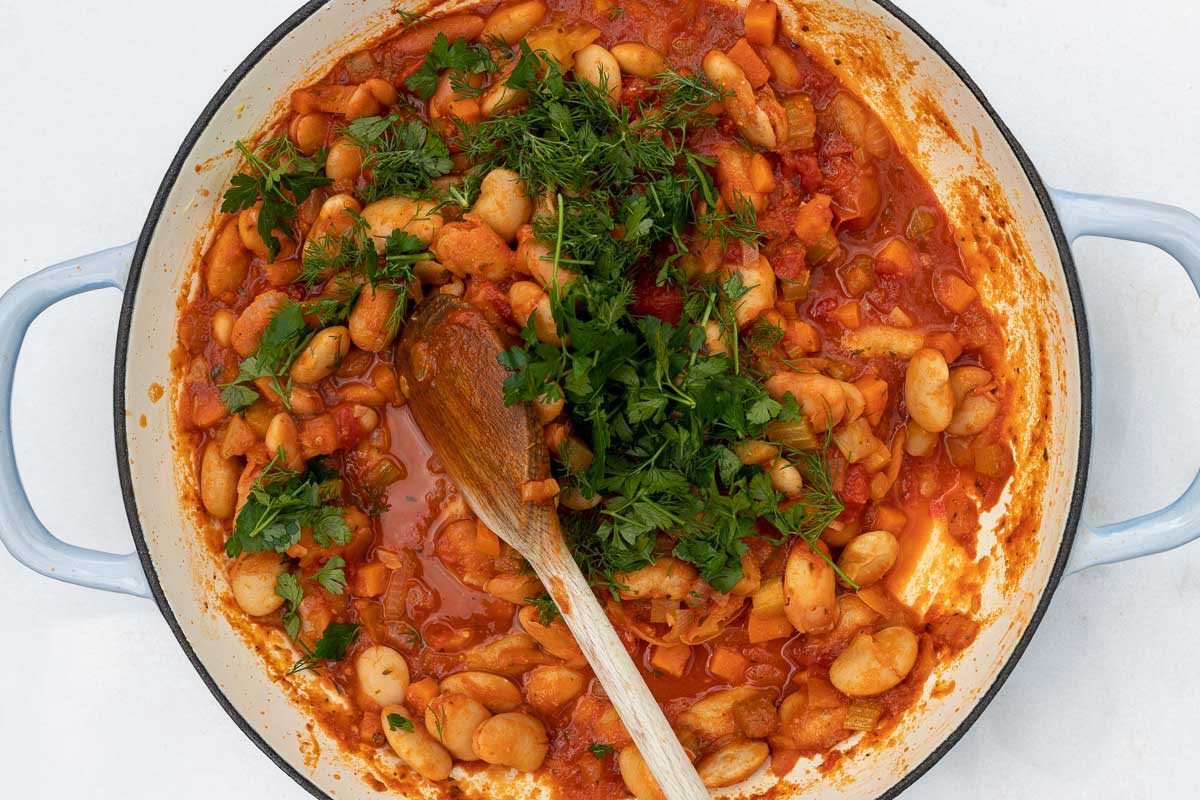 Serve sprinkled with feta cheese (if you like!) and more fresh herbs to make it look nice!
Helen's top tips
After you add the garlic, dried oregano and tomato paste, stir-fry them with the vegetables briefly. This will help intensify their flavors and infuse them into the dish.
Remember to taste to check that the seasoning is to your liking before serving. You might feel your beans need a little more salt, pepper or both.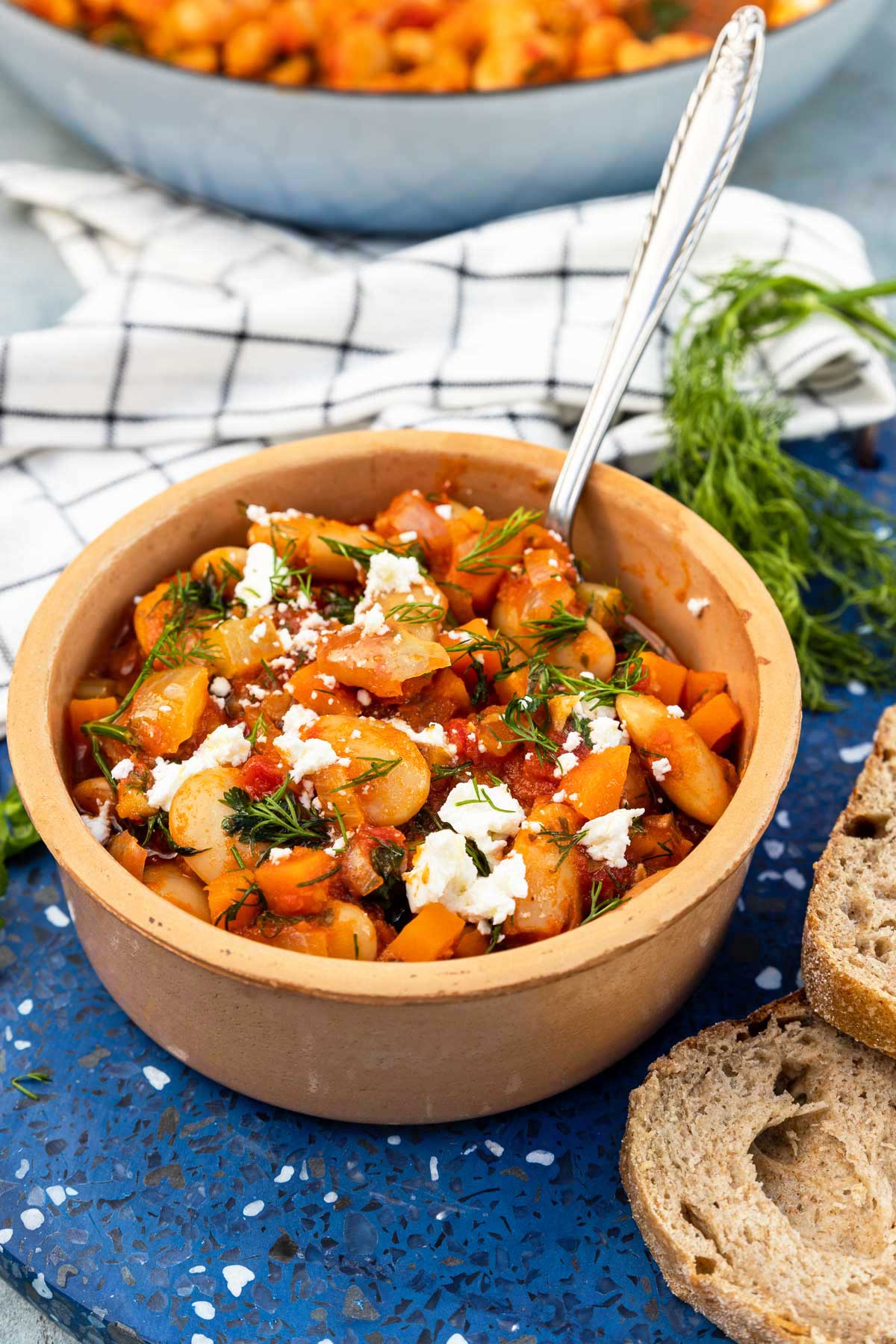 How to serve
One of the great things about 'gigantes plaki' is that you can either serve them as the Greeks often do, by themselves with lots of feta and fresh crusty bread to mop up the sauce.
OR you can serve them with whatever you'd usually serve baked beans in tomato sauce with. I love to serve them breakfast style, as a main meal with sausages, a fried egg and these simple olive oil toasts on the side!
Which means they'd also be great actually served for breakfast or brunch. Serving with this popular and very easy crustless ham and cheese quiche is another breakfast option!
They also go really well with meatballs (here are some Greek chicken meatballs – for the air fryer or oven), or any kind of meat such as these oven baked Greek chicken kabobs or simple baked chicken thighs.
The third option is to serve them mezze style, as part of a selection of Mediterranean style appetizers. Here are a few other dishes to include as part of your spread.
Or check out all easy appetizers!
Variations
I don't actually recommend varying classic dishes such as gigantes plaki too much… since they're classics for a reason!
Having said that, there are a few simple tweaks you can make that still maintain the authenticity of the dish. For instance, you can add some cooked sausage or chicken or pork to the cooked beans for an even heartier dish.
You could add more of different chopped vegetables such as zucchini/courgette, peppers, or eggplant.
You could wilt some spinach into the dish at the very end, to up the nutritional value even more.
Finally, you could add more dried or fresh herbs, such as thyme, basil or rosemary, or even add a pinch of red pepper flakes or chilli flakes for a spicy twist on the classic.
Can't find lima/butter beans? Try the dish with other canned beans such as cannellini beans, navy beans or even chickpeas.
Recipe FAQs
Are gigantes beans healthy?
Yes, they're very healthy (not to mention delicious!) when prepared Greek style with wholesome ingredients such as tomatoes, vegetables and fresh herbs. The dish is high in fiber, protein and many other nutrients and therefore great as part of a balanced diet based on natural ingredients.
Can I make gigantes plaki in advance and can they be frozen?
Yes, this is a perfect dish for making in advance – it's one of those dishes that only gets tastier the next day! You can store it in an airtight container in the fridge for up to 4 days. Alternatively, freeze in freezer proof containers for up to 3 months. Let defrost in the fridge overnight, then reheat either in the microwave for a few minutes until piping hot, or gently on the stove, perhaps with an extra drizzle of water.
IF YOU MAKE THIS RECIPE, LET ME KNOW HOW YOU GET ON BY LEAVING A COMMENT AND RATING BELOW… AND DON'T FORGET TO SIGN UP TO RECEIVE ALL MY NEW RECIPES BY EMAIL!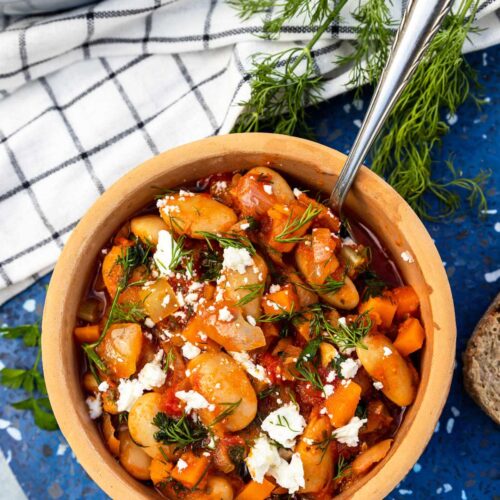 Easy Greek Giant Beans With Canned Beans (Gigantes Plaki)
These homemade Greek giant beans are a quick and easy stovetop twist on the classic dish called 'gigantes plaki' in Greece. You'll love the tender, creamy beans coated in the healthy and tasty Mediterranean style tomato-vegetable sauce. Savor all the goodness of this Greek comfort food favorite without the need for oven-baking.
Equipment (affiliate links)
Ingredients (UK/Australia? Click below for grams/ml)
¼

cup

extra virgin olive oil

plus a little extra for drizzling over at the end

2

sticks

celery

finely cubed

2

carrots

(1-2 depending on size) finely cubed

1

onion

(yellow or brown) finely chopped

2

teaspoons

garlic paste

(or use 2 crushed fresh cloves of garlic)

3

tablespoons

tomato paste

(= tomato concentrate or concentrated tomato puree)

1

tablespoon

dried oregano

1

can

chopped tomatoes

(14 ounces/400 grams)

2

cans

lima beans

(= butter beans) roughly 14 ounces/400 grams in each can, ready cooked and drained and rinsed.

2

tablespoons

honey

or 2 teaspoons sugar

2

tablespoons

vinegar

(any kind)

¾

teaspoon

salt

¼

teaspoon

pepper

1

bay leaf

(optional)

½

cup

fresh dill

(about ½ to 1 bunch) but add to taste

1

cup

fresh parsley

(about 1 bunch)
To serve (optional)
7

ounces

feta cheese

to crumble over the top
Instructions
Heat the olive oil in a large cast iron pan or skillet/frying pan until hot but not smoking. Then add the chopped celery, carrot and onion.

¼ cup extra virgin olive oil,

2 sticks celery,

2 carrots,

1 onion

Cook on a medium high heat for 7 to 10 minutes, or until softened but not browned. Stir regularly.

Stir in the garlic paste, and then the tomato paste/concentrate and dried oregano.

2 teaspoons garlic paste,

3 tablespoons tomato paste,

1 tablespoon dried oregano

Now add the canned chopped tomatoes, canned lima beans/butterbeans, honey/sugar, vinegar, salt and pepper and the bay leaf (if using). Half fill the empty chopped tomato can with water and add that to the pan too. Stir well.

1 can chopped tomatoes,

2 cans lima beans,

2 tablespoons honey,

2 tablespoons vinegar,

¾ teaspoon salt,

1 bay leaf,

¼ teaspoon pepper

Bring to the boil, then turn the heat down to medium low. Simmer for around 20 minutes or until the sauce has reduced and thickened a little and the vegetables are tender.

Stir through most of the fresh herbs (parsley and dill). Taste to check the seasoning and add a little more salt and pepper to taste if you like.

½ cup fresh dill,

1 cup fresh parsley

Serve with more fresh herbs, a little drizzle of extra virgin olive oil and a scattering of feta cheese (if you like) on top.
Notes
Beans: Drain and rinse before adding to the dish.
Variations: I don't tend to vary this recipe much since it's a classic Greek recipe. However, feel free to add more finely chopped vegetables such as zucchini/courgette, eggplant or peppers. Add meat to the sauce for a heartier meat lovers version. Use different herbs if you don't like dill or parsley, such as dried thyme or fresh basil.
Serving: These 'big beans' are so delicious just served as they are, with fresh bread or toast and with a generous amount of feta cheese scattered on top. They also make a great simple midweek family meal or weekend brunch served with eggs and/or meat such as sausages, meatballs or chicken thighs. Alternatively, serve as an appetizer or mezze style with more Mediterranean dishes.
Storage: In an airtight container, the Greek giant beans will keep for up to 4 days in the fridge.
Freezing: Freeze in freezer proof containers for up to 3 months. Defrost in the fridge overnight, then reheat in the microwave for a few minutes until piping hot, or gently on the stovetop with an extra drizzle of water.
Nutrition
Calories:
497
kcal
Carbohydrates:
52
g
Protein:
20
g
Fat:
25
g
Saturated Fat:
9
g
Polyunsaturated Fat:
2
g
Monounsaturated Fat:
12
g
Cholesterol:
44
mg
Sodium:
862
mg
Potassium:
1328
mg
Fiber:
13
g
Sugar:
19
g
Vitamin A:
7438
IU
Vitamin C:
42
mg
Calcium:
385
mg
Iron:
7
mg