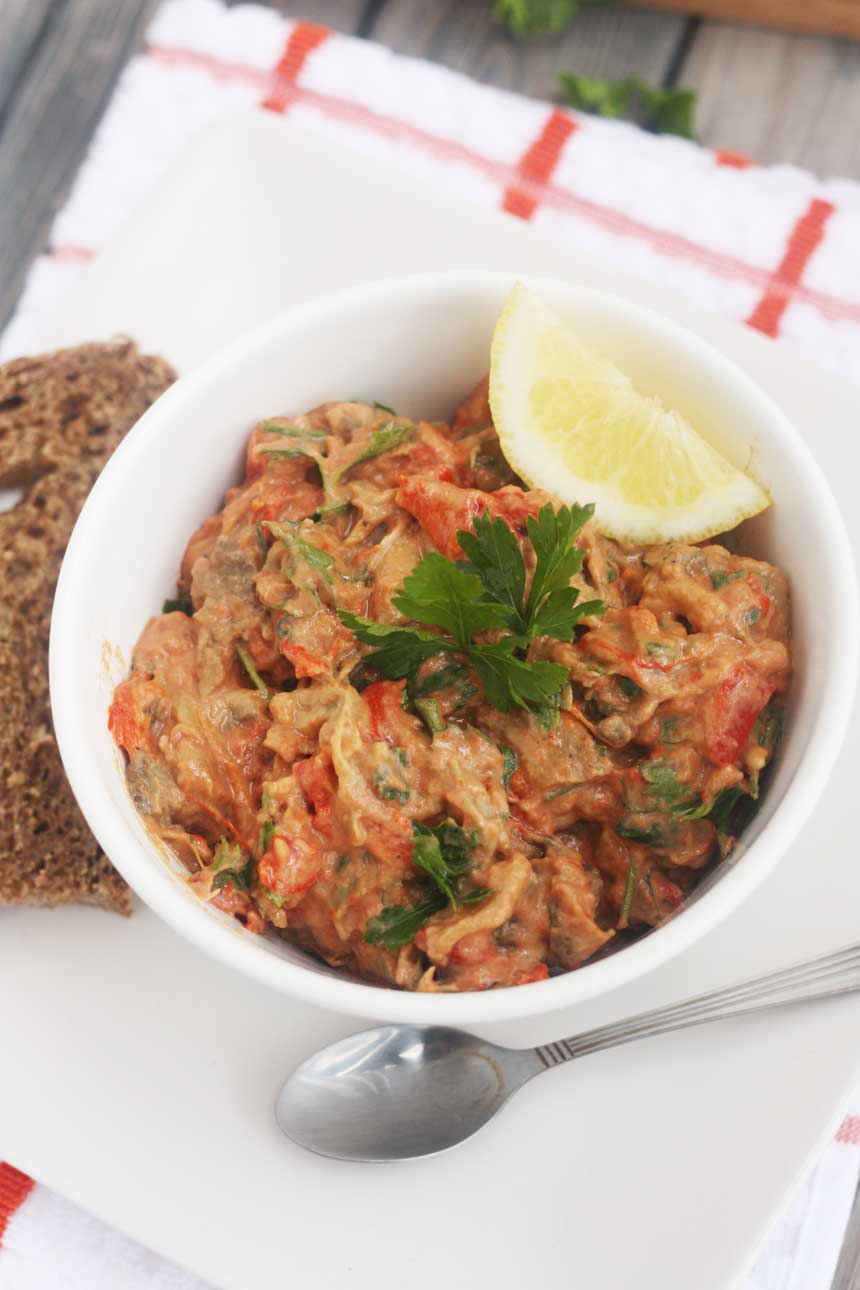 Any kind of eggplant dip is never going to win any awards in the good looks department, and I'm afraid this one is no exception, really – but what this dip definitely could get top marks for is its taste and 'healthiness factor'!
As I tend to pepper my posts with Greek (or Greek-ish) recipes from time to time anyway after my many years spent living here, I wasn't particularly thinking that I'd go crazy cooking all things Greek on this latest trip to Greece. Or at least I wasn't until a couple of days ago when I had my first wander around the local market that's held every Monday pretty much at the end of my street. But once there and standing before the array of fresh Mediterranean produce piled high on the stalls, feeling the weak but still warming winter sunshine on my face, exchanging pleasantries with the market sellers ('Get your lemons here, nice and bitter!' yelled the man on the citrus stall with a cheeky wink …), Mr. Scrummy and I were soon struggling up the hill to our apartment with plastic bags bursting with plump tomatoes, eggplants, olives and cucumbers (1 euro for 5 cucumbers? Seriously? Then I'll take 5 …)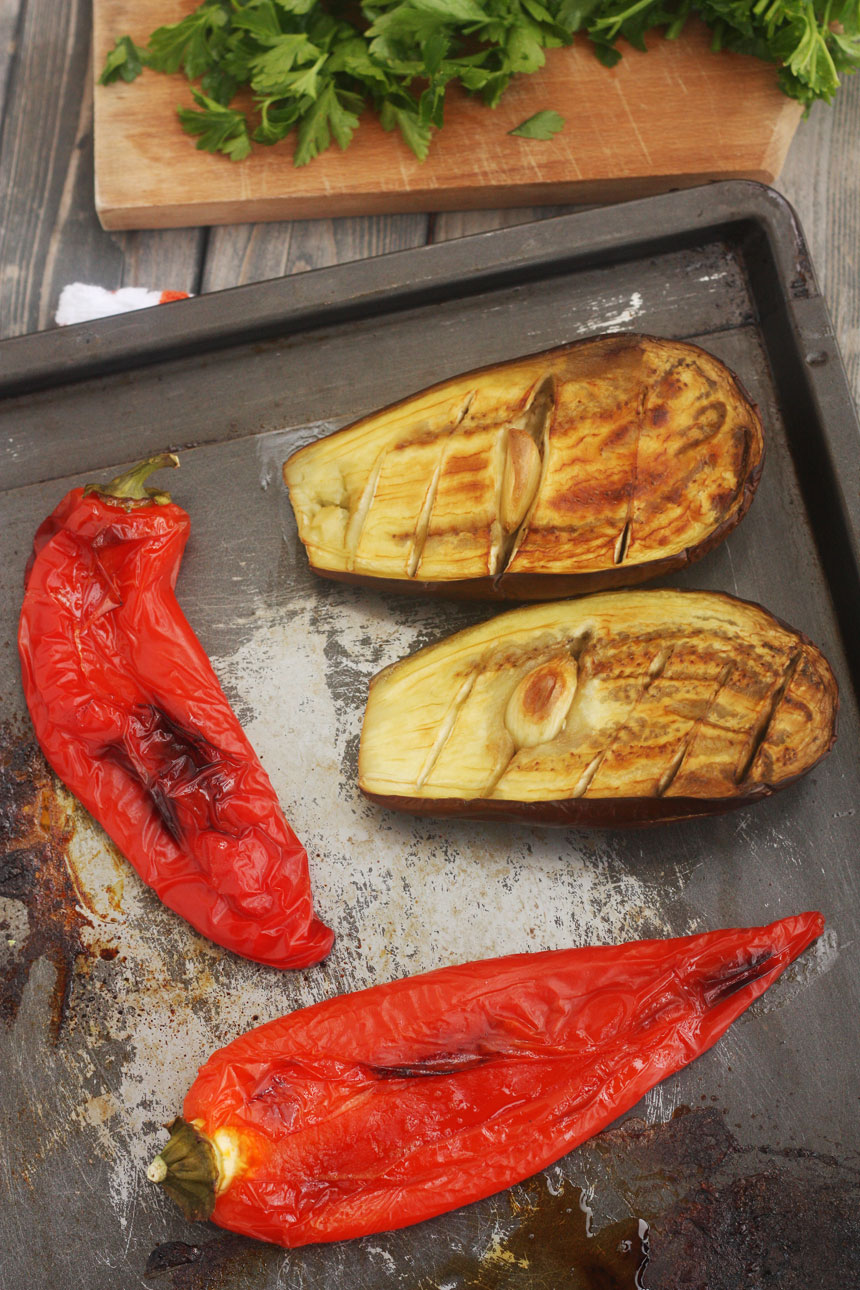 The first thing we did when we got home was make a big, fat Greek salad and gobble it up with lovely fresh toasted bread on our balcony with the mountain view. Mmm … bliss! And then I found myself thinking about all the beautiful things I could make with all the yummy produce I'd just picked up … hmm, I could make this, or I could make that …
Now it didn't take too long for me to decide on this sweet roasted pepper & eggplant dip. The previous day, I'd eaten in one of mine and Mr. Scrummy's favourite tavernas and ordered something fairly similar. Usually, eggplant dip ('melitzanosalata', found all around Greece) is delicious but quite an unappetizing-looking shade of grey-ish beige. This one looked much brighter with sweet roasted peppers added along with what I thought was a dash of tomato and a fair bit of chopped fresh parsley.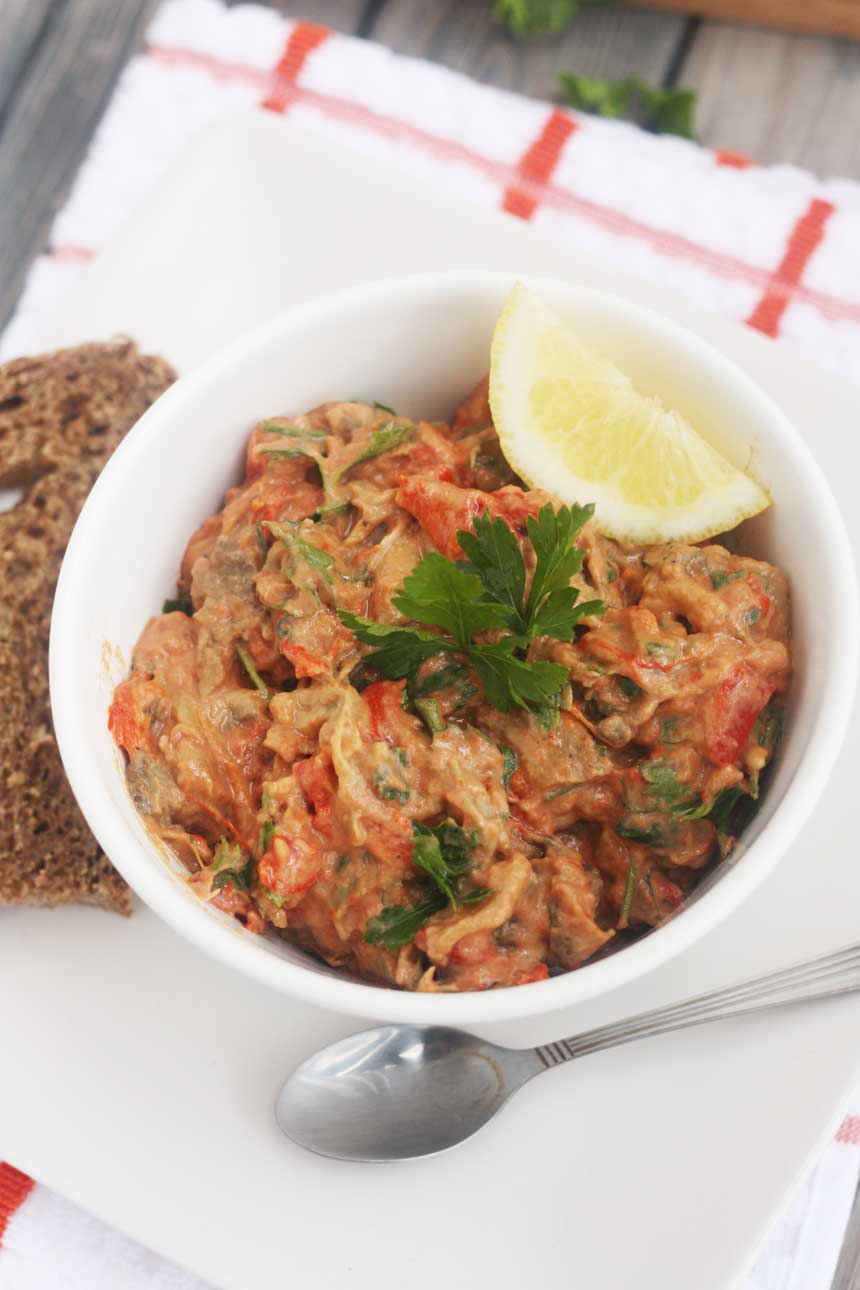 The dip was so incredibly sweet and smoky that I honestly could have scooped up the whole plate with the yummy warm pitta bread served on the side. As I'm a nice polite girl, though, you'll be happy to know that I did save some for my friends! What made this so delicious, in my opinion, was that it was made with just a few simple but really, really high quality ingredients. There were only five, possibly six, ingredients in it altogether, but it really didn't need anything else added. Each ingredient shone and harmonized perfectly together with the others.
I'm sure that my version isn't exactly the same as the dip I ate in the restaurant, but it really doesn't matter because it got two thumbs up from both myself and Mr. Scrummy. All I did was roast an eggplant (aubergine to me!) with cloves of garlic and a couple of red peppers (the long thin kind – just roast one if you're using the bigger, fatter ones), then I scooped out the aubergine flesh, peeled, deseeded and chopped the peppers, mashed the garlic and mixed all this together with a bit of nutty tahini, a squeeze of lemon juice and a tablespoon or so of tomato paste. Oh, and then I topped it with some fresh chopped parsley and drizzled it with a bit of extra virgin olive oil.
The end result is a smoky, sweet, creamy, super healthy and very fresh-tasting dip that is absolutely beautiful spread thickly onto toasted fresh bread and topped with slices of feta cheese. Mmmm … oh my goodness, it tastes divine! Eating it this way makes it more of a crostini-topper than a dip, of course, but it would be just as fabulous scooped up with pitta bread or pitta chips, tortilla chips, bread sticks or even crackers. I could even see it tasting wonderful stirred through pasta. The addition of feta is optional, but I would highly recommend not missing that part out!
The other thing you could do is blitz the dip to a smooth paste. I don't have a food processor over here, but I'm planning to try that when I get home.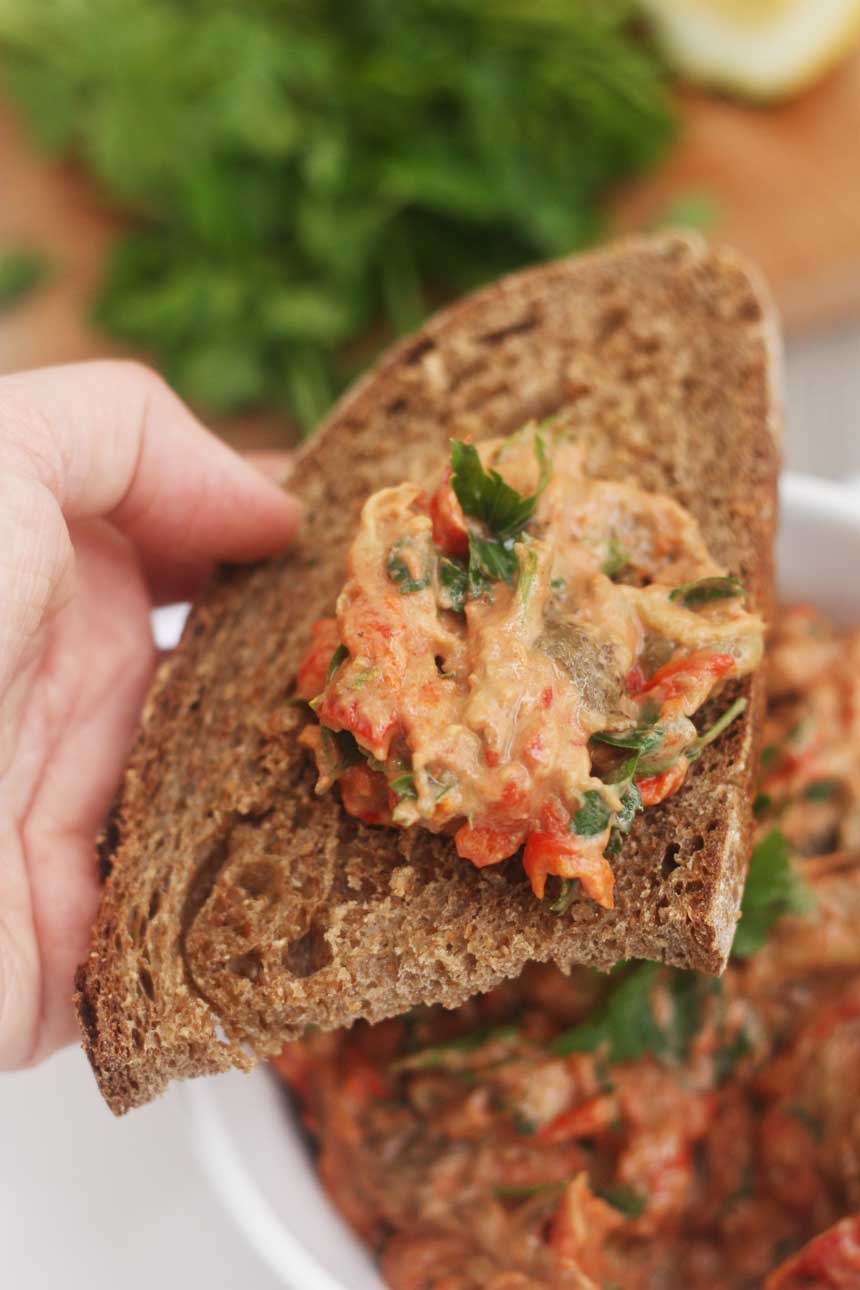 So, I make no apologies for presenting you with 'yet another' Greek recipe this week. I really hope you give this a try and, and if you do, I'd love to know what you think!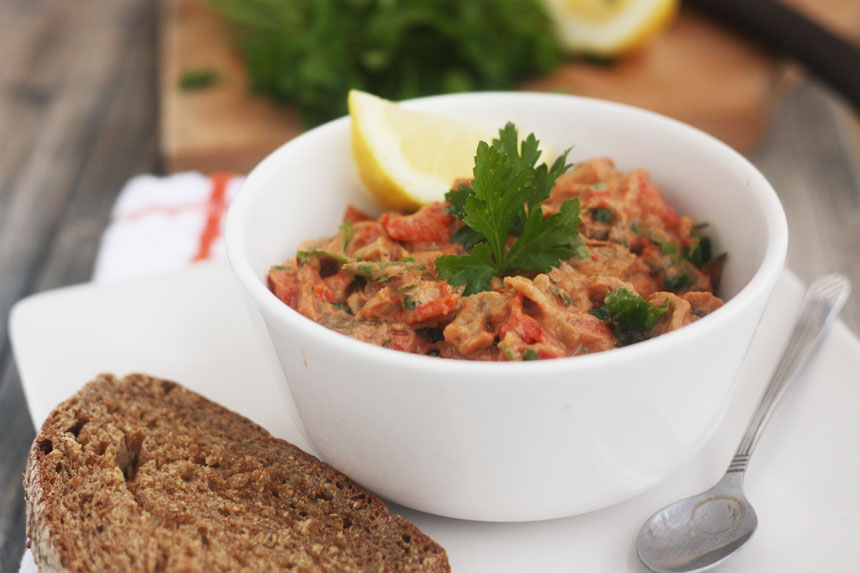 Sweet roasted red pepper & eggplant dip
A sweet, smoky and vaguely nutty dip made from roasted peppers and eggplant and tahini paste. Delicious spread on bread and topped with feta cheese.
Ingredients (UK/Australia? Click below for grams/ml)
Instructions
Pre-heat the oven to 200C/390F. Put the eggplant (cut side up) on the baking tray along with the peppers. Score a few lines down the cut side of the eggplant halves (without cutting through the skin), then poke a garlic clove into each. Brush the eggplant with olive oil and bake for about 40 to 45 minutes or until the peppers are soft and charred and the eggplant is soft.

When ready, remove the eggplant from the tray and cover the peppers (still on the tray) with some aluminium foil. Leave the peppers to steam and cool for a while (this will help the peel come off easily). Meanwhile, remove the garlic from the eggplant, scoop the eggplant flesh out of its skins with a metal spoon and put it into a medium bowl.

Mash up the garlic with a fork and add that to the bowl, along with the tahini, tomato paste, lemon juice, parsley and salt and pepper. Then pull the peel off the peppers, slit them open with a sharp knife, scrape out the seeds and chop them into small pieces. Add these pieces to the bowl as well.

Mix the ingredients together well, then tip the dip into a serving bowl and garnish with a little more chopped parsley. Serve with toasted bread (or pitta bread) or tortilla or pitta chips.
Notes
This is really good spread thickly on toasted fresh crusty bread and topped with slices of feta cheese. Alternatively, you could crumble some feta cheese into or onto the dip.
You could also mix it through pasta for a quick, tasty and nutritious meal.
Feel free to leave the tahini out if you don't have it/can't find it easily (health food stores should have it if you can't find it in a local supermarket). The tahini just makes the dip slightly creamy in texture and gives it a faint nutty taste. The dip would still be delicious without it.
Nutrition
Calories:
77
kcal
Carbohydrates:
12
g
Protein:
2
g
Fat:
2
g
Sodium:
55
mg
Potassium:
482
mg
Fiber:
5
g
Sugar:
7
g
Vitamin A:
2235
IU
Vitamin C:
84.3
mg
Calcium:
27
mg
Iron:
1
mg