I love to make my own pizza crust, but sometimes it's just too much effort. So why not use ready-made naan bread for a pizza base? It makes a delicious, classy meal when topped with a simple sun dried tomato and mini mozzarella topping, and only takes 20 minutes from start to finish!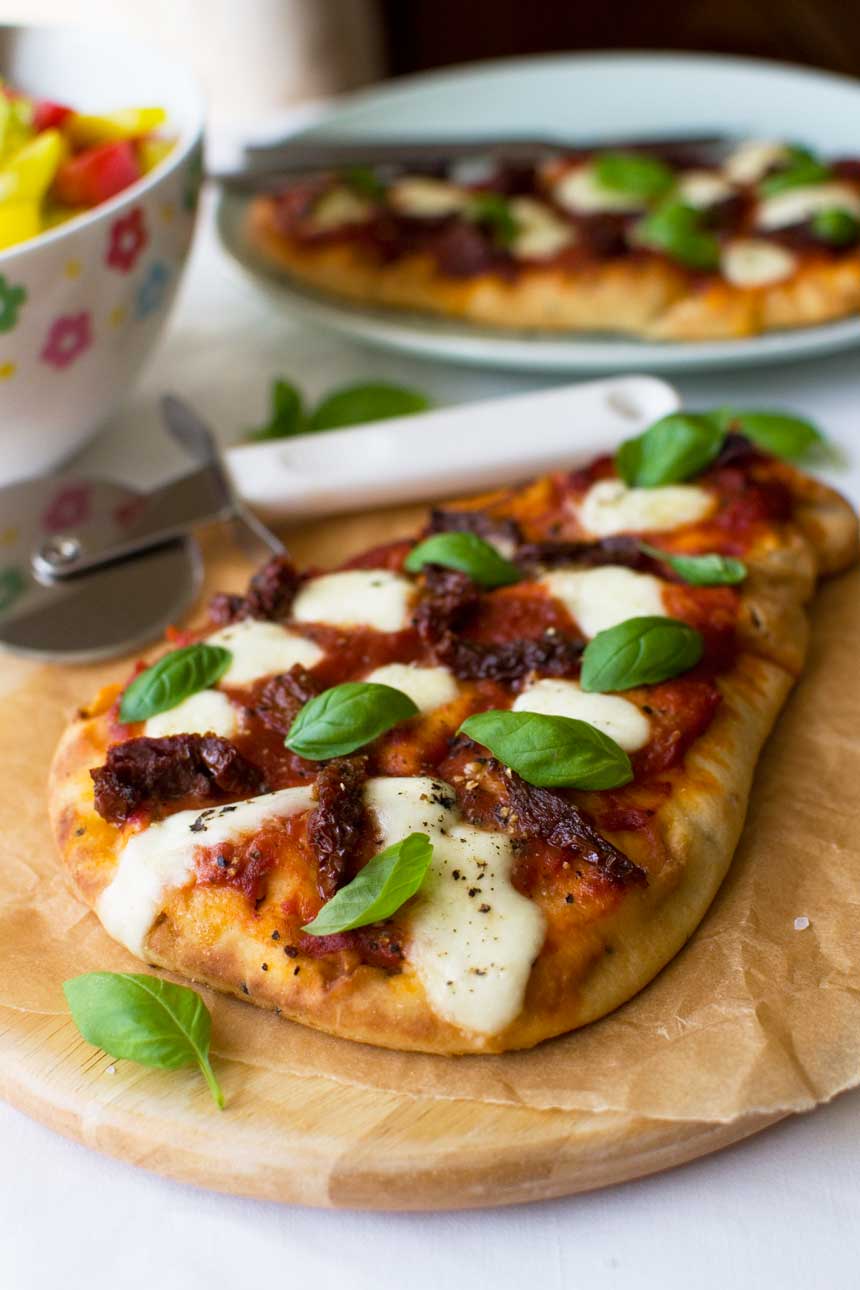 I really wish I'd made this naan pizza for tonight's dinner.
We've had one of those crazy crazy days when you keep thinking 'I'll just make a cup of tea and take 5 minutes', but it never quite happens.
In fact the last two weeks have been like that.
We've only been in Australia for a week (we've just moved here – again – in case you missed that!) and we're still jet lagged. And so is our 5-month-old little monkey. Which means looong evenings attempting to entertain him while cooped up inside.
Not fun.
In fact right now it's half past midnight and he's crying in his cot again. Be back soon.
OK, I'm back [exhausted sigh].
I finally got around to throwing together something easy for dinner tonight, but even easy was too hard this evening. I needed a 'no recipe' meal that you can pull together in minutes – just like this sun dried tomato and bocconcini naan pizza.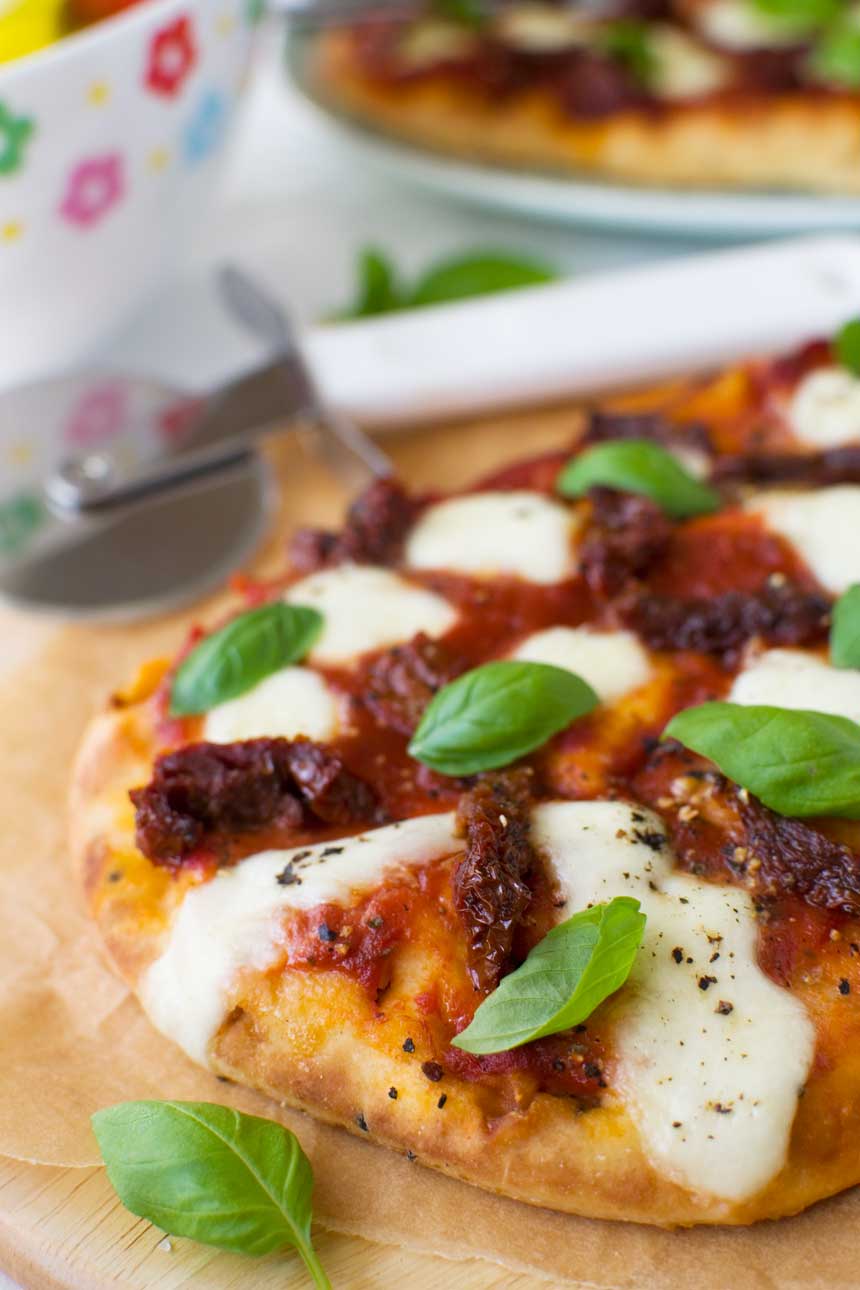 I got the idea from the focaccia pizzas we've been buying from local supermarkets since Benjamin was born. They make an effortless but tasty meal with a nice fresh salad. You can have this meal on the table in 20 minutes from start to finish.
It suddenly occurred to me that you could use naan bread as a substitute ready-made base. And then you can add as much of the tasty toppings as you like!
I decided to stick to margherita-style toppings – and then make it a bit fancier. So on top of a layer of pasta sauce I added sun dried tomatoes, sliced bocconcini (a fancy name for mini mozzarella balls), and fresh basil at the end.
The result was exactly what I'd imagined – quick, easy, and delicious, and just as nice if not nicer than the posh supermarket pizzas we'd been buying.
You can add all sorts of toppings to naan pizzas, of course. Add mushrooms or cooked ham or bacon, spread a little bit of pesto over the top of the tomato sauce, or use your imagination to invent your own yummy creation.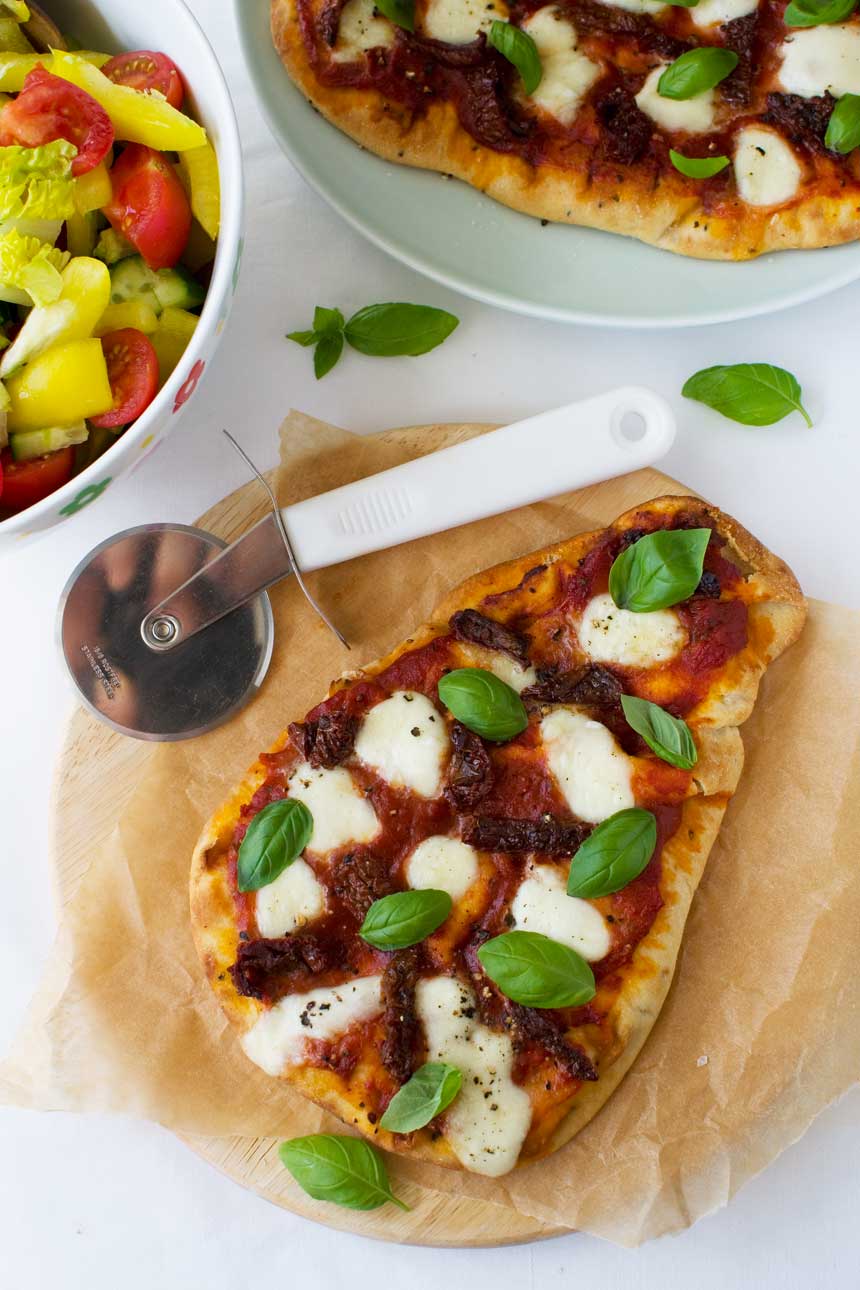 I think I'm going to make these tomorrow night as I'm sure a 20-minute meal will be all I can cope with. I suspect Benjamin will have me running in and out of his room again all evening! (update: he did)
Another update: I usually make these pizzas with naan bread, but came across some freshly baked Turkish bread today, so I'm making them with that tonight. Basically, use any kind of flat(ter) bread that you think will work!

Sun dried tomato and bocconcini naan pizza (20-minute meal)
Prep time:
Cook time:
Total time: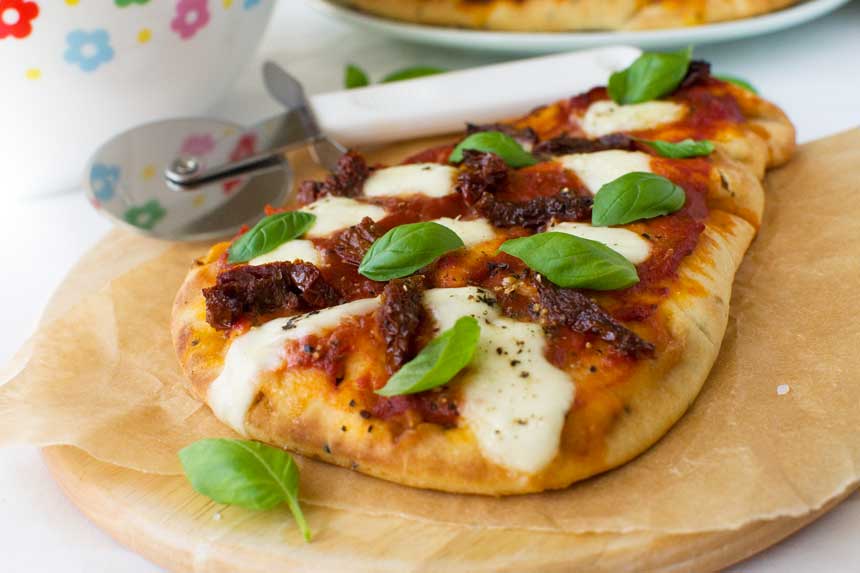 Homemade pizzas made with a delicious ready-made base that you might not have thought of using before - naan bread! Top with sun dried tomatoes and mini mozzarella cheese balls, and you've got a simple but tasty meal in just 20 minutes.
Ingredients
1 ready-baked naan bread
2 to 3 tablespoons jarred (or fresh!) tomato pasta sauce of your choice
3 to 4 bocconcini (mini mozzarella balls)
2 to 3 sundried tomatoes, cut into pieces
a small handful parmesan (optional)
black pepper to taste
small handful fresh basil leaves
to serve (suggestion)
Instructions
Pre-heat the oven to 390F / 200C.
Spread the tomato sauce over the bread, then scatter with the mozzarella and tomatoes, parmesan (if using), and black pepper.
Bake directly on the oven shelf for about 15 minutes, or until the mozzarella is bubbling and starting to brown.
Scatter with the fresh basil and serve immediately
Notes
Obviously this recipe is for 1 naan bread pizza, which serves 1. For more people, adjust the amounts accordingly!

Ingredient amounts are just approximate – use however much you like!

If you can't find bocconcini, no problem - just use a regular-sized mozzarella ball torn into shreds