You only need seven ingredients to make this simple creamy pesto chicken. Quickly pan fry chicken breasts, then combine pesto, mushrooms, parmesan and evaporated milk for a super delicious but lightened up creamy sauce. And the best part? It's on the table in just 15 minutes!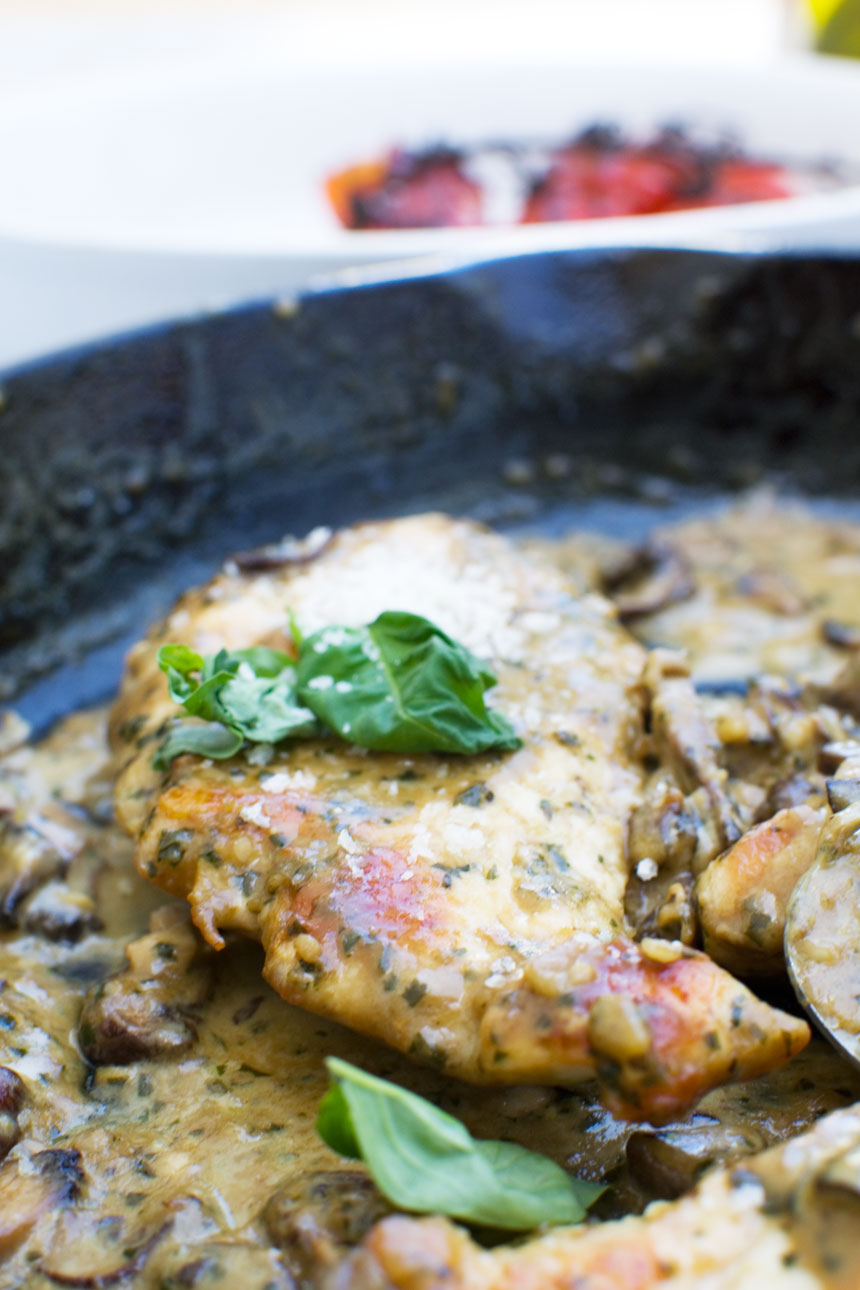 The secret to perfect pan fried chicken breasts
Do you have much success with pan fried chicken breast recipes?
I've either overcooked or undercooked chicken breasts many times when cooking them in a frying pan. At one point I gave up and just bought chicken thighs instead. But over the years I've learnt that there are a couple of easy ways to decrease the cooking time to help you get perfect chicken breasts every time.
Bash them with a rolling pin between 2 sheets of plastic wrap / cling film until they are much thinner. Then make this delicious and easy mustard parmesan chicken schnitzel! Serve with a simple green salad and dinner is on the table in the blink of an eye.
Cut the chicken breasts in half horizontally so that they are thinner and cook in just a few minutes. This is the trick I use to make this delicious pan fried pesto chicken recipe.
Why you'll love creamy pesto chicken
The chicken cooks quickly, thanks to cutting the breasts in half horizontally. What else?
It's a ONE PAN meal. I use a cast iron pan, because they're just so cool, but any big frying pan / skillet will do.
The sauce is super quick and easy to make, too, not to mention extremely tasty. Combine evaporated milk (or cream), mushrooms and parmesan with the tasty bits left in the pan from cooking the chicken and you've got yourself some serious flavour.
The sauce ends up the perfect consistency – not too runny and not too thick – without any added flour or cornflour. Evaporated milk (or cream – your choice!), pesto and parmesan bubble away and reduce to the perfect thickness in just a few minutes.
Did I mention you can have this ready and on the table in just 15 minutes?
Ingredients you need
You only need 7 main ingredients to make this delicious meal:
chicken breasts (obviously!)
crushed garlic (optional as you already have some garlic in the pesto)
chopped mushrooms, to give your sauce extra umami flavour!
chicken stock
good quality pesto, either homemade or shop bought
either cream or evaporated milk (I usually use evaporated milk because it's lighter)
grated parmesan cheese
If you like you can sprinkle some fresh basil over the top to make it look pretty, but only if you have some.
Pro tip: Make a batch of pesto ahead of time and freeze it. You can even make a double batch and use the leftovers in another pesto recipe such as this simple orzo salad with pesto. Alternatively, just buy some really good quality pre-made pesto.
How to make it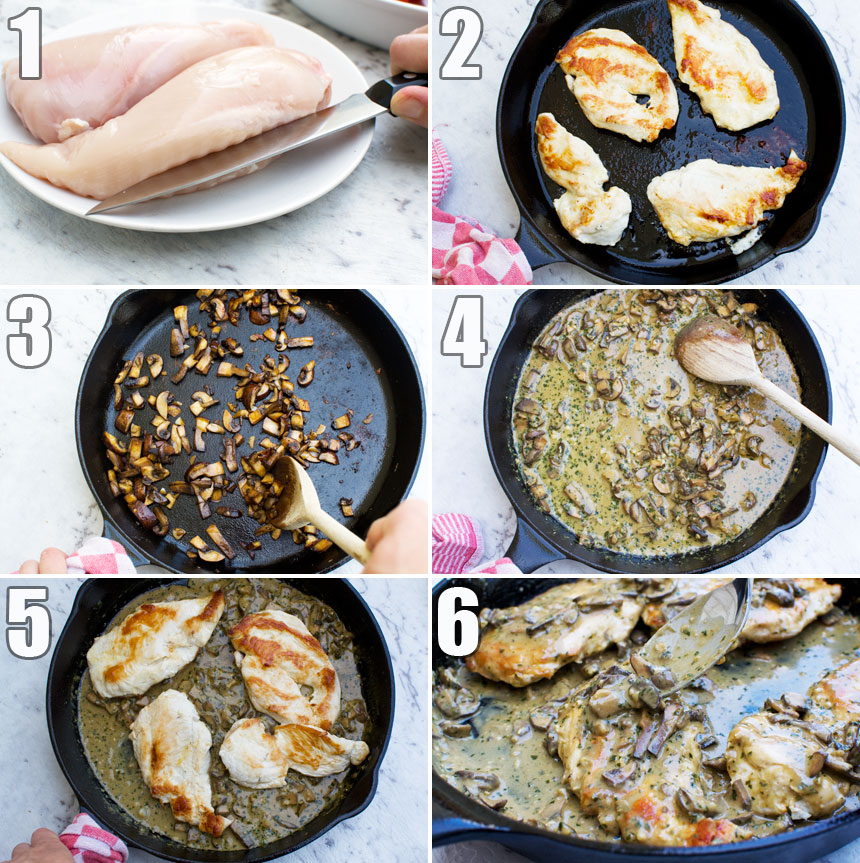 You're just a few easy steps away from a delicious dinner for four (or two dinners for two!)
Step 1: Cut two chicken breasts in half horizontally.
Step 2: Pan fry the chicken, then take out of the pan and keep warm.
Step 3 (photos 3 to 4): Make the sauce! Pan fry mushrooms and garlic, then pour in cream or evaporated milk, stock, and pesto.
Step 5: Bubble for a short while until thickened, then add parmesan.
Step 6 (photos 5 to 6): Put the chicken back in the pan and spoon over the sauce. Done!
How to serve it
You can serve your chicken and sauce on top of pasta, rice, potatoes, or just with crusty bread. My personal favourite is tagliatelle. If you like pasta with pesto sauce, you'll love this . You end up with a richer, creamier, altogether more delicious version of a traditional pasta with pesto sauce!
My favorite potatoes to serve with this are these amazing crispy potatoes parmentier.
If you don't have any roasted tomatoes, maybe you have some sundried or semi-dried tomatoes lurking in the back of the fridge? Add a handful of these to the sauce just before serving instead!
Alternatively, throw some of these Mediterranean roast vegetables into the oven before you start making the chicken. They're colourful and healthy, and make great leftovers for tossing onto pizzas, salads and in toasties and quesadillas.
If you choose to serve your pesto chicken with pasta, don't do what I do – make far too much. Every. Single. Time. Actually, about 60 grams or 2 ounces per person is enough. Just toss with a little olive oil to keep it from sticking before serving out the meal.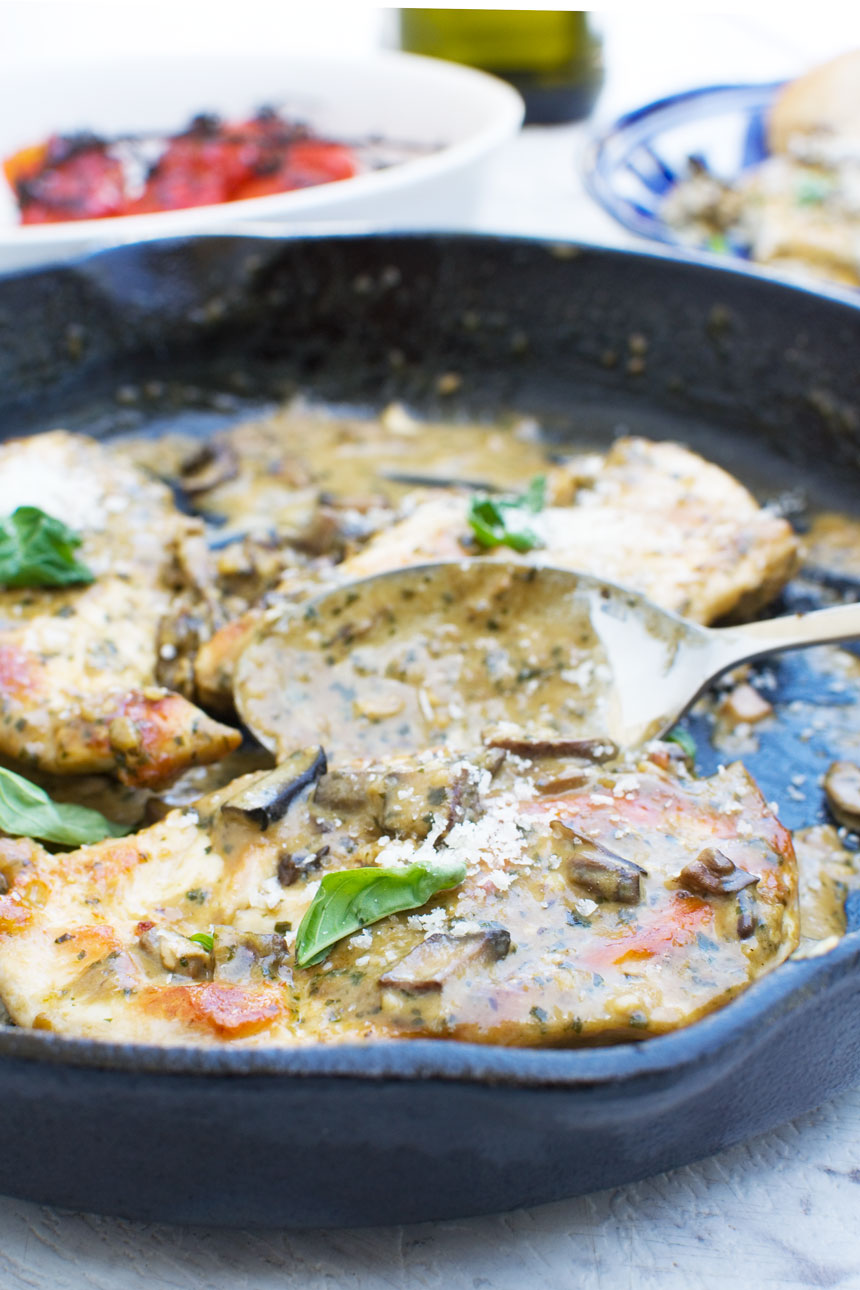 More things to know (FAQs)
How do I know when my chicken is done?
This can be tricky, but I usually slice my chicken breasts in half horizontally before adding them to the pan. This way, the breasts will be thinner and should only take 3 to 5 minutes to cook on each side. I usually leave them to cook without moving them for a few minutes. You'll see the bottom and sides start to turn white. When the white colour reaches about half way up the thickness, flip over and cook for another few minutes.

Try not to overcook the chicken! I usually check for doneness by cutting into the middle of the thickest part of one of the breasts. The juices should run clear. If it still looks a bit pink, just cook for another minute or two, then check again.

If you have a meat thermometer, you can check that the middle of the chicken is 165F/74C.
Can I use cream instead of evaporated milk?
You can indeed! It's just that evaporated milk is lighter, which is why I prefer it in this recipe.
Can I make it ahead?
I think this meal is best made just before you want to eat it. It's supposed to be a quick, last-minute meal idea that's on the table in just 15 minutes.

If you have leftovers, you might need to add an extra drizzle of water/stock/cream to thin out the sauce again as you reheat it. I'd add a little extra liquid, then microwave on 50% power for a couple of minutes at a time until piping hot (this way you won't end up with tough, dry chicken!).
Can I freeze it?
Yes, absolutely! Let cool completely, then empty into a freezer proof container. Freeze for up to 2 months as with all cream-based chicken recipes. You may find that the evaporated milk will separate as it defrosts, but don't worry about it. Just add a drizzle more liquid, reheat as described above and then give it a good stir before serving.
More 15-minute meals
More pesto recipes
IF YOU MAKE THIS RECIPE, LET ME KNOW HOW YOU GET ON BY LEAVING A COMMENT AND RATING BELOW… AND DON'T FORGET TO SIGN UP TO RECEIVE ALL MY NEW RECIPES BY EMAIL!
FOLLOW ME ON FACEBOOK, INSTAGRAM, PINTEREST AND YOUTUBE.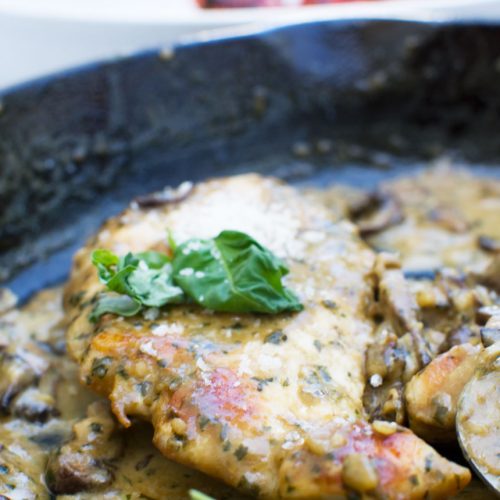 15-minute Creamy Pesto Chicken With Mushrooms And Parmesan
If you're a fan of easy-to-cook pan fried chicken dinners that the whole family will enjoy, this creamy pesto chicken with mushrooms and parmesan could become one of your go-to quick and easy meals! Cut the chicken in half horizontally for perfectly pan fried chicken, then add just a few other pantry ingredients to make a delicious creamy sauce. Serve with pasta, potatoes, or rice, or just by itself with some toasted fresh bread. The best part? It's on the table in barely 15 minutes!
Ingredients (UK/Australia? Click below for grams/ml)
2

tablespoons

olive oil

2

large

chicken breasts

sliced in 2 across the width (to make 4 thinner slices of chicken)

2

cloves

garlic

crushed or sliced (optional, as there is already garlic in the pesto)

4

ounces

mushrooms

chopped into small pieces

½

cup

chicken stock

¼

cup

basil pesto

(homemade or good quality pre-made)

½

cup

evaporated milk

(or double / heavy cream – evaporated milk is lighter)

⅓

cup

grated parmesan

plus extra for grating over at the end

black pepper

(to taste)

fresh basil leaves

to serve (optional – I often save a few from making the pesto)
Instructions
Heat up the olive oil in a medium cast iron pan or frying pan. Pan fry the chicken for a few minutes on each side or until cooked through. Remove from the pan and keep warm by covering with foil.

Without cleaning the pan, add the garlic and mushrooms and pan fry for about 2 minutes.

Add the chicken stock, pesto and cream to the pan and let bubble for a minute or two until slightly reduced. Then stir in the parmesan.

Add the chicken and any juices back into the pan, spooning over the sauce. Serve over pasta, mashed or roast potatoes, or rice, or by itself with fresh or toasted bread (your choice!). Scatter over extra parmesan and a few basil leaves to serve, if you like.
Notes
Portion size
This makes a great meal for an average family of 4, but do bear in mind that the portions are on the smaller side. I think it's usually enough with sides e.g. roasted tomatoes and tagliatelle and bread, but if you're extra hungry feel free to add another chicken breast to the pan! (use a large frying pan, obviously!)
Getting the chicken just right
Try to resist the temptation to overcook the chicken – you want to keep it nice and moist and juicy! Check it's just cooked through in the thickest part, then remove from the pan. I find my chicken is usually cooked in 6 to 10 minutes, depending on the thickness.
Recipe for homemade pesto
You can use a good quality supermarket pesto to save time, of course. If you'd like to make your own, however, there is a recipe for homemade pesto in this post.
To make things even easier, here it is again:
Put 2 handfuls of fresh basil, about 1/4 cup pine nuts, a small clove of garlic, 6 tablespoons extra virgin olive oil in the bowl of a food processor (a mini one or small bowl of a bigger processor works well) and pulse a few times until well chopped and combined.
You can make the pesto ahead. Just put in the fridge with a drizzle of olive oil over the top to keep it fresh and cover until you want to use it. Alternatively you can freeze it.
Evaporated milk or cream?
I usually use evaporated milk to make this recipe because it's lighter than cream. No worries if you prefer to use double / heavy cream, however!
How to serve your creamy pesto chicken
Serve with pasta, rice, or mashed or roasted potatoes. My favourite accompaniment is tagliatelle, but it's your choice of course! A few peas or another vegetable are nice on the side, too, for extra veggie goodness. Mmm!
I also really like to serve this meal with roasted tomatoes. Just drizzle with a bit of olive oil and bake at 180C / 355F for about 15 minutes.
Can you reheat the leftovers?
You can, but you might need to add an extra drizzle of water/stock/cream to thin out the sauce again. I'd add a little extra liquid, then microwave on 50% power for a couple of minutes at a time until piping hot (this way you won't end up with tough, dry chicken!).
Nutrition
Calories:
349
kcal
Carbohydrates:
7
g
Protein:
32
g
Fat:
21
g
Saturated Fat:
6
g
Cholesterol:
91
mg
Sodium:
482
mg
Potassium:
647
mg
Fiber:
1
g
Sugar:
5
g
Vitamin A:
495
IU
Vitamin C:
3
mg
Calcium:
209
mg
Iron:
1
mg