Spaghetti, colorful chopped vegetables, lots of cheese and…. canned condensed mushroom or chicken soup! But don't be afraid. Baked cheesy chicken spaghetti is the perfect economical batch cook recipe and the ULTIMATE in tasty comfort food. The whole family will love it!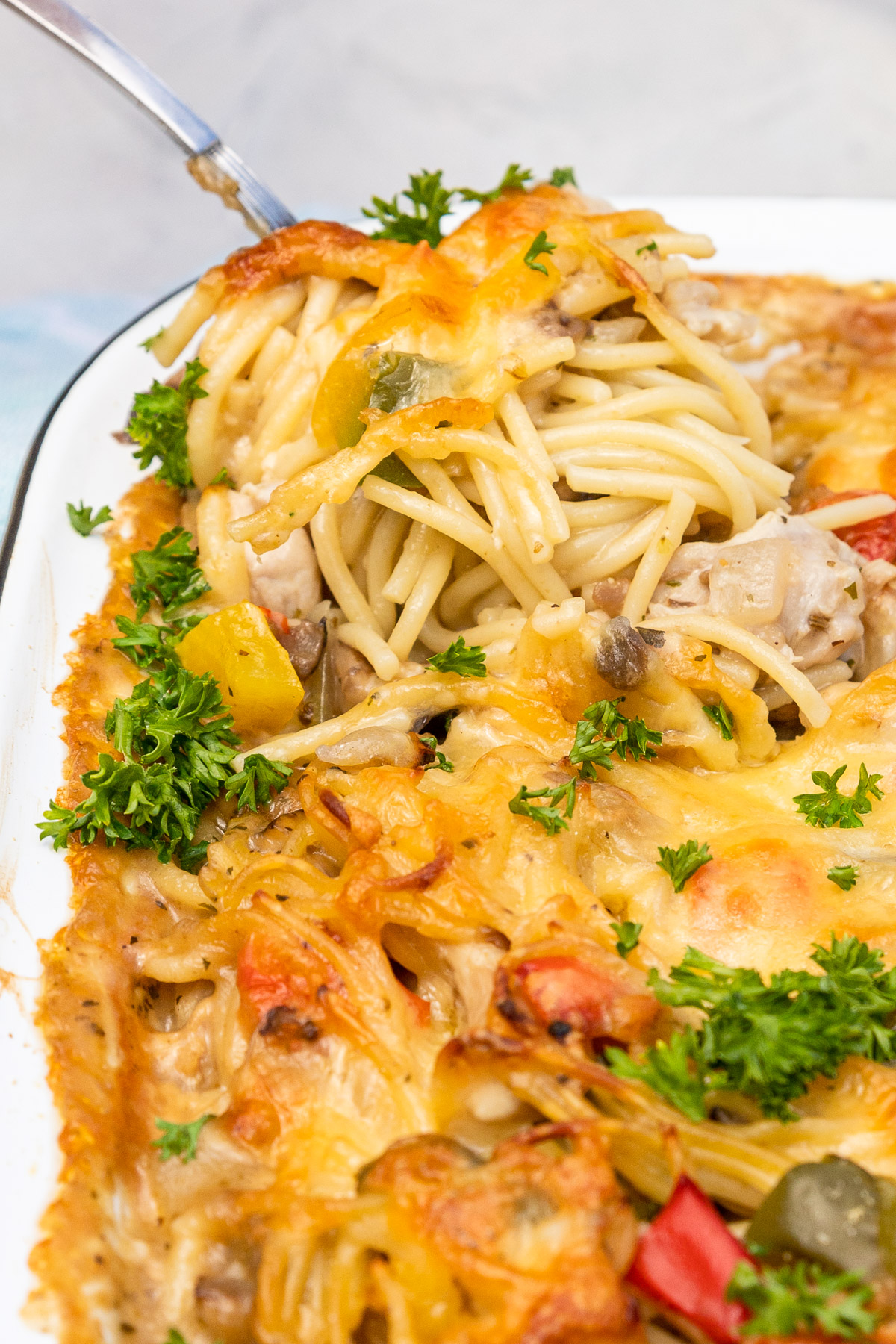 I came across the idea for this cheesy baked chicken spaghetti years ago while watching a rerun of The Pioneer Woman. If you're ever feeling a little down, watch an episode or two of The Pioneer Woman and you'll cheer yourself up in no time!
Ree has a way of making everything she makes look incredible, but she's particularly good at these sorts of cozy, oozy, cheesy casseroles.
This is my slightly tweaked version of the dish!
Why you'll love it
Just had a baby? Or perhaps you or your child is sick, you're having an extra busy week, or you're just feeling lazy today. There are times when we all want to grab a meal out of the freezer instead of making something from scratch.
This easy chicken spaghetti casserole is perfect for those days!
Here are more reasons why you'll love it:
✔ It's one of those fail safe recipes that everyone enjoys. It's creamy, satisfying, nutritious and tasty – the ultimate comfort food!
✔ And yet it's simple enough that even your pickiest kid (or grown-up!) will approve. This is one of the best freezable meals I know, but also one of the best kid-friendly freezer meals I know!
✔ It's a very economical recipe – perfect for big families or a small crowd! You can easily feed 8, and up to 12 with simple salad or vegetables on the side.
✔ It's the perfect make-ahead meal. I usually make a whole batch, portion into several casserole dishes, and freeze for lazy days when I don't want to cook.
✔ Made with just a few simple and cheap pantry ingredients. Add more vegetables if you like, or optional extras for even more flavor (see below for variation ideas!).
✔ Reheats beautifully the next day. Leftovers make quick and tasty lunches!
Love creamy and comforting chicken dinners? You'll love this creamy chicken and leek pie with puff pastry, too!
Ingredients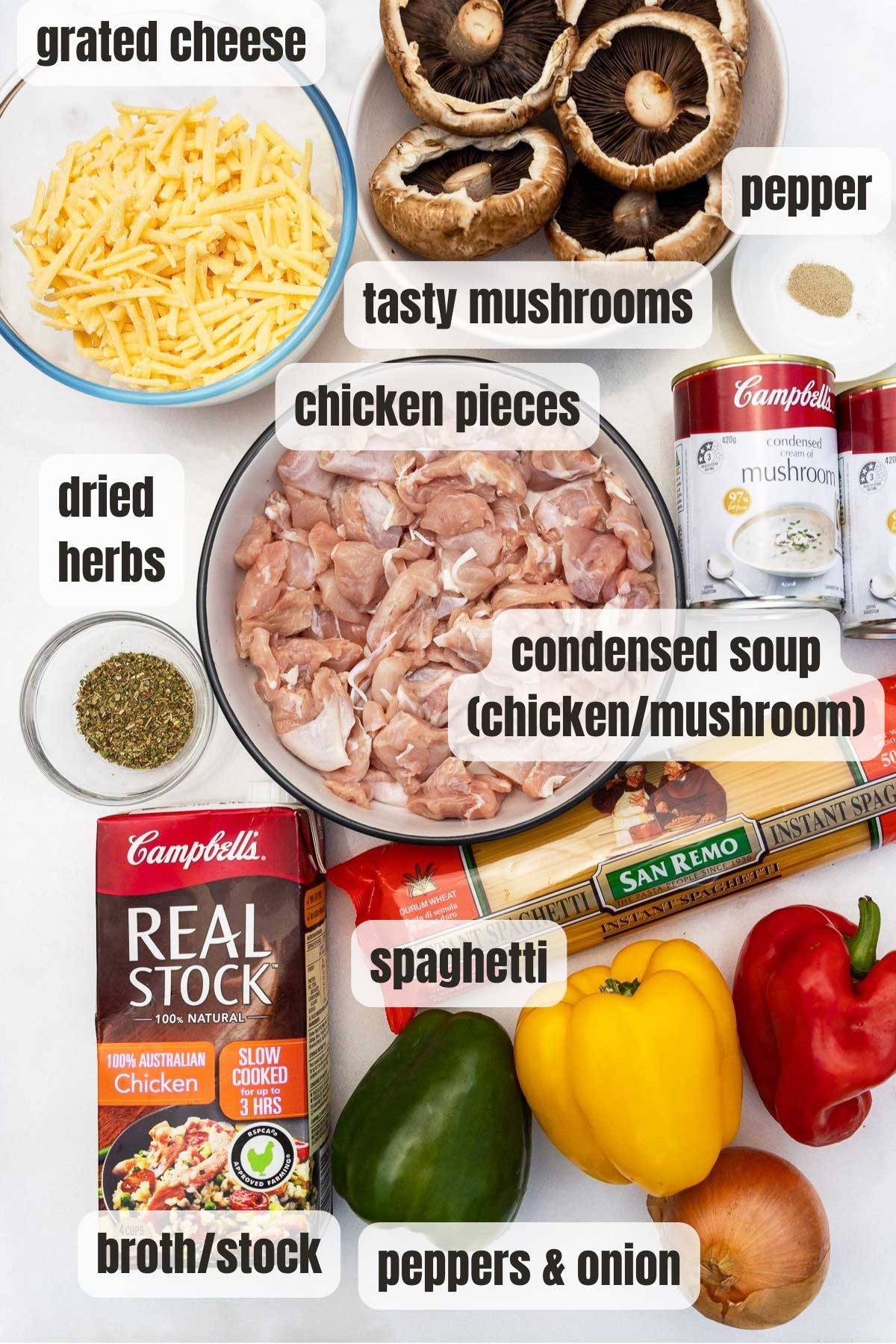 Chicken: I prefer to use boneless skinless chicken thigh chopped into small pieces. If it's available I get ready chopped to save time. You can also use chicken breast. Shredded cooked rotisserie chicken works, too, or leftover chicken or turkey. However, I do prefer to cook the chicken myself if I know I'm going to be freezing some of the casserole.
Chopped peppers and onion: I love to grab one red, one yellow and one green pepper for this recipe, but you can use any kind of peppers you like. A regular large white onion is fine.
Add even more chopped veggies if you like. Any vegetables that cook in about the same time as peppers work, such as zucchini, celery, asparagus, or green beans. Frozen vegetables such as peas, sweet corn and carrots can work, too (no pre-cooking required!).
Mushrooms: Any kind are fine, but the tastier the better (try brown, cremini, or a mushroom medley).
Spaghetti: You can use any kind of spaghetti you like. Just follow the cooking instructions on the package to pre-cook it. Cook the pasta so that it's 'al dente', which means firm or, literally, 'to the tooth' in Italian! If the package doesn't say, simply cook it for a couple of minutes less than the suggested cook time.
I prefer to snap the spaghetti into 3 shorter strands as I add it to the boiling water. Of course, also feel free to use different kinds of pasta noodles for this such as fusilli (twirls) or penne (tubes).
Dried Italian herbs: Or any dried herbs.
Pepper: I like to add plenty of ground pepper. You can adjust the amount to taste, even skipping it altogether if you're serving the meal to kids. I don't usually add salt because I find there's enough already in the broth and cheese.
Condensed soup: Yes, you could consider this ingredient to be a little 'retro'. But it's perfect for this baked chicken pasta – quick and easy (just open the cans!), creamy and flavorful and, of course, kids love it. Use chicken soup, mushroom soup, or a combination of the two.
Chicken broth/stock: I try to use good quality, but feel free to use whichever brand you have or like.
Grated cheese: For maximum cheesy flavor, I usually go for a sharp cheddar. For even more cheesy goodness, how about adding a sprinkle of parmesan cheese on top of the casserole as well?
How to make it
The step-by-step guide below should help you make the recipe perfectly first time. Scroll down to the end for the full recipe including ingredient amounts.
The first thing to do is to sauté the chicken pieces in a little oil until white and cooked through. Then empty both the chicken and any juices into a bowl and set aside while you cook the veggies.
Next, add a drizzle more oil and cook the peppers and onions, just until softened.
Then add the mushrooms and cook for a few minutes longer, before also stirring in the dried herbs.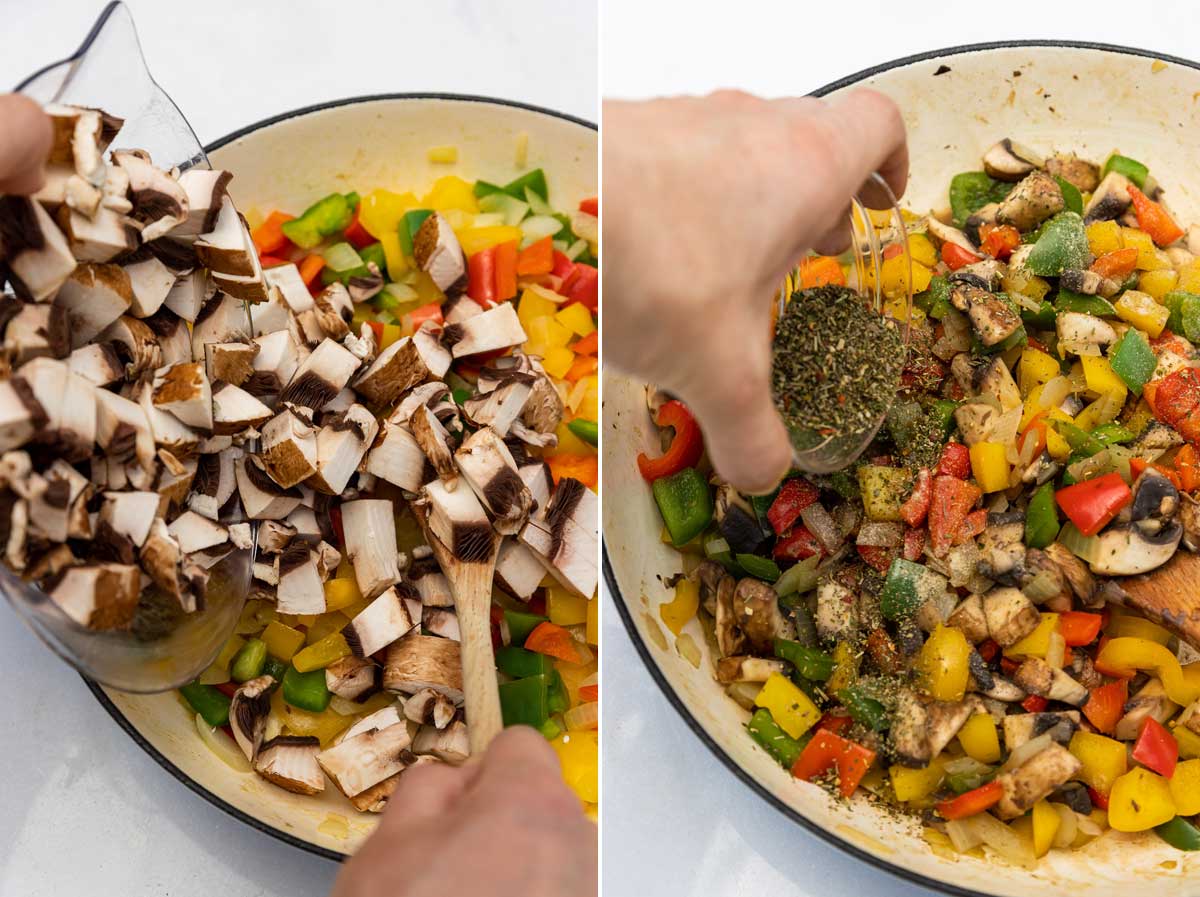 At the same time as you're cooking the chicken and vegetables, you can boil the spaghetti. When it's done, simply drain and empty back into the saucepan with a drizzle of oil to stop the spaghetti noodles sticking.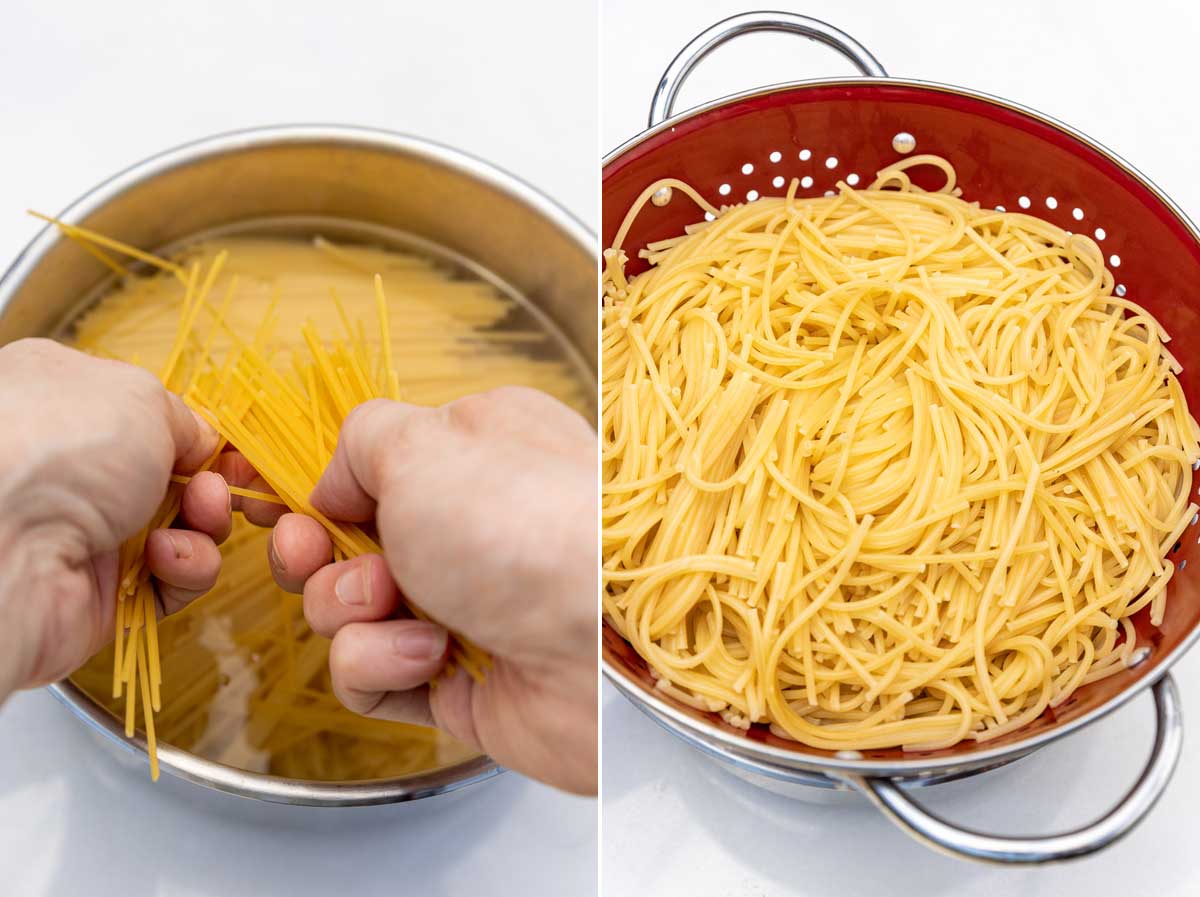 At this point, toss the cooked vegetables and spaghetti with all of the other ingredients. Toss really well!
You'll want to save about a cup of the cheese for sprinkling over the top! If you're making several smaller casseroles, you might want to sprinkle over even more cheese.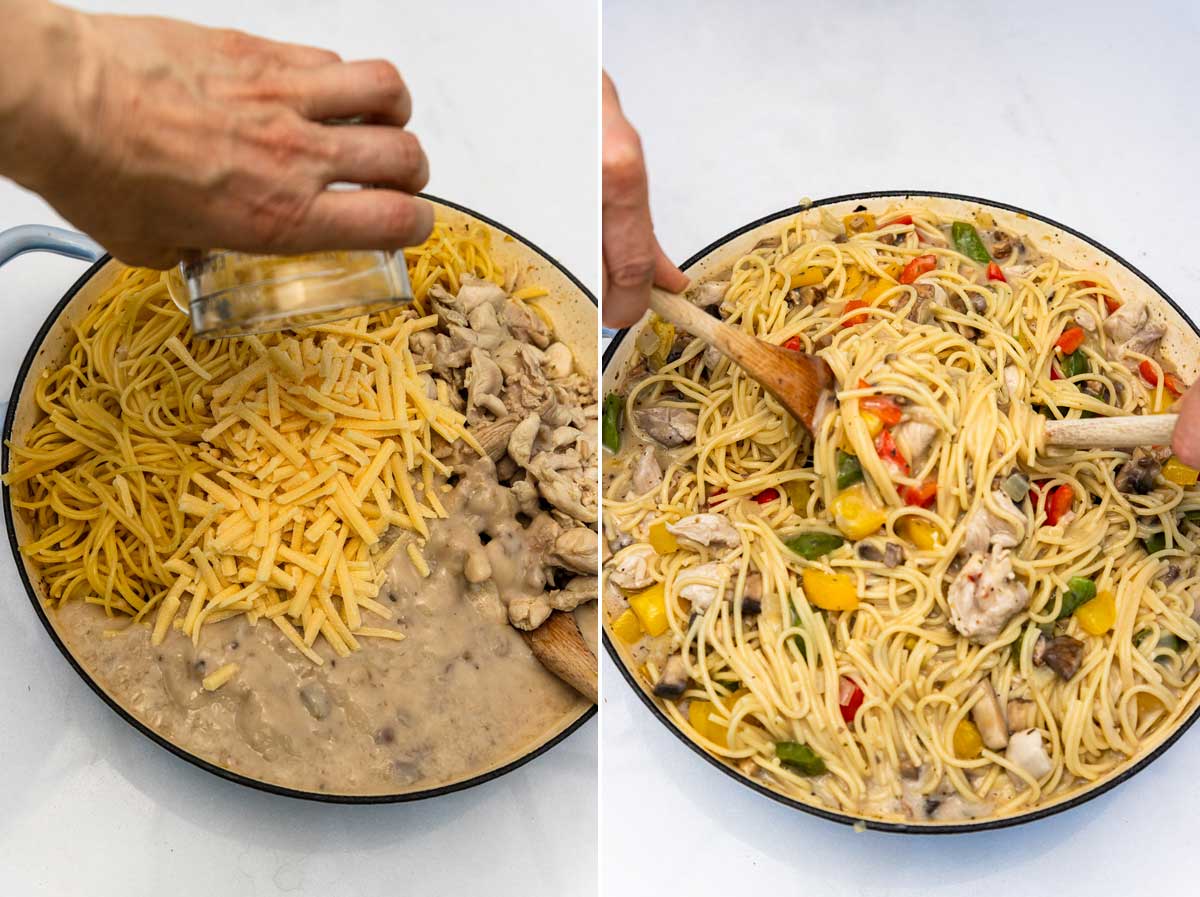 Then it's time to empty the chicken spaghetti mixture into baking dishes. I usually portion it out into several dishes – one for that day's dinner, and the rest for freezing. I find the best way to do this without getting spaghetti all over the kitchen is with two wooden spoons!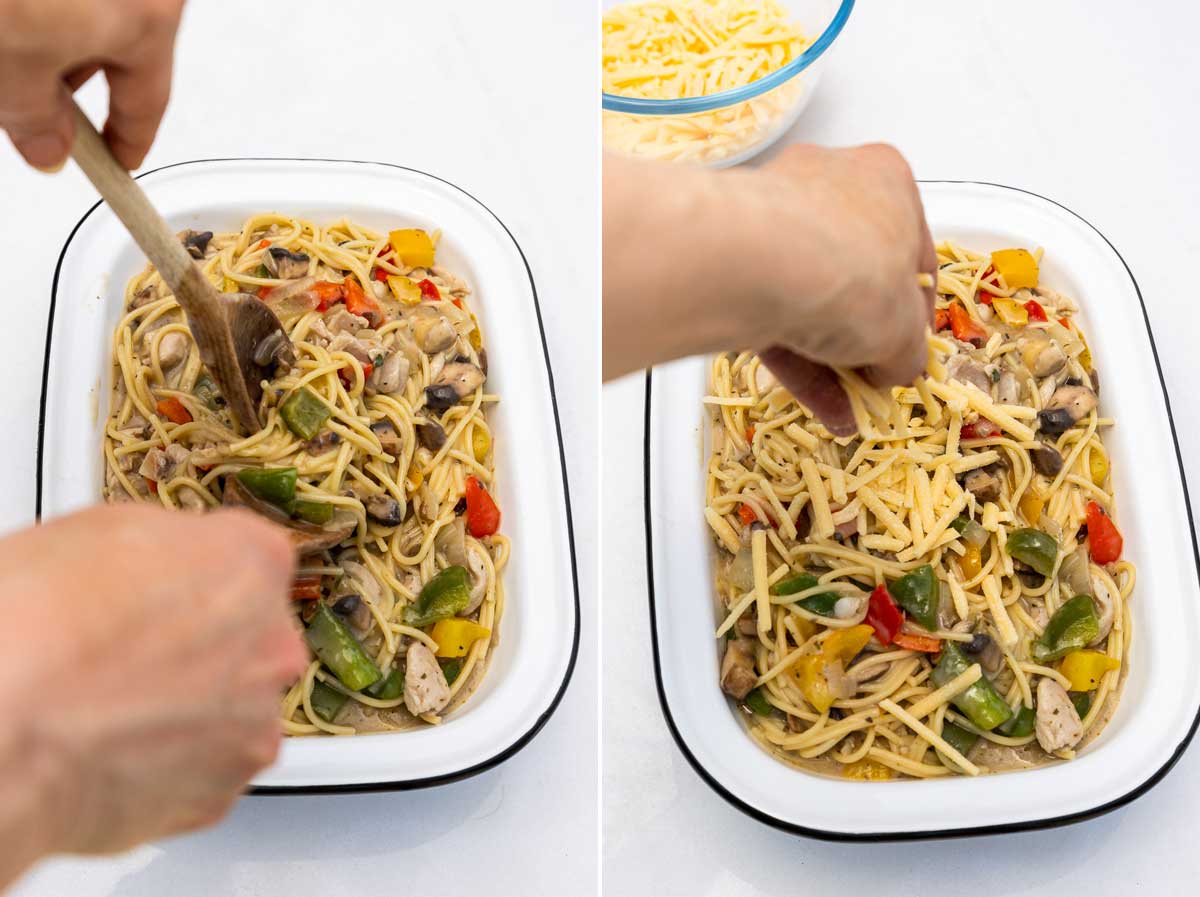 You can either bake immediately, or you can cover at this point and store in the fridge to bake later or even freeze for another day. If baking now, your delicious oven baked chicken pasta is ready when it's bubbling and nicely golden on top (around 30 minutes).
Look at that transformation! Mmm!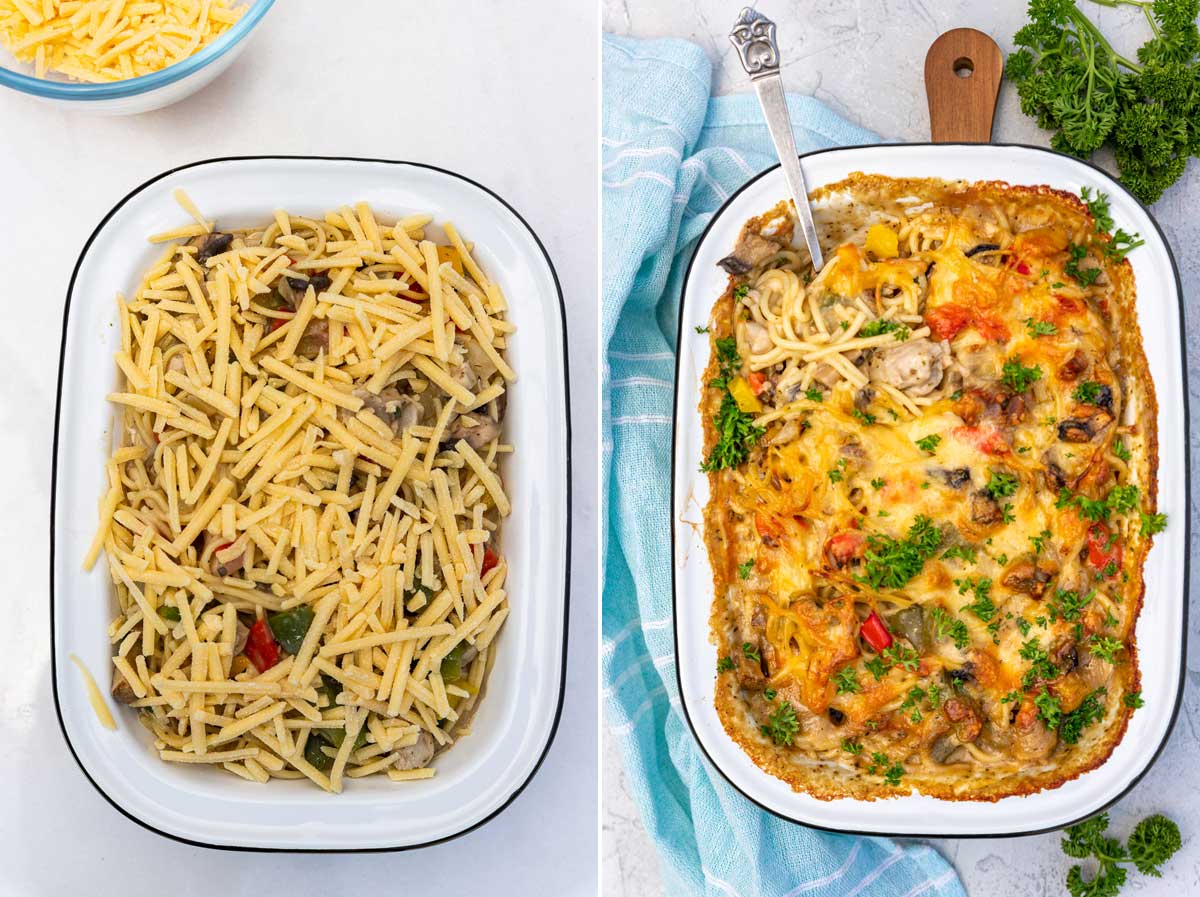 Helen's top tips
Remember to only cook the spaghetti until 'al dente', or still slightly firm when you bite into it. This is because it will continue to cook slightly in the oven.
Snap the spaghetti strands into 3 before adding to the boiling water. This just makes it easier to combine all the ingredients, and also to serve the finished baked spaghetti.
Use the largest saucepan and frying pan/skillet you have. Once all the ingredients are combined, there's a lot of food! I use a very large saucepan and a large cast iron pan and toss the mixture together in the cast iron pan with two wooden spoons.
Think about how many you want to serve. If serving a small crowd, use a large baking dish. If you're feeding a family of 4, wrap, date and freeze the 'extra' cheesy chicken pasta in smaller baking dishes for several meals (see notes section in printable recipe below for baking pan suggestions!).
How to serve
To make this cheap and easy chicken spaghetti recipe even more the classic comfort dinner it is, a fresh crisp salad and perhaps some garlic bread is all you need to go on the side.
This refreshing Greek lettuce salad could be a good option to balance out the creamy spaghetti carbs!
If you prefer to serve it with a vegetable side, consider this simple frozen green bean recipe!
Simple pan-fried asparagus, sugar snap peas or even cherry tomatoes are more great options that only take minutes to prepare.
Strictly speaking, you don't need to serve anything at all with your casserole. Serving something very simple with it, however, both balances out the plates and makes the meal stretch even further!
Variations
I can think of a few ways to switch up this very easy chicken spaghetti bake!
Add more and/or different vegetables. Any veggies that cook quickly are good choices, such as asparagus, zucchini, tomatoes, snap peas, celery, spinach, or frozen vegetables such as peas or corn.
Stir in a quarter to a half cup of jarred marinated vegetables such as sundried tomatoes (or just cherry tomatoes), artichokes, capers, anchovies or chopped olives before baking for extra flavor.
Add a can of Rotel (chunky tomatoes and green chilies) for a spiced up version!
Add porcini mushrooms (and any soaking juices) for extra mushroom flavor.
Try the recipe with leftover Thanksgiving or Christmas turkey and ham, or how about canned tuna?
Try the recipe with a different condensed soup flavor such as tomato or french onion.
Add a quarter cup of pesto, either regular or red.
Use 3 tablespoons of fresh herbs instead of 1 tablespoon of dried. Or sprinkle fresh herbs such as parsley or chopped green onions over the top of the finished baked spaghetti.
If for any reason you can't find condensed soup to use in this recipe, feel free to substitute with jarred alfredo sauce, pasta sauce or similar.
Recipe FAQ
Can you freeze baked chicken spaghetti?
This recipe was made for freezing! Divide the creamy chicken spaghetti between your choice of baking dishes, or even disposable foil trays. Sprinkle over 1-2 cups of grated cheese, then wrap well in several layers of plastic wrap and aluminum foil. Then label with the name, date and cooking instructions. Freeze for up to 2 months. Defrost in the fridge overnight before cooking. Alternatively, cook straight from frozen, adding around 20 minutes to the cooking time.
Should I cover chicken spaghetti when baking?
No, not necessary. Bake uncovered until bubbling and nicely golden brown on top.
How long does it keep, and can you reheat it?
Chicken spaghetti with cream of mushroom or chicken soup keeps for 3-4 days in the fridge, and it reheats really well. I prefer to reheat it in individual portions in the microwave for 2 to 3 minutes or until piping hot again. Add a simple salad or vegetables on the side, and the meal will be just as delicious as when first cooked.
Can I use cooked chicken?
If you happen to have cooked chicken, or you'd prefer to use shredded rotisserie chicken, feel free to use that instead of cooking the chicken yourself. However, if using already cooked chicken, I'd eat the casserole immediately rather than freezing it. If you're making this as a freezer meal, it's best to cook the chicken yourself.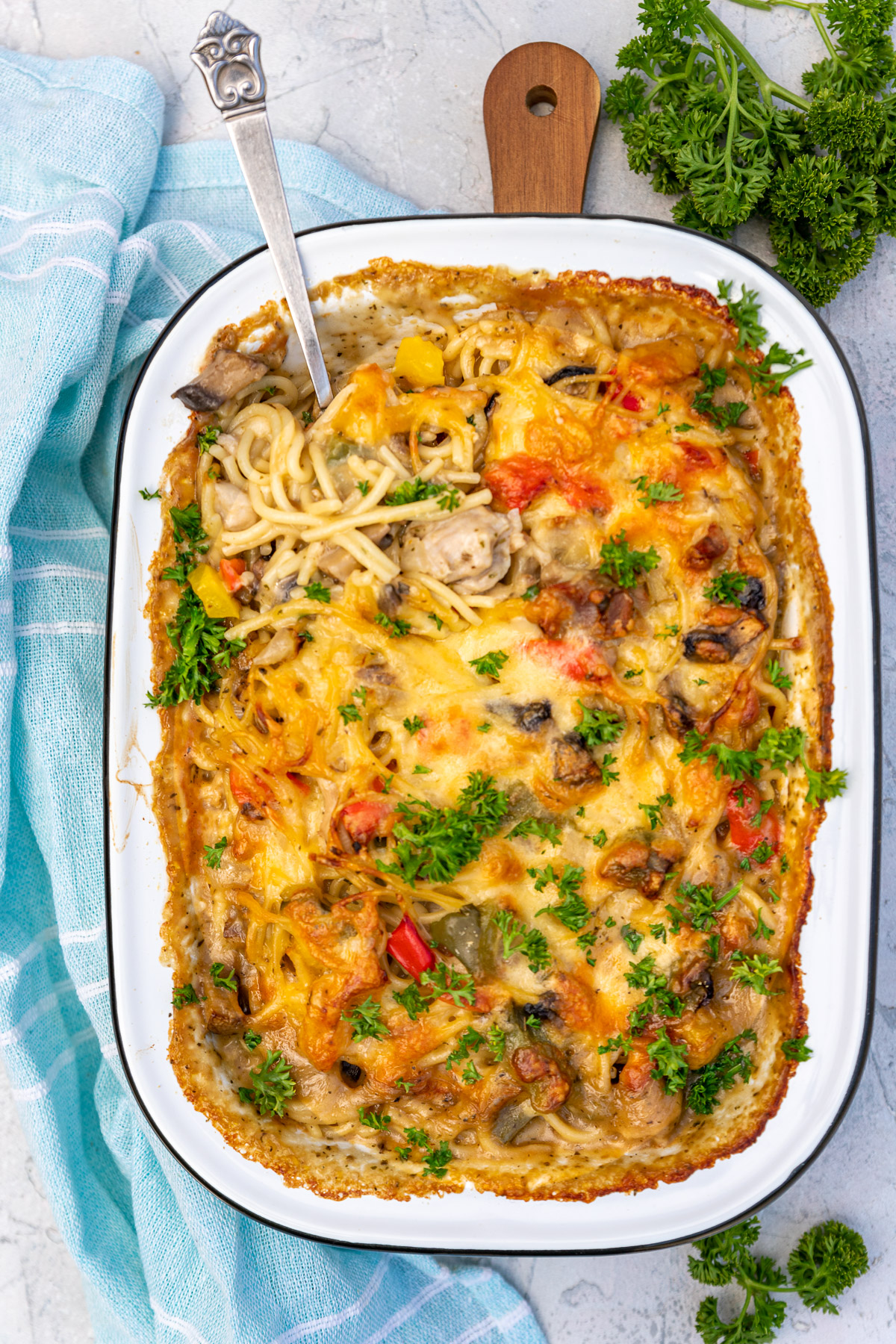 More easy freezer meals
This easy moussaka is one of our favourite meals, and is also perfect for freezing.
This 5-bean vegetarian chili is delicious served as nachos with all your favorite toppings. Healthy, and perfect for freezing.
IF YOU MAKE THIS RECIPE, LET ME KNOW HOW YOU GET ON BY LEAVING A COMMENT AND RATING BELOW… AND DON'T FORGET TO SIGN UP TO RECEIVE ALL MY NEW RECIPES BY EMAIL!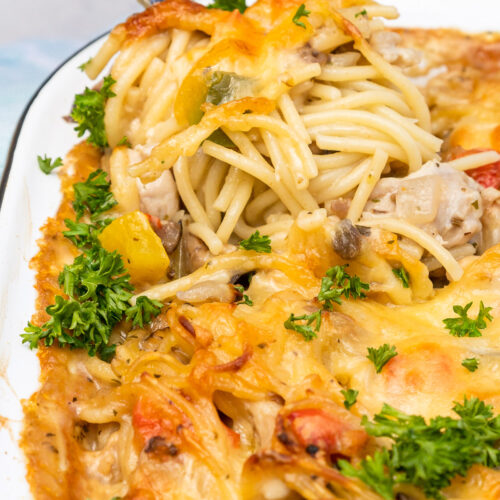 Baked Cheesy Chicken Spaghetti (Freezer Meal)
When you need an easy meal idea that the whole family will enjoy, or meals in the freezer for lazy days, this baked chicken spaghetti is perfect. Add in some colorful vegetables and condensed chicken or mushroom soup for the ultimate crowd pleasing comfort food!
Equipment (affiliate links)
Ingredients (UK/Australia? Click below for grams/ml)
2

tablespoons

oil

for cooking

1

pound

skinless boneless chicken thighs

Buy ready chopped, or chop into small(ish) pieces.

1

onion

Large, chopped.

3

peppers

(bell peppers/capsicum) 1 red, 1 green, 1 yellow, if possible! Chop into small pieces.

½

pound

mushrooms

Brown mushrooms, cremini mushrooms, or perhaps a selection including shiitake or porcini mushrooms. Even white button mushrooms are fine.

1

pound

spaghetti

Broken up into pieces (about 2 to 3 inches long).

1

tablespoon

dried Italian herbs

Or any dried herbs. Or 3 tablespoons fresh herbs.

½

teaspoon

ground pepper

to taste (either white or black)

2

cans

condensed chicken soup

(Or condensed mushroom soup, or a combination of chicken and mushroom) I usually use Campbell's, but any brand will work (two 10 oz. cans).

2

cups

chicken broth

(stock)

3

cups

cheddar cheese

Grated (Add an extra cup if you like).
to serve (optional)
garlic bread and crisp salad, or vegetables
Instructions
Heat a tablespoon of the oil in a very large pan and stir fry the chicken pieces until totally white and cooked through (around 4 or 5 minutes). Remove to a plate (along with any juices) and set aside.

2 tablespoons oil,

1 pound skinless boneless chicken thighs

Add a little more oil to the pan and cook the peppers and onions together until softened (about 5 minutes). Add the mushrooms and cook for a few more minutes until the mushrooms have started to break down. Add the herbs and pepper and stir for a minute or so longer.

1 onion,

3 peppers,

½ pound mushrooms,

1 tablespoon dried Italian herbs,

½ teaspoon ground pepper

Meanwhile, cook the spaghetti pieces in boiling salted water in a very large saucepan for a few minutes less than it says on the packet or until very al dente (around 6 minutes for regular spaghetti – don't overcook as it's going to be cooked again in the oven). Drain, empty back into the saucepan, add a drizzle of oil to stop the spaghetti sticking and put on the lid.

Pre-heat the oven to 375F/190C.

Add the the spaghetti into the large pan with the vegetables. Then add the cooked chicken and any juices, soup, broth/stock, and 1 cup of the cheese. Combine well with 2 wooden spoons.

2 cans condensed chicken soup,

2 cups chicken broth,

3 cups cheddar cheese

Spoon the mixture into your baking dish or dishes (see notes for suitable sizes to use) and top with the remaining 2-3 cups of cheese. At this point you can choose to freeze all or some of the casserole if you like (see notes for instructions).

Bake for 30 to 40 minutes or until golden and bubbling on top, then serve with garlic bread and salad or vegetables (if you like).

garlic bread and crisp salad, or vegetables
Notes
Adapted from Pioneer Woman's 2007 recipe for chicken spaghetti.
Freezing instructions: To freeze, pour the chicken spaghetti into baking dishes or disposable foil trays (see size suggestions below). Then sprinkle over the cheese, cover and freeze. I always write what it is, the date I made it and the cooking instructions on the top of the dish/tray. I usually defrost in the fridge overnight, then cook as normal. However, you can cook straight from frozen if you prefer. Simply add on about 20 minutes to the cooking time.
Chicken: I like chicken thigh (ready chopped) since it stays moist and tender, but you can use chicken breast instead if you like. Also feel free to use cooked chicken instead, such as shredded rotisserie chicken (this recipe is for the air fryer). Or what about leftover Christmas turkey? 2 to 2½ cups is about the right amount. Just add the chicken to the cooked spaghetti along with everything else. I would only recommend using cooked chicken, however, if you're going to cook and eat the chicken pasta bake immediately.
Condensed soup: I recommend using either condensed mushroom soup, condensed chicken soup, or a mixture of the two. I suggest 2 x 10 ounce (285 grams) cans. If the cans are slightly larger where you live, that's fine. It's no problem to add slightly more soup to the recipe.
Suitable baking dish sizes to serve:
8 people: 9 x 13 inches
4 people: 6 x 9 inches (or equivalent)
2 people: 5.5 x 7.5 inches (or equivalent – this is the size of the disposable foil trays I use for my batch freezer meals for two!)
If you don't have a cooking pan large enough to combine all the cooked ingredients in, combine them in a very large bowl instead before assembling the casserole in a baking dish (or baking dishes!).
To reheat: Baked cheesy chicken spaghetti reheats really well. I usually reheat individual portions in the microwave. Just cover and reheat on 80% power for 2 to 3 minutes until piping hot again.
Serving suggestions: I like to serve this casserole with a very simple and healthy side such as a fresh green salad (try Greek lettuce salad) or vegetables such as frozen sautéed green beans, pan-fried asparagus or even just frozen peas.
Variations: Why not make your spaghetti casserole with leftover Thanksgiving or Christmas turkey, or use canned tuna instead of chicken? Also consider adding more vegetables, or jarred marinated vegetables such as artichokes, sundried tomatoes, capers or olives.
Nutrition
Calories:
576
kcal
Carbohydrates:
54
g
Protein:
32
g
Fat:
26
g
Saturated Fat:
10
g
Polyunsaturated Fat:
3
g
Monounsaturated Fat:
8
g
Trans Fat:
0.02
g
Cholesterol:
104
mg
Sodium:
1088
mg
Potassium:
544
mg
Fiber:
3
g
Sugar:
5
g
Vitamin A:
755
IU
Vitamin C:
38
mg
Calcium:
349
mg
Iron:
3
mg
IF YOU MAKE THIS RECIPE, LET ME KNOW HOW YOU GET ON BY LEAVING A COMMENT AND RATING BELOW… AND DON'T FORGET TO SIGN UP TO RECEIVE ALL MY NEW RECIPES BY EMAIL!