This perfect quick hummus is sprinkled with pine nuts and paprika and served with a delicious flatbread made with just 2 main ingredients – flour and Greek yogurt. It's my go-to hummus recipe and I hope it becomes yours too!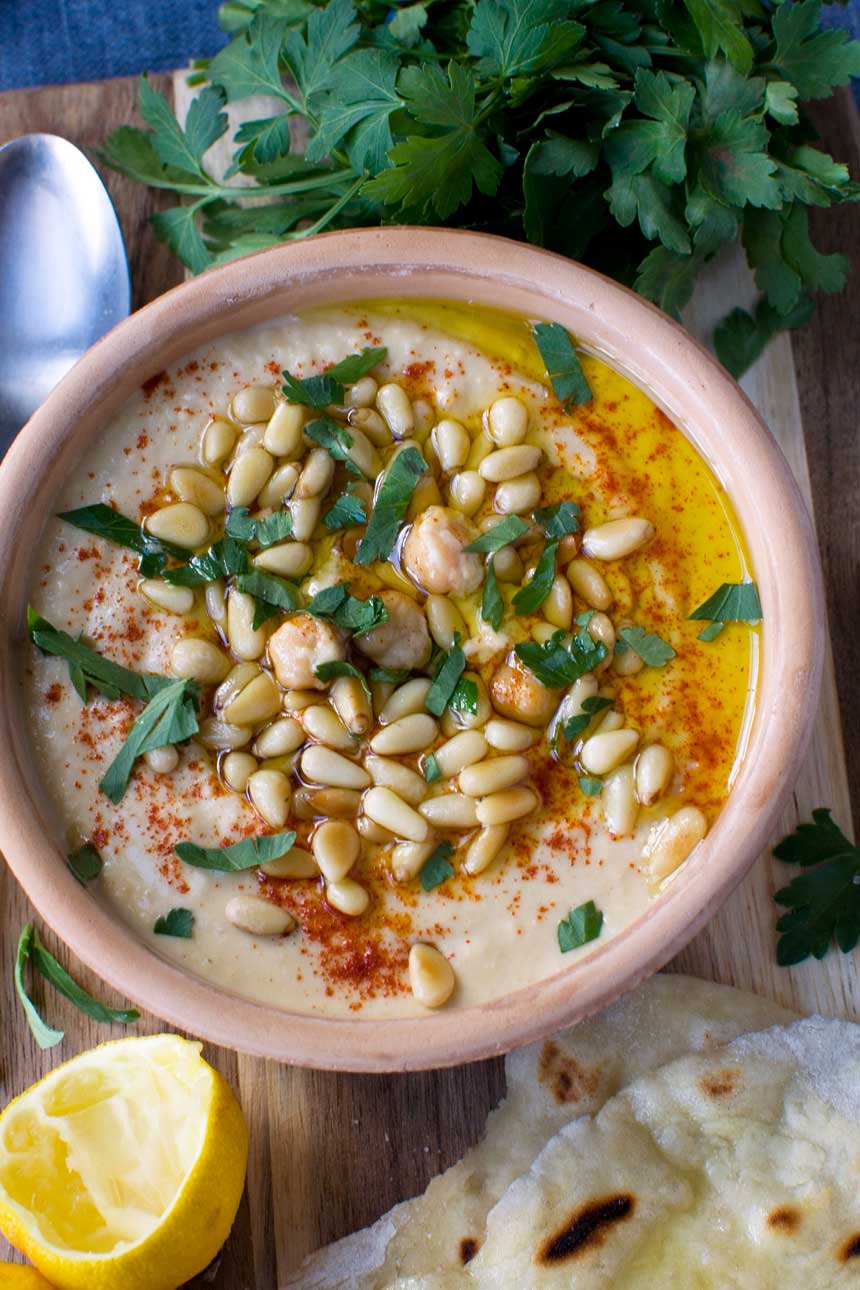 We all need a go-to hummus recipe
I'm going to admit something to you, and it isn't pretty. Up until now I rolled my eyes when I saw a hummus recipe on someone else's food blog.
But because hummus is an incredibly delicious not-to-mention nutritious snack, and as this blog is part 'recipe book' for myself to use over the years, I've decided that I do in fact need to have a hummus recipe here!
Hummus with pine nuts and paprika, where have you been all my (blogging) life?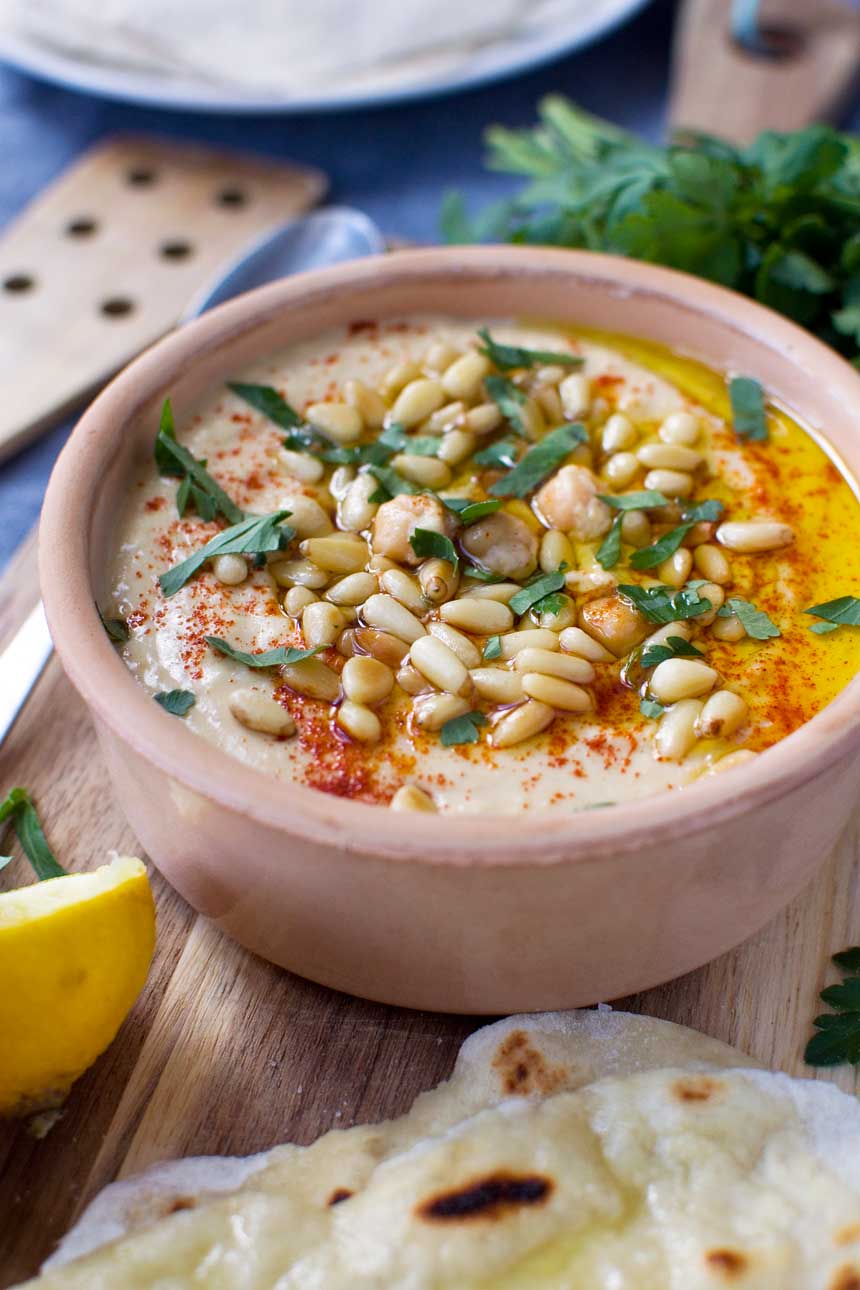 What's so great about this hummus recipe?
I experimented with hummus recipes for years before deciding on this 'perfect' way to eat it.
Hummus is one of those things that people like to eat different ways. You could say like chocolate chip cookies.
Here's how I like to eat mine:
I like it not too thick, and not too garlicky.
I like to make it with a really good quality olive oil. I add it to the hummus, and also drizzle it over the top.
I like to be able to taste the lemon.
I love to add a generous sprinkling of paprika and toasted pine nuts on top. You just have to try this!
Try it this way. I hope you enjoy it as much as I do!
The great thing about hummus (apart from the deliciousness and nutritiousness!) is that it can be whizzed up in a food processor in little more than seconds.
Which means it well and truly belongs on this here little humble blog!
Make a 2-ingredient flatbread to go with your perfect hummus recipe
To justify my hummus recipe's place here even more I thought I'd add a recipe for really (really really) simple and delicious flatbread. I LOVE this recipe as it's made with only two main ingredients:
self raising flour
yogurt
No yeast required – just a little baking powder.
Just mix the flour and yogurt together until it forms a dough. You may need need to add a little more flour than the recipe says, but that's OK. Just keep adding until you have a soft and pliable ball of dough.
Pro tip: Look for traditional full fat Greek yogurt. Other types such as Greek style yogurt can be too runny.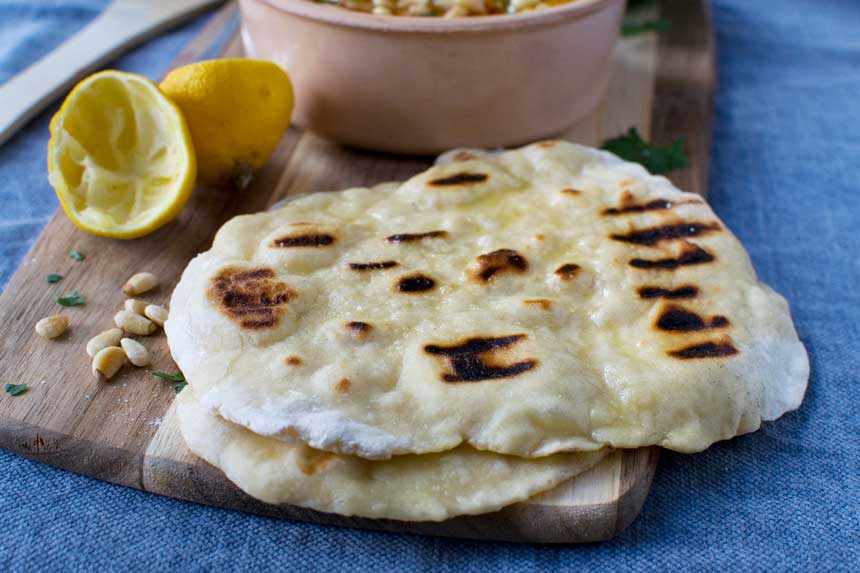 How to cook and serve the flatbread
The flatbread is also really easy to cook. Just roll out a ball of dough then cook for just a minute or two on each side in a hot, dry griddle pan.
Then drizzle with a little olive oil and sprinkle with salt while still hot.
It's good… so unbelievably fresh and delicious.
Mop up that beautifully easy hummus dip with your warm homemade bread and you'll be in food heaven.
You may even want to serve this together with oven baked chicken kabobs and a big piece of spinach and feta filo pie – for a mini Mediterranean feast!
Top tip: Got an air fryer? Serve this hummus with these 10-minute air-fried pita chips. Use this homemade flatbread to make a 10-minute naan pizza in the air fryer!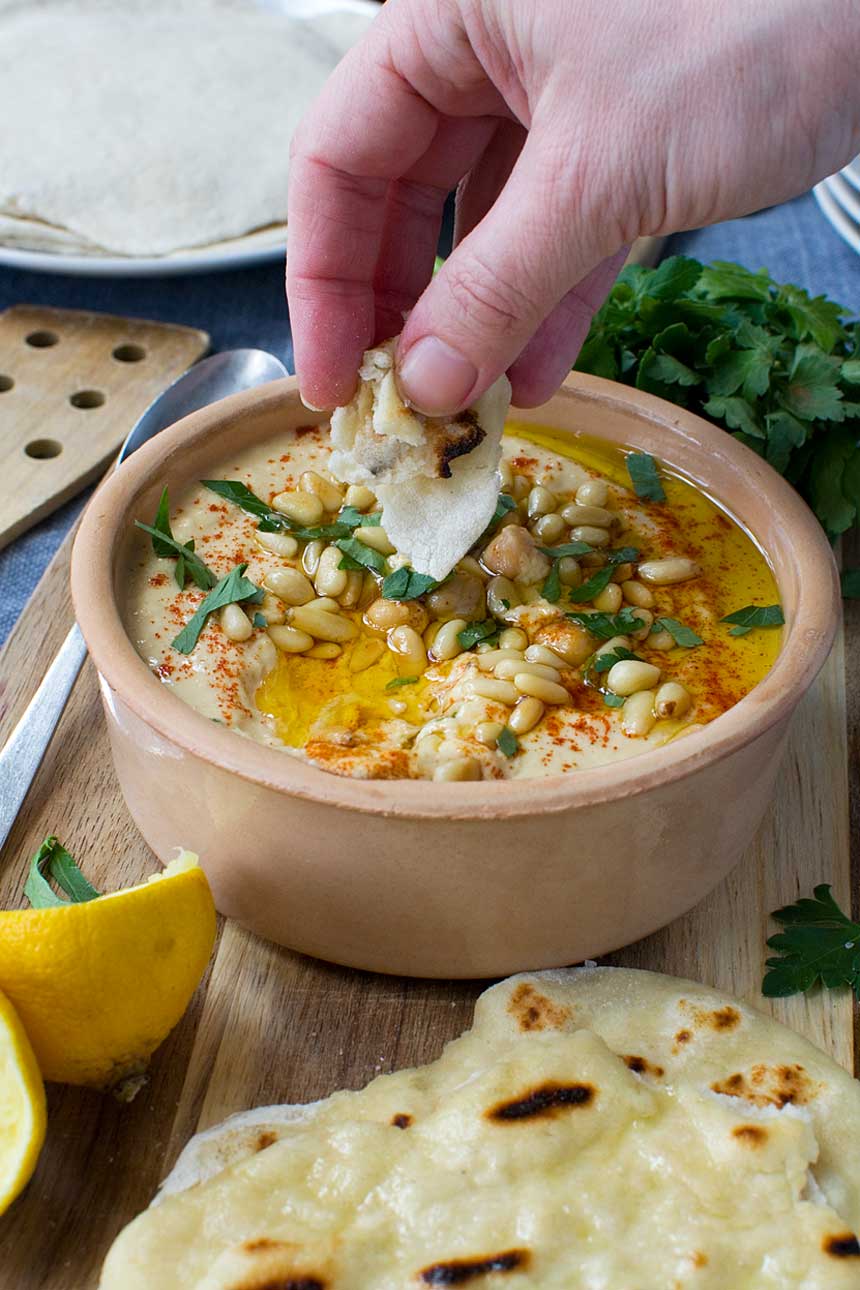 More easy party appetizers
IF YOU MAKE THIS RECIPE, LET ME KNOW HOW YOU GET ON BY LEAVING A COMMENT AND RATING BELOW… AND DON'T FORGET TO SIGN UP TO RECEIVE ALL MY NEW RECIPES BY EMAIL!
FOLLOW ME ON FACEBOOK, INSTAGRAM, PINTEREST AND YOUTUBE.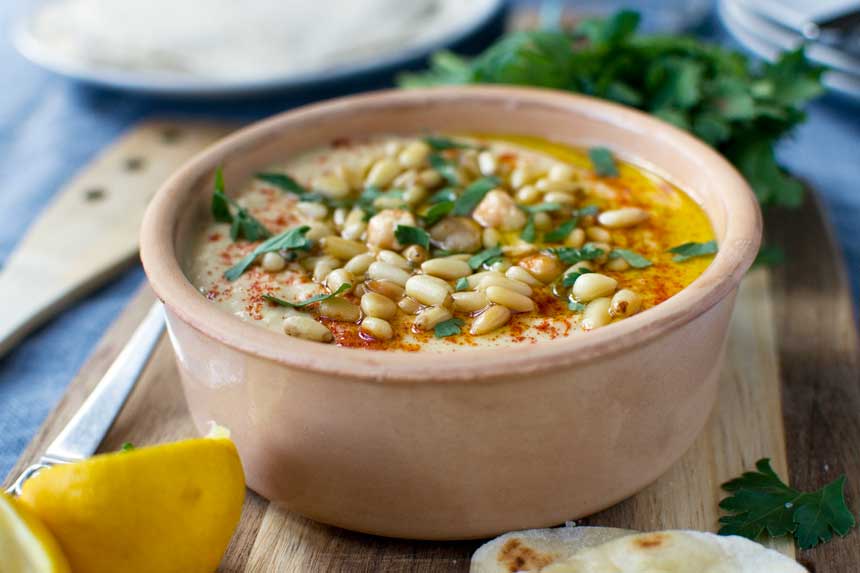 Perfect hummus with pine nuts and paprika (with 2-ingredient flatbread)
Every blog should have a hummus recipe, so here's mine! (better late than never!) I love this quick version. Just throw a few ingredients into a food processor, then tip into a dish and top with pine nuts and a sprinkle of paprika. Serve with some simple 2-ingredient flatbread and you're in appetizer heaven!
Ingredients (UK/Australia? Click below for grams/ml)
for the hummus
for the homemade flatbreads
1 1/3

cups

self-raising flour

1

teaspoon

baking powder

1 1/3

cups

plain or Greek yogurt

I used Greek of course!

olive oil and salt for drizzling / sprinkling

optional
Instructions
For the Hummus
Put the first six hummus ingredients (from the chickpeas to the olive oil) in a food processor together with three tablespoons of the reserved chickpea water. Blitz until smooth.

Tip the hummus into a bowl, drizzle with a little olive oil and scatter with the toasted pine nuts. Sprinkle with a little paprika.
For the Homemade Flatbreads
Combine the flour, baking powder and yogurt in a large bowl and mix until a dough begins to form.

Tip the dough out onto a floured board or clean work surface and knead a few times until you have a smooth ball of dough (if the dough seems a bit too dry add a tablespoon or two of water to help bring it together).

Divide the dough in half, then divide each half into four to give you eight equal pieces of dough.

Form each piece into a ball, then roll out to a few millimetres thick.

Heat a griddle pan until quite hot, then cook each of the rolled out pieces of dough for a minute or two on each side (they should puff up a bit when you're cooking the second side). Drizzle with olive oil and sprinkle with salt while still hot.

Serve with the hummus and a piece of spinach and feta filo pie (if you like!).
Notes
Do I have to use tahini?
Traditionally, tahini is added to hummus, but I don't think it would be the end of the world to leave it out if you happen not to have any (many would probably disagree with me here, but there you go!)
A note on the consistency of the flatbread dough
I've received some comments that the dough is too wet.
Make sure you use full fat traditional strained Greek yogurt (other 'Greek style' yogurts with cream in etc may be too runny).
If your dough still ends up too sticky, simply add more flour until you can gather it up and form it into flat breads.
Nutrition
Calories:
623
kcal
Carbohydrates:
85
g
Protein:
26
g
Fat:
19
g
Saturated Fat:
2
g
Cholesterol:
3
mg
Sodium:
328
mg
Potassium:
615
mg
Fiber:
9
g
Sugar:
7
g
Vitamin A:
25
IU
Vitamin C:
1.5
mg
Calcium:
190
mg
Iron:
4.2
mg