This Swedish chocolate cake is not only one of the best I've ever eaten, but the easiest, too. One pan only and no whisking required. Just melt the butter and stir everything else in and you're only 20 minutes away from oozy, gooey, richly chocolaty heaven!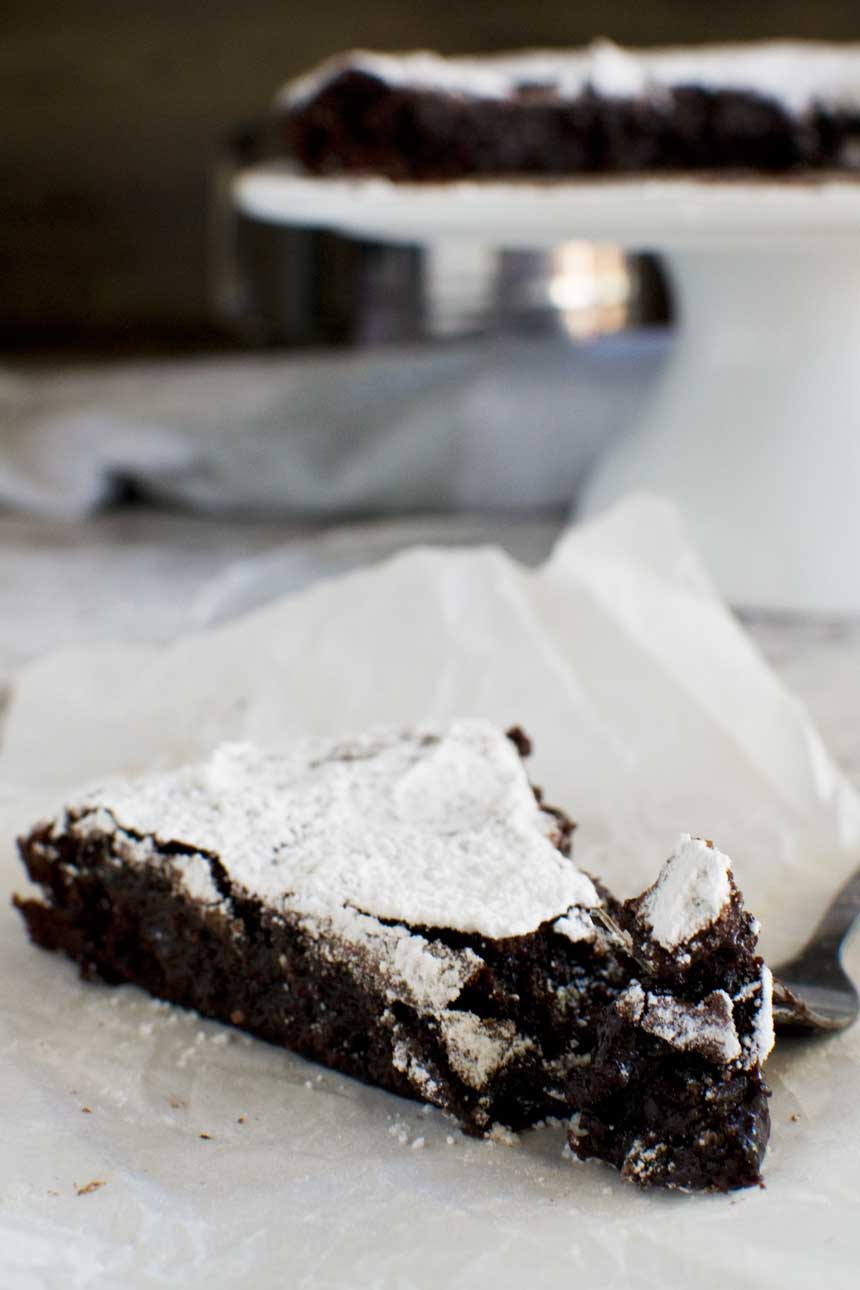 Easy chocolate desserts like this always call my name, so when I saw it in one of those free supermarket food magazines recently, I filed it away in the 'to make' section in my head.Usually these ideas float around there for a long time before they (maybe) make it to the blog, but I couldn't get this one out of my head.
Because, well, chocolate. And can you see how gooey and oozy and chocolaty it is? How could I resist? How can YOU resist?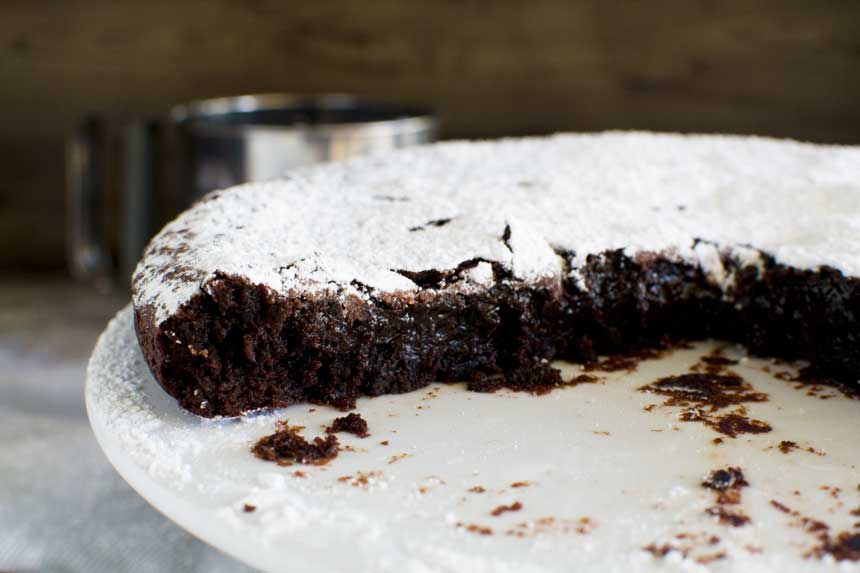 What's kladdkaka, anyway?
The recipe in the magazine was called Swedish chocolate cake, which in Sweden is called Kladdkaka. Apparently this is a very famous cake in Sweden and everyone has their favourite recipe for it. The cake should be very rich and chocolaty with a delicate crisp and chewy top but soft and gooey inside. A bit like a cross between fudgy brownies and a chocolate soufflé.
The easiest chocolate cake you can imagine… all in one bowl!
After I began to do a bit of research on this special-sounding Swedish chocolate cake, I found out from Top With Cinnamon's Izy Hossack that there is a much easier way to make it than in the supermarket recipe I saw. So ridiculously easy that it only took me about 5 minutes to get it into the oven.
ALL you do to make this kladdkaka is:
Line and grease one 18-20cm cake pan (a spring form pan is best).
Melt the butter in a saucepan.
Stir in sugar, cocoa powder, vanilla essence and flour.
Bake for 20 minutes.
But look how incredibly chocolaty it looks!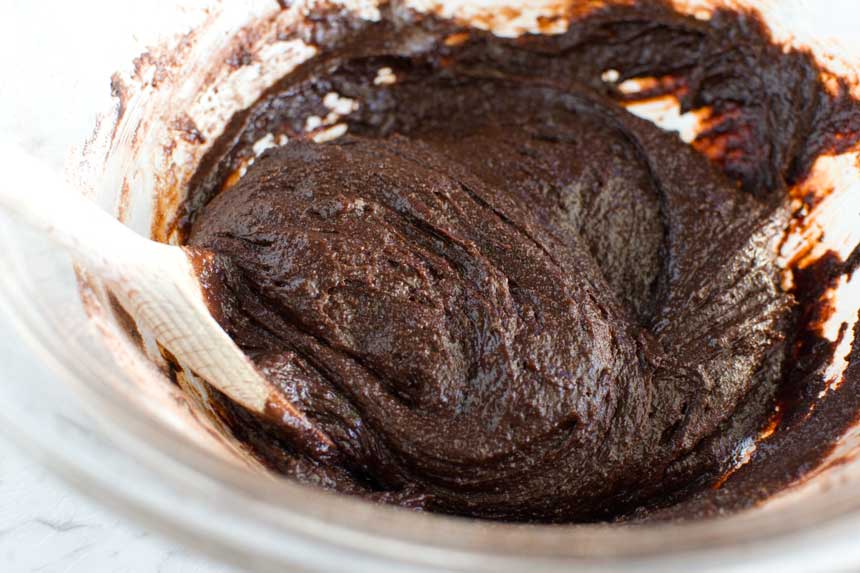 I really think this easy chocolate cake is hard to beat … certainly as a quick chocolate desert to whip up for guests that looks quite impressive even though it's only one tier and doesn't have any kind of frosting.
So how do you serve kladdkaka?
Swedish chocolate cake doesn't need any frosting or topping. Just turn it out and sprinkle generously with powdered sugar/icing sugar or cocoa powder.
There. It looks quite impressive just as it is, doesn't it?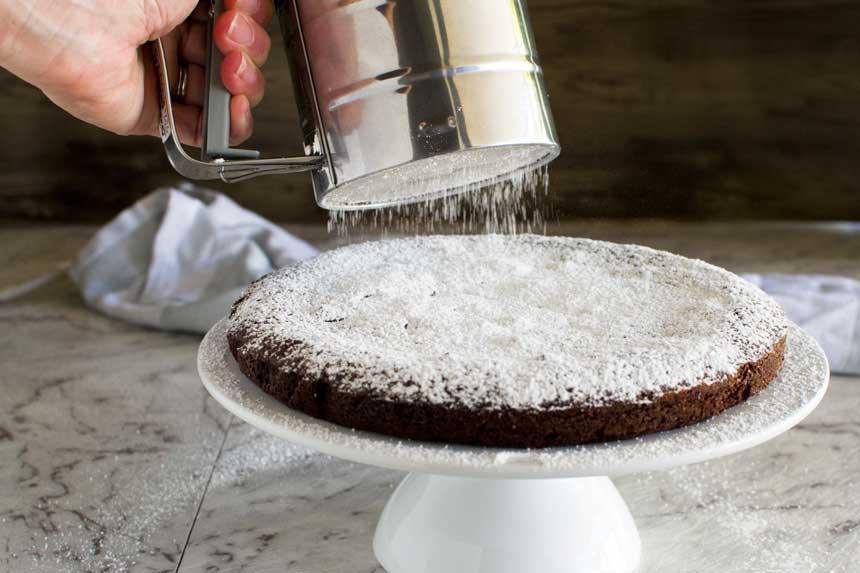 If you like, you can serve it with whipped cream and ice cream and some strawberries or raspberries.
I've made similar sticky chocolate things to this that tasted quite good too but they took 3 or 4 times longer to make. This cake only has SIX ingredients in it.
Just try not to overbake the kladdkaka because you don't want to lose that lovely sticky gloopy-ness in the centre. The cake is done when the top is firm but breaks quite easily when you put a bit of pressure on it.

Can you make this Swedish chocolate cake ahead?
Yes! Make it a day or two in advance and keep it in the fridge if you like, then simply warm each piece separately in a microwave for about 20 seconds.
If there are any leftovers (and this is a big 'if'!) pop them into the fridge and steal little bits every time you open the fridge. Well, this is what I always do. Oops. You'll find when cold this chocolate cake tastes just like fudge! You could even cut it into small squares and tell your friends that it actually IS fudge!
Even Mr. Scrummy, who doesn't usually like chocolaty cake things of any kind, loved this quick chocolate dessert. It was so scarily good that we ate half and froze the rest to stop ourselves from eating it all in one go.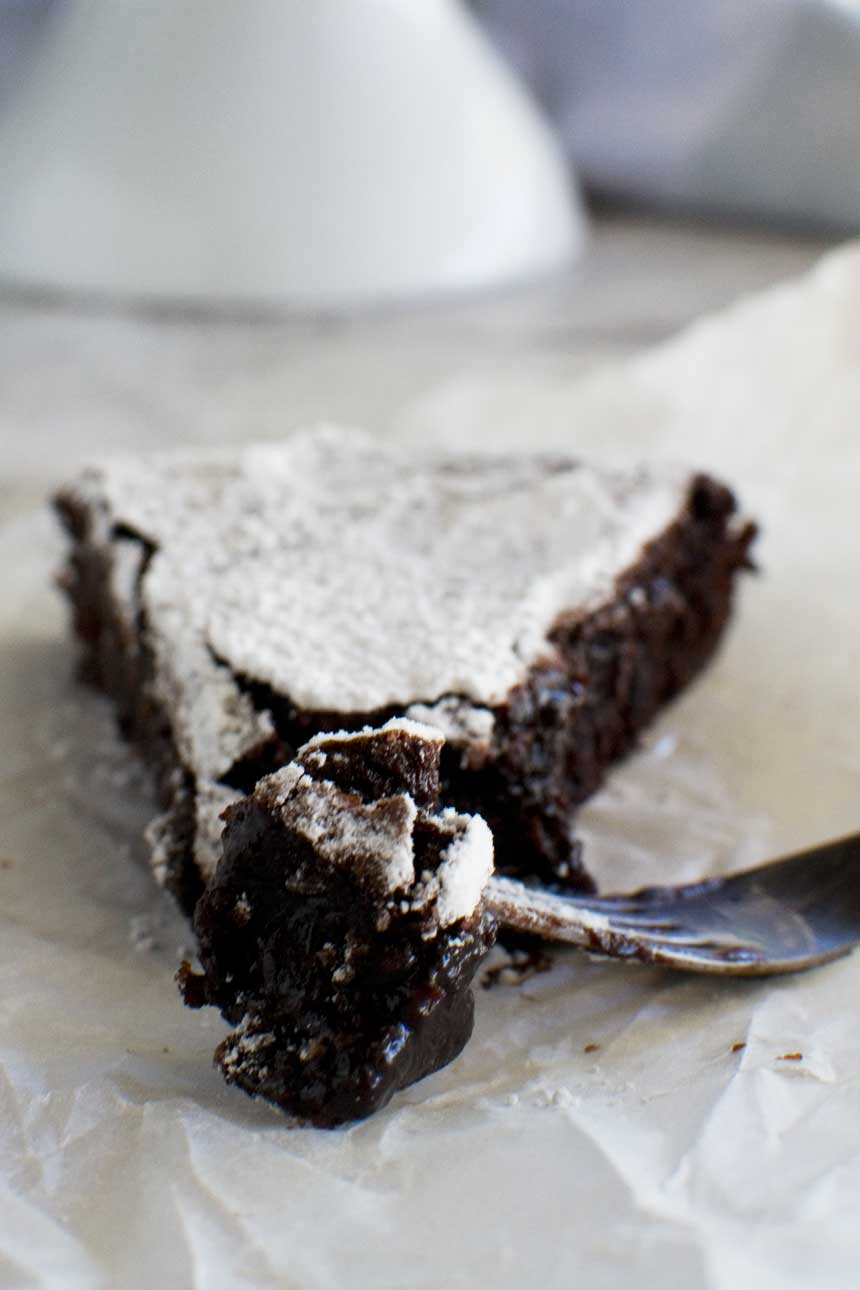 This yummy chocolate cake would be perfect to serve to guests at Easter with mini chocolate eggs sprinkled over the top, or really for any special occasion.
To help you with this recipe:
I like to use a 7 to 8 inch springform cake pan like this one to make this gooey chocolate cake. Because it's such a gooey cake, it's quite delicate when just cooked and this makes it really easy to turn out onto a plate or cake stand.
More really easy desserts
5-minute chocolate banana ice cream (healthy nice cream!)
Easy magic lemon pudding (most controversial recipe on the blog!)
Addictive peanut butter Cheerio bars
No bowl chocolate pecan bars (magic bars!)
5-minute chocolate pots (only 4 ingredients!)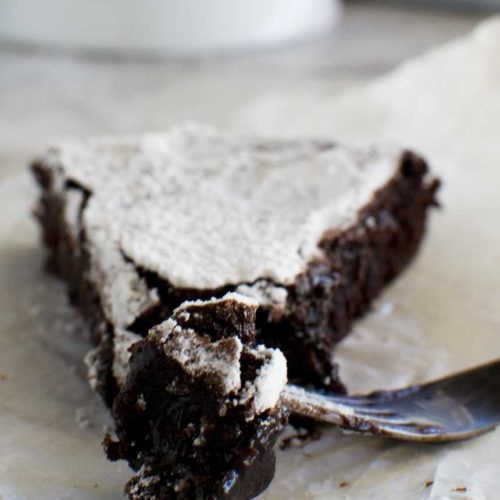 6-ingredient Gooey Swedish Chocolate Cake (Kladdkaka)
Quite possibly the quickest, easiest, gooey-est (and so best) chocolate cake you'll ever make. This has only 6 ingredients and takes only 30 minutes to make and bake from start to finish. A cake that is so perfect for serving to guests... or just scoffing at home in front on the TV!
Ingredients (UK/Australia? Click below for grams/ml)
4¾

ounces

salted butter

(US = just over ½ cup, or just over 1 stick)

½

cups

cocoa powder

(plus 1 tablespoon) unsweetened, plus extra for sprinkling

1¾

cups

sugar

1

cup

plain flour

(actually, just less than a full cup, about 0.85 cups)

1

teaspoon

vanilla extract

3

eggs

lightly whisked
Instructions
Pre-heat the oven to 180C/350F. Line the bottom of a 7-9 inch (see note below) springform cake pan with a circle of baking paper, then grease the paper and the sides of the pan.

Melt the butter in a medium saucepan, then take off the heat and set aside.

Add the cocoa, sugar, flour and vanilla to the butter and stir a little. Then add the eggs and stir everything together until well combined.

Pour the mixture into the cake pan and bake for 20 to 25 minutes (see note below) until the top is set but the centre is still gooey (the top should be firm but crack under a little pressure from your finger).

Let the cake cool in the pan, then run a knife between the pan and the cake to loosen it. Turn out onto a plate or cake stand (see note below). Dust generously with cocoa powder and serve warm with ice cream or cream.
Notes
Recipe barely adapted from Izy Hossack's recipe for Mail Online.
A note on which cake pan to use
I usually use a 9 inch spring form cake pan for this cake, because that's what I have, and it comes out as you see in the photos.
The original recipe that I adapted this from, however, states to use a 7 inch pan. I'd say that anywhere from 7 to 9 inches will work well.
You might need to make the recipe a couple of times to get the baking time just right (yes, it's one of those recipes, but once you've nailed it, you've nailed it). See below for more hints on getting your cake just right!
Getting your cake just right
Although this is a super quick, easy and delicious cake, it can 'sometimes' (not always) take a bit of perfecting. If your cake still isn't cooked on top after 20 minutes, keep checking it every couple of minutes until it is. I usually find 20 minutes is about right, but of course it depends on your oven/the exact size of your cake pan etc.
One reader reported that the cake took 30 minutes in her oven. So the first time you make this might be a bit of an experiment to see how long you need to cook it in your oven!
You want to avoid overcooking the cake though, because then it won't be as deliciously gooey.
After your cake is cooked...
You'll find that your cake is quite delicate just after cooking. Let it cool in the pan, then turn it out onto a plate or cake stand.
I usually hold a plate on the top, then invert it quickly. Your cake will then be on a plate, but it will be upside down. To turn it back the right way, I put another plate on the bottom of the cake and turn it back the right way.
Can you make this chocolate cake gluten free?
Yes! I officially tested this recipe using just almond flour in February 2020. It works just as well as it does with ordinary flour.
In fact if anything it's slightly more delicious (if that's possible) because you can very slightly taste the almonds.
I haven't tried the recipe with gluten free plain flour, but I'm pretty sure you'd have no problem doing a straight swap. The recipe doesn't contain a lot of flour, so flour substitutions tend to work well. Good luck!
Serving suggestion: I like to serve this cake warm with ice cream on top. It's also delicious with fresh raspberries! Or elevate the dessert even more with this 5-minute raspberry puree - you won't believe how easy it is to make.
Also love layer cakes? Try this easy chocolate orange cake with 3-ingredient ganache.
I first published this recipe in April 2015. This version has been updated with a how-to video, new photographs, a few changes to the text and nutritional info and conversion to metric measurements in the recipe.
Nutrition
Calories:
384
kcal
Carbohydrates:
58
g
Protein:
4
g
Fat:
16
g
Saturated Fat:
9
g
Cholesterol:
97
mg
Sodium:
145
mg
Potassium:
121
mg
Fiber:
2
g
Sugar:
43
g
Vitamin A:
510
IU
Calcium:
23
mg
Iron:
1.8
mg
IF YOU MAKE THIS RECIPE, LET ME KNOW HOW YOU GET ON BY LEAVING A COMMENT AND RATING BELOW… AND DON'T FORGET TO SIGN UP TO RECEIVE ALL MY NEW RECIPES BY EMAIL!